Looking for things to do, where to eat and drink, or places to stay in Asheville, NC? Check out Off the Eaten Path's Asheville Travel Guide!
At the end of September, my friend Lesley and I cruised to the Blue Ridge Mountains to spend a long weekend in Asheville for her birthday. I've made a few day trips to Asheville since moving to Charlotte, but this was the first time I had an uninterrupted three days to explore the beautiful city nestled in the mountains. Over the next few weeks we will talk about the highlights of our trip: good beer, good food, and good mountain views.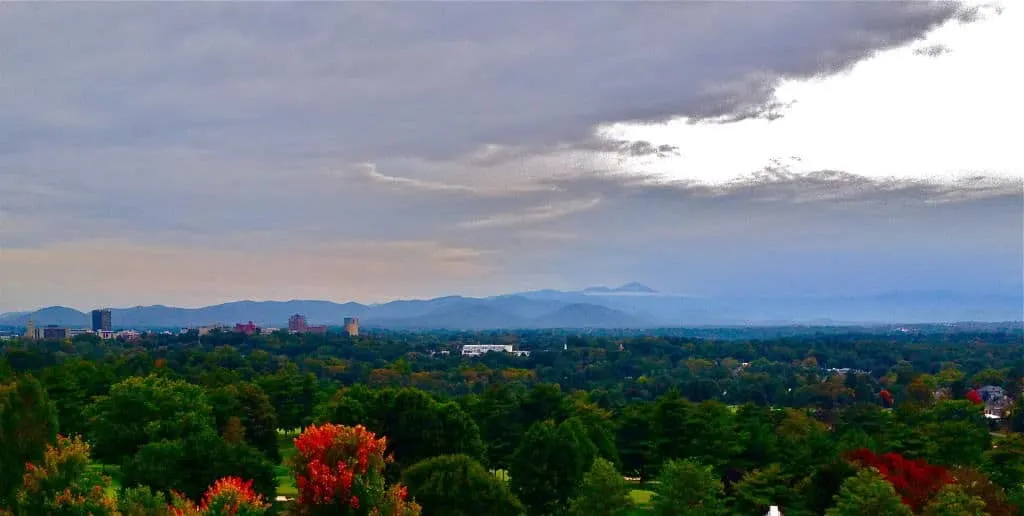 Boasting more breweries per capita than any U.S. city (about one brewery per 8,000 people), Asheville has become the craft-brewing center of the Southeast. The Asheville area is home to 20 craft breweries, and we had the chance to visit five on our trip (we made a stop at Asheville Brewing Company too, which you can read all about in this post).
Plastered on Wicked Weed's wall on the stairway down to the tasting room is, "Hops are a wicked and pernicious weed." –King Henry VIII. Wicked Weed Brewing proves King Henry wrong with their hop-forward, creative, flavorful beers. What started in a basement is now one of the most popular breweries in Asheville; home to a restaurant serving elegant bar food, a tasting room downstairs, and the newly opened location down the street, the Wicked Weed Funkatorium (a newly opened–about a week after our visit–sour tasting room, serving up sour and farmhouse style ales in a Belgian bar environment) . This was my second visit to wicked weed (my first was just for a beer after the Asheville 10k last June). Lesley and I beelined straight for a picnic table in the fall sunshine outside of Wicked Weed's downstairs tasting room. We sampled a few beers at Wicked Weed. Wicked Weed made four pumpkin beers this year, and I tried two, Pumpk Anne, their interpretation of a classic pumpkin beer, spiced with a blend of cinnamon, vanilla, nutmeg and allspice and Burning Ham Pumpkin Porter, with smoked malt smoked at Asheville barbecue favorite, 12 Bones. I also sipped on the Hop Burglar, an IPA with blood orange and grapefruit.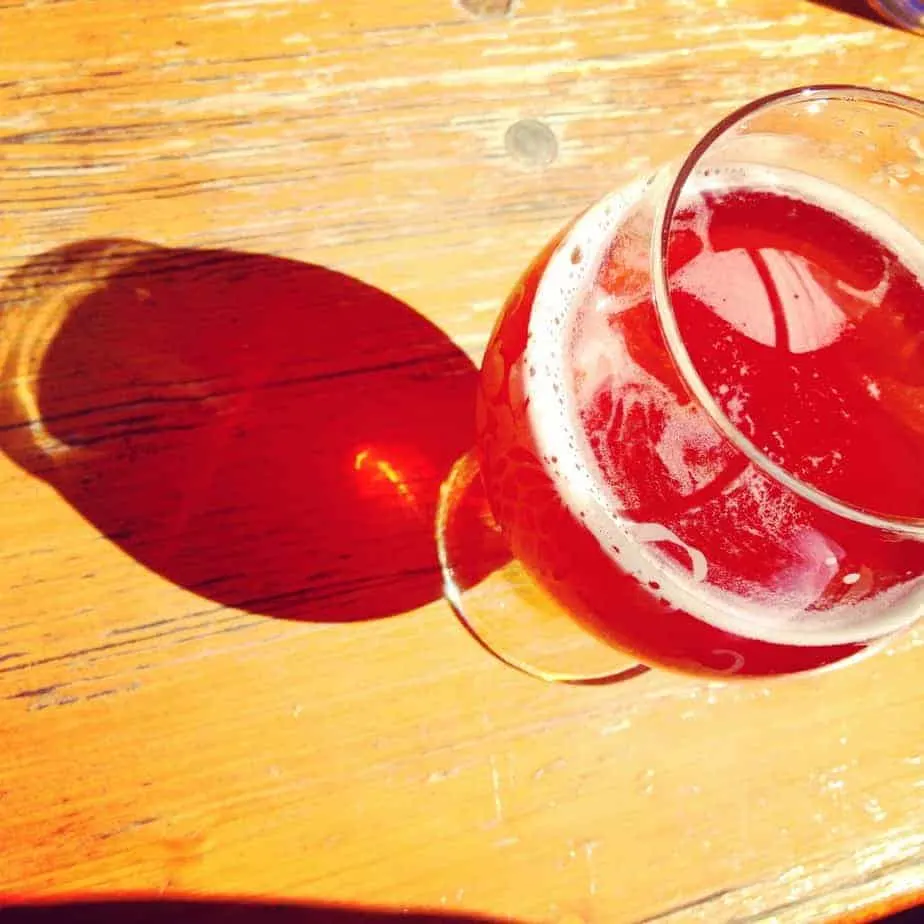 I hope to one day come for the beers and stay for the food; Wicked Weed has a restaurant upstairs with a focus on seasonal, local ingredients.
wickedweedbrewing.com / 91 biltmore ave., asheville, nc
downstairs tasting room:
mon. & tues. 3pm-11pm
wed. & thurs. 3pm-12am
fri. & sat. 12pm-2am
sun. 12pm-11pm
After Wicked Weed, we headed down the street and around the corner (per the recommendation of our cab driver) to Green Man Brewery. Green Man is one of North Carolina's oldest breweries; they've been brewing in Asheville since 1997. I was pleasantly surprised to learn Green Man had a tasting room on site, I had only heard of (and seen) Jack of the Wood, the Celctic style bar also owned by Green Man (Green Man was originally founded as a brew pub but in recent years there has been a heavier focus on production, distribution and growth). Green Man Brewery's tasting room, known affectionately as "Dirty Jack's," is laid out in the brewery with the bar and tables interspersed, so you can see the brewing process while sipping on a cold one.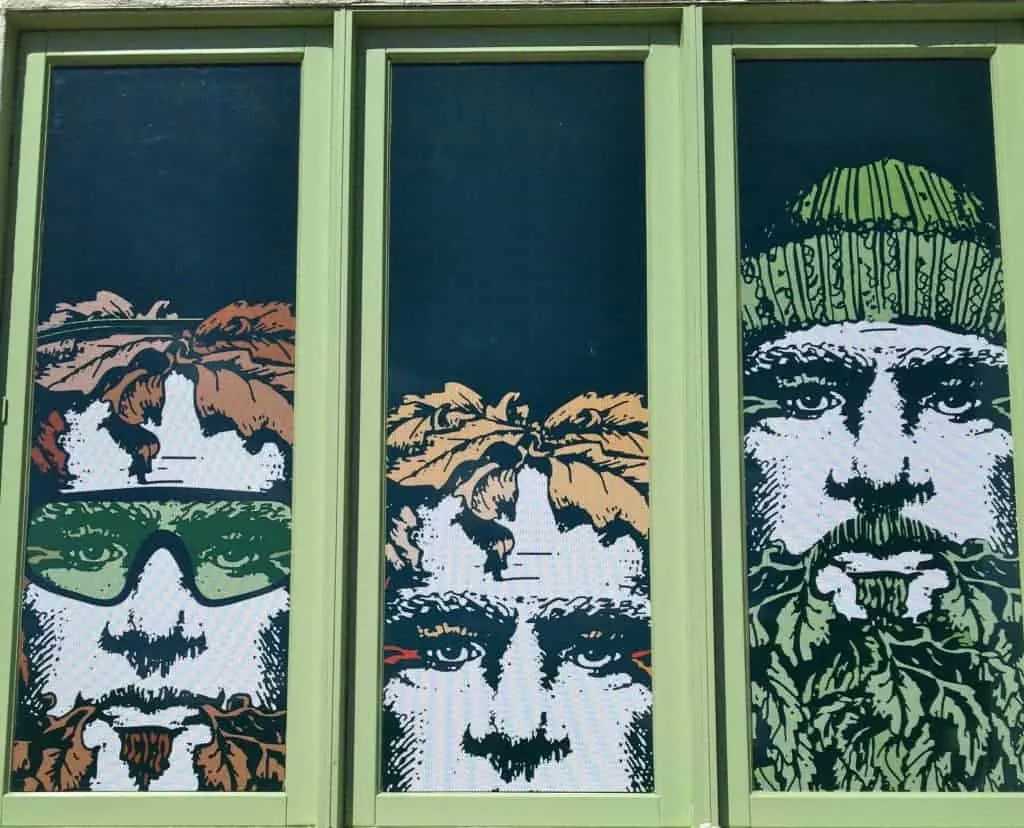 Lesley and I each ordered a flight and sipped our samples out on the eclectic, dog friendly, relaxing patio. I tried four different Green Man brews: their flagship porter (British-style, smooth with hints of chocolate), their seasonal Harvester (and interpretation of the classic German Marzen style), Jack's Gold (a Munich Helles Lager, simple and easy to sip) and Stormtrooper (a white IPA). I enjoyed all four, but my favorites were the porter (I love dark beers) and the Harvester, with its deep color and hearty flavor.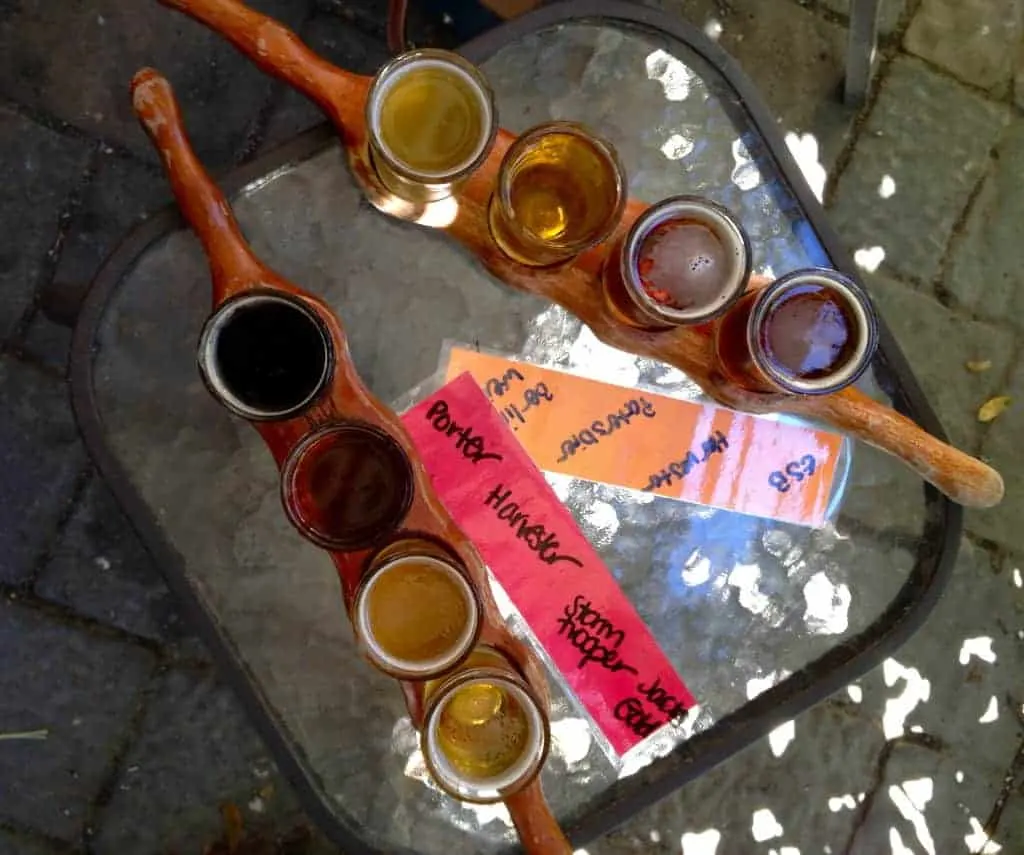 greenmanbrewery.com / 27 buxton ave., asheville, nc
mon.–thurs. 3pm–9pm, fri. 12pm-10pm, sat. 12pm-11pm, sun. 12pm-9pm

We then met up with a few Charlotte friends who were also in Asheville at Hi-Wire Brewing. Hi-Wire Brewing is newer to the Asheville beer scene, joining in May 2013 during Asheville Beer Week. Located close to Green Man in what's becoming downtown Asheville's Brew District, Hi-Wire was clearly created by people who love fun and care about beer. The brewery is centered around a circus theme, from their beer names to their art (done by a local artist), the brewery embraces whimsy and fun. We sipped on a few different Hi-Wire brews; they feature four year-round "Main Attraction" beers – Prime Time Pale, Hi-Pitch IPA, Bed of Nails Brown, and Hi-Wire Lager – a rotating selection of seasonal offerings, as well as "Side Show Seasonals,", which are seasonal small batch brews.
hiwirebrewing.com / 197 hilliard ave., asheville, nc
mon.-thurs. 4pm-11pm, fri. 2pm-2am, sat. 12pm-2am, sun. 1pm-10pm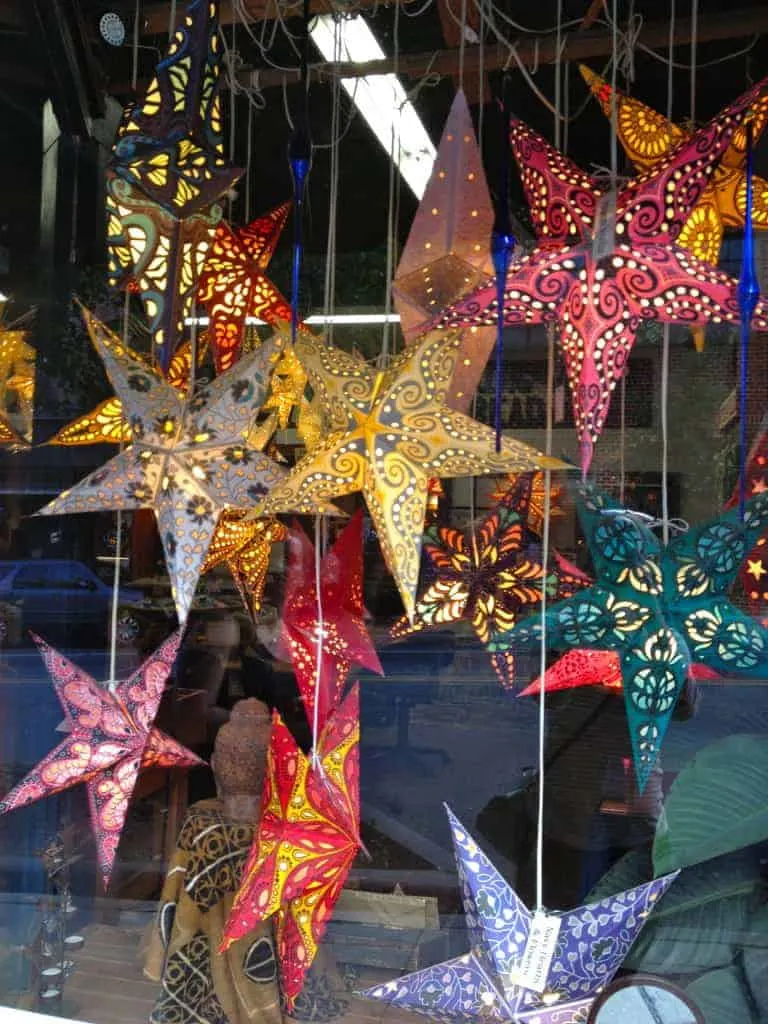 Our last brewery stop of the day (after a mid-afternoon snack of mac n cheese and pretzels at The Southern and some window shopping) was One World Brewing on Patton Avenue. One World is a newbie to the Asheville brew scene offering a wide range of brews with their 6 flagship beers and 4 rotating seasonals. One World's focus is on high quality ingredients and small batches in order to brew more varieties in a shorter amount of time. Beyond beer, One World is about "community, sustainability, and honoring the diversity of life on this beautiful planet." I really liked the vibe at One World, it was really hip with some bar games, friendly bartenders, big mugs, and complimentary pretzels with really spicy mustard (yum). The one drawback is that it's in a basement, so it really threw my time of day off, and would probably be a better place to go at night or on a dreary day, rather than when the sun is shining.
oneworldbrewing.com / 10 patton ave., asheville, nc
mon.-sun. 4pm-midnight
I highly recommend a visit to any (or many!) of Asheville's breweries, especially if you like unique beers and relaxed vibes. I'm already planning my next visit back to get my growlers filled and cross a few more breweries off my list! (I still haven't made it to Highland, so my next visit will include a stop there).