With our wedding anniversary approaching this weekend, today I'm sharing some planning details from our Outer Banks wedding, including the fabulous vendors we worked with and some gorgeous photos from our photographer. All photos, unless otherwise mentioned, by Matt Lusk Photography.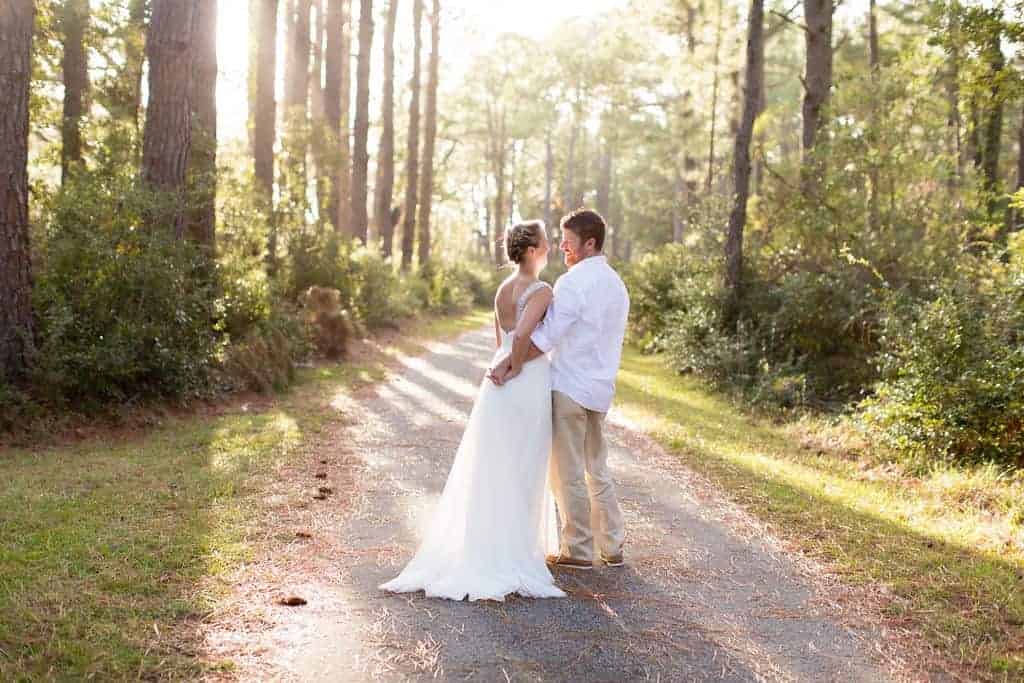 If you're looking for your regularly scheduled food posts, I've got something a little different for you today. I've finally (after a year) gotten around to sharing a few details from our wedding with y'all (we're headed to the mountains on Friday for a long weekend, first anniversary celebration). If you don't want to stick around for walk down memory lane, that's cool, but please come back Monday for a really delicious bacon, jalapeno pimento cheese (and later in the week for another edition of Charlotte's Best Bites). After all, I know where to hit you in the feels, and if I'm not going to do it with today's Outer Banks wedding cancellation or Friday's post featuring our Charlotte wedding, I'll get you on the pimento cheese, I promise. After all, if you don't love pimento cheese you likely don't have a heart.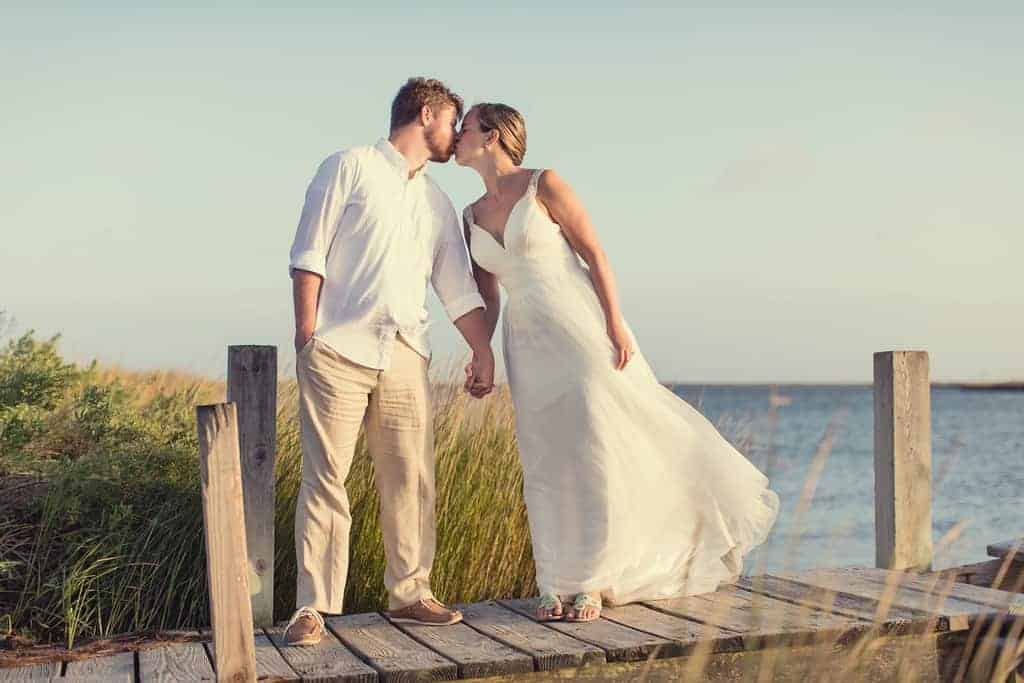 On this day last year, we packed up the car, made a pit stop at J. Majors in Dilworth to get my dress and were beach bound to get married. Two days later, after a quick pit stop in Norfolk to pick up our best man and a face time interview at a Shell station off I-85, we were headed back home to Charlotte to get married.
I'll back up just a bit, but will try not to bore you with too much rambling, although I'm a natural rambler so no promises.
We got engaged in June 2015, and pretty quickly decided on an Outer Banks wedding (Charlotte was also in the running for wedding location, which is why it's funny we ended up getting married in Charlotte). My family has been traveling to the Outer Banks for 30 years, so it's a really special place for me full of fun memories, and AJ, a naturally outdoorsy, adventurous person, who grew up on the water and loves fishing, also thought it was a natural fit for us. We decided summer wasn't going to be the time for us (although it is an ideal for other Outer Banks weddings, we wanted to avoid the heat and humidity, vacation traffic and higher rent prices) and eventually settled on fall (Spring was also on the table but we basically picked fall because of the dates our venue had available, and there were more openings in the fall). Plus, the fall is such a gorgeous time in the Outer Banks, but for hurricane season. (Seriously we were there in early September this year and it was gorgeous, and peaceful and there was way less traffic!) We weren't even concerned about the possibility of a hurricane affecting our wedding (it's one of those one in a million things right?) even when Hurricane Joaquin dumped a ton of rain on the Outer Banks on our wedding weekend in 2015. I remember being at a beer festival in Charlotte with friends in a rain coat saying something like, "Oh if it's happening this year, we're definitely in the clear for next year."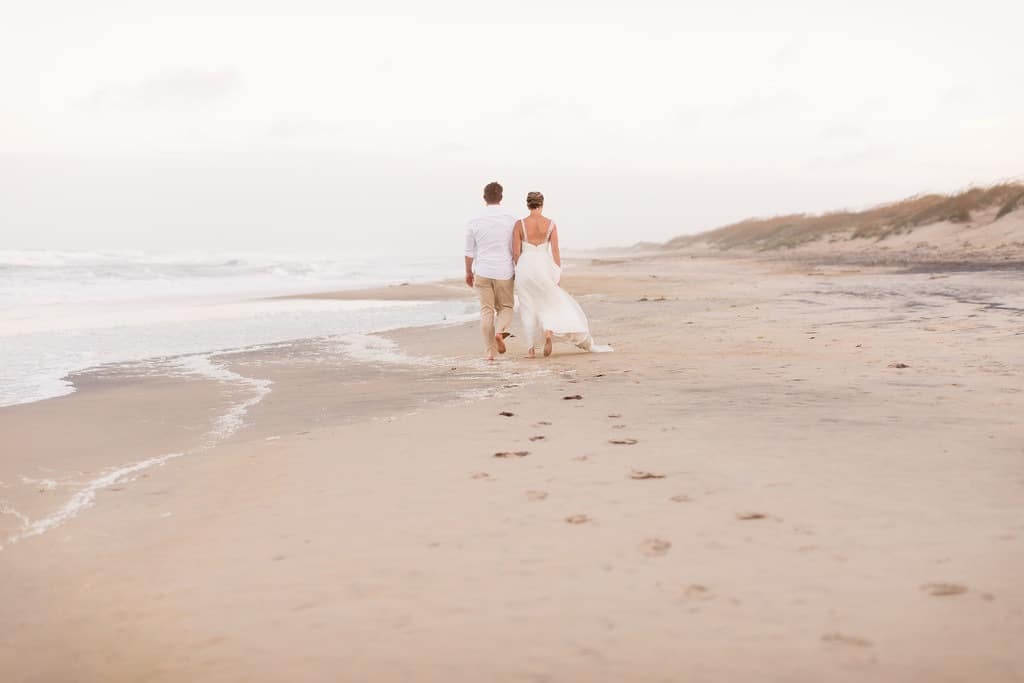 We spent the 16 months between our engagement and our wedding day doing all of the things that couples do when they are planning a wedding: researching vendors, meeting with vendors, emailing with vendors (lots and lots of emails because we were in Charlotte and our vendors were six hours east in the Outer Banks), driving the six hours east several times to meet with vendors some more, tracking down late RSVPs, figuring out seating arrangements, debating musical choices, redoing the seating arrangements (maybe a few more times), and making really cute table numbers (we named them after our favorite craft beers if you need ideas), among other things.
Hurricane Matthew hit the Outer Banks on our wedding date, October 8, 2016, causing us to decide three days before to cancel our Outer Banks wedding and move everything to Charlotte. Here's the part of the post where the idiom weathering the storm is truly appropriate.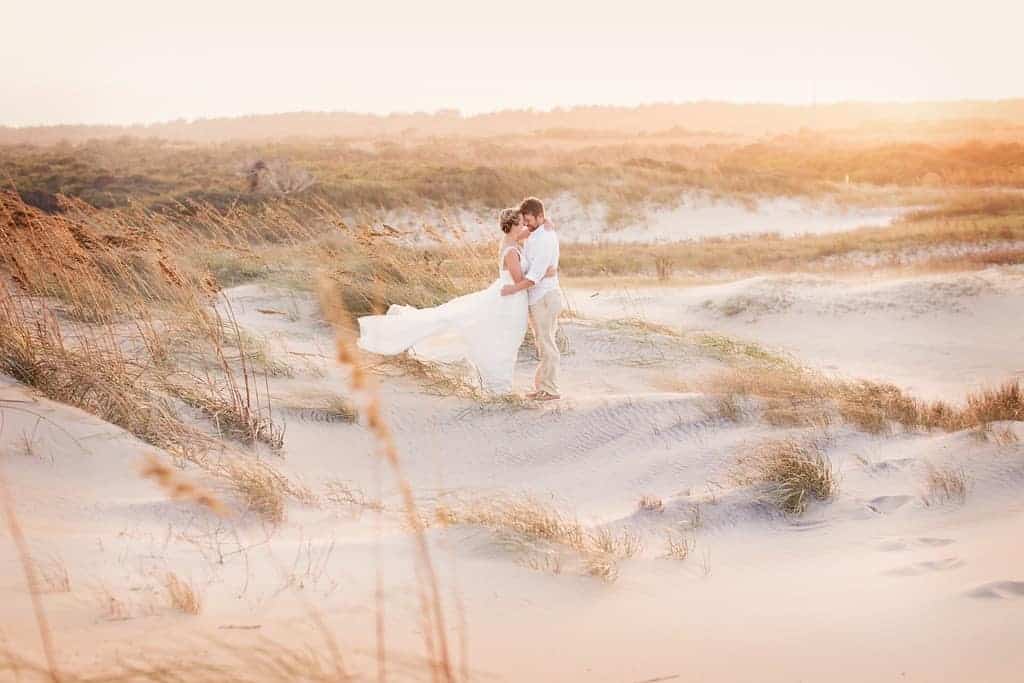 So while we ended up not tying the knot in the Outer Banks (come back Friday to get a peek into our courthouse wedding ceremony and the wonderful reception planned by our family and friends, and a few strangers, in Charlotte), I wanted to dedicate a post to our Outer Banks' wedding plans for a few reasons.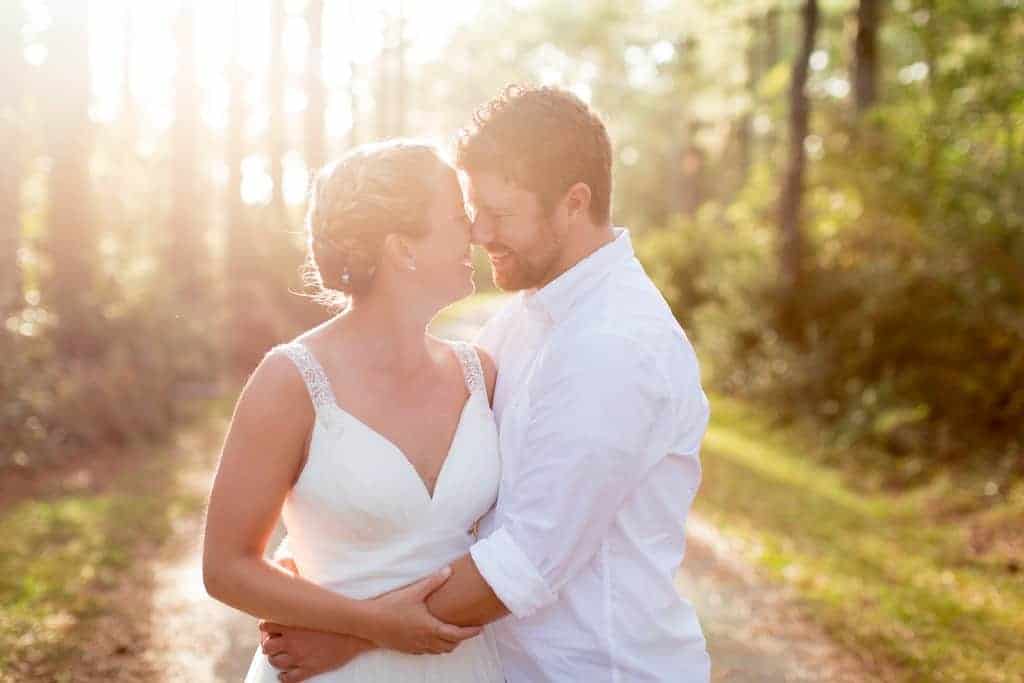 First, this space is a personal space after all and helps me chronicle my life so by putting the planning and experience into words I can remember it (thank you Internet). Second, we worked with some incredible vendors for our Outer Banks wedding and they deserve a shout out. Three, several readers have asked for some wedding posts (yes, readers besides my own mother, hi Mom) so I thought two posts would be good enough. Fourth, many couples plan their Outer Banks weddings remotely (read, we planned ours mostly via email) so I want this post to serve as a a resource for other couples planning an Outer Banks wedding and are currently in the research phase. (Hi if you're here because you are planning an Outer Banks wedding! Congratulations! If you're like mean, you're doing a ton of research and there's a ton of resources out there, but if you're also like me you want some personal recommendations to differentiate from all of the available vendors. I'm sure your wedding will be beautiful and you should work with some of the people we worked with because we really liked them!)
And lastly, because I will not miss an opportunity to share the beautiful photos taken by our photographer, Matt Lusk.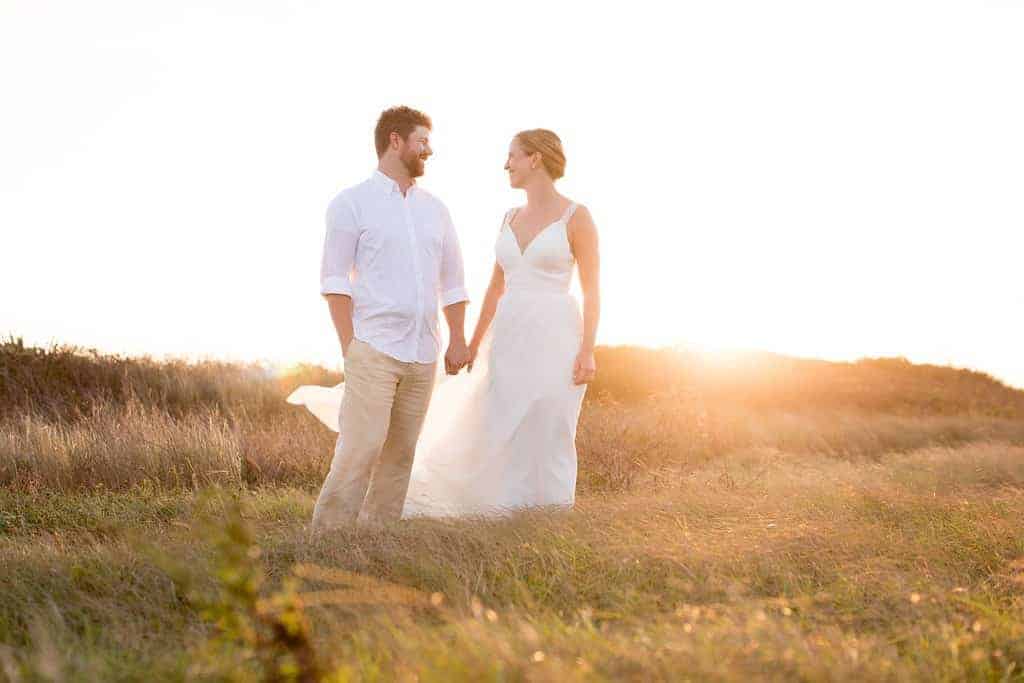 Since I already built him up, let's talk wedding photography. Matt was a no brainer and one of the best decisions we made during the wedding planning process. There are a ton of talented wedding photographers at the Outer Banks and after pouring over dozens of websites, we kept coming back to Matt. He takes stunning photos (even of people like us who are awkward and not photogenic) and I really adored is candid approach (I was looking for someone to preserve the feelings and memories of our day, not just a bunch of portraits). Matt really sold me when he biked to our first meeting at an Outer Banks coffee shop, rolled in wearing board shorts and sunglasses on top of his head, and was just so nice and friendly. Most of of our communication with Matt was done over email, and it was so easy and I felt like he had everything under control. While he didn't photograph our wedding, he did squeeze us in for a golden hour session at the Bodie Island Lighthouse the day before we drove home to Charlotte, and was a dream to work with; he made us feel comfortable in a super stressful time and has given us some gorgeous photos we will treasure forever. (as an aside, when we adopted our rescue puppy this summer we named him Bodie, after the lighthouse where we took the photos with Matt. It also helps that he's black and white.)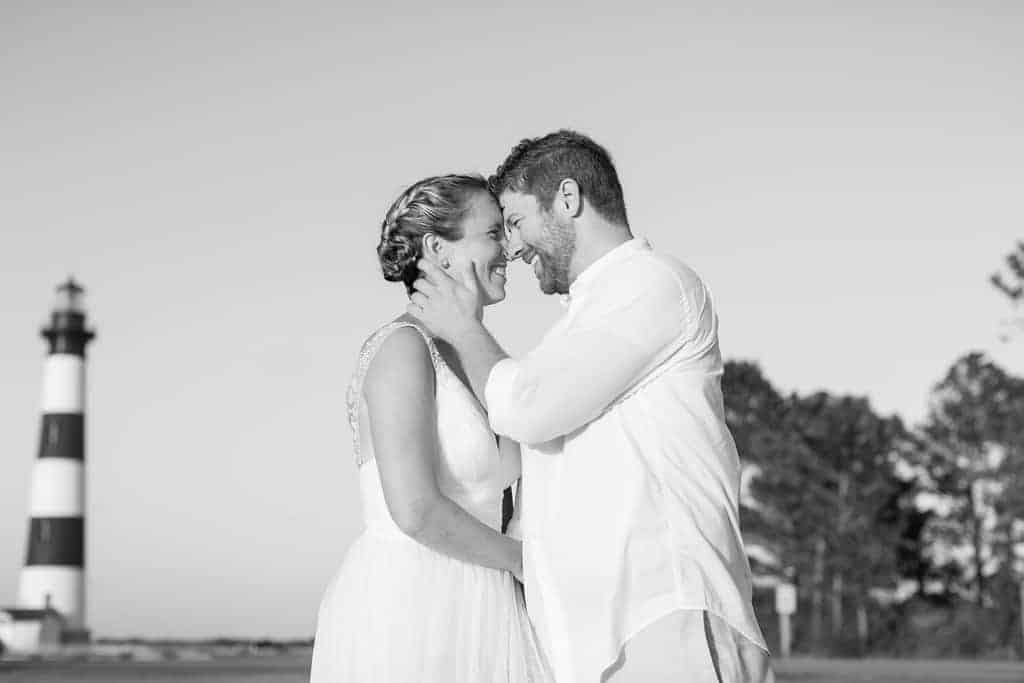 Photography was something really important to me, but just as important (maybe more, ha) is a place to get married. We knew we wanted to be ocean side, so early on we narrowed it down to Jeanette's Pier and the Kitty Hawk Pier House at the Hilton Garden Inn Kitty Hawk. We ended up going with the Hilton Garden Inn because it was all inclusive (chairs, tables, set up, break down, catering, bar) and we liked the aesthetic a little bit more (old, wooden fishing piers are charming right?). We worked with Miha during the planning process and she is wonderful; she responded promptly to all of my 30 gazillion emails on everything from the menu and the bar to tables and set up. Miha was going to be there on our wedding day running the show (which I can only imagine she's very great at) but gave us the option to cancel everything three days before Matthew hit, no harm no foul (we took her up on that offer, which was a difficult decision but we are eternally thankful for the option).
As I mentioned, food, booze, et al was provided through our venue. We scheduled a menu tasting with Miha a few months out (it was delicious) and she was able to track down all of AJ's craft beer requests. It made it so much easier during the planning process not to have to work with a separate person to coordinate catering…but if you're looking for an outside caterer for your Outer Banks wedding and you like barbecue, Currituck BBQ Company does wedding catering and their food is delicious.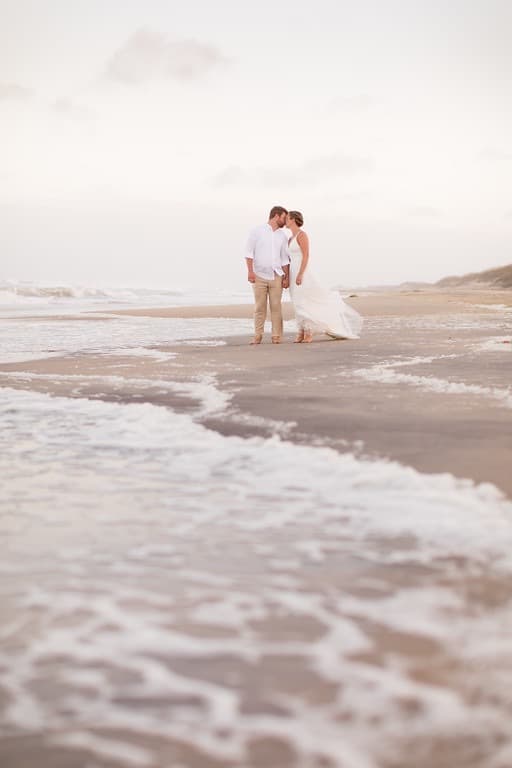 Speaking of food, for dessert, we were going to cut a simple, small, key lime cake from Great Cakes! of the Outer Banks (we did a tasting at Martha's home and were both surprised we loved her key lime cake the most but it is so, so good) and were going to serve our guests Duck Donuts for dessert. On our wedding day, we did cut Martha's key lime cake (that had travelled in my sister's trunk back to Charlotte) and our guests also got to enjoy Duck Donuts (but from their Charlotte store).
While it seems this post is a love fest (it was a wedding after all and weddings should be love fests), we worked with Sugar Snap Events for our flowers and decor, and on par with Matt and Miha, Shirley was awesome. She is an email queen and wizard (important when you're only communicating over email) but even more important, she is supremely talented.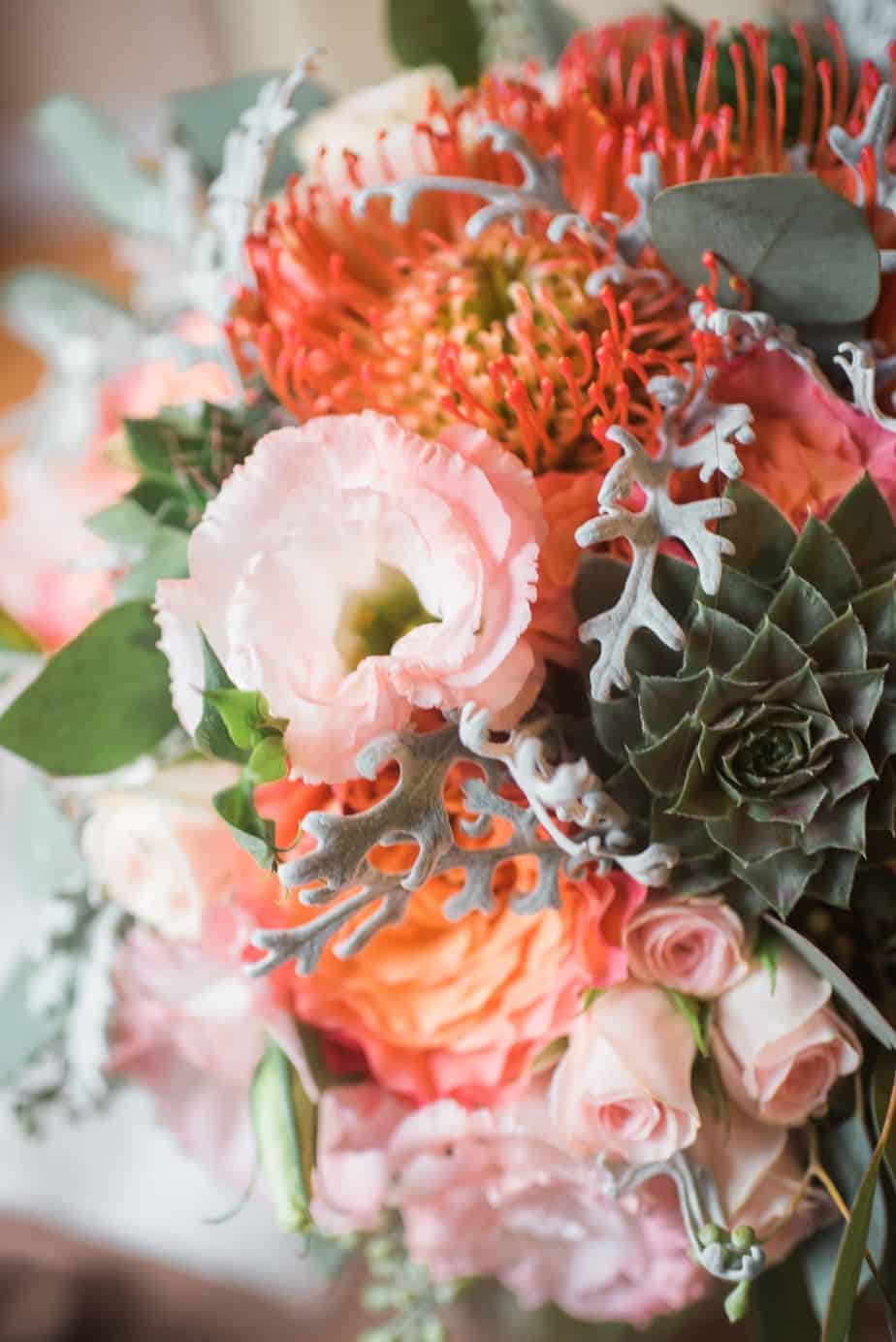 (photo by JJ Horton Photography)
She made my "vision" (or lack there of, it was more so an "I have no idea what we want but I like these colors") come to life better than I could have ever imagined and under budget. While Shirley's full creative vision and potential were not realized with our wedding (we left the Outer Banks with a carload of loose stems in water and an hobnail jars and pillar candles), Shirley did have time to make my bouquet and AJ's boutonniere…complete with a fishing lure, and they were gorgeous.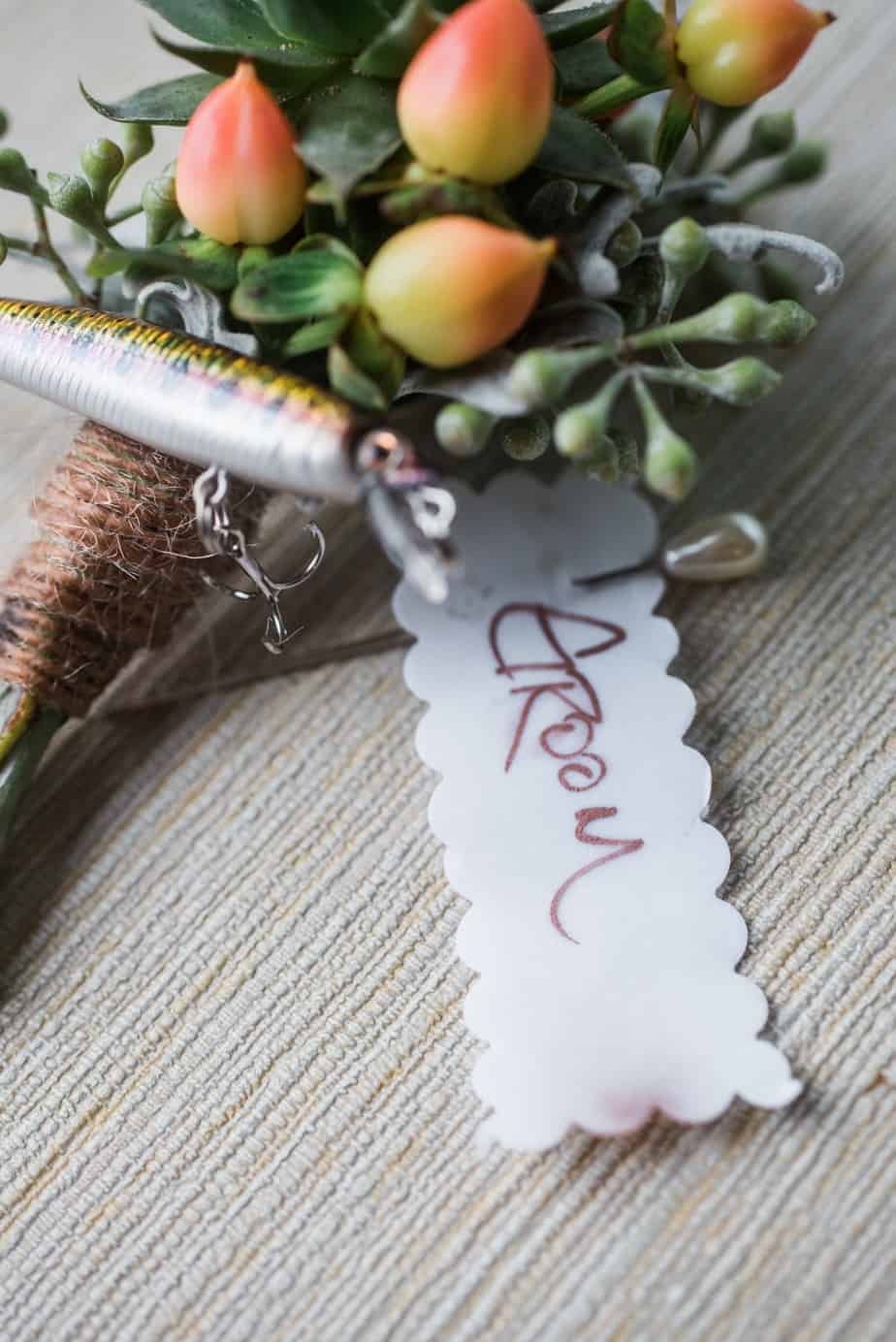 (photo by JJ Horton Photography)
I still follow her on Instagram to see her beautiful creations, everything from bouquets, to alters, to ceiling installations (plus she has a really cute kitty that sometimes makes an appearance in her workshop).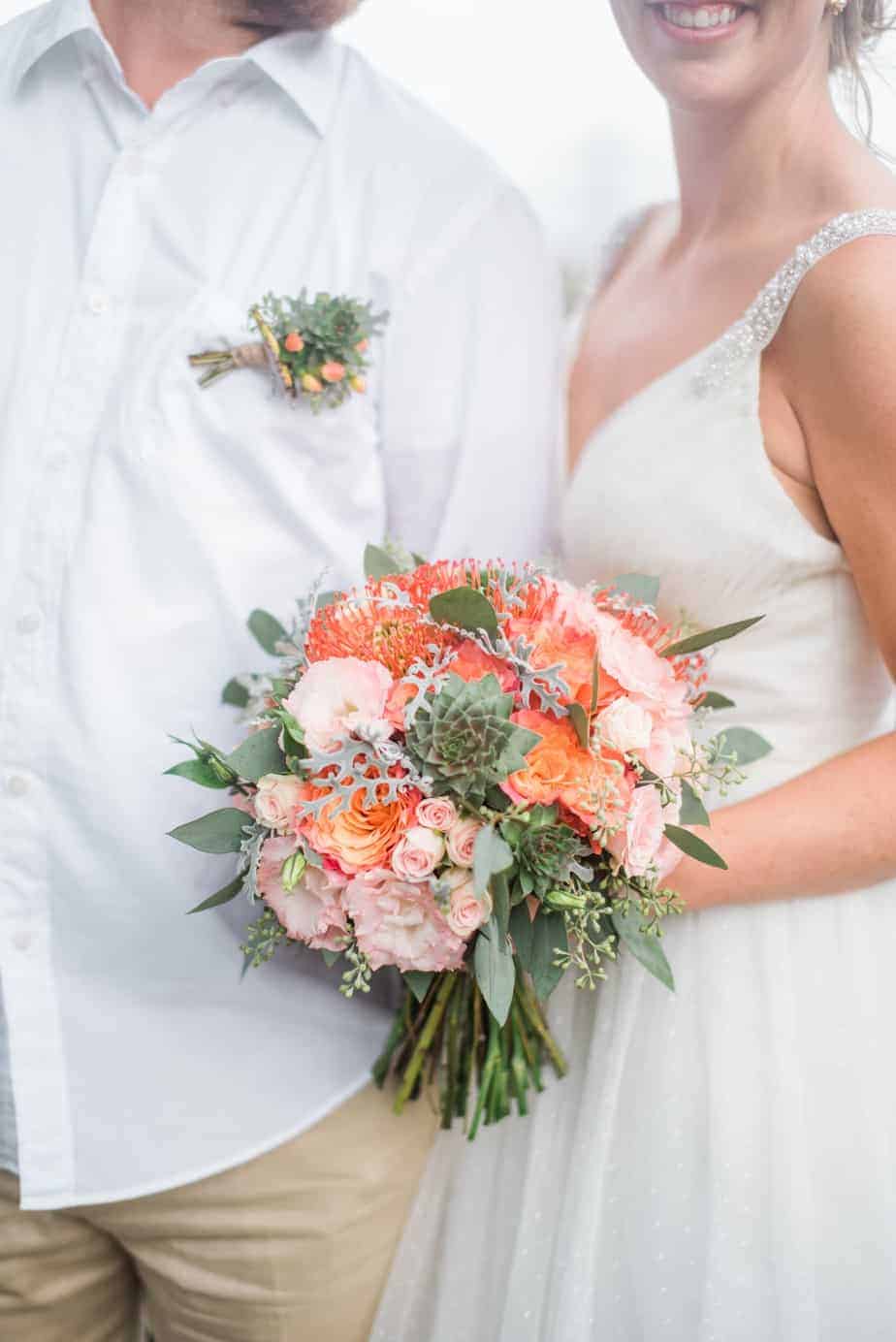 (photo by JJ Horton Photography)
There were a few other vendors we worked with, but didn't get to realize their full potential. Jeremy from OBX Wedding Entertainment was going to sing our ceremony music and be our DJ, and was super nice and responsive over email and made a great mix for our father daughter dance that my dad and I still used at our Charlotte wedding (Brown Eyed Girl fades into Jump Around…a nod to both of our University of Wisconsin alumni status). I did a hair and makeup trial with Glimmer OBX which went seamlessly. I Do OBX Chairs was going to take care of ceremony set up on the pier (also in my next life I'm going into the wedding chair business but that's another story for another day). Reverend Tanya Young was going to marry us; and was so helpful and supportive in helping us write a wedding ceremony that truly reflected us and our love (we got legally married at the Mecklenburg County Courthouse but our sisters married us using our ceremony and it was beautiful, and we all wept during it). I couldn't write this post without mentioning these folks as well because they were critical to our planning process.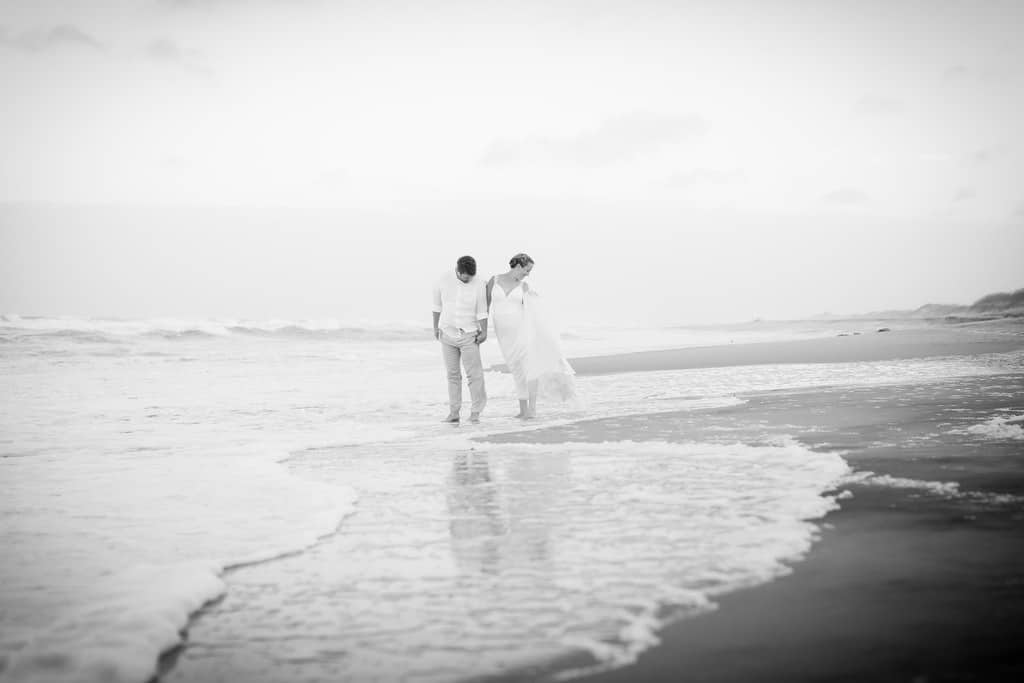 When people ask about our wedding, we often get, "Would you have done anything different?" and my honest answer is "no." I actually just asked AJ while standing in our kitchen, and he also said no. But then added, "when your fiance starts stressing out about seating arrangements way too far ahead of time, tell her to shut the eff up." And no, he didn't use the word "eff," that was edited for content.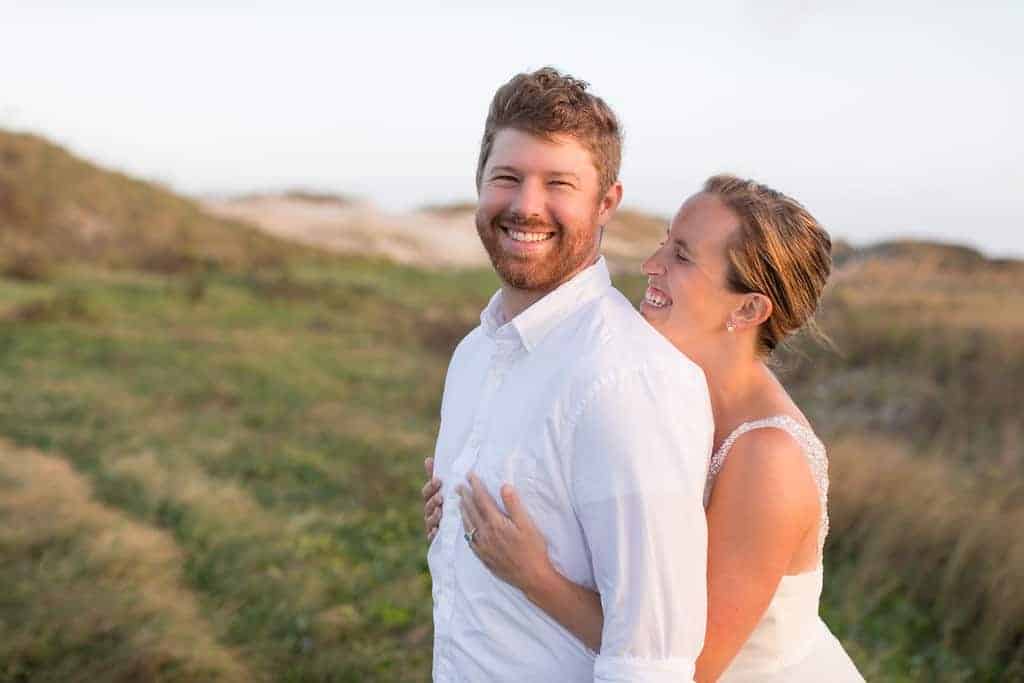 Did we get married the way we planned? Also no. But, on Saturday, October 8, 2016, we did get married (technically Friday October 7 but AJ says we can't have two anniversaries) and celebrated with all of our family and friends in a special place that we call home.
So while seating arrangements went out the window (I actually think we ended up not having quite enough chairs for everyone, but a lot of people were dancing so I can't confirm), our craft beer table numbers did still make an appearance. We danced to Donna Lewis, drank Hurricane Matthew cocktails, and my new mother in law had to beg me to go home around 130 AM.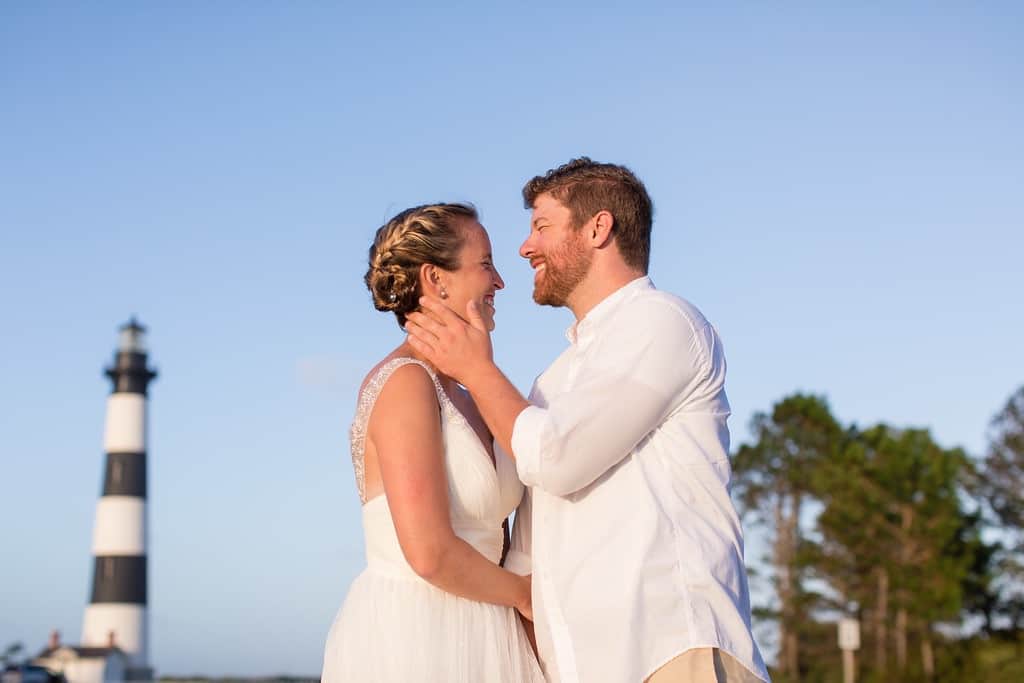 So thank you to our Outer Banks vendors for everything, including putting up with my 30 gazillion emails and being so accommodating when the only thing that was certain was that the cone of uncertainty was headed our way. Since I'm 2000+ words deep and cannot get Alanis out of my head (it's like raiiiiinnnn on your wedding dayyyy) come back Friday for less the story of our last minute Charlotte wedding (and more photos of course!).