These extra crispy air fryer chicken wings are some of the best wings I've ever eaten…they are super crispy, super juicy, and so quick easy to make. Fire up your air fryer and in under 30 minutes, you'll have a delicious, restaurant quality appetizer perfect to serve during the big game!
Chicken Wings are a Classic Super Bowl Snack
Did you know the Super Bowl is the second largest food consumption event in the United States? (It comes in just behind Thanksgiving dinner!)
Super Bowl spreads are usually served buffet style featuring everything from chili, to baby back ribs, burgers, or pizza, plus a variety of appetizers, dips and chips. Some of our favorite football foods that usually make an appearance at our annual party are beer cheese fondue, roasted jalapeno poppers (or pimento cheese poppers or crab stuffed poppers), pimento cheese, simple guacamole, pepperoni bread and of course, Buffalo wings (although our wings are usually ordered from one of the spots with the best wings in Charlotte or take the form of buffalo turkey meatballs because I didn't have a good at home wing recipe, until now!)
It's been predicted that Americans will eat 1.4 billion chicken wings during the big game this year. 1.4 billion! That many wings could circle the circumference of the Earth three times!
So since we're just trying to do our part, I made big plans to make air fryer chicken wings at home this weekend.
And lucky for me, I was assigned to make one of Michele's recipes from her blog West Via Midwest for Freaky Friday, and she has a super easy and delicious extra crispy air fryer chicken wings recipe!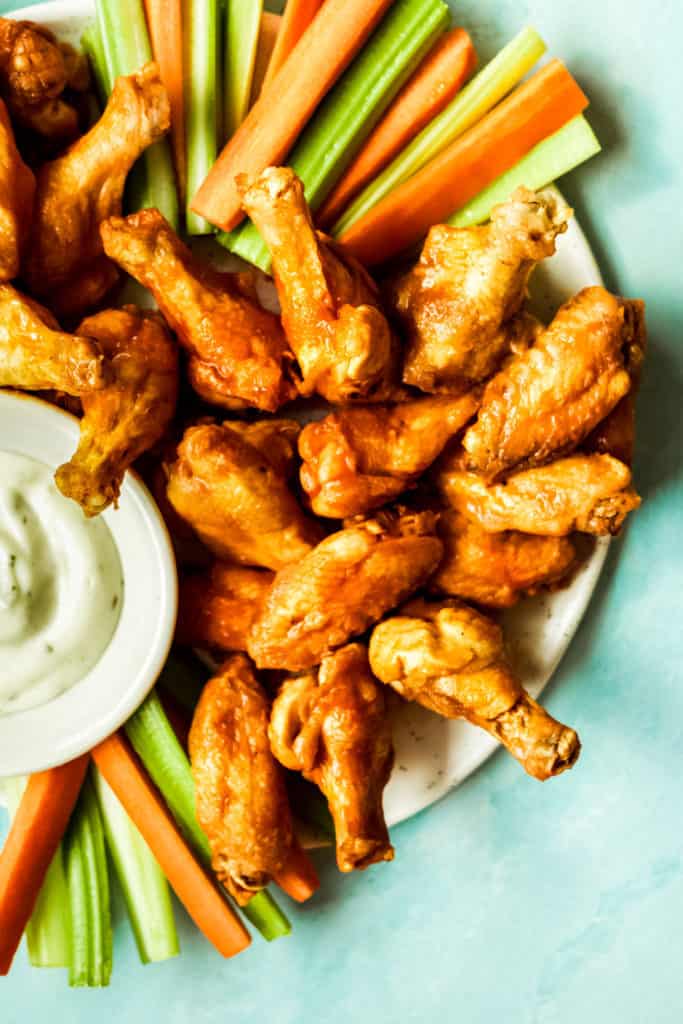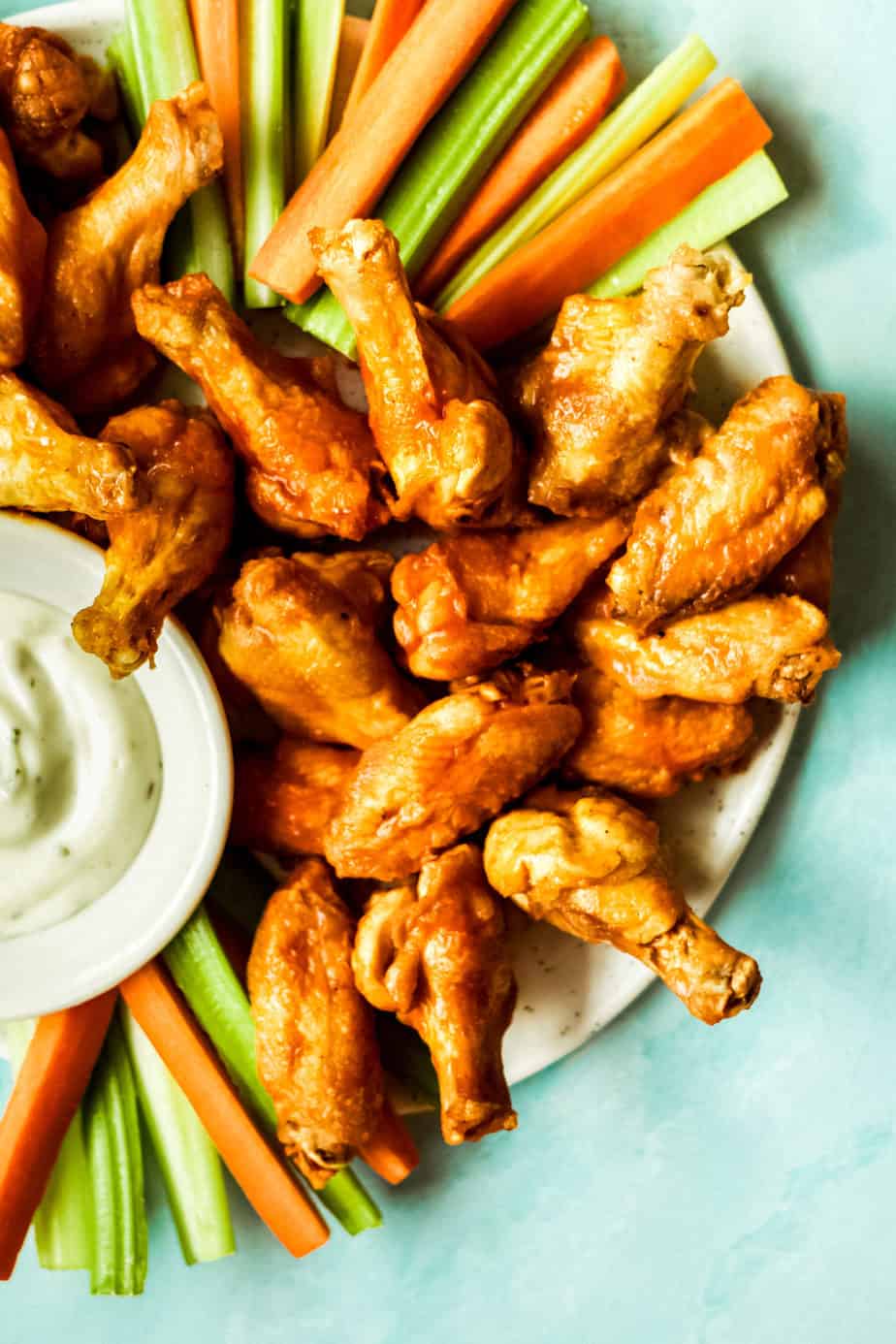 So what is Freaky Friday?

Freaky Friday is a good old-fashioned blog hop.
What's a blog hop?
A blog hop is where a group of bloggers get together and make each others' recipes! Michaela, from An Affair from the Heart, organizes this virtual event 5 times a year…she secretly assigns each of us another blog to cook from…we make the recipes, take photos, write our blog posts, and then on the same Friday, we all reveal our recipes.
This is my first time ever participating and I'm so excited to see what everyone made! It's going to be fun to hop from blog to blog looking at everyone's posts.
And for our readers, there's a collection of seasonal recipes all in one place, and a great way for y'all to meet some new bloggers!
Take a look at all of our 2021 Freaky Friday Winter Edition Recipes:
Let's meet Michele!
Michele is my kinda gal…she shares easy entertaining tips and recipes to help you host everything from a small gathering to the holidays at home.
Michele believes, "no matter how busy you are you can make great tasting food that people will rave about."
As someone else that also used to get stressed out about hosting and entertaining, I love Michele's perspective, approach and how she really empowers her readers to create easy, no stress, homemade meals as well as great memories spent with friends and family over food.
Michele learned how to cook by practicing with her mom's recipes, but she also attended culinary school, where she learned the basics and "how to make substitutions without worry." She also has a Sommelier Certification from American Sommelier Association, so she's not only a good cook, but an expert when it comes to pairing wine, beer, or cocktails with every meal!
With so many mouthwatering options, it was really hard for me to decide which of Michele's restaurant quality meals I wanted to make.
Did I want to share a special meal like classic prime rib, or make one of AJ's favorites, chicken parmesan?
I can never say no to cocktails, so eyed the Saketini, Watermelon Margarita, and Loaded Blooded Mary (you guys know I can't say no to a good Bloody Mary and love doing a Build Your Own Bloody Mary Bar).
After a lot of deliberation, I finally decided I needed to pick one of Michele's air fryer recipes because we just bought ourselves an air fryer for Christmas and I have obsessed with air frying all the things.
And since the Super Bowl is coming up this weekend, I knew I wanted an easy, delicious appetizer, so extra crispy air fryer chicken wings were a no brainer!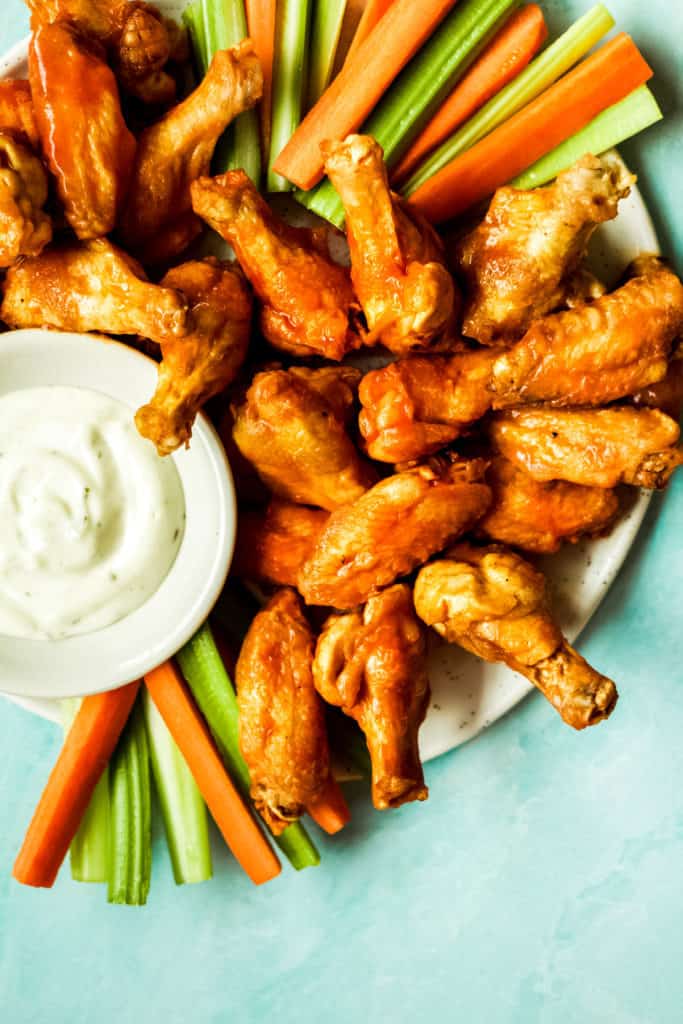 What is an air fryer?
An air fryer is a countertop kitchen appliance (ours looks like a glorified toaster oven) that uses convection to circulate hot air around food and cook it.
The goal of an air fryer is to mimic the results of deep frying (read: crispy, crunchy texture) in a healthier way (air fryers use little to no oil and use the hot air instead). The rapid circulation of the hot air is what makes food crisp.
You can air fry all sorts of food: anything from French fries to tater tots, chicken wings (duh because that's what we are doing today!), fish, meatballs, vegetables, and even baked goods like small cakes and cookies.
What you'll need to make extra crispy air fryer chicken wings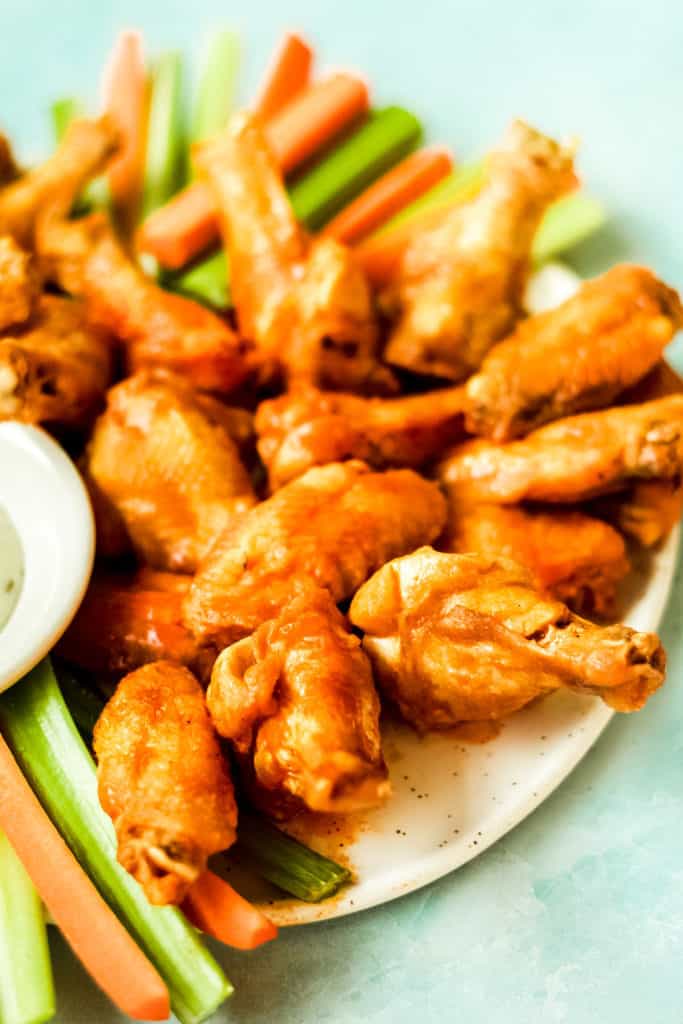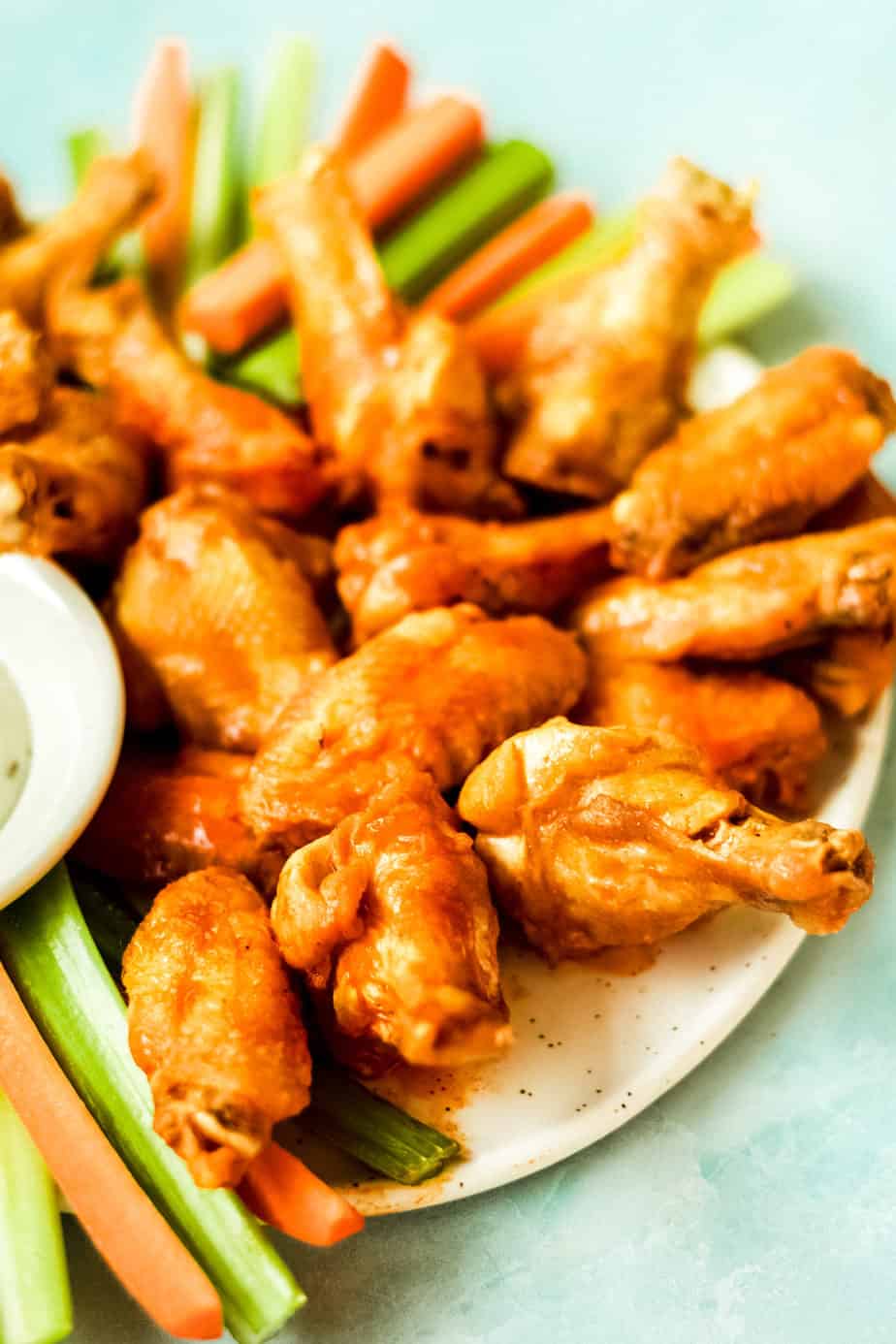 When it comes to tools and appliances to make extra crispy air fryer chicken wing, the list is short:
A large mixing bowl to hold the wings while brining
A cutting board or plate to lay out the wings on to pat them dry
An air fryer
A pair of tongs
One more bowl for the wing sauce and tossing!
In addition to this short list of kitchen equipment, here are the ingredients you'll need to make extra crispy air fryer chicken wings:
2 pounds of chicken wings
salt
water
your favorite store bought or homemade wing sauce (we used a combination of Frank's on some wings and a hot sauce made with beer from Sierra Nevada in Asheville on the others), both mixed with some melted butter and a few shakes of garlic powder)
How to make chicken in the air fryer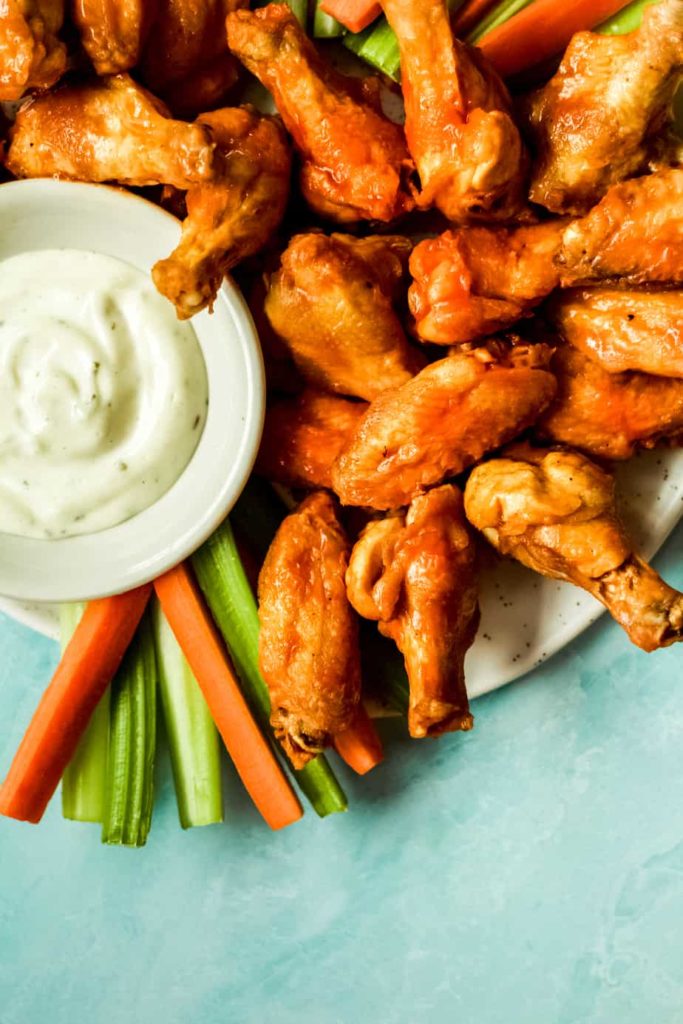 Start by brining your chicken wings. Michele recommends a simple combination of salt and water to make the brine. Give the wings a soak for at least 30 minutes in order for the meat to stay really juicy even after air frying!
After their brine bath, lay the wings out on a cutting board or plate and dry them completely with paper towels. You want your wings to be completely dry so they can get super crispy in the air fryer…wet wings will lead to tough and soggy skin after frying.
Then, remove the basket and preheat your air fryer for a few minutes. While the air fryer is preheating, place the wings in the air fryer basket with a little space between them so the air can circulate while they are cooking (you may have to make all of the wings in a couple batches).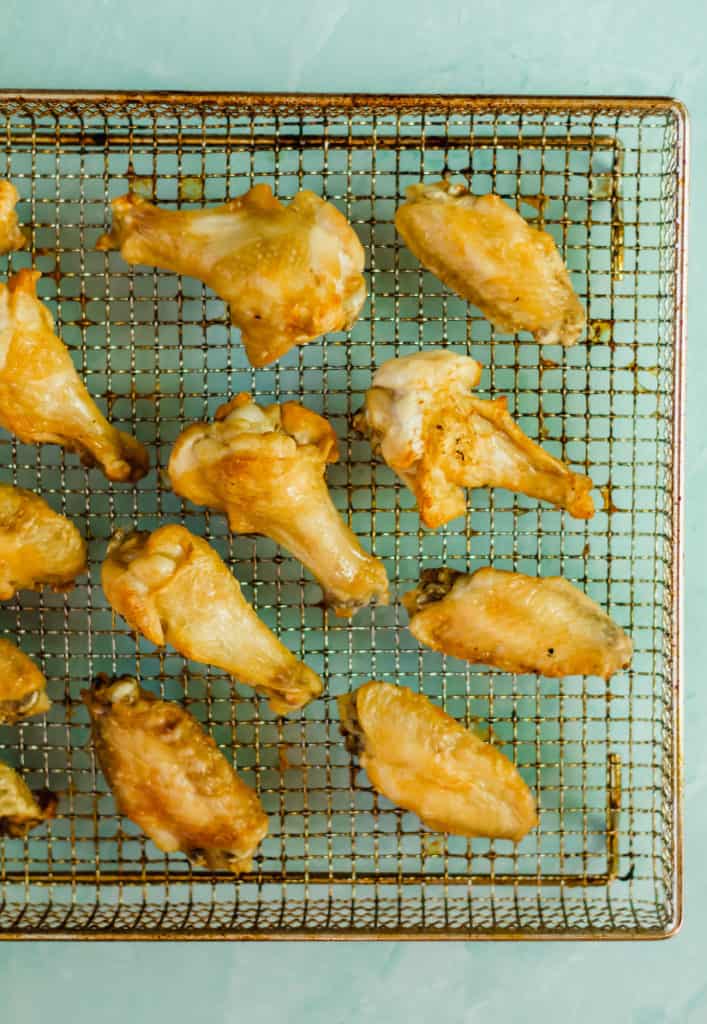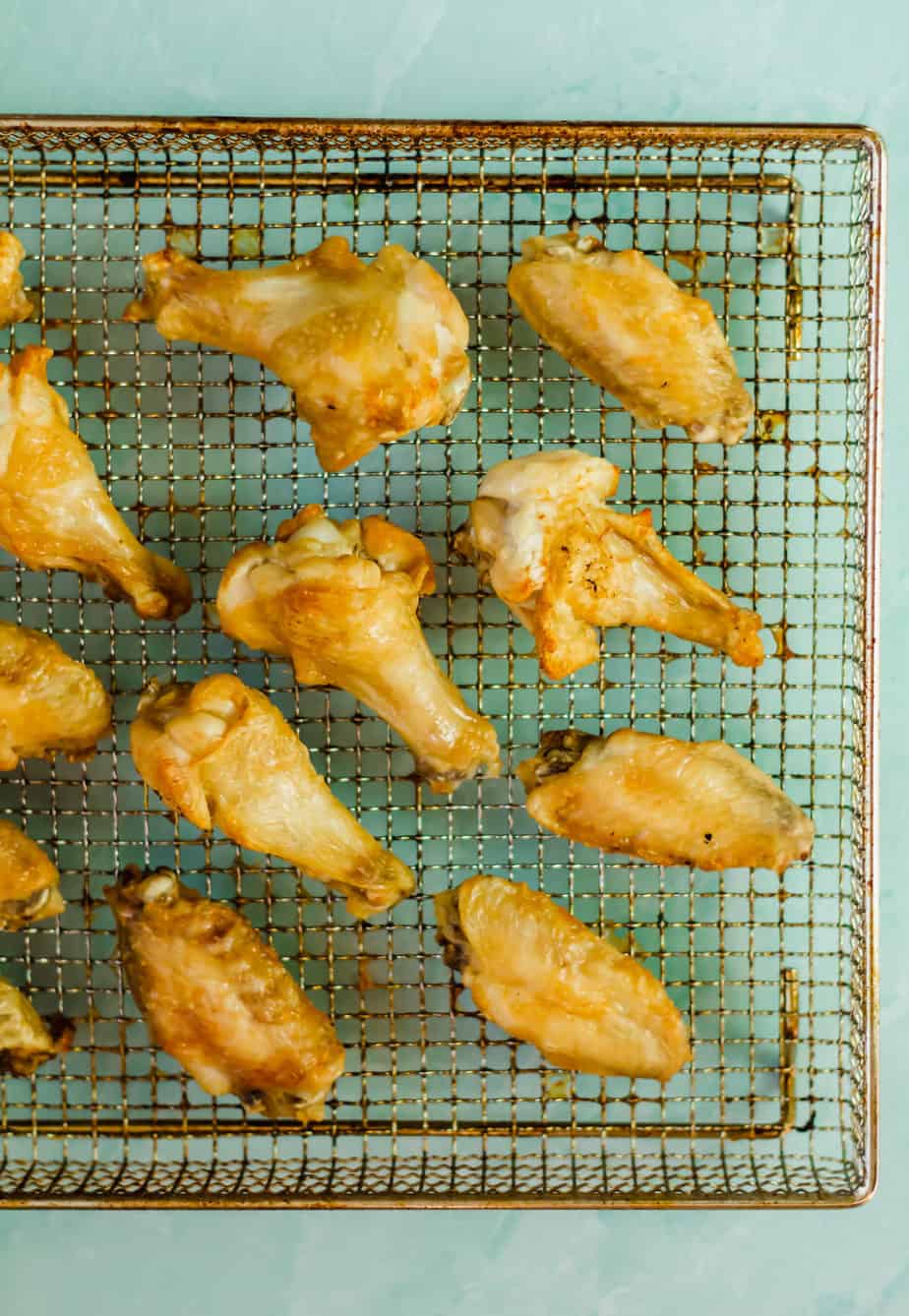 Set the timer for 18 minutes, but make sure you flip your wings halfway through cooking. Our air fryer pauses cooking when we open the door, so I open it, turn all of the wings with tongs, and then it starts back up again. Flipping the wings halfway through cooking ensures that all sides are evenly cooked and crispy.
Cook the wings until they are your desired level of crispness (about 18-20 minutes in our air fryer, but every air fryer is different!) and then toss them in your favorite wing sauce. Make sure to serve with lots of ranch or blue cheese for dipping!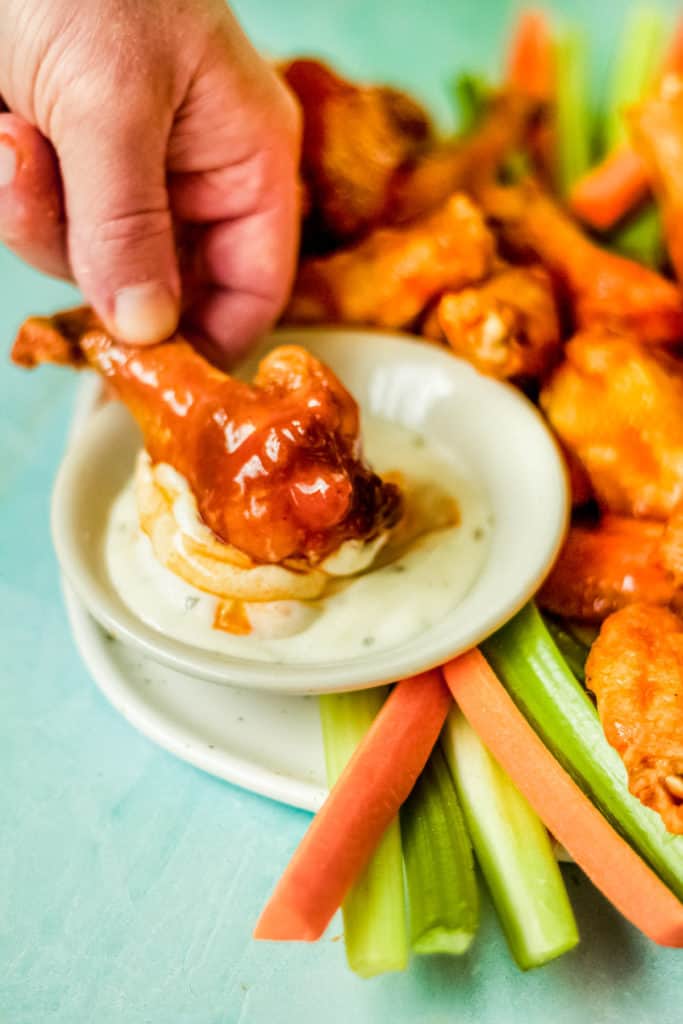 Air Fryer Chicken Wing Tips and Tricks
Here are a few extra tips and tricks to get extra crispy air fryer chicken wings:
Don't season or sauce your wings ahead of time. Just use the simple salt water brine to ensure juicy and moist meat (yes I did it, I said the word moist). Season or toss your wings in sauce after air frying to get maximum flavor!
Don't overcrowd the basket. You want to leave space between your wings so the hot air can circulate around them while cooking to make them extra crispy.
Cook in batches. Because you don't want to overcrowd your basket, it's very likely you'll have to cook your wings in batches. This means you could toss each batch of wings in a different sauce!
Turn your wings during cooking to make sure that they are evenly cooked and golden and crispy all around!
Make sure your air fryer is clean! Sounds like a no brainer but if you live with someone messy like I do, you'll want to make sure everything is nice and clean to prevent smoking or burning.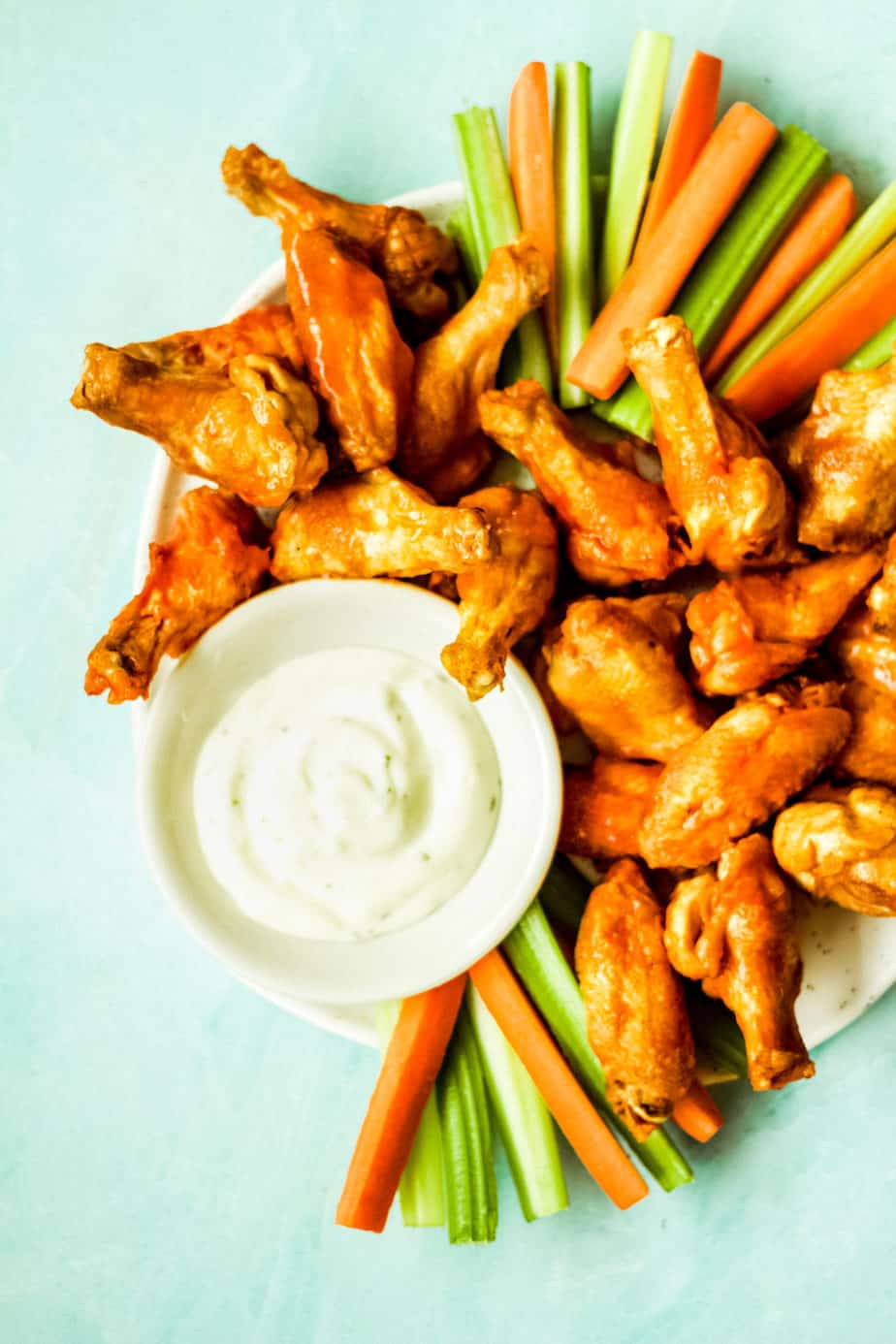 Frequently asked questions
How long do wings take in the air fryer?
Every air fryer is different but this recipe calls for cooking wings in the air fryer for 18 minutes at 390 degrees Fahrenheit to get them extra crispy.
I have found in our air fryer, it takes about 17 to 21 minutes to get them to my desired level of crispiness, depending on how many wings I'm cooking.
How many wings can fit in an air fryer?
Again this is going to depend on your particular air fryer, the size of the basket, and the size of the chicken wings. In our air fryer, I usually can fit about 12 to 15 wings in the air fryer basket.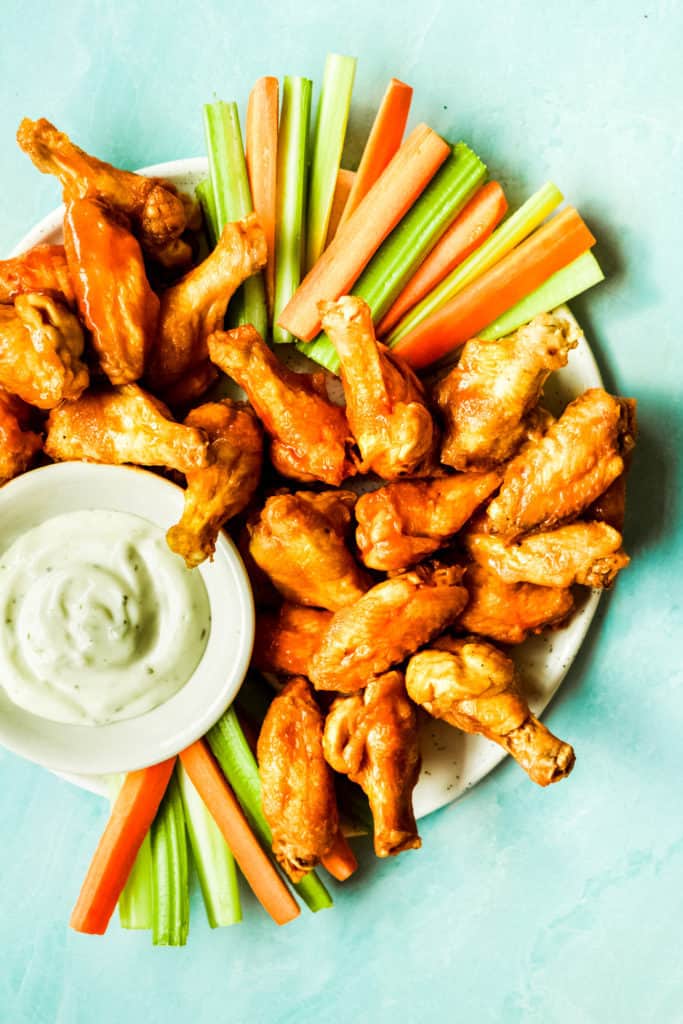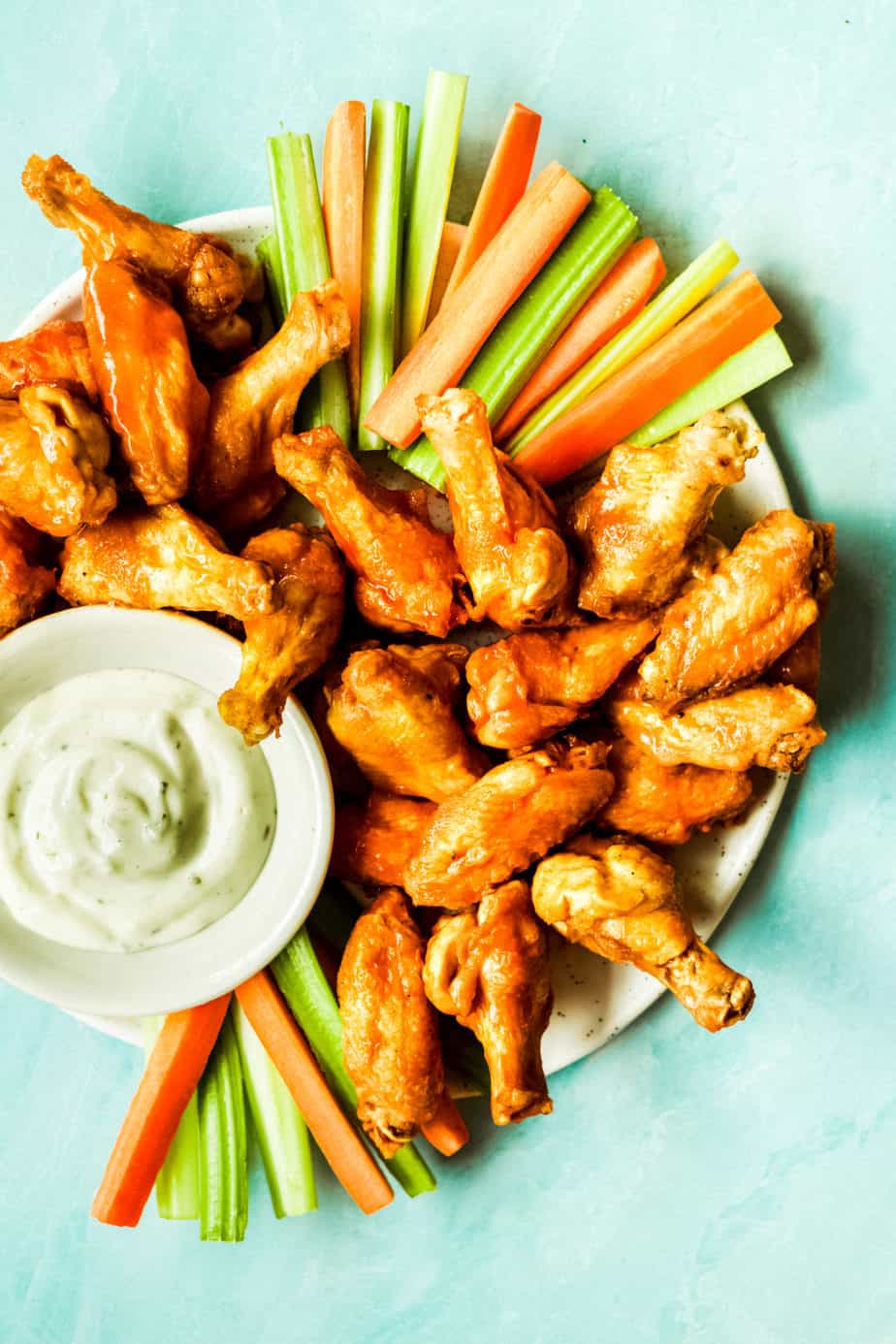 Can I make frozen chicken wings in the air fryer?
Yes, you can totally use frozen chicken wings to make this extra crispy air fryer chicken wings recipe. Add about 5 to 10 minutes of cooking time if you are cooking the wings from frozen (and skip the brining step). Again, how many times can I say it? All air fryers are different so you'll want to make sure the chicken is cooked to 165 degrees Fahrenheit.
BUT, even though you can cook wings from frozen, does that mean you should?
I guess it comes down to convenience and personal preference. In my opinion, brining and then air frying fresh chicken wings makes them not only extra crispy, but still super juicy and really delicious.
By using frozen wings, you are skipping the brining step which gives the meat its juiciness. Additionally, air frying the wings from frozen can create a ton of excess water in your air air fryer, so its likely that halfway through cooking you'll have to remove the basket and drain the extra liquid. You'll want to drain the liquid in order to get extra crispy air fryer chicken wings and not soggy ones.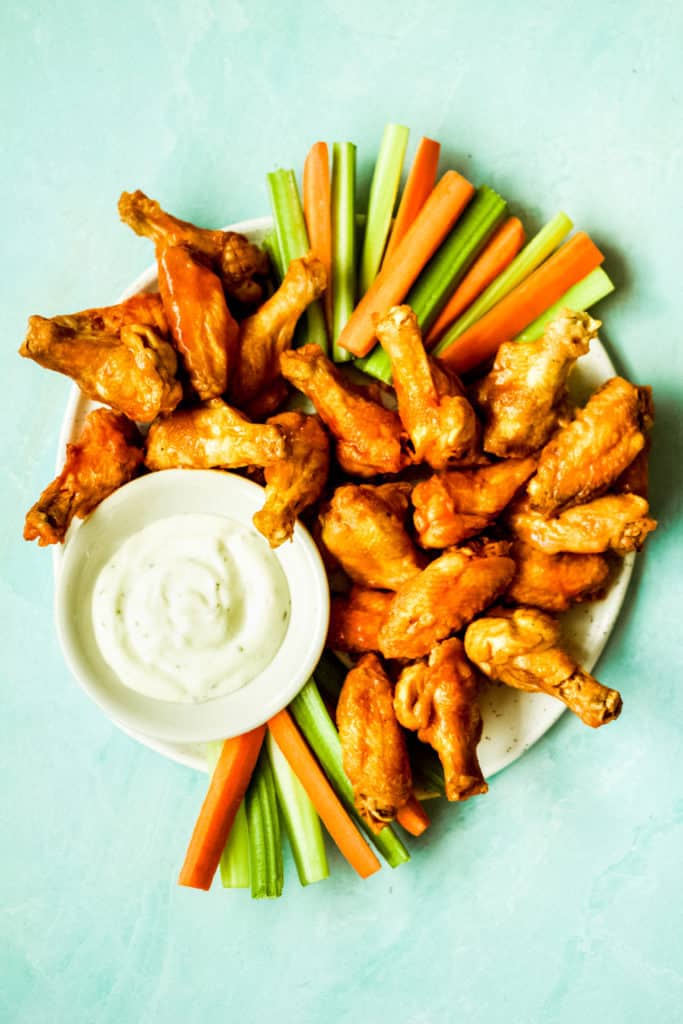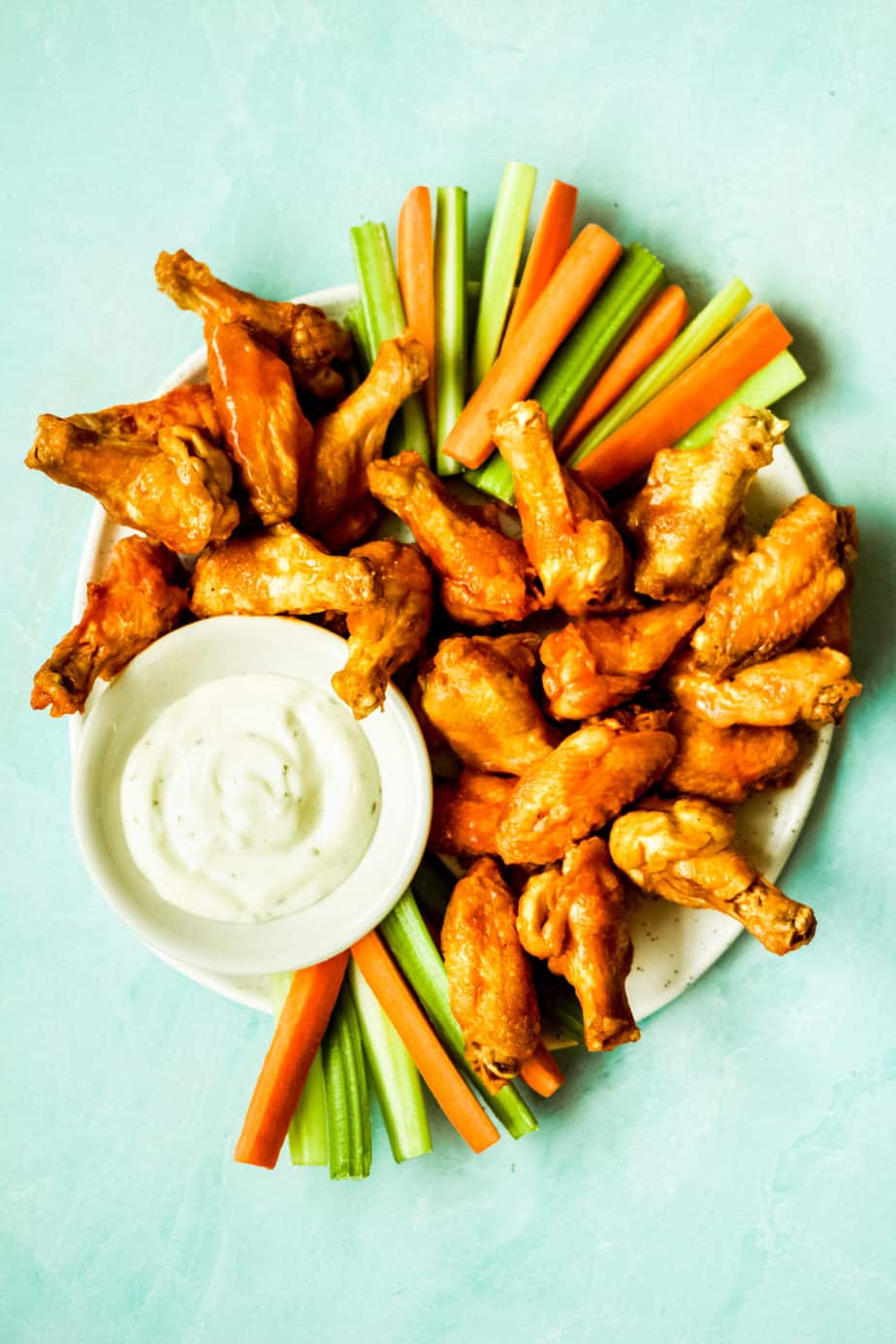 How do I reheat the leftovers?
Preheat your air fryer to 350 degrees Fahrenheit for about 3 minutes and then add the leftover wings to the basket and cook for about 5 to 7 minutes until the wings are nice and hot.