This pantry plate post will walk you through how to make a simple cheese platter with ingredients you already have in your pantry or fridge!
I'm back this week with another recipe (is putting cheese and meat on a plate a recipe? Sure why not!) idea to use ingredients you already have at home.
Did you miss my post all about basic cocktail recipes last week?
You have to go check it out, there are 22 different variations with five different types of liquor to get your delicious drinking on while you're staying at home.
This week, we're talking cheese boards (I do have a cookbook with 18 different cheese platter ideas and variations coming out in a couple months after all! Pre order Stunning Spreads!)
All you need to go is take a little shopping trip to your kitchen cabinets and cupboards, swing by the fridge for a short little pit stop, and you have all the makings of a delicious, simple cheese platter without leaving the house.
I also like to call this little simple cheese platter a "pantry plate," if you will.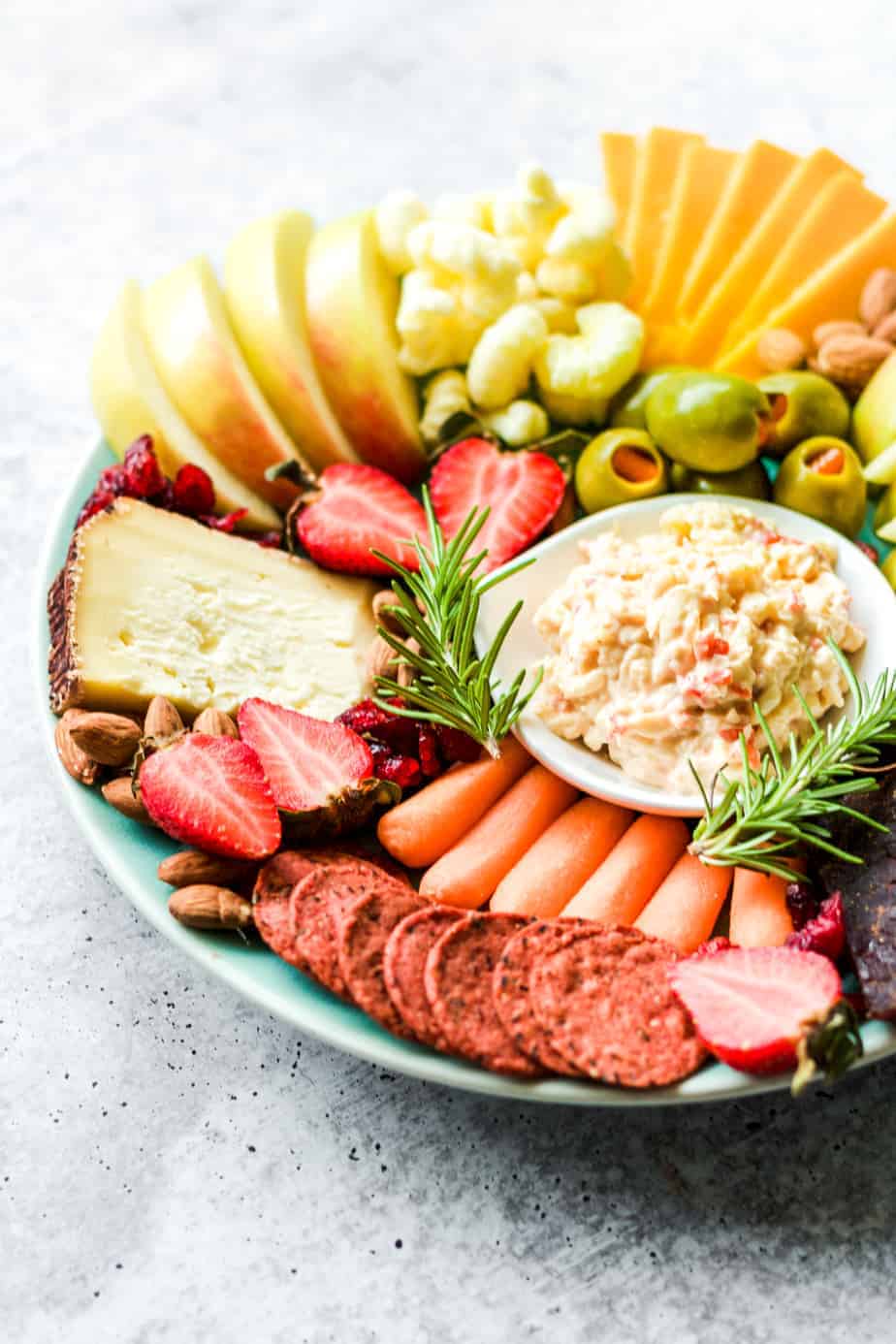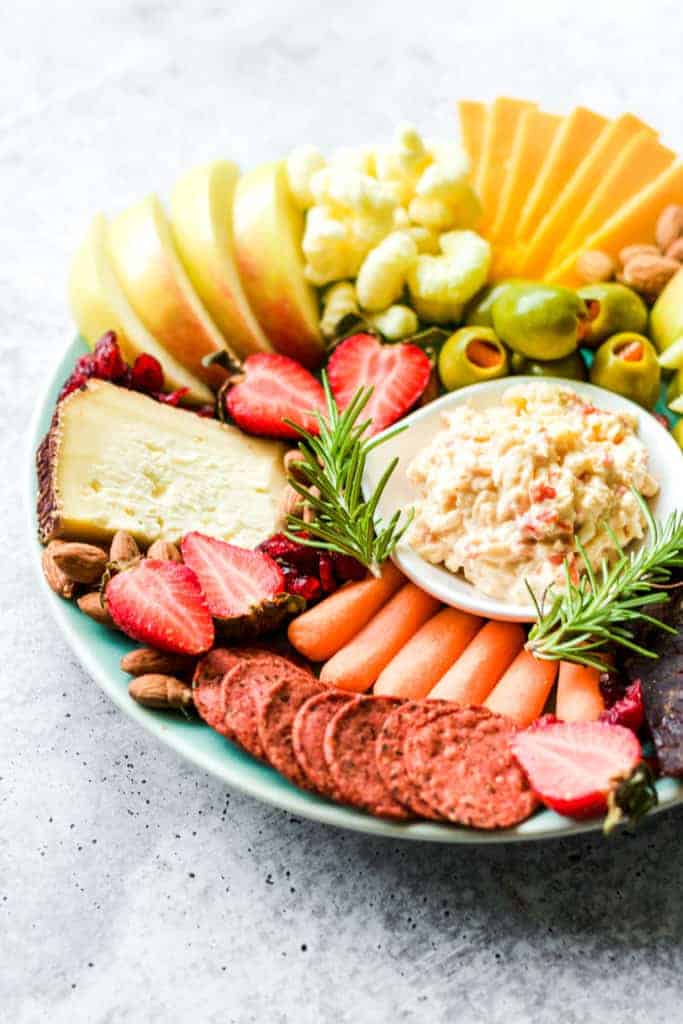 And a pantry plate has been one of my favorite ways to eat lunch while living my glamorous work from home life. Ok I won't lie, we've eaten a few simple cheese platters for dinner too!
I feel like cheese platters and boards are all the rage recently; there are tons of different cheese influencers and businesses on Instagram, you can take classes all about cheese flavors, pairings and how to build a cheese board, and there are cookbooks dedicated to the wonderful world of cheese boards!
(Have I beat a dead horse with the cookbook yet?)
There's all sorts of advice you can get on Instagram or in blog posts when it comes to building the perfect cheese board for a group or a party including things like: how many kinds of cheese to use, how to vary cheeses between taste and texture, serving sizes for a crowd and complementary ingredients.
In fact, I have all the down and dirty details of How to Make a Cheese Platter, featuring things like pairings, seasonal ingredients and more in a separate blog post!
And those tips and advice are still swirling Instagram in a time of stay at home, but just by paring down the serving size to just one, two or a few.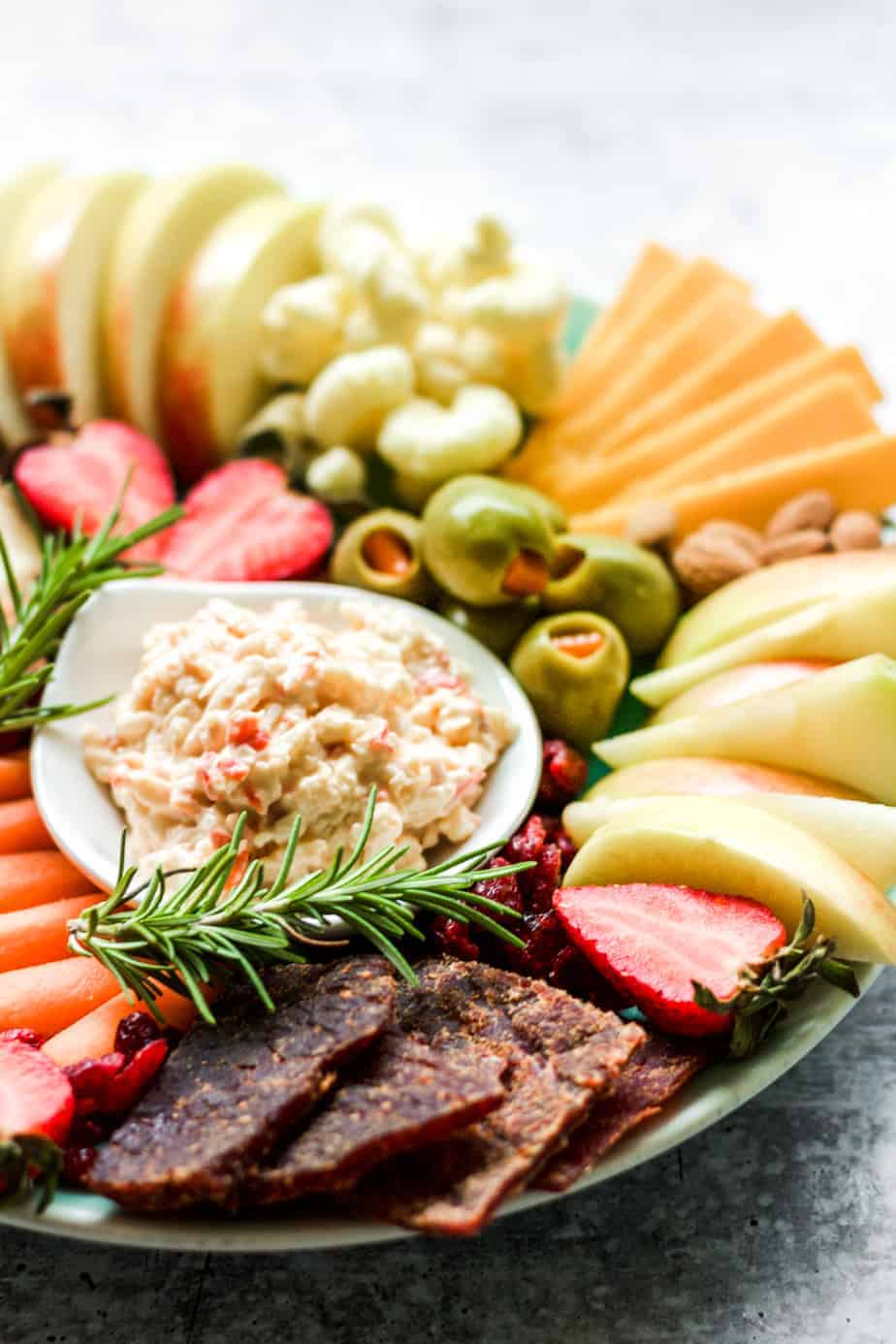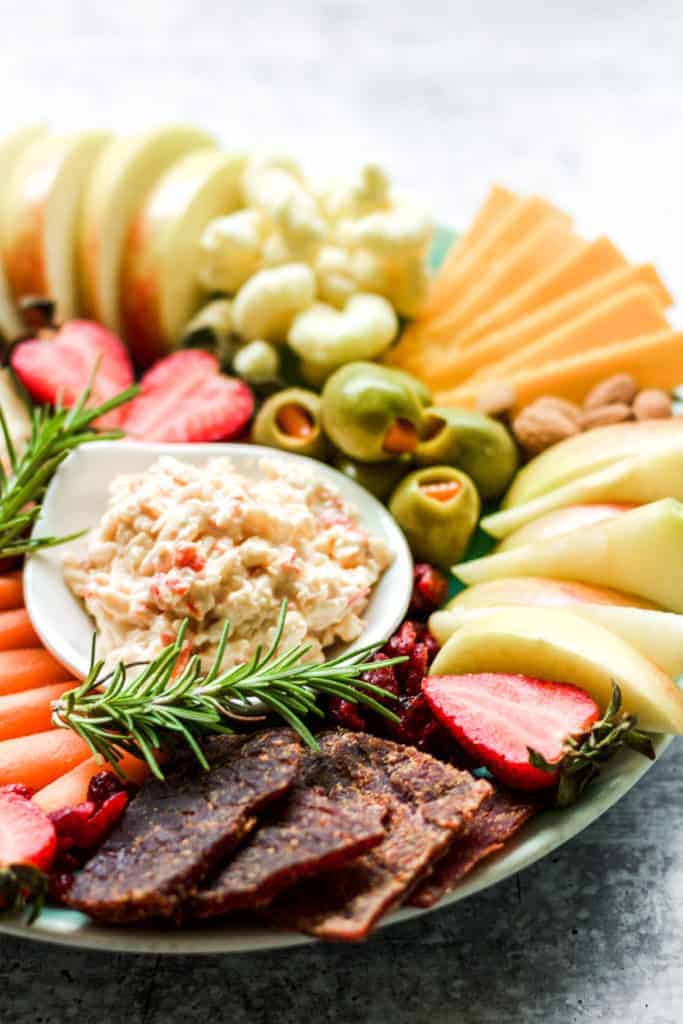 But what about for those of use that don't have a variety of fancy soft and hard cheeses in the fridge? And I was too busy trying to get in and out and stay six feet away from other people that I totally forgot to pick up my edible flowers on my last grocery store run!
So I wanted to challenge myself (and you guys!) and provide y'all with ideas and inspiration to build yourselves a simple cheese platter with the stuff you already have at home in your pantry or fridge.
If you don't have the latest and greatest alpine cheeses, that's cool.
If you don't have salami, but maybe just some deli turkey (or turkey jerky), it will work.
If the crunchy you have in your cabinet is potato chips and not multigrain crackers, your simple cheese platter will still be delicious.
And when it comes to that fresh element, we're talking fruit and veg, just use what you have! For us today, that's apples, pears, a few lonely clementines that are going to go off soon and maybe a few strawberries if AJ didn't eat them all for breakfast this morning.
WHAT INGREDIENTS DO I NEED FROM MY PANTRY AND FRIDGE?
Let's start with simple cheese platter basics.
What do you need to build yourself a pantry plate?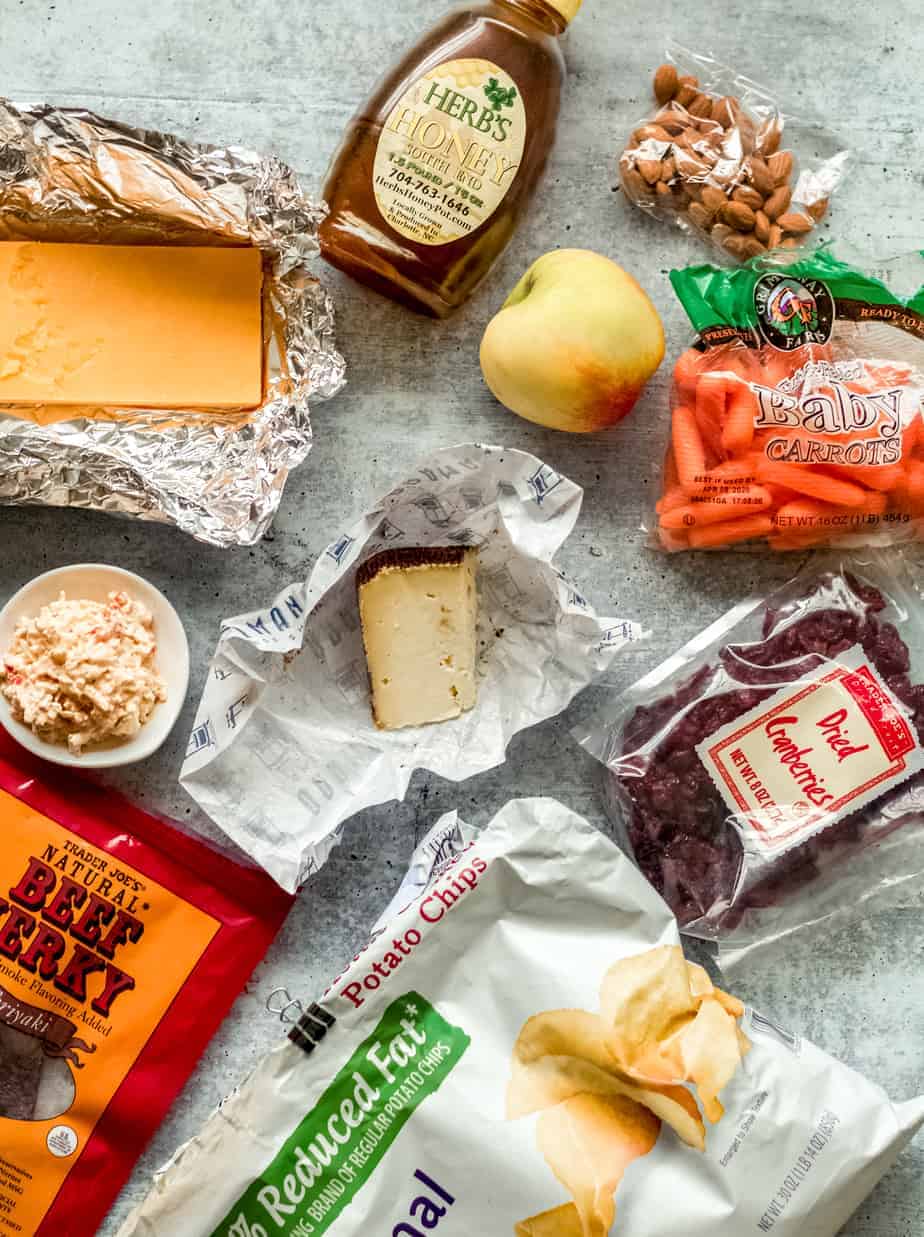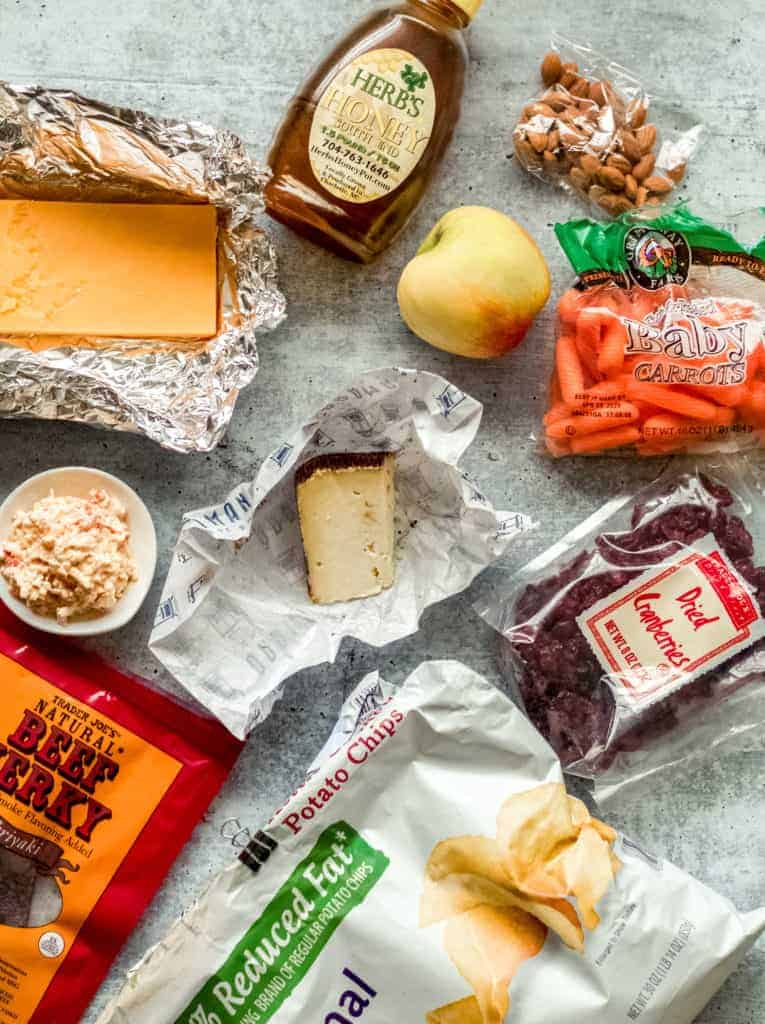 First, pull a dinner plate out from your cabinet. This will be our base for serving. (Since the weather has been nice, at least here in Charlotte, you could also build your plate in a tupperware container for easy transport to the backyard.)
As we go through each ingredient step by step, add it to your plate.
CHEESE
I like to start with two different types of cheeses.
Normally, I tell you to think about featuring a variety of different flavors and textures. But when it comes to pantry plate making, there are no rules!
If you have a hard and a soft cheese, excellent, use it.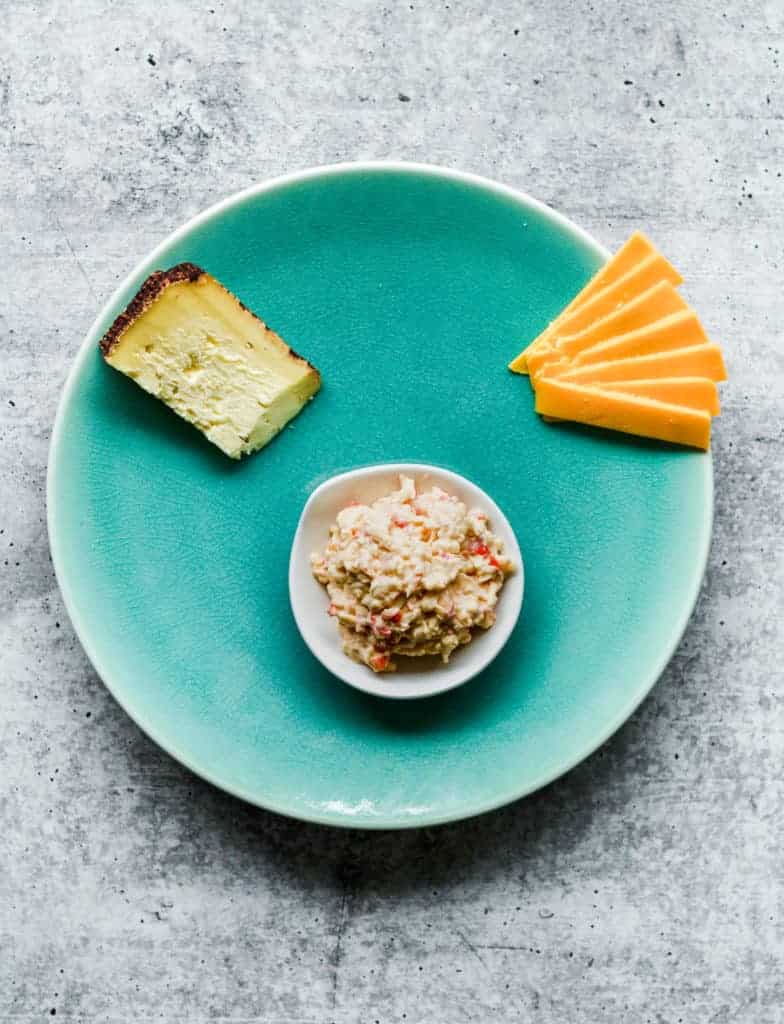 If you have two hard cheeses, sounds delicious. In fact, here's a pro tip: hard cheeses will stay fresher in your fridge for longer, up to 4 to 6 weeks, making them an excellent fridge staple because of their long shelf life. So stocking up on hard cheese will save you on grocery trips.
If you have just one kind of cheese, just one kind of cheese will work perfectly. If you want to put three or four kinds of cheese on your pantry plate, I say do it! (And no judgment from me if you want to share or not share.)
Deli slices are your only option? Then you've saved yourself the step of slicing before plating or eating!
As we go through this, I'm going to tell you what we have in the fridge and what I'll be using. Here's what we have on hand when it comes to cheese:
A block of sharp orange cheddar
A small wedge of Chocolate Lab cheese (it's a local cow's milk cheese with a cocoa rubbed rind from Looking Glass Creamery in the mountains that we picked up at the farmers market where we did our weekly grocery shopping last weekend.)
Pimento cheese (storebought not homemade)
A few slices of provolone cheese (but I'm saving those for Roasted Jalapeno Poppers)
MEAT
Next up, we've got our meat. For a small, one to two person lunch cheese platter, I say go with one kind of meat.
But I will repeat again, pantry cheese plates have no hard and fast rules so if you want more meat, add more meat.
And if you have no meat, no problem! You don't need meat to make a good cheese board. What about adding some hummus or roasted chick peas or caramelized onions instead?
Just like hard cheese is a great fridge staple, hard salami and other cured meats also have a pretty long shelf life in the fridge (we're looking at up to 4 weeks.) BUT, just a little note, if your meat is pre sliced, it will only last about a week (including salami.) So when it doubt, opt for cured meats that come in a stick, log or basically that you have to slice yourself to get ones with a longer shelf life.
This is a great place to use up the random turkey, salami, ham or other deli slices you may have in the fridge, you know the ones where there's just not enough to make a sandwich. Or maybe you have some chicken or tuna salad…also perfect for a pantry plate.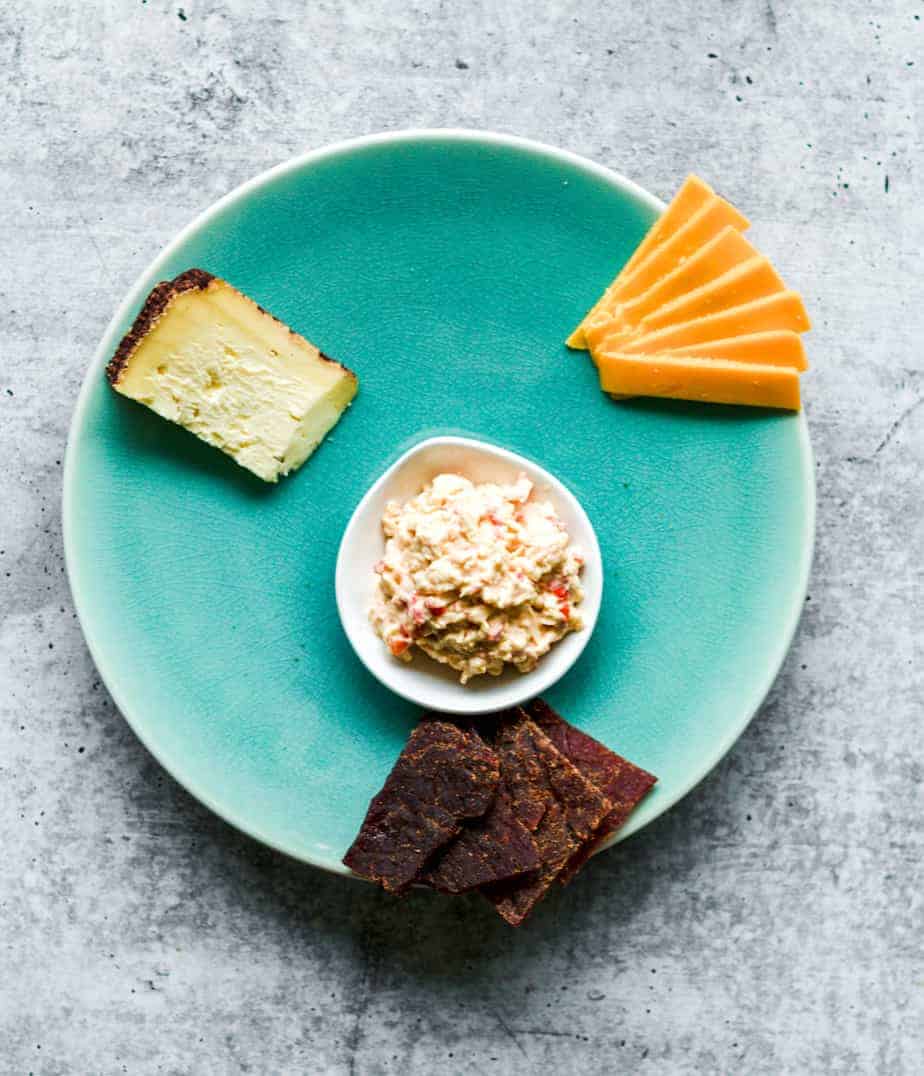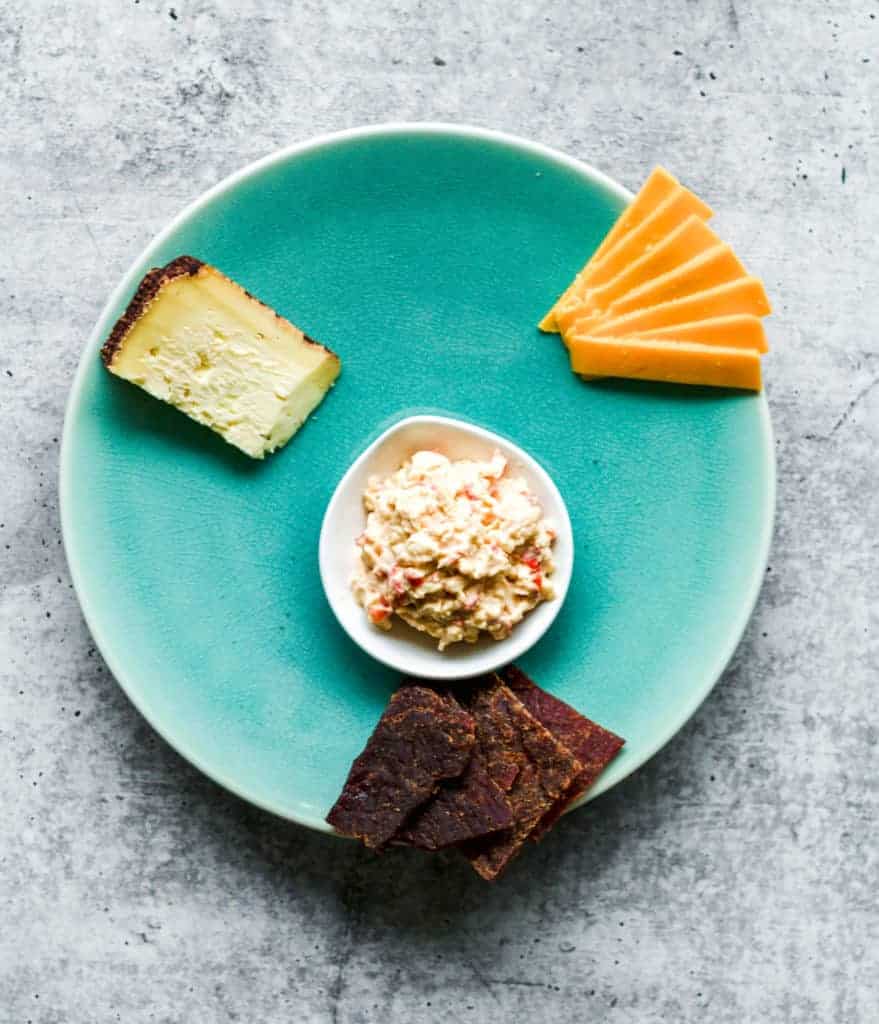 Here's what is in our fridge (we are sort of slacking in the meat department):
Teryaki beef jerky (in the pantry, not the fridge)
Elk sausage sticks (we got these from AJ's dad or brother in law and decided to break out a pack from the freezer and let it live in the fridge…it's kind of like summer sausage)
And that's it! I told you we were slacking here but we're trying to use what we have on hand. I also have a few cans of chick peas in the pantry so maybe I'll roast some of those.
CARBS
Carbs are next on a simple cheese platter.
Use them as a vehicle for cheese, meat, condiments or crunch on them on the side.
When people most often think of carbs they think of crackers. Crackers are totally great and if you need to get creative you can use things like potato chips, pretzels, cheese puffs, breadsticks or toast up some bread.
Here's what we have in the carb department:
Gluten free beet crackers from Trader Joe's (I love these because they taste good and give you a pop of color)
Sourdough hard pretzels (impulse buy)
Oven baked potato chips (impulse buy)
Pirate's booty (impulse buy are you seeing a trend?)
And some Rosemary Asiago focaccia from Duke's bread (but I probably won't use that because too many flavors going on and I want to save it for eating it on it's own!)
FRUITS/VEG
Next up let's get fresh.
I love putting a fresh element on cheese platters and boards, and it usually comes in the form of a fruit or vegetable.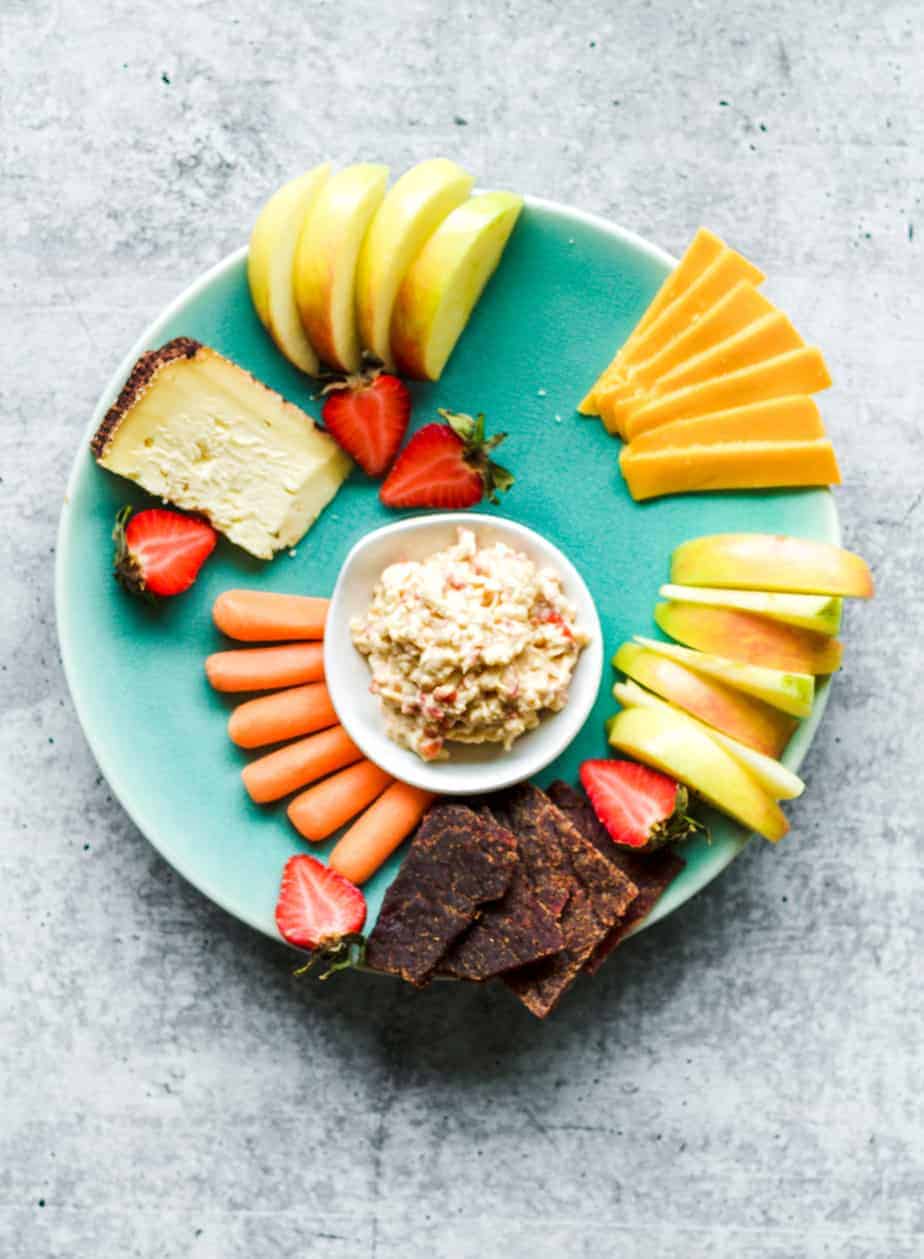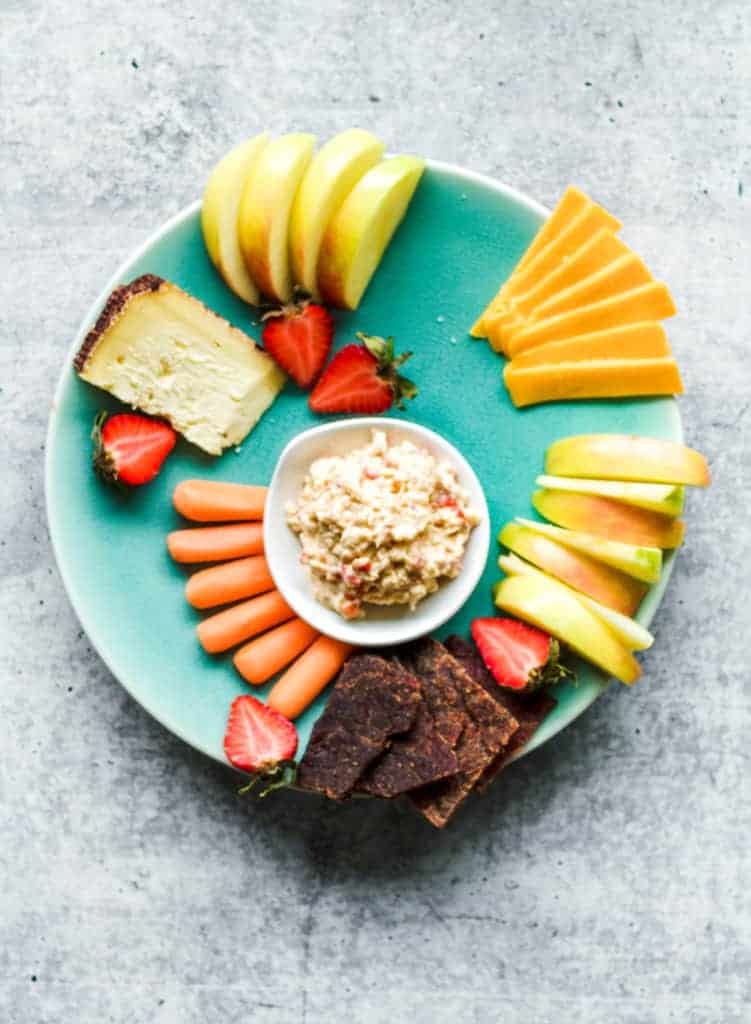 My normal approach (and what I preach in my super long how to guide on cheese platters and in my cookbook) when it comes to fresh elements is stick with seasonal fruits and vegetables whose flavors pair well with the cheese you're serving.
But when it comes to a pantry plate, say it with me, there are no rules. So let's just hope you have some fruit or veg in your fridge.
(If you don't, that's ok! Dried fruits are excellent pantry staples and perfect for pantry plates…they can last in your cupboard for something crazy between six and twelve months.)
Here's what we've got going on:
Apples
Pears
Two sad clemetines
A couple strawberries
Some leftover Brussels sprouts that we had for dinner the other night (which I will not use but they exist)
I found some baby carrots hiding in the back of the vegetable drawer
And for some reason 3 bags of dried cranberries in the pantry
CONDIMENTS/DIPS/SPREADS
This is the honey and jam part of the pantry plate. Both of these things last for ages and I'm sure you have some in the door of your fridge or in your kitchen cabinet. I love pairing the sweetness of honey or jam with the saltiness of cheese!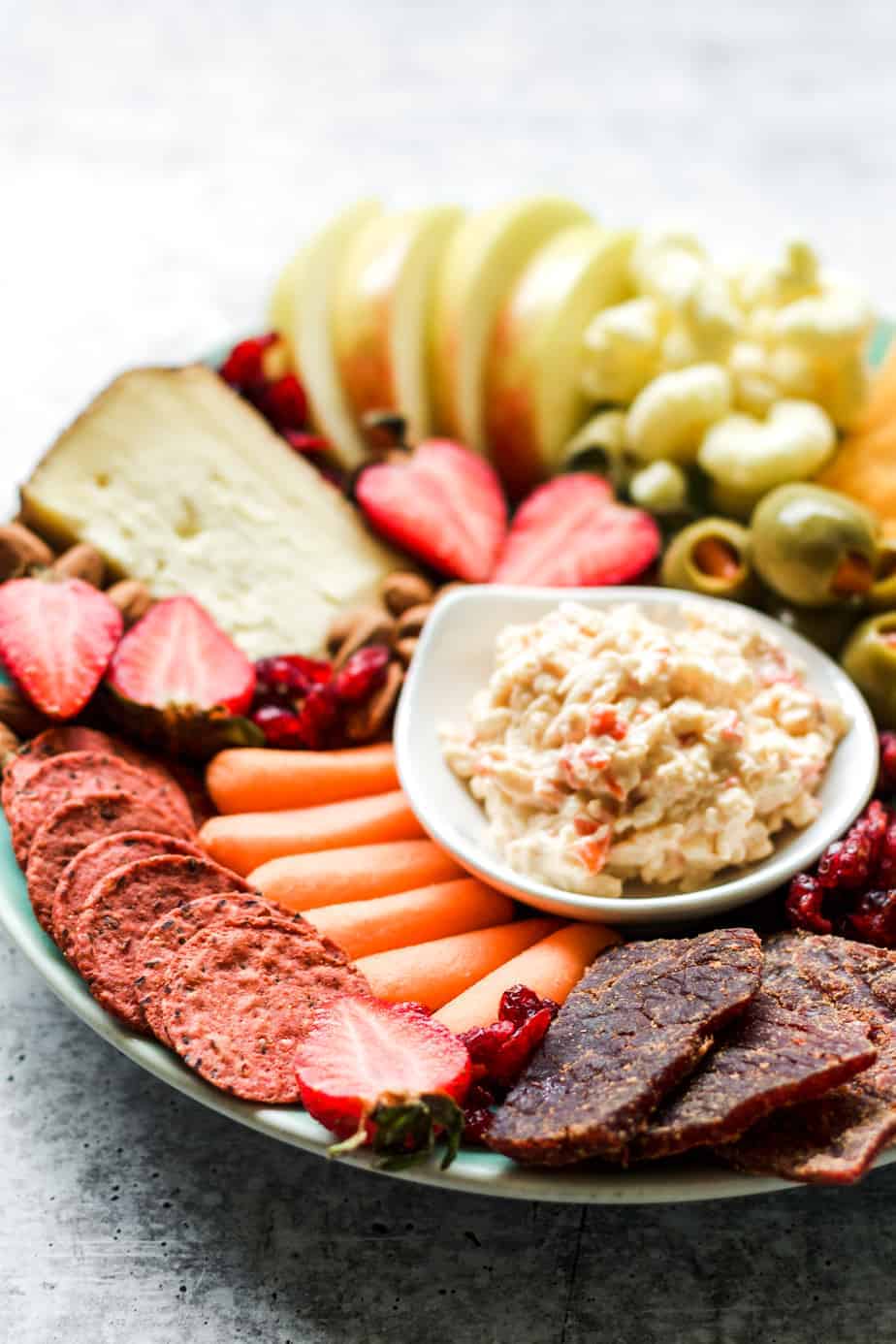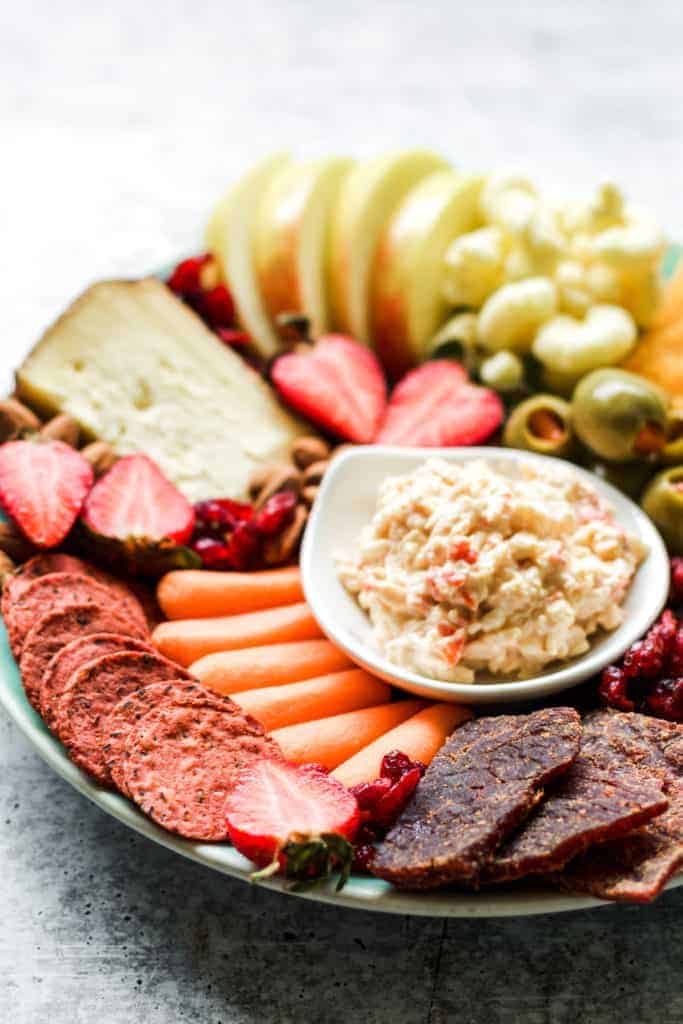 Other condiments could include basically anything pickled, so olives, pickles, relish etc. Mustard is always a good choice. And if you're fancy, you might have a tapenade or something at home.
What we have going on:
Honey
Spanish olives
Whole ground mustard
And raspberry jam that expired a year ago so I just threw it out
NUTS
Nuts make a great final touch and add a little crunch. They also last forever so you may find that you've been hoarding a lot of nuts in your pantry like we have.
We have:
Hazelnuts
Pistachios
Almonds (lots of packages of almonds)
Sunflower seeds
Cashews
Peanuts
GARNISH
Last up is garnish, which is fresh fruit and flowers (edible or inedible ones) that add a little pop of color to your plate.
We recently just planted rosemary, sage and basil plants, and have some pretty flowers popping up in the backyard, so my scissors and I will head out back to finish our plate!
HOW MUCH CHEESE, MEAT AND OTHER INGREDIENTS DO I NEED?
For a lunch plate or appetizer plate for one person, I'd recommend 2-3 ounces of cheese, one to two ounces of meat, one to two fruits or veggies (by one to two I mean like one apple, then slice it, or a handful of baby carrots) and then one to two tablespoons of condiments and nuts.
Increase these serving sides for more than one person (so double it for two of you) and increase the amounts about an ounce or two per person if you're making a dinner out of it.
I'd love to see your pantry plate creations! Tag me on Instagram (@chrissie_beth) and use the hashtag #pantryplate if you post yours!