Looking for easy gluten free, Paleo or Whole30 breakfast ideas?
Look no further than these baked eggs in avocado; made with only two ingredients (and a few more depending on your personal taste), they are one of the easiest breakfast recipes on the planet and super delicious too!
If you need more Whole30 breakfast recipes, check out these 10 easy and delicious Whole30 Breakfast Ideas!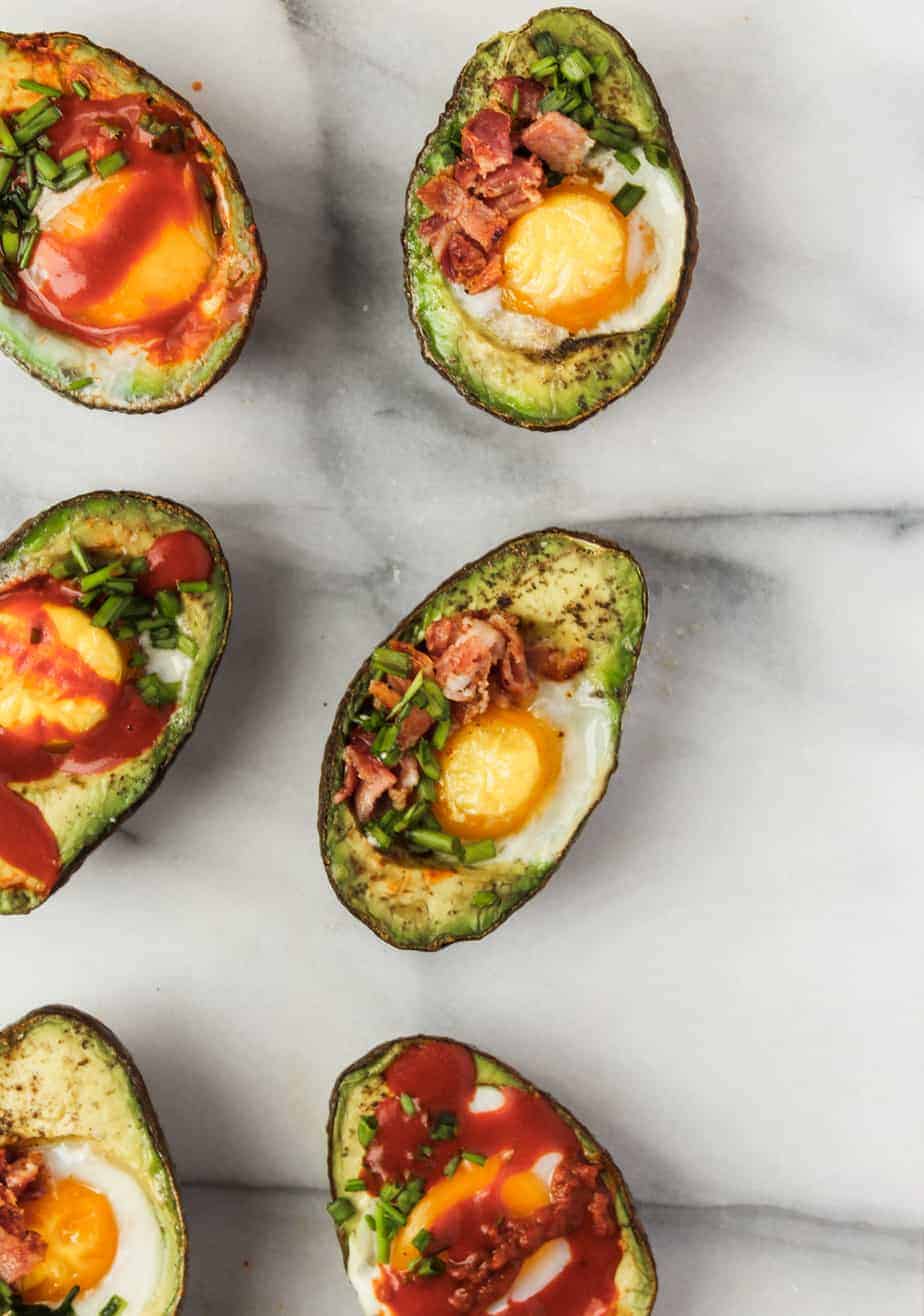 A few weeks ago I asked y'all on Facebook and Instagram what kind of recipe you'd like to see next…a cocktail or an easy breakfast recipe.
Having gotten a lot of great feedback from readers about my cocktail recipes (like this Blackberry Basil Gin Fizz, this Spiked Hot Apple Cider, these Strawberry Bellinis, and these Corona Floats), I really thought cocktails would win by a landslide.
It took me a hot sec to pick my jaw up off the floor, but overwhelmingly, you requested my next post to be an easy breakfast recipe. (Maybe you're really impressed with my Bagels and Lox Brunch Board, Everything But The Kitchen Sink Breakfast Casserole, Sweet Potato Breakfast Hash, or my Gluten Free Quiche.)
(Don't worry cocktail lovers, we have a cocktail recipe coming in February!)
So here it is people, the easiest breakfast recipe on the entire planet.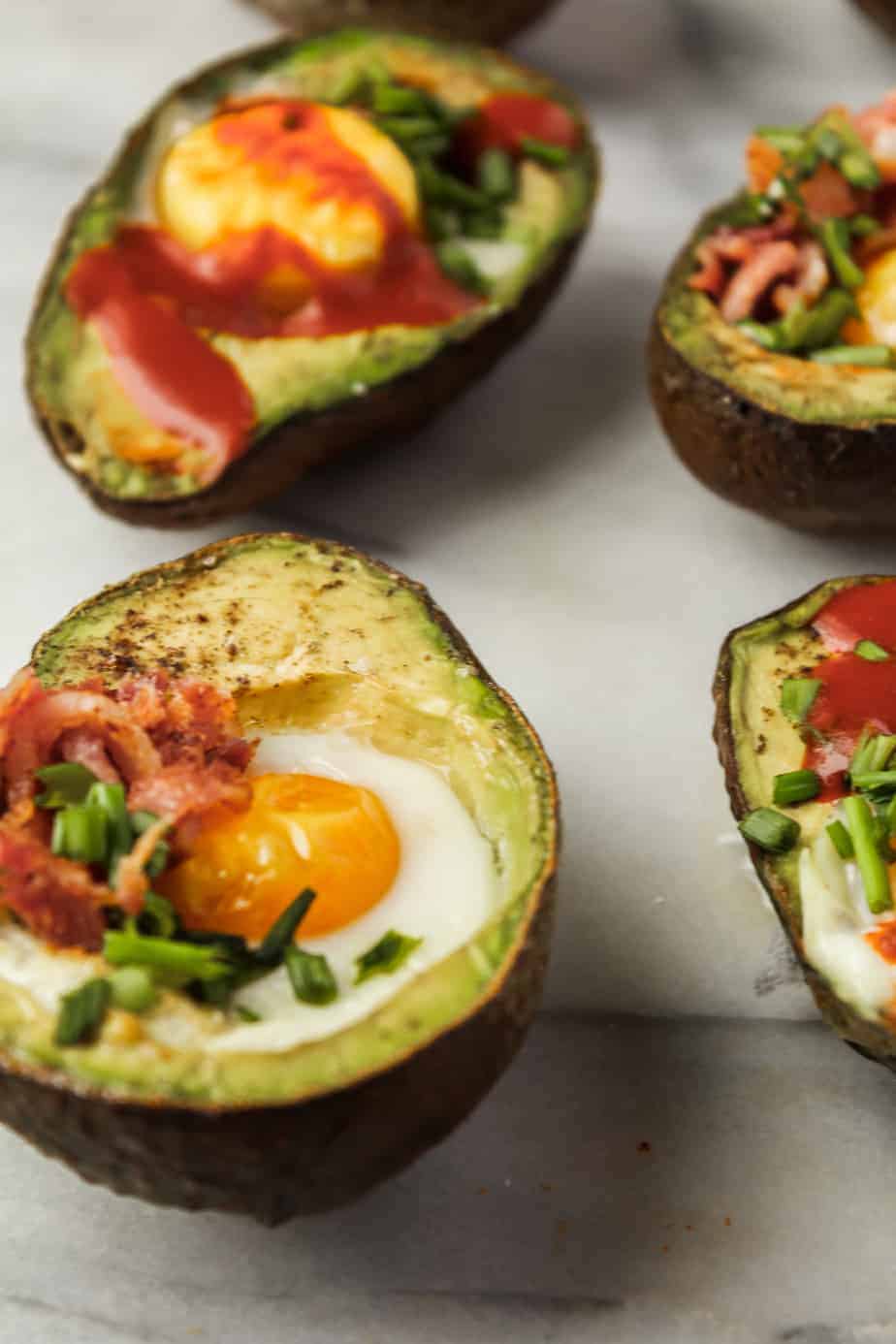 (It's just an added bonus that these baked eggs in avocado are not only easy and delicious, but they are also a gluten-free, Paleo and Whole30 breakfast recipe.)
I can't remember the exact timeline that I discovered the baked eggs in avocado deliciousness but what I can tell you it's been in my regular weekday breakfast rotation going on three or four years now.
As someone who struggles to make and eat weekday breakfasts (I know, I know, I know, it's the most important meal of the day) breakfast recipes that are super easy, delish, healthy and can keep me feeling full until lunch give me life (and also help me eat breakfast).
These baked eggs in avocado check all of those boxes:
this easy Whole30 breakfast recipe can be made in under 20 minutes
it's flavorful with just a little bit of sauce and pepper but I like to jazz it up with hot sauce, chives, and some crumbled bacon
and the balance of protein from the egg and healthy fats from the avocado keep me full until lunch time.
Weekday breakfast win!
CAN YOU HAVE EGGS ON WHOLE30?
Yes!
You are allowed to eat eggs on Whole30, making baked eggs in avocado a Whole30 compliant recipe.
They are also gluten free, dairy free and Paleo.
If you're going to use hot sauce and eating Whole30 right now, you just have to make sure your hot sauce is compliant with Whole30 !
HOW TO MAKE BAKED EGGS IN AVOCADOS
Slice your avocado in half and remove the seed.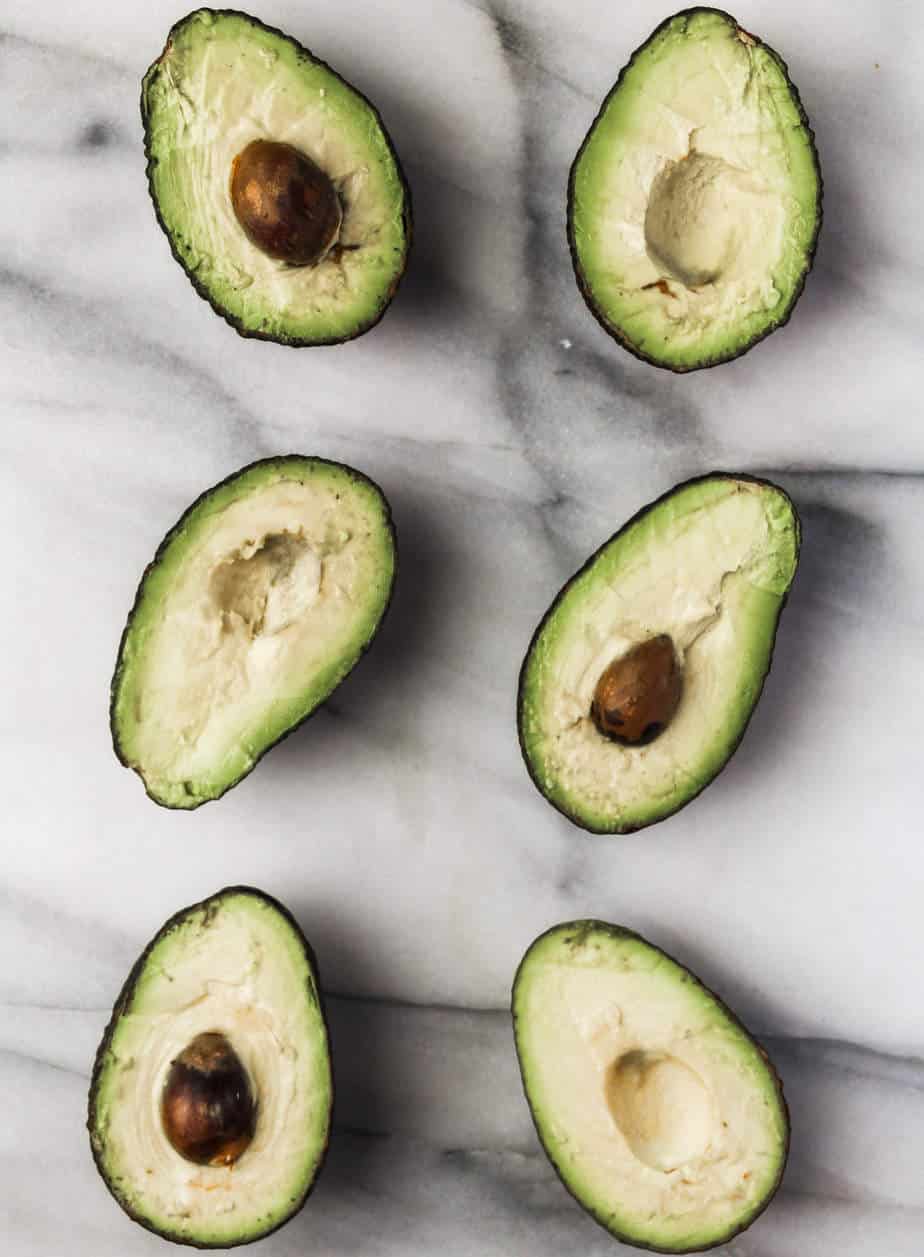 Scoop out about one to two tablespoons of avocado.
By scooping out some of the avocado, you will make a little nest for your egg.
You want to scoop wide, rather than deep, so your egg will cook faster. (If you don't scoop out any avocado, your egg won't fit and will just spill out when you crack it!)
Season your avocado with salt and pepper.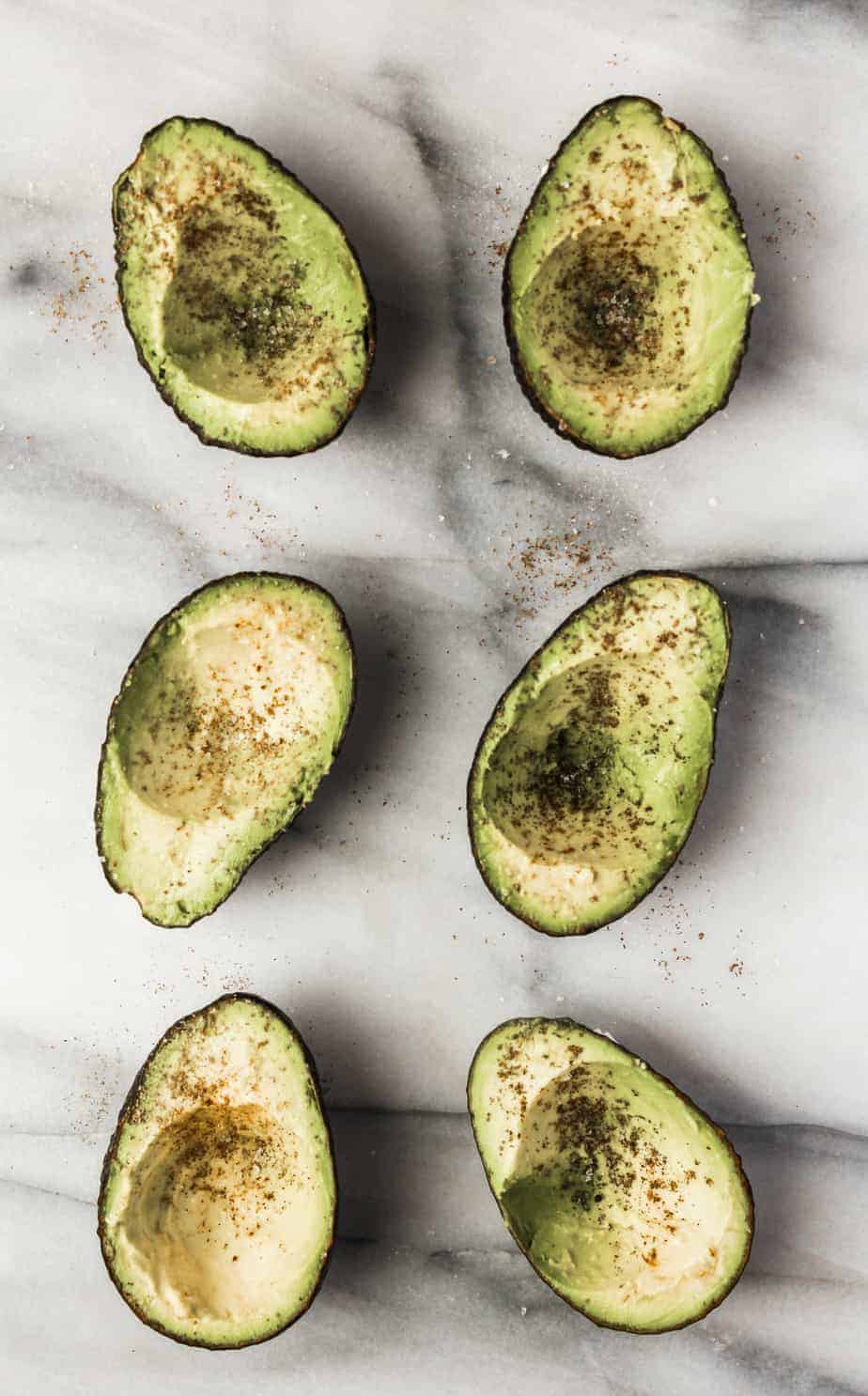 Place avocado on a baking sheet (it's good to make a little aluminum foil holder to keep it from leaning and the egg spilling out), muffin tin, or oven safe ramekin.
Crack the egg into each half of avocado. A little of the whites will spill out.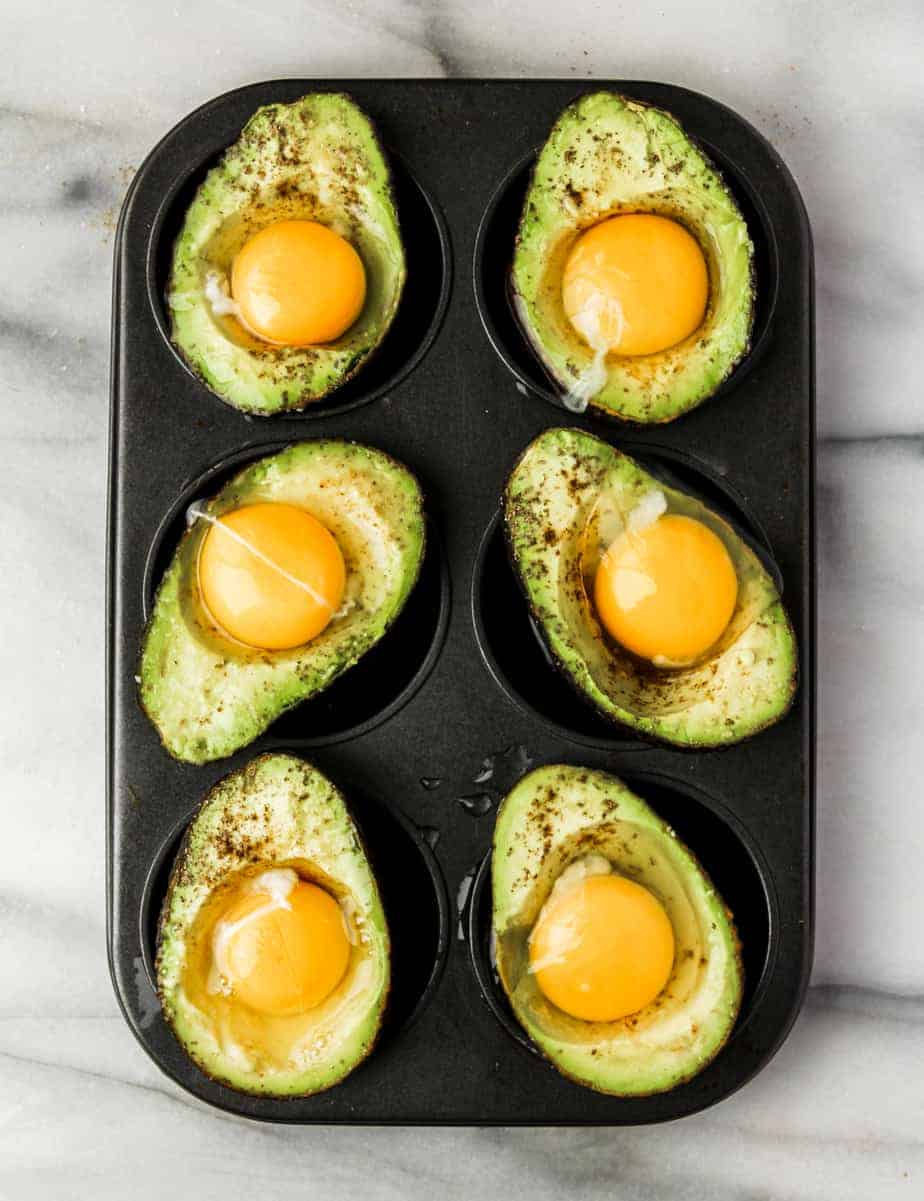 Bake until the egg is at your desired consistency…about 15 minutes for a runny egg!
WHAT CAN I TOP MY BAKED EGGS IN AVOCADOS WITH TO MAKE THEM A WHOLE30 BREAKFAST?
Baked eggs in avocados are so delicious on its own, you don't really need a topping if you don't want one. Two ingredients and you're done.
But, if you want a little something extra, my favorite goodies to top my baked eggs in avocado with are bacon, chives and hot sauce. (and depending on the brand of hot sauce, it is still a Paleo and Whole30 breakfast!)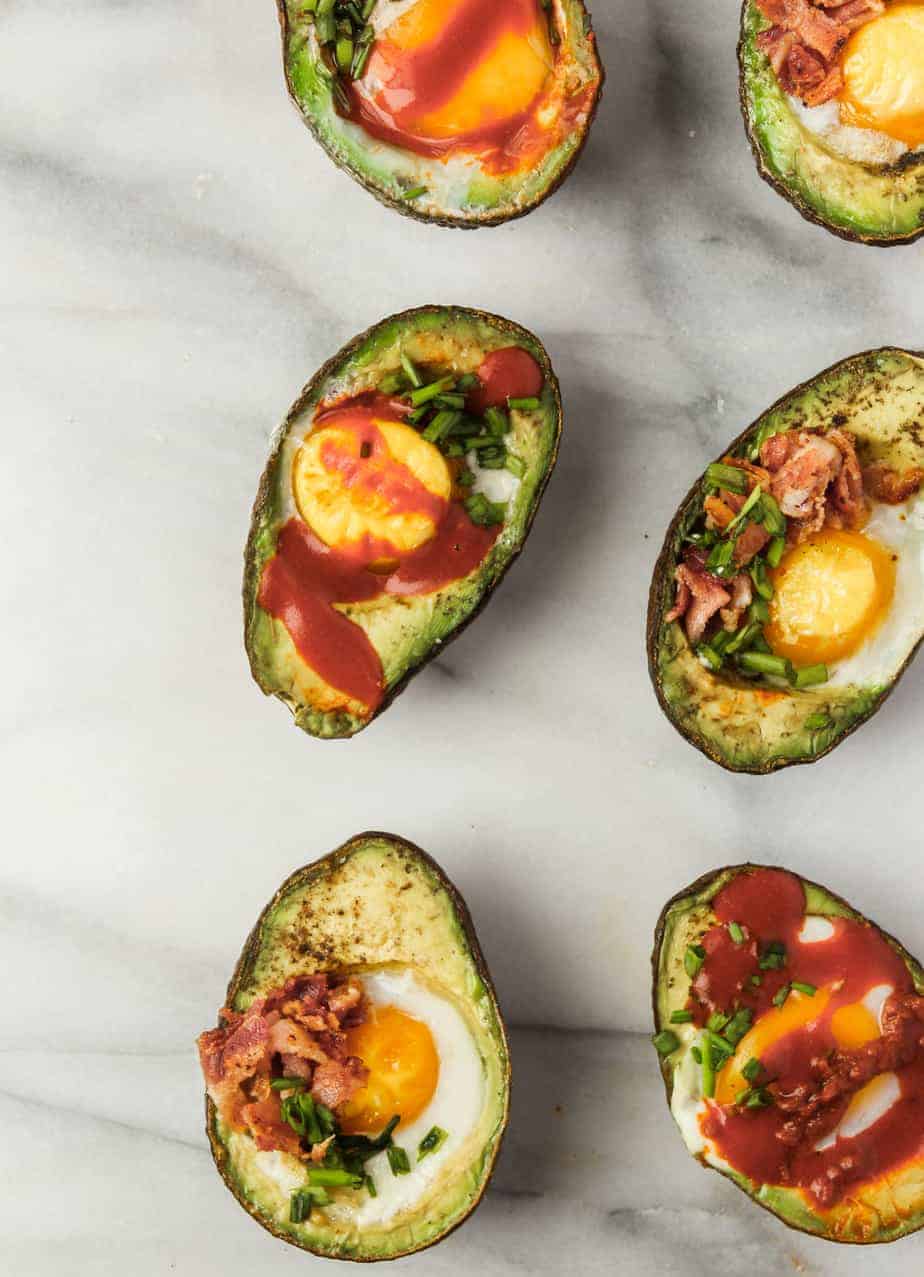 Other spices or herbs like garlic, rosemary, thyme, and cumin would also be really yummy.
A little bit of cheddar cheese would also be yum (but would take away the Paleo and Whole30 breakfast compliance if that's something you care about.)
Some fresh tomato would also be bright and delicious!
WHAT DO I DO WITH THE LEFTOVER AVOCADO?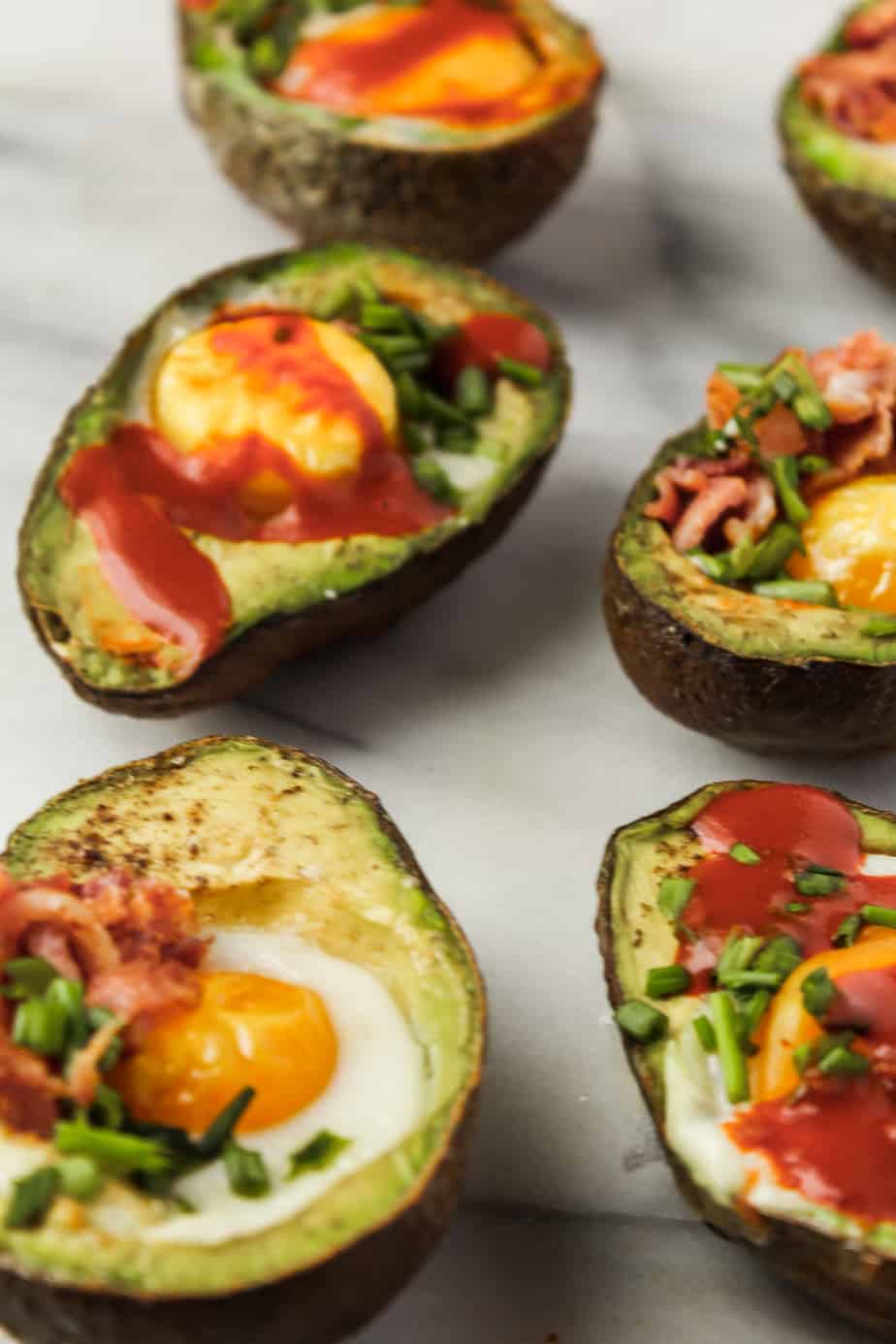 Not sure what to do with the avocado you scooped out in your egg nest making process?
Eat it!
Sometimes I can't wait and just eat that avocado with a spoon while my baked eggs are cooking.
Sometimes I have self control and wait for my baked eggs in avocados to be ready and I just serve that extra avocado alongside or mix it in.
Sometimes I have a lot of extra avocado (like I did when I took these photos) and I make a really quick and easy guacamole.
Yes, seriously, we also ate guac for breakfast yesterday.
HOW DO I EAT BAKED EGGS IN AVOCADO?
There's no right or wrong way to eat baked eggs in avocado.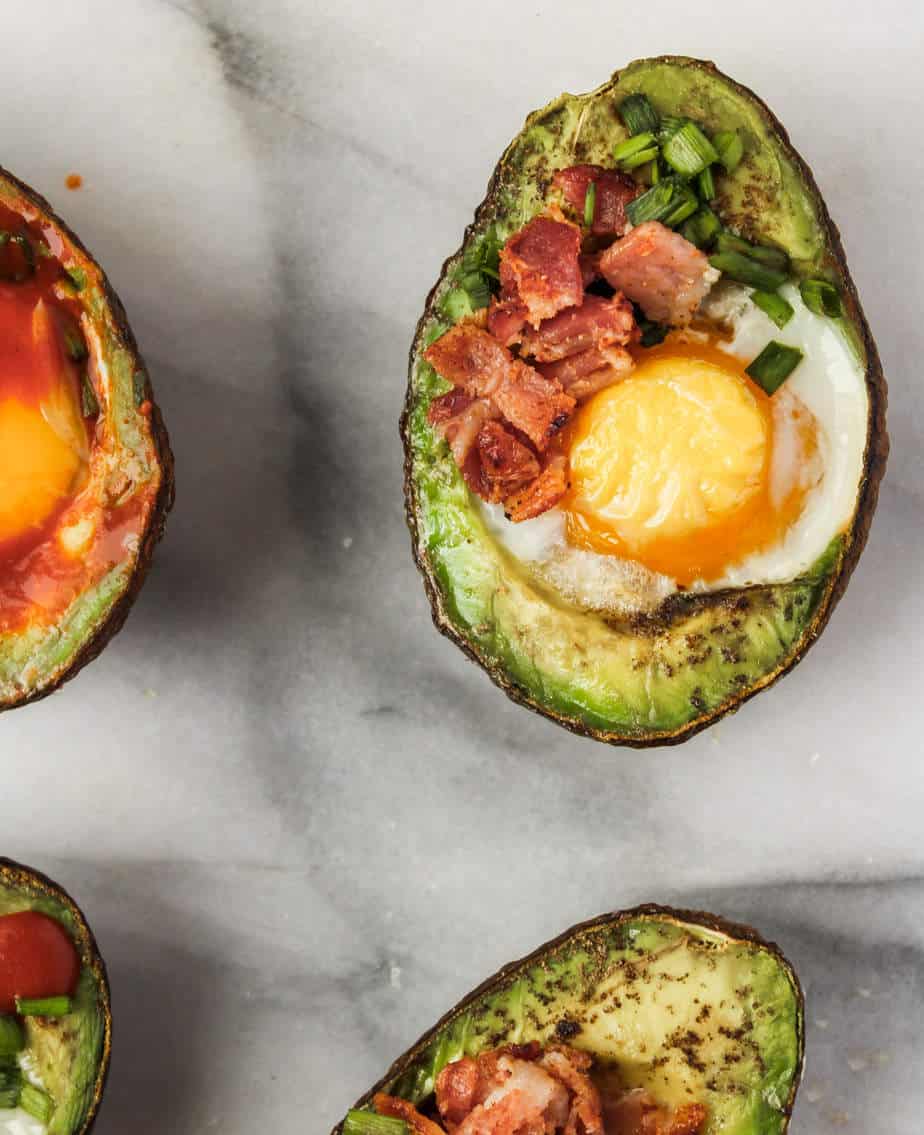 When they are finished baking, I like to let them cool a little bit and just scoop everything out and sort of mix it all together. Super yum with a perfectly runny egg.
Baked eggs in avocado is also super delicious on top of some toast (again, not a Paleo or Whole30 breakfast with toast if that's a thing you're looking for) or on top of sweet potato toast (if you're trying to stick with a Paleo or Whole30 breakfast idea.)
HOW DO I STORE BAKED EGGS IN AVOCADO?
I usually make baked eggs in avocado to order, so there's usually not a storing situation going on over here.
It's also probably because I just am really, really, unreasonably afraid of brown avocados…even though I don't need to be.
So, if you have a similar brown avocado fear, I would recommend making baked eggs in avocado to order, that is, make as much as your going to eat that morning. (Or that evening if you're doing a breakfast for dinner situation. I love breakfast for dinner.)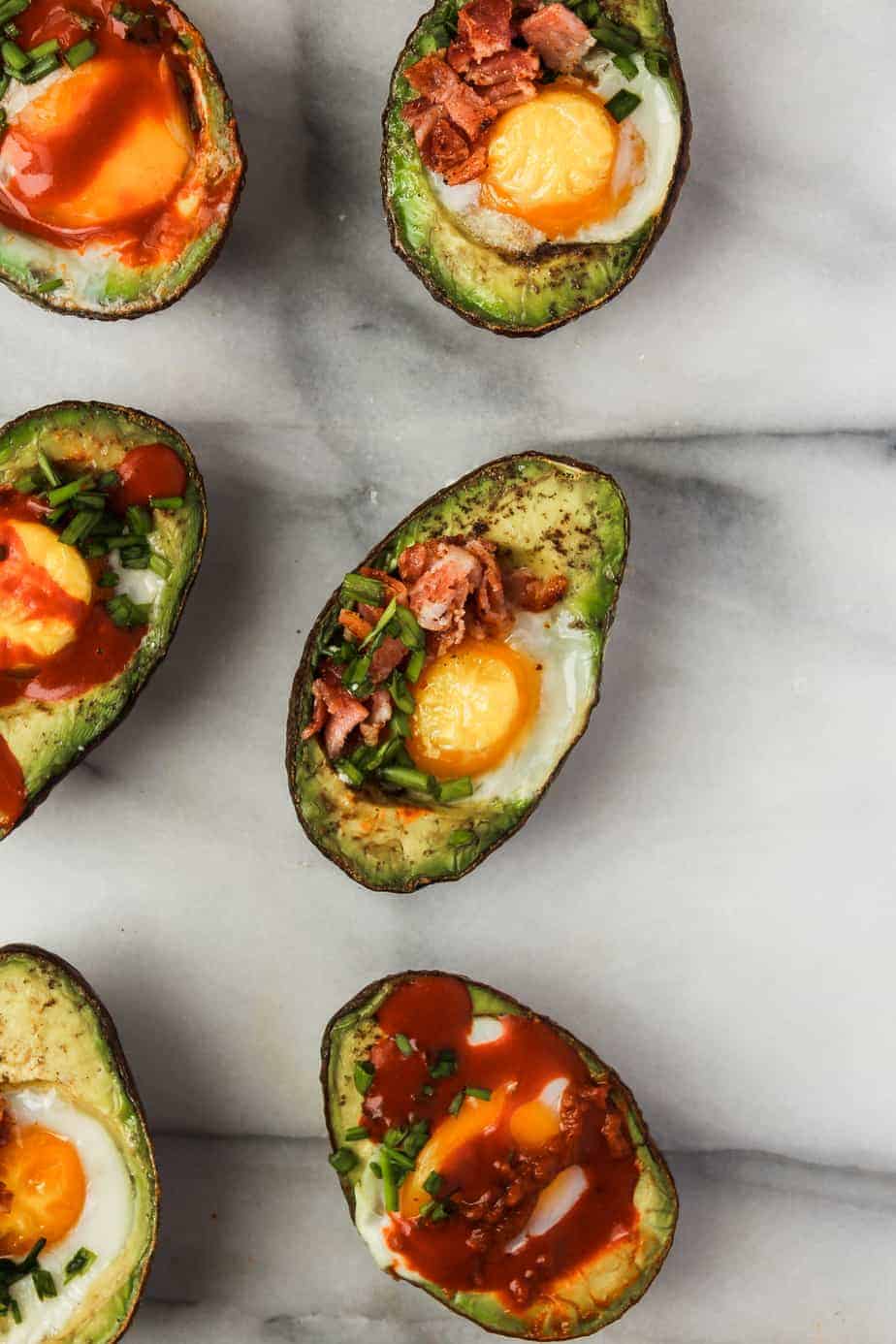 If you do happen to have some extras to store, I've found that a little squeeze of lemon juice will keep the avocado from browning overnight, so squeeze that lemon on and store in an airtight container.
You can reheat the next day in the microwave or eat it cold!
PIN THESE WHOLE30 BREAKFAST BAKED EGGS IN AVOCADOS TO SAVE IT FOR LATER!