Quick, cozy, easy, healthy dinner alert: paleo butternut squash soup.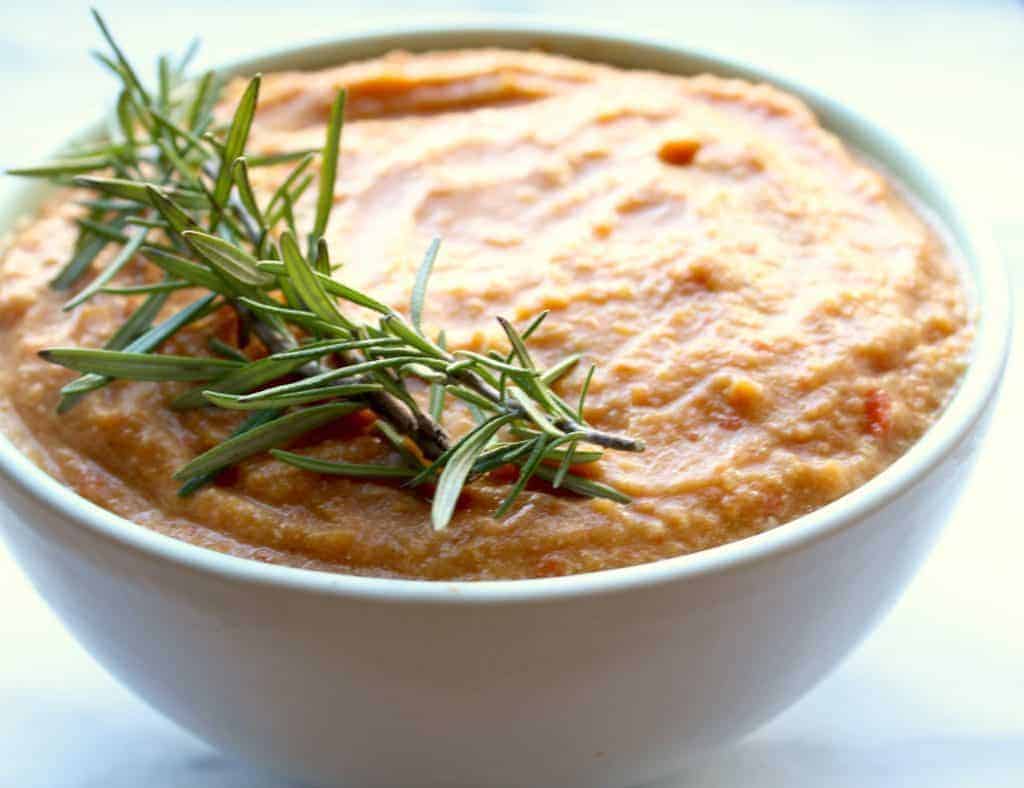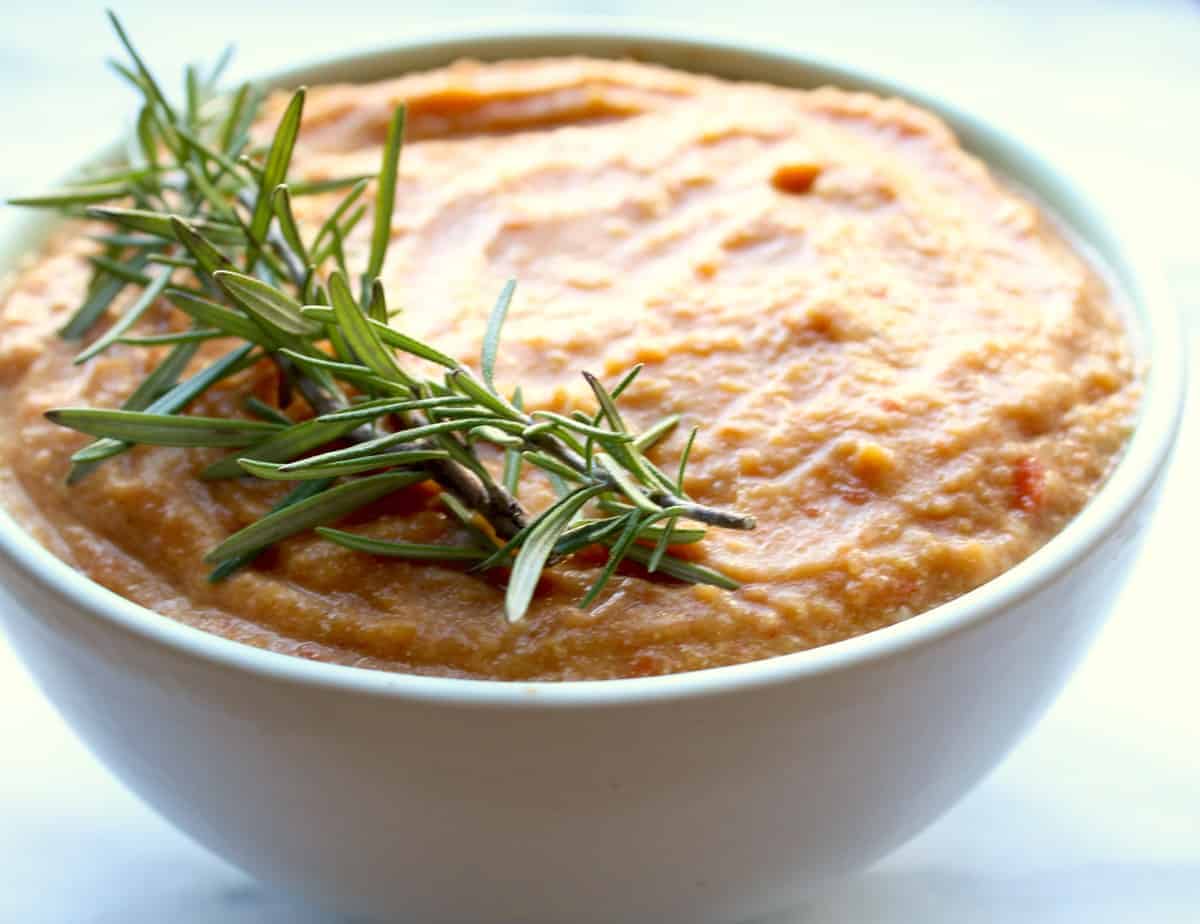 If you're looking for other easy, cozy, comforting recipes, you must try my mom's award winning chili recipe, easy homemade spaghetti sauce, Swedish meatballs or sheet pan chicken. All of them are perfect for fall and winter family dinners!
A new year comes new goals, new mindsets, new ideas.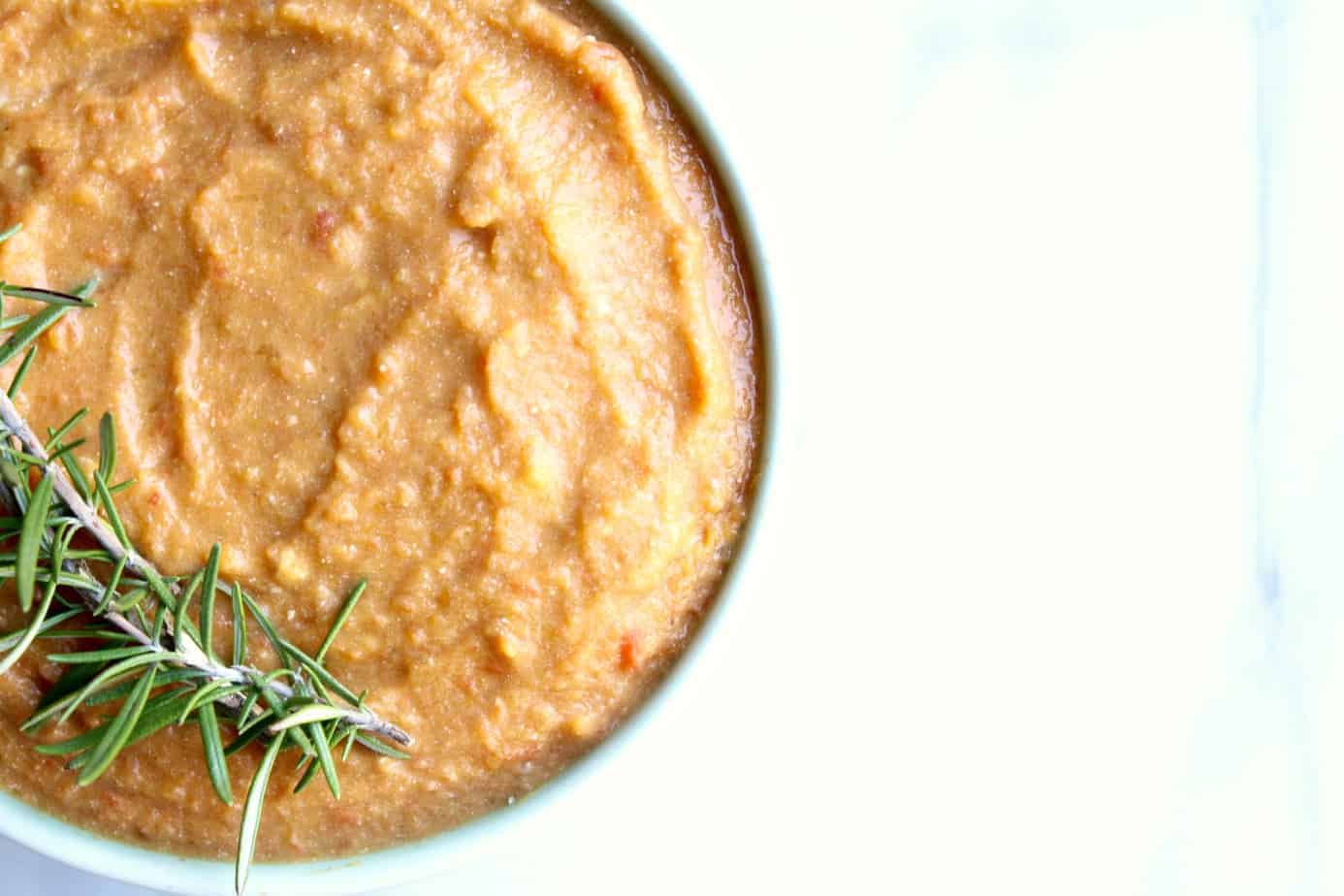 I don't normally make New Years resolutions (although I probably could go to the gym more, eat better and save money) but decided to set a few goals for myself (one personal and one related to my blog).
I wanted to pick things that would be achievable and could be easily measured so I could hold myself accountable.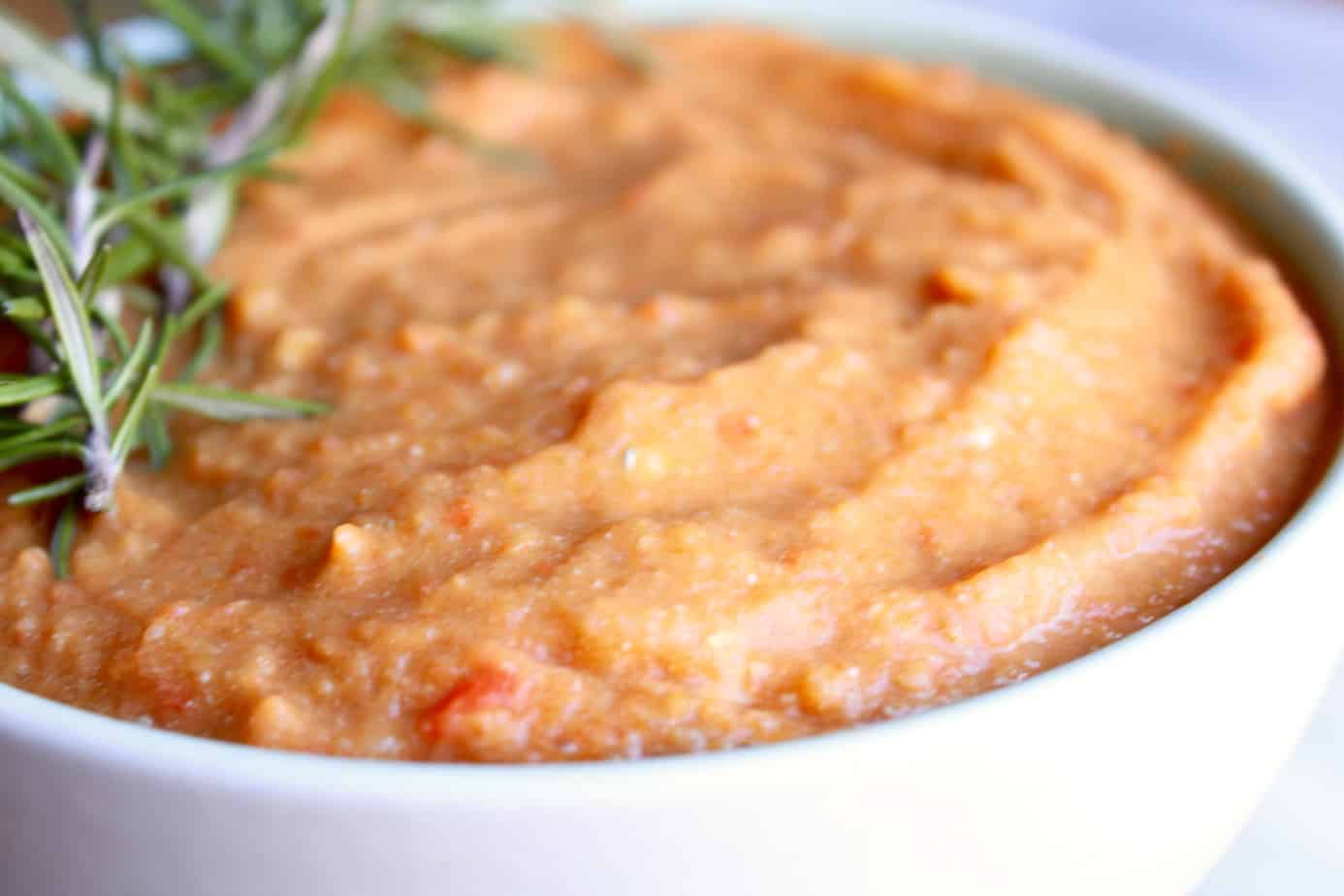 My personal goal is to read more (to make it measurable, I'm going to try to read 20 books this year).
I've always loved reading (which also sparked my love of writing) and my book intake has fallen by the wayside since law school (although I still devour books while on vacation).
So far, so good; I just finished The Seven Husbands of Evelyn Hugo: A Novel
and just started Little Fires Everywhere
.
PS: I am always and forever looking for good book recommendations, fiction, non fiction, whatever.
If you have one, I would love if you would leave it for me in the comments.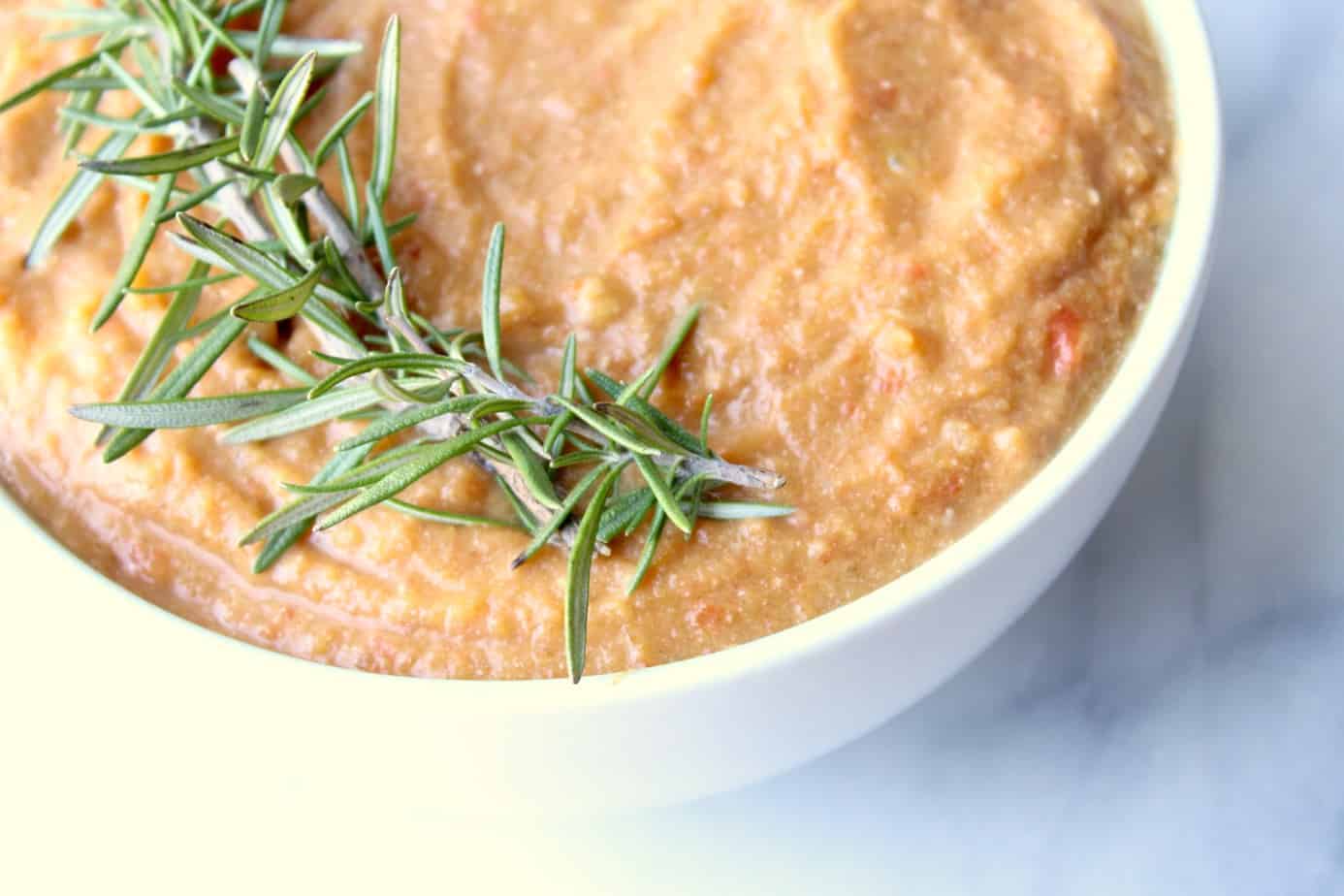 I toyed with a bunch of different blog goals.
Increasing page views or followers numbers of posts is measurable (numbers duh), but I was struggling on the achievability and accountability components.
I didn't want to set a number and then have to chase it all year, or hold myself to a post schedule when I know that sometimes life can be busy and unpredictable and sometimes I just don't want to sit down and write (and the last thing I want is to make blogging a chore that I have to force myself to do).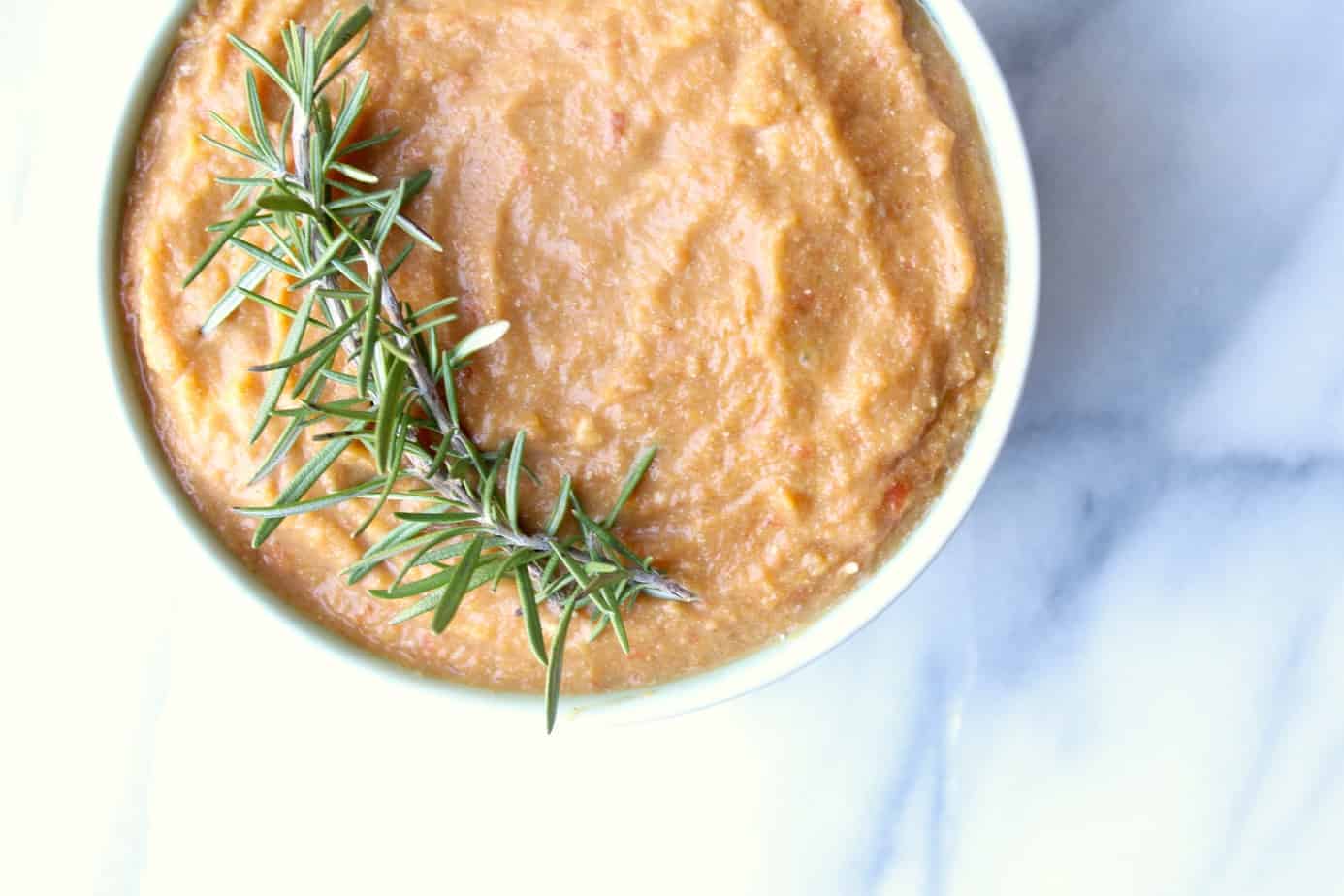 So my blog goal is to dedicate 30 uninterrupted minutes every day to Off the Eaten Path.
That's 30 minutes of blogging, whether it be writing, scheduling pins taking photos, cleaning up the site, anything that will help move my blog forward (scrolling on social media does not count).
I've been logging my time and writing down what I've done with my daily 30 minutes (which often turns into more without me even realizing it!) and I am hoping that by dedicating this time to my blog, page views and followers and number of posts will follow suite.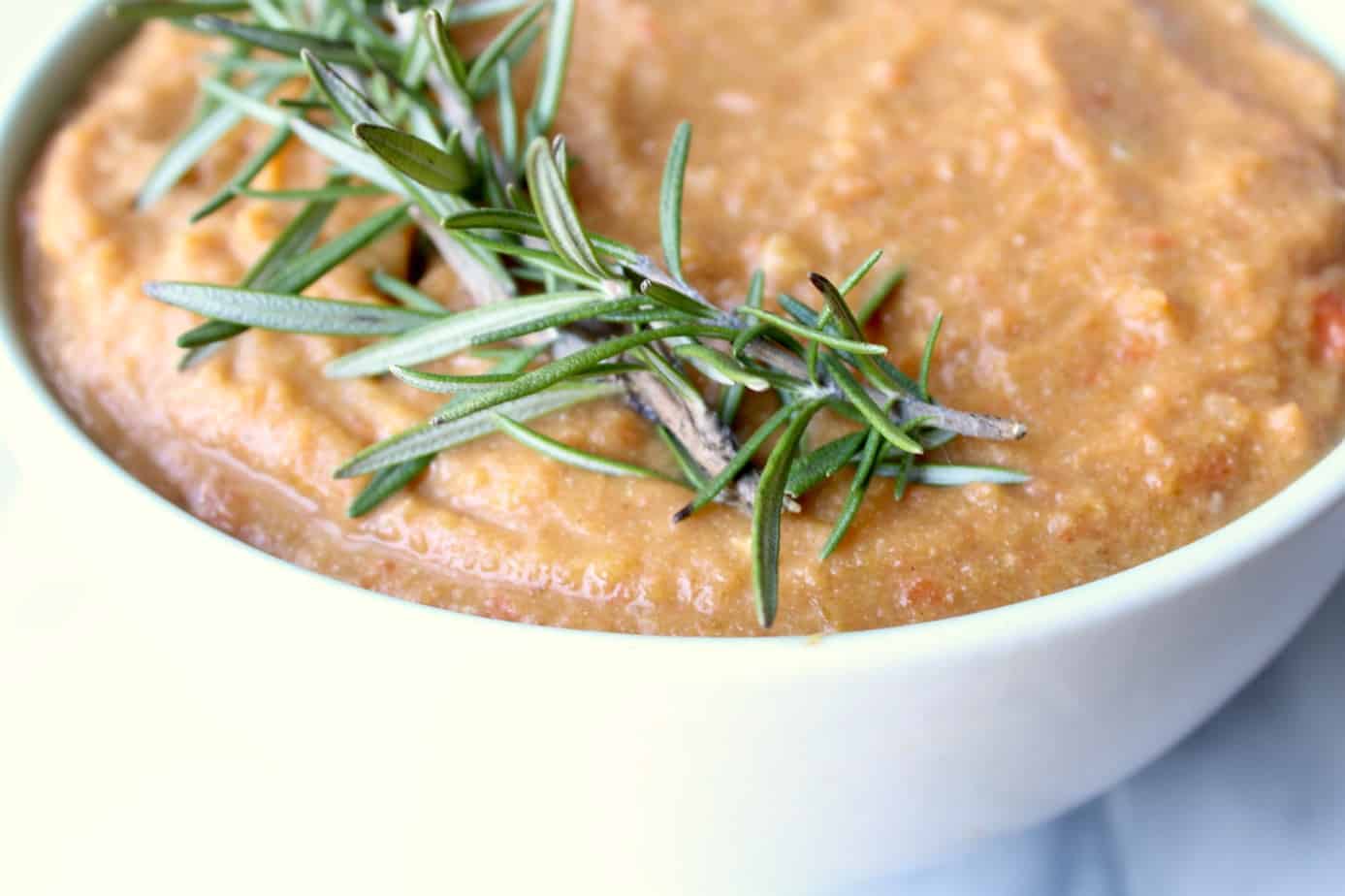 When it comes to content, you guys asked for more recipes, so lets kick the year off right, with a healthy and light, but comforting and cozy recipe: paleo butternut squash soup.
Y'all I am currently OBSESSED with two things: butternut squash and my friend Megan's paleo cookbook (if you haven't made her paleo meatballs yet, drop everything and go do it right after you make this paleo butternut squash soup.)
Butternut squash, how do I love thee, let me count the ways.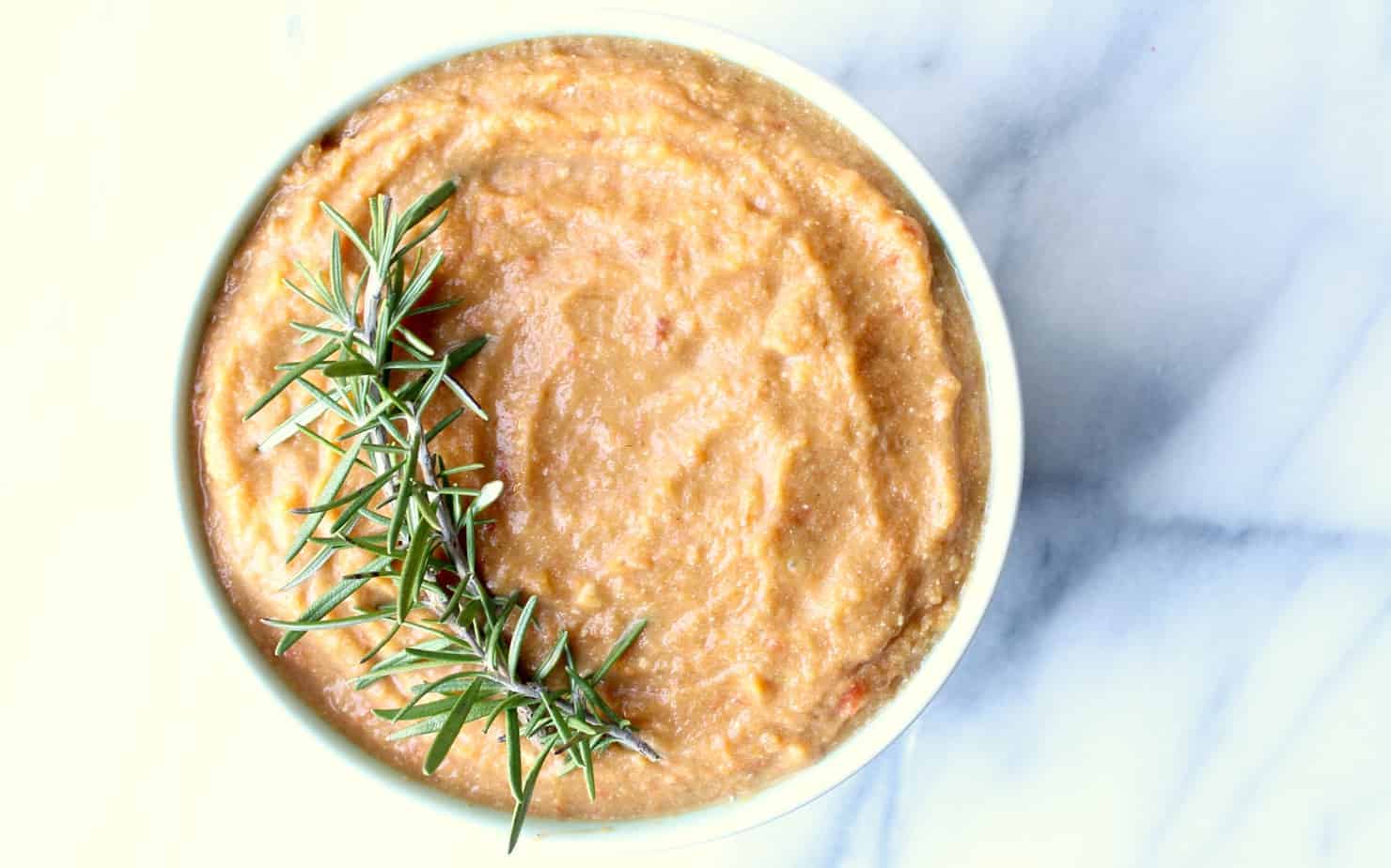 There's something about it's slightly sweet, nutty flavor that I just can't get enough of.
The second the temperature drops in the fall (and I start whipping up whiskey apple cider cocktails) this soup is on a strict dinner rotation (basically weekly) until Spring comes.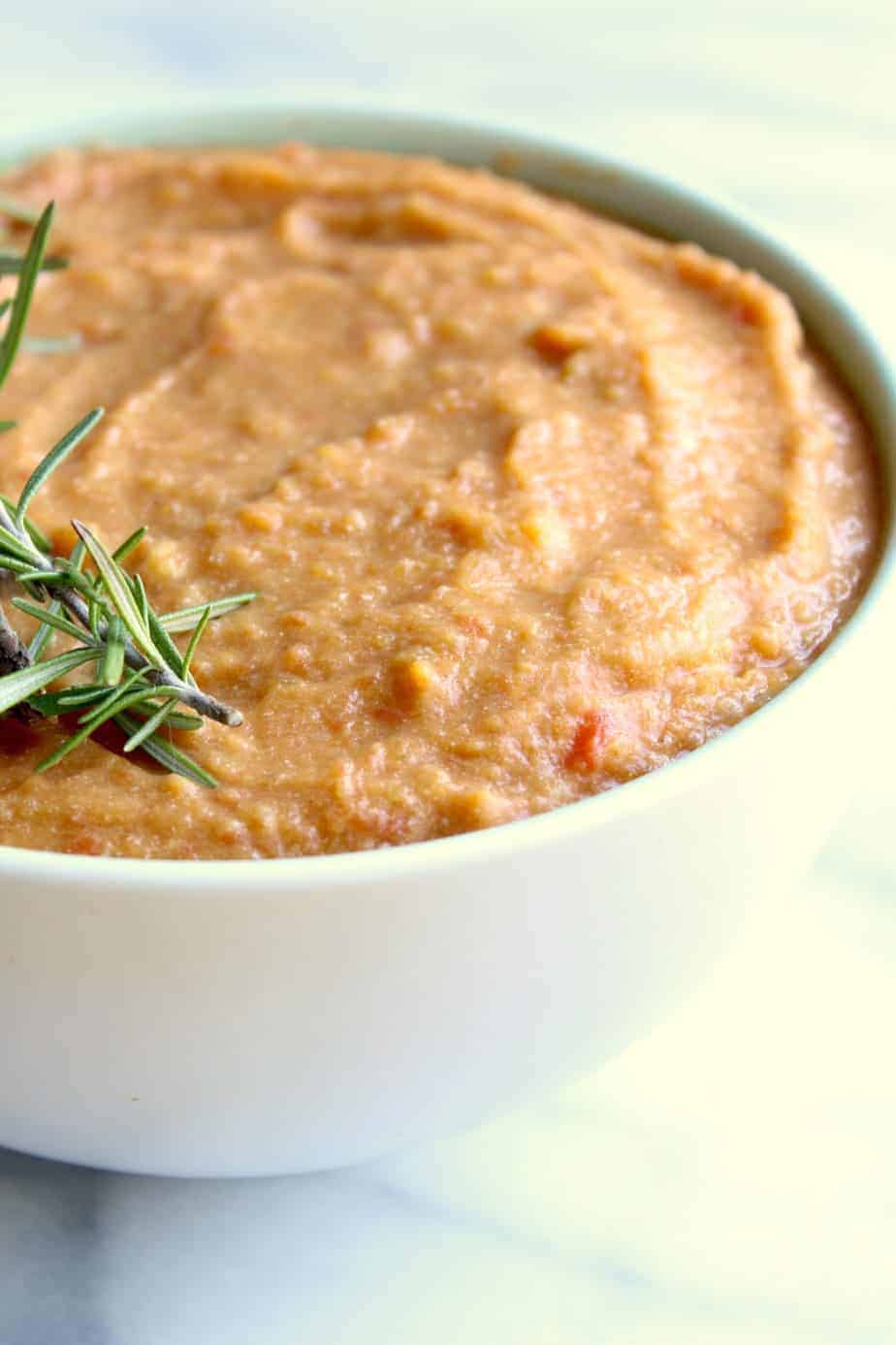 I think its the combination of the flavor, the accessibility of ingredients (I love cooking seasonally and squash is in abundance at the Charlotte Farmers Market), and how dang easy this recipe is, I make it for dinner almost every week.
Toss together a side salad, maybe a crunchy baguette for dipping (I know, I know baguettes are not paleo) and you have a comfort meal in a bowl.
It's also a great way to use up some leftover veggies you have in the fridge, like carrots, celery or sweet potatoes. Just chuck those suckers in with the squash to saute and simmer and then blend together at the end!
How to make paleo butternut squash soup
For this recipe, you want a large butternut squash that is seeded, peeled and diced. The easiest way to do this is with a big, sharp knife and a large cutting board.
Peel the squash with a vegetable peeler. Cut the squash in half, separating the long narrow part from the bulbous bottom.
The slice each half of the squash lengthwise (or hot dog style). In the bottom round part, there will be seeds and pulp that you can easily scoop out with a big spoon.
Dice the squash into 1/2 inch to 1 inch pieces.
If slicing and dicing your own squash is intimidating to you (or you want to save some time and energy) a lot of grocery stores sell pre-sliced butternut squash, especially in the fall. (My favorite grocery store for pre sliced and diced stuff is Trader Joe's!)
Once your squash is cut, it's time to make the soup!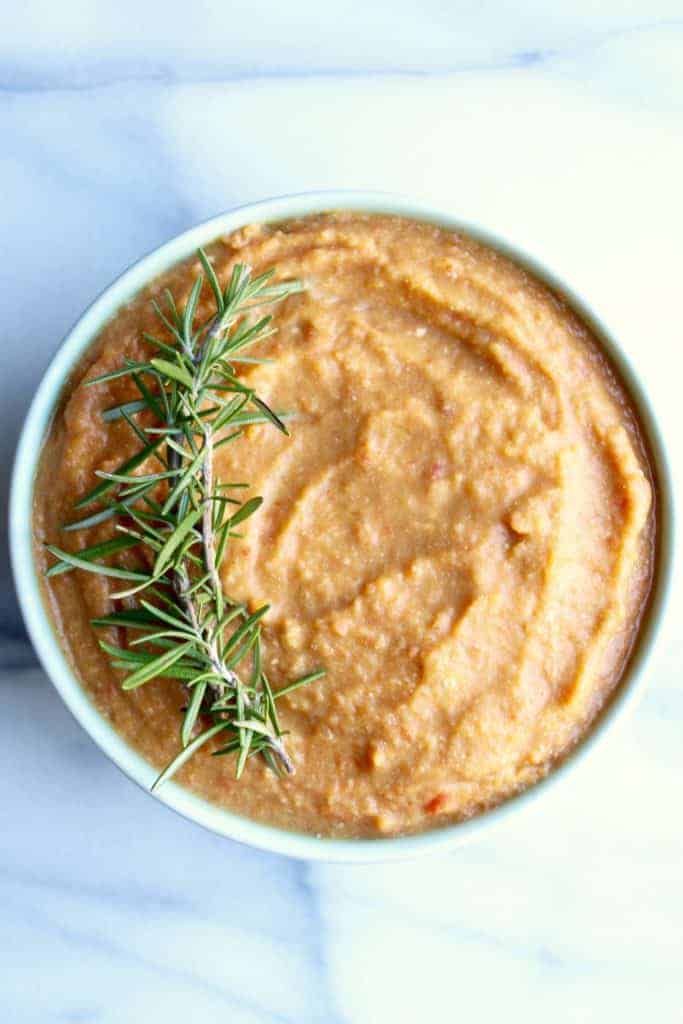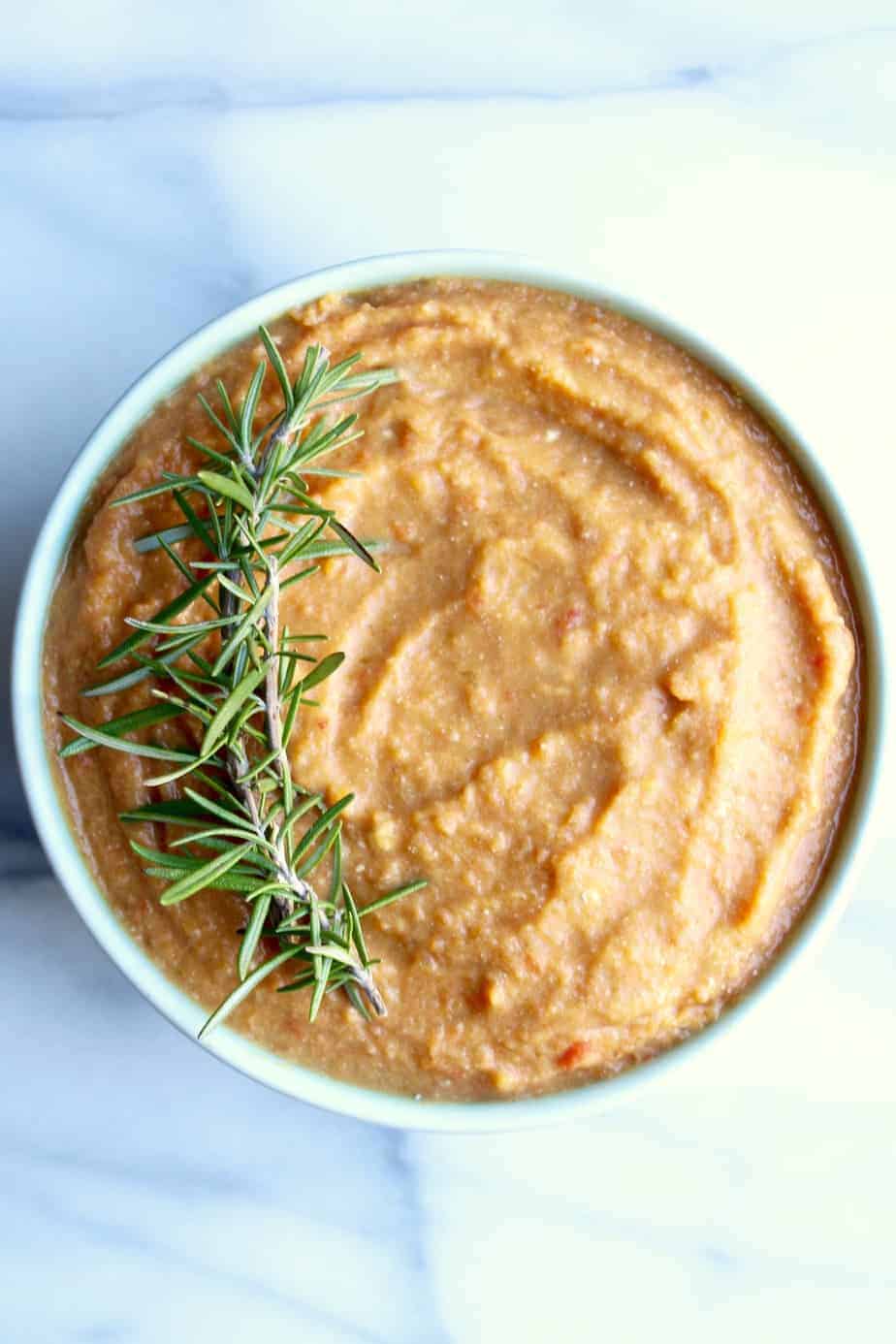 You just need one big stock pot or dutch oven to make a big batch of this soup.
(I love making a batch on Sunday afternoons and having a healthy, easy lunch option to just pop in the microwave during the week!)
Start with the aromatics. Melt butter and then saute the onions and garlic to maximize their flavor. Plus, this step will make your kitchen smell amazing.
Add the spices to the soft onions, and once stirred in, add the diced squash and give it a quick saute. (You could also roast the squash before starting the soup to increase the deep flavors of this dish…roasting veggies just adds more depth and flavor! To roast butternut squash, spread it out on a baking sheet, toss with a little olive oil, salt and pepper, and roast for about 20-30 minutes at 400 degrees until the squash is slightly browned).
This would also be the step if you have any other leftover veggies or even fruits to add like carrots, celery, or apples, add them in with the squash!
Then, pour in chicken broth and bring everything to a boil. Once boiling, reduce the heat and simmer the soup for about 30 minutes (another building flavor step!)
After simmering, add the coconut milk and stir to combine (this is what is going to make your paleo butternut squash soup super creamy and thick.)
Remove from heat, cool slightly, and blend (more on blending below!)
Season with salt and pepper to taste and serve!
How to blend hot soup
You can blend this soup with an immersion blender, regular blender or even a food processor.
My preference when it comes to hot soup blending is definitely an immersion blender because it doesn't involve transferring the soup somewhere else, cutting down on dishes at the end of the day. Plus, with an immersion blender in the pot, you're going to avoid the dreaded hot soup explosion all over your kitchen with a traditional blender.
To blend with an immersion blender, let the soup cool for about five minutes, and then carefully and slowing put your immersion blender into your pot and blend until smooth.
The reason the dreaded soup explosion can happen with a regular blender is because a hot liquid can cause steam and pressure build up in a blender, causing the top to pop off.
If you're using a blender or food processor, let the soup cool a little, again for about five minutes.
Then transfer the soup in batches to the blender in batches…by doing this you are leaving room at the top of the blender to avoid too pressure and steam build up.
If your blender lets you remove the center cover, remove the center cover of the blender and cover it with a dishtowel. This will allow steam to escape and again keep pressure from building up. Make sure you hold down the dishtowel the entire time you are blending so it doesn't shift or move around.
If you can't remove the center cover of your blender, make sure you hold the lid down while blending.
What can I use if I don't have coconut milk?
I love that this soup features full fat coconut milk. I think it really gives the soup another layer of flavor, plus the sweetness of the coconut compliments the sweetness in butternut squash. And it really adds a creamy element, while still keeping this soup paleo!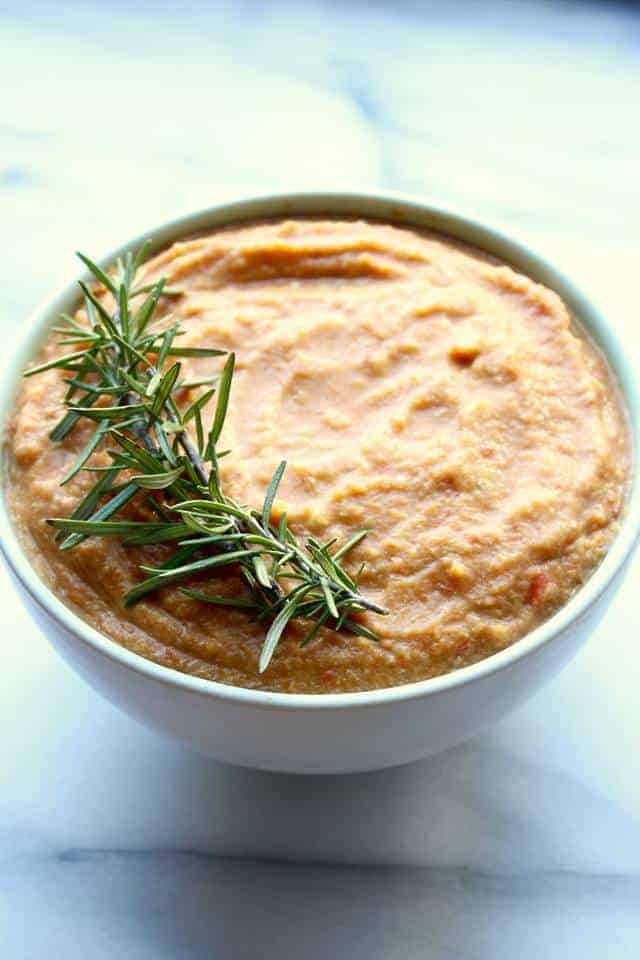 If you don't have coconut milk on hand, you could substitute with another non-dairy milk of your choice…unflavored of course! My favorite choice for a different non-dairy substitution would be cashew milk.
If you are ok with the soup being dairy friendly (making this recipe not paleo) Greek yogurt would be a great substitute for the coconut milk, to give that extra creaminess and thicken everything up without affecting the overall flavor of the squash. (I have made this soup with Greek yogurt before and it's delicious).
You could also add half and half as a dairy alternative.
If you are using Greek yogurt or half and half, the measurements are not going to be exact. Instead, add a little at a time and stir in until you reach your desired thickness!
Can I add other ingredients to the soup?
Yes!
I think this soup is the perfect way to include other veggies we have in the fridge that we want to use up.
The flavor of carrots, celery or even apples will be delicious in this soup and will not affect the overall taste (I recommend using less of the secondary fruit or veggie than the butternut squash, because after all, the squash is the star). 3-4 carrots, 3-4 stalks of celery, or one medium sized apple are the perfect amount.
Just dice your fruit or veggie beforehand and add it into the soup when you add in the butternut squash.
You could fry up a couple pieces of bacon and then chop them up to use as a garnish. The salty and savory flavor of bacon, plus the crunchy texture, is so delicious as a garnish!
Another great crunchy topping option is toasted pumpkin seeds!
What should I serve with it?
This soup pairs perfectly with a big salad chock full of greens and veggies. It's also delicious as a side to roasted or grilled chicken, and if you aren't paleo or gluten free, don't forget some crusty bread or baguette for dipping and dunking!