Sheet pan chicken with Brussels sprouts, sweet potatoes and apples is a a fall inspired, farmers market feast!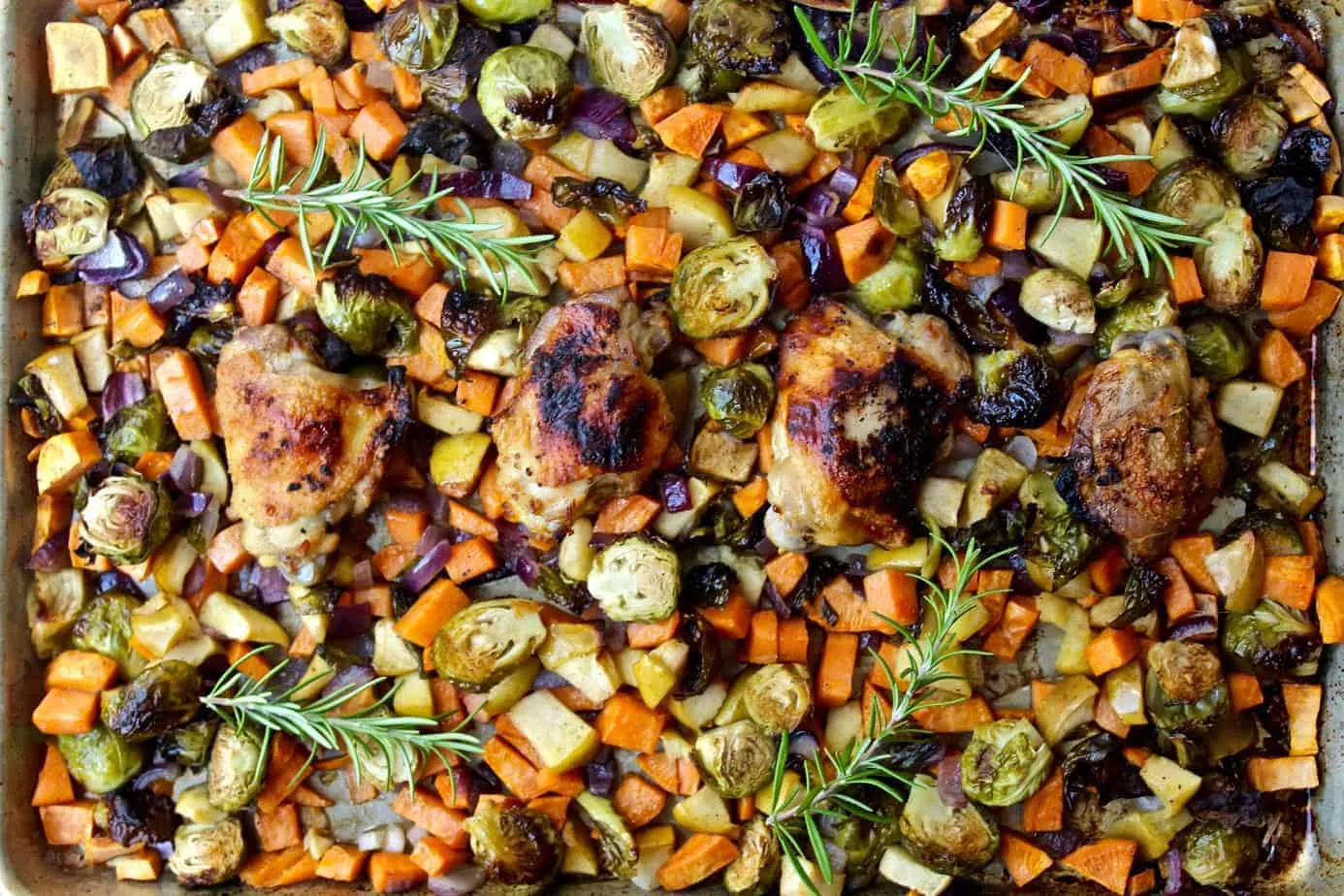 Featuring fall flavors and North Carolina chicken, sheet pan chicken is an easy and delicious way to eat local. This recipe is perfect for meal prep or an easy weeknight dinner! I am receiving compensation from the North Carolina Department of Agriculture and Consumer Services to raise awareness about purchasing poultry at farmers markets. All opinions and content are my own.
Saturday was a good day.
It started with a visit to the farmers market and ended with sheet pan chicken with roasted veggies.
A cheddar biscuit from Sunflour, dancing to Paul Simon in my kitchen, and catching up with a friend over beers at Lenny Boy Brewing were squeezed in between.
Out of the six weekends between Labor Day and early October, I'm out of town for five of them.
We spent the holiday at the Outer Banks (check out my ultimate Outer Banks Travel Guide!) with my family and then I spent last weekend sampling North Carolina wine.
Next weekend I'm headed to Minneapolis to see a friend (see what we ate and drank in the Twin Cities), it's a wedding in Nashville the weekend after that, and then some well deserved rest, relaxation and celebration for our first anniversary in Boone (you read all about our wedding and our honeymoon in Asheville).
So while I'm headed to some cool places and will get to see some cool people in the coming weeks, all this traveling makes me savor weekends at home.
My favorite kinds of weekends at home are those that could be considered borderline mundane; where we don't have any plans except the regular ebb and flow of our routine, relaxation and adult responsibilities.
A highlight of these slower weekends (or any Saturday morning for that matter) is my weekly trip to the farmers market.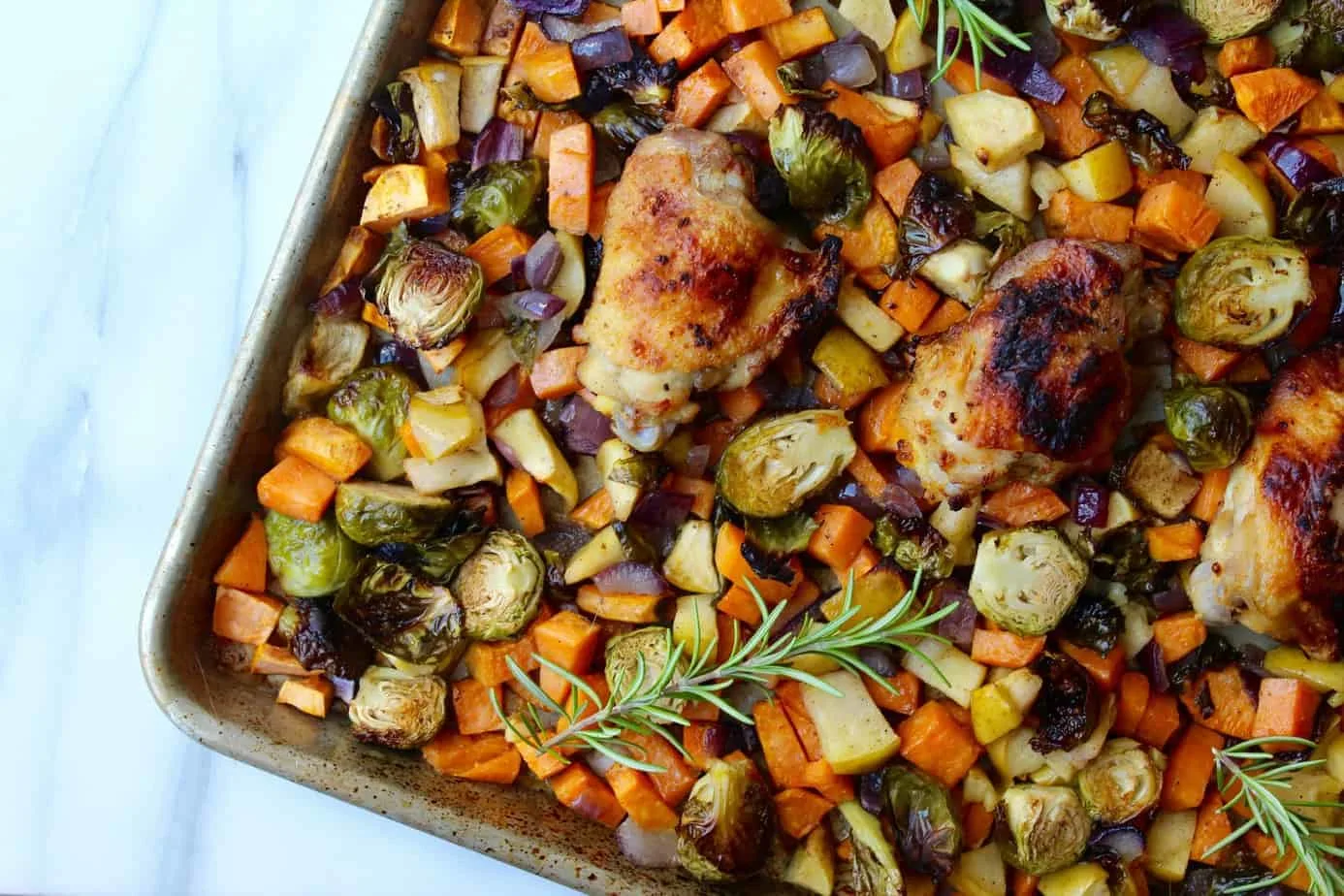 WHERE DO I BUY MY CHICKEN LOCALLY FOR SHEET PAN CHICKEN WITH BRUSSELS SPROUTS, SWEET POTATOES AND APPLES?
If you're new here, I love the farmers market (and if you've been around for a while, I apologize for my broken record-esque profession of love for the farmers market).
My love for farmers markets was sparked at a young age when my parents and I would make the trek (with my red wagon in tow) to Eastern Market on Capitol Hill in Washington, DC, where we would peruse the vendors and make a pit stop at the library on our way home.
Living in Madison definitely reignited my love of farmers markets; my roommate and I would bike up to the capital square every Saturday and spend hours shopping (and sampling, of course!) for the week, always ending with a stop at Stella's for spicy cheesy bread.
When I moved to Charlotte, my Saturday farmers market routine continued at the Charlotte Regional Farmers Market.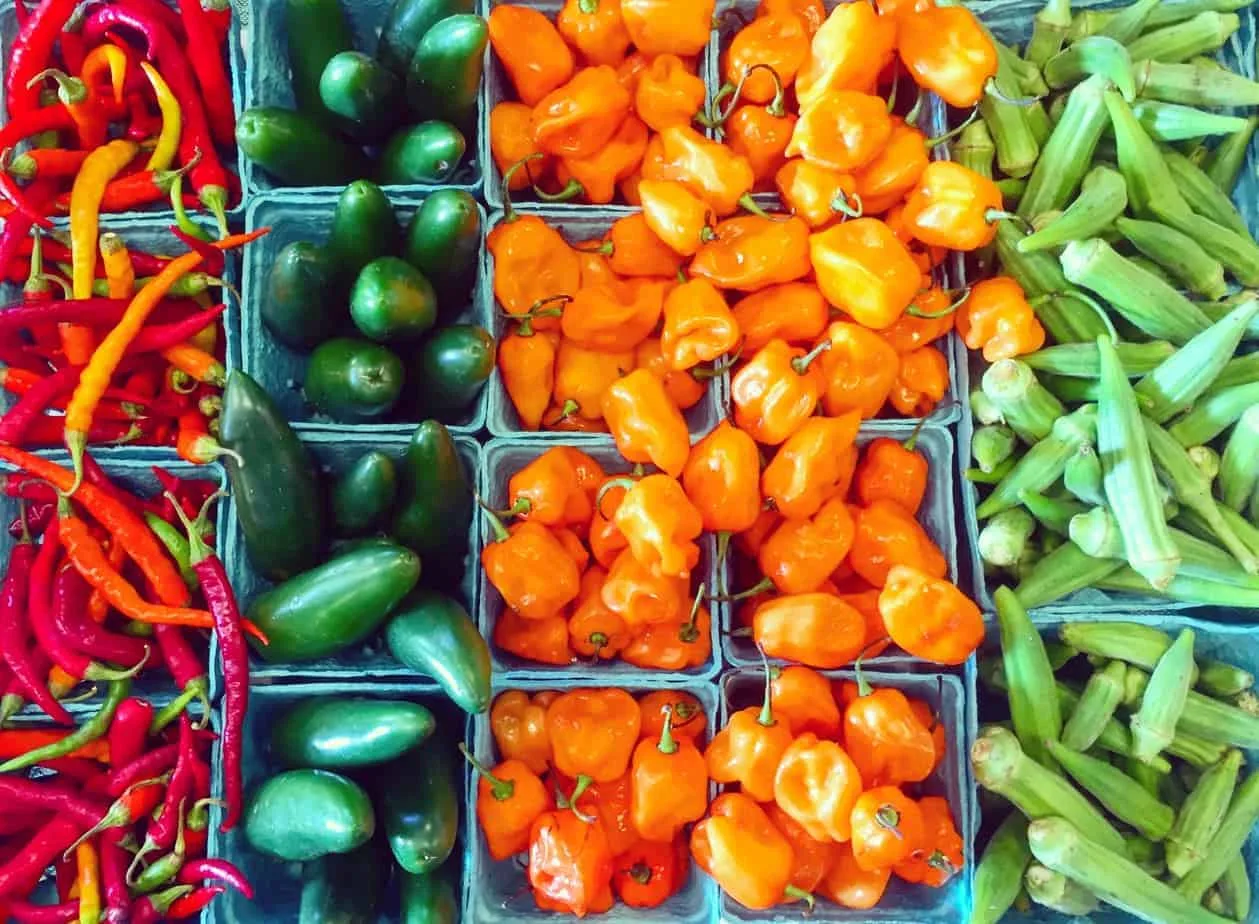 My slow Saturday mornings are spent meandering through the stalls with an iced coffee in hand (that iced coffee switches to hot coffee in the late fall, winter, and early spring months…the farmers market is open all year round and you'll find me there whether its watermelon or root vegetable season).
I wander around without a list or a plan, taking stock of this week's produce and lusting after the colorful flowers that will never adorn our coffee table (with four cats and a puppy, flowers are a no go in our house!).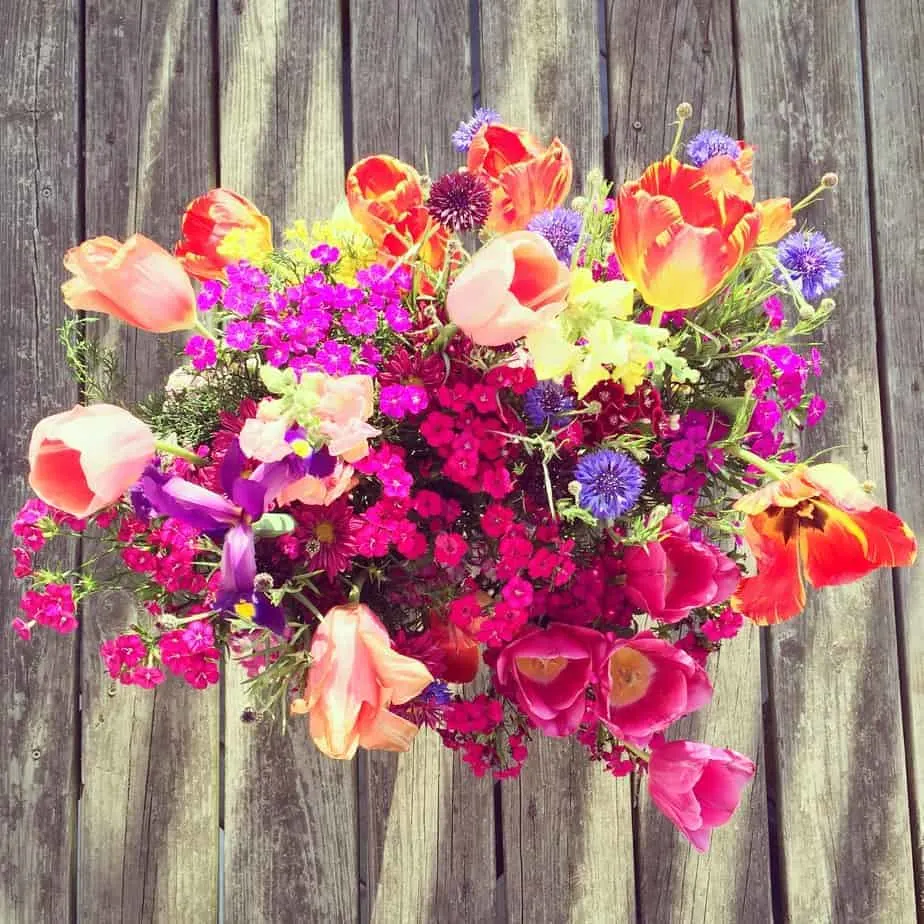 One of the things I love about the Charlotte Regional Farmers Market is that I can get most of our grocery shopping done during my weekly visit; it's a one stop shop of sorts.
Of course, there are tons of produce options, but beyond seasonal fruits and veggies, you can get local food products, dairy, eggs, baked goods, wine, and even protein, like locally raised beef, pork and chicken.
The other thing I love about the Charlotte Regional Farmers Market is the chance I get to chat face to face with the people who grow and raise our food (I actually got into farmer chatting when I started going to the farmers market with AJ who has some mad farmer chatting skills).
Chatting with the farmers is not only fun, but super interesting; it's a great way to learn not only about the products your buying but also to get recommendations on something that you're maybe hesitant to try, or don't know how to cook or have never heard of before.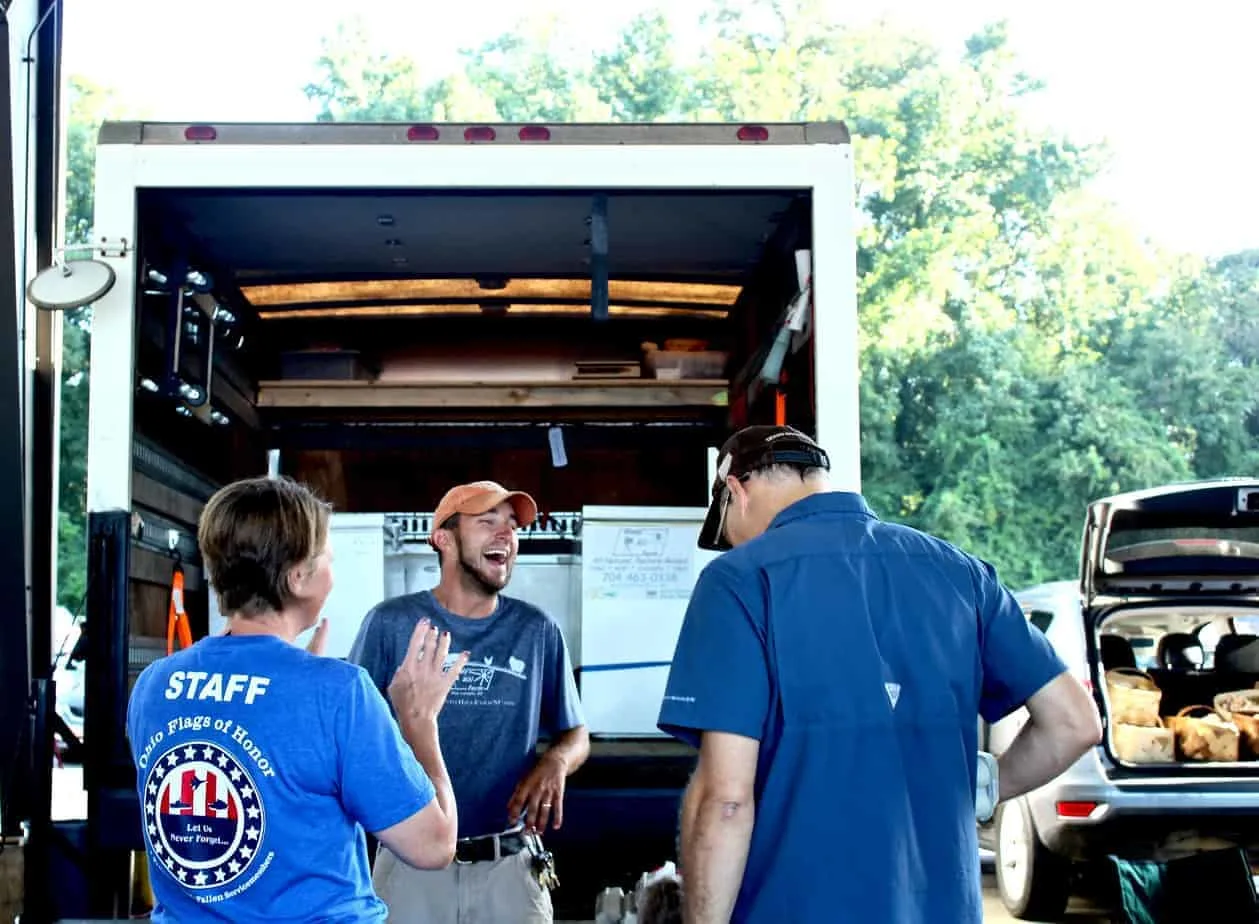 On my most recent visit, I stopped to chat with Charlie from Windy Hill Farm (his stall is in Building A, about halfway down on the right…look for the big white box truck with the Windy Hill Farm logo!).
Charlie and his wife, Dana, own and operate Windy Hill Farm in New London, NC (about 35 minutes northeast of Charlotte), where they focus on producing quality, naturally-raised, chemical-free products using sustainable farming practices.
When talking to Charlie and Dana about their farm I loved that they used the saying, "from pasture to plate, we're passionate about providing wholesome foods for our family and yours."
Not only do they raise all of their animals, as they say, "the way nature intended:" outdoors, humanely, and without using antibiotics or growth enhancers, they also butcher and package their own proteins and have them available for purchase year round.
At the farmers market, they sell a variety of pork, beef, chicken, duck and turkey, plus fresh eggs and seasonal produce.
To make things even easier, you can see Windy Hill's inventory online and place an order to pick up at the market, which is exactly what I did; I placed my order on Thursday night and it was labeled and ready for me when I got to the market on Saturday.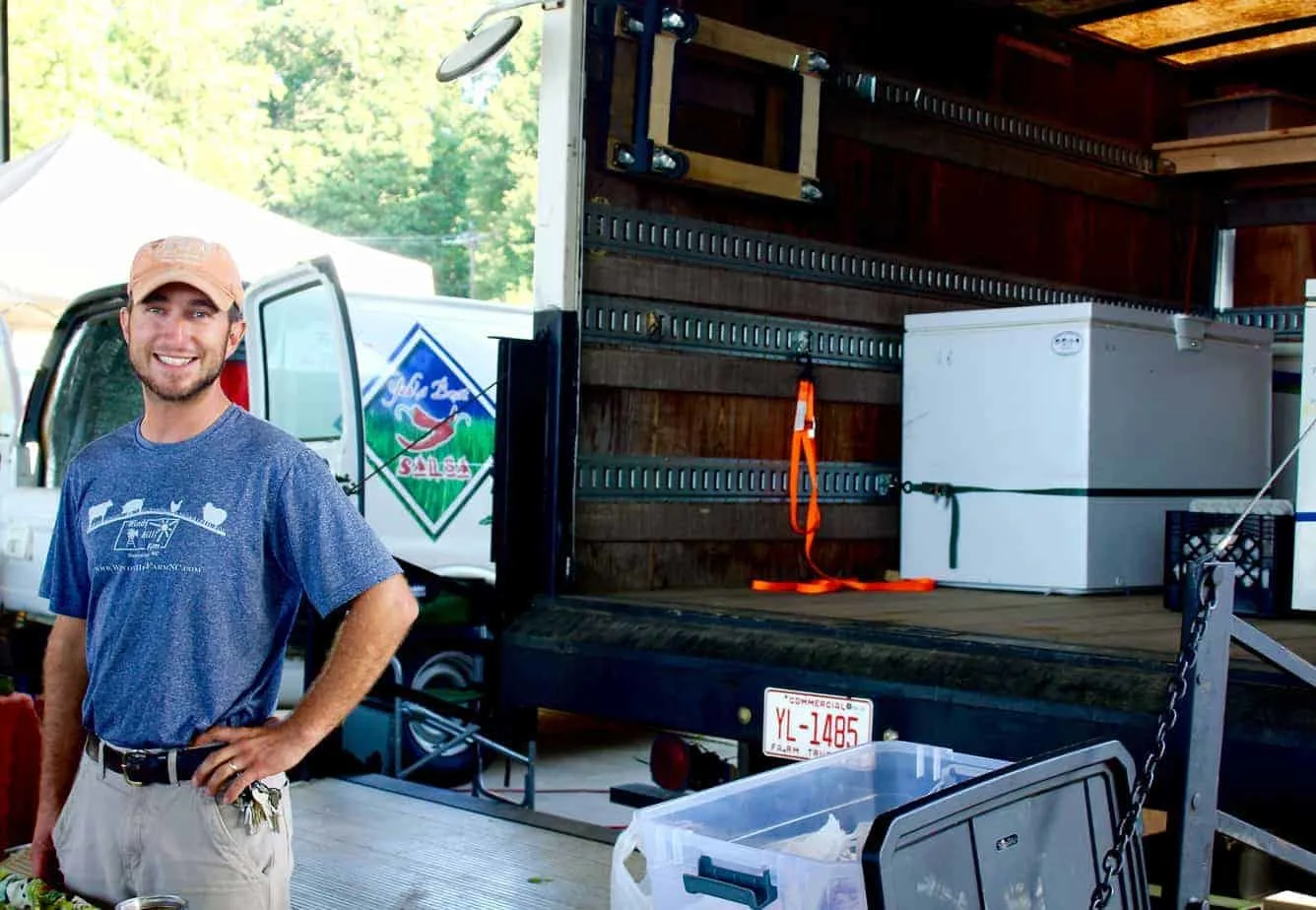 With our hectic schedules, easy is my cooking motto for September, so I bought a package of chicken thighs and a full bird from Charlie.
I knew the full bird would go into the freezer until we were ready for some easy meal prep later in the week (and it will be great for dinner and lunches, especially with some Viva Chicken sauce I've saved from my last visit), and the thighs I'd use for sheet pan chicken, an easy Saturday night dinner with leftovers for the work week (Charlie was out of chicken breasts, but I'm team dark meat anyways, so I was happy with the thighs).
Chicken in hand, I wandered the market a few veggies to accompany our sheet pan chicken, and left with sweet potatoes, onions, Brussels sprouts, and apples.
I guess fall flavors were speaking to me, even though the temperature peaked at 88 degrees this weekend.
Some preheating, chopping, a quick marinade, and a small dent into Paul Simon's Graceland later ("You Can All Me Al" is an excellent cooking song if you ask me), we had sheet pan chicken with Brussels sprouts, sweet potatoes and apples; a little fall inspired, farmers market feast.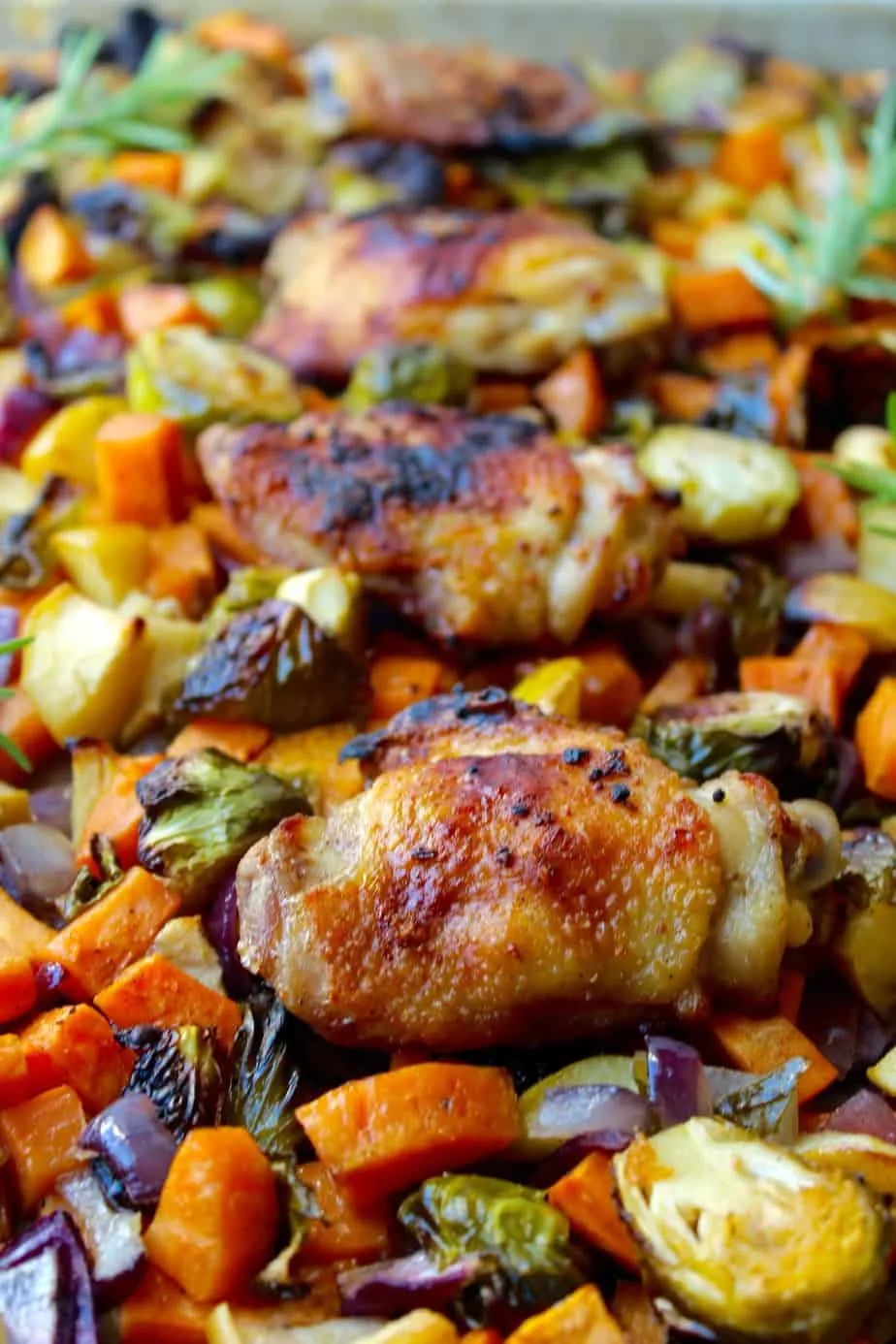 HOW TO MAKE SHEET PAN CHICKEN WITH BRUSSELS SPROUTS, SWEET POTATOES AND APPLES
This sheet pan chicken recipe is SO EASY and only involves one (really two) pans.
First, marinate the chicken in a mixture of olive oil, vinegar, garlic and rosemary (or other dressings and sauces that you love…honey or maple would be great flavors for this recipe too!) and let it sit for at least an hour (longer to bring out more flavor.
While the chicken is marinating, chop your Brussels sprouts, sweet potatoes, onions and apples. Toss them in olive oil and salt and pepper and then spread across a baking sheet.
Now here comes the reason I say you need two pans. It would be totally fine to load up your chicken on the same sheet pan as your veggies, but as the chicken cooks, it releases a lot of juices which can result in soggy veggies.
And soggy Brussels sprouts are the absolute worst.
So instead, I like to put the chicken on a separate sheet pan and roast the chicken and the veggies at the same time on two different pans.
The result is crispy chicken and crispy veggies! Yay!
CAN I MEAL PREP THIS ONE PAN CHICKEN RECIPE?
Yes! This sheet pan chicken with Brussels sprouts, sweet potatoes and apples is on regular repeat in our house, and I love meal prepping it on Sunday to have healthy lunches throughout the week.
Cook the recipe as given (maybe double it if you would like it for lunch every day the following week) and then let the chicken and veggies cool off before packing them up individually and storing them in the fridge.
For lunch, we usually eat about 3-4 ounces of chicken atop the roasted veggies and just reheat the individual servings quickly in the microwave or warm it up in the oven.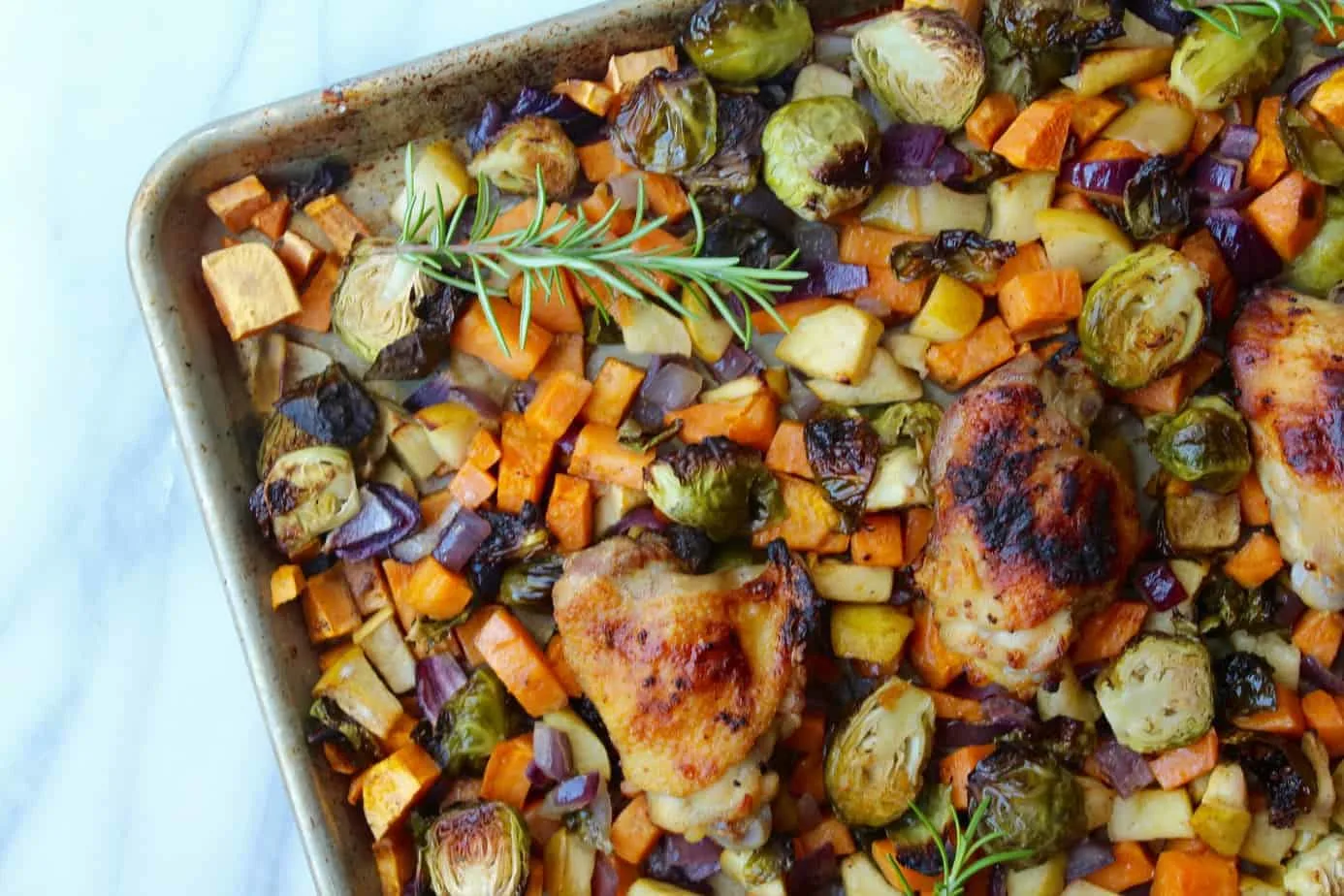 CAN I USE CHICKEN BREASTS INSTEAD OF CHICKEN THIGHS IN THIS SHEET PAN CHICKEN WITH BRUSSELS SPROUTS, SWEET POTATOES AND APPLES RECIPES?
Yes! This recipe would also work perfectly for chicken breasts, not just for chicken thighs and the cook time would be the same.
I prefer chicken thighs because I like dark meat over light meat and find chicken thighs to be more juice and flavorful than breasts!
CAN I USE OTHER VEGGIES FOR THIS SHEET PAN CHICKEN IF I DON'T LIKE BRUSSELS SPROUTS OR THESE VEGGIES AREN'T IN SEASON?
Yes!
First of all, if you are a Brussels sprouts hater…hear me out. You've probably been cooking them the wrong way.
Promise me you'll try this recipe with the Brussels sprouts before you come at me saying Brussels sprouts are gross.
Because crispy Brussels sprouts are delicious, and the Brussels sprouts in this sheet pan chicken are roasted to crispy perfection.
But if you still claim to be a Brussels sprouts hater or these veggies aren't in season, you could definitely make this sheet pan chicken with veggies that are in season.
In the summer, squash and zucchini and peppers would not only be colorful, but super yum. In the early fall, acorn and butternut squash would also be delicious.
In the cold of winter, you could still make this recipe with seasonal veggies…I see a variety of root vegetables in your future.
The flavors in this recipe are versatile and would compliment basically any type of vegetable! Just watch the cook times, because vegetables roast at different rates.
And the last thing you want is for dinner to be burned.
If you're looking for chicken recipes with a little farmers market inspiration (because I know after reading this post, you'll be picking up chicken at the farmers market this weekend), check out these delicious recipes created by North Carolina food bloggers featuring North Carolina chicken! (Here's a roundup post with all of the recipes if you'd like to check it out!)
Got To Be NC Chicken at Your Local NC Farmer's Market
IF YOU LOVE THIS SHEET PAN CHICKEN WITH BRUSSELS SPROUTS, SWEET POTATOES AND APPLES, CHECK OUT THESE OTHER EASY DINNER RECIPES FROM OFF THE EATEN PATH:
Mom's Award Winning Chili Recipe
Baba's Easy Homemade Spaghetti Sauce
PIN SHEET PAN CHICKEN WITH BRUSSELS SPROUTS, SWEET POTATOES AND APPLES FOR LATER!