From tacos on a ferris wheel to a Sunday patio brunch with an epic Bloody Mary bar, plus ice cream, Oktoberfest, arepas, burgers and beer, read all about the restaurants and breweries I visited during a long weekend in Minneapolis and St. Paul last fall.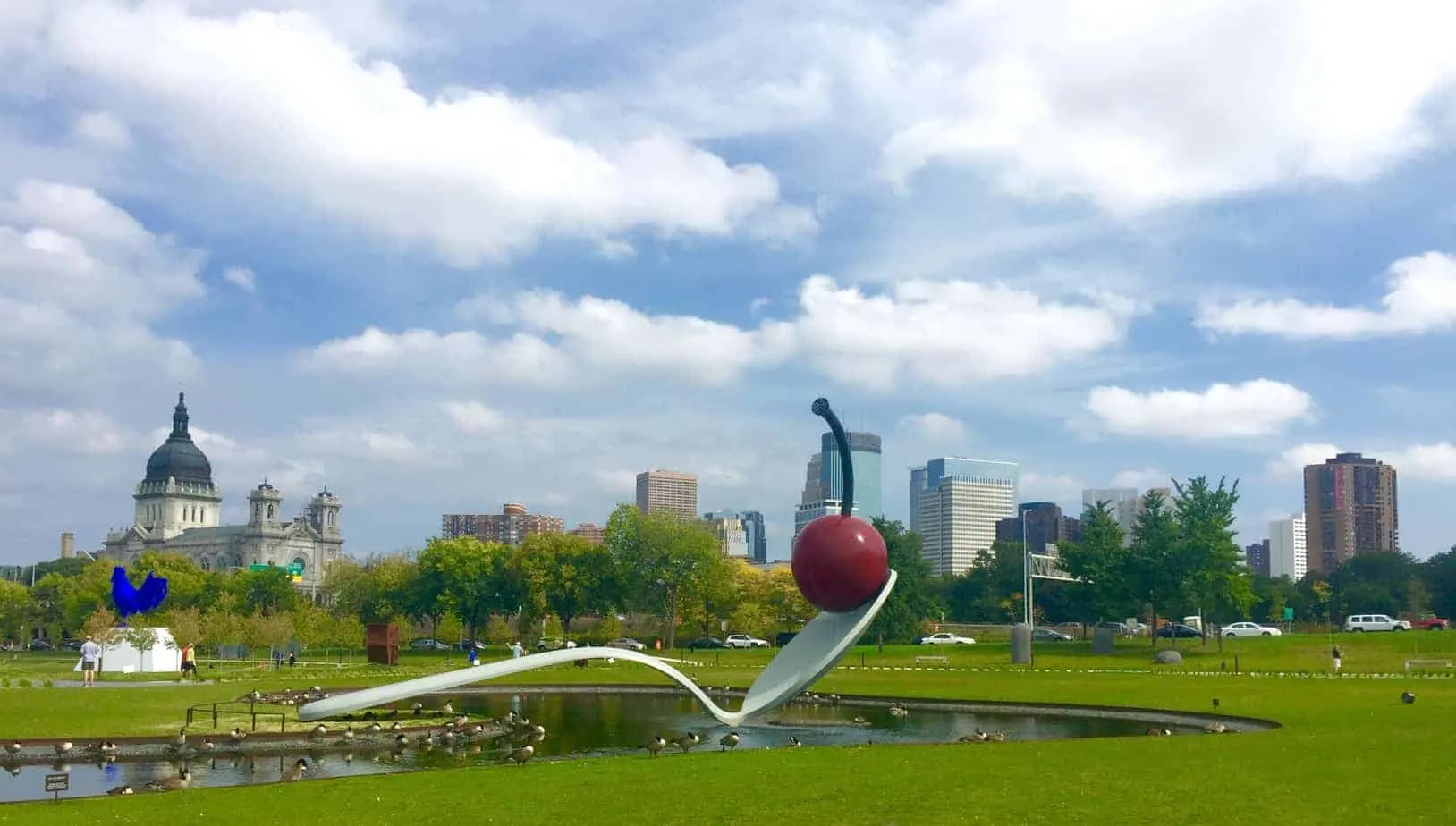 How was everyone's Super Bowl?
We had a few friends over, had some mad Super Bowl snack game, were pretty underwhelmed by Justin Timberlake's performance and rejoiced when the Patriots didn't win.
So of course the highlights of the evening was snacks (okay okay and friends) and we had so many snacks that I got to eat a snack dinner Monday night while watching This Is Us (I couldn't stay up that late Sunday and after an afternoon nap and some snacks in hand, I was emotionally ready).
Please report back in the comments if you have any opinions about any of the above, especially if it regards the Patriots being losers, snacks or This Is Us theories (I haven't been able to talk about it at work because I am a good friend and don't want to spoil it!).
This fall, I took a long weekend to fly to the Twin Cities and visit my best friend Tina (and spent a long and fun four days trying about some delicious Twin Cities restaurants and breweries).
Before this trip, I had been to Minneapolis and St. Paul a few times as a kid (and rode the Camp Snoopy rollercoaster at Mall of America) and once as an adult when it was seventeen below zero to watch the Badgers play.
So a visit with my friend and Minnesota in the early fall sounded really nice. What a way to escape the heat and humidity that was lingering in Charlotte in late September, right?
Well, the temperatures lurked around 90 degrees the entire weekend, so we got really sweaty but still had so much fun.
And since the Super Bowl was in Minneapolis last weekend, it seems like a great time to recap the Twin Cities restaurants and breweries we visited and what I ate (and drank) in Minneapolis and St. Paul this fall. (I'm a poet and I didn't even know it).
PIN MY TWIN CITIES FOODIE GUIDE FEATURING TWIN CITIES RESTAURANTS AND BREWERIES TO SAVE FOR LATER!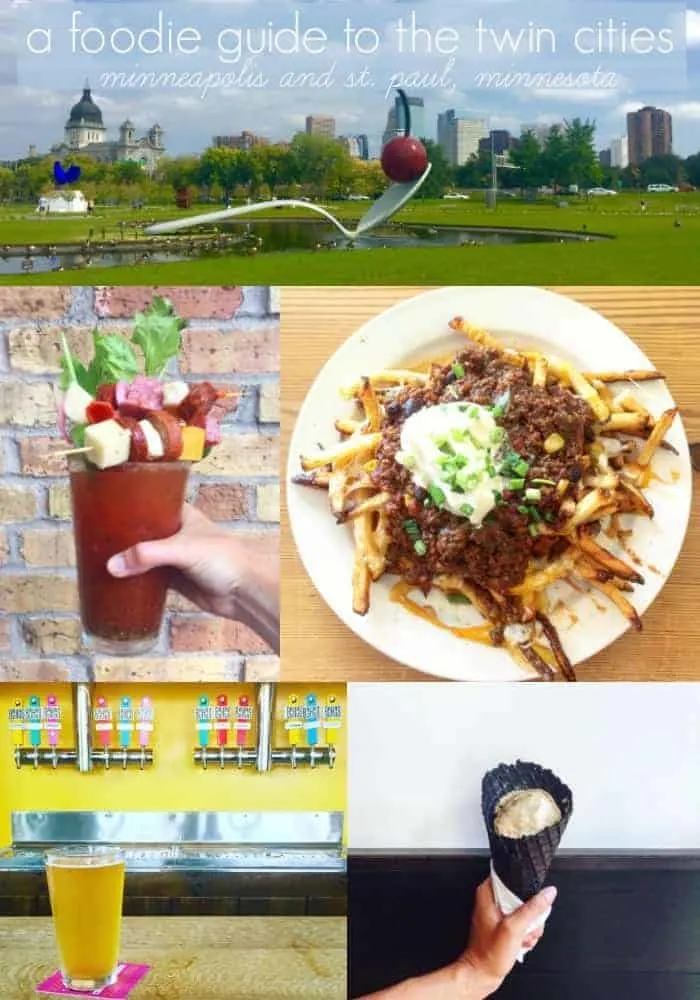 After an early afternoon flight and some down time at Tina's apartment, we spent my first night in the Twin Cities at Surly Brewing Company. Surly is the kind of place that you can hang out at for hours (I would put it on a similar scale to Sierra Nevada in Mills River for my North Carolina friends) and that's exactly what we did. We started at the bar with a round of pints and an order of Hog Frites (smoked pork, pepper jack fondue all topped with a super yum and garlicky giardiniera) which were delicious and something I still dream about (garlic breath was so worth it). We then moved outside to relax by the fire pits (the temperatures dropped just a tad on Thursday night) and then moseyed over to the picnic tables for dinner (I had the Surly Burger, also yum). I love a brewery that has a good food menu too!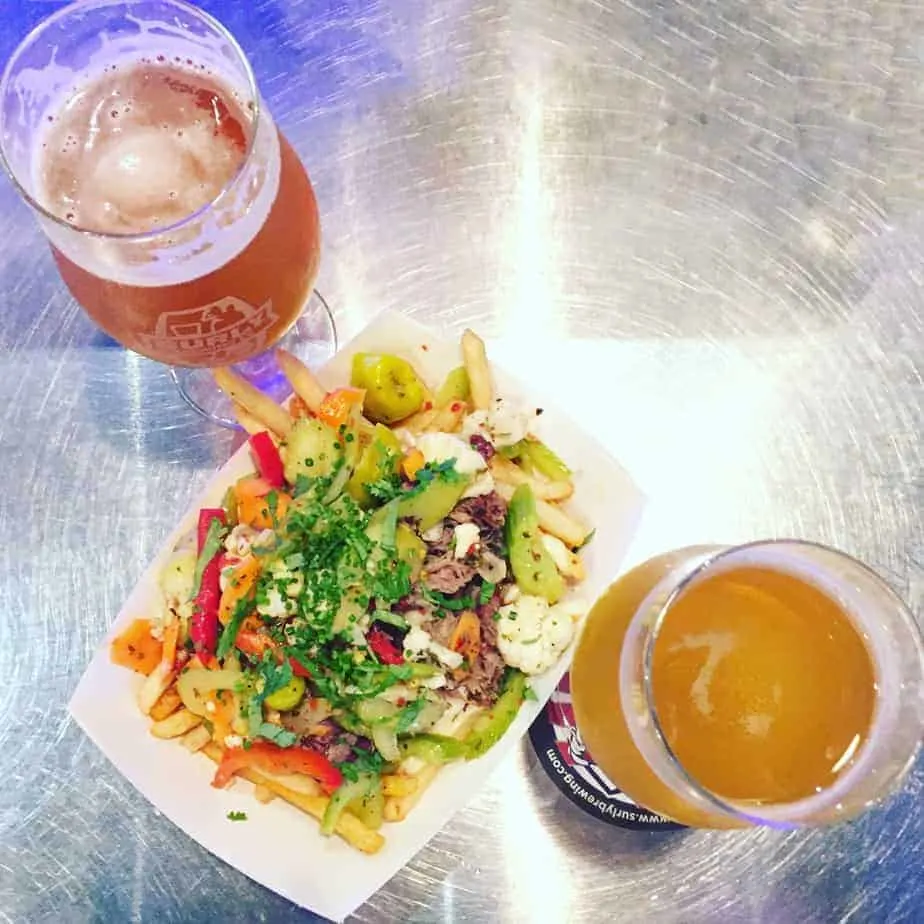 The next day Tina and I had big plans to go to Hola Arepa for lunch, but sadly learned that it is not open for lunch on Fridays (so of course we went back on Saturday). We ended up at The Low Brow, a casual, low key, neighborhood bar with a focus on scratch made comfort food. So good. We were super hangry (no breakfast woops!) and started with chili cheese fries which we destroyed and then split a sandwich and a burger (The Highbrow with melted brie, caramelized onions, field greens and garlic aioli).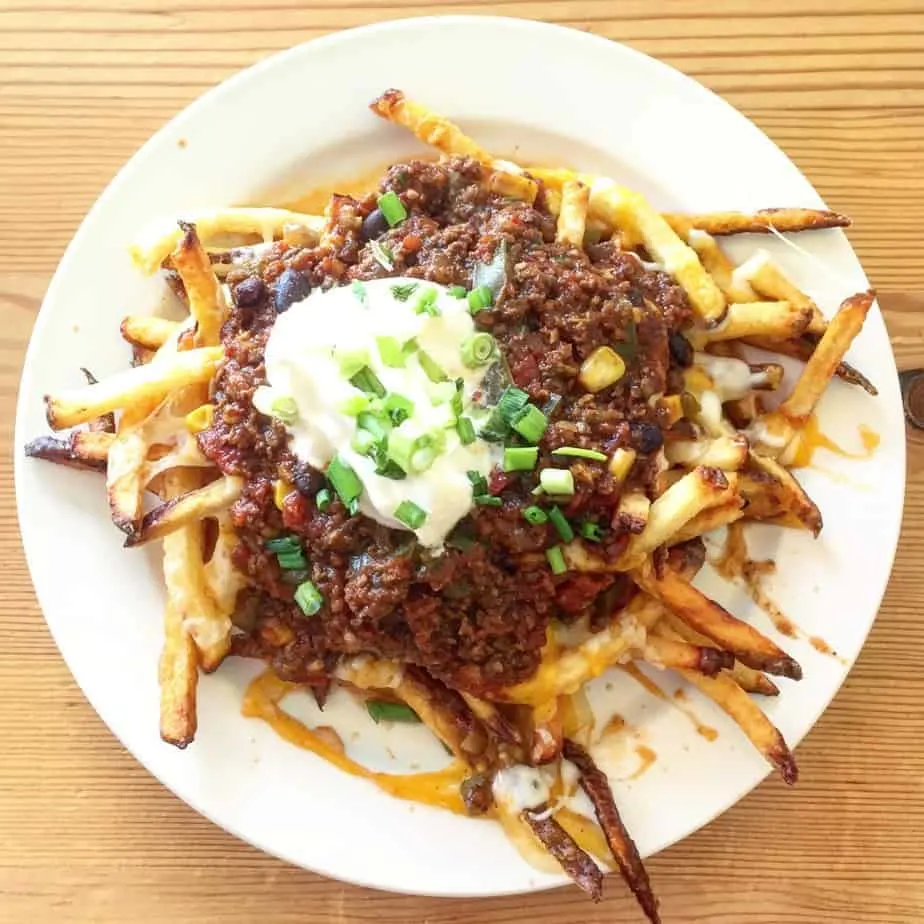 After lunch (and me two burgers into the weekend) we took a much needed stroll around Lake Calhoun and Uptown Minneapolis.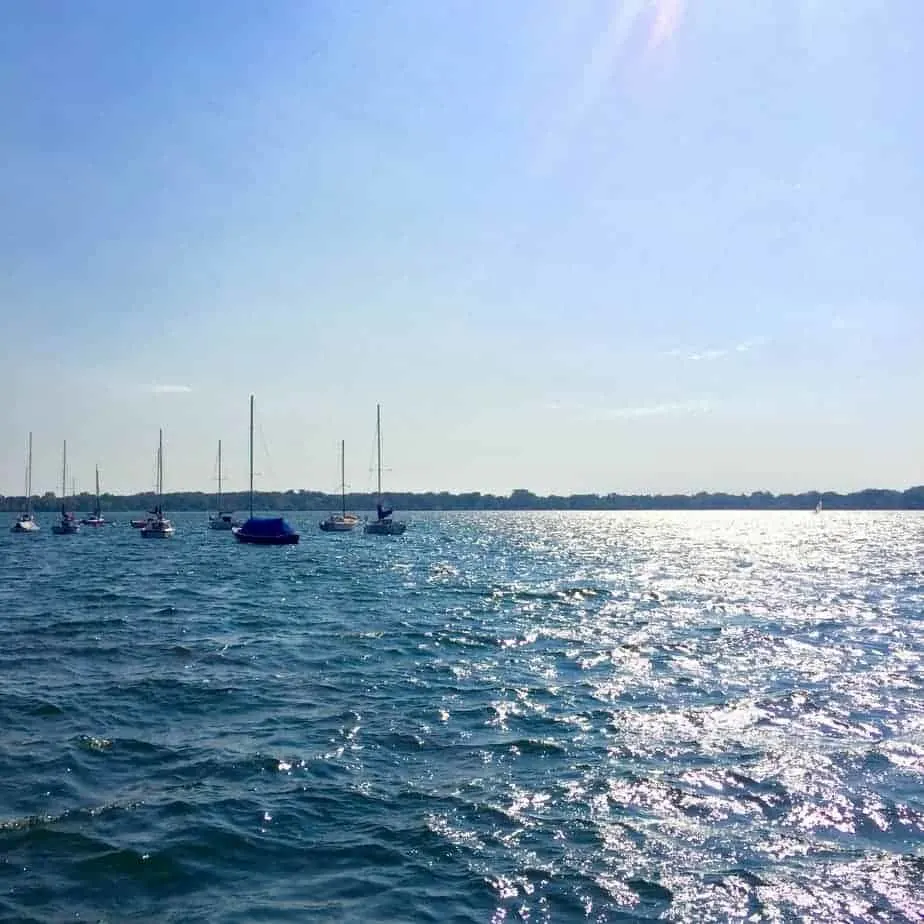 We stopped to rehydrate at Stella's Fish Cafe; which sounds weird but I promise it's not because cocktails on a rooftop at 1pm on a Friday is always a great idea. These cocktail names still make me cackle: Tina had the Slap Yo Mamma (vodka, lemonade and pomegranate puree) and I had the Daddy's Little Helper (vodka, lemonade and strawberry puree).
To cap off cheese fries and burgers and afternoon cocktails you of course also need ice cream, so we enjoyed scoops of Ridin Duuurty ( oreo milk w/ oreo chunks and salted peanut butter) and PB vs. Everybody (peanut butter banana with oreo chunks) plus tons of tastes and lots of handmodeling at Milkjam Creamery before afternoon naps.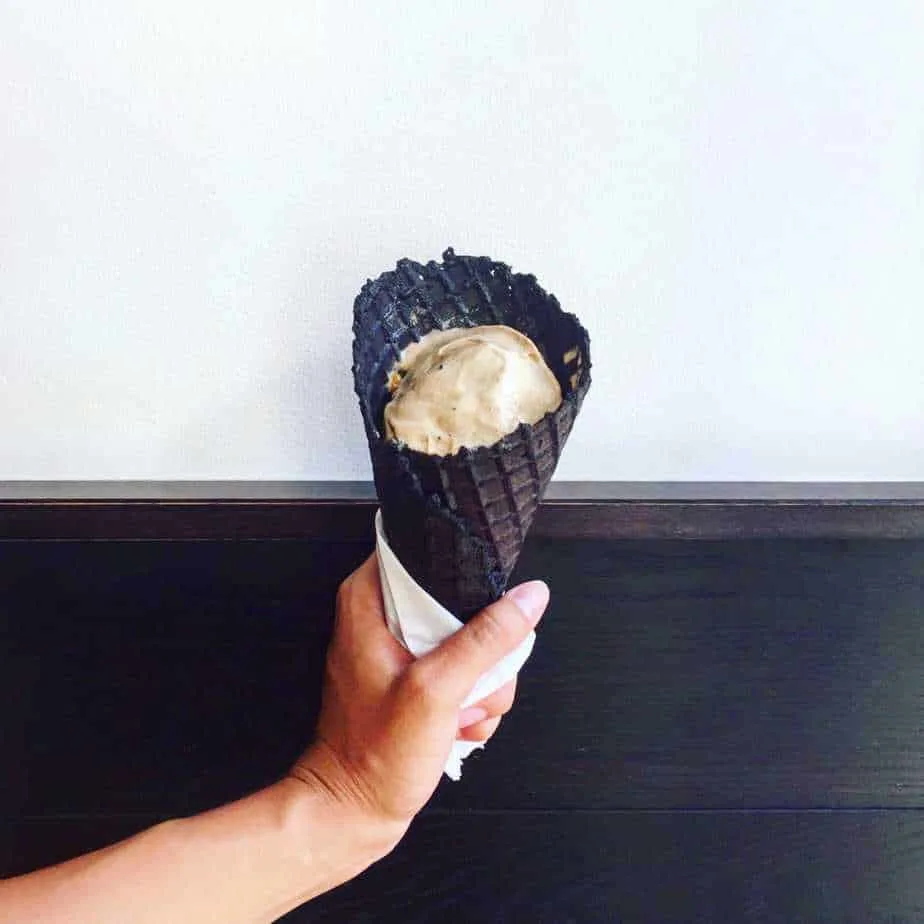 Friday night brought us to Betty Danger's Country Club, a tex mex restaurant with a ton of flare and a ferris wheel. Self described as "kooky", the entire place is decked out in bright pink and green with gaudy golf decor and is totally making a mockery of a country club in the most hilarious way and is borderline kitschy but I loved every second of it. The food was not anything special, but eating some tacos on a functional ferris wheel with pink neon lights and a view of the skyline from the top was so fun and worth it. Post Betty Dangers, we stopped at Dangerous Man (they have a great peanut butter beer) and Insight Brewing (owned by a fellow LU alum!) for duh, more beer.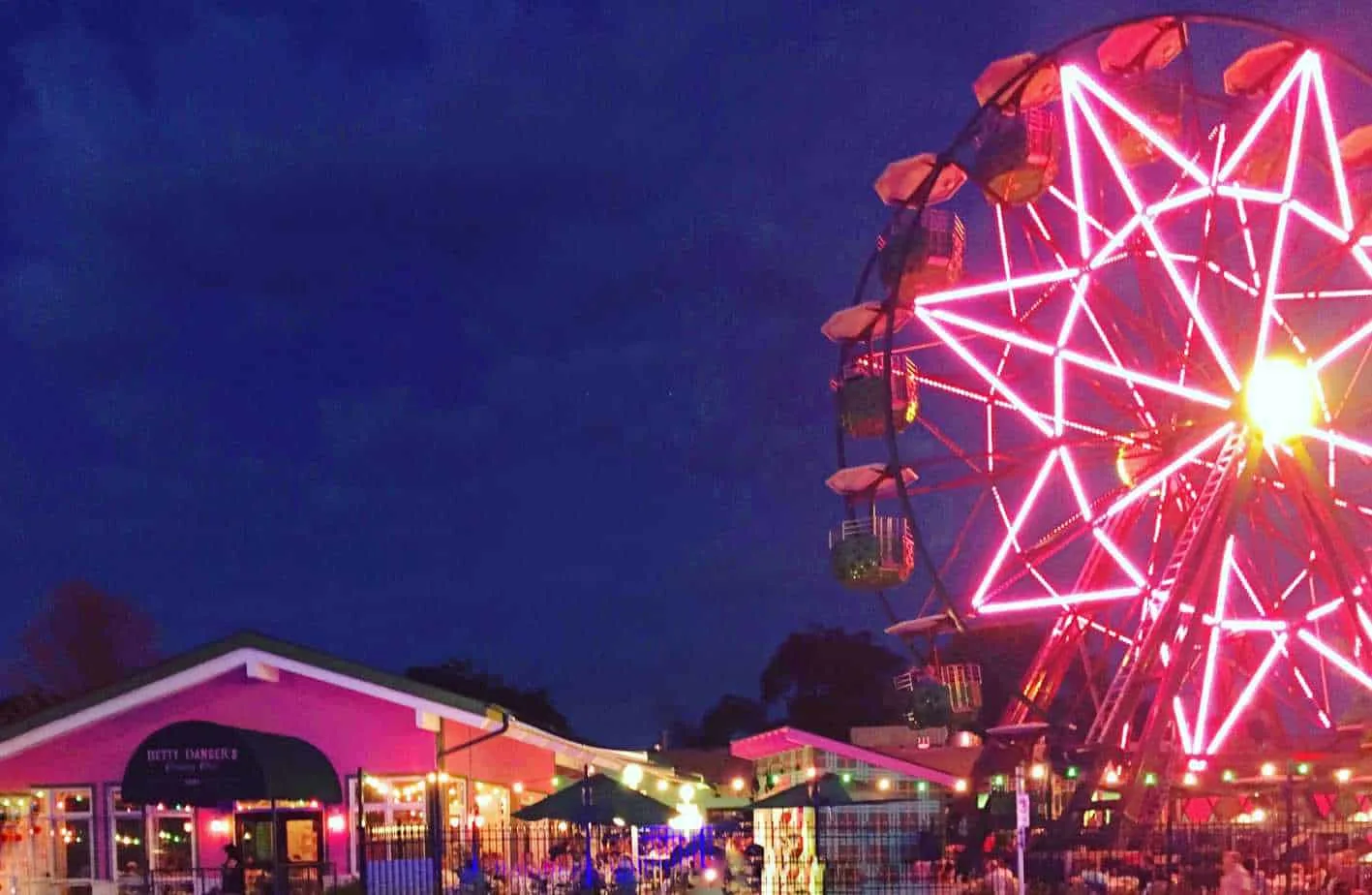 Saturday it was finally time for arepas, so we went back to Hola Arepa for lunch. All weekend, I kept calling this place Holy Arepa, which I don't think is an inaccurate description.
Hola Arepa is a Minneapolis food truck turned brick and mortar full service restaurant serving (surprise!) arepas and other Latin food. I ordered brunch arepas, yuca fries and a tiki cocktail and was in heaven (and I'm obsessed with the spicy dipping sauces).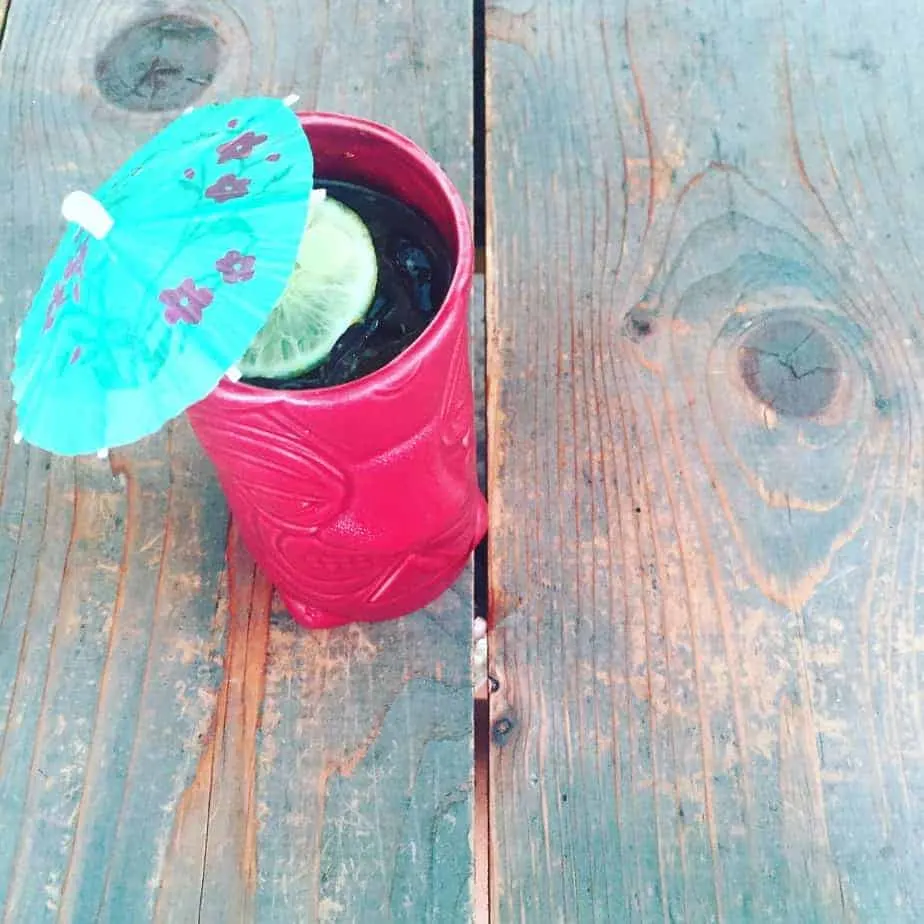 After a super cultural stop in the Minneapolis Sculpture Garden at the Walker Art Center to see the famous Spoonbridge and Cherry and Hahn/Cock (it's blue!) it was time for more beer drinking.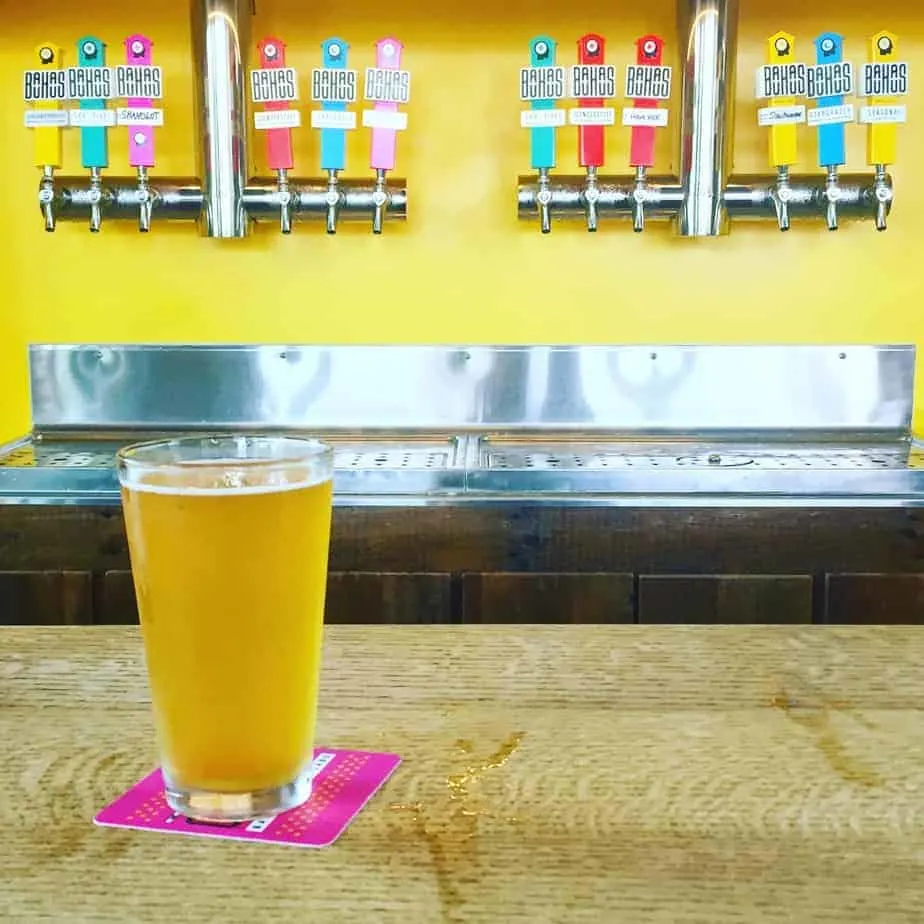 Saturday afternoon we made stops at Bauhaus Brew Labs, 612 Brew, Sociable Cider Werks and Indeed Brewing Company.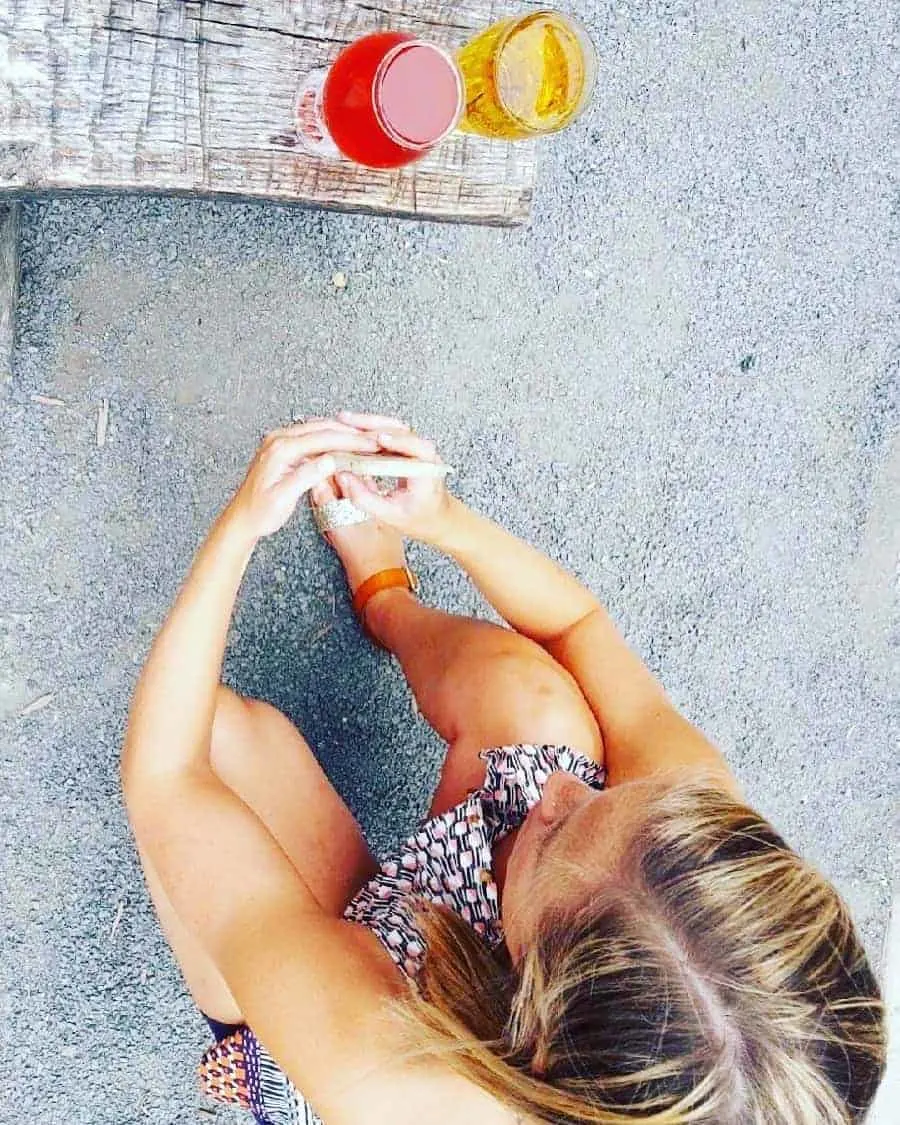 We finished our evening at Gasthof's Oktoberfest with brats, pretzels, and polka. And hammerschlagen (where you hammer nails into a big piece of wood to win prizes).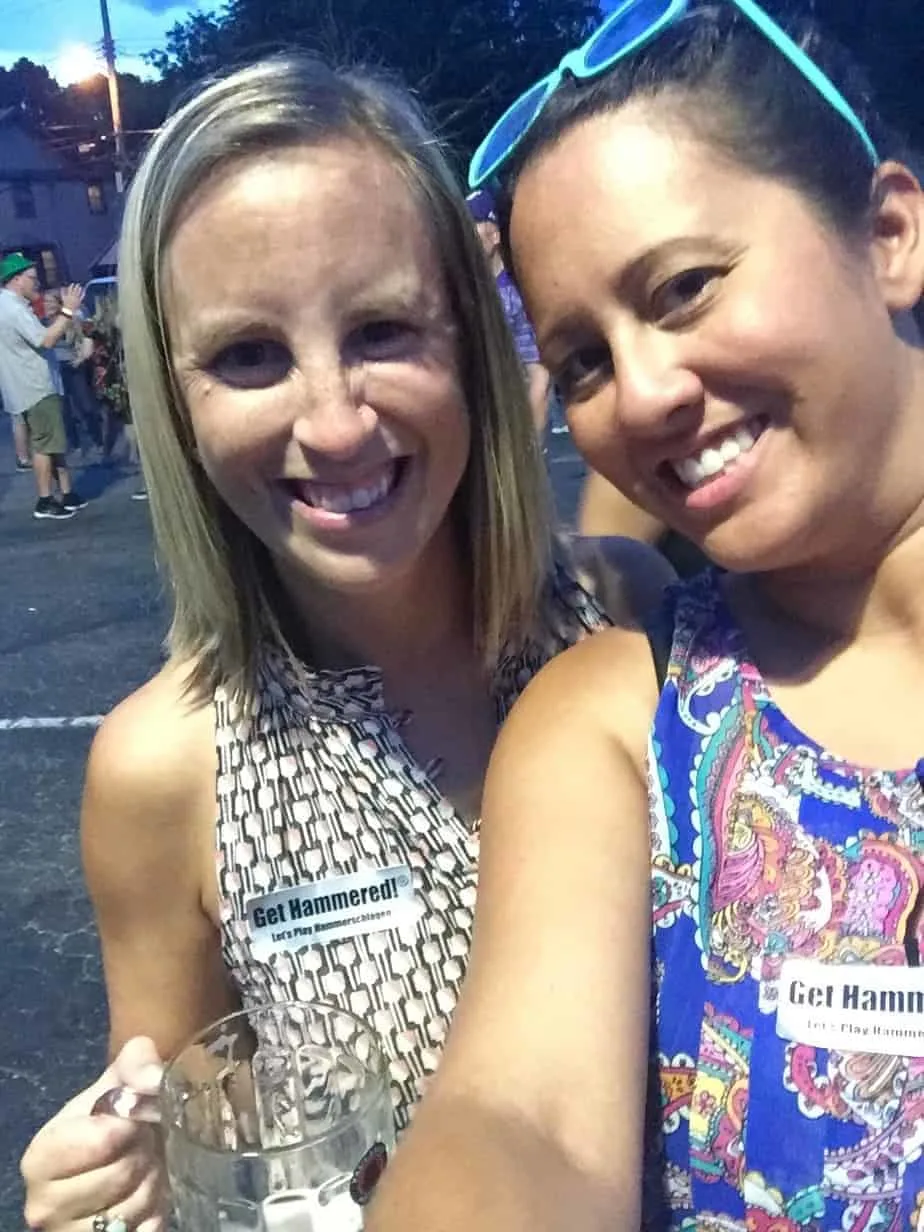 Sundays are for brunch and Bloody Marys, so we went to The Happy Gnome in St. Paul which has the most epic Bloody Mary bar I have seen in my entire life.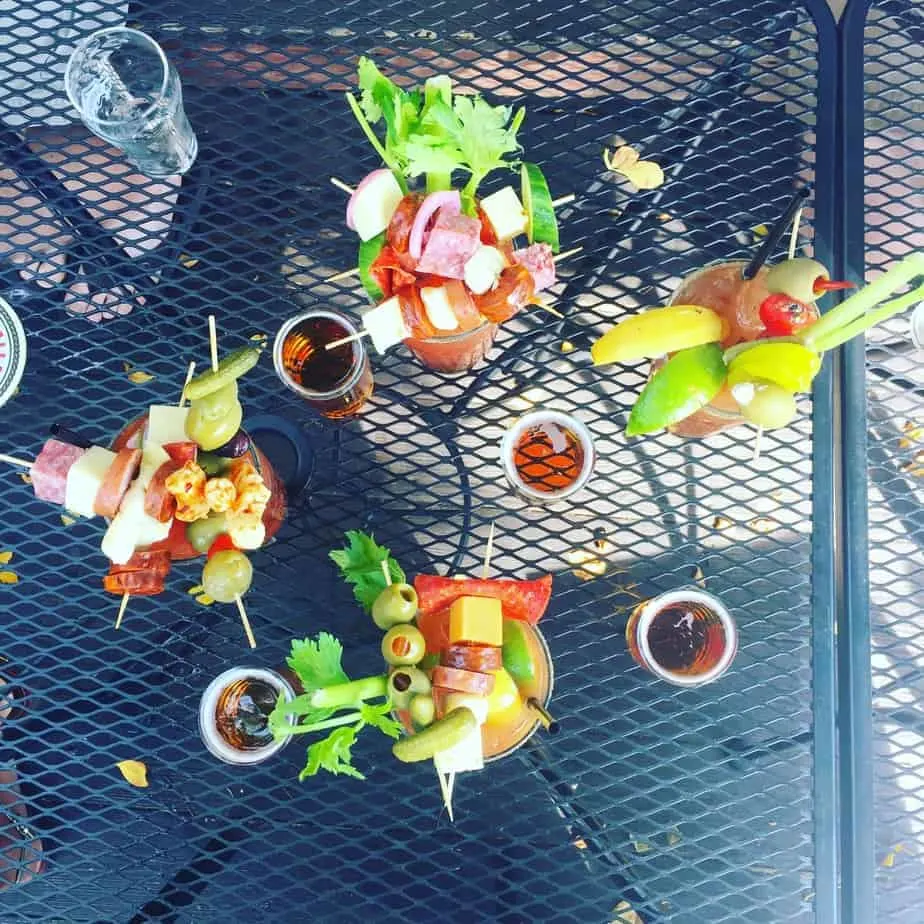 There had to be easily more than 30 different options spread out on tables the length of the bar area, so we stocked up on our Bloody Mary salads (for newbies, thats the snacks that come on a toothpick in your Bloody Mary) and enjoyed Bloodys and sunny Sunday brunch on the patio (I ordered the Gnome Hot Brown, which is an open faced sandwich native to Louisville, Kentucky smothered in sauce and broiled until the bread starts to brown. The Happy Gnome's version included Sriracha-bacon mornay, turkey, cheddar, prosciutto, tomatoes, sunny-side up egg, Surly Furious bread, and mixed greens).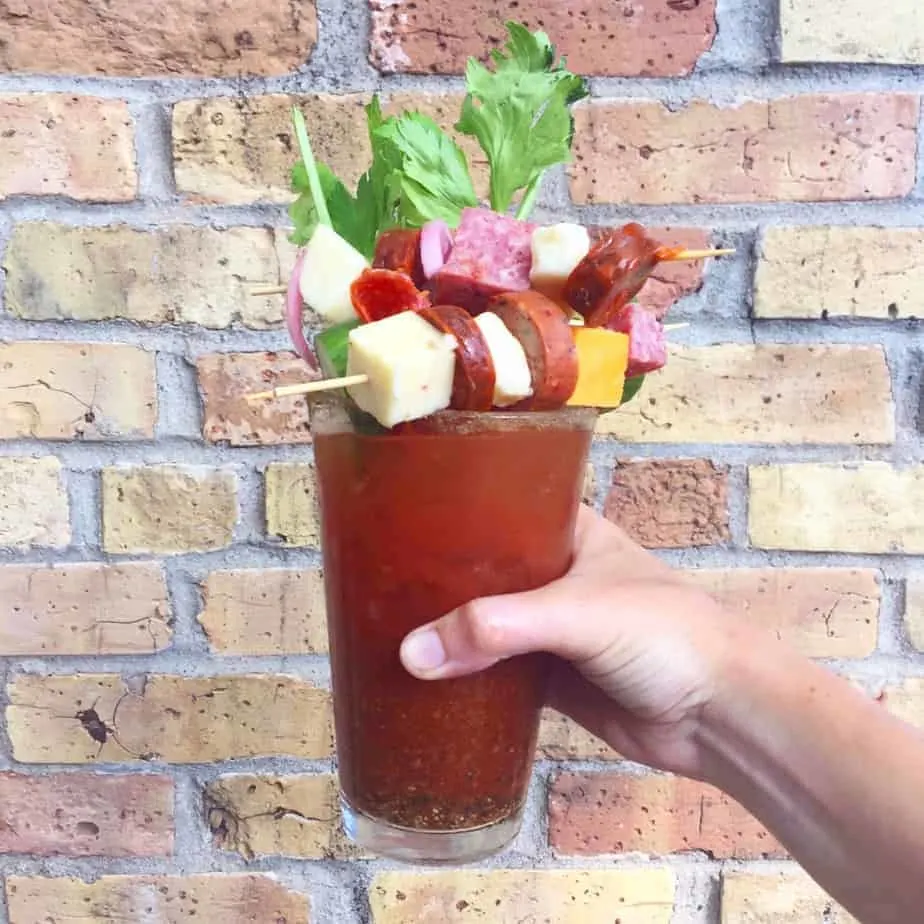 And because truly we hadn't eaten enough all weekend and I hadn't gained 10 pounds, we stopped for ice cream on the way to the airport because why not. Plus Midwest ice cream isd definitely the best (maybe because it's America's Dairyland?) and I could not say no to a few scoops at my maiden namesake, Nelson's Ice Cream.