I'm sharing our honeymoon in Asheville, four days of eating, drinking and exploring the North Carolina Mountains in three posts! Looking for things to do, where to eat and drink, or places to stay in Asheville, NC? Check out Off the Eaten Path's Asheville Travel Guide!
Days three and four were spent driving on the Blue Ridge Parkway, some really good tacos, a sunset at the Grove Park Inn, a delicious dinner, chocolate, and a relaxing spa afternoon. Click to catch part one and part two.
I have to admit I got a little distracted during November and realized I didn't finish up our little honeymoon in Asheville recap. I've really enjoyed writing these posts to revisit how much fun we had together in Asheville (and all of the great food we ate and drinks we drank!). I feel like these posts are a great resource if you're thinking about a honeymoon in Asheville, or you're just planning an upcoming trip or getaway to Asheville and your looking for things to do!On day three, we decided to stretch our legs and spend a little time in nature (when at the last minute we decided to go to Asheville for a few days after our wedding, we made sure to throw our hiking boots in the car). We hopped in the car and hopped on the Blue Ridge Parkway at the NC Arboretum (about 10 minutes from our hotel). We cruised down the parkway for a little while, taking in the expansive views of mountains and valleys (and trees that hadn't quite hit their fall color yet) and then pulled into the overlook at Mt. Pisgah and laced up our boots for a morning hike.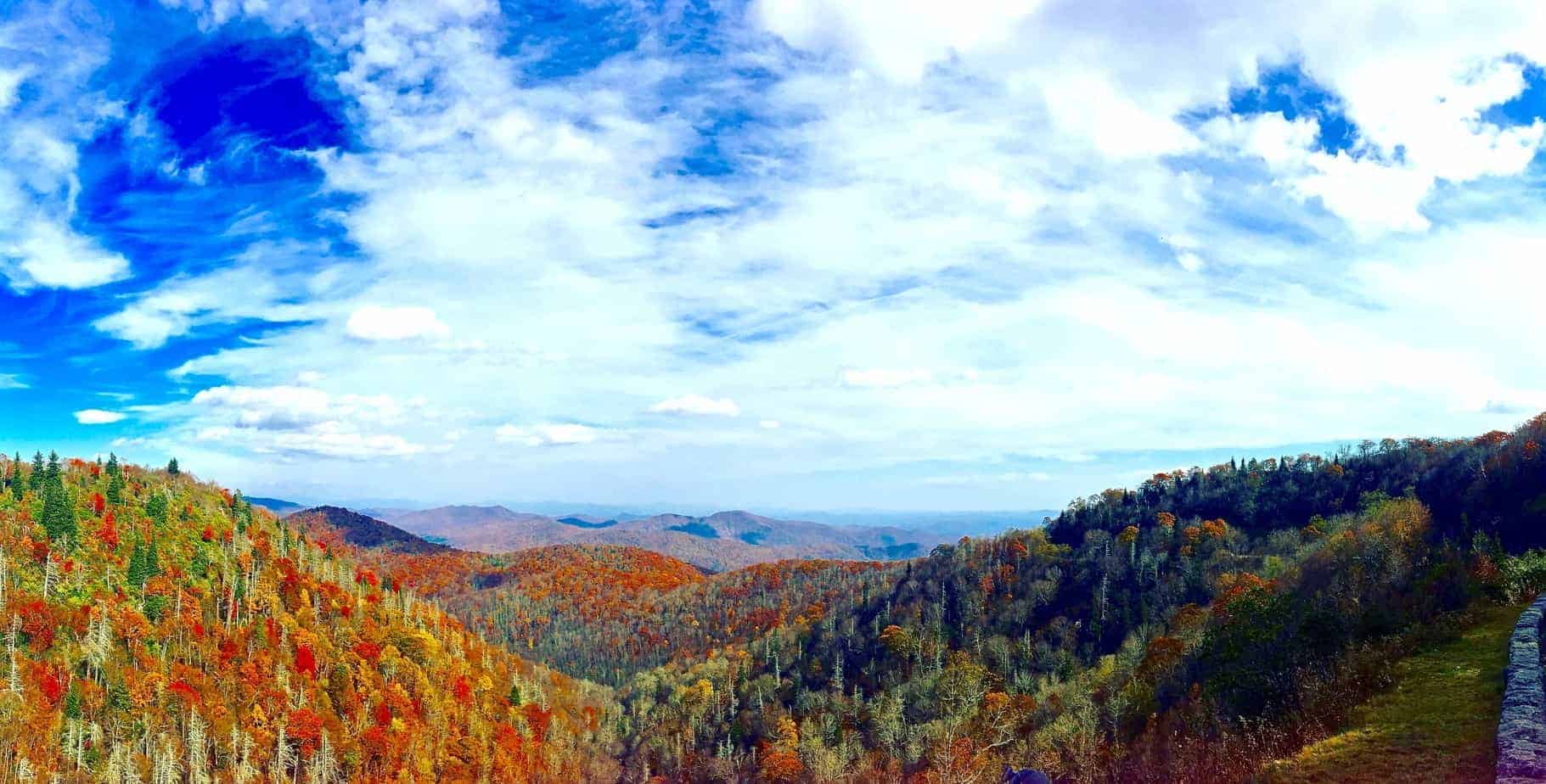 (this was from a couple weeks later when we returned to Asheville for a friend's wedding. the fall color wasn't quite there yet in early October!)
We rewarded ourselves for our 3.1 mile roundtrip hike up Mt. Pisgah with gorgeous, 360 degree panoramic views of the Blue Ridge Mountains at the top, and with tacos at the bottom. Lunch at White Duck Taco Shop was one of the best meals we had in Asheville (and we had a lot of great meals in Asheville!). We ordered a couple tacos and queso at the counter and then enjoyed our tacos (and margaritas, because you can have a margarita at noon on a Wednesday when you're on your honeymoon) at a picnic table on the patio. I loved the casual counter service, the creative combinations (I am still dreaming about the pork belly taco) and just about everything else at White Duck Taco Shop. You should go.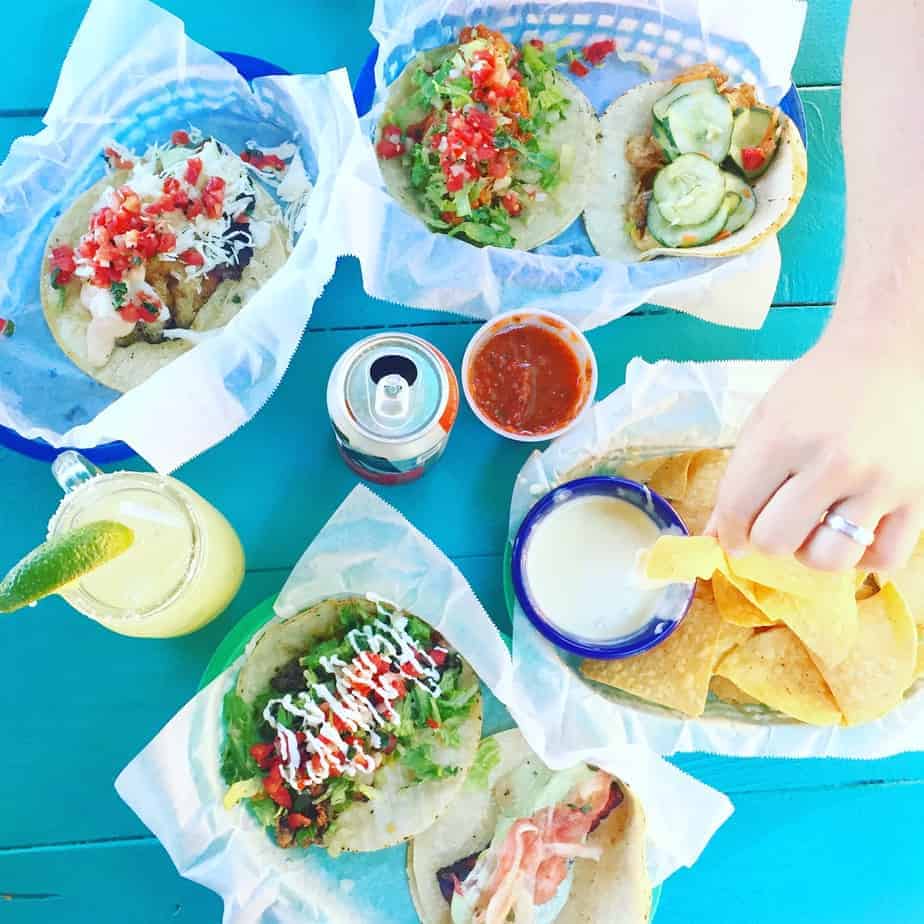 After stuffing our faces full of tacos, we made a pit stop at New Belgium (yes again, super dangerous that it was near our hotel) for a pint and to bask in the October sun. We opted for a low key afternoon because of our big evening plans: drinks while taking in the mountain sunset at The Grove Park Inn.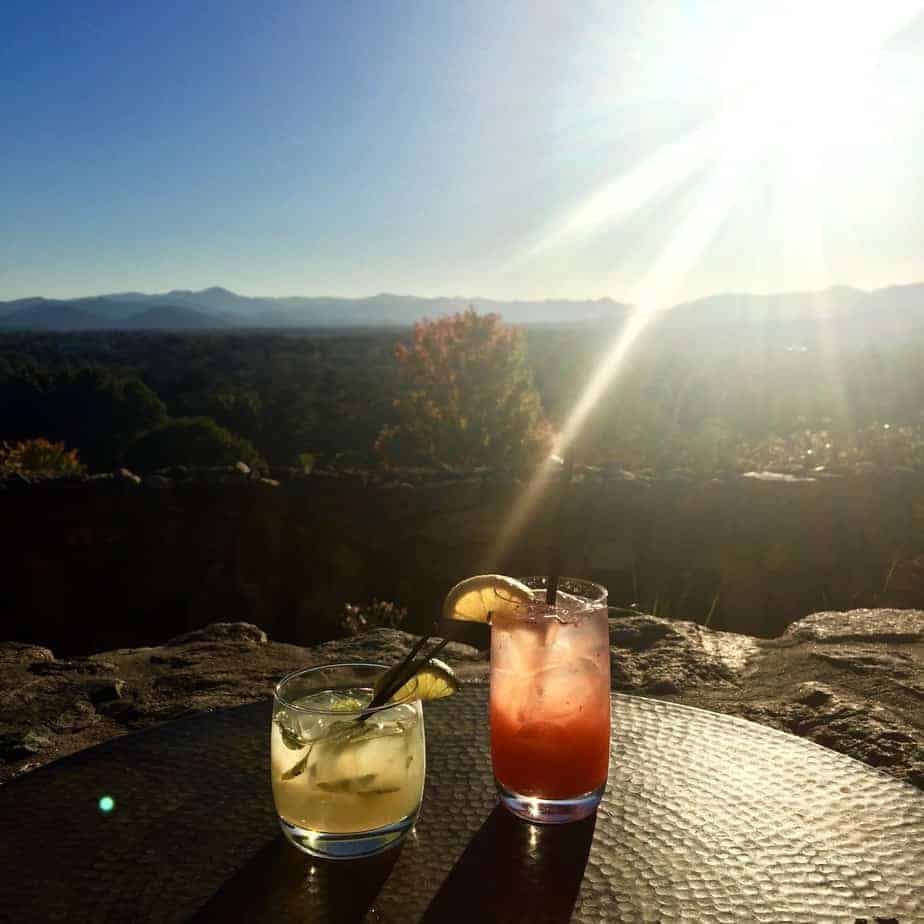 The Grove Park Inn is an Asheville icon, and is at the top of almost everyone's "things you must do in Asheville" list (while we debated staying there for our getaway, we decided to save some money with our accommodations and splurge on things like food, beer and experiences instead. We actually tried to book a treatment at the spa but they were all filled up!). The Grove Park Inn is perfect for a honeymoon in Asheville because of its historic charm and romantic atmosphere; it's the perfect blend of history and luxury. We arrived early so we had some time to explore (this was AJ's first Grove Park visit) so we took in the lobby with the larger than life fireplaces and rocking chairs, and then found a table on the Sunset Terrace so we could have some cocktails and enjoy the sunset (which was spectacular, by the way).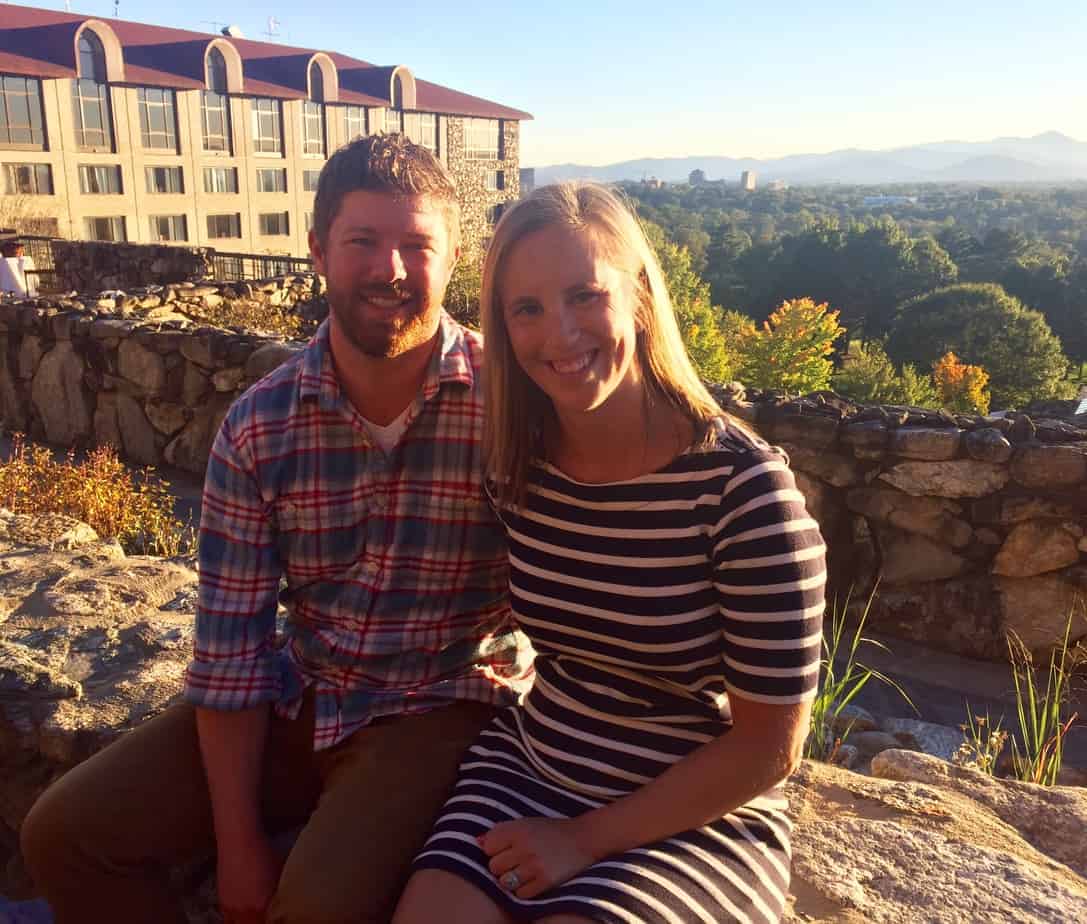 After the sun sank below the mountains (we actually were able to spot Mt. Pisgah in the distance, where he had hiked 10 hours before!) we took an Uber back downtown for dinner. We decided to treat ourselves to a nice dinner for our last night in Asheville (which created a great, three day long debate about where we would go because Asheville has so many great restaurants) but we finally settled on Rhubarb (ultimately over Posana, because we had been to Posana before and loved it). We started with an Old Fashioned and Manhattan and the bar, and then split a cheese plate and Autumn salad to start (recently I haven't been able to say no to anything with butternut squash). I enjoyed the Looking Glass Goat Cheese Gnudi as my main (different than my normal restaurant order, which is usually steak, but the local goat cheese and mushrooms spoke to me) and AJ demolished his Wood Roasted Sunburst Trout. The only thing preventing us from licking our plates clean was probably the few manners we do have.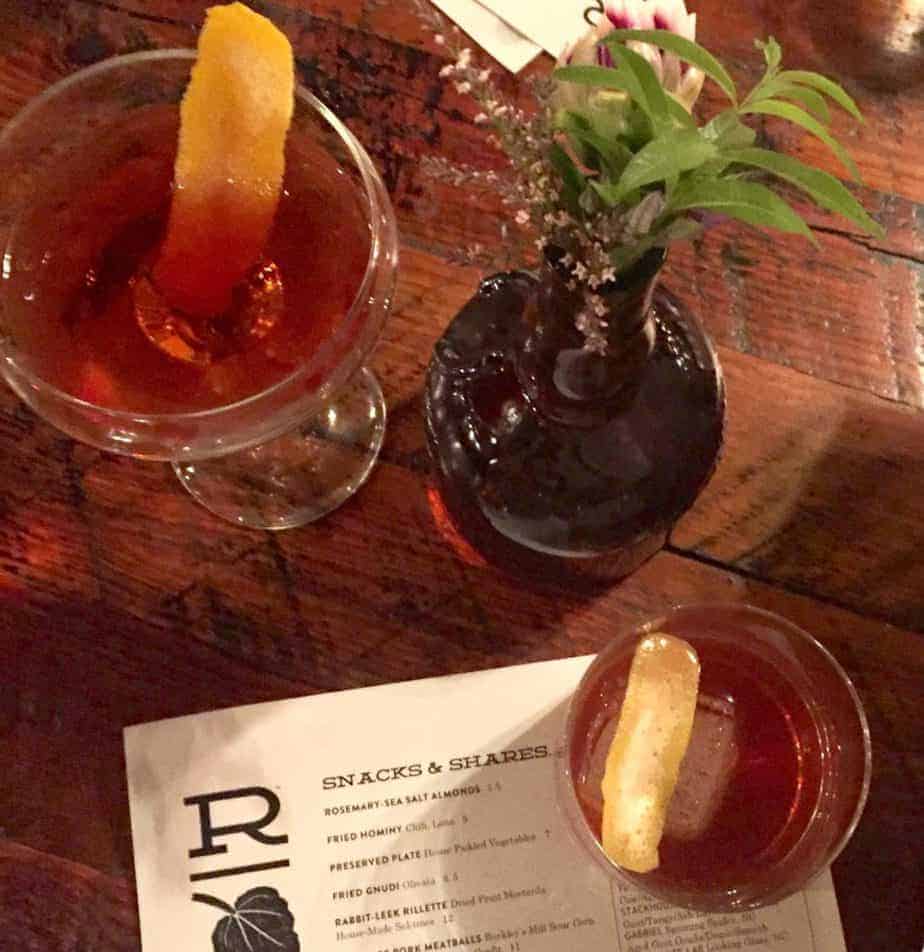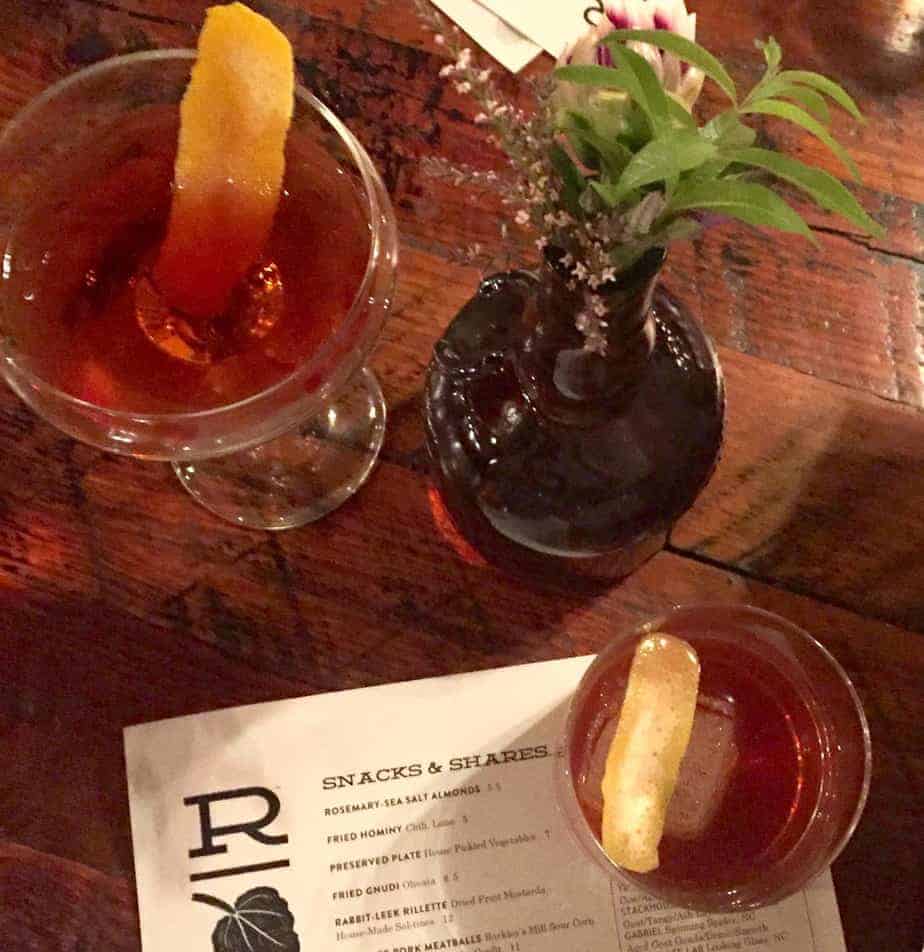 We wrapped up our honeymoon in Asheville on Thursday morning with a late breakfast and a trip to French Broad Chocolate Lounge for a sweet treat for the friend who was taking care of our cats (and while we were there, a sweet treat for ourselves).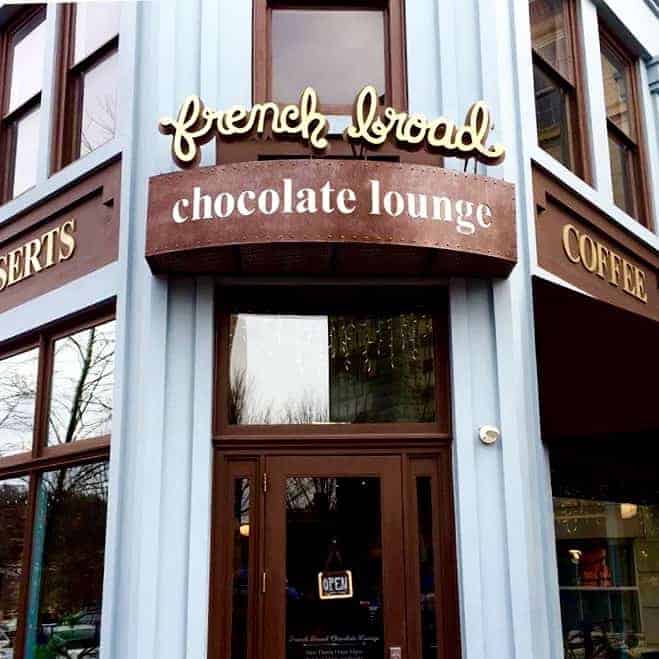 Before we headed back to reality, we indulged in a hour long hot tub soak and couples' massage at Shoji Spa off of the Blue Ridge Parkway. We stumbled upon Shoji thanks to Google (and the unavailability at The Grove Park Inn) and had a wonderful, relaxing afternoon taking in the picturesque views of the trees and the mountains from our private tub, enjoying a glass of wine (they let you bring your own drinks and snacks!), and melting into a massage table in a warm, candlelit room.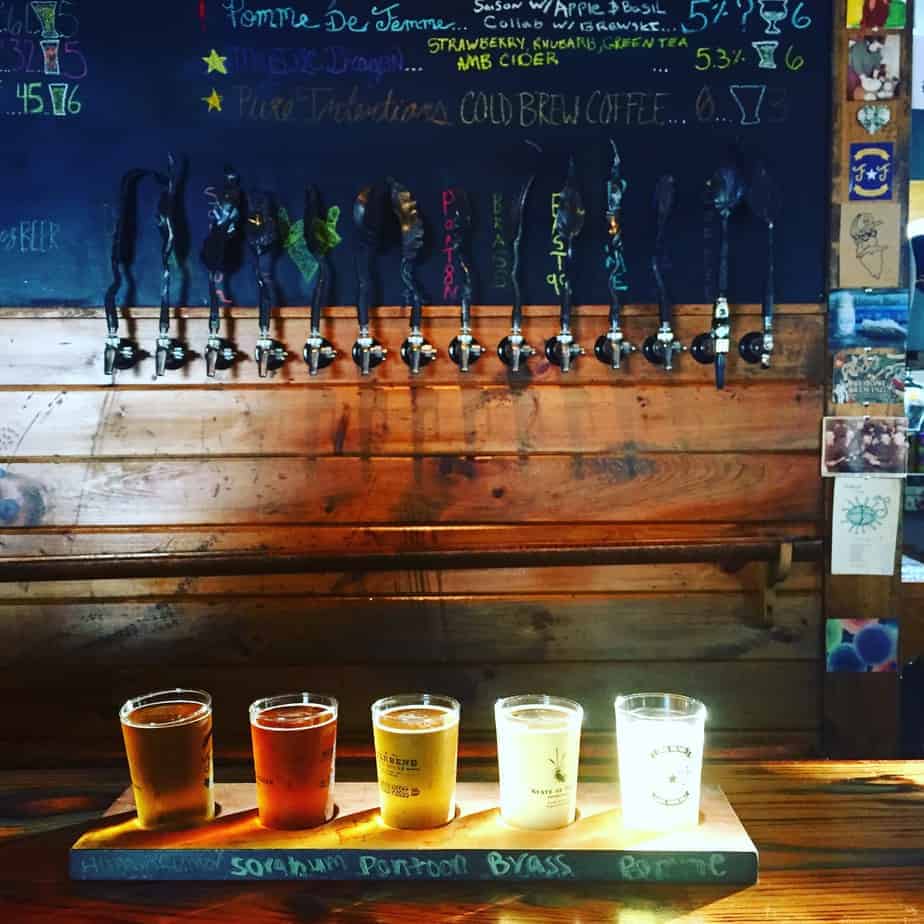 With the thought of heading back to work (and for me in particular, Friday morning probation violations) looming over our heads, we took one more detour on our way back to Charlotte. We peeled off Interstate 40 in Morganton, grabbed a late lunch at a family diner downtown, and grabbed a flight and two growler fills at Fonta Flora before really returning back to real life. After all, it seems like we celebrate all of our big life events at Fonta Flora.
SAVE OUR ASHEVILLE ITINERARY ON PINTEREST!