Everything but the kitchen sink breakfast casserole is a super easy recipe for weekend breakfasts or for meal prep breakfast for the week. All you need is what you have in your fridge to make a delicious breakfast!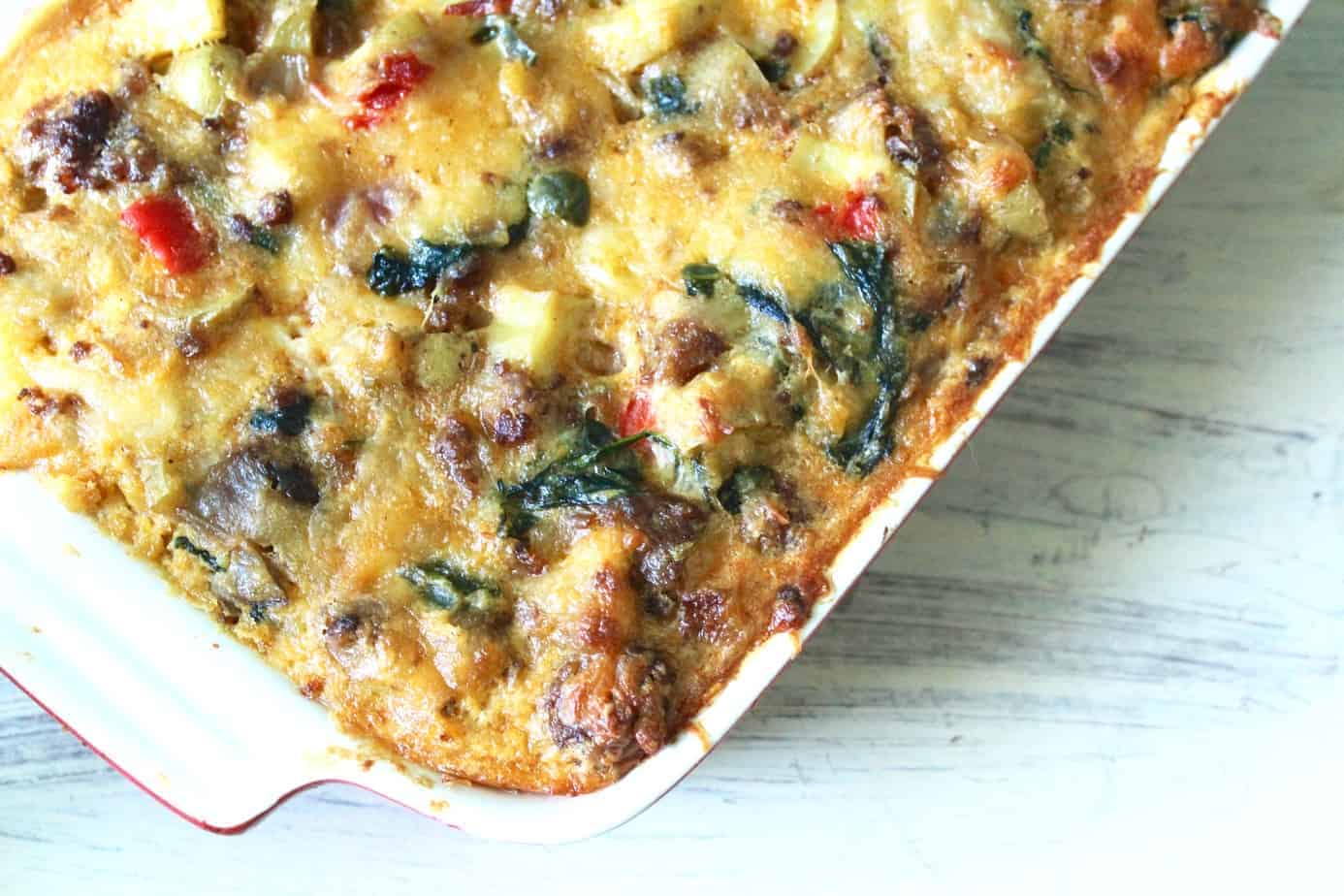 This weekend has been a whole lot of nothing and a little bit of everything at the same time.
I've done thrilling things like finish my taxes, clean the outdoor furniture, and help AJ with the home improvement project of the century that's soooo close to the finish line I can see the checkered flag (if I ever tell any of you AJ and I are planning on tackling more home improvement projects DIY style, talk me out of it please).
Taxes and housework were mixed in with a healthy amount of fun: a SkillPop class yesterday, a paint your pet event today (yes, we're nerds and painted pictures of Mr. Kitty and Pheebs), a sushi date and binge watching Shameless in bed.
Every Sunday brings the unfortunate end of the weekend and the dreaded anticipation of Monday.
While I wish I could pump the breaks before Monday hit and maybe stretch the weekend out a little bit longer, I've learned that facing Monday head on (and sometimes, just embracing the fact that it's coming) gets me ready and makes me better prepared for the work week.
So I try to dedicate a little bit of time on Sunday afternoons and evenings gearing up for the busy week ahead (read: hitting up the grocery store and doing a little meal prep) before squeezing out the last few minutes of weekend on the couch relaxing with a glass of wine (our usual Sunday evening ritual).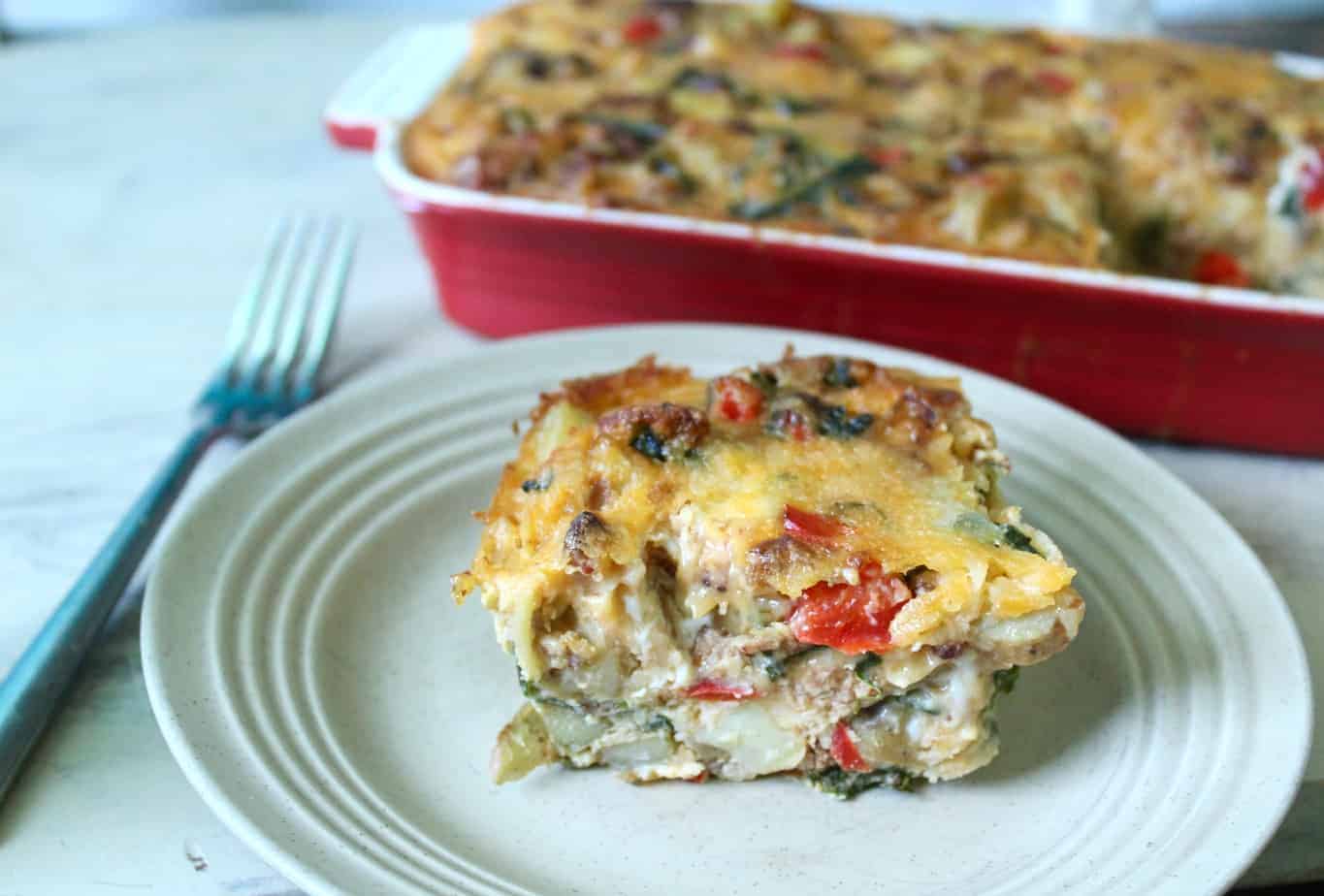 How do I eat a healthy breakfast on the go?
One of the easiest ways for us to be ready to slay the work week is to make breakfast ahead of time.
Some of my favorite breakfasts to meal prep are this casserole, a batch of sweet potato breakfast hash, orange beet tropical smoothie or baked eggs in avocado.
If I have a little more time to relax and enjoy breakfast, I love pumpkin waffles, bagels all the way, and on the weekend a build your own Bloody Mary!
A grab and go option cuts down on us both running around the kitchen like chickens with our heads cut off and increases the likelihood that we eat breakfast before work by epic proportions.
By planning ahead and meal prepping a breakfast casserole on Sunday, I then don't have to take the time to think about what I'm going to eat Monday morning. (or any of the other weekdays!) Instead, I have more time to enjoy my coffee in bed, and still have a healthy start to every morning with a well balanced breakfast (amen to a slice of something that is full of protein and yummy veggies).
This breakfast casserole is the perfect weekday breakfast option: it's quick and easy to slice and reheat before running out the door.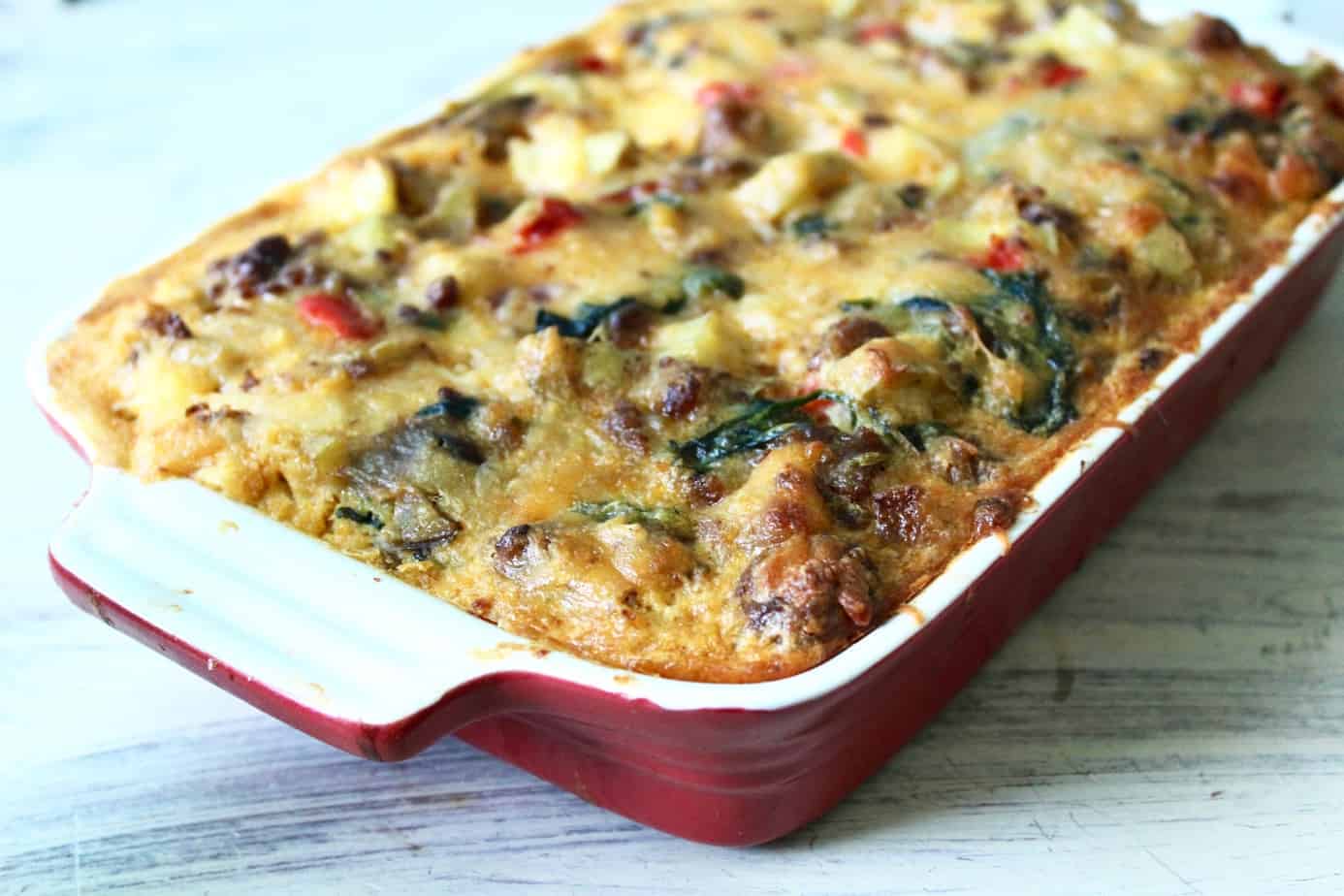 What does "everything but the kitchen sink" mean?
"Everything but the kitchen sink" is a pretty well known saying that means everything imaginable, all encompassing, a large amount of things, whether needed or not, or just about anything.
Where does the saying, "everything but the kitchen sink" come from?
Honestly, I had no idea until I looked it up!
"Everything but the kitchen sink" is a saying that originated in the 1900s, and the first print reference can be traced back to 1918 to The Syracuse Herald.
The saying became popular during World War II, when many people would say that everything but the kitchen sink was being thrown at the enemy.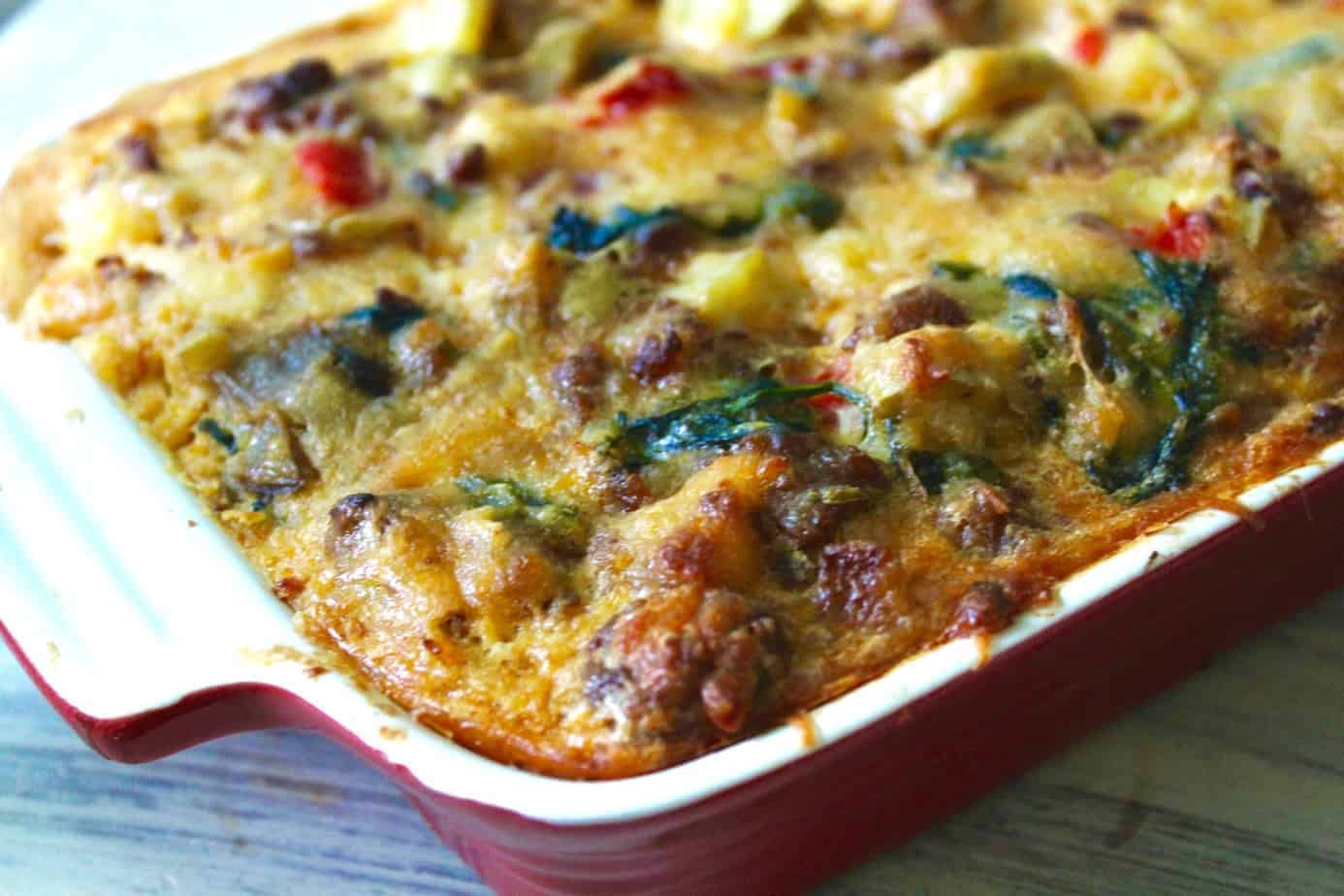 What is a kitchen sink breakfast casserole?
My favorite thing to throw together on Sunday is what I like to call an "everything but the kitchen sink" breakfast casserole.
An everything but the kitchen sink breakfast casserole is exactly what it sounds, it's everything that we have in our fridge, thrown into one delicious, healthy breakfast casserole!
This meal prep breakfast helps us clear out the fridge of any unused or neglected ingredients from our previous week's shopping trip (no extra grocery store trip needed!); so the recipe varies week to week depending on what meats and produce we need to use up from last weeks meals and grocery shopping.
Mix it all together and voila! Breakfast is served. A batch of this breakfast casserole feeds both of us all week long.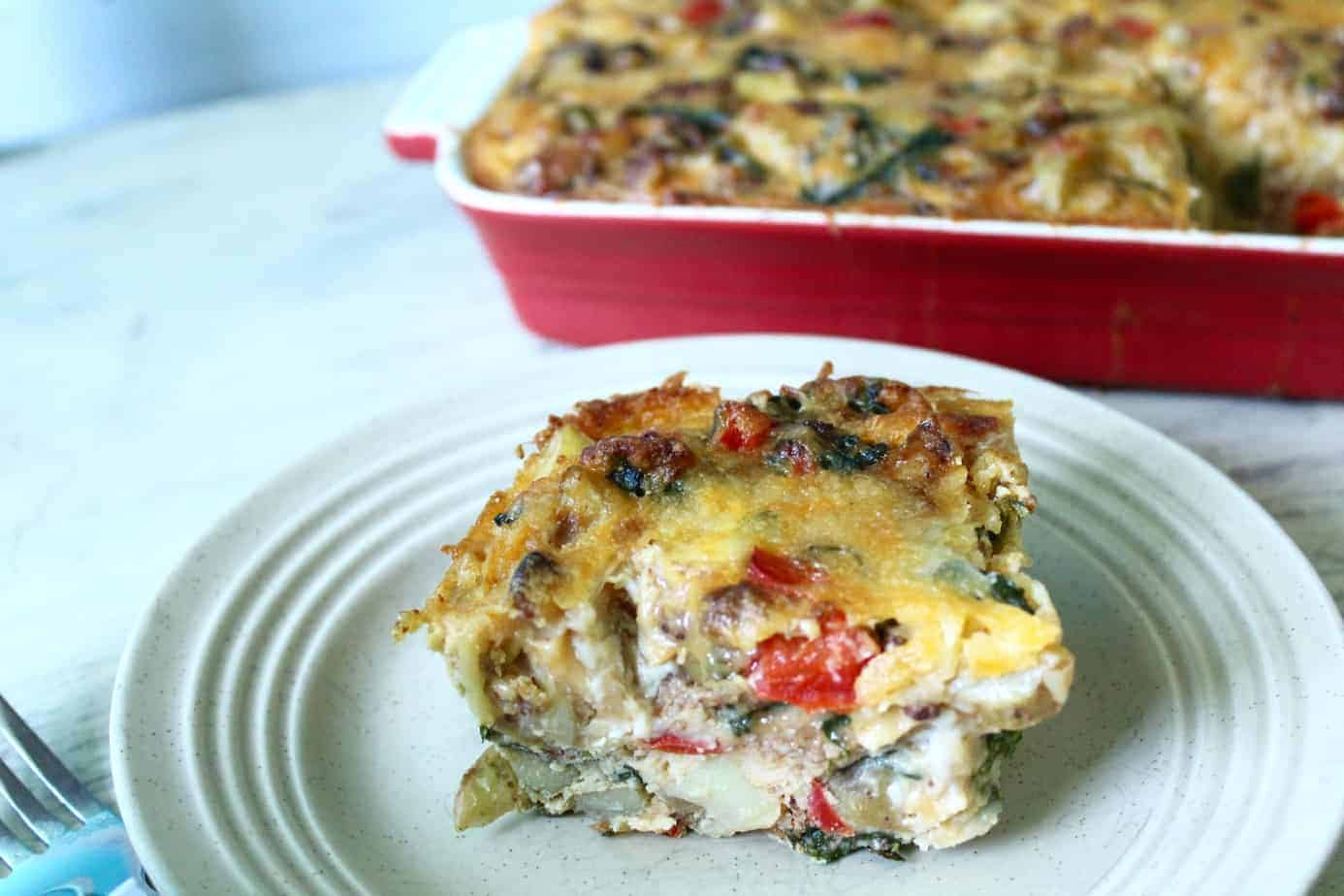 How do you meal prep breakfast?
Since we're using up ingredients that we have on hand, our version of this meal prep breakfast casserole changes week to week depending what is leftover in the fridge.
You'll start prepping this breakfast casserole by cooking your breakfast meat of choice in a saute pan over medium high heat.
Once cooked, drain the meat, and add your veggies to the pan to cook and soften. Combine the cooked veggies and meat in a mixing bowl.
While the meat and veggies cook, whisk eggs, salt and pepper until combined. Once everything is done, pour the whisked eggs into the meat and veggies bowl, stir around and pour into a baking dish.
Bake and enjoy!
What ingredients work best in a breakfast casserole?
Anything! I mean it!
This week's version starred chorizo , chopped veggies, farmers market eggs and cheddar cheese.
Spicy (or mild) breakfast sausage are also great breakfast casserole options (or leave out the meat and go completely vegetarian.)
All sorts of veggies work: our favorites are red a red onion, a red bell pepper, spinach, kale or other leafy green, and a handful of potatoes, and a jalapeño. Mushrooms, white onions, tomatoes, spinach, and sweet potatoes are also delicious in a breakfast casserole.
So next Sunday, whip together this easy, delicious breakfast casserole. You'll still want the weekend to last a little bit longer but having breakfast ready may make getting out of bed on Monday a little bit easier.