This shop has been compensated by Collective Bias, Inc. and its advertiser. All opinions are mine alone. The following content is intended for readers who are 21 or older. #SeedOfAGreatSummer #CollectiveBias
This cantaloupe caprese summer salad is so easy to make and screams summer with its flavors and colors. Pair it with a bottle of Dreaming Tree wine for your next summertime celebration.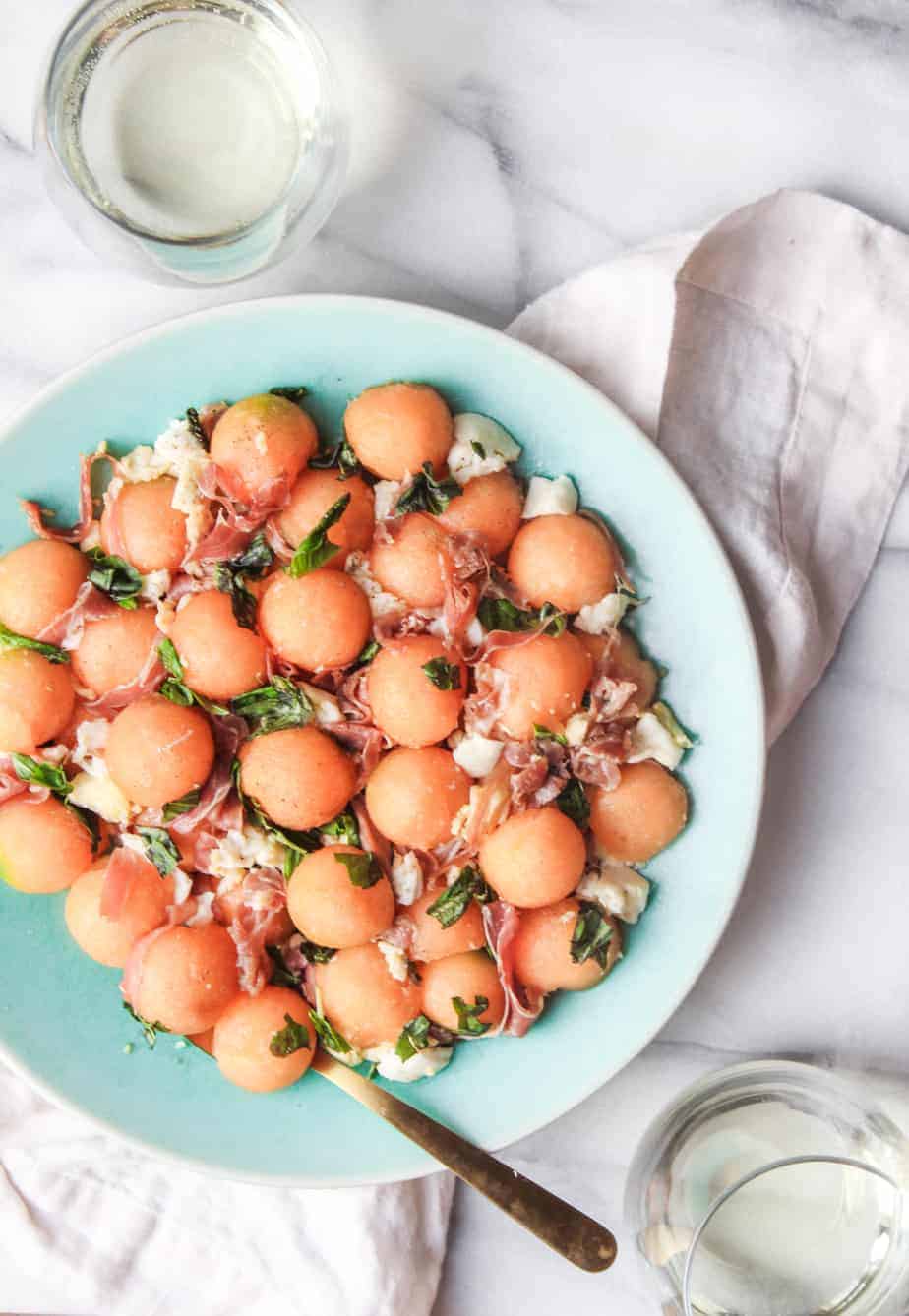 What is your favorite part about summer?
Beach trips, pool parties, cookouts, baseball games, I love it all (yes, I do love summer even if I do complain about a lack of air conditioning). There's something about longer days and getting outside that puts a pep in my step, no matter what we're doing.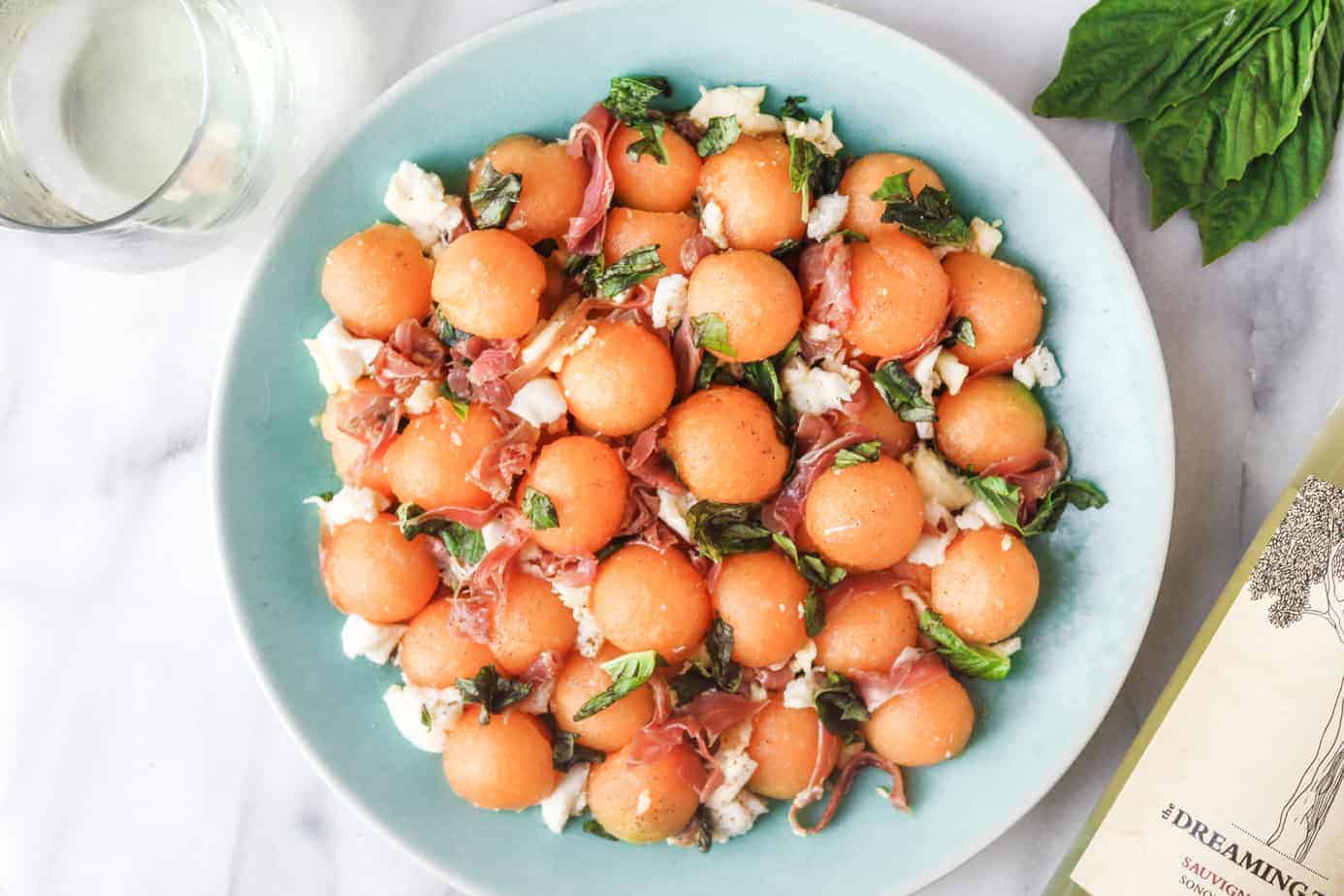 One of my favorite summertime activities is going to outdoor concerts with my family or friends. My parents live down the street from an outdoor music venue (it's actually a National Park!), and I have a lot of fun summer memories of going there growing up to catch some of my favorite bands and singers.
I went to concerts there through college and still always check their performance calendar when I'm planning a weekend at home to see who's playing and if we should buy tickets.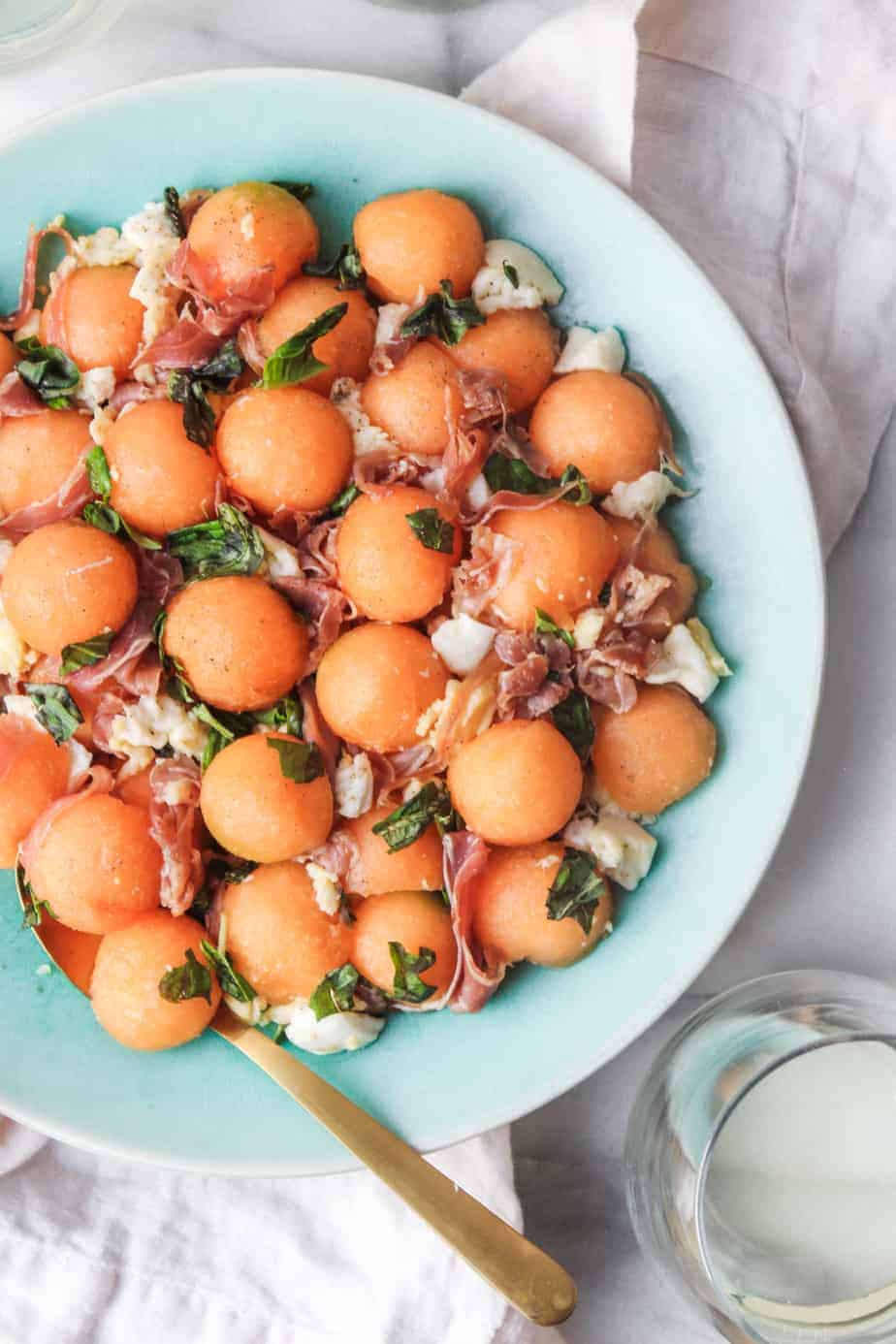 Since it's an indoor/outdoor performance venue (sort of like an amphitheater, I guess, but not quite), you get the choice to take in a show in a seat on the covered area or on the lawn. We almost always opt for lawn seats; you can bring your own blankets and chairs and set up a picnic, and dancing barefoot on the grass is more fun than worrying if you're blocking the person sitting behind you.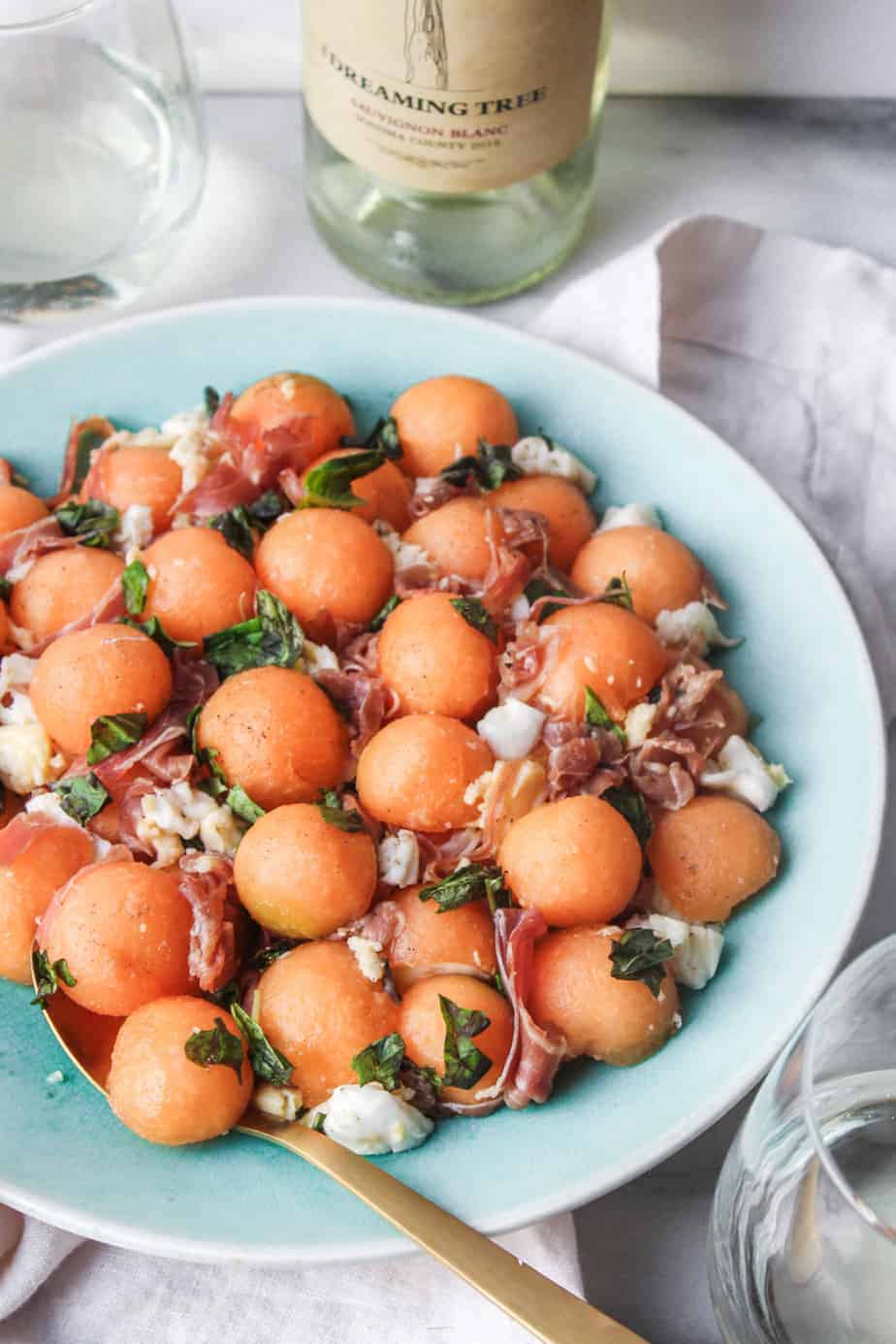 And yes, you read that last sentence right, it's a BYOP (bring your own picnic) situation, which even includes the adult beverages of your choice, which means we have a BYOW (bring your own wine) situation on our hands, which, in my opinion, is the best kind of situation.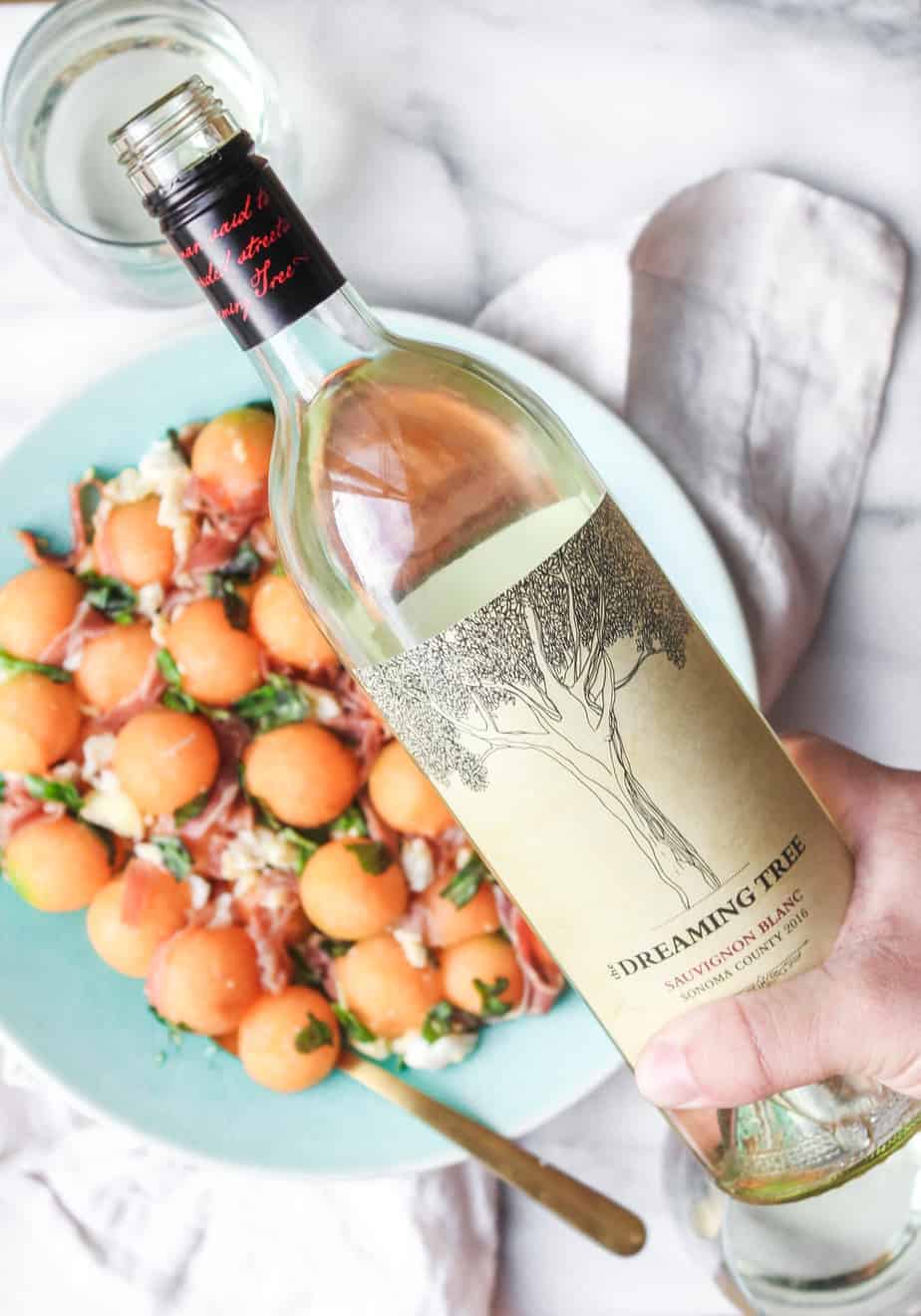 You better believe that I don't mess around when it comes to summer concert picnics. In fact, a few years ago, my mom really enhanced our picnic game by buying a picnic backpack that can hold our food, a bottle of wine, and two glasses, and to say that it has been life changing would be an understatement.
When picnicking, we opt for food that is easy to make ahead of time, can withstand the summer heat, is super shareable, and can easily be washed down by wine. So, of course, this cantaloupe caprese summer salad totally fits the summer picnicking bill.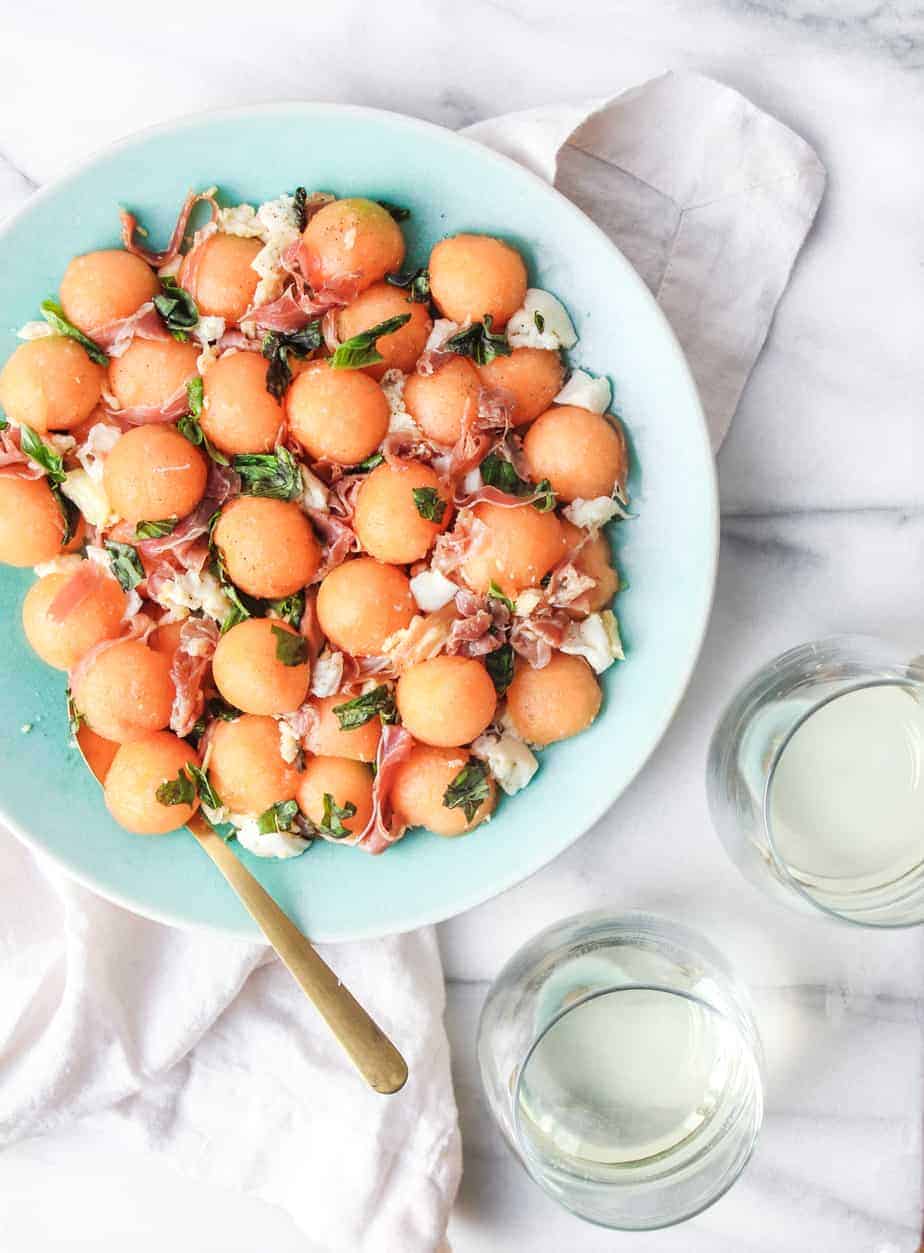 The colors, flavors and skill level needed (read: minimal) for this cantaloupe caprese summer salad makes it a go-to summer recipe for me no matter the occasion. It's a spin on a traditional caprese salad (usually tomato, mozzarella and basil) made with sweet pieces of ripe, orange cantaloupe that balance with the salty flavors of the cheese and prosciutto.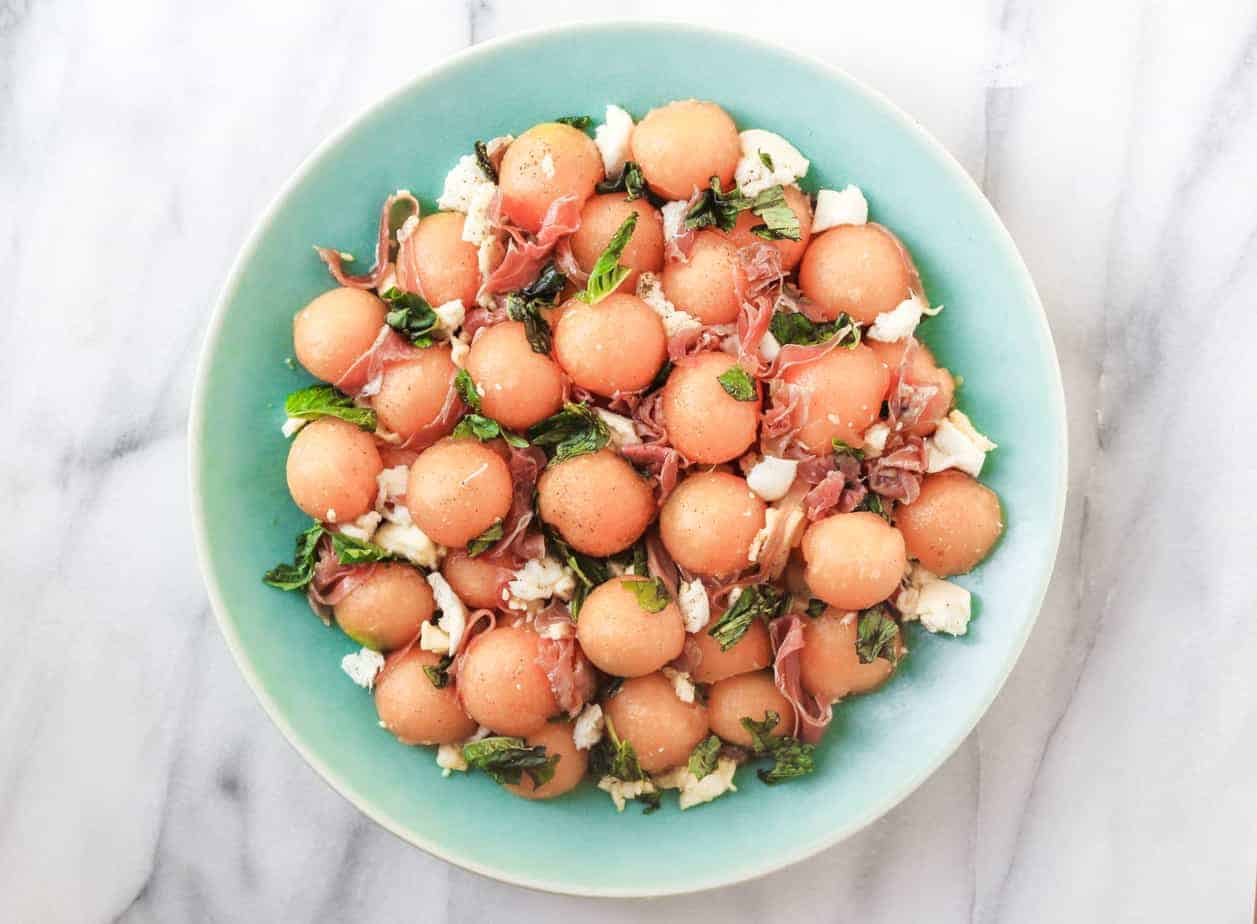 I like to use a melon baller to scoop the orange flesh (but a knife will do just fine), and then I mix all of the ingredients in a bowl before adding a drizzle of olive oil and balsamic vinegar, plus a sprinkling of salt and pepper. Did you know that salt actually enhances the sweet flavor of the fruit?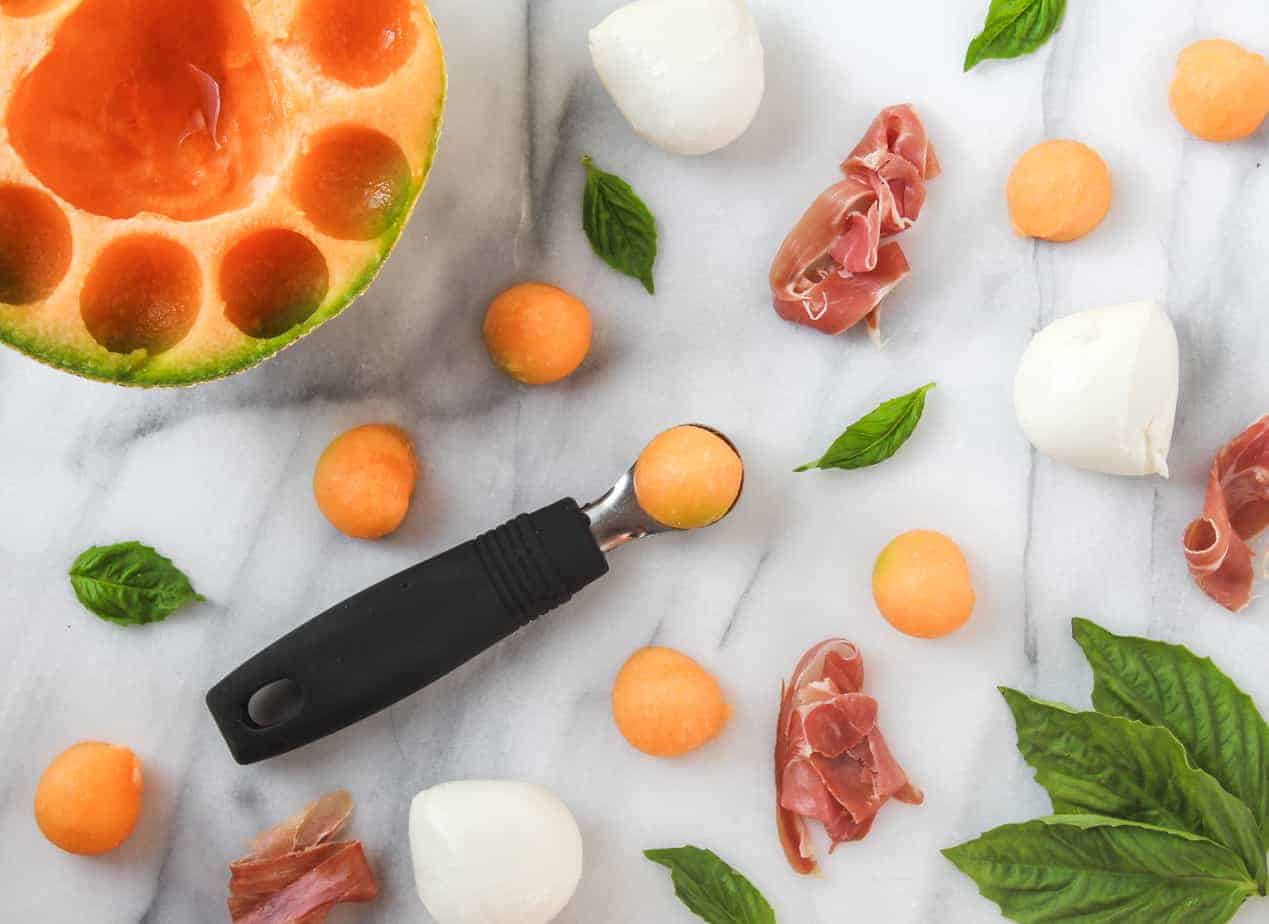 It's just so easy and so refreshing!
And no summer picnic is complete without a bottle of your favorite wine. One of my favorite wines to pack in our picnic backpack is a bottle of The Dreaming Tree, which I usually pick up at our local grocery store, but I know you can also find it at your local drug or supercenter stores (see where you can find their wine here).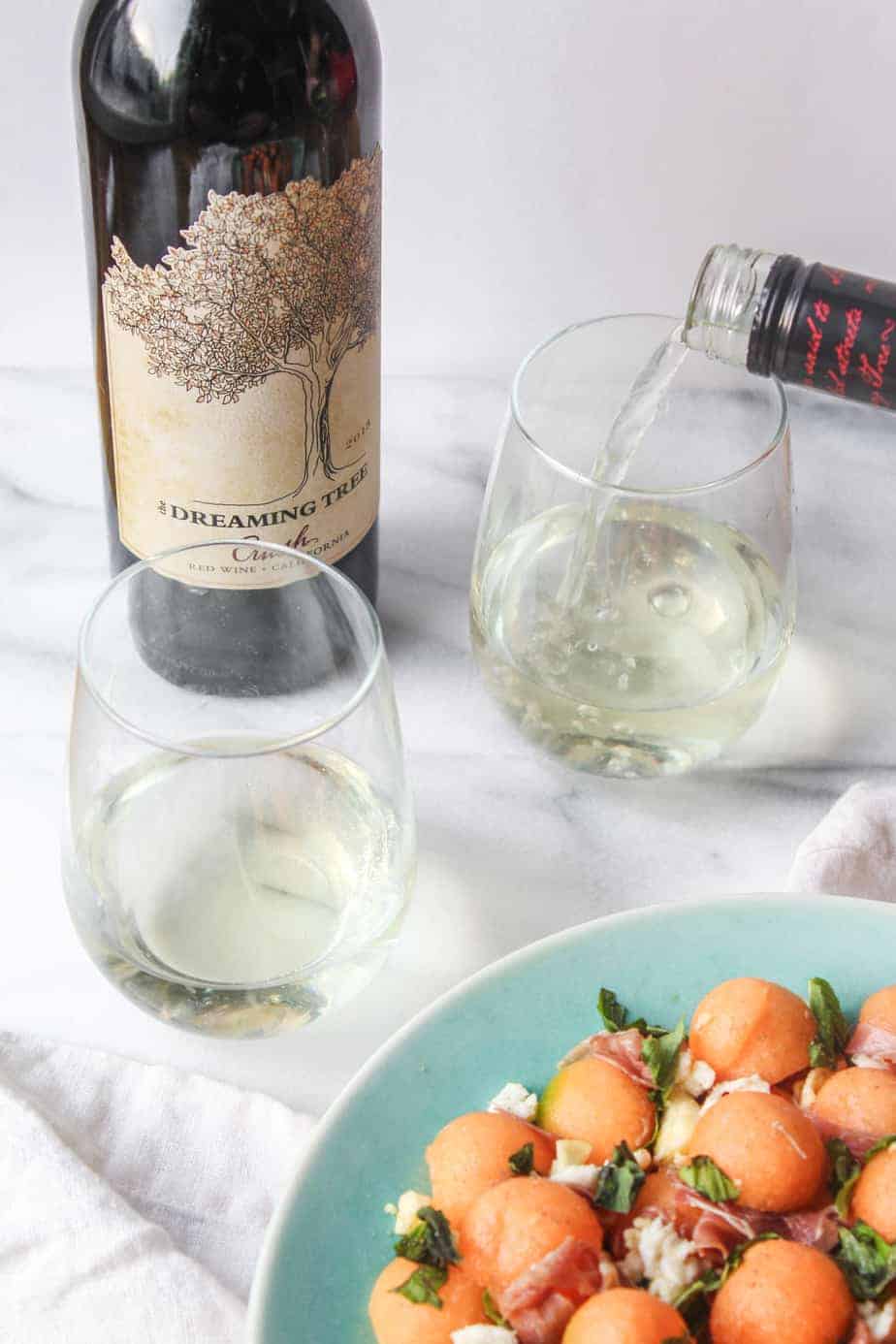 The Dreaming Tree is one of my faves because they make high quality, California wines accessible to wine lovers everywhere by offering their varietals at a really affordable price point. Besides affordability (a major key for me when it comes to wine shopping), The Dreaming Tree has a commitment to sustainable winemaking practices, a commitment to environmental responsibility, and emphasizes the values of community and collaboration.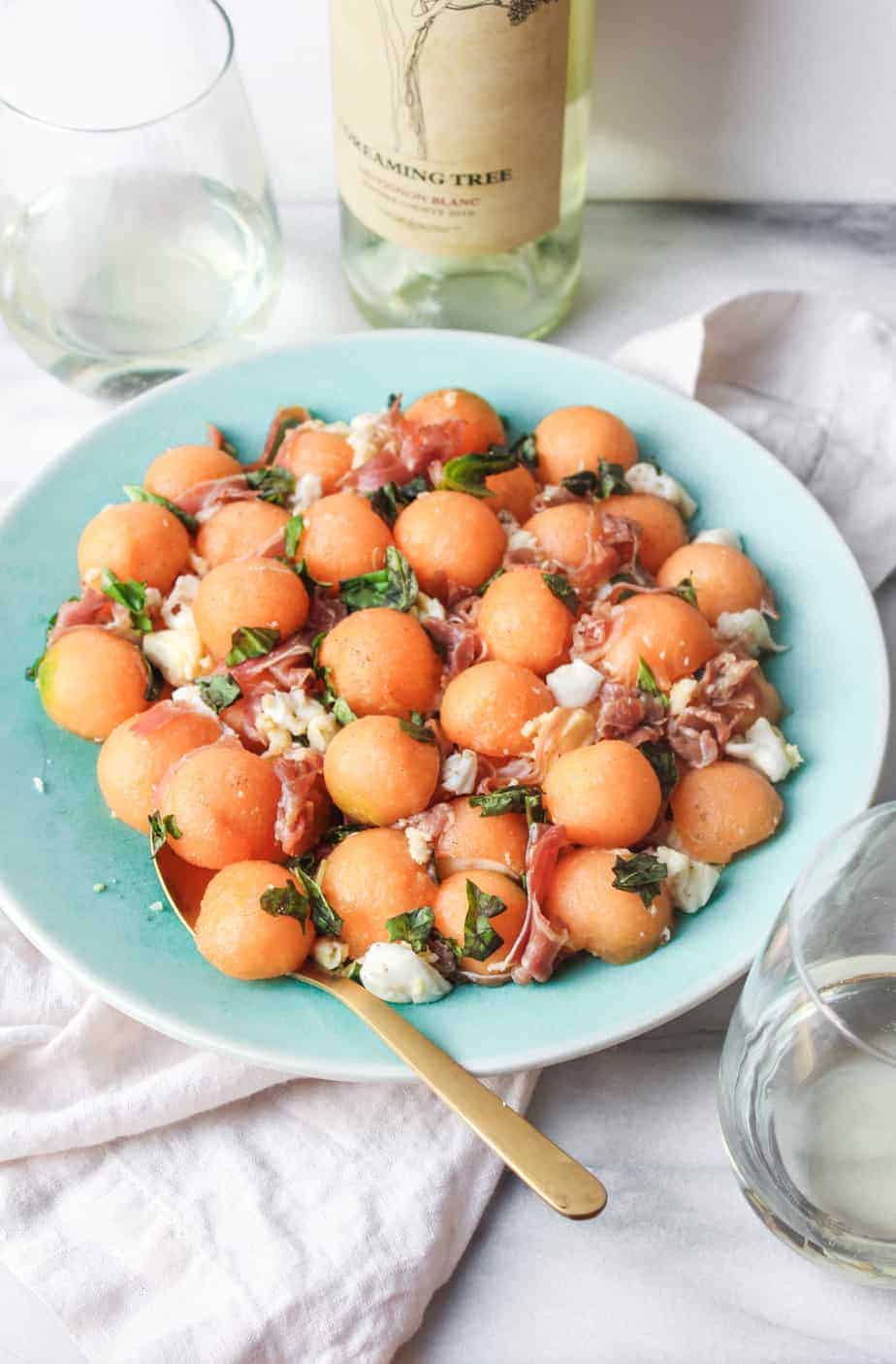 Plus, their wine just tastes really darn good, and even though I consider myself a red wine drinker (The Dreaming Tree's Crush is my favorite), I have found myself gravitating towards cold whites in these hot summer months and really dig their Sauvignon Blanc, too.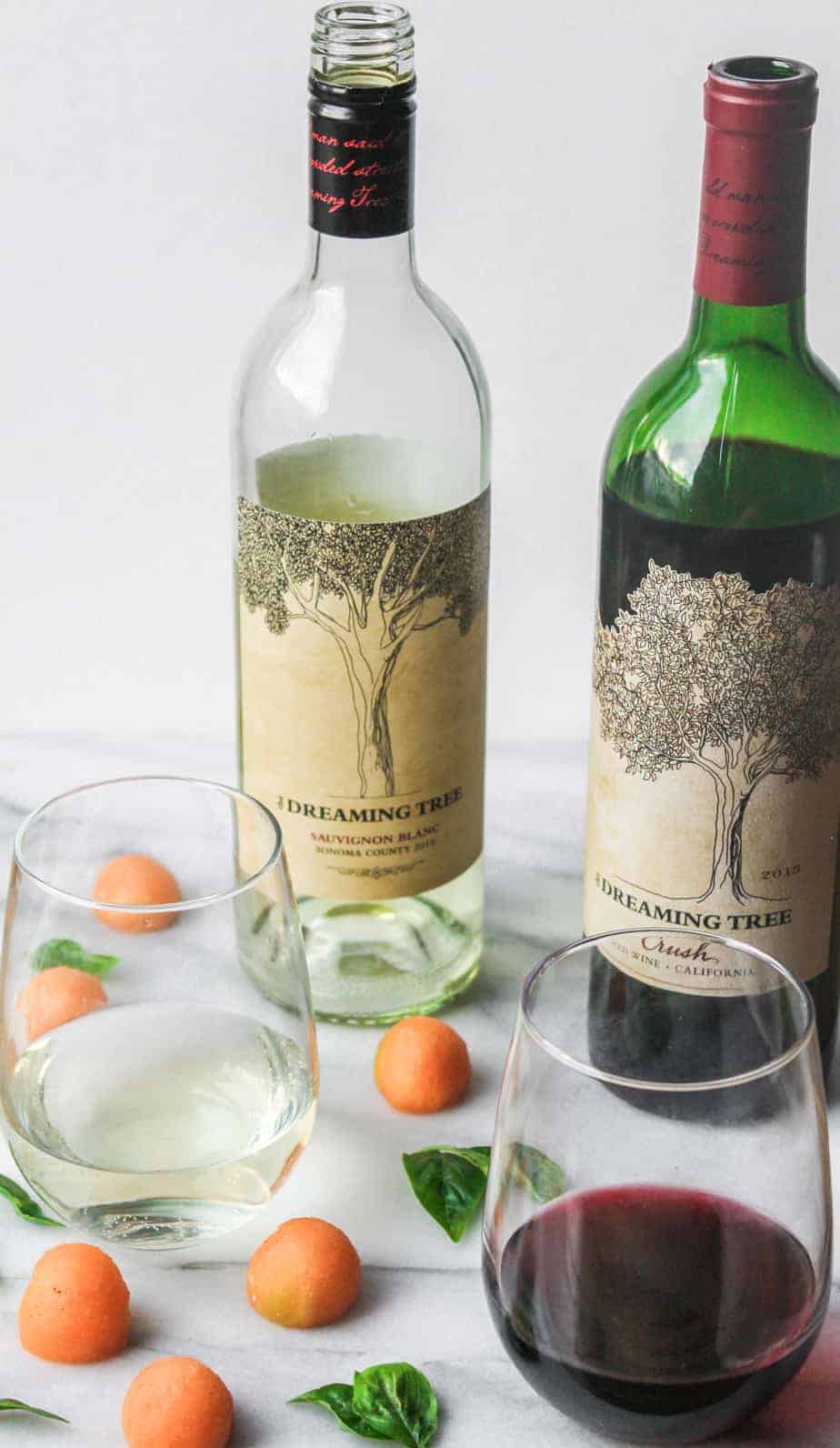 And guess what? No matter your preference (red wine or white wine drinker), The Dreaming Tree wines are designed to be enjoyed with all sorts of food, so spoiler, this cantaloupe caprese salad pairs perfectly with both!
Whether you're lounging on a chair by the pool, hosting a backyard barbecue with friends, dancing barefoot in the grass, or packing your picnic backpack, cantaloupe caprese summer salad and a bottle of The Dreaming Tree wine is the perfect pair to help you soak up summer.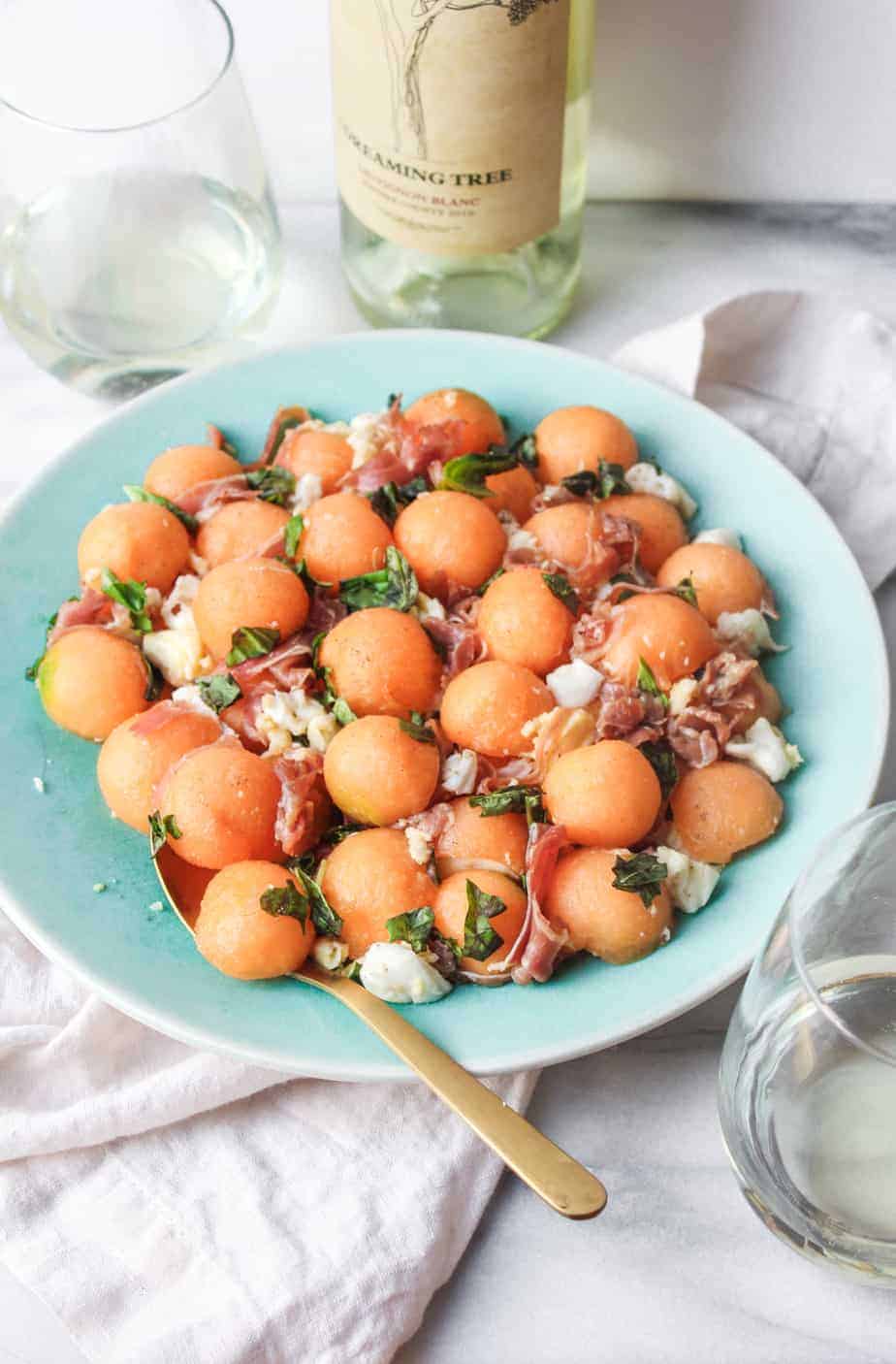 PIN CANTALOUPE CAPRESE SUMMER SALAD TO SAVE IT FOR LATER!