I'm sharing our honeymoon in Asheville, four days of eating, drinking and exploring the North Carolina Mountains in three posts! Looking for things to do, where to eat and drink, or places to stay in Asheville, NC? Check out Off the Eaten Path's Asheville Travel Guide!
Day two involved (more) beer, exploring downtown, and lunch at one of Asheville's most popular restaurants. If you missed part one, you can find it here.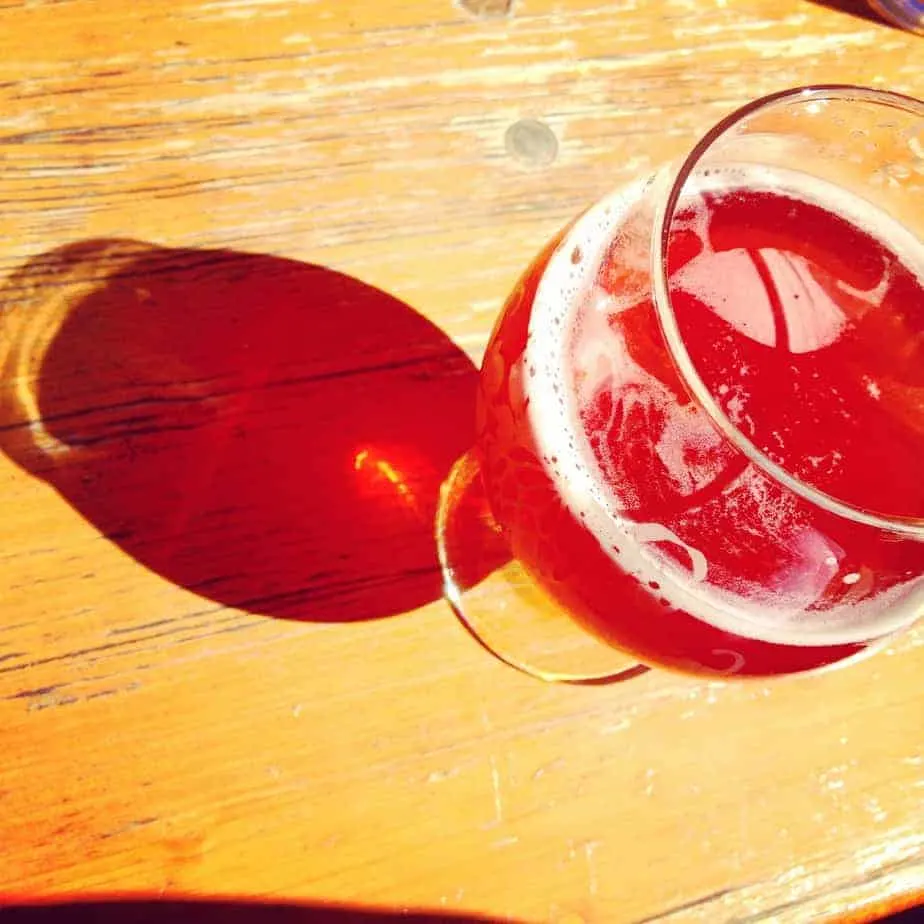 After a whirlwind wedding weekend and cake for dinner Monday night, we took advantage of not being on a schedule and slept in uncharacteristically late Tuesday morning (well I did. AJ got up and enjoyed some coffee and some scenery). After a little lounging, hotel breakfast buffet action, and a shower, we shuttled downtown for some strolling and window shopping.
Downtown Asheville is one of my favorite places to wander; I could do it for hours. We poked our heads into a few boutiques and shops and soaked up a little sun on The Southern's patio before our 230 pm reservation at Curate.
And yes, before you all go telling me that a 230 PM reservation on a Tuesday was totally unnecessary (as my husband did), I'm actually glad I made it. Curate is one of Asheville's hottest restaurants and due to its popularity, we've never been able to eat there on any of our previous trips. So I clearly put it as a priority on this trip and there was nothing available during normal lunch and dinner hours until a whole. week. later. So you bet I made us a 230 reservation, and when we showed up, I was so happy I did because it was packed!
Our lunch at Curate was definitely the best meal we had all trip (rivaled closely by White Duck Taco shop which will be in the next post!). I mean it better be if it's so hard to get a reservation. Since we were on vacation we started our late lunch with a glass of beer and wine and split a few of the tapas throughout the menu. We've gotten in the habit of both perusing the menu individually and picking out a few things that sound good and then debating compromising over what to order. Everything looked so good so it was really hard to decided, but ended up with aceitunas cúrate (olives with lemon, rosemary and thyme), patatas bravas (crispy fried potatoes with a spicy sauce), setas al jerez (select mushrooms sautéed in olive oil with a splash of sherry), and mussels, and meatballs in a really delicious tomato sauce. We both really enjoyed the meal (AJ usually hates all "shared plates concepts" but he could not stop raving about the mushrooms!). Sorry I'm not sorry for the poor quality and lack of the photos, I really was too busy enjoying the food!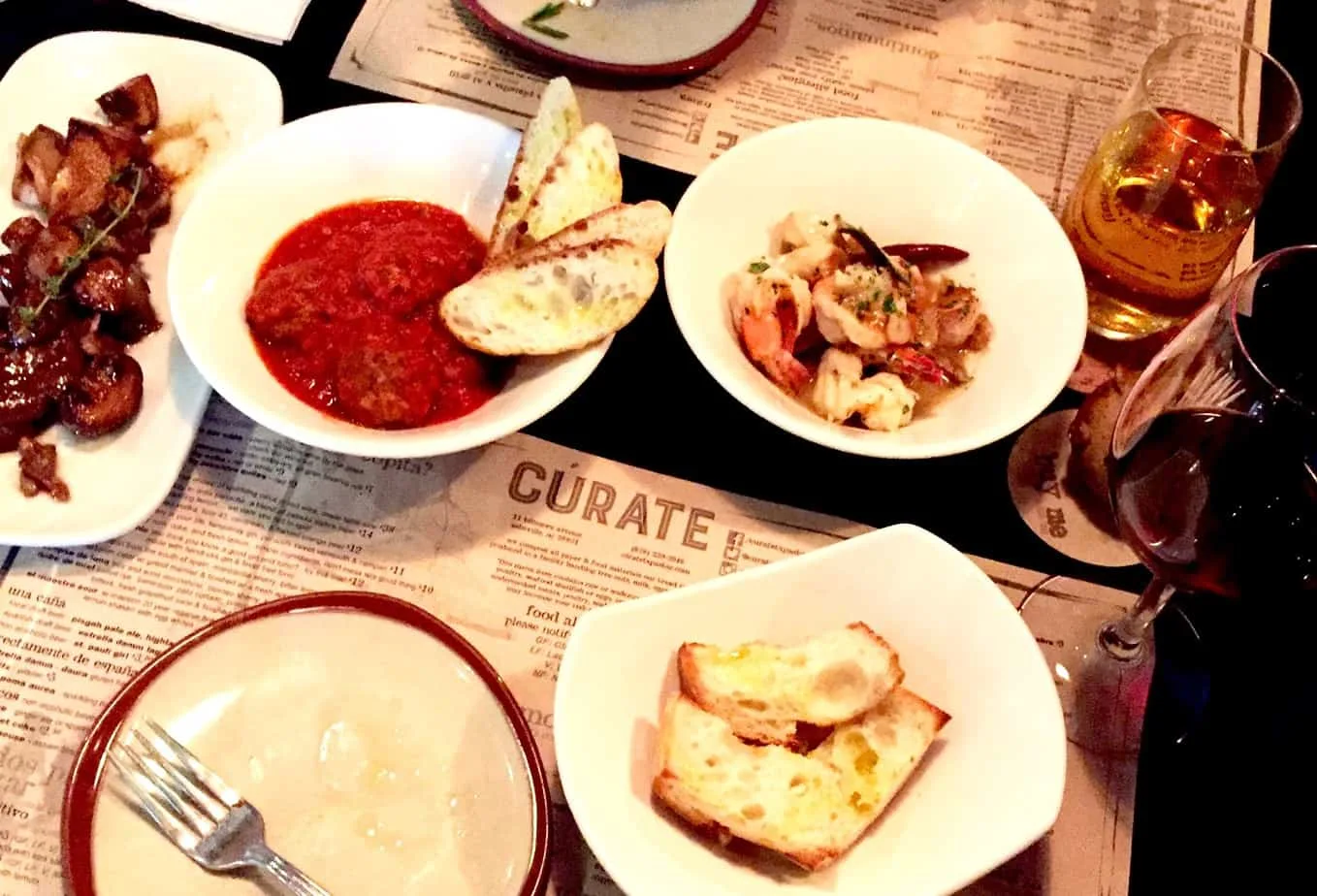 We walked off our long, late lunch up and down the rolling hills of downtown until we were ready for (shocking) more beer. Asheville is definitely a craft beer town (they have more breweries per capita than any other city in the country!) and as beer lovers it is hard for us to make stops at several of Asheville's breweries when we visit. We had specifically strategized to spend Tuesday afternoon sipping our way through some of our favorites (and managed to check out a few ones that were new to us).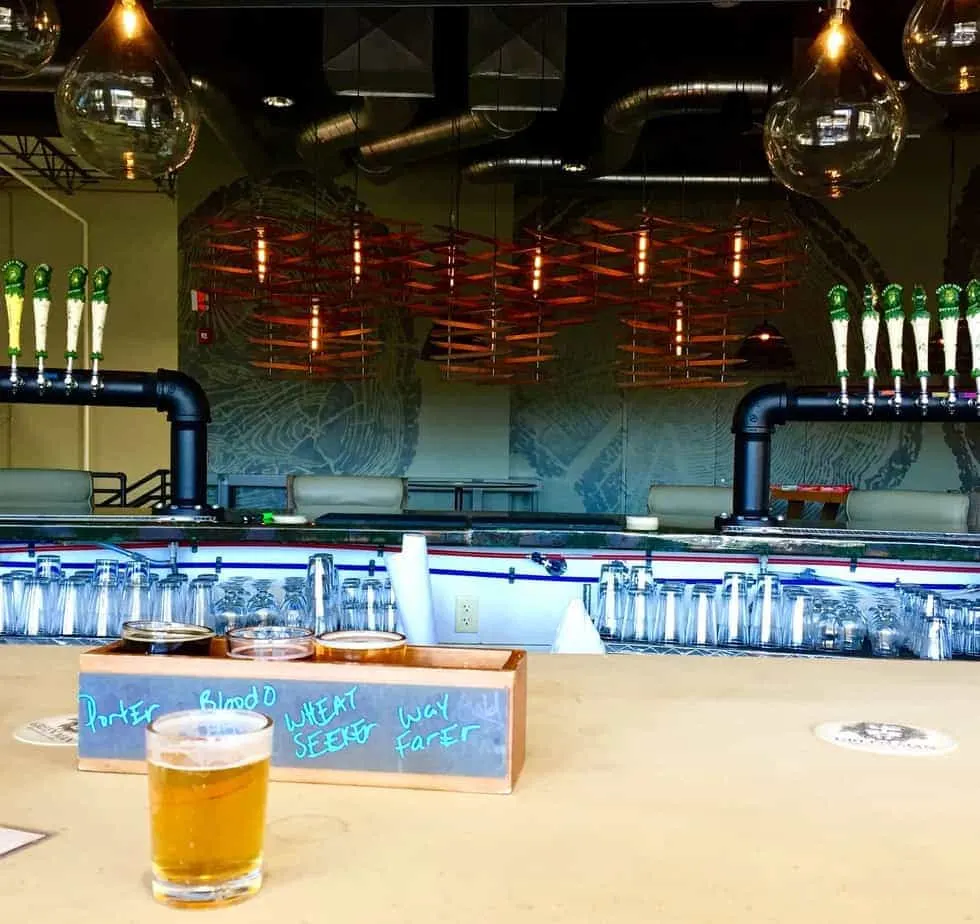 First stop was at Green Man Brewery, one of Asheville's oldest craft breweries (they are celebrating 20 years this year!). We stumbled upon their new facility (I had just intended to take AJ to the one I have been to, I guess now the old one, because he had never been) but discovered the new place next door. It is gorgeous! While I love the character of their original space, the new taproom is the right blend of industrial and familiar, complete with a view of the shiny brew kettles and operation and a rooftop patio, to make it an awesome place for a pint. I love the feel of the space and all of the little details, from rustic wood tables to pennies as the floor! Because it was a beautiful day, we enjoyed some flights on the rooftop patio to soak up some sunshine and get a view of the mountains.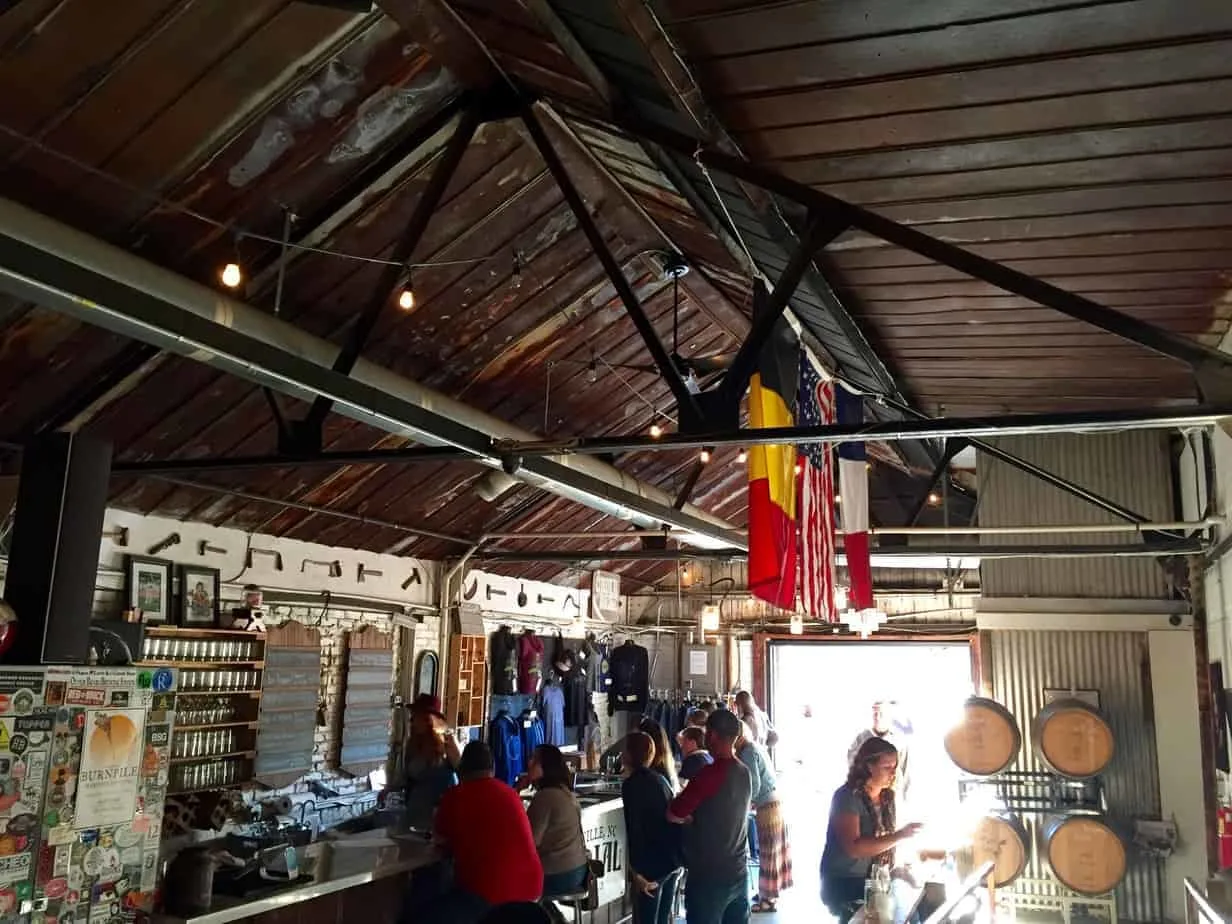 Next, we went to Burial Beer Co. just down the street, where I totally dug the laid back, intimate vibe and the covered patio tucked away out back (much smaller that Green Man, but we liked it just as much!). One of the things I love about Asheville is the different, unique, personalities of each business, restaurant and space, so we can spend the day going to different breweries and not feel like we're doing the same thing over and over again. I've always enjoyed sampling Burial's beers when we see them at festivals, so it was great to enjoy a few in the brewery.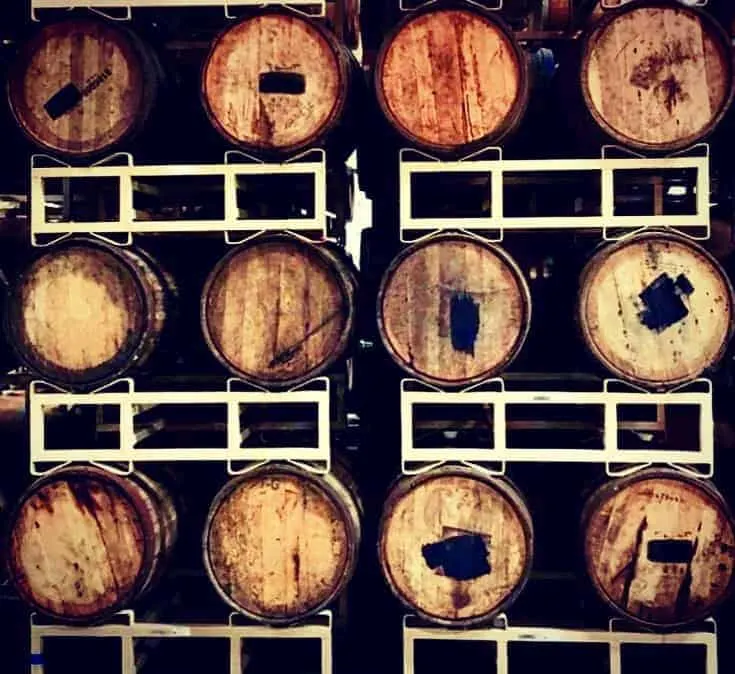 Wicked Weed's Funkatorium was our third stop, which is in the running for my favorite brewery in Asheville. Sours have become some of my favorite beers and so a whole brewery dedicated to them is truly speaking my love language. We got flights (per usual) and split a flatbread pizza (really, really delicious) and left the Funkatorium with three bottles to bring home to Charlotte. (unfortunately, when we left Asheville two days later we only had two bottles because one met its fate smashed to smithereens when it slipped in a CVS parking lot. Thanks AJ).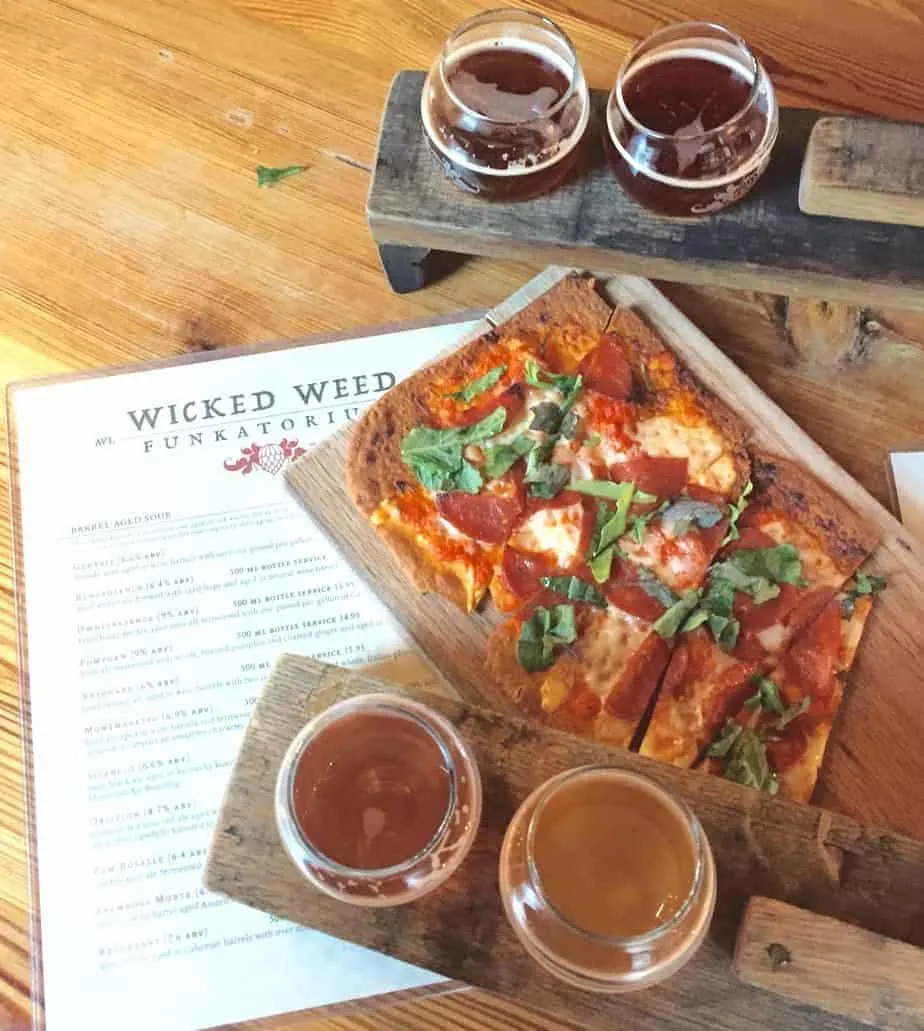 A quick walk up the street from Funkatorium is Hi-Wire, also in the running for my favorite brewery in Asheville. When we made a quick weekend getaway to the mountains in February, a lot of our time on Saturday was spent at Hi-Wire, as I really enjoyed their raspberry barley wine and AJ parked himself at the bar and played Mario Kart on their N-64 for at least an hour (all of his competitors were well under the age of 10).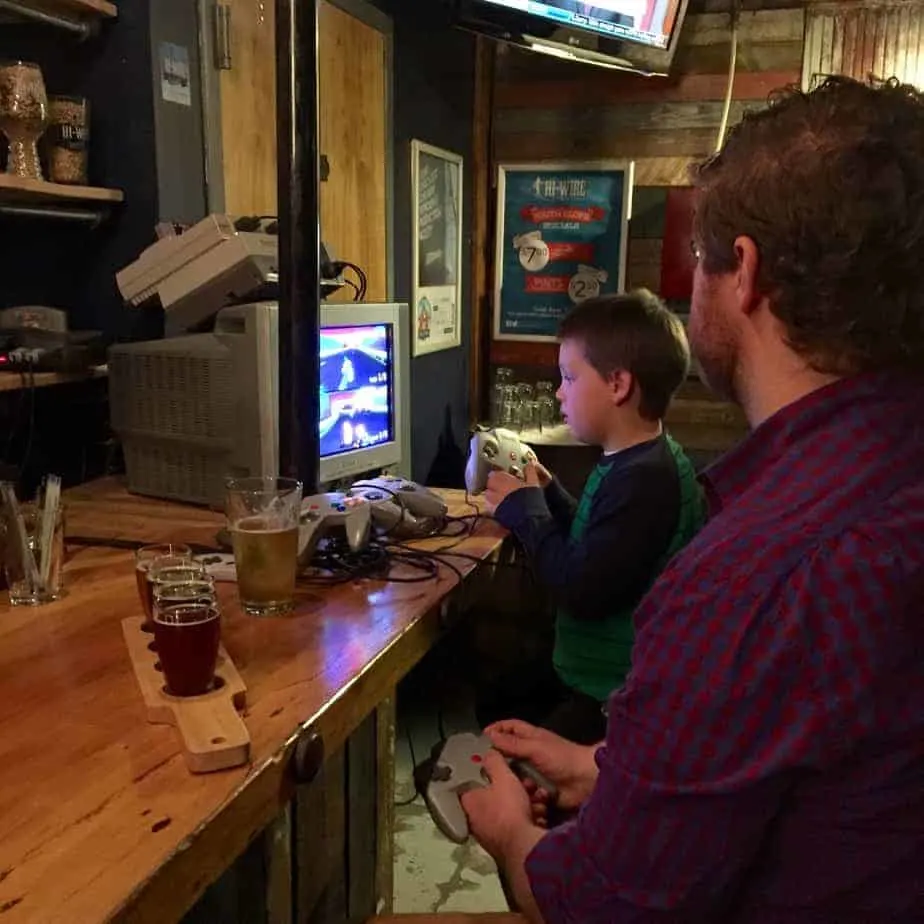 I love the community feel of Hi-Wire: everytime we visit everyone is so warm, friendly and welcoming. The space is fun, whimsical and relaxing. They have shuffleboard and Sega Genisis and N-64. And they're beer is really good too.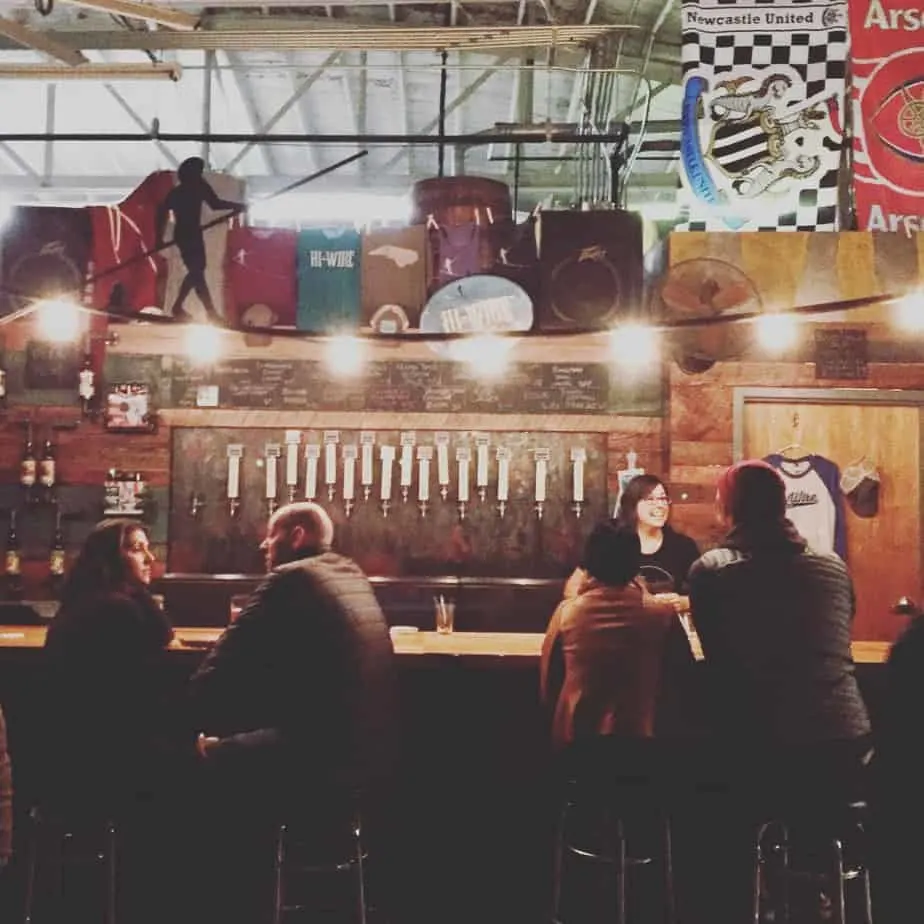 Four breweries later, we headed back to the hotel for room service and sleep to get ready for hiking, the Blue Ridge Parkway, tacos and The Grove Park Inn on Wednesday!
PIN OUR HONEYMOON IN ASHEVILLE!