Charlotte's Best Bites is a series of guest posts on Off the Eaten Path where each month a new face shares their favorite Charlotte restaurants with my readers. The result is a collaborative dining guide featuring the best Charlotte restaurants written by the people who love Charlotte!
I am at my first ever blog conference this weekend (!!!) so today Kimberly, from Kimberly in the Kitchen, takes us on to the best Charlotte restaurants for small plates!
Check out some of the best Charlotte restaurants in these other Charlotte's Best Bites posts!
Charlotte's Best Bites: Dana's Picks
Charlotte's Best Bites: Kayla's Picks
Charlotte's Best Bites: Michelle's Picks
Charlotte's Best Bites: Catherine's Picks
Hi! I'm Kimberly, a food blogger from Kimberly in the Kitchen. I moved to Charlotte in 2013, and have been exploring the food scene ever since.
I am very excited to be guest posting today, and talking about one of my favorite topics. Food! I grew up surrounded by food in a variety of ways: cooking meals at home, baking, learning about the science of food and cooking (hello, Good Eats), and traveling, which introduced me to a variety of cuisines from a young age.
A portion of my life has always been surrounded by food of some sort, and that led to my career as a Registered Dietitian (RD).
This plus being a part-time food blogger and full-time food eater, I have a lot food knowledge, but also a lot of thoughts on my favorite foods.
Today, I'm going to be focusing on the best Charlotte restaurants that all specialize in small plates of some sort.
Small plates/ tapas style meals is my absolute favorite way to eat out, mainly because you are not committed to one main dish. You can get a variety of dishes to taste and try, and meals are way more fun when you can share with those around you.
I'll get right into it! Listed in no particular order, but listed by type of ambiance you may be looking for.
Small Plates for a Girls' Night on the Town: Barcelona Wine Bar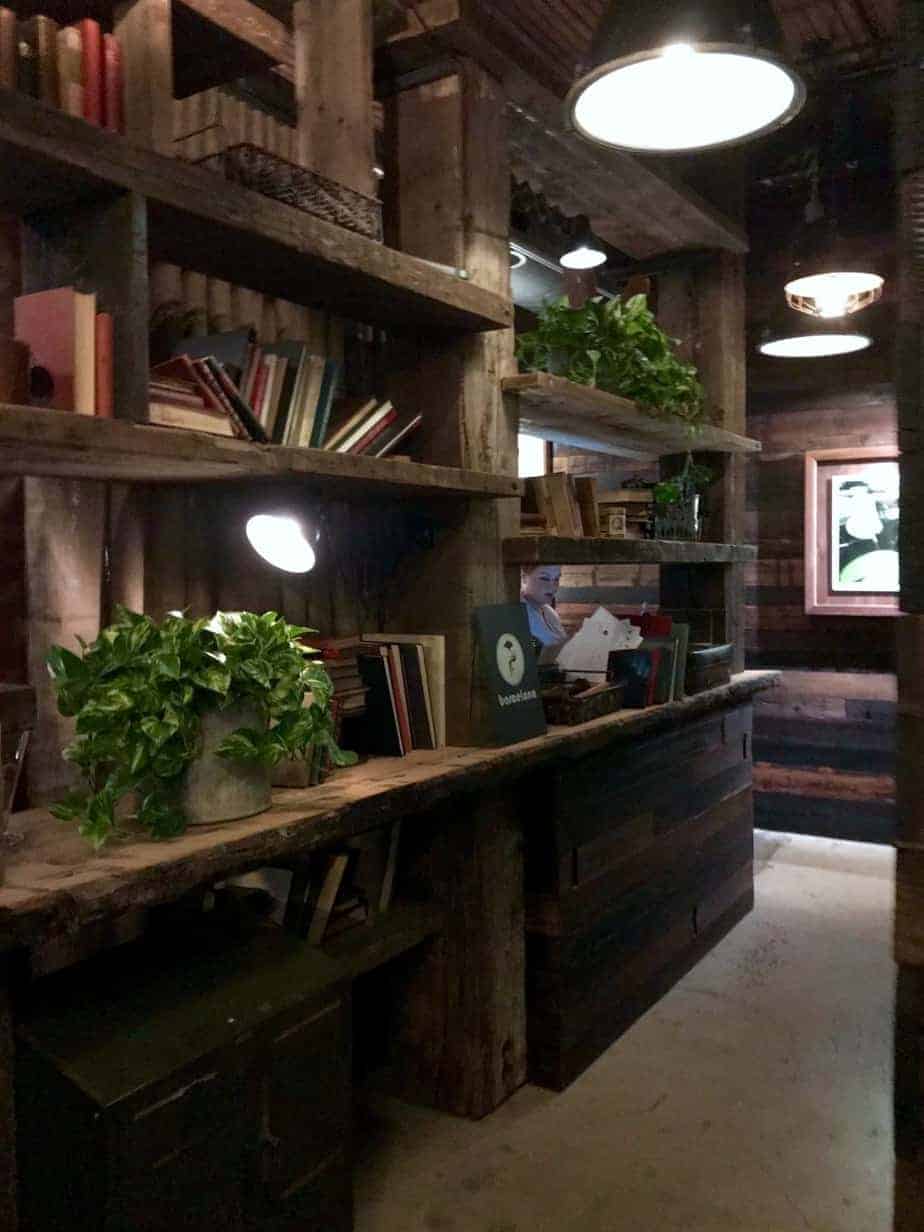 One of the new kids on the block, Barcelona Wine Bar lives up to the hype and all of the expectations.
The menu features traditional spanish tapas, and the menu is divided into 3 different sections: Cheese + Charcuterie, Tapas, and To Share plates.
My recommendation, skip the cheese and meat and dive straight into the tapas. Every dish I tried was full of flavor, executed to perfection, and was served in a timely manner (no cold food here).
While the waits without a reservation easily run 1-2+ hours on the weekend, Barcelona is worth the wait.
A few of my favorite dishes to recommend:
The chef's "special" tapas selection: this routinely changes and features 3 tapas sized dishes, all tied together with a unique theme of some sort. I tried the "Earth, Wind, and Fire" theme which included an artichoke (earth), duck (wind), and grilled lamb (fire) dish.
Red Snapper Crudo: the freshness of the fish was complemented by the perfect balance of citrus and spice. A perfect light beginning to the meal.
Patatas Bravas: a must in my book; crispy fried potatoes with accompanying sauces. How can you say no to that?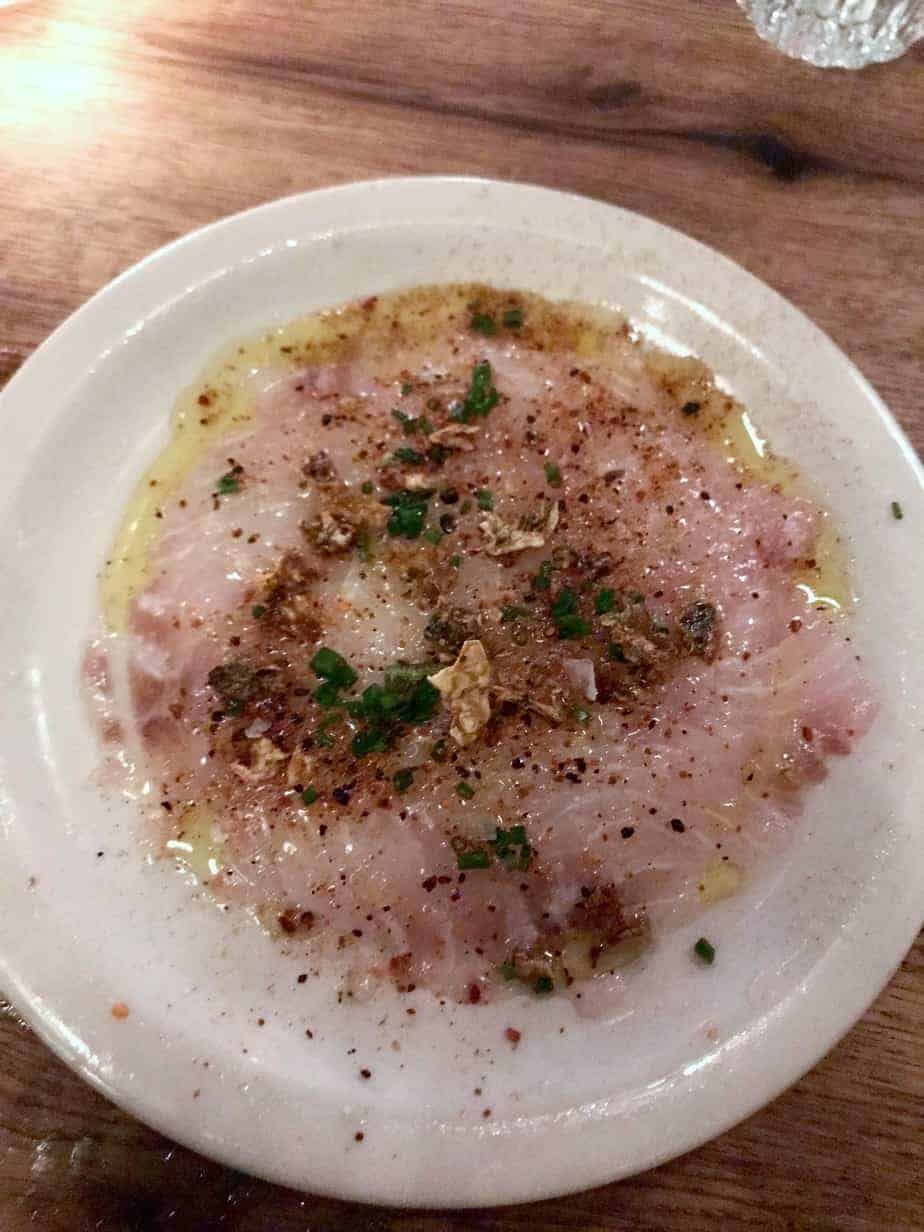 Besides the food, the drinks, atmosphere, and service is high quality. Although new, the restaurant feels likes a well oiled machine, complete with well educated servers on both the menu and beverages. With unique cocktails, moderately priced wine, and servers who know exactly how to course out your meal, you will not go home hungry.
But save a little room for dessert! Upon our servers recommendation, we ordered the Olive Oil Cake to round out the meal. Not something I normally would have ordered, but something I will no doubt order again!
Barcelona Wine Bar, South End, 101 W Worthington Ave #110, Charlotte, NC 28203
Small Plates to Impress the Parents: Kindred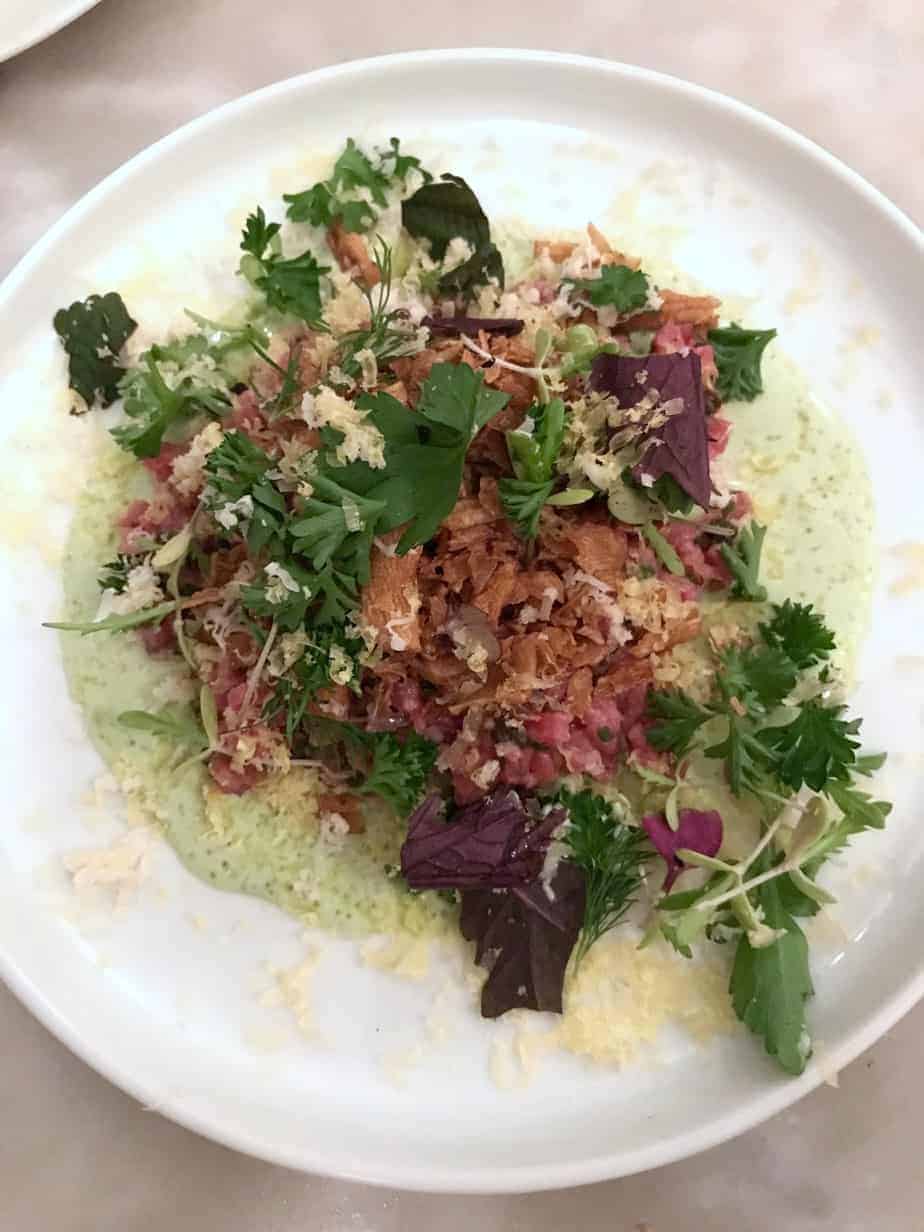 This one of a kind restaurant is worth the 30 minute trip up I-77 N.
Located on Main Street in Davidson, NC this is the perfect ending to a day of showing the family around Charlotte and the surrounding areas.
I have visited Kindred countless times since it opened, and I am always inspired and amazed and the quality and uniqueness to the food. The dishes change with the seasons and the owners (Katy & Joe Kindred) think about the quality and sourcing of the ingredients first, and allow those to drive their creativity in the menu.
A few of my favorite dishes:
Wagyu Beef Tartare: I have probably eaten this dish 4+ times and I have never had the same flavors twice! While this is a staple on the menu, you will always get a little something different with each visit.
Milk bread: maybe this goes without saying, but the bread they bring out for you is literally some of the best bread I have ever tasted.
Pillowy soft, try not to eat it all in one sitting – or do, it's amazing. They even turn their milk bread into cinnamon rolls for dessert!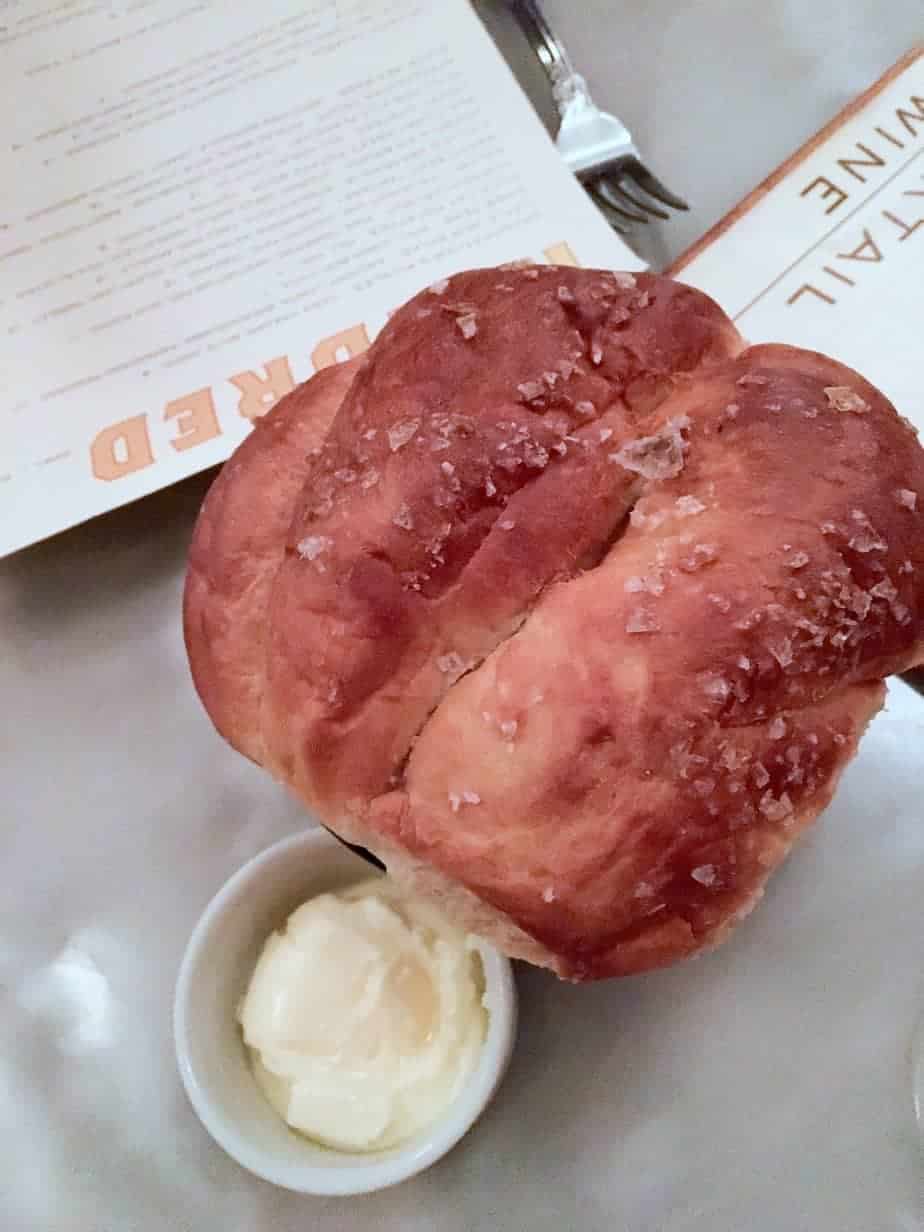 Pasta of the Day: all of their pasta is fresh and homemade, and the special tends to highlight a seasonal ingredient in a unique way. If it includes an egg yolk in the description, do NOT pass it up.
Barkeeper's Choice: if you like cocktails, pick this menu option. You get to tell the bartender a few descriptive words of what you like in a cocktail and they will make a unique off-menu concoction.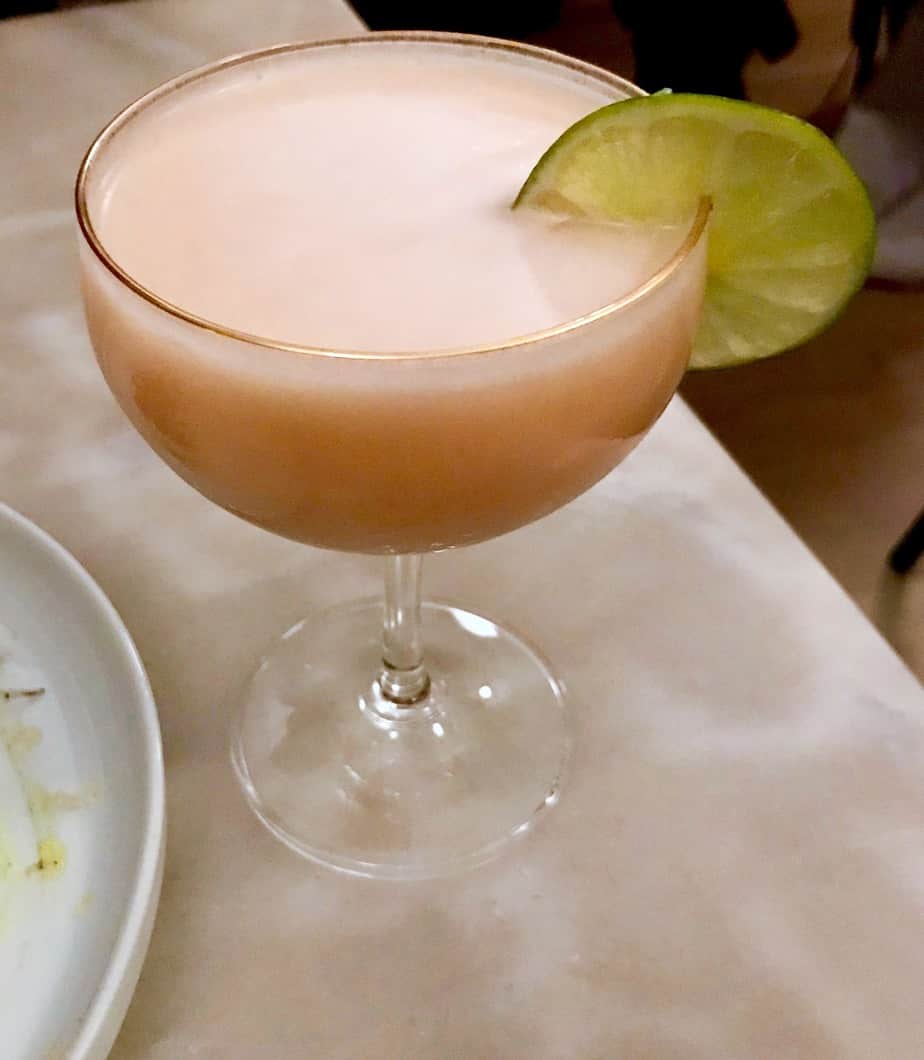 Kindred, Davidson, 131 N Main Street, Davison, NC 28036
Small Plates for a Date Night: The Stanley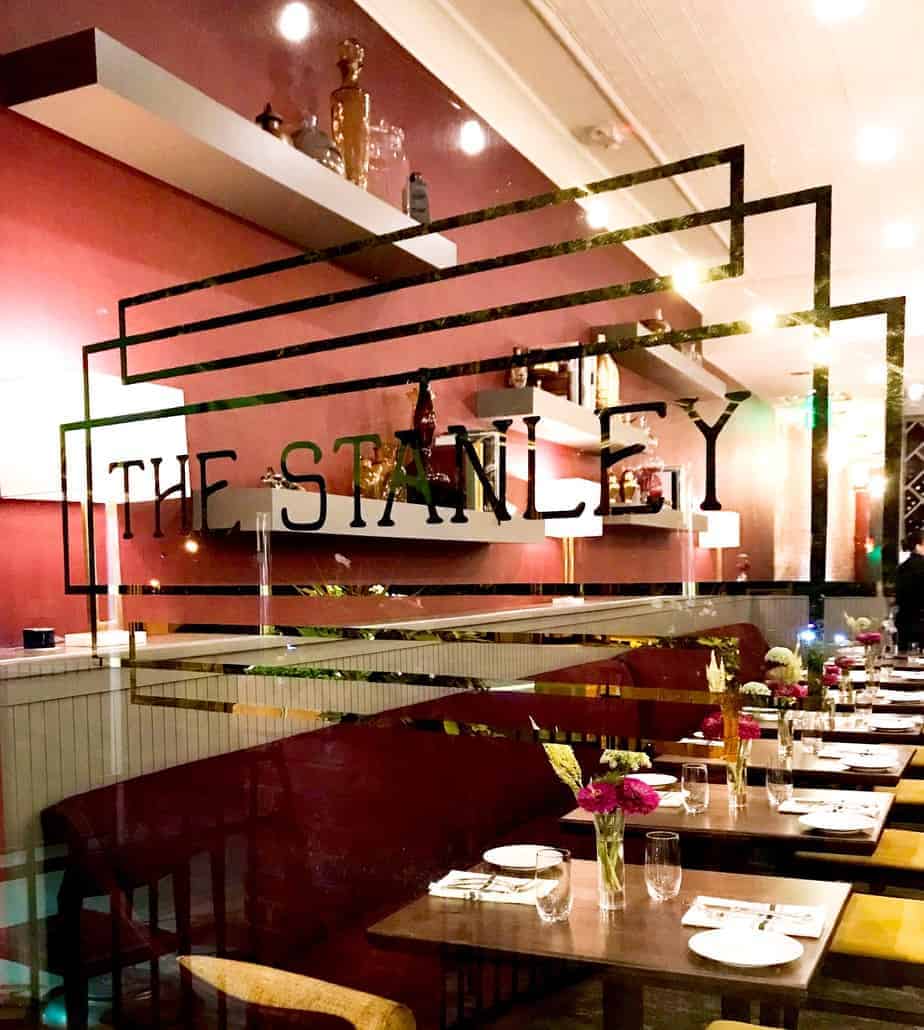 The Stanley is where you should go when you want a night out to dress up and eat amazing food.
This is one of the few restaurants in the Charlotte area that rivals the plates I see on cooking shows. Have you seen The Final Table on Netflix? The presentation of dishes at the Stanley can easily rival those.
I mean the pictures can speak for themselves.
Similar to Kindred, The Stanley's menu changes with the seasonal availability and takes a very modern approach to the food.
The menu items often feature food pairing you would never expect, and the presentation if often fun, with a touch of whimsy.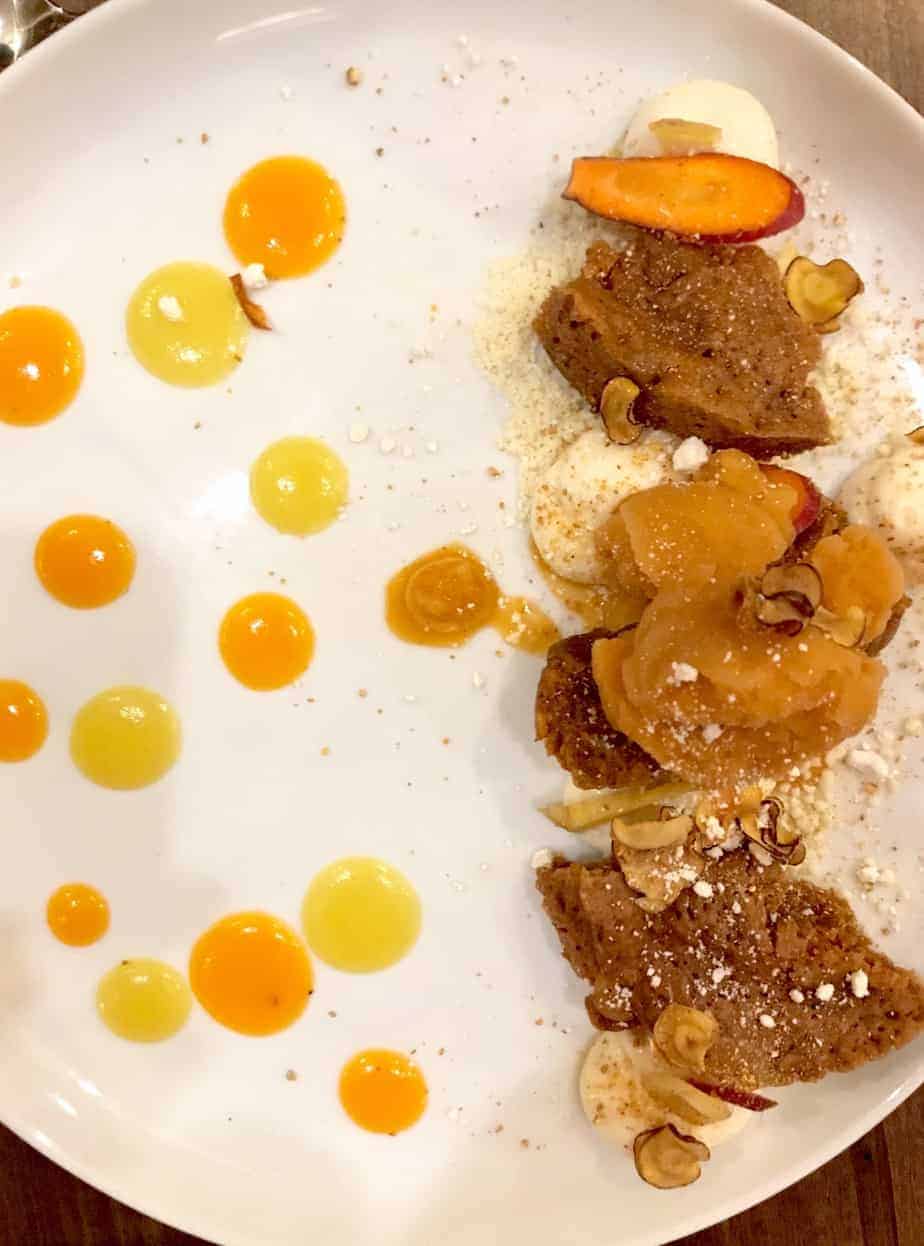 My favorite bites:
Surf & Turf: beef tartare with fried oysters and a veggie slaw and a hint of truffle. A semi-raw take on a classic steakhouse dish, is the perfect beginning to your meal journey at The Stanley.
Foie Gras + Funnel Cake: while is this dish is not always on the menu, this is the dish that continues to stand out in my mind as one of the best things I have ever eaten.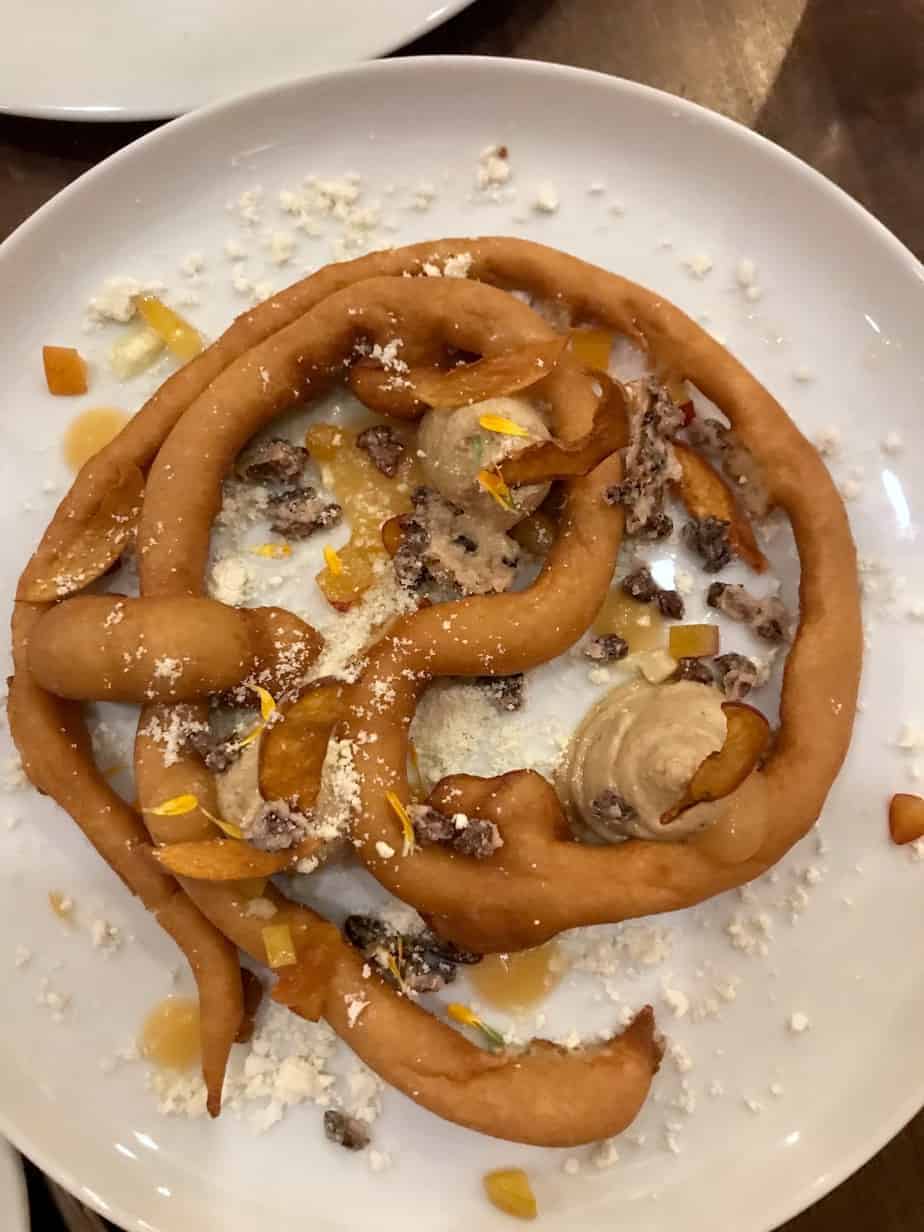 A perfect example of a dish experience The Stanley is always trying to give you as a guest. Looks like that extra-sweet State Fair dish you remember from your childhood, but kicks it up a notch with a savory funnel cake + foie gras and just a tiny hint of sweetness from the peaches on the plate.
Dessert: do not pass up dessert at The Stanley.
The thoughtfulness of the presentation combined with the distinctive flavor combinations is hard to top.
This desert took carrots and prepared them in 3 unique ways: in a savory cake, in a sauce, and dehydrated for some crunch.
The Stanley, Elizabeth, 1961 East 7th Street, Charlotte, NC 28204
Small Plates of Tacos: Bakersfield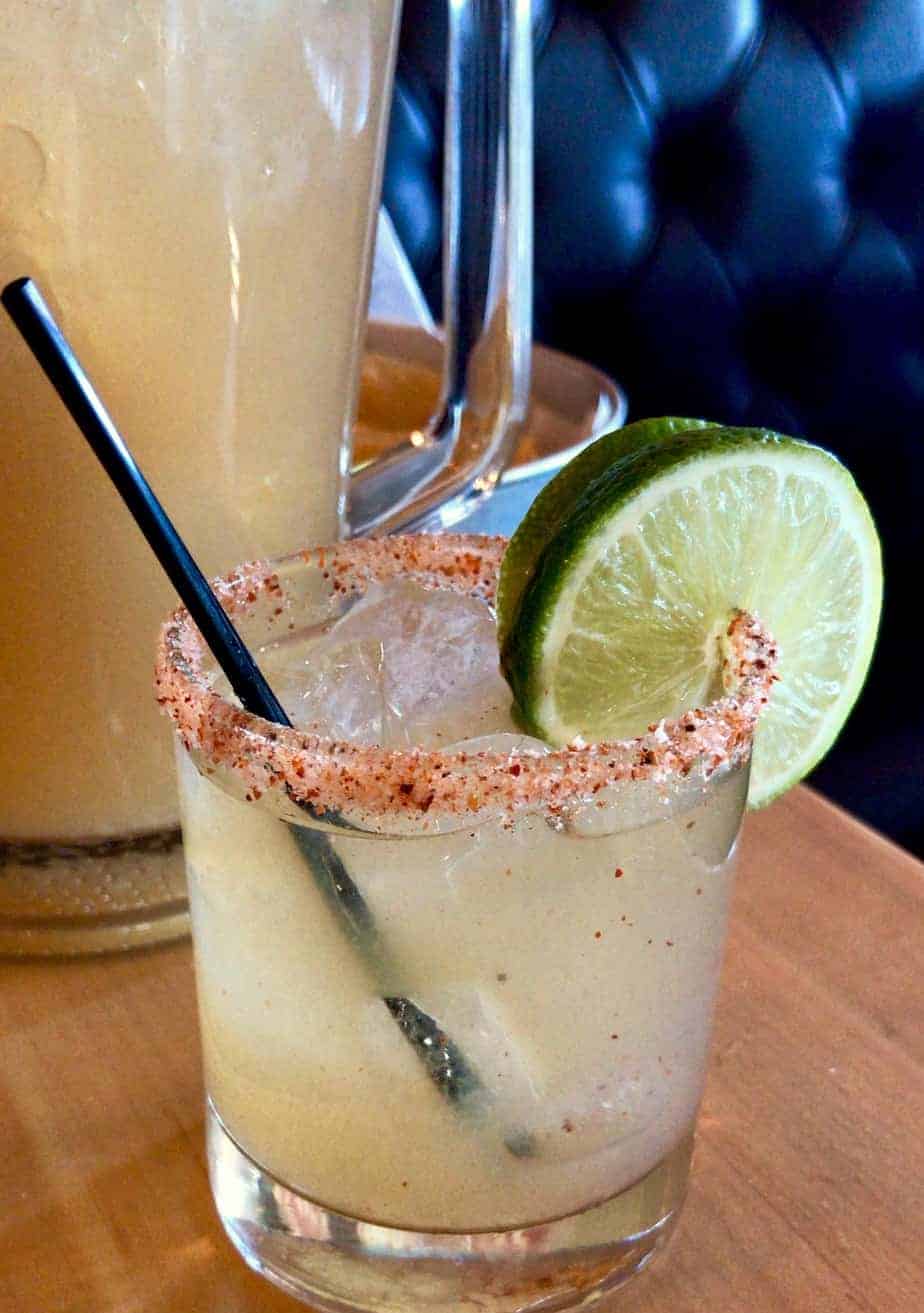 When you are wanting tacos, why limit yourself to only one type?
Not at Bakersfield.
No "three tacos to a plate" menu item in sight.
In this instance, I consider each taco a "small plate" in itself. Get a bunch of tacos, a mixture of appetizers, or go all out with your group of 6 or more and try a little of everything!
Bakersfield is also great with dietary restrictions; they will happily accommodate your preferences to each taco of your choice.
My Favorites:
Queso: do not pass this up! The queso is some of the best in the city and with a broiled cheese top, you can almost have an entire meal of just this. I like to top my queso with chorizo + in-house pickled jalapenos.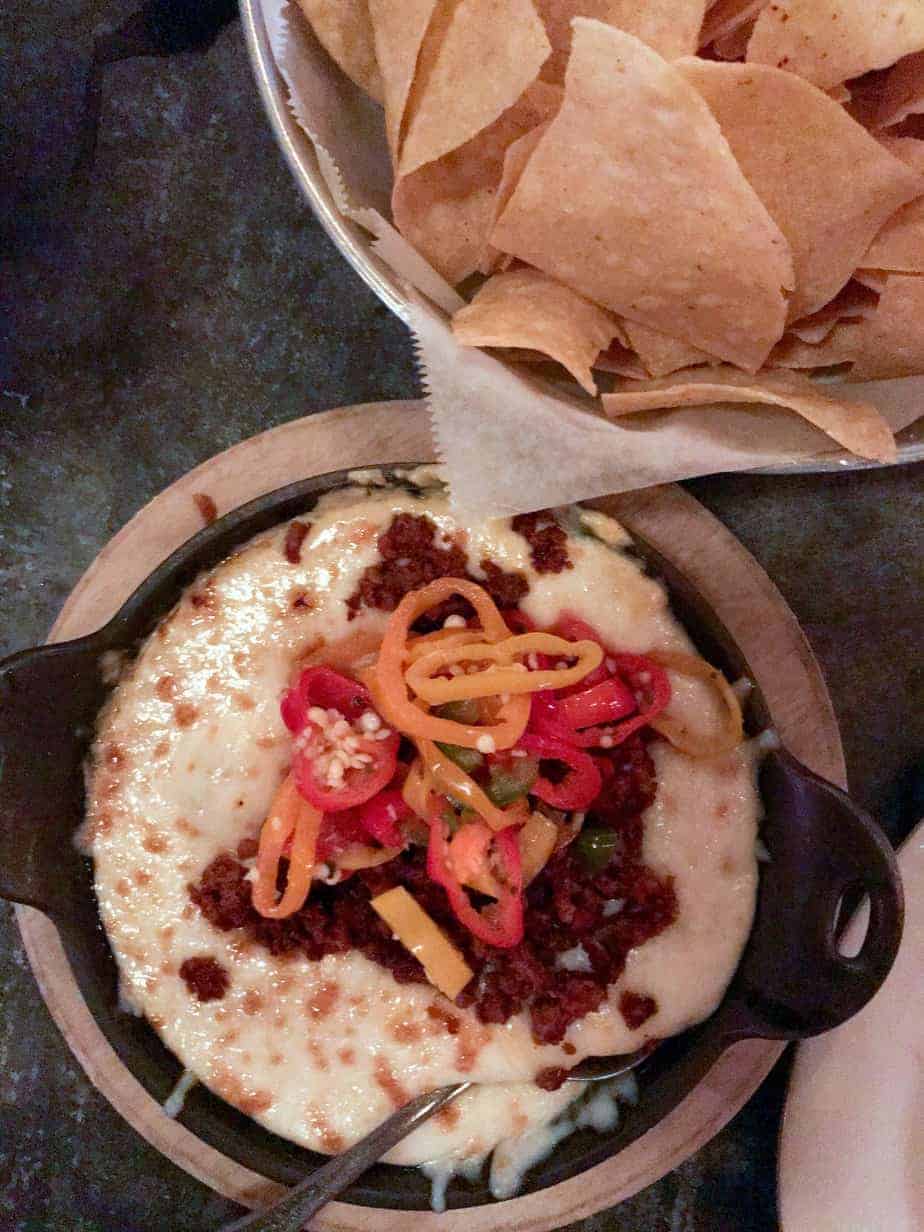 Cochinita Pibil: the spiciest taco on the menu is one of the best in my opinion. It packs a punch of flavor and heat.
Short Rib Taco: not quite as spicy, the tender short ribs stands up well in the house-made corn tortillas.
The Bakersfield Margarita: the BEST margarita in the city, outside of the ones I make my home. It includes only high quality ingredients: 100% agave tequila, triple sec, agave, and fresh squeezed lime juice. That's it and the only ingredients a traditional margarita really needs. More tart than sweet, a perfect refreshing pairing to your tacos.
Bakersfield, Dilworth, 1301 East Blvd, Charlotte, NC 28203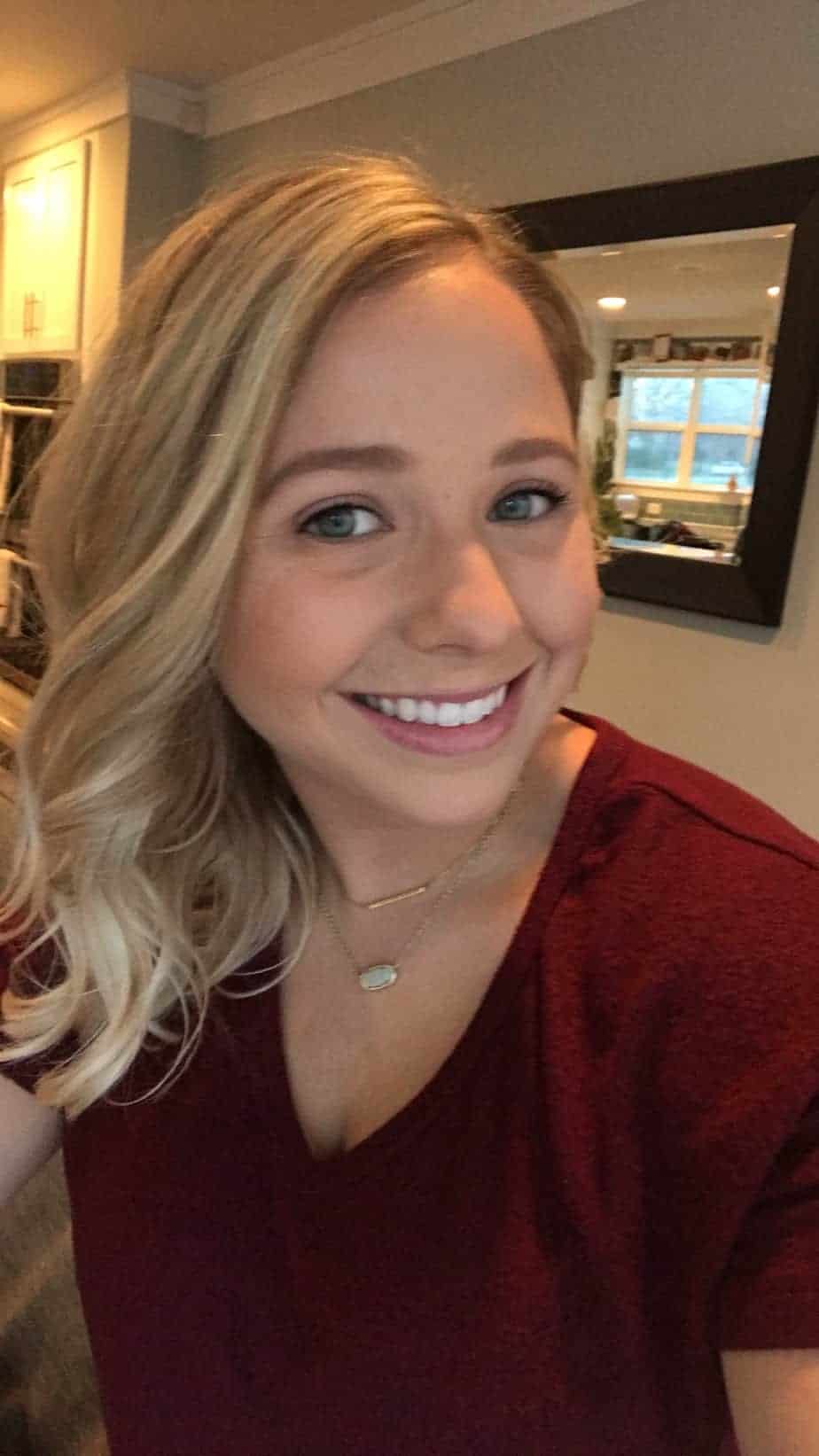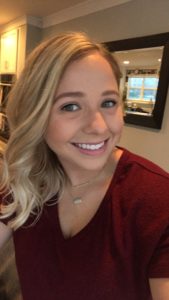 Kimberly is a dessert-loving dietitian with a love of food and travel.
By day, she is an outpatient dietitian who fully believes delicious food and health are not-mutually exclusive.
She can usually be found taking pictures of food or of her golden doodle, Finley. Follow along with her foodie adventures on: Instagram @kspatola, Facebook Kimberly in the Kitchen, and Twitter @kspatola27 or visit her blog.