Charlotte's Best Bites is a series of guest posts on Off the Eaten Path where each month a new face shares their favorite Charlotte restaurants with my readers. The result is a collaborative dining guide featuring the best Charlotte restaurants written by the people who love Charlotte!
Today Dana, from Queen of my Castle 3, takes us on a foodie adventure along the light rail!
Hi! I'm Dana a lifestyle blogger over at Queen of my Castle 3. I am a mom to 3 awesome kids and Kitty our cat. We enjoy the variety of restaurants, food trucks and breweries the Queen City has to offer but, I also have a budget.
I grew up in Charlotte back in the days of Eastland Mall (shout out to all the Ice Capades skaters out there) and when Independence Blvd was two lanes. My family now lives just north of Charlotte in the small town of Mooresville.
We make the short drive to Charlotte at least once or twice a week to explore the city by light rail and love finding new places to eat, play and drink. Here is a look at some of our favorite Charlotte restaurants along the light rail that are all budget friendly.
So, jump on today, come hungry and enjoy some delicious food and cool stuff to see.
Let's start our adventure at the 36th street stop in the NoDa area of Charlotte.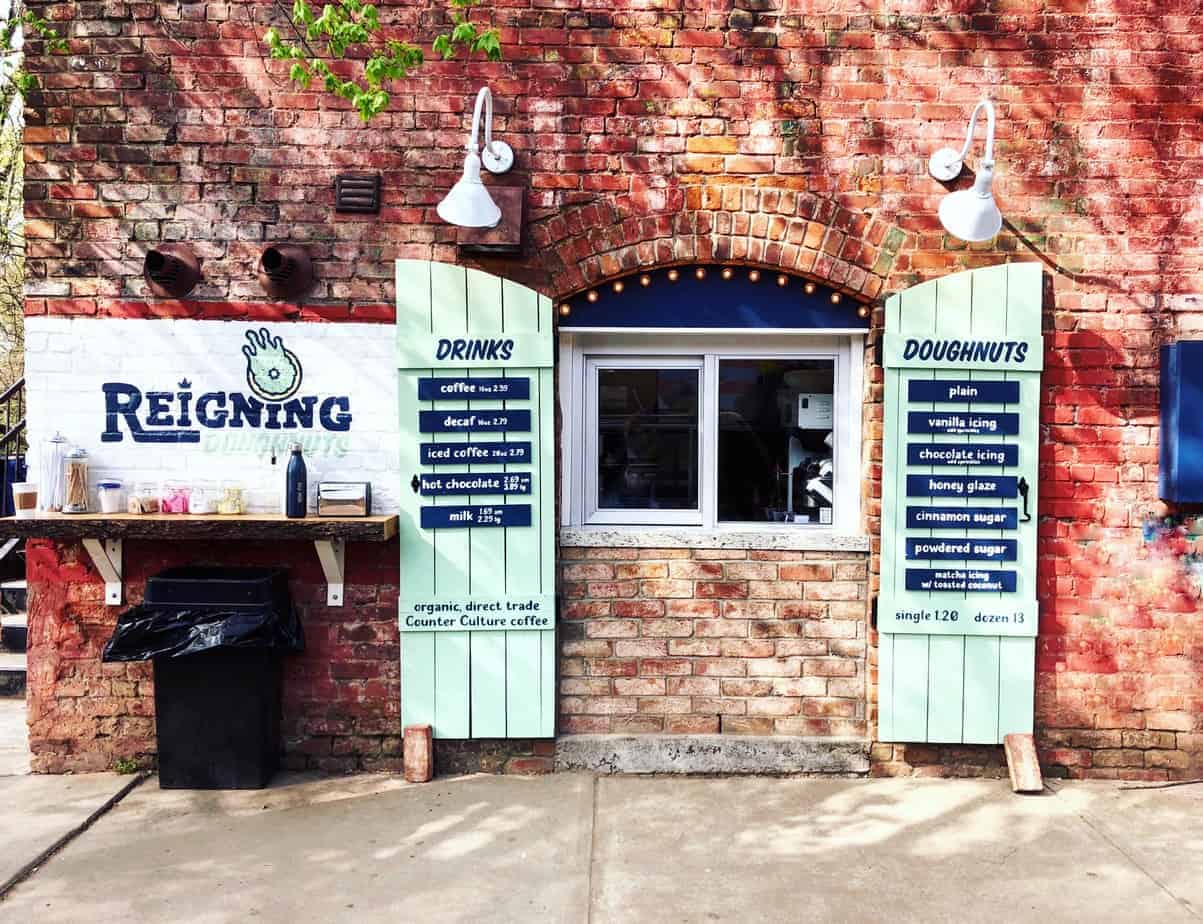 Don't you just love doughnuts? Of course you do.
Reigning Doughnuts is literally a hole in the wall with a total of 88 sq ft you have ever seen. They have a walk up window were you can order from a rotating menu of delicious doughnuts and Counter Culture Coffee.
Order anything off the menu because you can't go wrong (its all delicious) Jeff Tonidandel owns Reigning Doughnuts as well as Growlers Pourhouse, Crepe Cellar, and Haberdish he has roots here and it shows in this tiny space too.
They only accept cards, no cash, no seating but, take a stroll around NoDa and enjoy your doughnut while enjoying this once sleepy area of Charlotte.
Open Mon-Fri 7am-11am and 7pm-11pm Sat-Sun 7am-4pm and 5pm-11pm 3120 N. Davidson Street, Charlotte, NC 28205 (They have a walkup window in the back of the building facing 35th street)
After enjoying the NoDa area, it is time to get back on the train and ride into Downtown/Uptown Charlotte to check out some more of the best Charlotte restaurants.(still up for debate, I call it downtown)
You need to get off at the Arena Station
Light Rail Stop-Arena Station: Red Eye Diner

The Red Eye Diner brings all the nostalgia of a roadside dinner of the past into the future(minus the long dark road to get there). They are located in the Epicentre amongst many bars and other restaurants.
The Red Eye is a great place to eat because it is easy on the wallet and the food is delicious. I ordered the Hot Dog all the way (mustard, chili, slaw & onions) it came with fries and my daughter had the chicken tenders and fries. We also had an appetizer of cheese sticks and our bill was about $15.00. Score!
The Red Eye is open 24/7 and I am sure when all the bars close up in the early morning hours, the dinner becomes a fun place for people watching or grabbing a bite with your new found friends. The menu is very extensive from breakfast to dinner and they even serve domestic, imported and craft beers.
210 East Trade Street, Charlotte, NC 28202, Suite-C149
The next stop on our best Charlotte restaurants tour takes you into the South End area and this area is full of history and growth as well as some yummy food.
Get off the train at the Bland Street station and you can almost smell the chicken from there.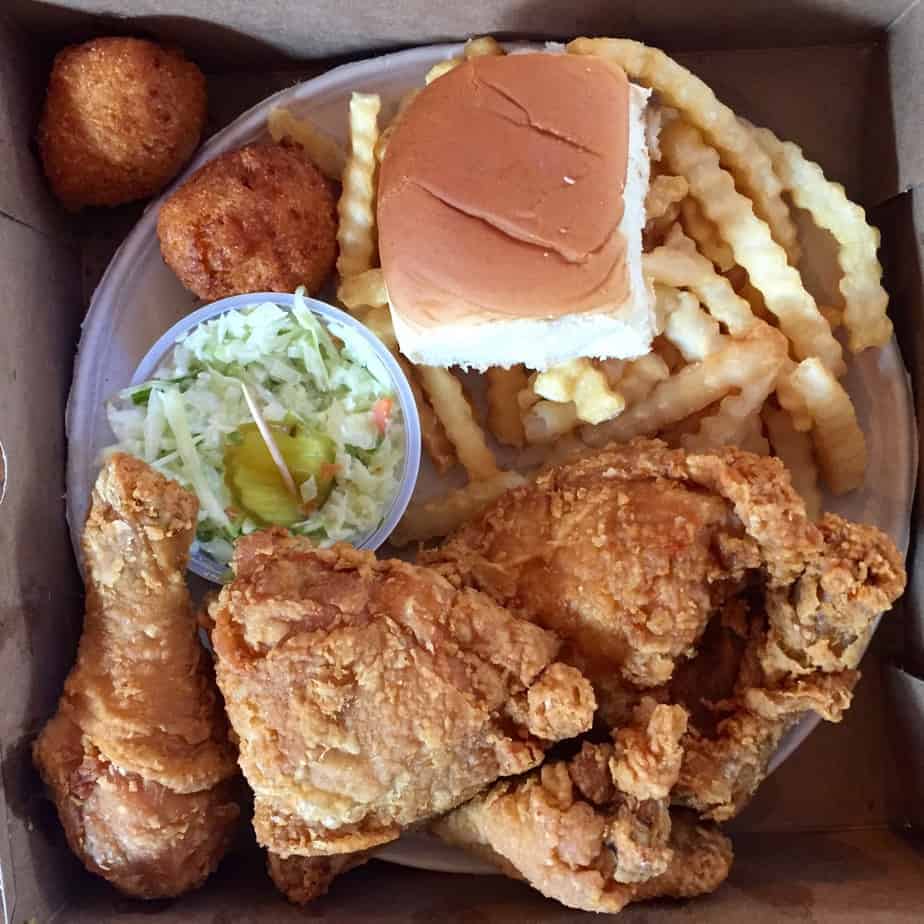 From the moment you step into Price's it smells like Grandma's house.
Price's stands beside of some big new shiny buildings, but isn't intimidated by them. They just keep doing what they do, which is making some amazing food at responsible prices.
I am a southern girl and was raised on fried chicken and Price's is the next best thing to homemade.
I love having the 1/4 chicken plate that comes with coleslaw, french fries, hushpuppies and a roll, but I have ordered other menu items and it was all delicious and for a moment took me back to the days of my Grandma's cooking.
Price's only accepts cash, does not have customer seating (to go only) and does not deliver. They have been around since the 60's and feel like this way of business is serving them well, I agree!
Open from Tues-Sat 10-6pm only. Located just steps off the light rail it is easy to get your food and take it home or our favorite thing to do is find a shade tree and just have an impromptu picnic.
1614 Camden Road, Charlotte, NC 28203
Now from here you can get back on the train, but we mostly walk to the next stop because it is really close and we need to make room for dessert.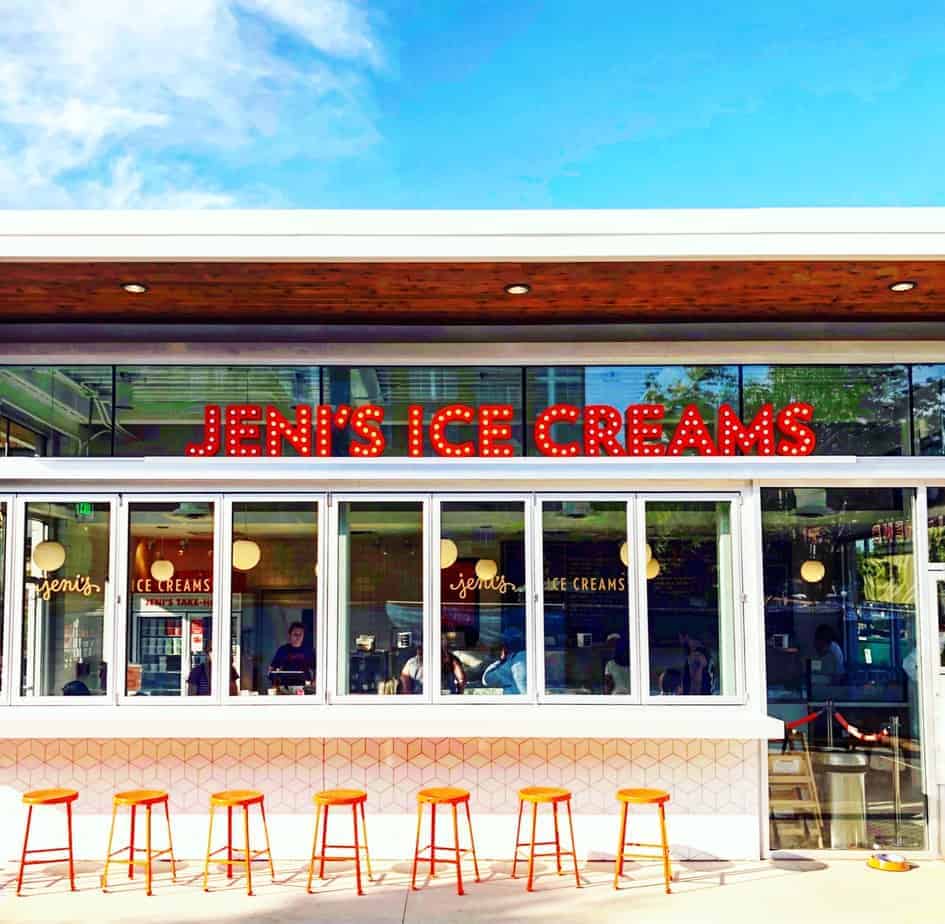 Jeni's is one of those places that just feels good.
From the glowing sign atop the building to the adorable tiles on the floor and some amazing ice cream to boot. I like to order the Jen's Flight because get three scoops of ice cream with a wedge of waffle cone which gives you a chance to change it up and try different flavors.
Jeni's is just off the rail trail so get your ice cream and keep exploring or head down the stairs by Jeni's and turn left and catch some amazing IG pics in front of the confetti heart wall.
Jeni's opened in South End in August 2018, but feels like it has been a community fixture for much longer. Fun, fresh and friendly is the vibe Jeni's puts off and my crowd enjoys it every time.
1920 Camden Road, Charlotte, NC 28203
You just have to walk next door for our next stop.
Light Rail Stop-East/West Blvd: Hawkers
Hawkers is new to the Charlotte restaurant and food scene in the South End area with a menu of "the best and most popular street foods from all over Asia".
Hawkers is great because all dishes cost $9.50 or less and small plates are $4(snaps to my budget)
I started with the That's my Bag, Baby, featuring Naked Turtle rum, lemongrass, lime mint and soda and it was very refreshing ($11 save money on food, pay up for drinks).
My oldest daughter and I ordered several small plates and were plenty full at the end. We ordered the Roti Canai-a malaysian flatbread survived with curry sauce(think flatbread and gravy like), Chicken Egg Rolls and the dumplings and a Jo-He Bag o'Donuts for the road.
Our bill out the door was approx. $40 which isn't bad considering $11 of that was a mixed drink but, so worth it.
Hawkers also offers a Happy Hour menu of small plates for $3. Monday-Friday 3pm to 6 pm and Sunday-Thursday 9pm-close.
Once again, if you are an Instagram junkie like myself, check out the giant kitty wall with pretty hanging bird cages the open kitchen and neon signs for those pretty shots.
1930 Camden Road Suite 260, Charlotte, NC 28203
When you leave Hawkers turn right out of the front door and walk up the rail trail until you come to Sycamore Brewing on your right. Our last stop is not one of the best Charlotte restaurants but a super fun monthly event!

Mark your calendars for April 7th from 11-4…Front Porch Sundays is returning to another great year! (Happy 5th Year!)
If you like beer, food trucks and vendors then you can't miss this.
I like my Sundays to be nice and relaxing and Front Porch Sundays is the best for grabbing a drink and enjoying the day.
They have a massive patio and always some of the most delicious food trucks Charlotte has to offer.Just a heads up that Sycamore Brewing is the new location but, just next door to past years location.
And just in case you have been living under a rock, breweries are kid friendly and it's ok to bring the little ones if you want to, or not. Family fun fest is on the calendar at Sycamore for March 31st so check it out.The light rail and the rail trail run right behind Sycamore Brewing which makes it and easy stop.
Dana is a Middle School lunch lady by day and during her free time she enjoys spending time with her family and working on DIY projects around her home and remodeling her camper "Bessie". Dana likes listening to vinyl records and hunting down her favorite albums. Her happy place is the beach and gets there as often as she can. You can follow Dana at Queen of my Castle 3 and Instagram where she shares Recipes, Travel & DIY tips.
LOOKING FOR SOME MORE RECOMMENDATIONS FOR CHARLOTTE'S BEST RESTAURANTS?
Charlotte's Best Bites: Yvonne and Jason's Picks
Charlotte's Best Bites: Shannon's Picks
Charlotte's Best Bites: AJ's Picks