Looking for a fabulous place to stay for a weekend in Asheville? Engadine Inn and Cabins is an elegant and charming bed and breakfast just fifteen minutes west of downtown complete with cabins, spectacular mountain views, gourmet two course breakfasts and the most delicious bacon I've ever eaten. And, if you're for things to do or places to eat or drink in Asheville, NC, check out Off the Eaten Path's Asheville Travel Guide!
Thank you to Tom and Rick of Engadine Inn and Cabins for hosting AJ, Bodie and me for a complimentary weekend stay in one of Engadine's cabins as well as treating us to breakfast both mornings. (And thank you to the Asheville Bed and Breakfast Association for putting us in touch with Tom and Rick!) As always, all opinions are my own.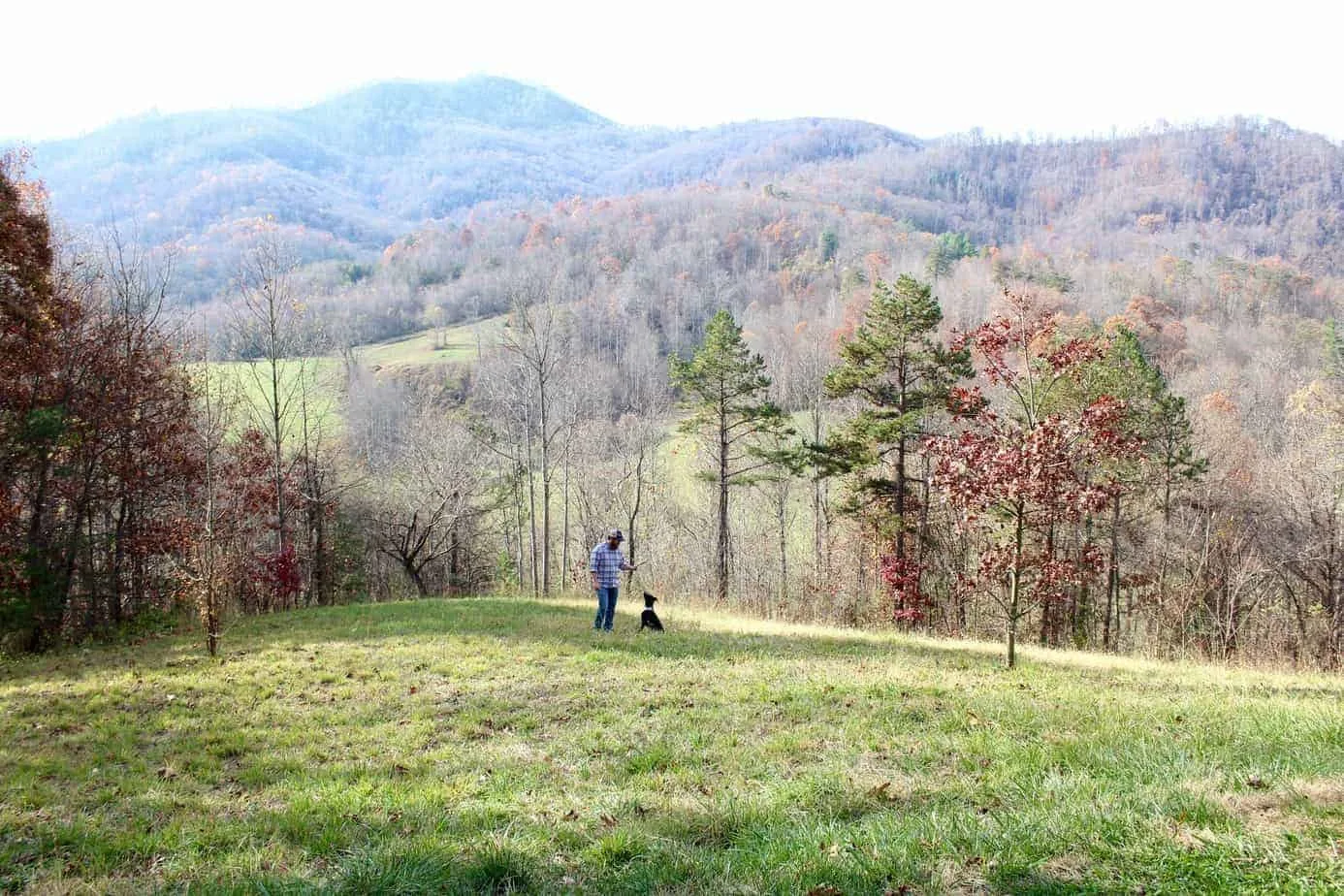 I'm headed to the mountains today (a little two day getaway to eat and drink my way through Hendersonville and I'm very excited!) so it seemed like the perfect time to reflect on the late fall, low key weekend in Asheville we enjoyed in November at Engadine Inn and Cabins.
I fell in love with Engadine Inn and Cabins last summer when we visited during the Western North Carolina Farm Tour. Yes, I use the word love, and all the sweeping, big sentiments and implications that come with it, not because AJ, Bodie and I were generously offered to spend the weekend in Asheville at Engadine for no cost to us, but because love is the right word and Engadine earned and is totally worthy of my love.
As a part of our tour, we came to Engadine for dinner on our last night, and I was enamored the second we started up the sloping driveway to the stately house. Dinner was delicious (no surprise), but the true stunner was saved for dessert, where we took the path from the inn up to Honey Hill, the property's western facing overlook. Holy crap, it was so freaking breathtaking.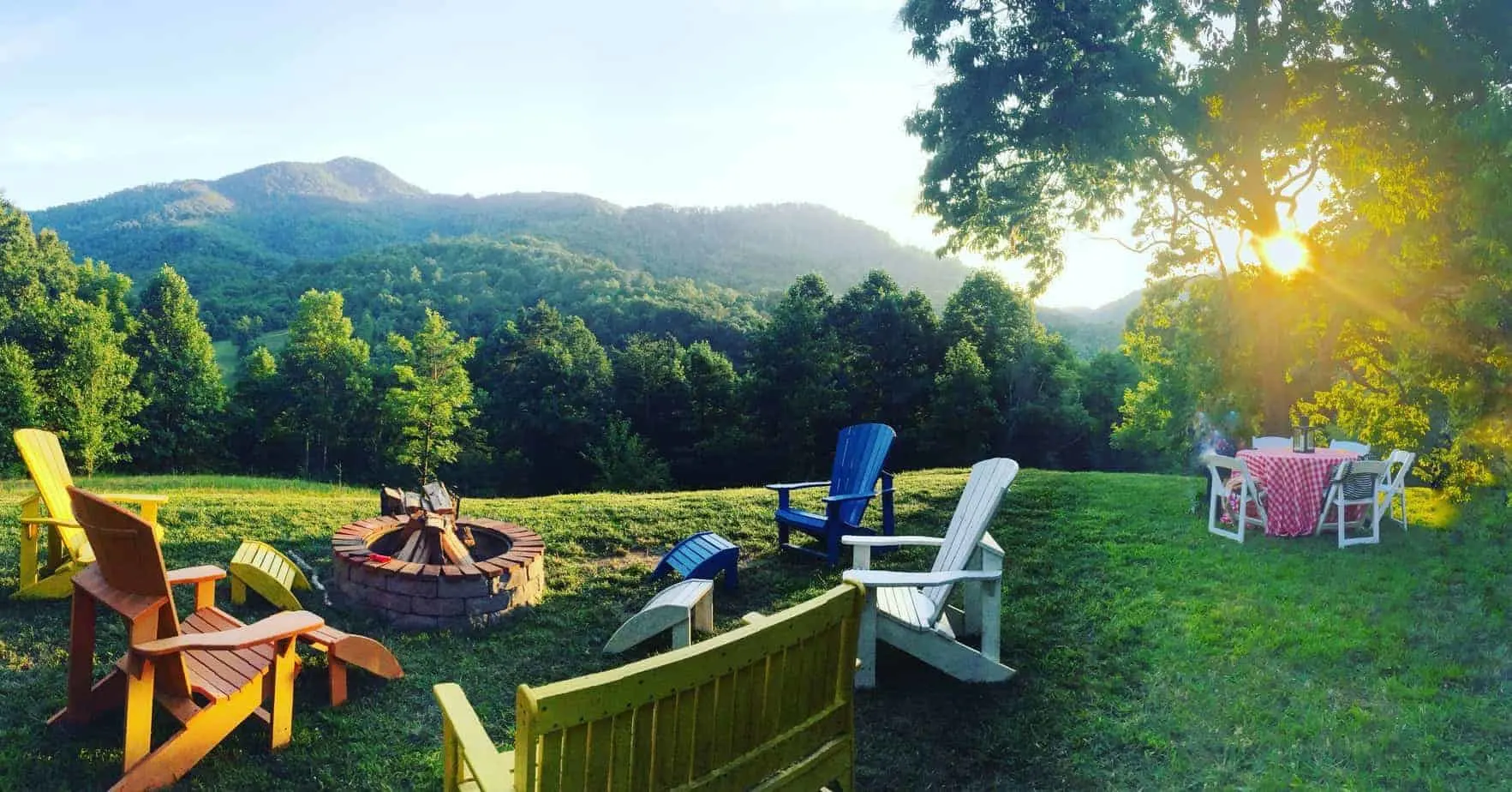 Of course, it helped that Engadine's innkeepers, Tom and Rick, had set up a particularly impressive dessert tailgate for us and I had consumed several glasses of North Carolina wine, but sitting there on Honey Hill with that stunning view, sipping on wine in front of a fire as the sun sank behind the mountains was the right combination of surreal and sublime. I knew in that moment AJ would love it too and we had to come back to visit.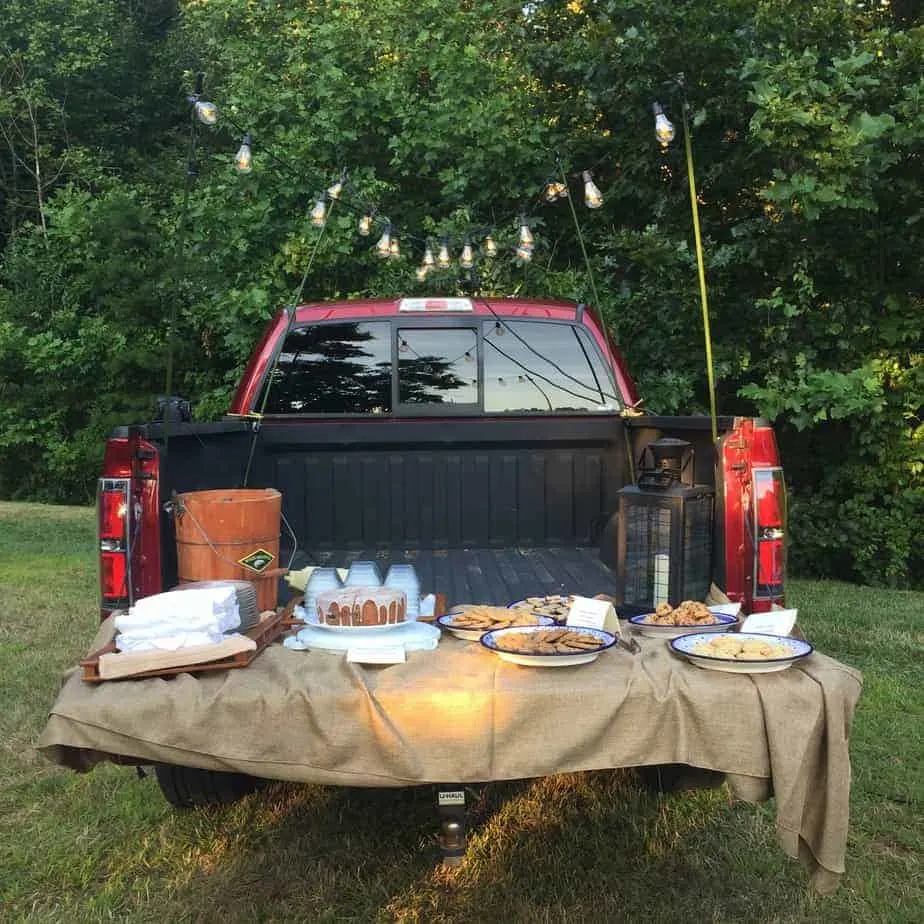 Why would AJ love Engadine too? Well, here's the thing about my husband, he loves nature. If the man could put his belongings on his back and live in a tent in the woods for the rest of his life among the trees and animals (with minimal human contact), he would (and his current facial hair situation reflects just that).
Me on the other hand, I'm what AJ likes to call "a city girl;" and while I love the hustle and bustle of a city, I do have an appreciation for nature (with a preference for not sleeping on the ground and having a roof over my head).
Engadine seemed to blend both of our interests, offering us a little getaway that we could both enjoy: a quiet getaway with sweeping mountain views and limited human contact for AJ, and a bed, a roof, and a delicious hot breakfast (and super easy access to all the great things to see and do in Ashville) for me. Plus, Engadine's cabins are dog friendly, so we could bring Bodie too. No brainer.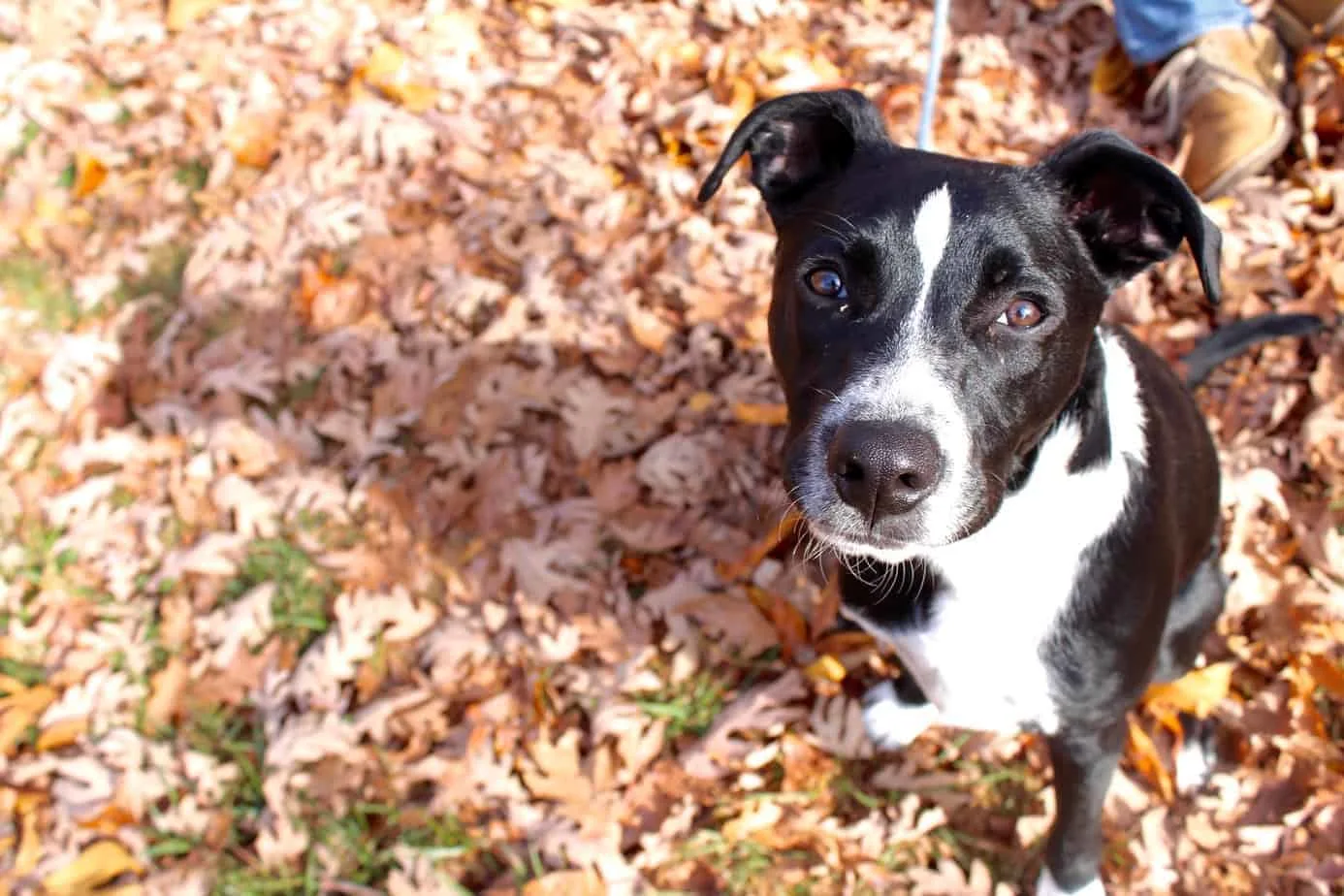 So after work on a Friday in mid-November, we packed the car (travelling with a puppy generates a lot of stuff so I can't imagine travelling with kids!) and made the slow crawl on I-85 west for our weekend in Asheville. The brake lights let up just west of Gastonia, and it was smooth sailing to downtown Asheville, where we picked up take out and got our growler filled at Asheville Brewing Company. Fifteen more minutes later, we reached Engadine and promptly got cozy in our cabin (and ate pizza and drank beer!).
We spent our weekend in Asheville in Engadine's Looking Glass Cabin, a shotgun style cabin with a living room, small kitchen and sunny bedroom, plus a gas fireplace, covered porch and sweeping views of the Blue Ridge Mountains.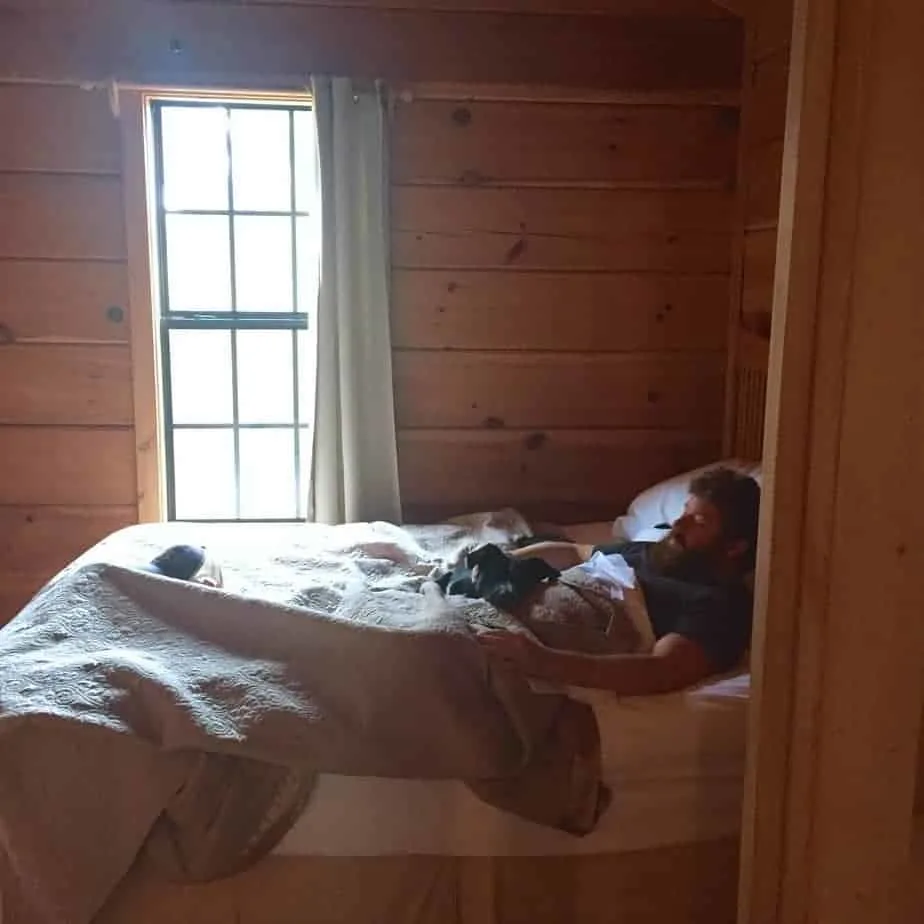 Our cabin was a short walk from the main house, where we enjoyed a fabulous, delicious, fantastic, incredible (what other adjectives that are synonyms of great can I write here?) gourmet breakfast on both Saturday and Sunday morning.
On Saturday, we indulged in baked apples with cinnamon, yogurt and homemade granola, followed by breakfast sandwiches with ham and gouda on a flaky crossaint. OMG. Sunday featured a tasty spin on ambrosia salad (with coconut, pineapple, oranges and kiwi) and a light, fluffy, perfectly savory quiche, roasted potatoes and brown sugar and pecan baked bacon.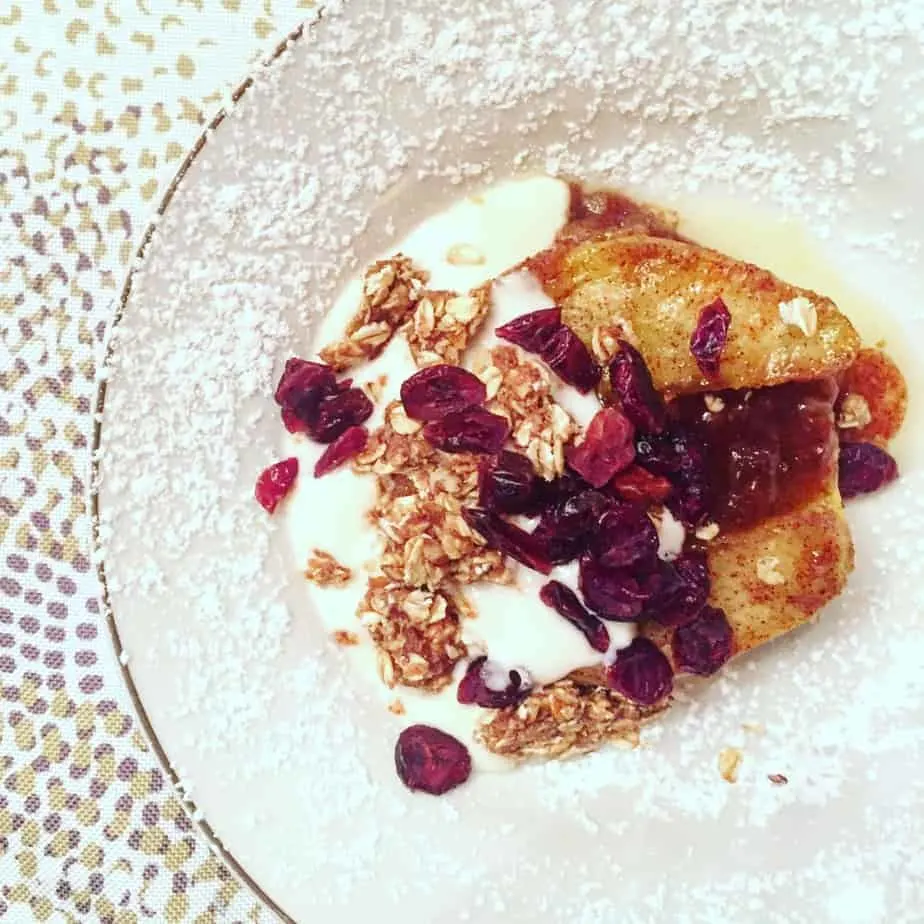 Brown sugar and pecan baked bacon is my new favorite thing and seriously y'all it should be yours too. Both mornings were full of coffee, tea and fun and interesting conversation with Engdaine's other guests (we met a professor from UNC, a social worker from New York, and a vet from Florida so our conversations made me want to savor breakfast slowly and linger at the table for a few hours).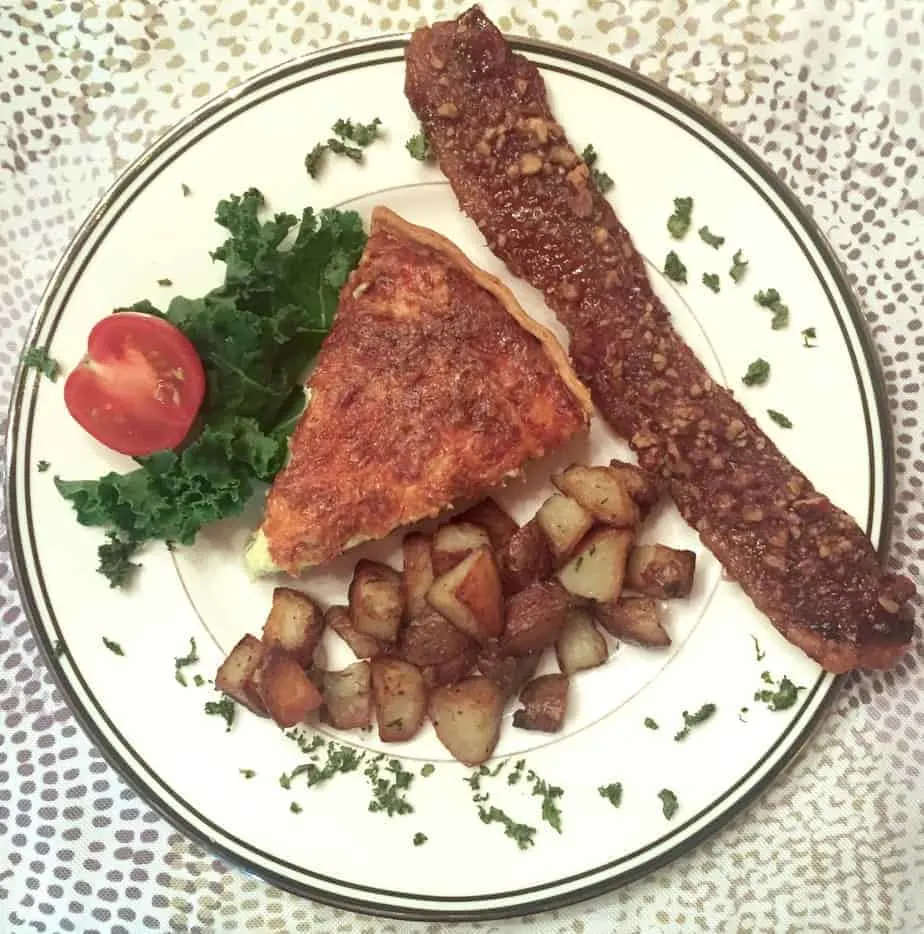 On Saturday after breakfast, we took a stroll with Bodie around Engadine's property before going on a short hike at the North Carolina Arboretum (before our visit, I had emailed Tom and Rick asking for a few recommendations for the weekend and they were so knowledgable and helpful so we took their advice to go to the Arboretum because we had never been. PS: staying at a bed and breakfast is so great if even for just that reason, the innkeepers are a wealth of knowledge of the area and can give you the scoop on everything local).
Even though we had missed peak leaf season by a few weeks, it was still so pretty with the late fall sunshine and a few leaves lingering on the trees. After the Arboretum, we were still pretty full from breakfast, so we stopped for a late lunch on our way back to Engadine at Celebrity's (we passed two hot dog joints on the way to the Arboretum so we felt super compelled to eat hot dogs. You may think hot dogs were an Asheville foodie fail, but they really hit the spot, and held us over until dinner).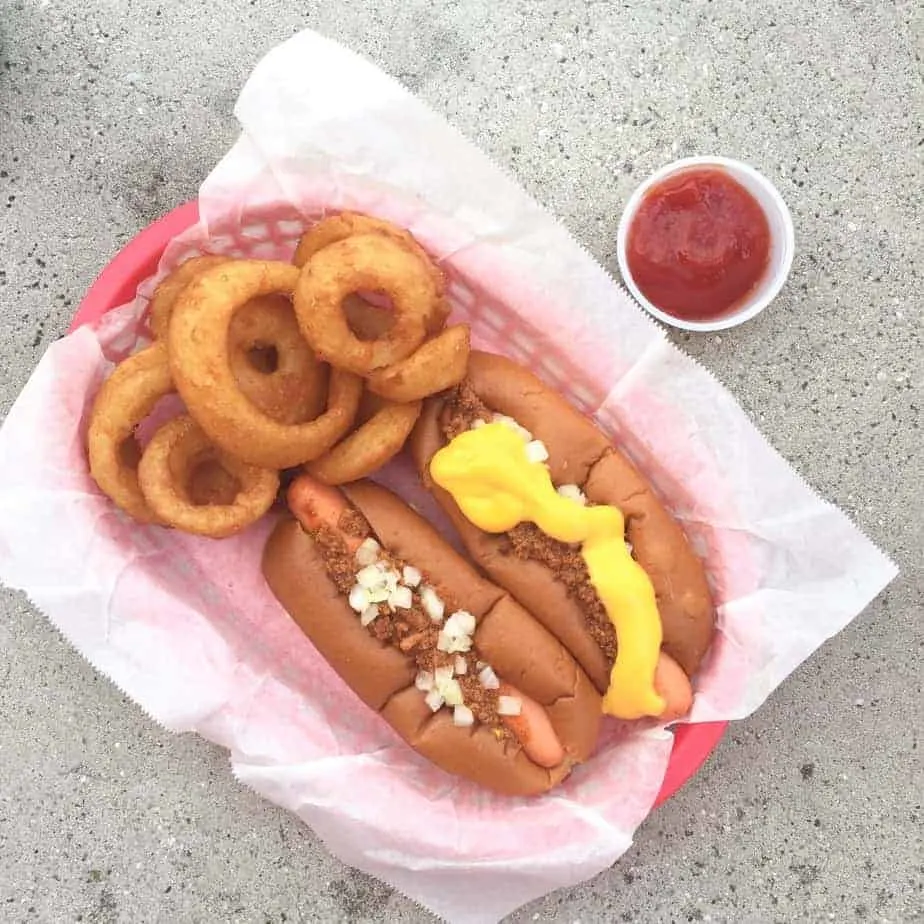 I took advantage of the chilly weather and low key vibe of the weekend and took a nap while AJ and Bodie watched football in the cabin, and then we went back out to Honey Hill to take in the views over a pre-dinner glass of wine. (the views were different in late fall than the height of summer, but still stunning. Also, you can have your wedding on Honey Hill, so will someone please do that and invite me?)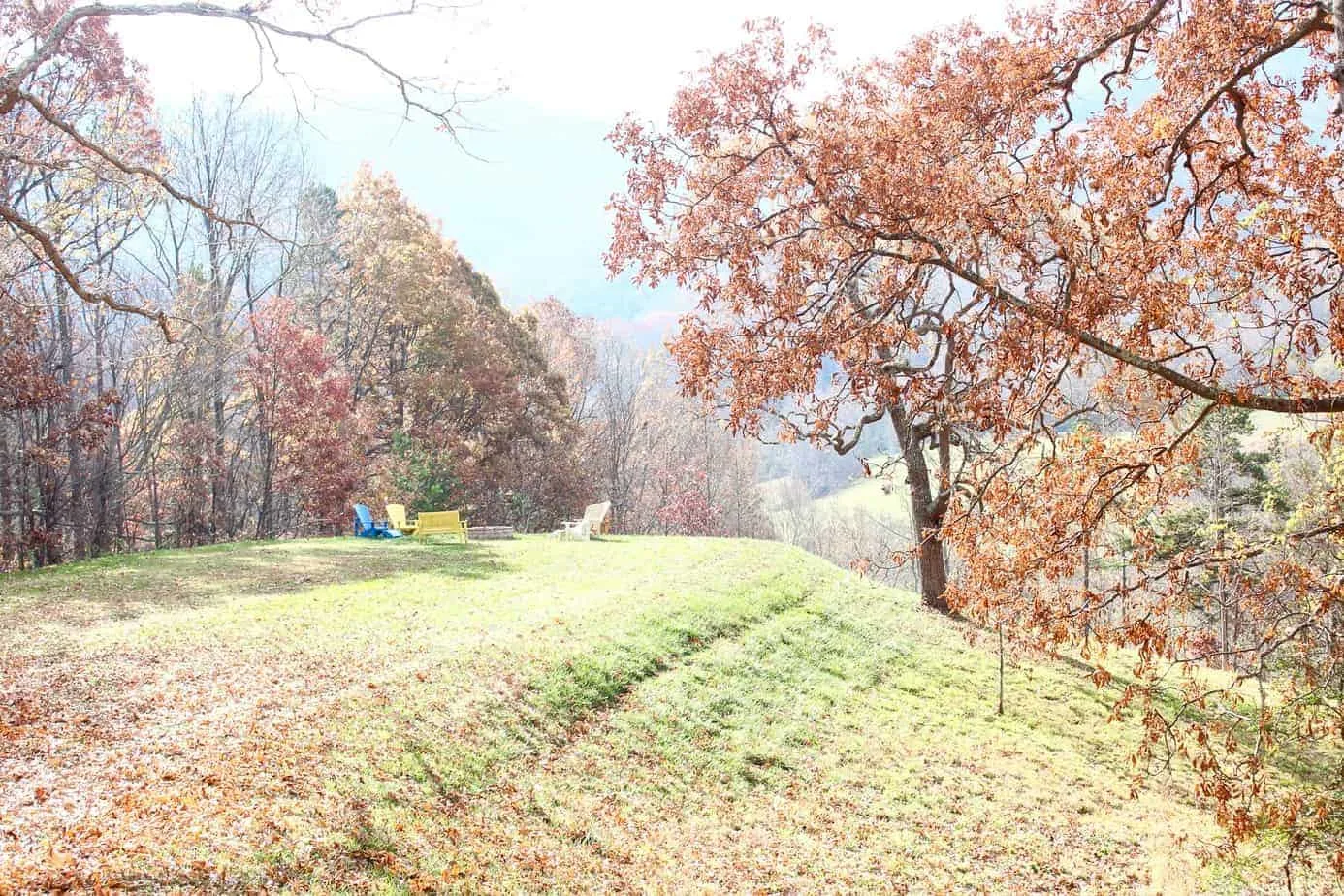 We made the short drive into Asheville and grabbed a pint at our favorite Asheville brewery, Hi-Wire, before our dinner reservation. (there are so many great breweries in Asheville it really is hard to pick a favorite but Hi-Wire is mine!)
We indulged in the five course dinner at Cucina 24 (the restaurant was another recommendation from Tom and Rick), and the highlights included white anchovy dip, fresh made pasta, lamb neck and grilled trout and panna cotta.
The five course dinner was explained to us by our waiter as the more "adventurous" side of the menu (Cucina also offers more traditional Italian fare a la cart, the focaccia looked super bomb) and I actually learned a few days later it was what was recommended by Food and Wine Magazine in their 48 hours in Asheville feature (totally redeemed from earlier hot dog eating by the Food and Wine cool factor).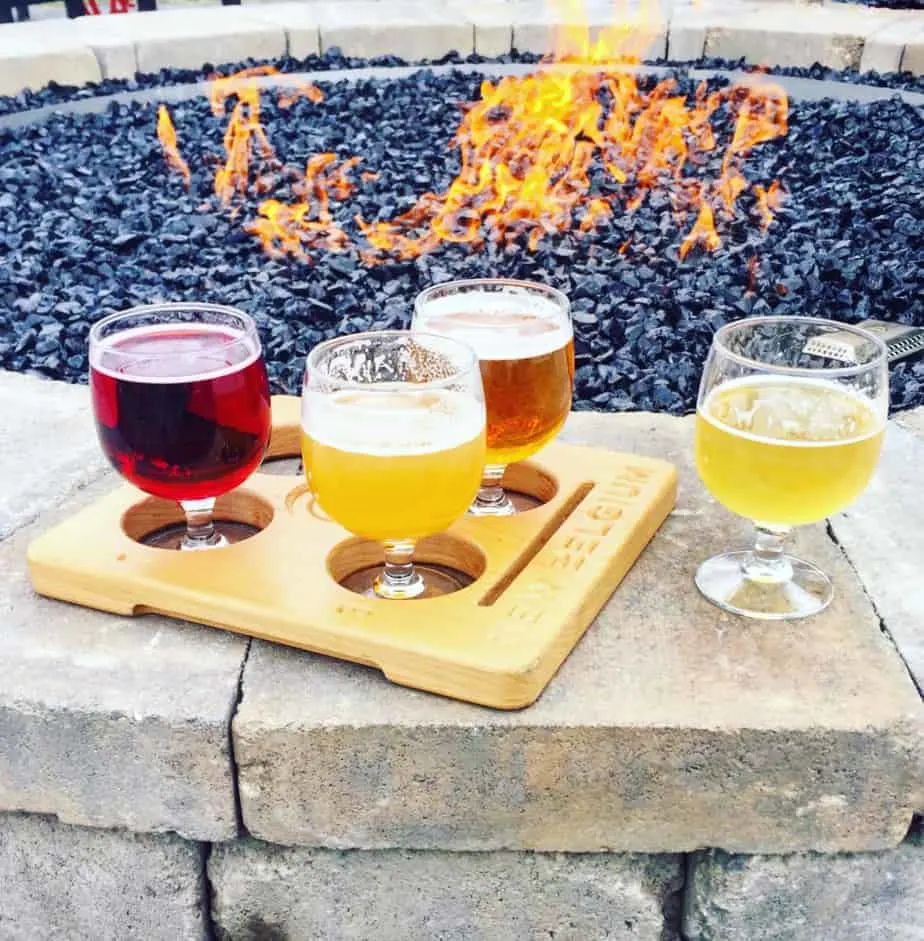 Sunday was filled with delicious bacon (as previously raved about) and one more brewery stop at New Belgium before heading home. And lucky for us, Tom and Rick sent us home with a batch of their homemade cheese straws (which didn't last long).
So no matter what you're looking for: a quick little getaway; a place to call home base to do some Asheville exploring; a comfortable, quiet, pet friendly retreat; or a beautiful mountain wedding venue (please someone please do it), stay at Engadine. Tom and Rick are not only the most gracious hosts, they also have the most beautiful mountain views, and the most delicious bacon I've ever eaten.