Slow cooker stuffing with sausage and kale has been a staple on our Thanksgiving table for three years now. This set it and forget it recipe is perfect if you can't (or don't want to) stuff your bird.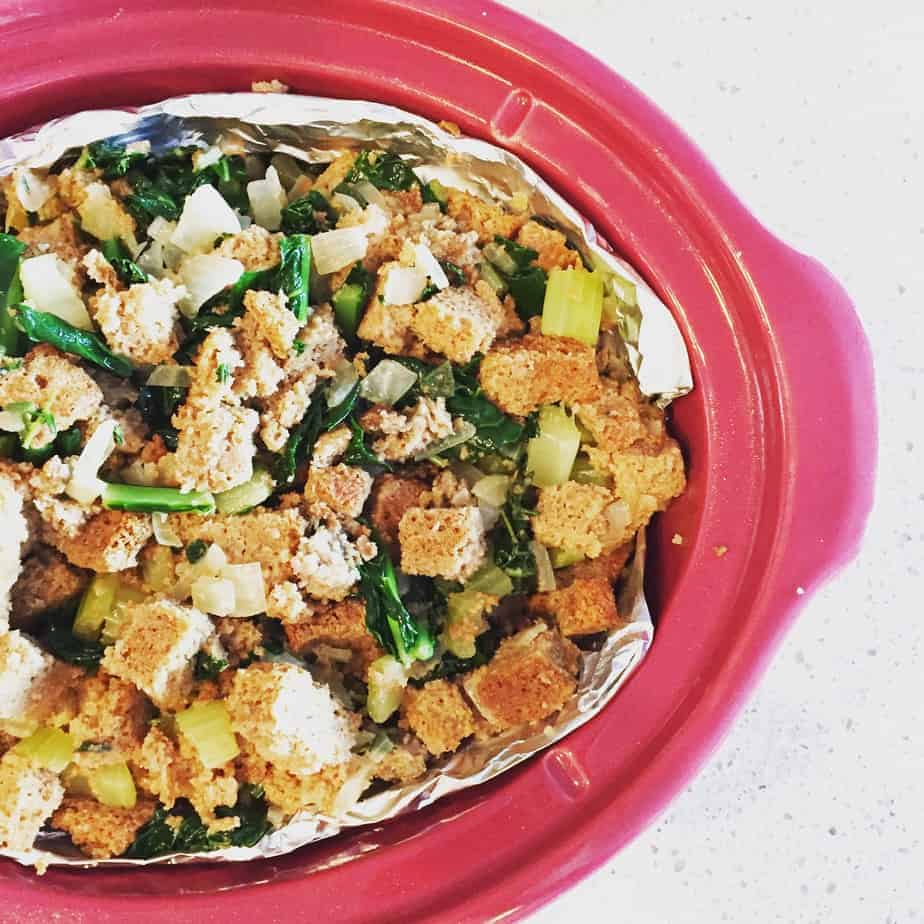 Looking for other Thanksgiving recipes? This Thanksgiving Recipe Round Up features 23 droolworthy Thanksgiving recipes covering everything from appetizers, to desserts and even cocktails!
And I think this easy cheese board, salted caramel apple pie, and spiked hot apple cider would all be perfect for your turkey day feast. And my Thanksgiving Leftovers Sandwich is a necessity for Friday lunch!
Thanksgiving is one of my favorite holidays because it's focuses on one of my favorite things: eating.
Of course, Thanksgiving is more than just about food.
It's a day to spend with your loved ones, sometimes a little too much time cooped up in the house.
To be thankful for the incredible people that surround and support you.
To cheer for your favorite football team (all three of our teams are playing this year).
And ring in the start of the holiday season (you can guarantee once dinner is done National Lampoon's Christmas Vacation will be slid into the DVD player).
Maybe it's a day to start your holiday shopping and score some sweet deals (definitely not for me, I prefer I hearty tryptophan nap in my sweat pants and staying as far away from the mall as possible).
But my favorite part of Thanksgiving (aside from how happy I will be if the Packers beat the Bears this year) is gathering around the table with my family and friends and digging into a delicious feast.
Slow Cooker Stuffing is my Favorite Thanksgiving Food
Food is definitely my love language, and a home cooked meal is the way to my heart.
I think everyone has their favorite dish in a Thanksgiving meal, and mine is definitely stuffing.
I love a good pie, some creamy mashed potatoes, and I drool when I see yams with marshmallows on top, but I could eat my mom's stuffing all day long if I had room in my stomach.
Two years ago when I went home for Thanksgiving, my mom sent me back to Charlotte with a giant tupperware full of stuffing and an entire pumpkin pie and I was in heaven.
And got a ton of weird looks from the TSA).
Since I won't be sitting down at the table with my family this year, I'm in charge of bringing the stuffing to our Thanksgiving table.
WHY SHOULD I COOK STUFFING IN A CROCK POT?
I like to cook Thanksgiving stuffing in my slow cooker for a few reasons.
First, we don't roast our turkey in the oven.
AJ's Thanksgiving niche is deep frying a turkey, so we can't stuff our bird. I feel like deep frying a stuffed turkey would end up being a disaster! Because don't stuff the turkey before cooking it (hence the term, stuffing) I guess what I make in my crock pot is technically a dressing, because the bird is never stuffed.
Second, there have been some health advisories and warnings about stuffing a turkey.
While my mom always stuffed the turkey with her homemade bread stuffing growing up (and I loved it), there recently has been some cooking advice circulating that you should cook your stuffing separately, rather than stuffing it in the bird. As someone who'd rather be safe than sorry (and not get sick on one of my favorite holidays!) I have heeded the warning and even if we baked our bird, I'd probably make the stuffing separately.
Third, I like to save on oven space.
There are a lot of other Thanksgiving dishes (pies! potatoes! squash!) that need to cook in the oven, so usually on Thanksgiving Day we have very little oven space to spare for a casserole dish of bread stuffing.
By using a crock pot or slow cooker, the dressing cooks low and slow on the counter for a few hours, giving room to whatever else you have to bake in the oven.
How to make crock pot stuffing
My version of crock pot stuffing is a spin on my mom's traditional bread stuffing, with a few little additions of my own (spicy sausage and sauteed kale.)
To make slow cooker stuffing, you start by cubing a loaf and bread and drying it out. You can dry bread out in a few ways, by either leaving it out on the counter for a few days until it feels hard, or, a much quicker way, by toasting it in the oven for about 30 minutes.
Because 30 minutes is quicker than a few days, I usually opt for the latter and cube my bread and then toast it in the oven until its dried out.
While the bread is baking, you can multi task and cook the sausage. When both are finished, add them to the same bowl.
Once the sausage is cooked, its time to saute your veggies and aromatics: start with the onion and celery, add the kale and cook until wilted, and then add your herbs and spices.
Finish it off with some chicken broth, and add it to the bread mixture and sausage.
I like to make an aluminum foil band and place on sides of slow cooker…while I like crispy bits of stuffing, I don't want the stuffing to burn and stick to my crock pot.
And that's it! The stuffing will cook in the slow cooker for four to five hours and I spend the rest of my time hanging out, watching football, and hoping AJ doesn't burn our neighborhood down with his deep fryer.
Happy Thanksgiving to y'all!