From romantic retreats to family and pup friendly places, this round up of the best rental cabins in Asheville NC will help you plan your next North Carolina mountain getaway.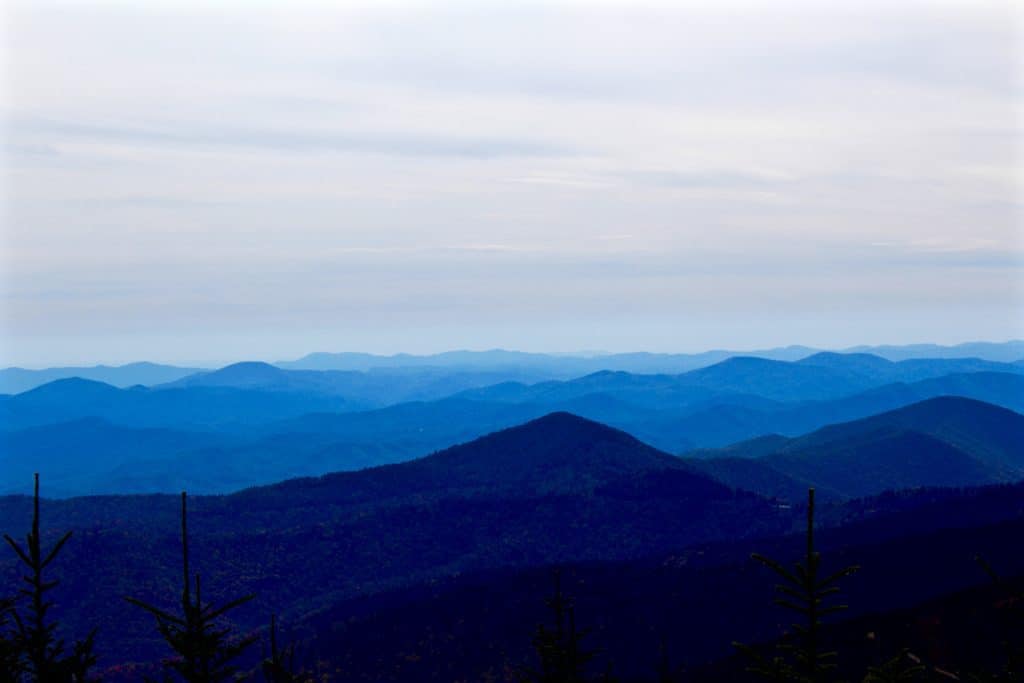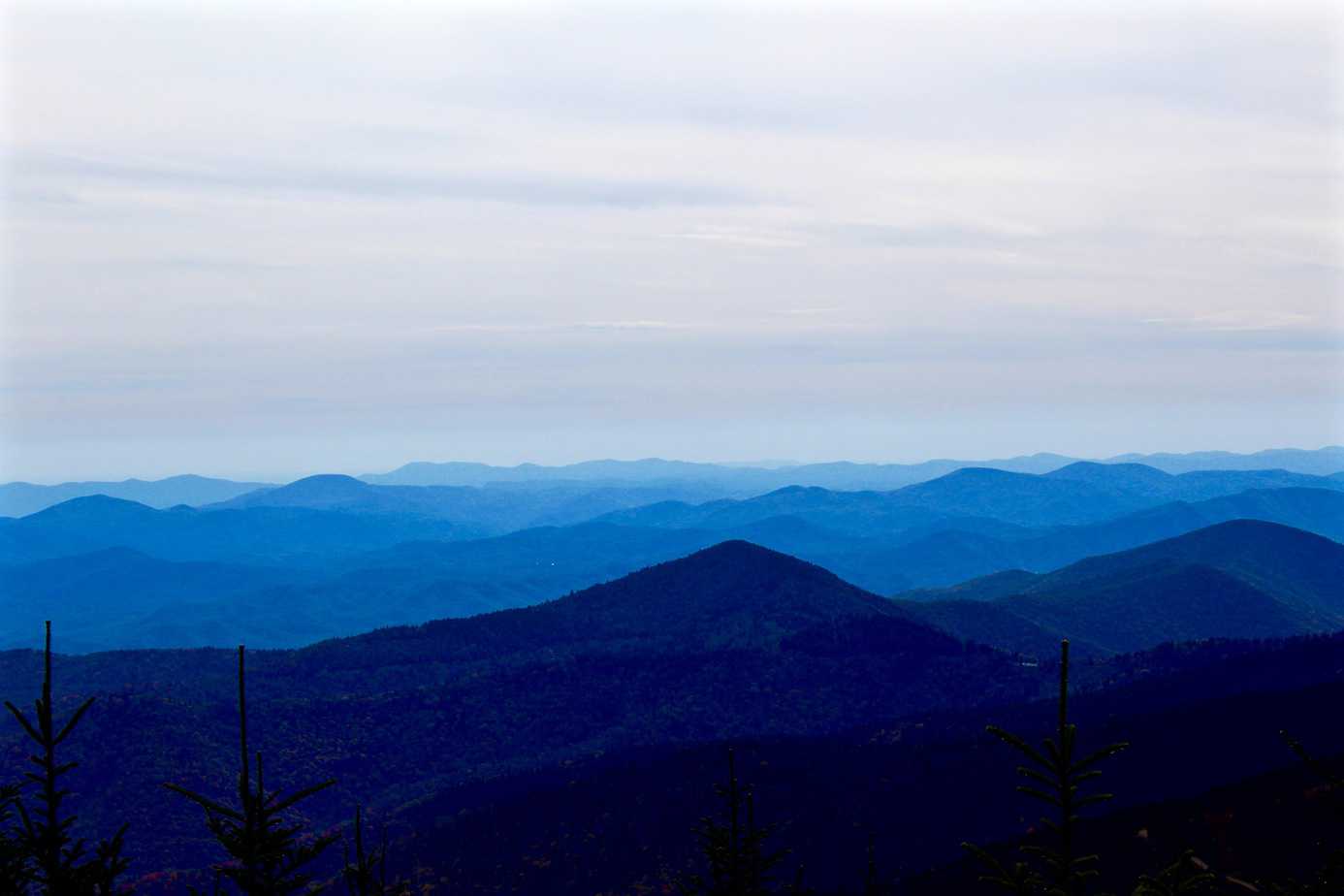 Looking for things to do or places to eat and drink in Asheville, NC? Check out Off the Eaten Path's Asheville Travel Guide!
From the panoramic views and the winding road of the Blue Ridge Parkway, to delicious, locally sourced food, a booming craft beer scene, and a lot of local art and culture, plus a very impressive historic home, Asheville, NC has a ton to offer vacation-goers.And as you plan your next Asheville getaway, you're probably thinking…where should I stay?
A cozy cabin rental in Asheville, NC provides the right mix of relaxation and the feeling of "getting away from it all," without being too far away (we're talking like fifteen minutes or less) from what's going on downtown, in West Asheville or the River Arts District.
A cabin is also a great home base to explore all of the different trails and hikes the Asheville area and the Blue Ridge Mountains have to offer. If you're looking for hiking suggestions, check out this post featuring some of our favorite romantic Asheville hikes!
It's the perfect combination of feeling miles away tucked into your own personal mountain retreat (where you could do things like make your own cocktails and cozy up in front of a fireplace with a fun board game) while still having easy access to all the action the city has to offer.
To help you pick the perfect place, I created this post to highlight some of the Asheville cabins.
Because honestly, a Google search of "Asheville cabins" yields an overwhelming amount of results.
Are bed and breakfasts with a cozy room and gourmet breakfast more your speed? Check out the 14 bed and breakfasts in Asheville, NC! Maybe you'd prefer to be glamping under the starts in a treehouse or dome? Check out my post all about Asheville Glamping! Or are you planning on really roughing it? Off the Eaten Path's tent camping in North Carolina guide is for you!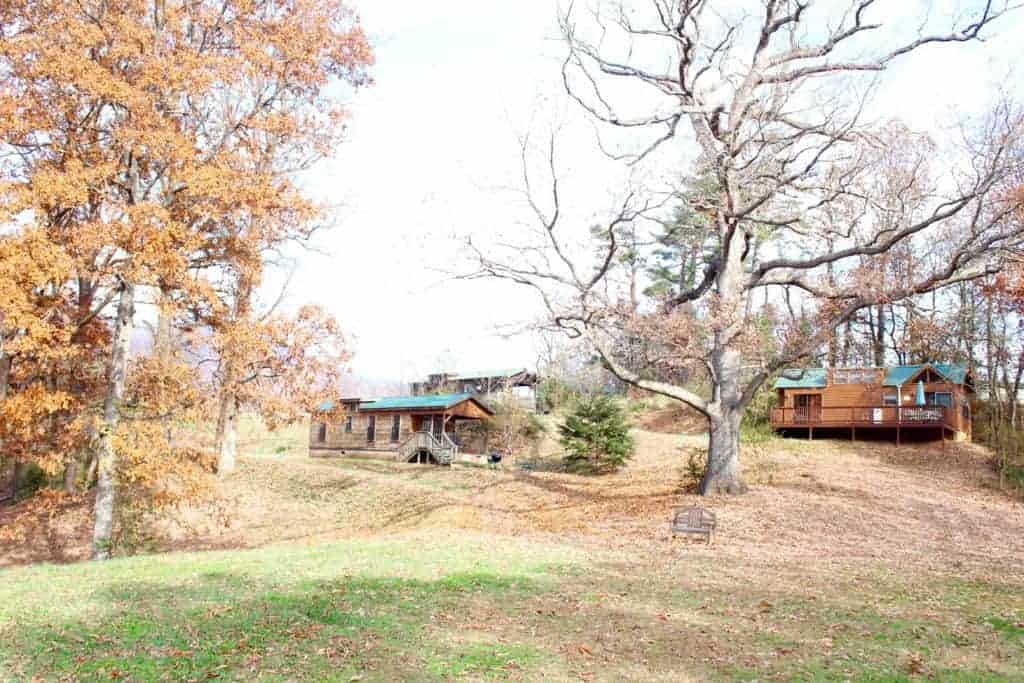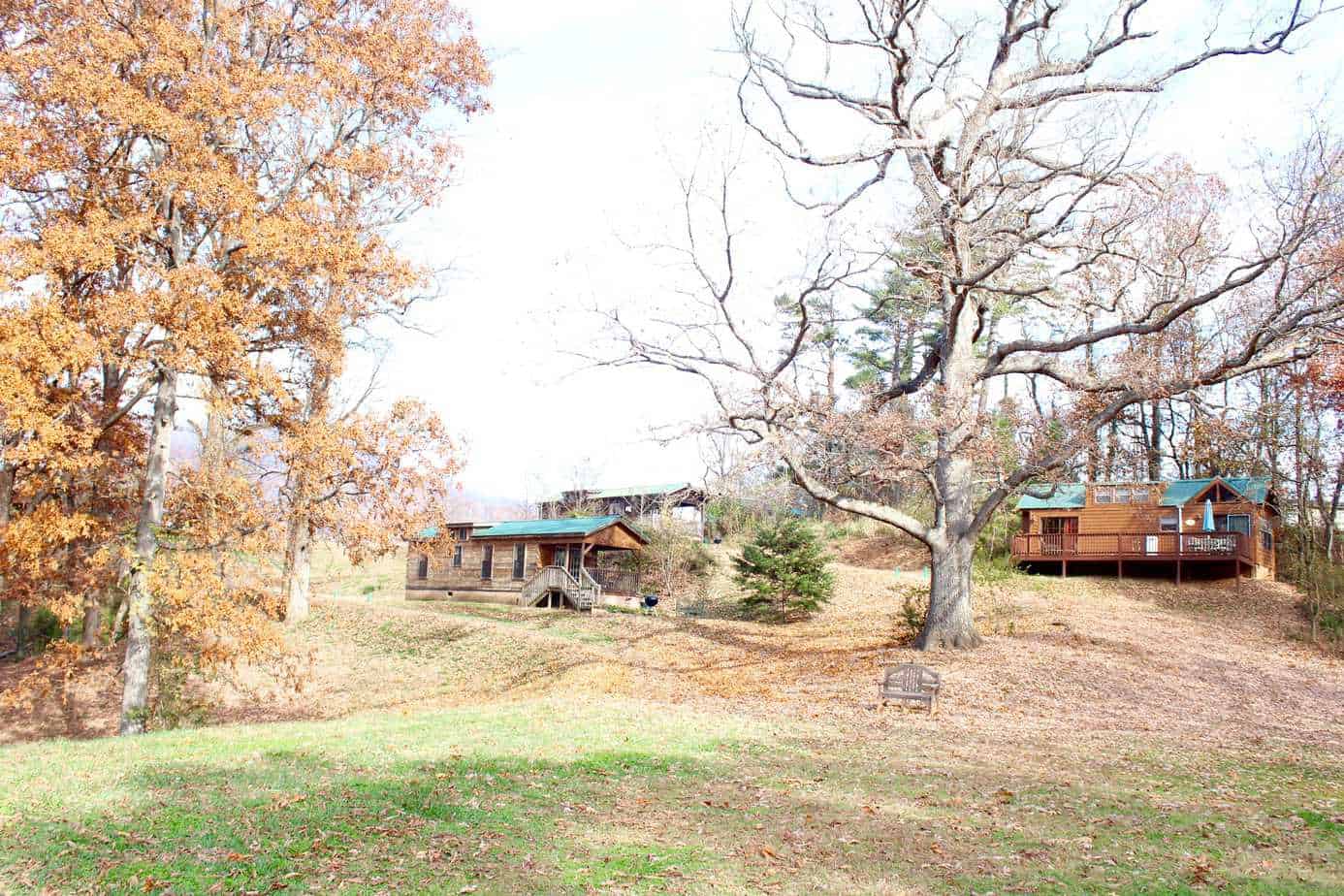 This cabin round up features nine different unique properties that we've either stayed at or came highly recommended by friends and readers with a variety of price points and amenities: so whether you're looking for a cozy, quiet romantic getaway, a cabin to host the whole fam, or a place to run free with your four legged friend, there is a cabin on this list that is right for you.
If you want to learn more about where to stay, what to eat and drink, and what to do in Asheville, NC (plus 10 different Asheville, NC travel itineraries), you should check out my travel spotlight page on Asheville, NC!
Romantic Cabins and Asheville Honeymoon Cabins
Did you know that we honeymooned in Asheville?
While we ended up staying in a hotel just outside of downtown (we planned our honeymoon very last minute after a hurricane moved our beach wedding to Charlotte), if I could have a do over and a little more time to plan, I would still honeymoon in Asheville but book a romantic cabin with a full kitchen, cozy fireplace and a hot tub rather than a hotel room. These are the romantic cabin rentals I think would be perfect for couples!
I think that Engadine Inn and Cabins is one of the most charming places on the planet.
I was first introduced to Tom and Rick and their gorgeous property in Candler, NC (just about 15 minutes from downtown Asheville) in the summer of 2017 when they hosted a group of North Carolina bloggers for dinners and drinks on our Western North Carolina Farm Tour.
We enjoyed a delicious dinner at the inn and then dessert and drinks on Honey Hill, accompanied by sweeping mountain views and a gorgeous sunset.
AJ and I went back to Engadine Inn and Cabins late last fall (with Bodie in tow) and spent a long weekend in Asheville in one of their pet friendly cabins on the twelve acre property.
Our cabin was clean and cozy, we enjoyed breakfast at the inn the two mornings we were there (cabin guests can add on Engadine's two course breakfast service served every morning at 9am in the inn for $18 or a continental breakfast delivered to your cabin for $15), and were just a short drive away from hikes and the action in downtown Asheville. (it was the perfect mix of relaxation and activity!)
Engadine Inn and Cabins has six cabins available to rent, and all come with a full kitchen, linens, heat and air conditioning, a seasonally operated fireplace and free Wi-Fi.
While many of them are double occupancy (which we found to be perfect for a couples getaway!), the Mount Mitchell cabin can sleep up to six (it's priced for four people and then has a sleeper sofa to accommodate more guests).
Three of their cabins are pet friendly and cabin guests get access to Engadine's grounds, including the fire pit at Honey Hill…sunset cocktail hour at Honey Hill is a must!
Cost: Cabin rental cost varies by cabin and by season, but ranges between $179 and $499. Reserve your cabin at Engadine Inn and Cabins.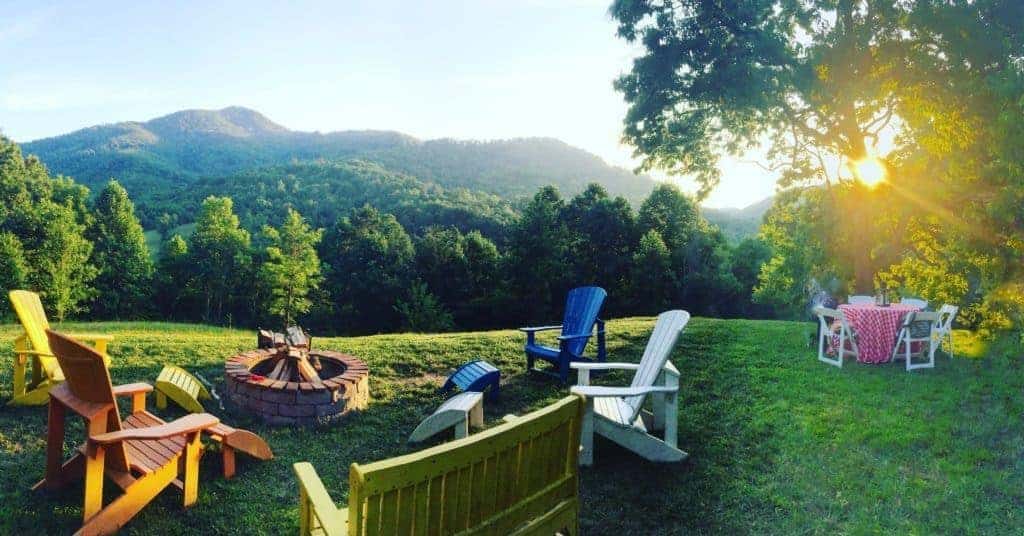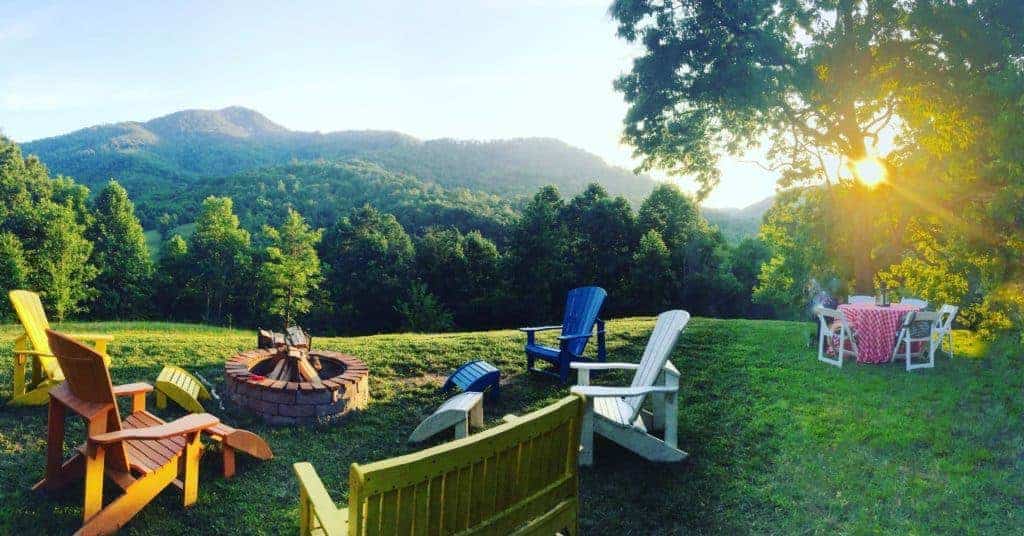 Moonbeam Bungalows is nestled in the mountains in Horse Shoe, NC, giving guests quick access not only to Asheville, but to the mountain towns of Hendersonville and Brevard too. (Hendersonville is definitely worth a visit…I ate really well at a lot of Hendersonville restaurants!)
The property features two hand-built, eco friendly bungalows: the Moonbeam Bungalow which sleeps up to five people, and the Satellite Bungalow which sleeps up to three.
Both bungalows come with a living area, kitchen stocked with essential cookware, organic coffee, a selection of teas, spices and other essentials, books, games, movies, towels and linens and Wi-Fi.
Guests at Moonbeam Bungalows also get access to the yoga deck, fire pit and private hot tub, the property's trail system, trail hammocks and courtyards. Moonbeam Bungalows is dog friendly.
Cost: Prices range at Moonbeam Bungalows from $99/night to $150/night depending on the property, if it is a weeknight or weekend, or a holiday. There is a two night minimum required on all reservations. Reserve your cabin at Moonbeam Bungalows.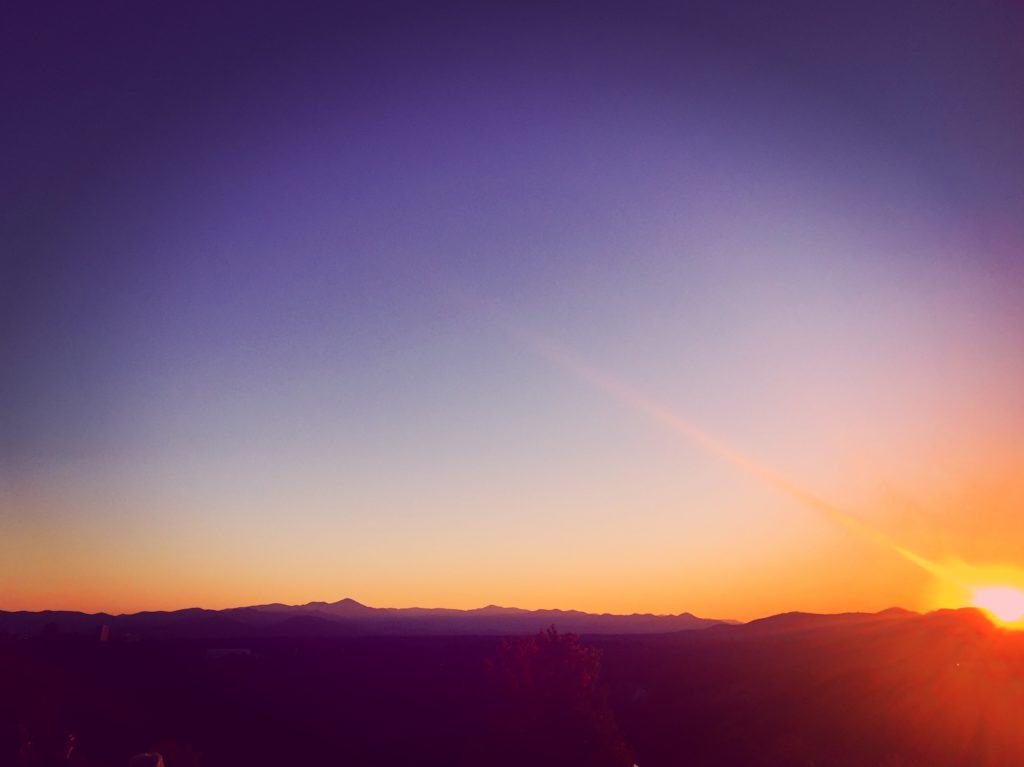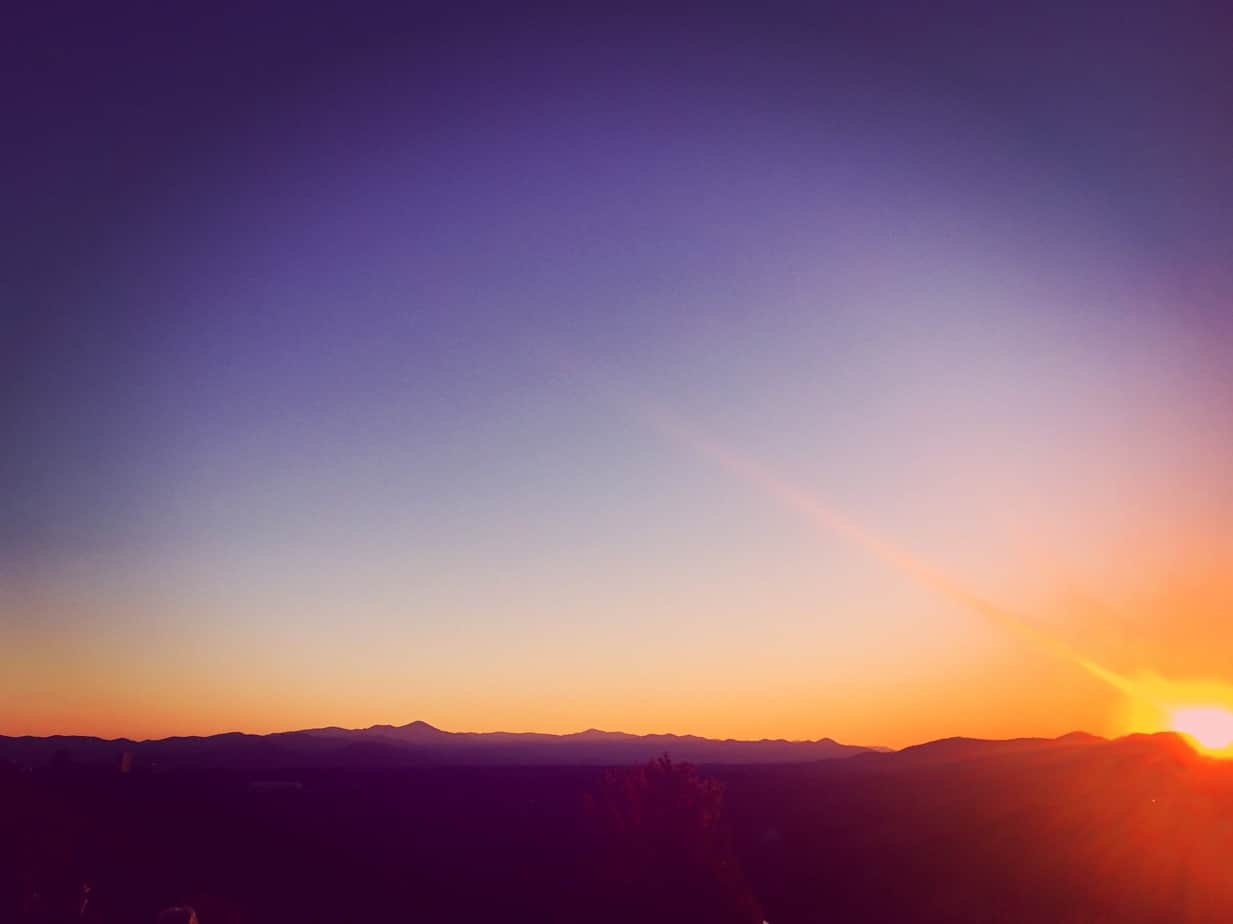 We visited Shoji Spa and Lodge on the last day of our honeymoon in Asheville, where we relaxed in a hot tub overlooking the Blue Ridge Parkway and indulged in a massage.
Shoji Spa and Lodge is located off of the Blue Ridge Parkway, overlooking the treetops of the Pisgah National Forest (just six miles from downtown Asheville) and features four unique, cozy spaces to be your home away from home during your mountain getaway, plus a Japanese-style hot tub and full spa on site.
The House of Fire, which sleeps up to six people, has a stone fireplace, private porch with views of the beautiful scenery (including Pisgah National Forest and Asheville's skyline) and fully equipped kitchen, perfect for a larger group or for guests who want more room.
House of Moon, which sleeps four, is a newly renovated space with its own private entrance, loft, kitchenette, and sweeping treetop views.
House of Earth, which sleeps up to six people, is nestled near the forest's edge with a private entrance, floor to ceiling windows (yay for a large window!), and a kitchenette.
House of Wind, which sleeps only two people, is a more intimate space featuring cathedral ceilings, panoramic beautiful mountain views and a small kitchenette.
All of Shoji Spa and Lodge's accommodations include Wi-Fi, and they encourage guests to add-on the full Shoji Spa experience with their stay including private hot tubs in the woods, massage, sauna and cold plunge pool.
Cost: Prices range from $209 to $399 depending on which property you rent and the season. Reserve your space at Shoji Spa and Lodge.
Family Friendly Asheville Cabin Rentals
Located along the banks of the French Broad River, Asheville River Cabins offer a unique experience to guests who want to feel secluded in nature but also want easy access to everything that Asheville has to offer.
The seven log cabins on the property provide panoramic sights and sounds of the river from the front porch (plus a view of the popular Biltmore Estate), regular visits by wildlife, fully equipped kitchens, linens and towels, TV and Internet service, fire pits, horseshoe pits, a bocce court, and the option to book kayaking, canoeing or tubing trips on the French Broad River for an additional cost.
Cost: Rates range from $169/night to $260/night and vary depending on season. There is a two night minimum required. Reserve your cabin at Asheville River Cabins.
Mountain Springs Cabins has thirteen cabins, two tiny homes and five yurts available to rent on their 46 acre property just off the Blue Ridge Parkway (about ten minutes West of Asheville).
These charming country cabins and unique yurts sleep anywhere from 2-12 people and offer everything from Wi-Fi, cable TV, and fully equipped kitchens to stone fireplaces, porch swings and mountain stream views.
A stay on Mountain Springs property also includes access to some amazing outdoor space including a stream (for fishing and tubing), a large playground and play field, an outdoor pavillion with picnic tables and grills, and a stream side bonfire pit.
Cost: Mountain Springs Cabins offer three different rate choices depending on your vacation plans: if your vacation plans are firm, opt for the best nightly rate. If you're looking for a little more flexibility, they offer a piece of mind rate which allows you to reschedule your reservation. Mountain Springs Cabins also has an extended stay rate for guests looking to stay longer than 28 days. Rates vary by cabin. Reserve your cabin at Mountain Springs Cabins.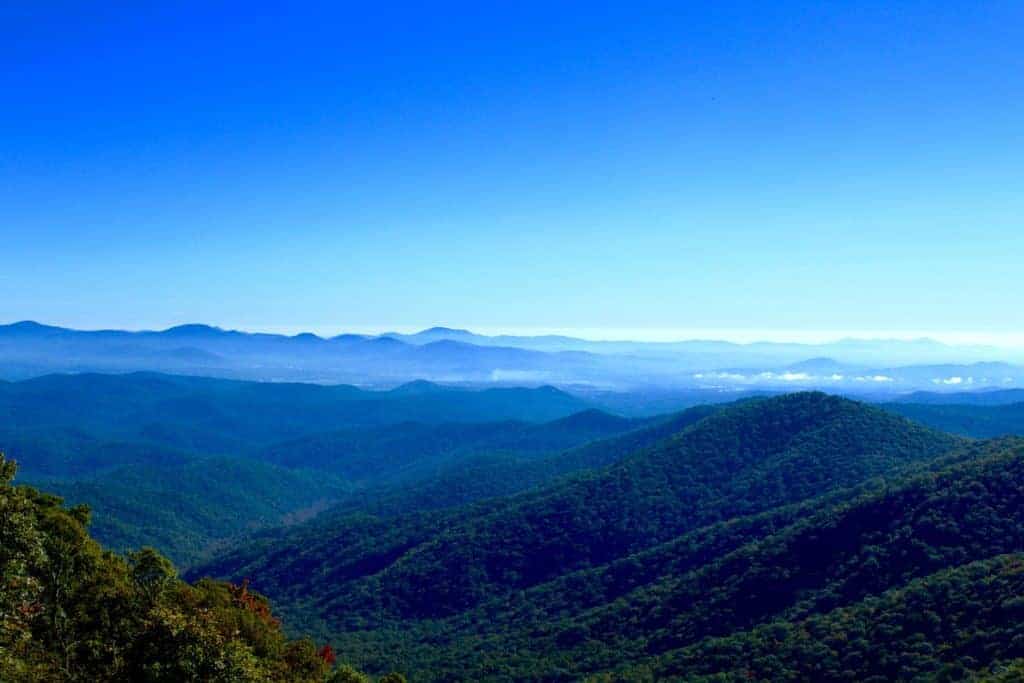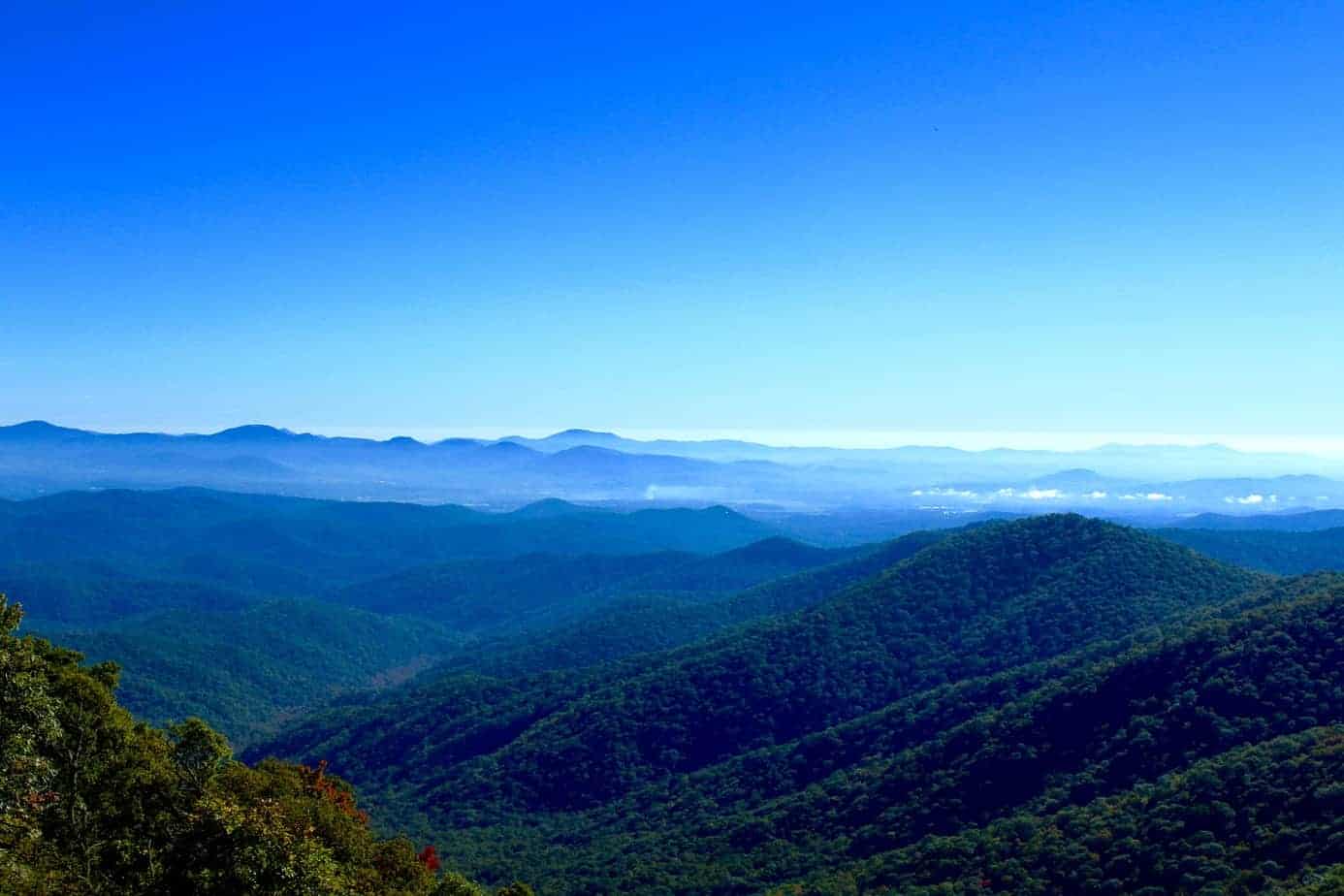 If you're looking for a cabin to suit your specific needs, look no further than Carolina Mornings, an Asheville area vacation rental company that has hundreds of vacation rentals to choose from.
You can search for the perfect cabin in Asheville, NC for you and your family including by location, group size, cabin features (like a private deck, game room, gas grill, bunk beds, great views) and more.
Carolina Mornings has large group rental properties that sleep up to 28 people, which are perfect for celebrating a special occasion, hosting an event, or just want to get the whole crew together.
Cost: Cost varies depending on accomodations. Book your cabin rental with Carolina Mornings.
Pup Friendly Places

Barkwells Dog Lovers Retreat is more than just pup friendly; they are focused on creating a fun and safe space for dogs and their families to vacation. Barkwells dog-centric, vacation homes are available near both Asheville and Brevard.
The one and two bedroom cabins in Asheville, NC sleep between two and six people and come with gated porches and fenced yards, providing plenty of space for your pup to roam freely.
The property is also has plenty of fields for running, a pond for swimming (open to both dog and human swimmers), a paddle boat, picnic tables, a campfire ring, a commercial dog wash and friendly chickens and goats.
Cost: Cost varies depending on the season, Barkwells cabins in Asheville, NC range between $305 and $479 a night. Reserve your cabin at Barkwells.
Twelve of the thirteen studios, one bedroom and two bedroom cottages and log cabins at The Pines Cottages are pet friendly. (Cottage 2 is the only space on the property that does not allow pets.)
The four and a half acre property is just six miles north of downtown Asheville, offering a tranquil outdoors space to relax and walk your dog.
All cottages and cabins include fully equipped kitchens, daily maid service, Wi-Fi, charcoal grills, pet bowls and organic dog treats.
Cost: Cabins range between $125 and $205 per night, and can vary seasonally. A two night minimum stay is required. Reserve your space at The Pines Cottages.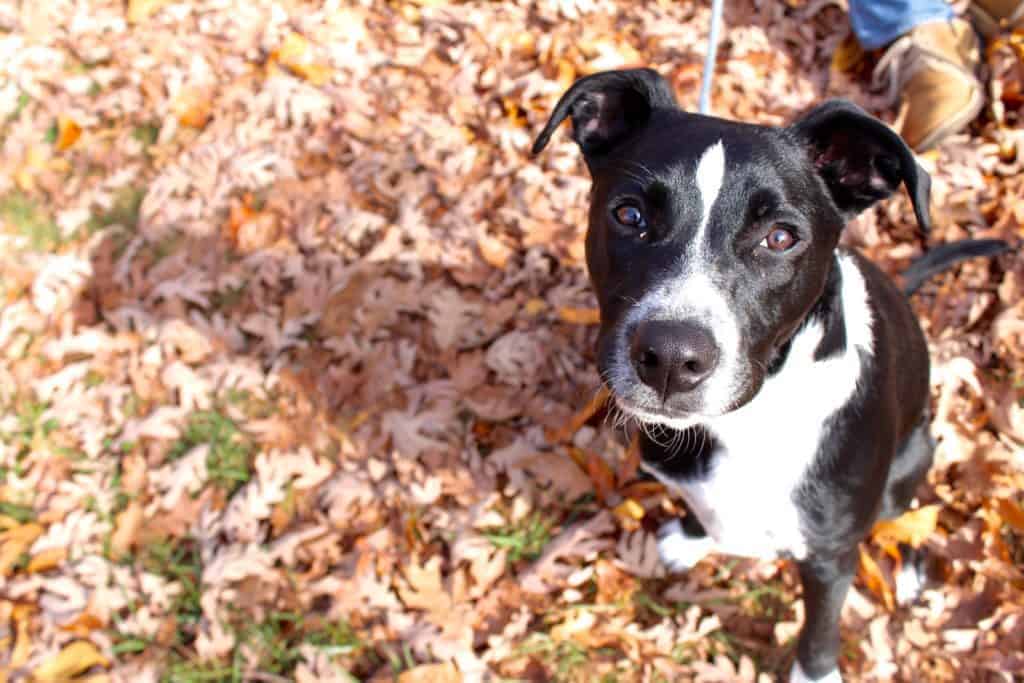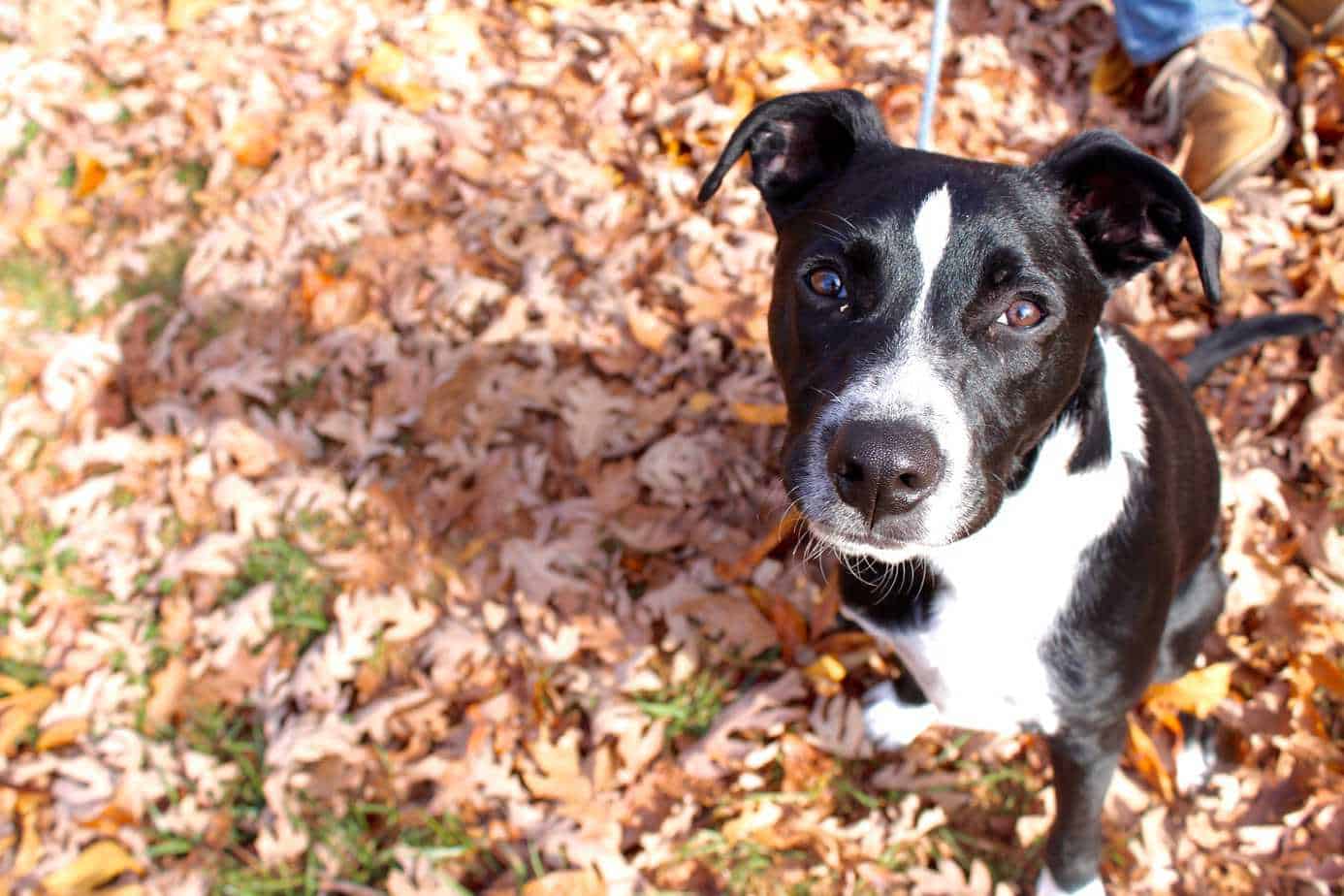 All twelve of Asheville Swiss Chalet's cabins in Asheville, NC and Weaverville, NC are dog friendly; and the Upper and Lower Georgia Peach studios are also cat friendly!
Asheville Swiss Chalets cabins can accomodate a family of almost any size offering one, two and three bedroom cabins, sleeping 2-6 people, and upon check in, the entire family gets a treat: fresh baked cookies and a gift certificate from Julie's Well-Bred Bakery and Cafe for the humans and dog treats for your furry family member.
Cabins also have full kitchens and provide linens, but if your pup sleeps in bed with you (like Bodie does with us!) Asheville Swiss Chalets asks that you bring your own bedding.
Cost: Rates start at $165 a night. Reserve your cabin at Asheville Swiss Chalets.
OTHER POSTS YOU'RE SURE TO LOVE ABOUT ASHEVILLE, NC ON OFF THE EATEN PATH:
Our Honeymoon in Asheville, Part 1
Our Honeymoon in Asheville, Part 2
Our Honeymoon in Asheville, Part 3
Western North Carolina Farm Tour
Five Foodie Day Trips from Charlotte