First things, first. I finally bit the bullet and created my very own Facebook page. Head on over here and like me! (I know, I know, you already like me so let's just make it cyber official).
While I'm still in summer mode (temps in the 80s this weekend? yes, please) signs of fall are just around the corner. While the sunny weather wants us to think otherwise, all things fall are popping up all over. Pumpkin beer, college football (Bucky is 2-0 and has had two shutouts, woohoo!), and the return of my beloved Packers mean it is definitely September. So what did I do to ring in the first full weekend of September? I stuffed my face at Charlotte's annual Yiasou Greek Festival (which according to my friends who are locals, is a must do to kick off fall!).
The Yiasou Greek Festival has been a must do in Charlotte since 1978. Held annually at the Holy Trinity Greek Orthodox Cathedral on East Boulevard, the festival features entertainment, art, cultural exhibits, cathedral tours, shopping, and most importantly, food! My Charlotte friends have been talking about the festival, and the infamous baklava sundaes, for months and months (probably since I moved to Charlotte last October, barely missing the festival by 3 weeks), so I couldn't wait one minute more to indulge in all things Greek.
I think one of the best ways to experience other cultures is definitely through their cuisine. People put their heart, soul and pride into their food, and food really highlights a person's roots and background. While books, lectures, tours and conversations provide us insight into different cultures, food has an unspeakable way of bringing people together (not to mention it's delicious!).
A group of us headed over Thursday evening with one main focus–gorge ourselves on all the Greek food possible (with a side of Greek music and dancing, men dressed straight out of the movie Gladiator, and an enjoyable evening in the shadows of the beautiful Greek Orthodox Church). We arrived around 6:30 with empty bellies (I made sure to eat a salad for lunch). There is a $3 festival entrance fee, which is affordable and goes directly to the Greek community and the church (I think the the $3 entrance fee is worth it, but we were some lucky ducks, and got some complimentary admission tickets through work). After soaking in the sights, sounds and smells, we beelined around back to get our meal.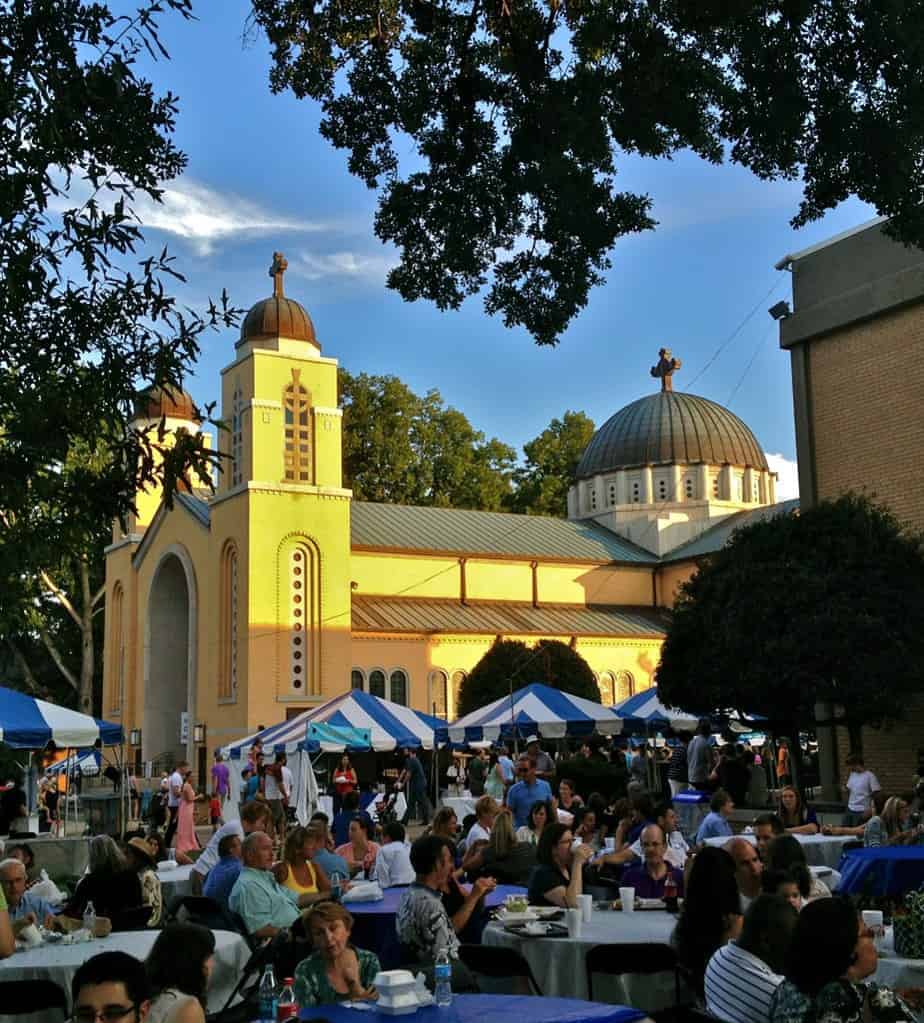 The Yiasou Festival offers all kinds of authentic Greek food–roasted lamb, baked chicken, gyros, chicken pitas, Greek salad, Grecian pizza, dolmades (grape leaves wrapped around ground beef and rice), moussaka (eggplant layered with ground beef and topped with a cream sauce, spanakopita (spinach and feta cheese pie), tiropita (feta cheese pie), baklava, and other delicious desserts. One of my friends went for a platter of all things Greek (with moussaka, lamb, dolmades, spanakopita and baklava) but I had my heart (and eyes) set on a lamb and beef gyro. For $6, I got a pita, stuffed to the brim and overflowing with hot, spiced lamb and beef gyro meat, smothered in tzatziki and topped with bright, red tomatoes, and cool, crisp onions. My friend Emily and I decided to get some more carbs on the side (because nothing is wrong with carbs, on carbs, on carbs) and we snagged a spanakopita and tiropita for $2 each, as well as some thick cut french fries with a vivacious green herb seasoning. We took our plates to a table out front (perfectly positioned in front of the stage with some high schoolers doing authentic Greek dancing) and dug in.
Our crowd went silent as we savored each (heaping) bite of our meals. I am going to have dreams about this gyro–each mouthful I inhaled was full of savory, well spiced gyro meat; soft, pillowy pita; creamy, tangy tzatziki; crunchy onions; and juicy tomatoes. I didn't talk; partly because I couldn't (my heaping bites had me chewing quite a bit) but also so I could just enjoy.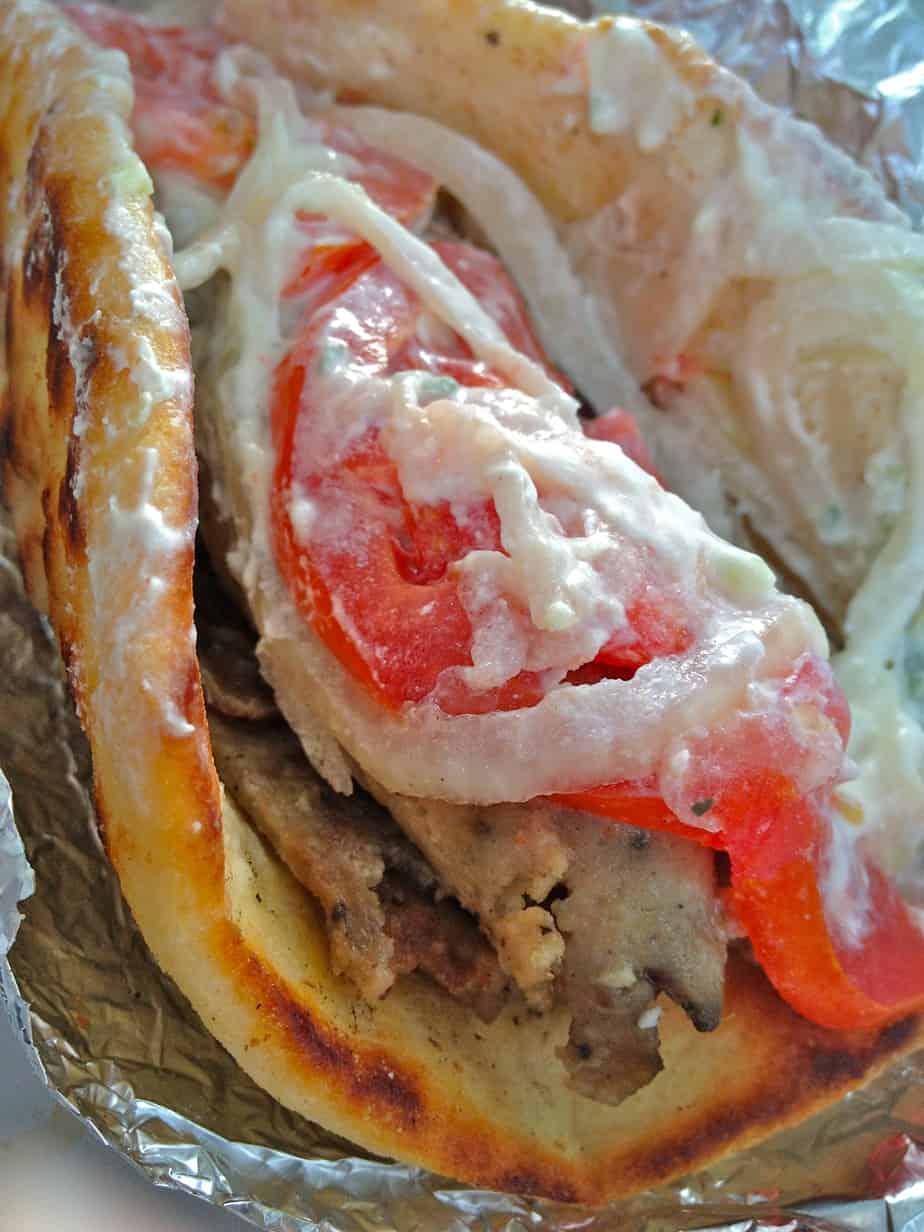 In between mouthfuls of gyro, I had some steaming french fries, and tasty nibbles of spanakopita and tiropita. Both the spanakopita and tiropita had flakey, phyllo crusts, and their fillings were creamy and tasty.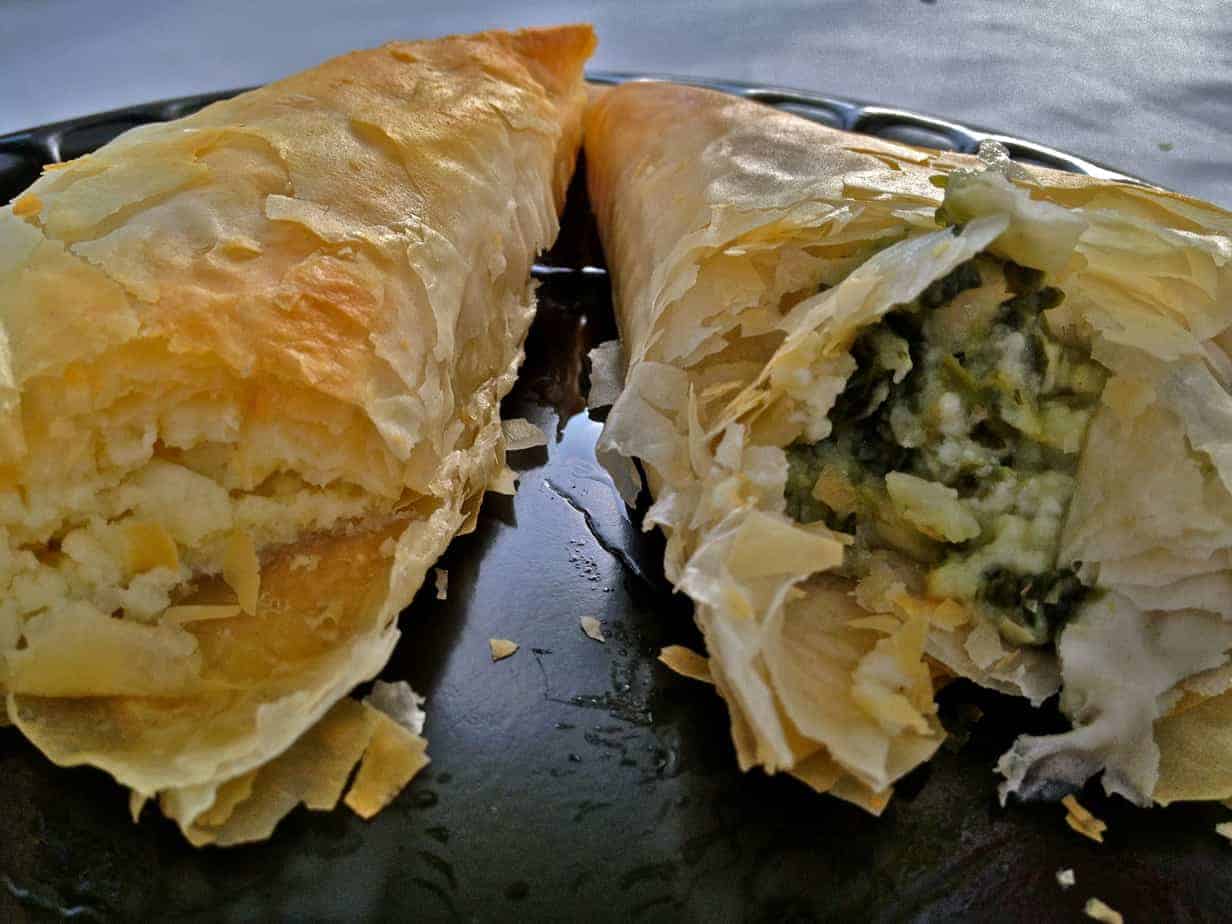 Once we finished with our dinners, we chatted and watched the dancing until it was time for round two–the baklava sundae. The baklava sundae's reputation precedes itself; it was really all anyone could talk about for weeks leading up to the festival whenever the words "Greek Festival" were uttered. And the baklava sundae was the perfect way to end my meal. Emily and split one (for five dollars, you get an overwhelming amount of baklava and ice cream, which is more than enough for two). The baklava was amazing; it was sticky, and sweet with a loving amount of nuts and honey. And there is no cutting corners at the Greek festival–the ice cream was high quality, and was the perfect, cold, creamy vehicle for our baklava.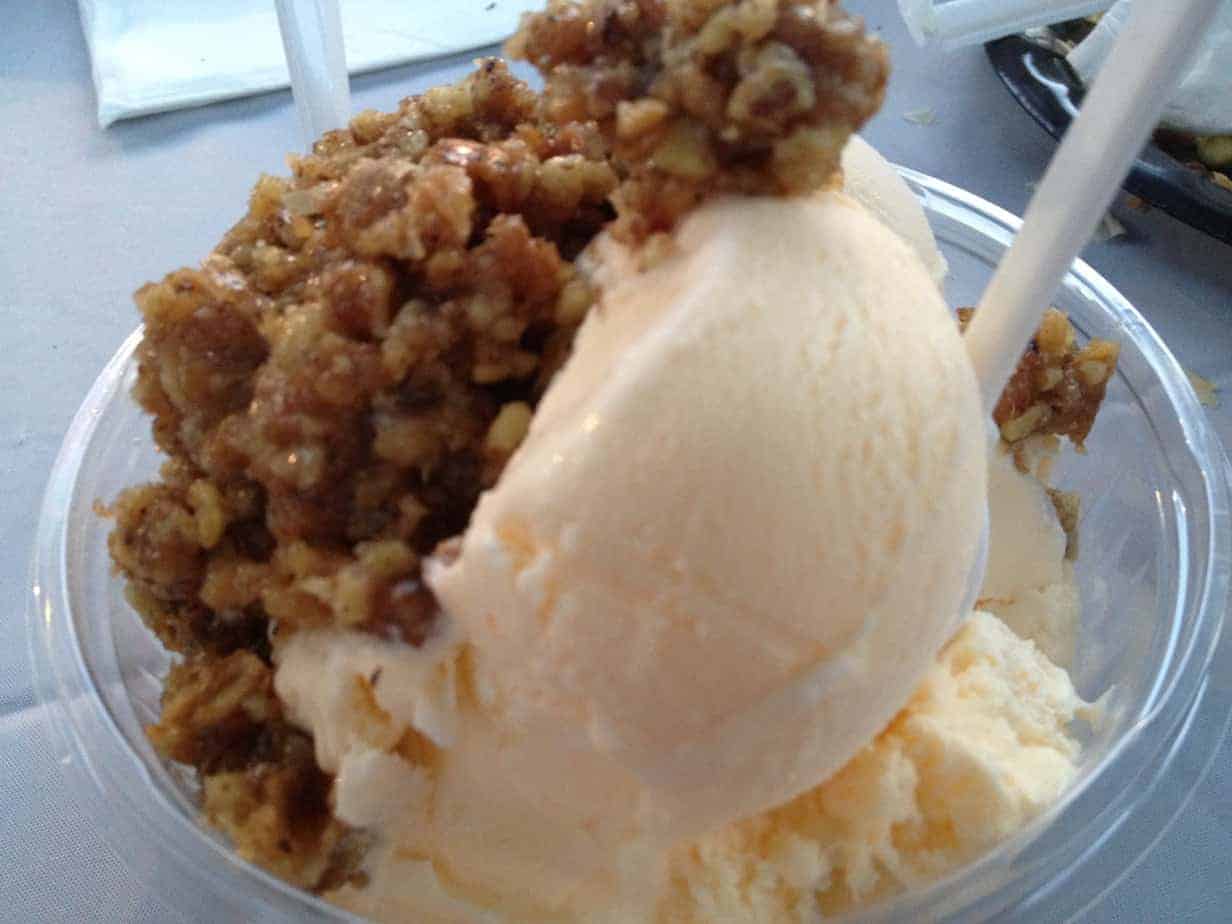 Lucky for you (and me!) the Greek Festival runs until 8pm today, so if you haven't stopped by yet, hurry your booty over there. I know I am going to do one more pass through to stock up on my Greek food fix for the time being (maybe will opt for the yummy looking Greek salad with piles of feta) and definitely another baklava sundae. It's truly a fun and delicious time, and I'm looking forward to an annual fun, fall tradition!
map & more
score: 8.5
spending: $
neighborhood: dilworth
cuisine: greek, festivals
official website
[googlemaps https://maps.google.com/maps?f=q&source=s_q&hl=en&geocode=&q=Holy+Trinity+Greek+Orthodox+Cathedral,+East+Boulevard,+Charlotte,+NC&aq=0&oq=holy+trinity+g&sll=35.203153,-80.839829&sspn=0.637372,1.100006&ie=UTF8&hq=&hnear=&t=m&ll=35.20746,-80.853109&spn=0.004383,0.005343&z=16&output=embed&w=250&h=250]