Firehouse Subs is a sub shop founded by firemen with a focus on hearty, flavorful food, heartfelt service and public safety.
After being treated to a Firehouse Subs menu tasting with owner Robin Sorenson at one of their locations in Uptown Charlotte, here's a breakdown of the Firehouse Subs menu, what to order, what to drink, the best sandwich at Firehouse subs, and what does fully involved really mean?
We dined at Firehouse Subs at no cost to us, and as always all opinions are my own. The giveaway mentioned in this post is now is closed.
Last night, my friend (and roomie), Kate, and I attended a "Friends of Firehouse" dinner with other local food bloggers at the Firehouse Subs in the Epicentre.
Not only did we get to try four different subs off of their menu, eat almost our body weight in meat and cheese (well me, meat and cheese, for Kate, a vegetarian, cheese and more cheese, with some veggies), and go home with some goodies; but, we got to scarf, scarf, scarf while listening to stories and hilarity as told by one of the founders of Firehouse Subs, Robin Sorenson (his brother Chris, apparently does not fly nor enjoys driving).
It was a fun and delicious way to learn about the history, concept, mission and food of a place I pass so often and never thought about trying (what the heck was wrong with me?!).
FIREHOUSE SUBS: HISTORY AND CONCEPT
We sat down at tables around Mr. Sorenson (Robin? I'm not sure what to call him) and about halfway through the meal it dawned on me that the table tops were dalmatian spots. How adorable and creative!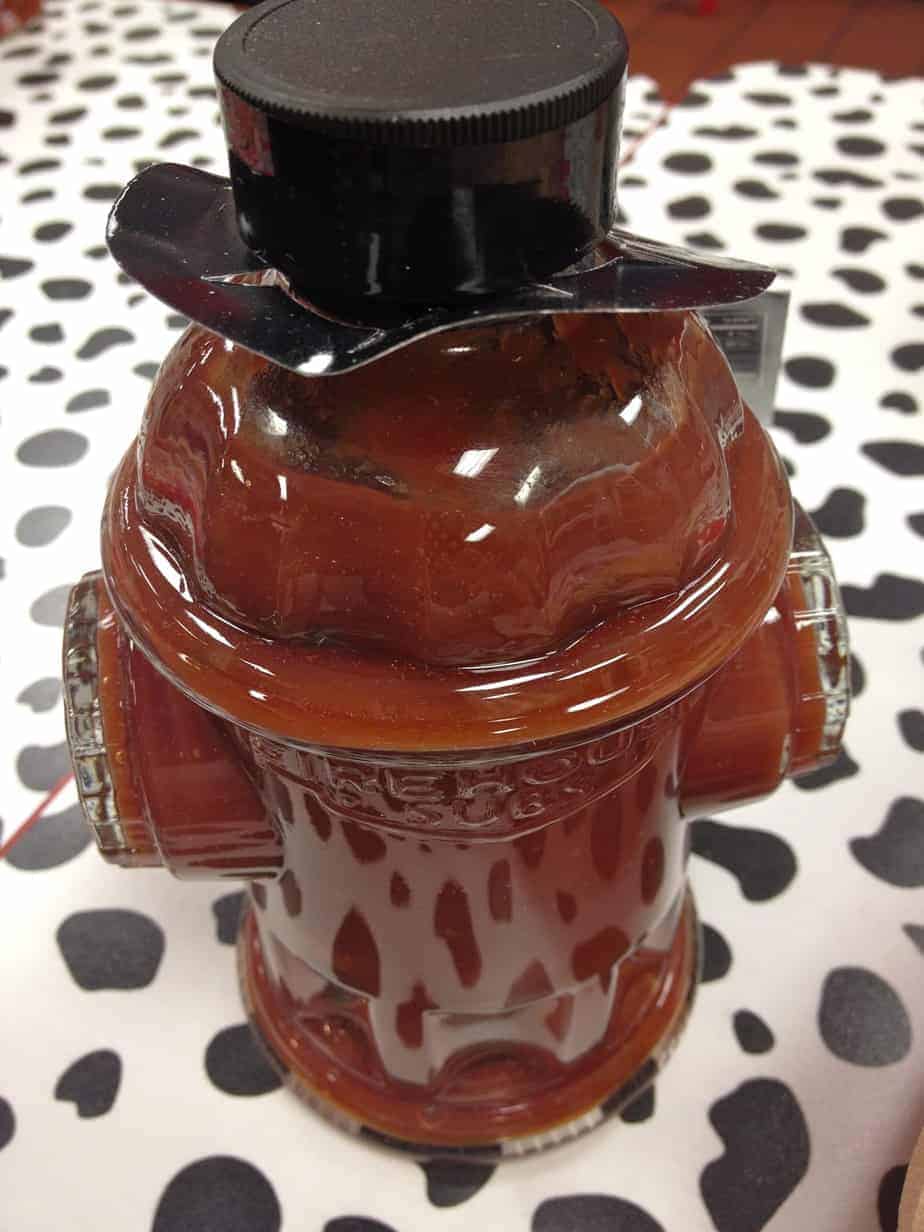 Firehouse really brings their theme home; you definitely know it's a place founded by firefighters.
The Sorenson's dad was a fireman, and the brothers loved cooking at home with their mom as well.
Robin described the concept of Firehouse as blending those two aspects of his childhood together; he spent a lot of time at the firehouse with his dad and loved the camaraderie, and loved thinking and talking about what they were going to eat all day.
Both Robin and Chris were firefighters before deciding to delve into sandwich making.
From the dalmatian tables, to the fire axes and hoses on the wall, to firetruck mural with a panther on it (each location gets a unique mural) to the sandwich names the theme of firefighting really carries through.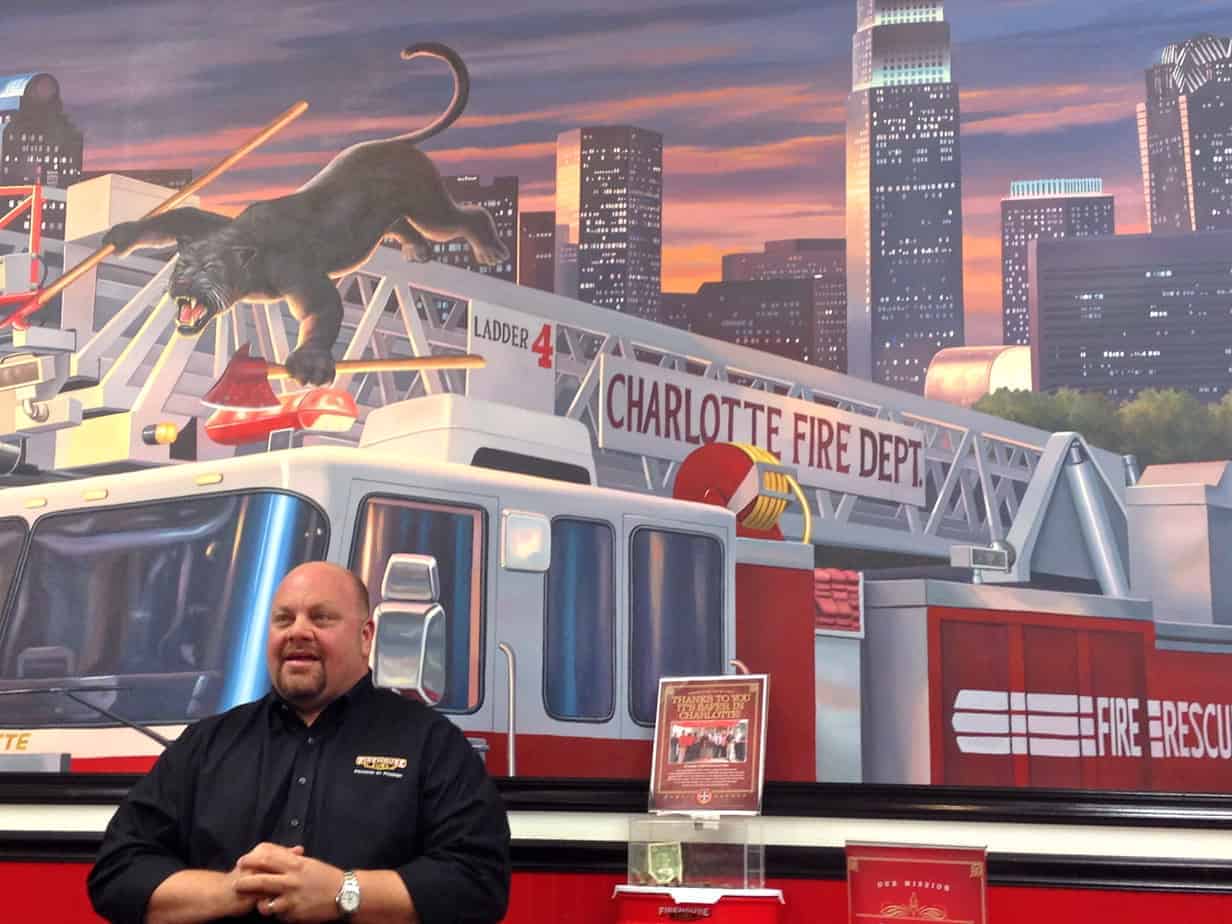 FIREHOUSE SUBS MENU: DRINKS
Our evening started with a beverage–in a really big cup coming from a magical machine with over 120+ of soda and other drink combinations.
The magic is in the Coca-Cola Freestyle fountain; which has been popping up at fast casual chains all across the country (my first experience with a freestyle fountain was on Christmas last year at the movies with my mom and sister).
Anyways, there are endless options of combinations and flavors to choose from–nine different types of Coke, seven different types of Sprite (peach Sprite anyone?) and flavors upon flavors of other drinks I couldn't even imagine.
The freestyle machine overwhelms me to say the least; how do I choose? (The seven year old in me wants to just pick 50 different flavors and put them all in the same cup like my sister and I used to mix and match slurpees at 7-eleven).
Instead, I opted to go simple, and try the cherry limeade made exclusively for Firehouse Subs locations (and squeeze a few fresh limes in for good measure).
It was really good; a little sweet and heavy on the cherry side, but the fresh limes brought the tang and balanced it out. Plus, who doesn't love bright red drinks and sucking down sugar through a straw?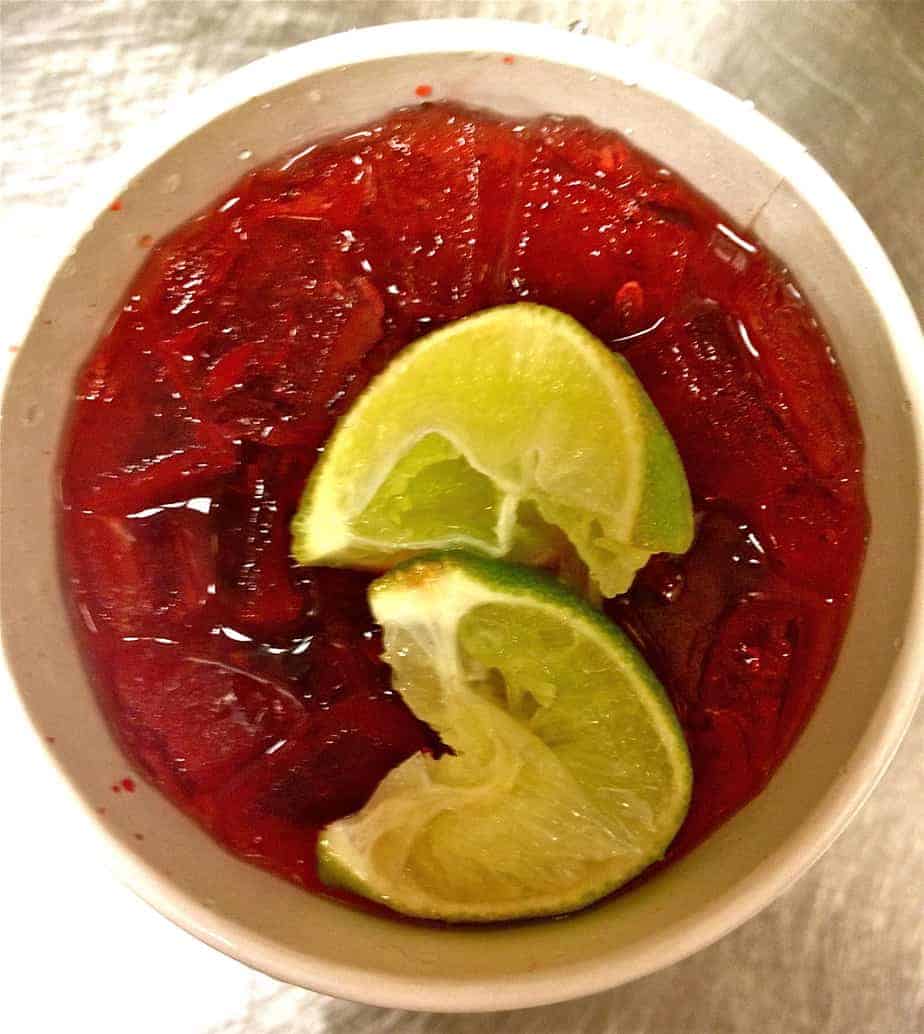 FIREHOUSE SUBS MENU: THE SANDWICHES
Robin (I've decided to go informal here) started talking and the subs started coming. We got to try four different subs from the Firehouse Subs menu.
The first Firehouse Subs menu item we tried was the Hook and Ladder, smoked turkey breast and Virginia honey ham with Monterey Jack and served fully involved (fully involved is a fireman's term and explains the other ingredients that come on Firehouse Subs' sandwiches besides meat and cheese).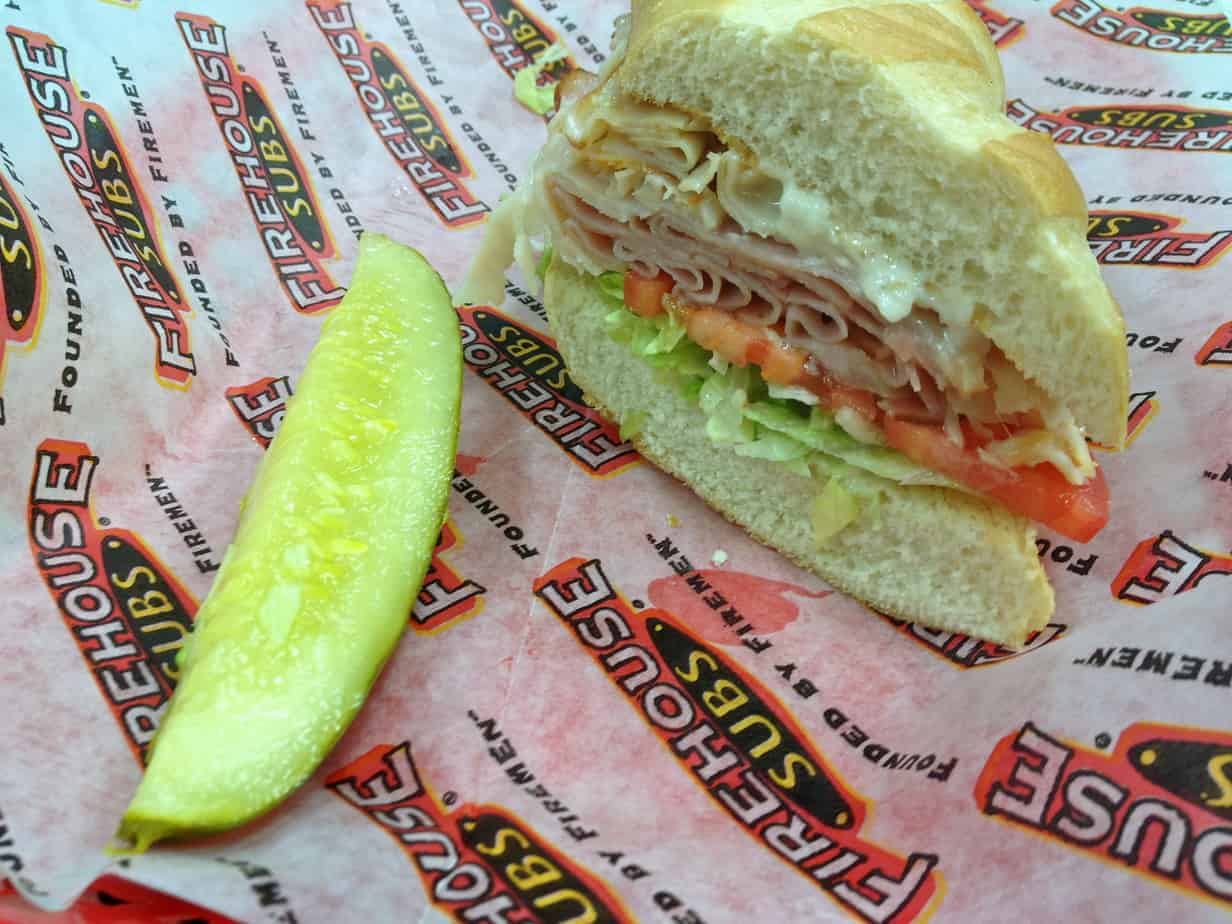 The second Firehouse Subs menu item we tried was the New York Steamer, and I think this was my favorite of the night.
The New York Steamer was named after a firetruck and inspired by New York delis, and you can definitely taste the inspiration in every bite of corned beef brisket, pastrami, melted provolone, mayo, mustard and Italian Dressing (while it's a little taboo to put mayo on pastrami, it worked).
The meat was spiced and tender; it was full of flavor and basically melted in my mouth.
The cheese was on point again (yum, gooey) and provolone has to be one of the most underrated cheeses because it has flavor but is not overwhelming.
While we ate the New York Steamer, Robin talked to us about the quality of Firehouse's ingredients in a meat show and tell–USDA choice, whole muscle meats (which is the way the meat comes off a steer, rather than crushed up in a tube).
He stressed Firehouse's mission of high quality and big portions; and two sandwiches in, I thought Firehouse was staying true to it's mission, I ate the whole thing.
Firehouse's mission not only focuses on ingredients and portions, but also heartfelt service.
While we were at dinner, the sub shop was still open and customers were coming in and out–always being greeted with cheerful greetings and smiles.
Robin said that he and Chris, in the early stages of branding, thought about how they were raised and how it related to customer service and that's what they wanted to bring to the restaurant environment.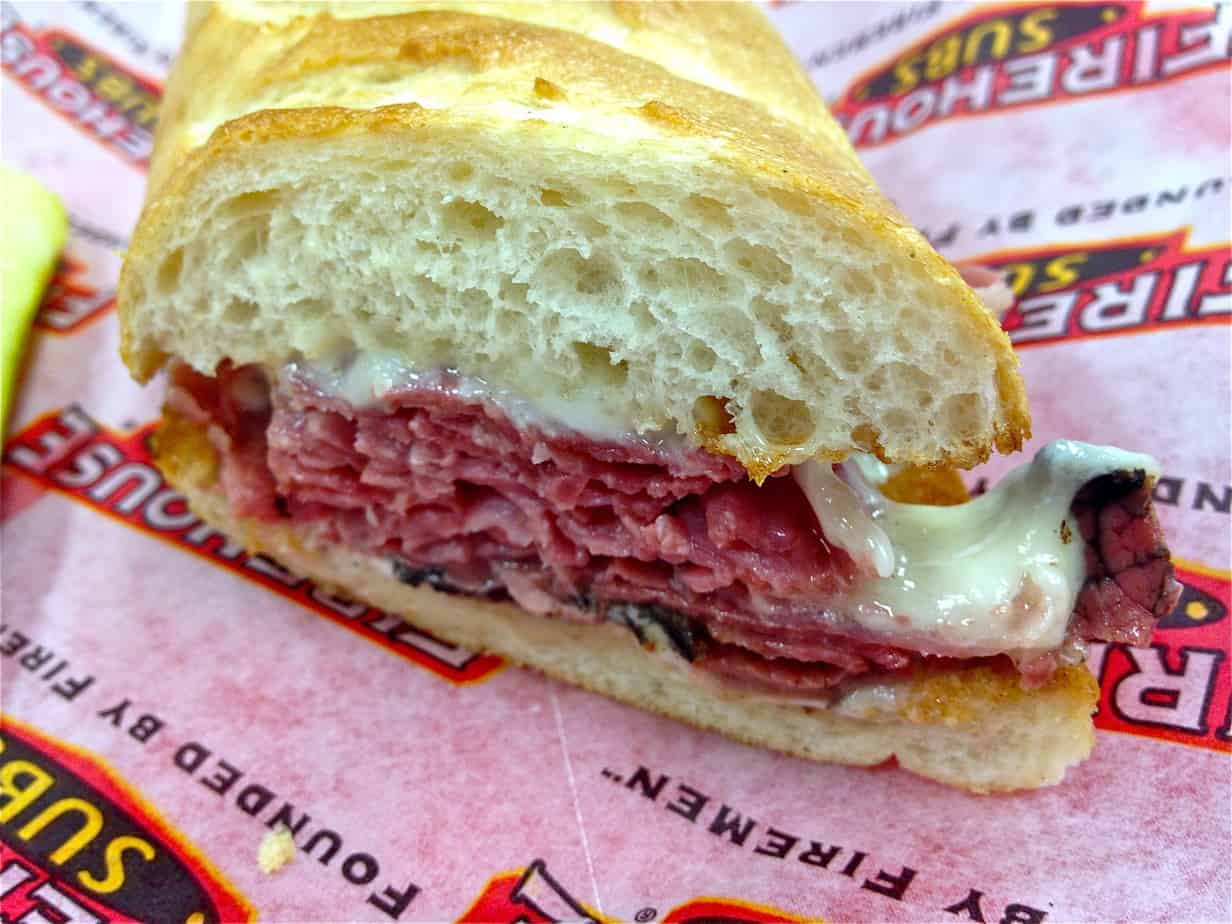 The third Firehouse Subs menu item we tried was the Smokehouse Beef and Cheddar Brisket.
Robin said he dreams about this sandwich, "I eat one for lunch, and then I'm thinking about it the rest of the day and probably eat another one."
The brisket comes from Texas, where it is smoked for over 10 hours over hickory logs. The brisket is then steamed with cheddar cheese and topped with barbecue sauce.
This sandwich was good; I could taste the smoky barbecue flavor, but the barbecue sauce was a little sweet for me, and my sub roll got a bit soggy.
I doctored my sandwich up with Captain Sorenson's Datil Pepper Hot Sauce (a spicy sauce, with surprises of sweet, inspired by their father) and it added a little kick which was nice.
At this point I was pretty full, but had room for our last sandwich from the Firehouse Subs menu, the Italian (as a disclaimer, an Italian sub is my go-to when I order sandwiches or subs).
Firehouse's version of this classic is piled up with Genoa salami, pepperoni, ham, provolone cheese and Italian dressing sprinkled with Italian Seasonings and served Fully Involved.
I thought the Italian was tasty, but I'm not a big fan of mayo on an Italian sub so it overwhelmed me a bit.
But I can definitely get on board with a hot Italian sub, so I would 86 the mayo on my next order.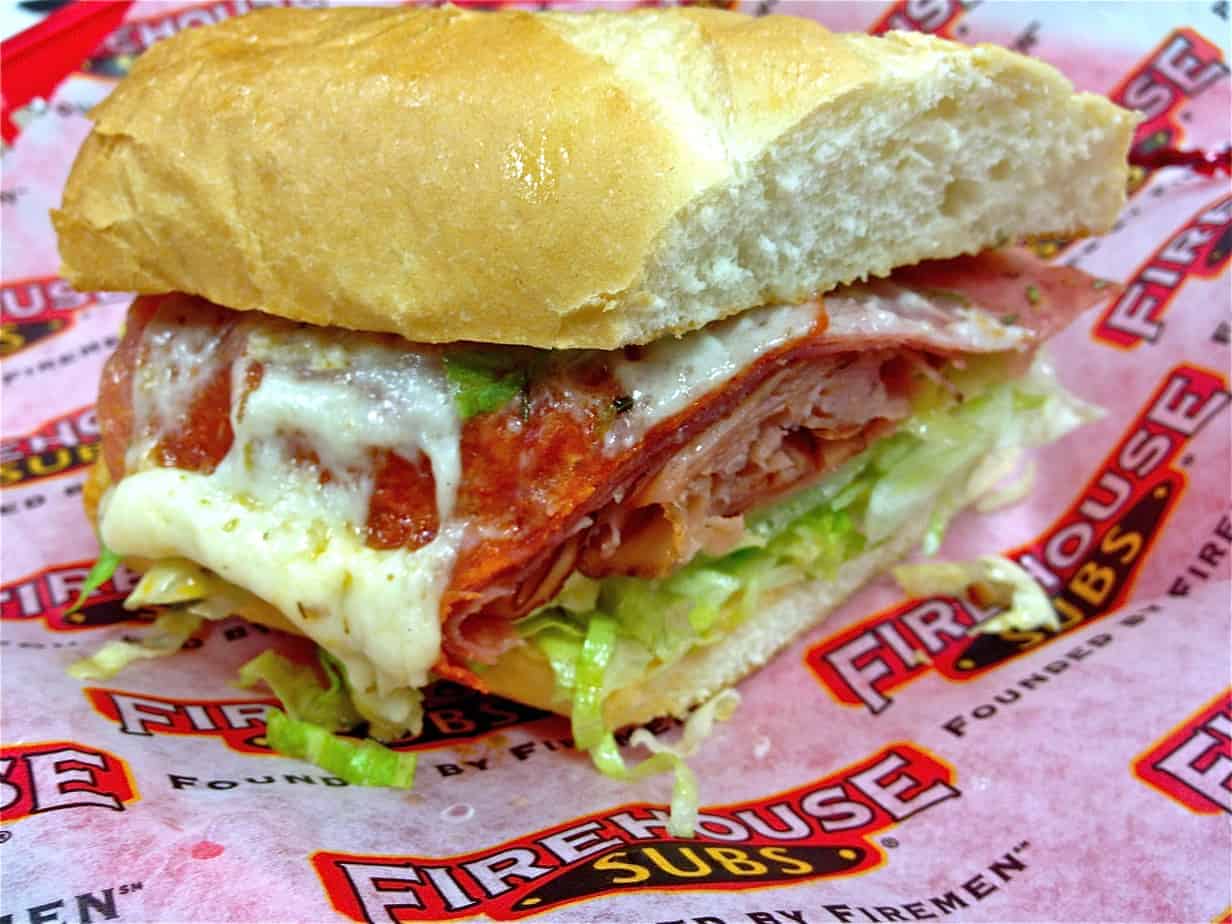 Kate is a vegetarian, so Firehouse was kind enough to give her a veggie sub while I was busy eating my weight in meat.
Her sub looked delicious and she said it was really good and chock full of flavorful veggies topped with melty cheese–jalapenos, lettuce, tomato, onions, peppers and more.
She ate the whole thing and thoroughly enjoyed it, but as she mentioned when we were heading home, "this is the first night in a while I wish I still ate meat."
True that, sister.
If we weren't full enough, they came around with s'more brownies and lemon cooler cookies for dessert. Kate and I took ours to go to enjoy at home. They paired nicely with red wine and the newest episode of The Voice.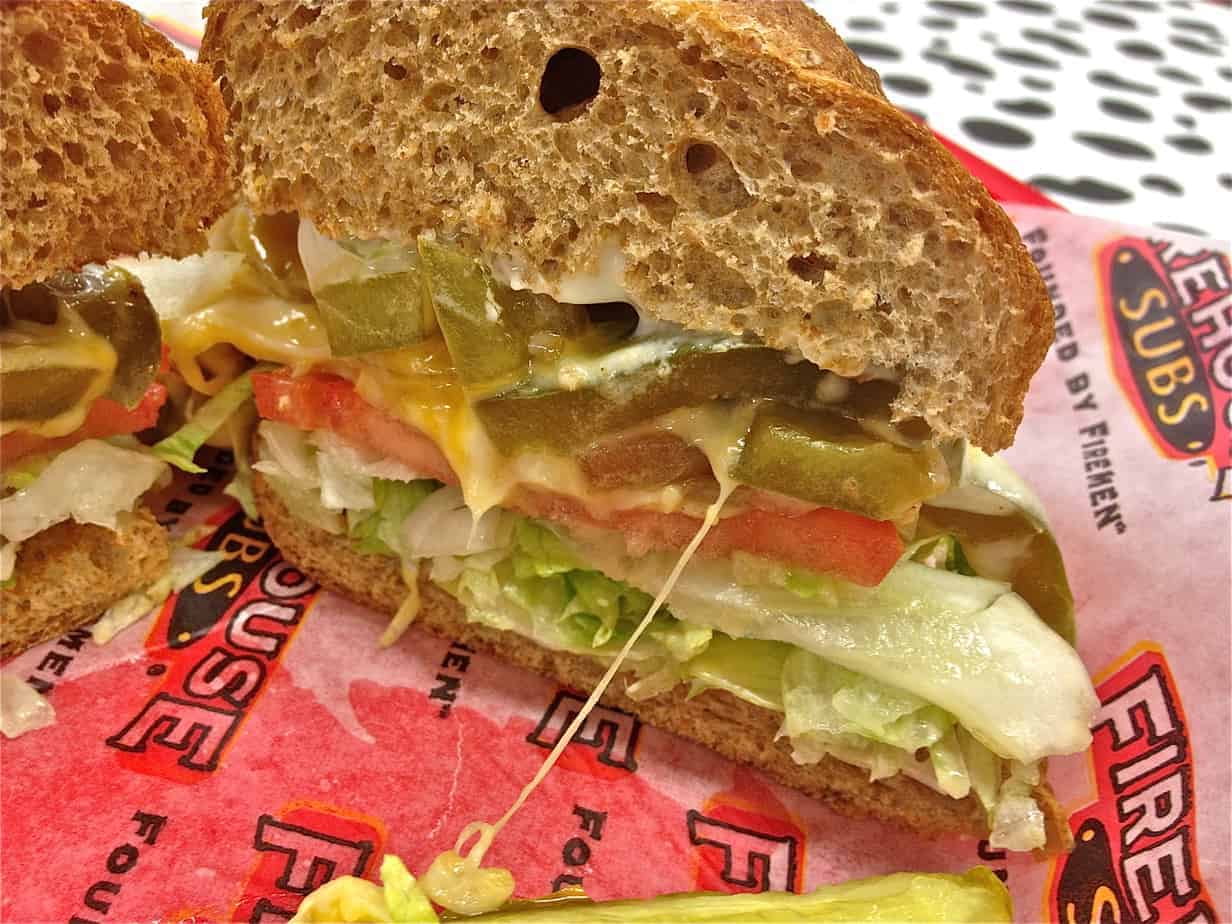 WHAT "FULLY INVOLVED" MEAN AT FIREHOUSE SUBS?
"Fully involved" is a fireman's term meaning the fire has increased in size, which means the fire, heat and smoke in a structure are so widespread that internal access must wait until fire streams can be applied.
Sounds pretty intense when it comes to firefighting doesn't it?
Sticking with the fireman theme, Firehouse Subs also has fully involved, but luckily it's not as dangerous as what fully involved means in the real world.
At Firehouse Subs, fully involved describes what comes on your sandwich besides the meat and cheese. A fully involved sandwich at Firehouse Subs comes with mayo, mustard, lettuce, tomato, onion and a dill pickle spear on the side.
Speaking of dill pickle spears, all of the sandwiches at Firehouse subs are served with a kosher garlic dill pickle spear.
According to Robin, Firehouse's pickles have attitude, because they come from a pickle guy in the Bronx.
The pickle was amazing; it was cool, crisp, and had a crunch every time I bit into it (plus was delightfully vinegar-y and garlic-y as promised).
I could have eaten pickles all night; luckily I got four.
FIREHOUSE SUBS MENU: STEAMED SUBS
Did you know the hot subs at Firehouse Subs are steamed?
Robin explained the steaming process to us–when he and Chris first developed their sub shop concept, they knew they wanted to serve hot subs, but didn't have enough money for a flat top or a hood.
The only sub shop in Jacksonville at the time serving hot subs were microwaving them, and the Sorensons wanted something more than that.
They saw the steaming concept somewhere else, using vegetables, and so they started experimenting, which developed into the process all of their locations now use.
The meat and cheese is placed into a steamer, the bun into a toaster oven, and then the separate components are assembled together (rather than steaming the vegetables as well).
I liked this approach because I like my veggies crisp, not soggy.
WHAT IS FIREHOUSE SUBS BEST SELLER?
Robin told us that the Hook and Ladder is their number one seller, and I could tell why.
My sub was piled high with fresh meat: the Hook and Ladder features smoked turkey breast, Virginia honey ham and melted Monterey Jack cheese.
While basic and straightforward, the turkey and the ham really complimented each other (the sweetness of the ham was nice) and the cheese was warm and gooey.
The veggies were fresh and crisp, and not weighed down by the warm meat and melted cheese, and the roll was crisp and toasty.
FIREHOUSE SUBS MISSION
Firehouse isn't your typical sub chain; the Sorensons don't just focus on making good food; they also emphasize giving back to the community (a concept I can totally get behind) through the Firehouse Subs Public Safety Foundation.
Firehouse Subs Public Safety Foundation was launched in 2005 to provide vital funding, resources and support to local emergency services entities that they may not otherwise receive.
GIVEAWAY CLOSED!!!
Kate and I didn't only leave with dessert, but we left with some love to share with all of you! I have $50 worth of gift cards to give away to you fabulous folks, and who doesn't love free food?!?
To enter, leave a comment on this post (with your email address) of your favorite Firehouse sub. For BONUS ENTRIES, you can like Off the Eaten Path on Facebook and follow Off the Eaten Path on Twitter and leave two additional comments here that you did that (or if you already like and follow, leave a comment that you already do).
For a BONUS BONUS ENTRY (that makes four entries), tell me where I should eat next in Charlotte.
I will draw winners this weekend and you will get some free money for free food!
While Firehouse is a chain (there are 20 locations in the Charlotte area, the most popular being the one at Concord Mills), Robin talked about how heavily involved he and his brother are in each aspect of the business–from interviewing every franchisee candidate themselves (thats a lot of folks for 687 locations), to ingredient selection and participating in tasting and testing in their test kitchen.
I tend to stay away from reviewing chains on the blog, however, as a Firehouse first timer I couldn't help but share my experience with all of you (or at least my mom, who I know is at least my one dedicated reader).
I had a wonderful evening learning about the history and of Firehouse Subs, tasting their yummy menu items, and chatting with the founder.
I left kicking myself for never trying Firehouse before (I guess I am a creature of habit, and Jimmy John's is just so damn convenient), but next time I have a sub craving I'll be headed to Firehouse.
So what's your favorite Firehouse sub? Have you liked Off the Eaten Path on Facebook? Have you followed Off the Eaten Path on Twitter? Where should I eat next in Charlotte? Am I annoying you?
I'm looking forward to hearing from you and giving out some gift cards!