One of my favorite things about being a local Charlotte blogger is supporting local Charlotte businesses.
If you're looking to buy a beer loving friend or loved one a local gift this holiday season, my Charlotte Holiday Gift Guide if full of local gifts and experiences in Charlotte, NC that would make perfect gifts for the beer love in your life.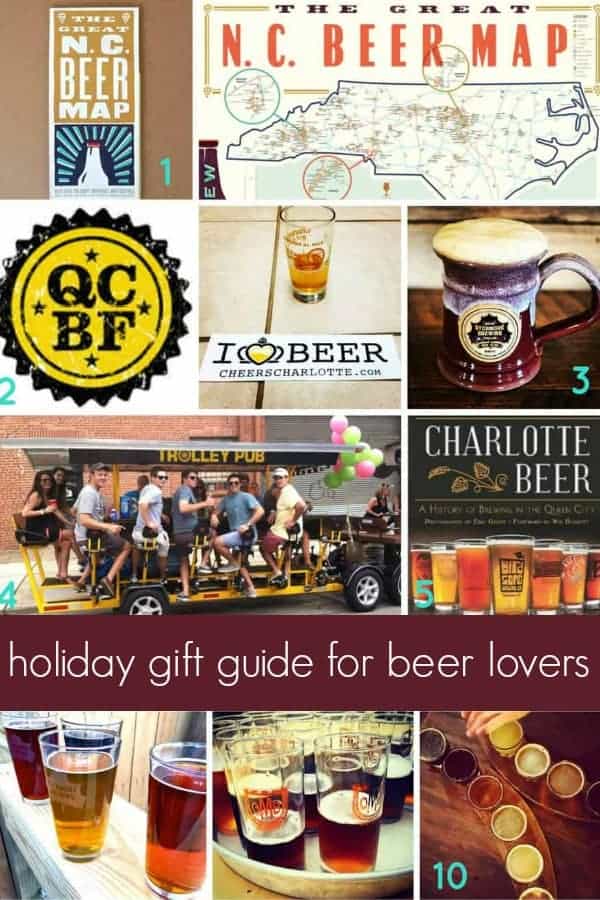 LOOKING FOR OTHER CHARLOTTE HOLIDAY GIFT GUIDES?
Charlotte Holiday Gift Guide: Gifts for Your Foodie
2016 Holiday Gift Guide: Gifts for Foodies
With Thanksgiving only two days away, it's time to start thinking about the important people on your holiday gift list.
Yes. I know. I'm jumping the gun.
The Panthers have yet to face the Cowboys and you haven't even had your tryptophan nap yet.
But before you know it, it will be seasonally appropriate to play Christmas carols on repeat and the holidays will creep up on you faster than Mariah Carey can sing one of those impressive runs in "All I Want for Christmas Is You."
This year, I've created a Charlotte holiday gift guide where I'm sharing some local picks for your loved ones.
Today let's talk beer.
Are you sick of getting your dad socks? Does your boyfriend dabble in home brewing and talk a lot about hops and malt? Does your leading lady love to enjoy a few cold ones at local breweries on the weekends?
Here are my local pics for the beer loving Charlottean on your list.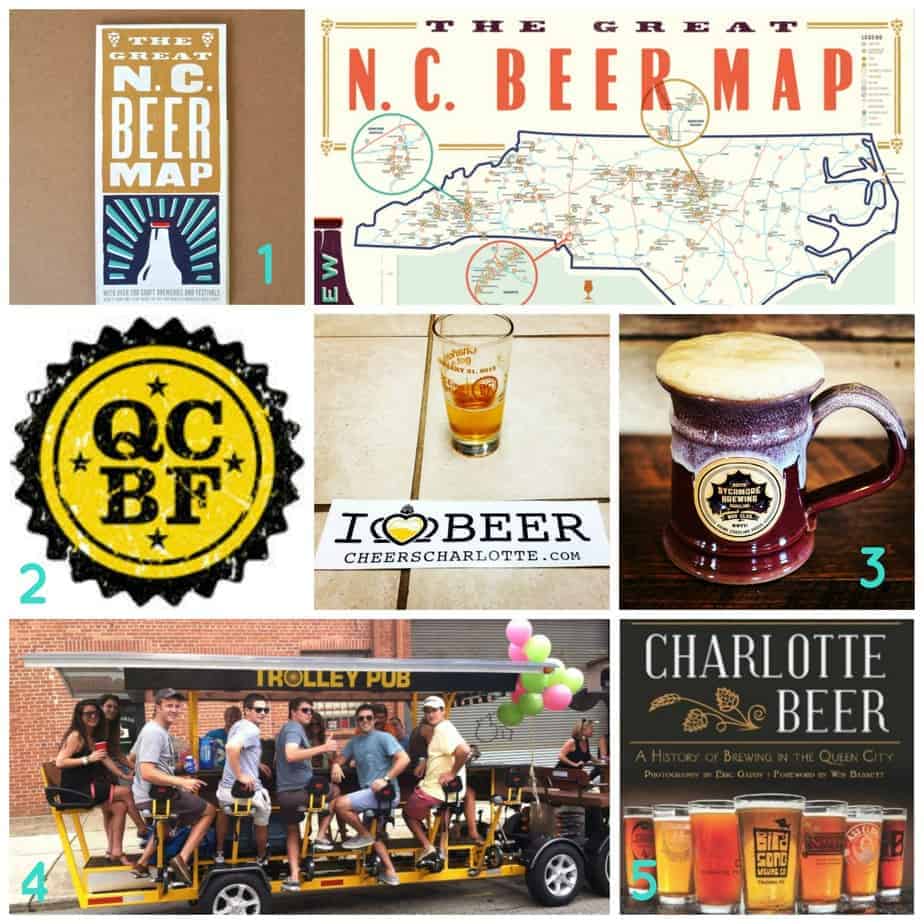 1. The Great NC Beer Map is any beer lover's must have for her next adventure.
The comprehensive map, made by Edia Maps, the map making team based in Charlotte, not only covers over 180 breweries across the state, but details forty-three craft beer festivals, brewery crawls in Asheville, Raleigh and Charlotte, and the art, science and history of craft brewing. $9.99, ediamaps.com
2. Every year, Charlotte beer lovers flock to the Queen City Brewers Festival, an annual tasting event highlighting Charlotte's craft beer scene. Tickets go on sale December 3. $45, qcbrewfest.com
3. As a member of Sycamore Brewing's Mug Club, your beer lover will be able to enjoy Sycamore's brews in his 24 ounce, handmade mug for the cost of a pint every Monday throughout 2016.
Pair the mug with a gift card to cover the first few rounds. $25, sycamore.beer
4. Take your beer lover for a spin to area breweries and bars on Charlotte's Trolley Pub, a pedal powered pub crawl. $375 for private tours, $30 a person for mixer tickets (individual seats), charlotte.trolleypub.com
5. Pour your beer lover a pint to sip on while local beer writer Daniel Hartis takes him down the frothy trail of Charlotte's beer history. $13, amazon.com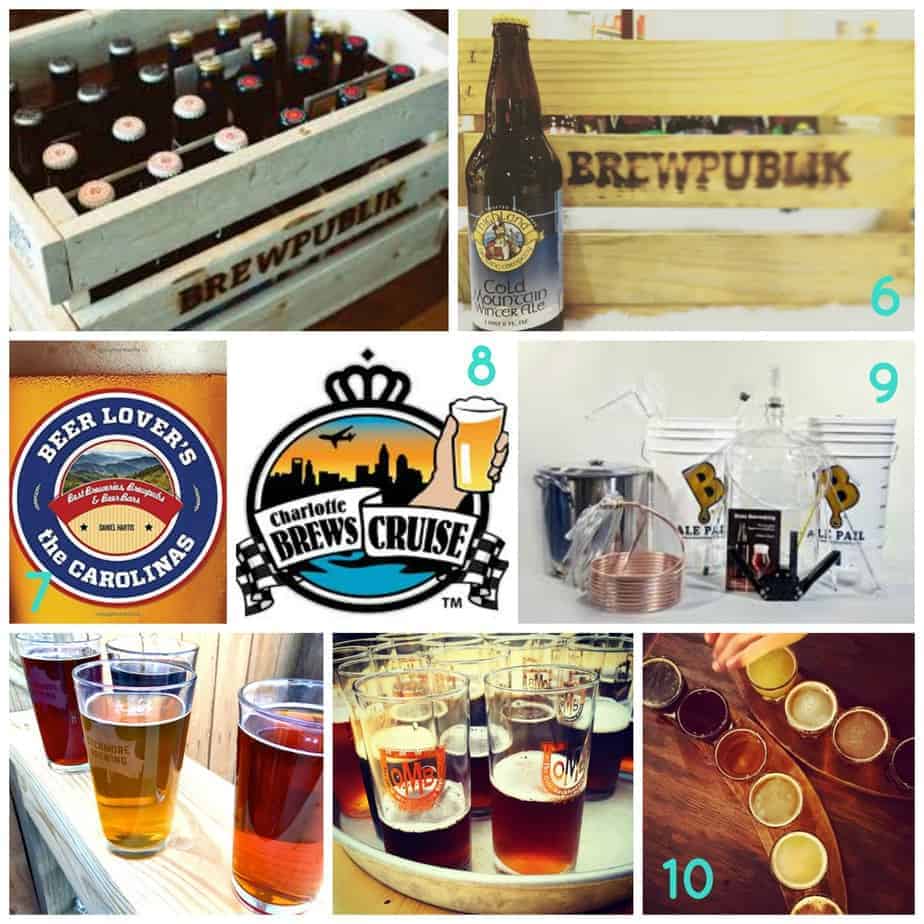 6. Beer in sweatpants is everyone's dream.
Brewpublik will deliver craft beer monthly to your beer lover's door for cheaper than a six pack from Harris Teeter (plus they will curate your beer lover's beer adventure based on his taste preferences and offer over 1200 different craft beers for your beer lover to explore).
Brewpublik currently has a pop up bottle shop in SouthPark Mall, which is the perfect place to purchase a subscription, take a bottle home and linger for a few free samples during Black Friday shopping. $30 for a 12 pack, $60 for a 24 pack, brewpublik.com
(disclaimer: I am working for Brewpublik during the holiday season. No one has paid me to endorse their service, and I would not recommend any gift or service I didn't stand behind. All opinions are my own).
7. Your beer lover can get the 411 on local breweries and beer bars, events and festivals, regional food and beer pairings, events and festivals, and bar crawl maps with their own copy of Beer Lovers' of the Carolinas. $15.29, amazon.com
8. Give your beer lover an intimate, behind-the-scenes experience at three of Charlotte's breweries, complete with tours and tastings. $49, brewscruisecharlotte.com
9. A home brewer starter system and brewing ingredients are perfect for the home brewer who has stolen your heart. $74-164, Alternative Beverage
10. Or just give the gift of beer!
It may require a little DIY on your part: a mixed six pack, a variety of cans, or growler fills for a year.
It's definitely not a coincidence that there are currently 12 breweries in Charlotte, and 12 months in a year. A growler from a different Charlotte brewery once a month sounds like an excellent gift!
11. (not pictured) On one of USNWC's Microbrews Cruises, your beer lover will enjoy flat water kayaking on the Catawba River followed by a fireside dinner and beer tasting.
Each cruise is sponsored by a different craft brewery; brewery representatives lead the tastings which highlight new, seasonal and unique brews. usnwc.org, 2016 dates/prices have not been released yet