Asheville Glamping offers a unique, one of a kind overnight experience in domes, tents, trailers and soon, a treehouse, just outside of Asheville and Weaverville. Looking for things to do or places to eat and drink in Asheville, NC? Check out Off the Eaten Path's Asheville Travel Guide!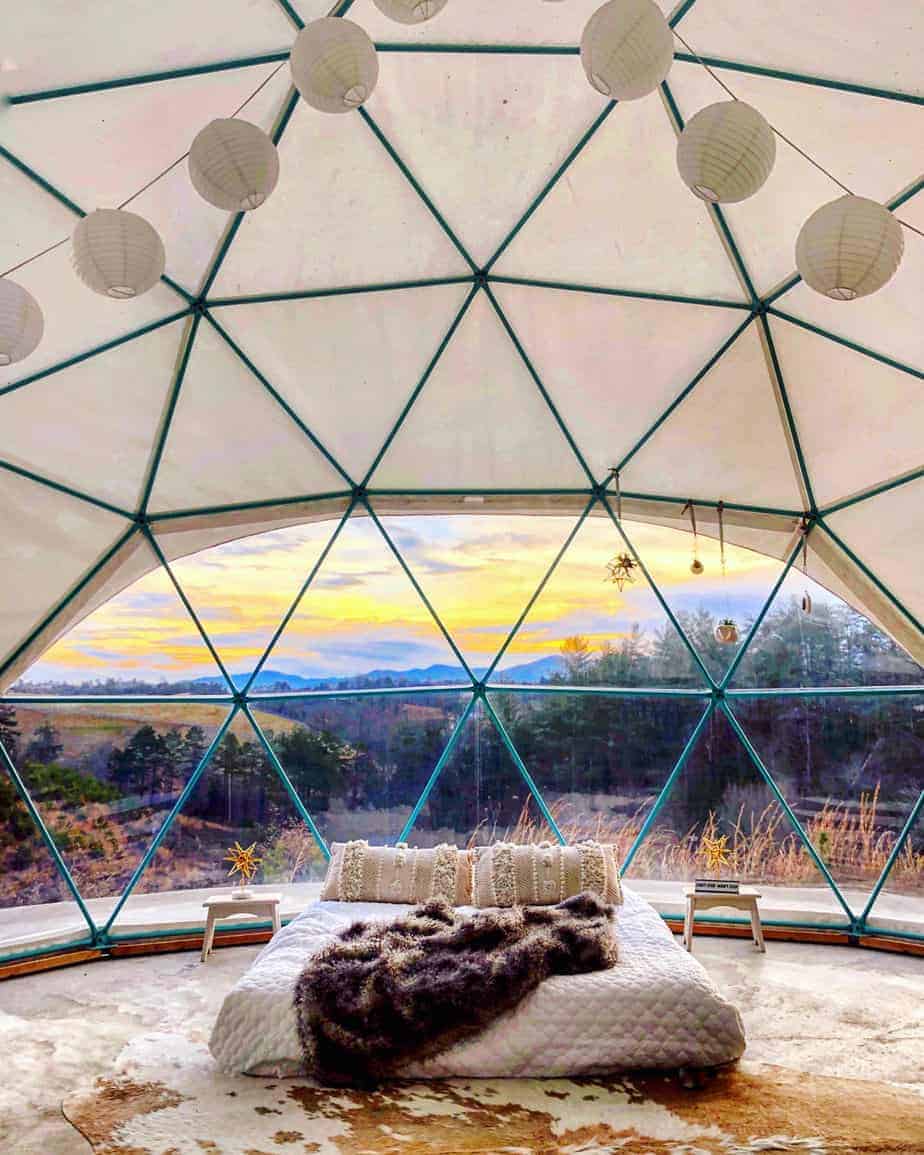 I am not that outdoorsy.
I'm outdoorsy in the fact like I like eating and drinking on patios.
(Speaking of patios, I love eating and drinking on patios and I think these are the best Charlotte patios.)
I mean I like nature.
I love the beach. I love the mountains. I love spending time outside.
I think nature is beautiful.
I'm always down for a good bonfire or campfire situation. Especially if there are s'mores.
I also like looking at nature from inside of a home or other structure.
I love a real bed. And I am a big fan of air conditioning (especially during North Carolina summers.)
A great example of my lack of outdoorsy-ness? In middle school, my girl scout troop was given the choice to go camping or stay overnight at the Marriott.
We picked the Marriott.
So of course, this beach loving, air conditioning favoring woman fell in love with a man who is nature's biggest fan.
AJ is a hunting, fishing, hiking miles and miles with everything on your back and setting up a tent in the middle of nowhere kind of guy.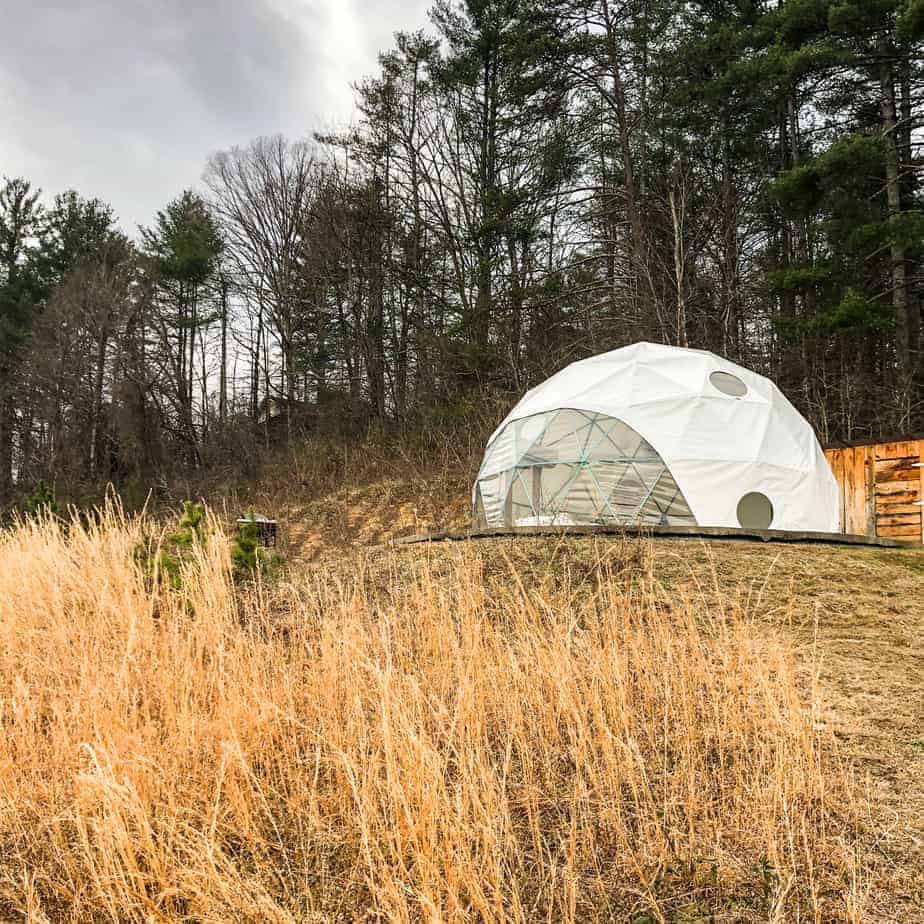 So when it comes to vacations for us, it's all about balance and compromise.
A hotel stay here, a few nights at a campsite there. (Yes, I am the proud owner of a backpacking backpack and a ton of hiking and camping gear now. Yes, I use those things. Yes, I love him very much. I also love that he makes me camping cocktails!)
Last summer, when I was thinking about how we could spend our second wedding anniversary, I found a place that was the perfect compromise.
A place that would give me a bed, my beloved air conditioning, and running water and would give AJ a feeling of remoteness and clear view of the stars.
The man loves stars.
A place that would be a quiet escape for us but still give us easy access to all the great things we love about Asheville, especially the breweries and great restaurants.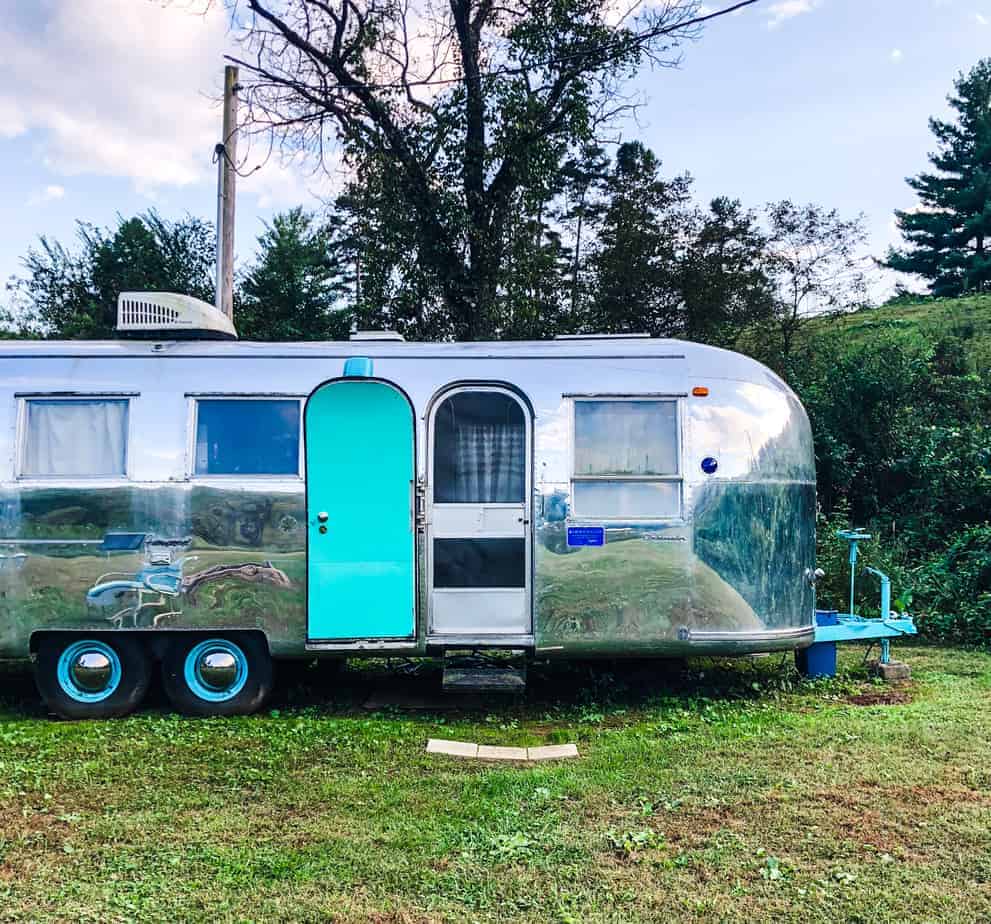 I stumbled across Asheville Glamping sort of by accident, and still currently live full of regret that we didn't know about it sooner.
(Like why wasn't I following Asheville Glamping on Instagram? I have no idea.)
I was reading a blog post from a blogger I've been following for while (likely while I was waiting for one of my cases to be called in court, which is where I do a lot of my blog reading) all about her family's overnight visit to Asheville Glamping.
Her photos immediately motivated me to head over to Asheville Glamping's website (what can I say, I am the type of person that makes it easy for "influencers" to do their jobs) and a few texts to AJ later we had booked a site to celebrate our second anniversary in October.
We celebrated our anniversary with a long weekend in Asheville Glamping's Rosie the Riveter, a vintage airstream trailer, shined and spruced up, complete with a hot tub out back.
We hiked, enjoyed nightly campfires and star gazing, took in the Chihuly exhibit at the Biltmore, explored and at some delicious pizza in downtown Weaverville (we had never been before!) and had a wonderful anniversary dinner at Curate.
The airstream had air conditioning (that we shockingly had to use when it was 80 degrees in the mountains in early October), a small kitchenette, running water (and a shower!) and a very comfortable bed.
See? Balance is campfires and cow neighbors and quiet and relaxation still within 15 minutes of downtown Asheville.
(We love visiting Asheville, check out my Asheville Travel Guide for all the things you can see, do, eat and drink there!)
On our last night in Rosie, we were sitting at the campfire, enjoying a bottle of wine, and looking across Asheville Glamping's property (they call it camp and I love it).
We kept talking about how all of the different sites looked so unique and fun, but the domes were totally a one of a kind experience.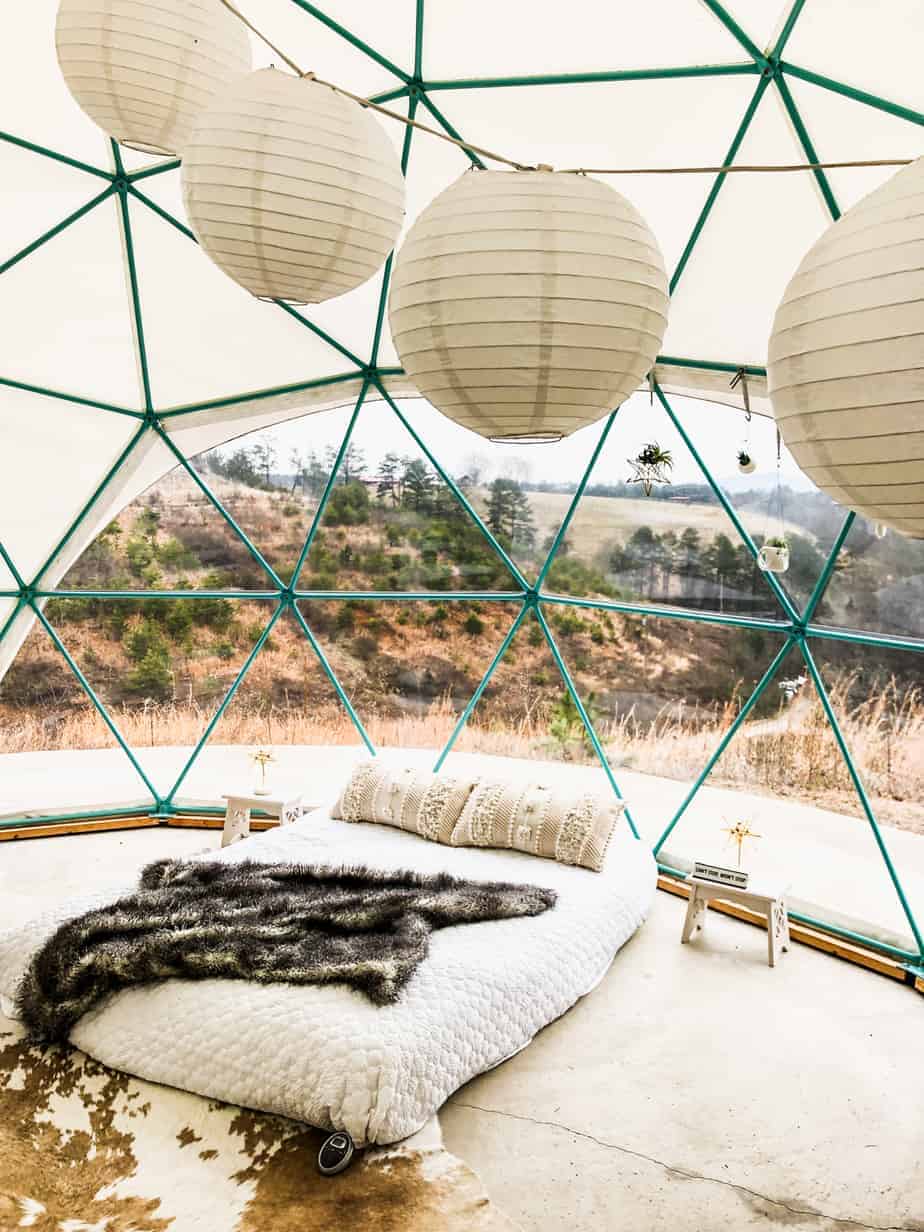 And about two glasses of wine in, just across camp, I pulled out my phone and we booked a weekend in Dome 2 for early February.
Our stay in Dome 2 just a couple weeks ago was basically everything I wanted it to be and more. It was the unique one of a kind experience we were hoping for with incredible mountain views and a really comfy bed.
Two visits in (and yes, we're in the process of planning our third…we're thinking about staying in Asheville Glamping's tree house next!), we are basically glamping experts, so I'm doing a little Q and A to answer the questions we had before our first glamping trip (like a what we wish we'd known situation), and the questions we got after we told our friends, families and followers that we went glamping.
WHAT IS GLAMPING?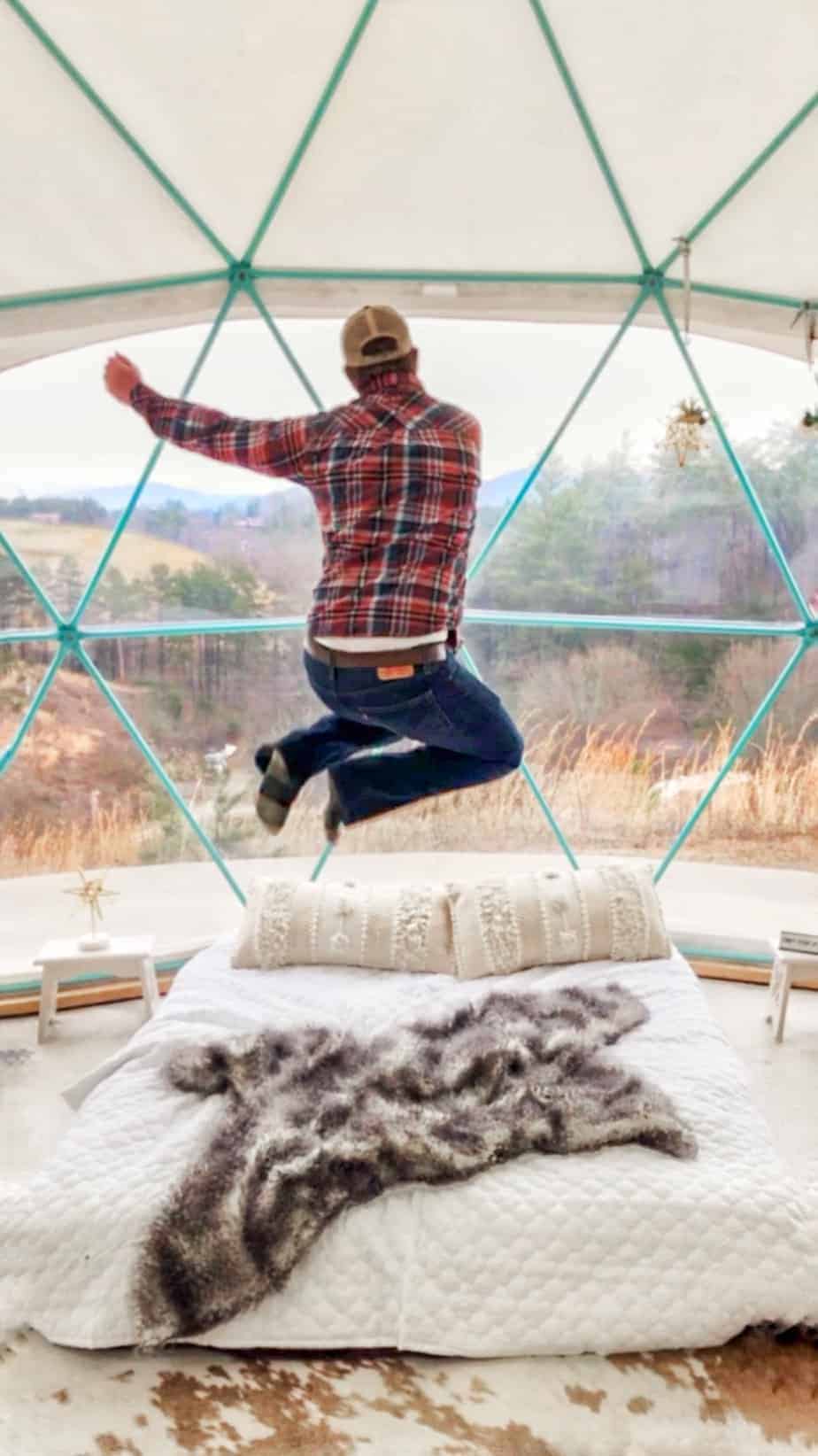 Glamping, short for glamorous camping, is a form of camping with more luxurious facilities and amenities than traditional camping.
When I say luxury, I don't necessarily mean a five star, all inclusive resort type of luxury (although there are some glamping sites across the world that are basically like five star accommodations.)
To put the word luxury into perspective, let's think about traditional camping.
You bring your own tent (sometimes you carry it on your back for several miles with all of your other gear).
You set it up.
You sleep on the ground (yes, they make sleeping pads and mats but man, it's still the ground.)
Your tent or sleeping bag may be insulated, sure, but you're really at the weather's whim if you'll be cold, or hot or wet.
And your bathroom situation is more like the closest, most private, group of trees. Or, if you're lucky, a shared campground latrine or bath house.
So if we're approaching from a traditional camping perspective, Asheville Glamping has added amenities and facilities making glamping a step up from camping.
While each site is unique and different (they have tents, domes, trailers, and next year, a tree house) they all have beds, some have the ability of temperature control (both of the sites we stayed in had heat and air conditioning), some have hot tubs, some have TVs with Netflix, many have running water or access to a shared bath house with running water (most of the year…winter is different).

If you aren't sure if glamping is right for you, I highly encourage you to check out Asheville Glamping's FAQ page that covers everything from their rules to your experience and more! (including information about kids, pets, and site-specific amenities.)
WHERE IS ASHEVILLE GLAMPING?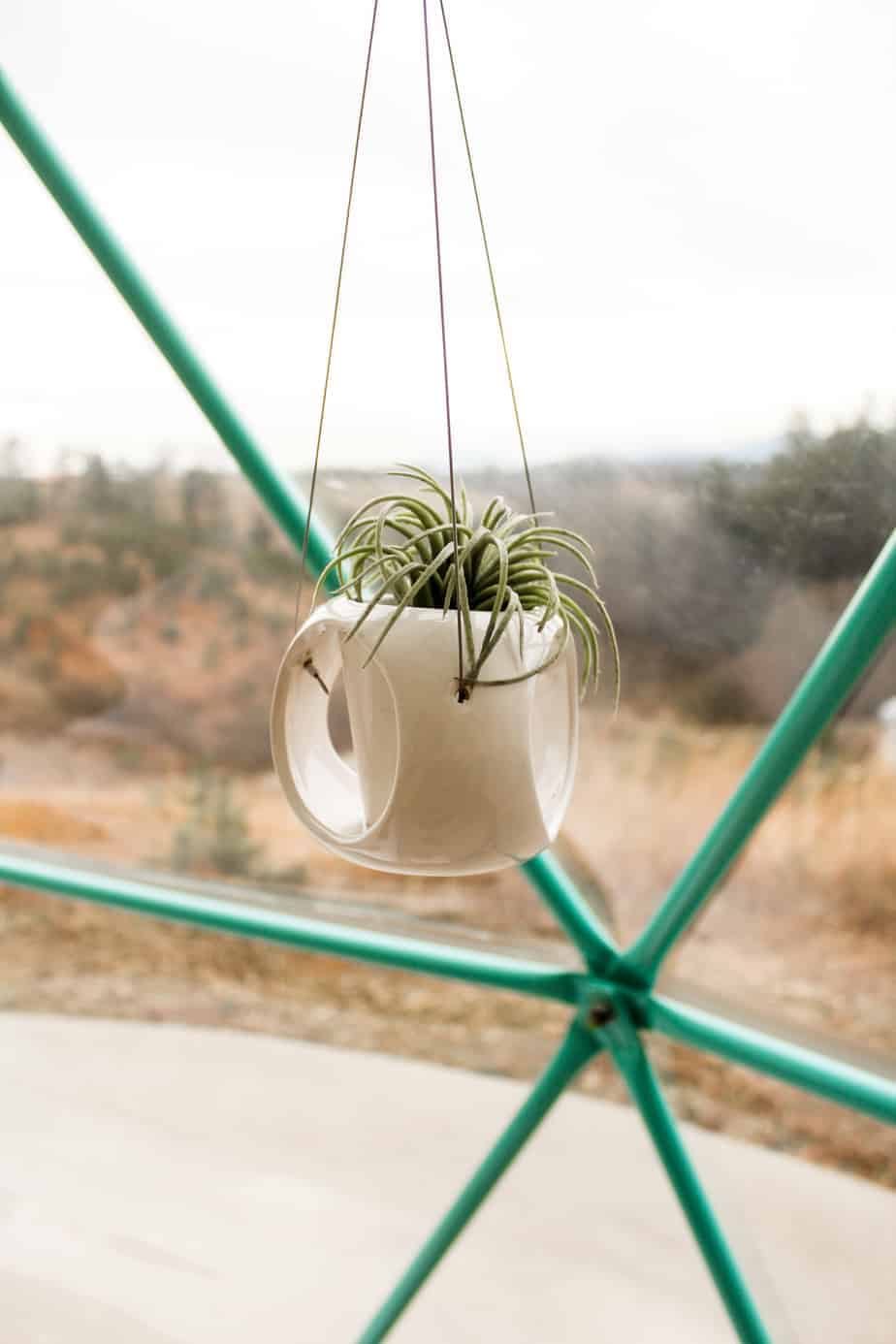 Asheville Glamping only gives their address to registered guests because they are not a public campground and want to honor guests' privacy and keep the experience intimate.
Both times we glamped, we stayed at Asheville Glamping's 15 acre property (they also have a smaller 3 acre property with a few sites on it) and it was about a 15 minute drive to downtown Asheville and a 5 or so minute drive to downtown Weaverville.
We took a Lyft into Asheville one of the nights we stayed in October and it was about $35 round trip which we thought was reasonable.
PS: We really liked being so close to Weaverville…we had never visited and found a few restaurants we loved in Weaverville (Joanna and Patrick from Asheville Glampling recommended Blue Mountain Pizza, which we visited both times we went glamping, as well as Well-Bred Bakery and Soba Sushi and Noodles.)
WHAT DID WE LIKE ABOUT GLAMPING?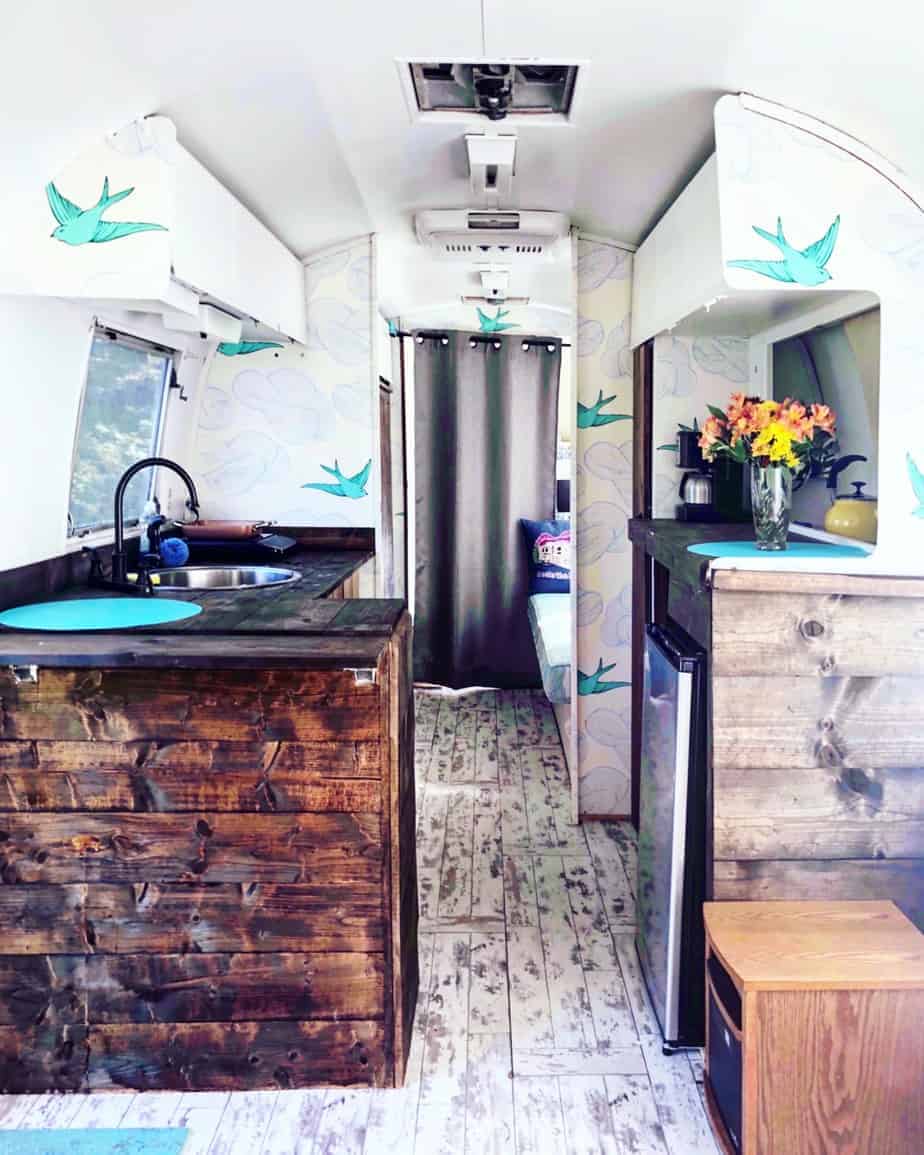 A lot of things! I decided to share what I liked, and then I also asked AJ what he liked too.
I liked:
The property (it was big, easy to get to, we had enough space, and had beautiful mountain views)
The location (can't say it enough, close enough to do all the great things and eat all the great food in Asheville and Weaverville, remote enough to feel like an escape)
The views (especially from the Dome, panoramic mountain views!)
The design touches (both the airstream and dome were super cute and comfortable inside)
The bathrooms (yes, even in January when we didn't have running water I thought the Porta Potty was very clean! but running water and a shower in October was a total plus)
The uniqueness (we are the only ones I know that have glamped in a dome!)
The customer service (Asheville Glamping was great at communication, quick to respond to questions, and provided us with a super thorough guide about how to get there, what to expect, and area recommendations right after we booked)
The price (i felt what we paid for both the airstream and dome was affordable and reasonable for the experience)
What AJ liked:
The hot tub (Rosie's site had a hot tub in October…now I think the hot tub belongs with Dome 4, but it was nice to have a soak the three nights we were there!)
Something different (I think this means that it's a unique experience that is totally different from camping or staying at a hotel or an AirBNB or cabin)
Private bathrooms (bathrooms are a plus and not sharing also a plus)
Not far from things (same as my location pro)
WHAT DIDN'T WE LIKE ABOUT GLAMPING?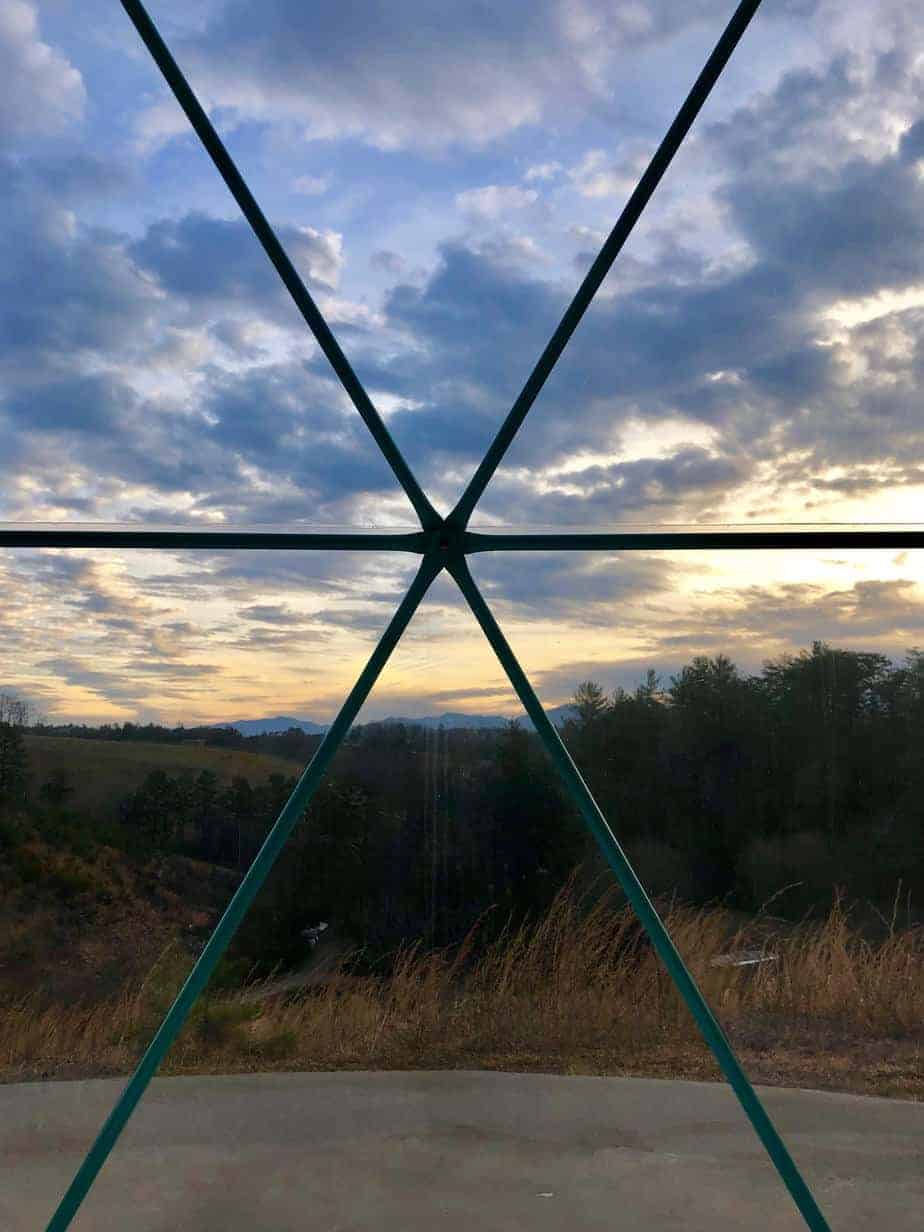 The truth is, not much.
For me:
The lack of running water in the winter (not so much a con as a fact. We knew what to expect, brought our own water, and planned on not taking a shower.)
That every site didn't have a hot tub (I mean, how cool would that be? Again, they probably can't afford it but it would have been great to have a hot tub at the dome in February. Play my tiny violin for me.)
That sites book up so far in advance (Asheville Glamping is so popular, some sites book up to a year in advance, so you really have to plan ahead, especially if you want to go for a weekend. We had no issues with this because I am a very strict calendar keeper, but there's no "I'm going glamping on a whim" here.)
The strict cancellation policy (again, not a problem for us, but just a fact that Asheville Glamping has a very strict cancellation policy. And with sites booking so far in advance I understand it could be difficult if an emergency pops up or plans change. They do recommend that you get trip insurance which makes a ton of sense just in case there's an unforeseen circumstance.)
For AJ:
Big lights at night on the neighboring property (not something Asheville Glamping can control but our dome windows didn't have any curtains.)
Windows didn't open (I am not sure if he's talking about in the airstream or in the dome, but I'm pretty sure it's the dome and that wouldn't be practical. But I told him I would write what he said)
No curtains if you did want privacy (Dome 2 is perched pretty high up and away from the other sites so I never felt like we didn't have privacy but it is something to consider!)
WHAT SHOULD WE BRING GLAMPING?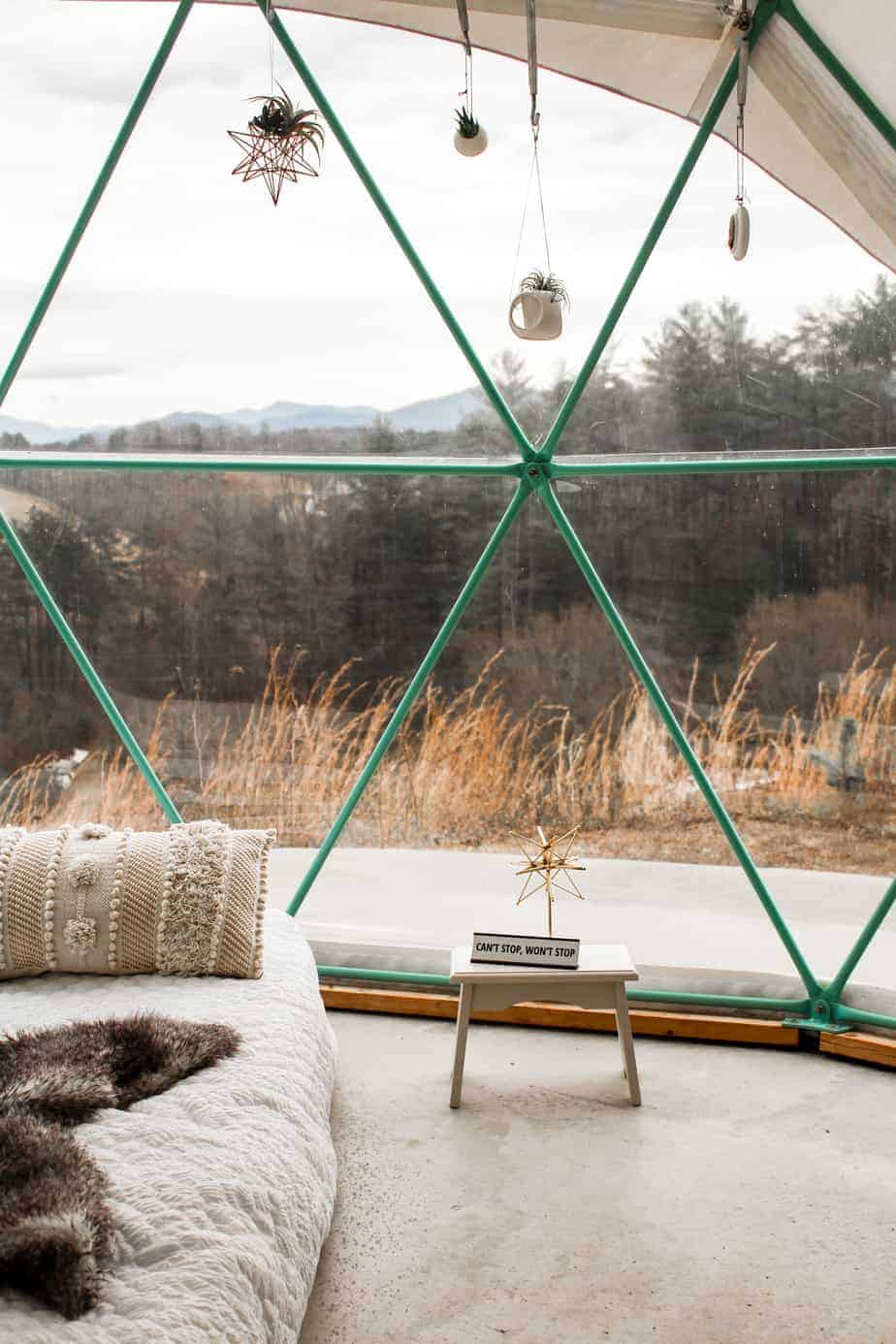 According to Asheville Glamping's website, all sites come with sheets for the beds and towels which is true.
Each of our sites also had some basic things already stocked. For example, the airstream had a kitchen so it had some plates, glasses, coffee mugs. And in Dome 2, there was a basket with aluminum foil, paper plates, plastic cups, paper towels and some utensils. But I would bring what you need with you (in October, we ran out to get toilet paper, there was one roll but no more, and some other essentials that we could have just brought from home. We brought all of that stuff in February.)
Water, especially if it's winter, the water will be turned off, so you need your own for drinking and cooking. We brought three gallons and they lasted us the weekend.
Food and coffee. Not all sites have kitchens but many have grills, so you can still cook and there's no need to go out to eat. We made breakfast at our sites (eggs and sausage and oatmeal) and then went out to eat every other meal, but could have had a yummy grilled dinner if we had wanted to. Coffee in the morning is of course, essential! (We brought our camping coffee maker to Dome 2 which proved to be a lifesaver for making coffee on the grill…Rosie had a coffee maker inside.)
Toiletries. Duh. Just like any other time you travel.
Firewood and stuff to build a fire. You can buy firewood ahead of time through Asheville Glamping or bring your own. Don't forget s'mores supplies!
A flashlight or headlamp. Something we also forgot our first visit. While most sites have electricity and inside lights, it is dark outside!
Wine and beer. Because fireside drinks are the best drinks!
WHAT IS THE ASHEVILLE GLAMPING BATHROOM SITUATION?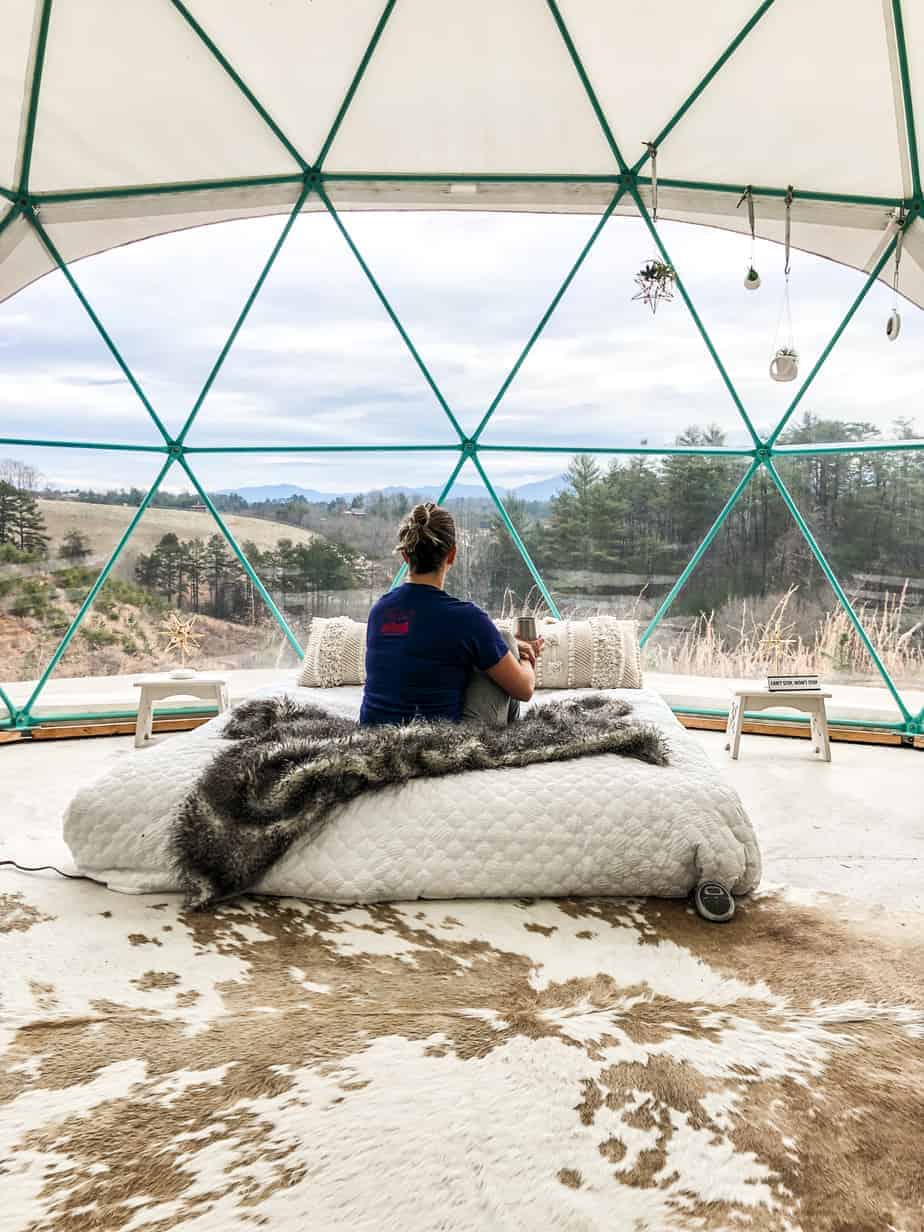 Each site at Asheville Glamping has a different bathroom situation.
The airstream we stayed in in the fall had a bathroom inside with a toilet and a shower, and Dome 2 had a private bathhouse on the site, but outside of the dome, with toilet and a shower.
Many sites do not have a private bathhouse or bathroom, but have access to Asheville Glamping's shared bathhouse in the middle of camp.
If you visit in the winter, there is a chance that you will not have access to running water. (It's because their pipes are not insulated like a normal home, so they are subject to freezing.)
When we visited in February, we brought our own drinking water and used a (very clean) porta potty for the weekend. So that also means no showers.
For us, a porta potty was not a big deal, as we have gone on longer camping trips without running water or a shower. If a lack of running water/no real toilet/no shower, would be an issue for you, I would recommend not booking an Asheville Glamping site in the winter months.
IS THERE HEAT AND AIR CONDITIONING WHEN YOU GO GLAMPING?
All of Asheville Glamping's sites have air conditioning. Not all of the sites have heat, but we did have the option for heat in the airstream (we didn't need to use it because it was 80 degree in October) and we also had a heater in Dome 2.
The heater in the dome was very efficient and kept us warm…the bed also had a heated blanket which was toasty and we loved!
Writing this post made me super motivated to plan our next glamping adventure! Would you go glamping? Which Asheville Glamping site would you like to stay in?
PIN ASHEVILLE GLAMPING TO SAVE IT FOR LATER!