Last weekend, I made my television debut.
My television appearance included: recipes about Thanksgiving leftovers and cheese (2 of my favorite things!), a Big 10 high five with anchor Bakari Savage (Go Badgers!), an awkward quote about asparagus and my family, and a shout out to my dad's grilled cheese technique.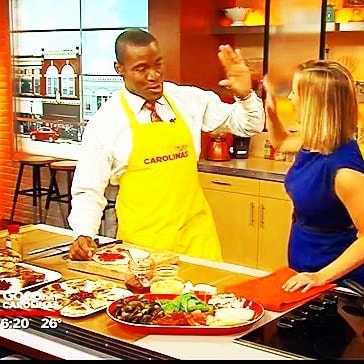 As a side note, my dad is not a cook. He only has a few trusty things in his repertoire: omelettes du fromage (omelets with cheese), grilled cheese, Daddy sandwiches (an oven baked grilled cheese on a hoagie roll with ham and onions), brats (he is from Wisconsin after all), corn, and pancakes. This aside is important because it truly demonstrates that he has really honed in his skills and nailed down an excellent grilled cheese technique because it's one of his specialities.
What I learned from being on television: cheese is delicious (if you want more on that, watch the video!), there is a Golden Gophers' fan in Charlotte (for you southerners, a Golden Gopher is from the University of Minnesota), I'm pretty awkward on TV, and 4:30 am is really early.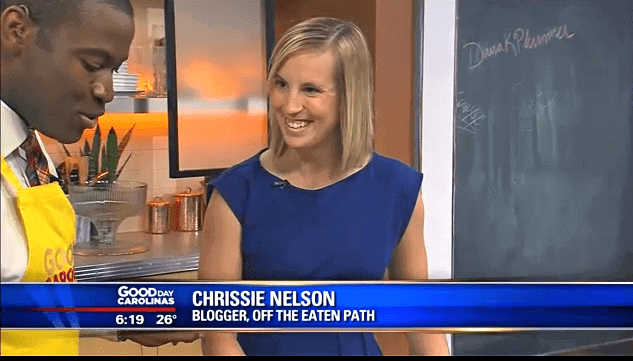 Regardless of how awkward I was and how early it was, I had a blast!! Everyone was so friendly and nice, and seemed to really enjoy my roasted Brussels sprouts (and if they didn't, they were at least nice enough to say they were delicious).
Check out the segment, highlighting a Thanksgiving Leftovers Grilled Cheese (recipe below) and quesadilla (really, the ingredients in these are interchangeable, because a quesadilla is just a grilled cheese with some Mexican flair. But skip on the mustard on the quesadilla, that probably wouldn't be as delicious).
thanksgiving leftovers sandwich
Prep time:
Cook time:
Total time:
Ingredients
2 slices of bread (I used rosemary olive oil bread from [url undefined]Sunflour Baking Company[/url] but sourdough or a baguette would also be delicious.
3-4 slices of Parrano cheese (I added more)
4 slices of bacon
3 slices of leftover turkey
Handful of spinach
Cranberry sauce or jam
Dijon Mustard
Instructions
Butter both slices of bread on one side.
Smear non buttered side of bread with cranberry sauce and Dijon mustard.
Heat skillet on medium low heat.
Pile all other ingredients on the sandwich and place it in the skillet.
Cook until bread is golden brown, 3 to 5 minutes.
Flip, and cook until other side is golden and cheese is completely melted.
 **This post is sponsored by Parrano cheese. Thank you for supporting brands and products who support Off the Eaten Path. All opinions are my own.