Planning your next North Carolina beach vacation? If you're headed to the Outer Banks of North Carolina, here are 18 of the best things to do in Duck NC!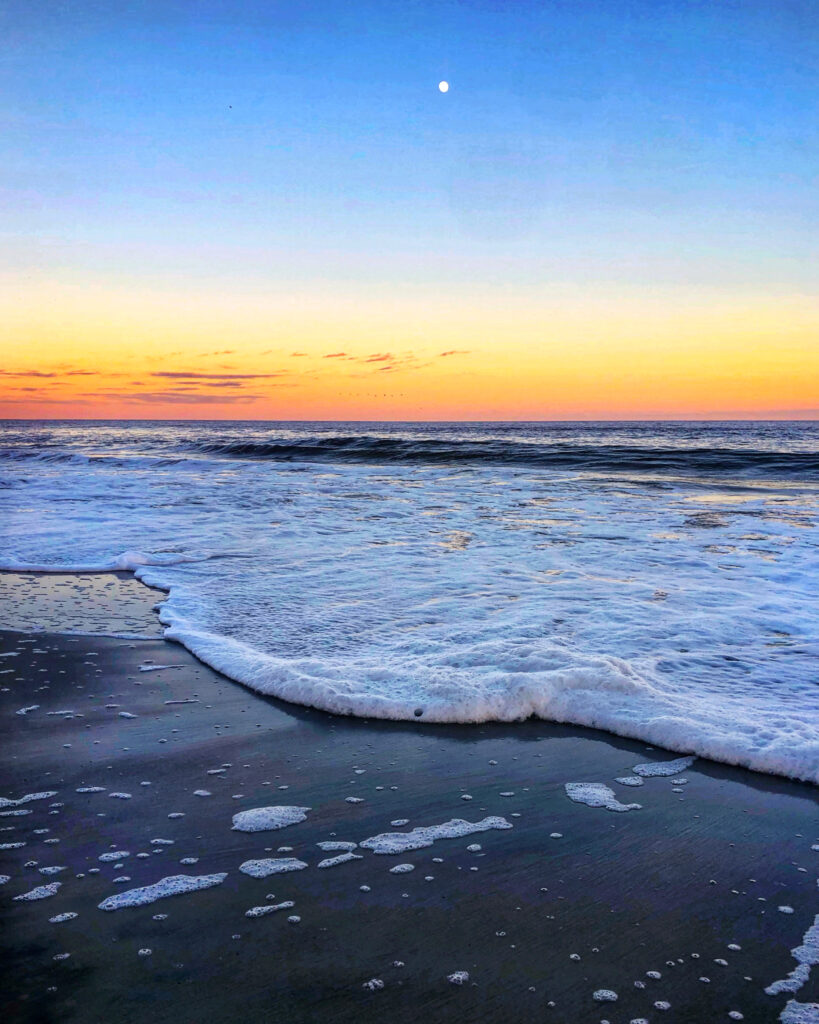 And if you're looking for other things to do, places to visit, and where to eat across North Carolina? Check out Off the Eaten Path's North Carolina Travel Guide, which features weekend itineraries, travel and restaurant recommendations across the Tarheel State including the best beaches near Charlotte NC, things to do in Beaufort NC, things to do in Bryson City NC, an Asheville Travel Guide and more!
Y'all know I've written about the Outer Banks before…after all my family has been taking our annual East Coast beach vacation on the North Carolina Atlantic Coast for over 30 years and AJ and I planned our wedding there in 2016.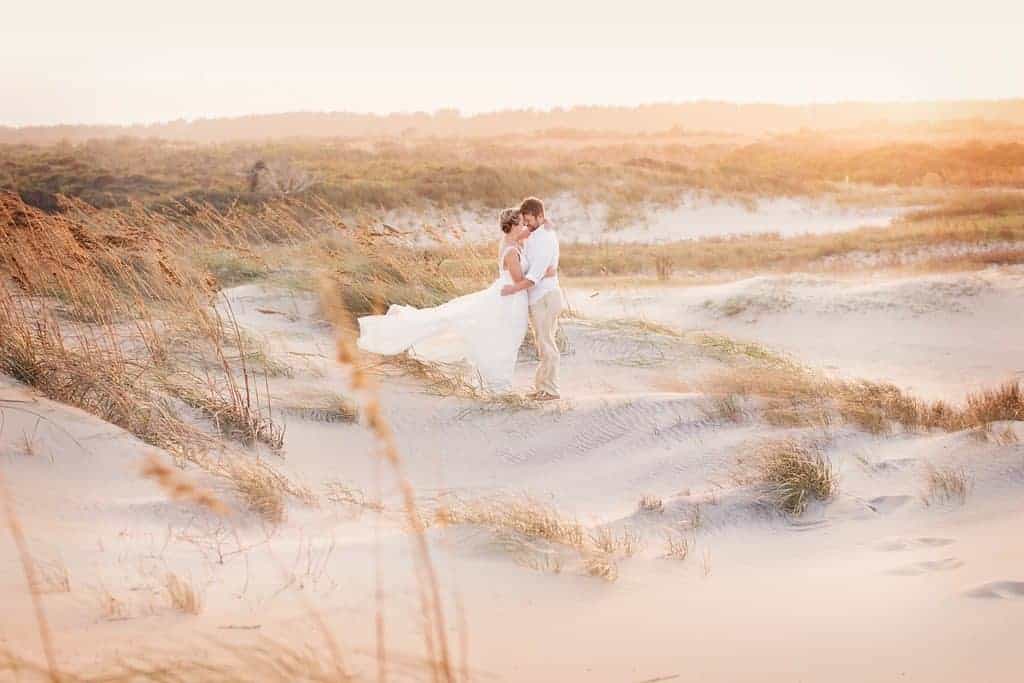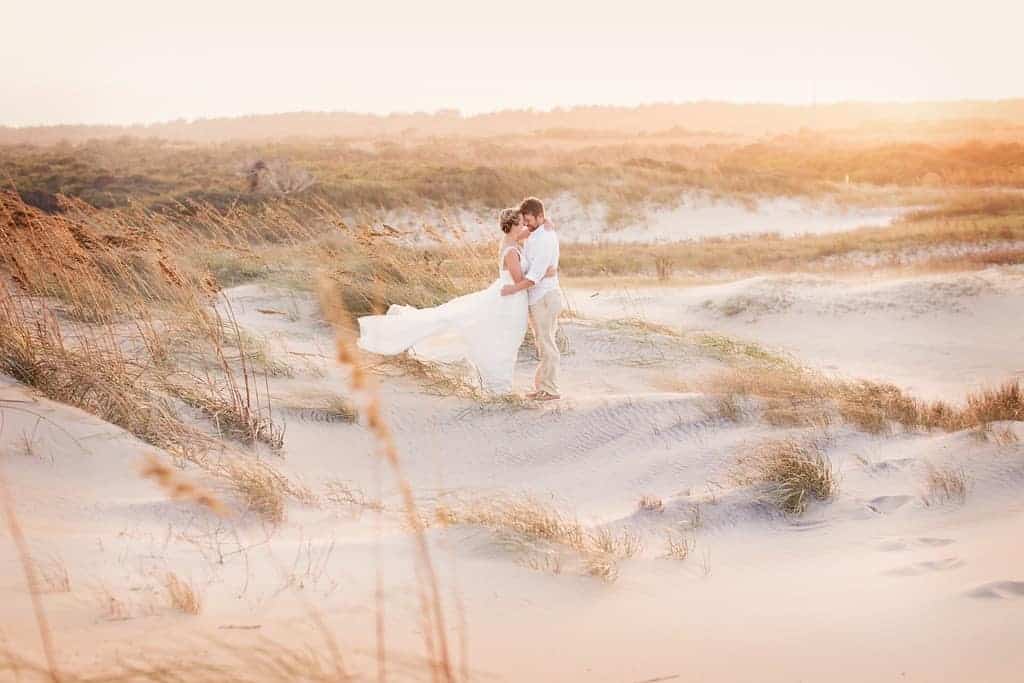 Two questions I often get from people who have never been to the OBX before are:
Which Outer Banks town should we pick for our vacation?

What are the best things to do in the Outer Banks?
While I don't think you can go wrong renting a house anywhere from Corolla to Ocracoke, each oceanside town on the Outer Banks is going to give you a different experience.
Staying somewhere like Nags Head or Kill Devil Hills will put you right in the middle of the action with easy access to popular activities, attractions, and restaurants, while a place like Avon, Rodanthe or Hatteras will give you a simpler, slower pace with not much more than sand dunes and the roaring Atlantic. (and there are even more remote spots like Carova, which requires 4WD access or Ocracoke which is a ferry ride away!)
Our annual summer spot is the small town of Duck NC, located in the Northern Outer Banks, nestled on Highway 12 between Southern Shores and Corolla.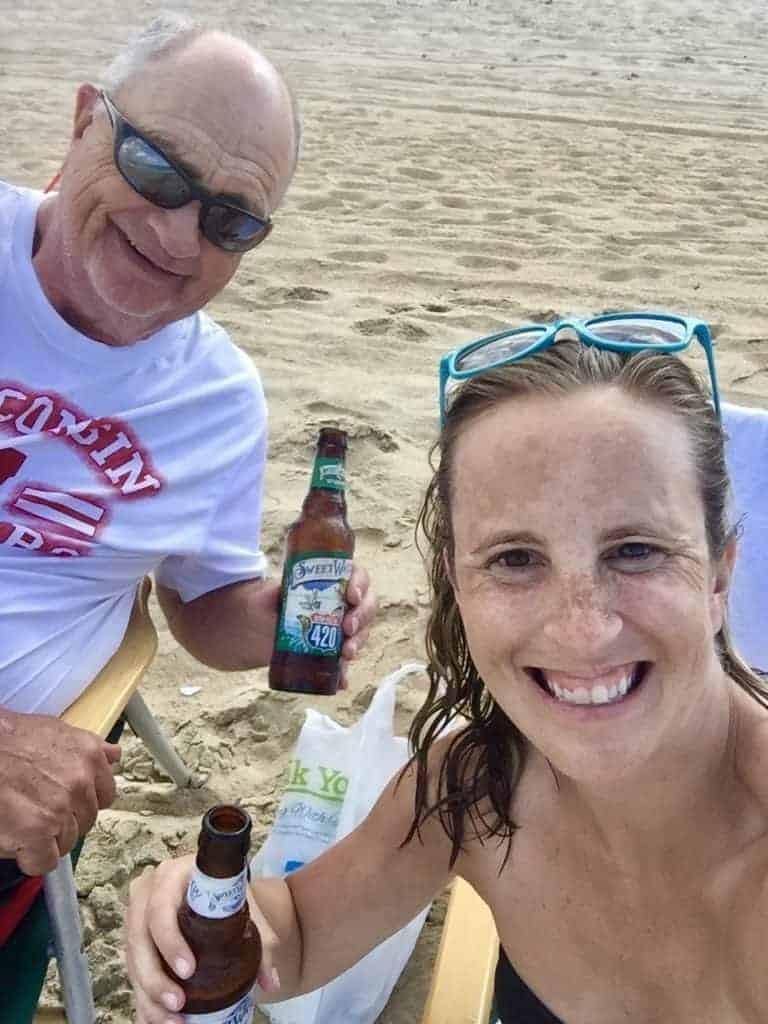 Named after, you guessed it, the abundant waterfowl of the area, the small town (which was an unincorporated village until 2002 when it became the sixth town in Dare County), Duck is home to seven miles of sandy beaches, local restaurants and shops, lots of watersports and outdoor adventures, and easy access to other adventures on the Outer Banks. Let's talk about the best things to do in Duck NC.
WALK OR BIKE THROUGH THE TOWN OF DUCK
The Duck Trail, a six mile pedestrian and cycling trail that connects the entire town, making Duck one of the most walkable towns in the Outer Banks. The Duck Trail gives you easy access to everything from shops to restaurants in Duck without having to jump in your car!
STROLL THE SOUND-SIDE BOARDWALK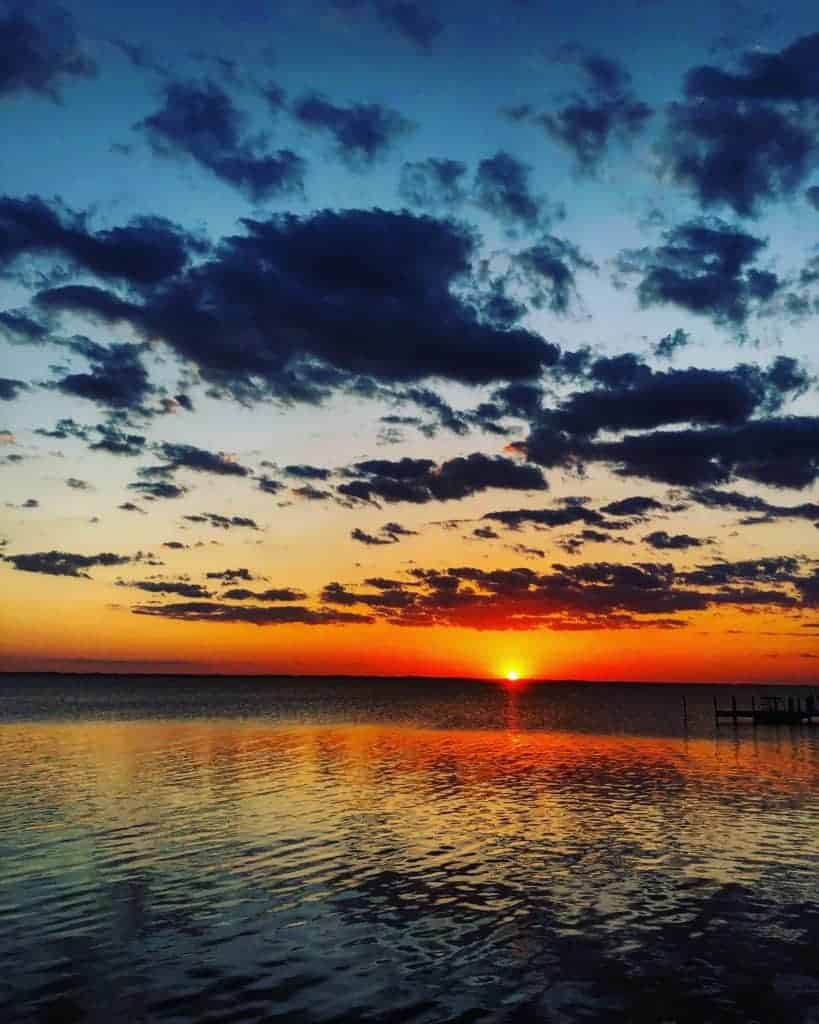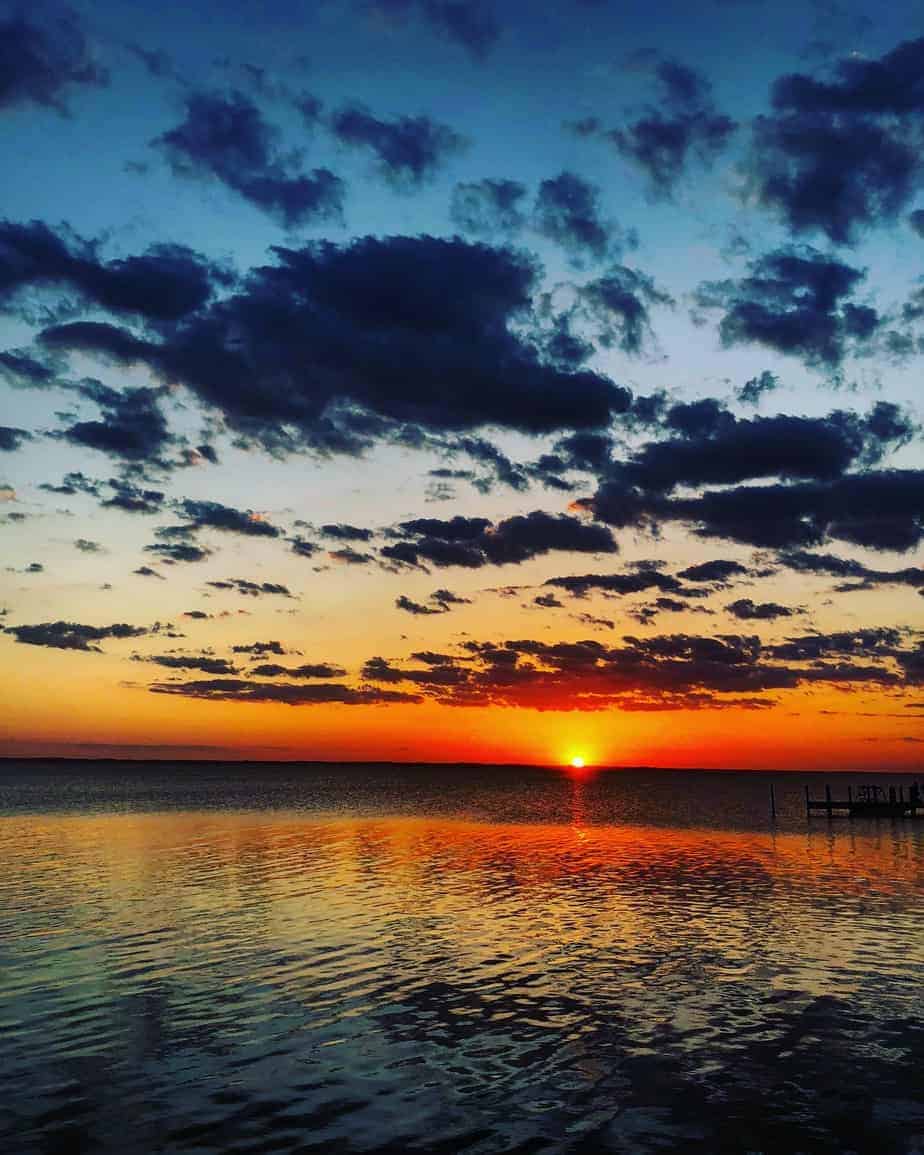 Stroll the Duck boardwalk, a soundside boardwalk along the shores of the Currituck Sound from the Duck Town Hall to the Waterfront Shops. Peek into a gift shop or two, and stores selling everything from jewelry and dresses to clothing and wine, and grab a meal at or ice cream cone at the end of your shopping adventure.
VISIT DUCK TOWN PARK
Right next to the Duck boardwalk is the Duck Town Park, which features 11 acres of nature trails that wind through maritime forest, open green space, an amphitheater, public kayak and canoe launch, playground, picnic shelter, and spectacular Currituck Sound views. Throughout the summer months, Duck Town Park offers children's events, like theater, magic shows and storytelling, adult exercise classes, and a live music concert series perfect for the whole family, plus is the home of the Annual Duck Jazz Festival held every fall. The Duck Town Park is open from dawn until dusk.
SHOP AT LOCAL SHOPS AND BOUTIQUES

Spend an afternoon out of the sun and wander the boardwalks under the oaks at Scarborough Faire and Scarborough Lane Shoppes in Duck. Browse the specialty shops, art galleries, eateries and boutiques for your beach treasure.
VISIT THE LOCAL BOOKSTORE AND COFFEE SHOP

Speaking of shopping, Pick up a latte and a beach book at Duck's Cottage Coffee and Bookshop. Duck's Cottage has the perfect cozy coffee shop feel and a beach book to satisfy any mood. If you're not sure what you want to read, spend some time perusing their shelves and be on the look out for little signs pointing out bestsellers and staff recommendations.
CAST A LINE
The Outer Banks is known as a fisherman's paradise, so bring your rod and cast a line from the shore, try your luck off a pier (check out Avalon Pier, Jennette's Pier or Rodanthe Pier) or book a deep sea fishing adventure to get the day's freshest catch (just make sure you have a license…short term coastal fishing licenses start at 10 dollars.) For all things fishing in Duck, turn to the experts at Bob's Bait and Tackle. The guys at Bob's are super friendly and knowledgeable about the area's fishing and sell an assortment of rods, reels and tackle (they have some rods for rent too). If you're a first timer, they're happy to share their fishing intel and walk you through exactly what you need. They also book charter boats for deep sea fishing trips.
ENJOY LOCAL SEAFOOD

Dockside 'n Duck has all the fresh seafood you need to cook up at home–steamed shrimp (in Old Bay, of course!), fresh mussels, oysters, clams, lobsters, blue crabs, and all the fresh fish you can dream of. We always make it a point to stop here at least once (but usually three or four times) during our vacation. If you prefer not to cook at home, check out the Duck's delicious restaurants that range from casual family joints to fine dining.
HIT THE BEACH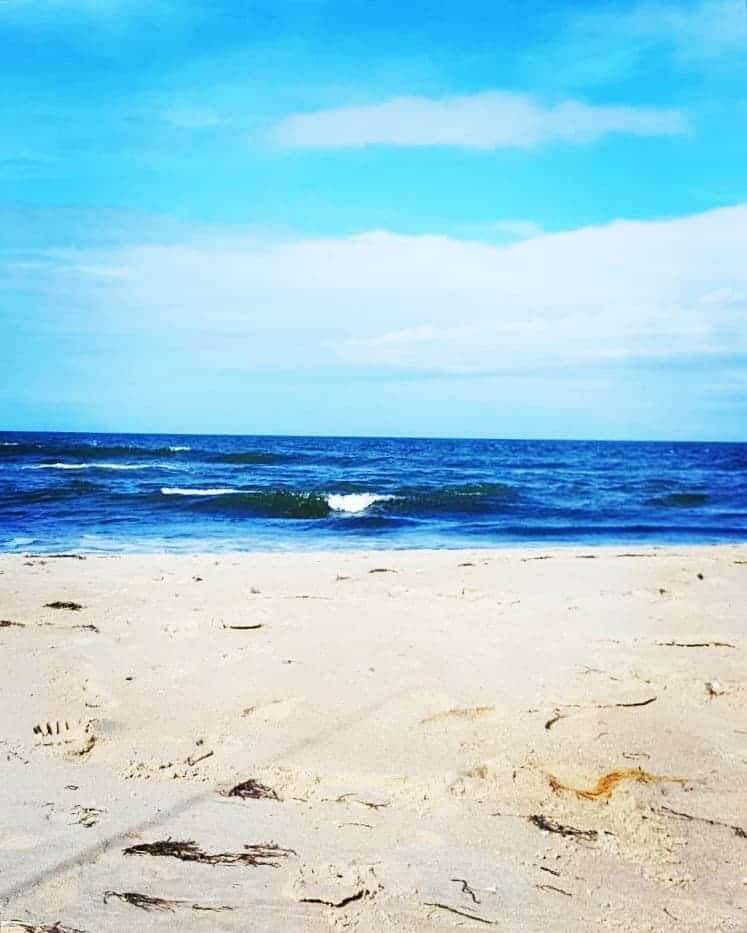 Put on your suit and your sunnies, grab a towel, chair, boogie board and good book and hit the beach. Duck NC is home to some of the best beaches in the USA, which are dotted with beach umbrellas in the summer. Spend the day in the sun, take a dip in the ocean, and comb the beach for seashells and other treasures.
TRY A WATERSPORT
The Atlantic Ocean is the best kind of playground. Rent a stand up paddle board and surf the waves; boogie board your way to the beach; let the wind fill your sails on a kiteboard; or paddle into the surf in an ocean kayak.
If you prefer calmer waters, check out the water sports soundside–parasail high in the clouds; pick up the pace with a jet ski, or explore via kayak tours.
Duck NC is home to a variety of outfitters and rentals for all of your water sports needs; check out Ocean Atlantic Rentals and Kitty Hawk Kites.
VISIT A NATIONAL SEASHORE
Explore the barrier islands and take a day trip down to Cape Hatteras National Seashore, where rolling dunes and sea oats separate the coastal highway from the expansive Atlantic. Spend the day at one of the protected, beautiful beaches, visit a lighthouse or two, and stop in at local shops and restaurants.
TAKE A FERRY TO OCRACOKE ISLAND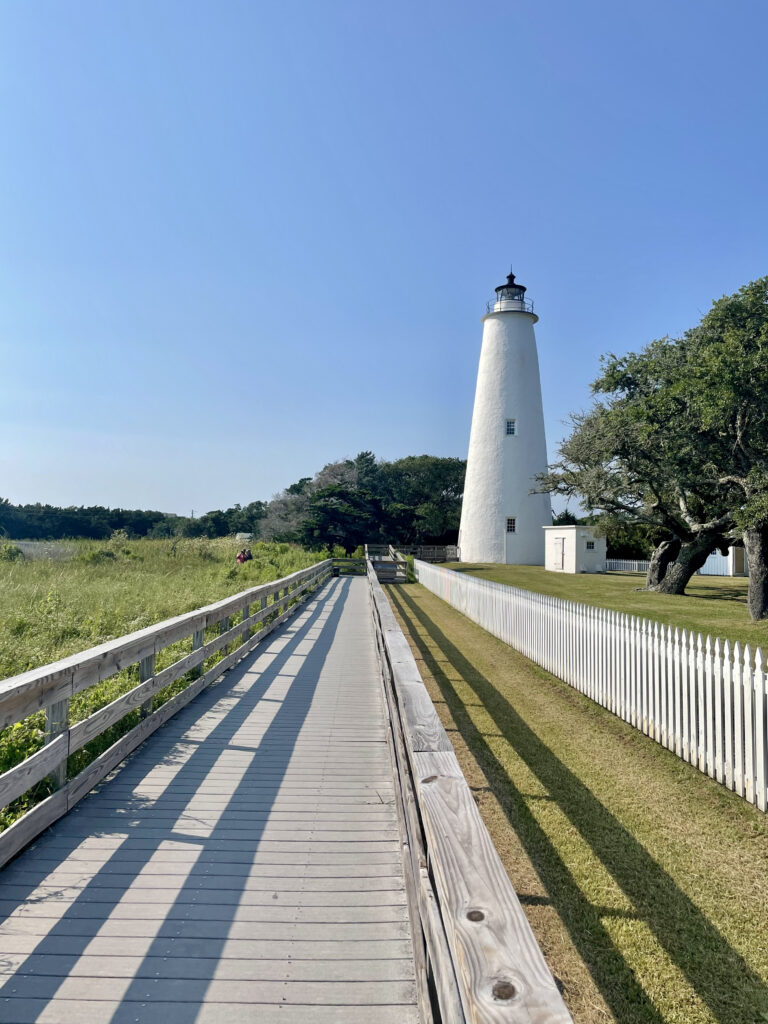 A 40 minute ferry ride will transport you from Hatteras Island to Ocracoke Island. Enjoy the drive through Ocracoke's unspoiled national seashore and then take some time to explore Ocracoke Village, a small settlement with a few restaurants and bars. Make a stop at the Ocracoke Lighthouse, the oldest operating lighthouse in North Carolina.
CLIMB A HISTORIC LIGHTHOUSE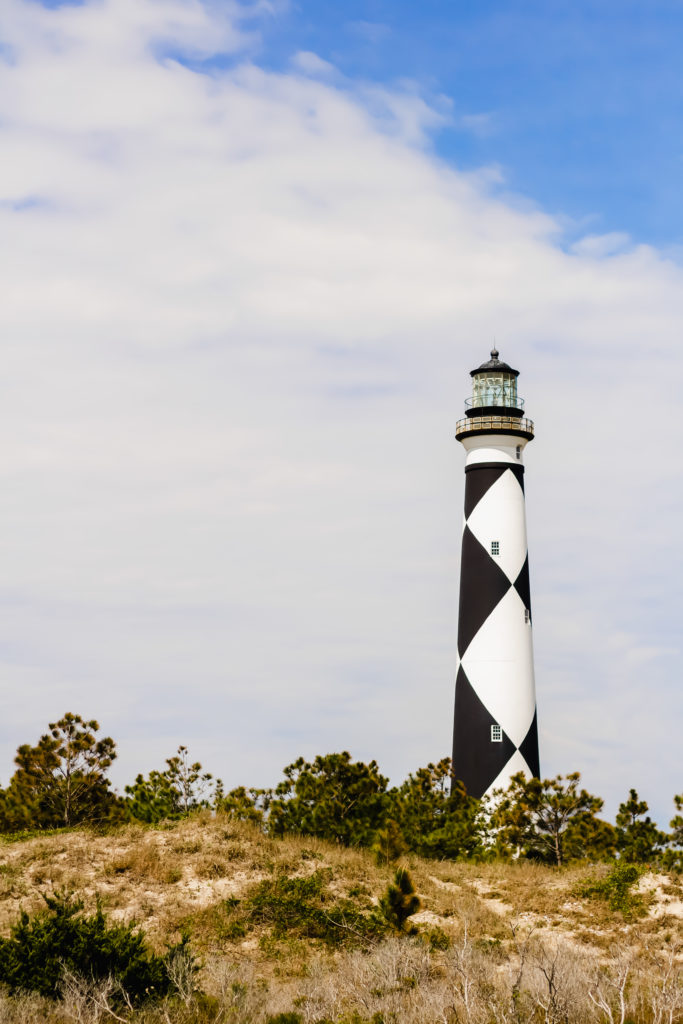 Enjoy the view from the top at one of the Outer Banks five historic lighthouses, the Currituck Beach Lighthouse, Bodie Island Lighthouse, Cape Hatteras Lighthouse and Ocracoke Lighthouse (the fifth lighthouse, the Cape Lookout Lighthouse is actually located on Cape Lookout National Seashore in North Carolina's Crystal Coast, and it's one of the top things to do in Beaufort NC).
These beacons guided mariners and travelers for centuries, and now many are open for climbing–and even those that aren't currently open inside are still interesting to visit to see their beauty and learn their history. Each Outer Banks lighthouse is special due to its distinctive daymark, which the painted pattern on a lighthouse that distinguishes them from each other.
LEARN ABOUT THE LOST COLONY
Soak up some history and drama along with your rays at a performance of The Lost Colony. Located at the Fort Raleigh National Historic Site on Roanake Island, this annual summer spectacular showcases the dramatic and mysterious story of the Roanoke Colony, one of the earliest settlements in the United States. Roanoke Island, also home to the soundside town of Manteo, is about an hour south drive of the Town of Duck, so make a day out of it and explore all of the boutiques, restaurants, art galleries and more than Manteo has to offer!
SEE SHARKS, FISH, TURTLES AND OTHER MARINE LIFE AT THE AQUARIUM ON ROANOKE ISLAND AND JENNETTE'S PIER
The North Carolina Aquarium on Roanoke Island is one of four North Carolina aquariums on the coast and is a fun and interactive site dedicated to local marine life (there is another NC Aquarium located on Jennette's Pier in Nags Head). Exhibits at the aquariums highlight the cultural history and local animals of the Outer Banks and their surrounding areas.

PLAY PUTT PUTT

A round of mini golf is perfect for children (or bringing out your inner child). Work on your par with the dinosaurs at Jurassic Putt or go on an adventure searching for gold and diamonds at Lost Treasure Mini Golf.

EXPLORE THE LARGEST SAND DUNE SYSTEM IN THE EASTERN UNITED STATES
The Outer Banks is home largest natural sand dune system in the Eastern United States. There are a multitude of activities to enjoy at Jockey's Ridge State Park including hiking, sandboarding, and hang gliding. Pro tip: avoid Jockey's Ridge in the middle of a summer day; hot sand dunes and no shade is not the best combination.
SEE THE SPOT THAT WAS FIRST IN FLIGHT
Stand in the place where the Wright Brothers' first took flight in 1903. Visit the birthplace of aviation in Kill Devil Hills and stop by the Wright Brothers National Memorial to learn about Orville and Wilbur's life, gliding experiments and dreams of flying.
LOOK FOR WILD HORSES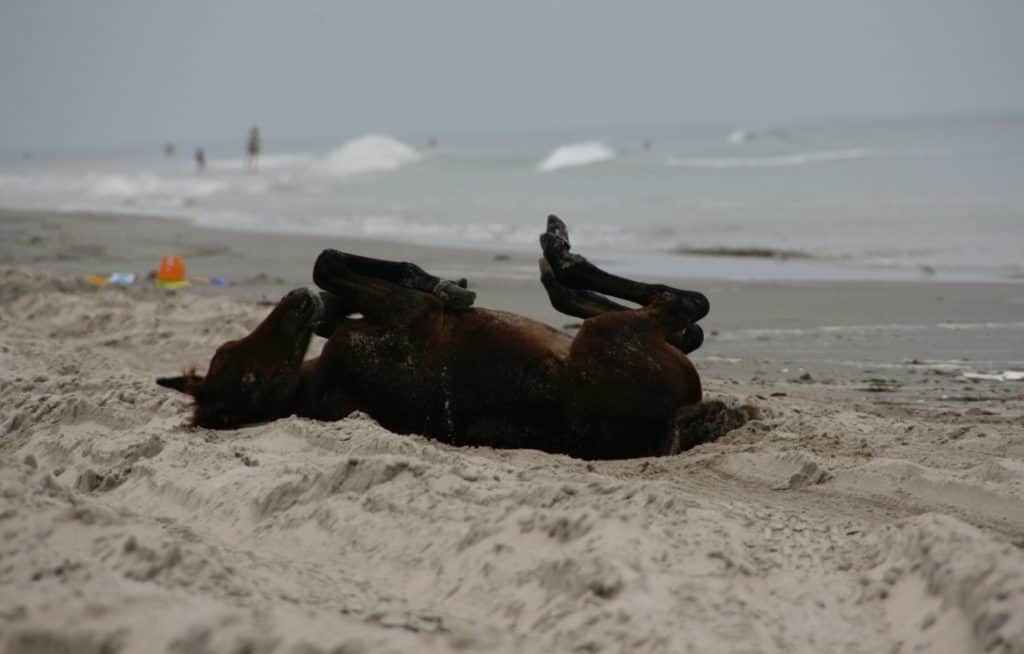 Seeing the wild horses is a treat of any Outer Banks visit. The wild mustangs' origins date back nearly 500 years, making them the earliest settlers of the Outer Banks.
The horses travel in small herds and can be seen in the Corolla and Carova area in the Northern Outer Banks. Spotting the horses usually requires driving on the beach, so 4 wheel drive is definitely recommended.
Take your shot and plan your own adventure, or book through an experienced guide (my aunt and sister recommend Corolla Jeep Adventures).