Zada Jane's is a breakfast joint. They serve lunch and dinner too, but serve breakfast all day. I went there once for dinner right after I moved to Charlotte, and I ordered breakfast. If you're looking for good breakfast, at any hour of the day, you need to go to Zada Jane's.
Zada Jane's really embodies what I think to be a true Plaza Midwood vibe–it's casual, eclectic, and has a lot of character (any diner that's in an old dry cleaning building with bright purple and yellow walls brings a ton of character to the table).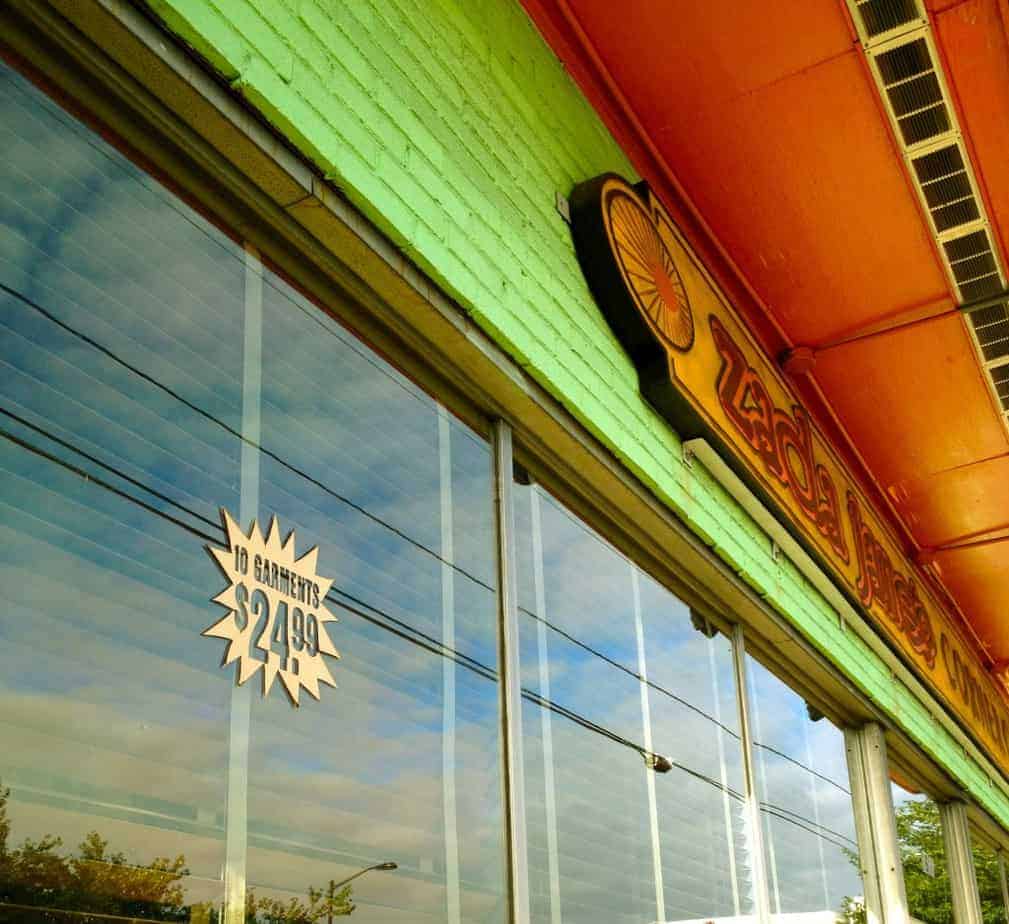 There are two crowds that go to Zada Janes, with a little sprinkling of random folks in between. One is the 9am crowd–groups of young families or weekend go getters, starting their day off on the right foot with some strong coffee and delicious sustanence to tackle their day. Around 11am or noon, another crowd starts to infiltrate–young people who may have stayed out too late the night before and the Plaza Midwood hipsters–who like the weekend go getters, love the strong coffee, but also are nursing a Bloody Mary (with delightful, slightly spicy housemade mix) and possibly a hangover. I love the dichotomy of the two groups at Zada Jane's; it provides brunch with a side of excellent people watching.
map & more
score: 8
spending: $$
neighborhood: plaza midwood
cuisine: american, breakfast
official website
[googlemaps https://www.google.com/maps/embed?pb=!1m18!1m12!1m3!1d3259.4370059645357!2d-80.81183899999994!3d35.22049!2m3!1f0!2f0!3f0!3m2!1i1024!2i768!4f13.1!3m3!1m2!1s0x8856a000e9fb1069%3A0x7720575e4118ba33!2sZada+Jane's+Corner+Cafe!5e0!3m2!1sen!2sus!4v1406586459132&w=200&h=200]
If you don't want to wait, you need to get to Zada Jane's early with the weekend go getters in order to avoid a wait (which can be up to an hour on sunny Sundays when everyone is jonesing for a sweet patio table). AJ and I went sometime this Spring around 9:30, and the wait for a first available was only about 15 minutes (compared to the time I took Mom in late June and the wait was 30-45, so we ended up grabbing some stools at the bar). The good news is you can order coffee while you wait–they serve Dilworth Fair Trade coffee and have a barista making a variety of different specialty drinks (there's tea, juice and soda too). You also can take in a game of shuffleboard or cornhole too, but both times we opted to sit on the yellow wall and wait for them to holler our names.
As I said before, breakfast is your best bet, but if you're in a lunch or dinner mood, they have a bunch of different soup/salad/sandwich options for lunch and several creative entree choices for dinner. Their menu will delight both meat eaters and vegetarians because it's half and half–half meaty goodness and half vegetarian delight, with a separate grill for each. Their lunch and dinner options look good on paper, but I honestly never stray from the breakfast menu. I just can't; it's so good and it speaks to me.
A must have is the Bunny Rancheros (most of my Charlotte friends would definitely agree that the Bunny Rancheros is one of the best things on Zada Jane's menu). It's what I order on most visits, and it's so tasty and satsifying that I haven't strayed too far from it since I ordered it on my first visit (read: I order it almost every visit). Bunny Rancheros is Zada Jane's version of huevos rancheros– they start with two over easy eggs atop black beans, home fries, and a protein choice (I usually pick chorizo or Grateful Growers pork sausage, but they also have turkey sausage, soysage, or chipotle chicken). Then all of that is topped with a pepper jack cheese queso sauce, guacamole, salsa verde and sour cream. Plus, they serve you some warm flour tortillas on the side. It's so good, that I can't help but order it every, single time I go to Zada Jane's; I just don't get sick of it. The chorizo or sausage add a little kick, the eggs are always cooked just right so the yolk is still liquid and explosive (I love, love, love, over easy, explosive eggs), and the warm, fluffy tortillas are just the thing to mop everything up.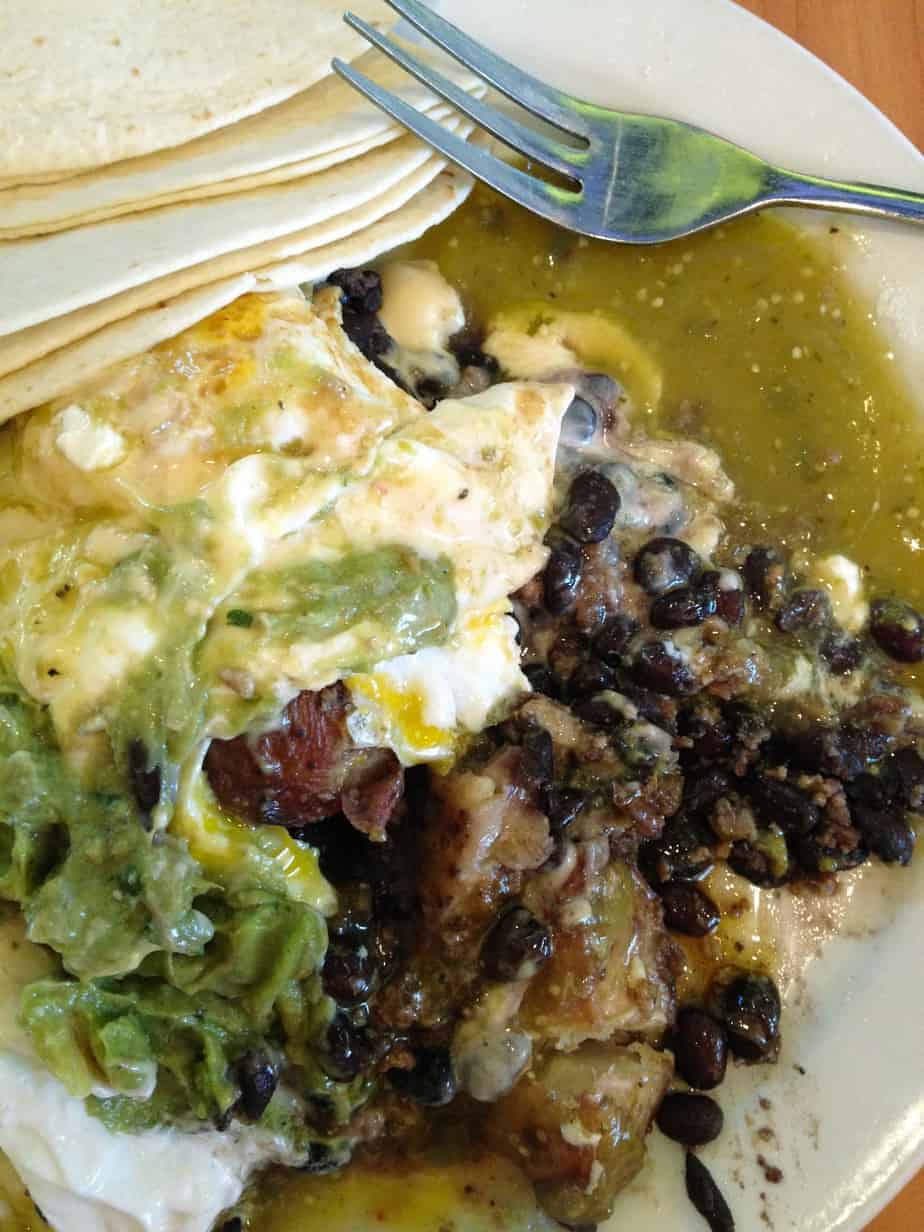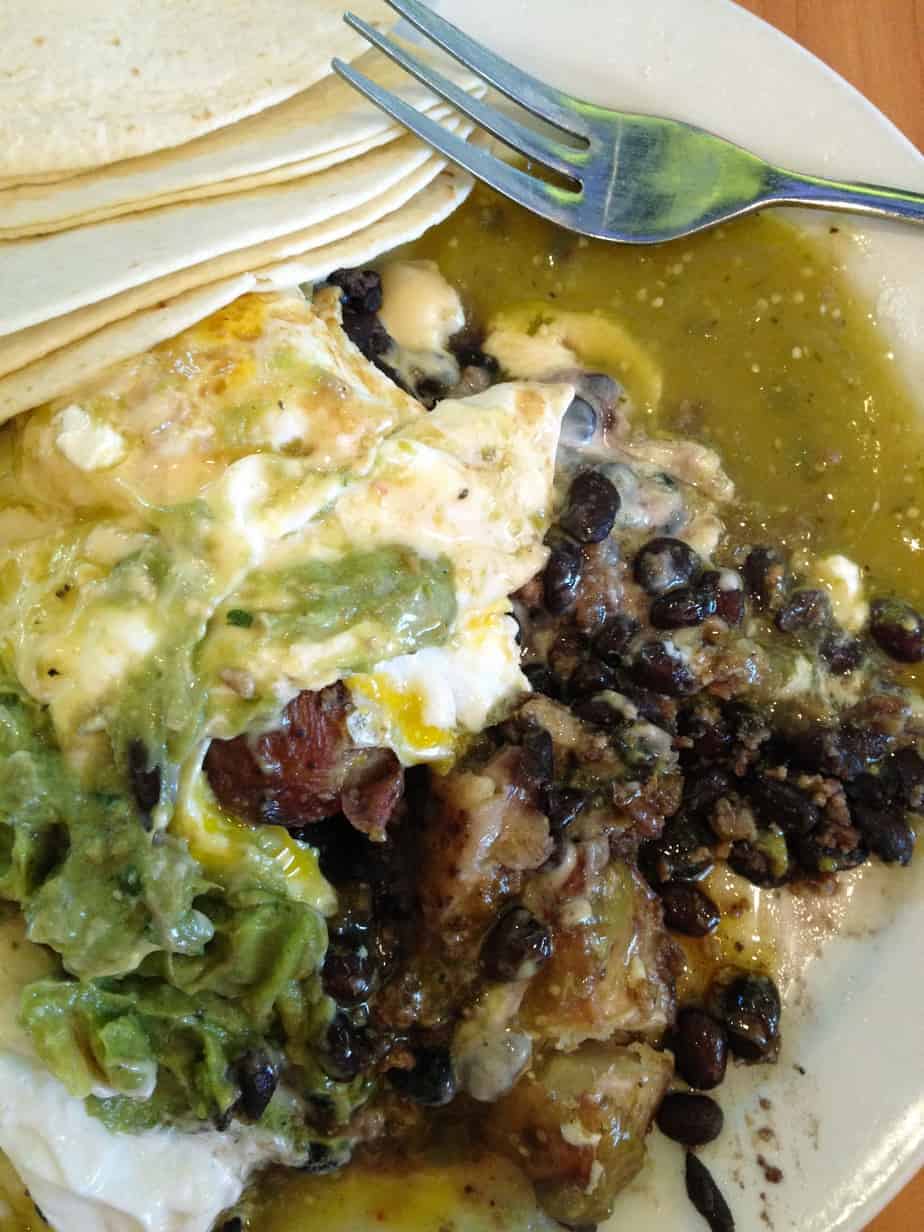 On two other visits to Zada Jane's (just two!) I ordered something else (yes, it was still breakfast).  Zada Jane's has a variety of specialty omelet choices (ranging from Tex Mex inspired to one full of meat, meat and more meat) and I picked the Blazing Saddles–black beans, chipotle chicken, pepper jack & jalapenos, topped with fresh homemade salsa and sour cream (still not straying too far from Bunny Rancheros, I can't get away from the flavor profile!). But I added a twist–at your request, they can make any omelet a breakfast burrito with two eggs a la carte–and I did just that (with a side of biscuit and jam).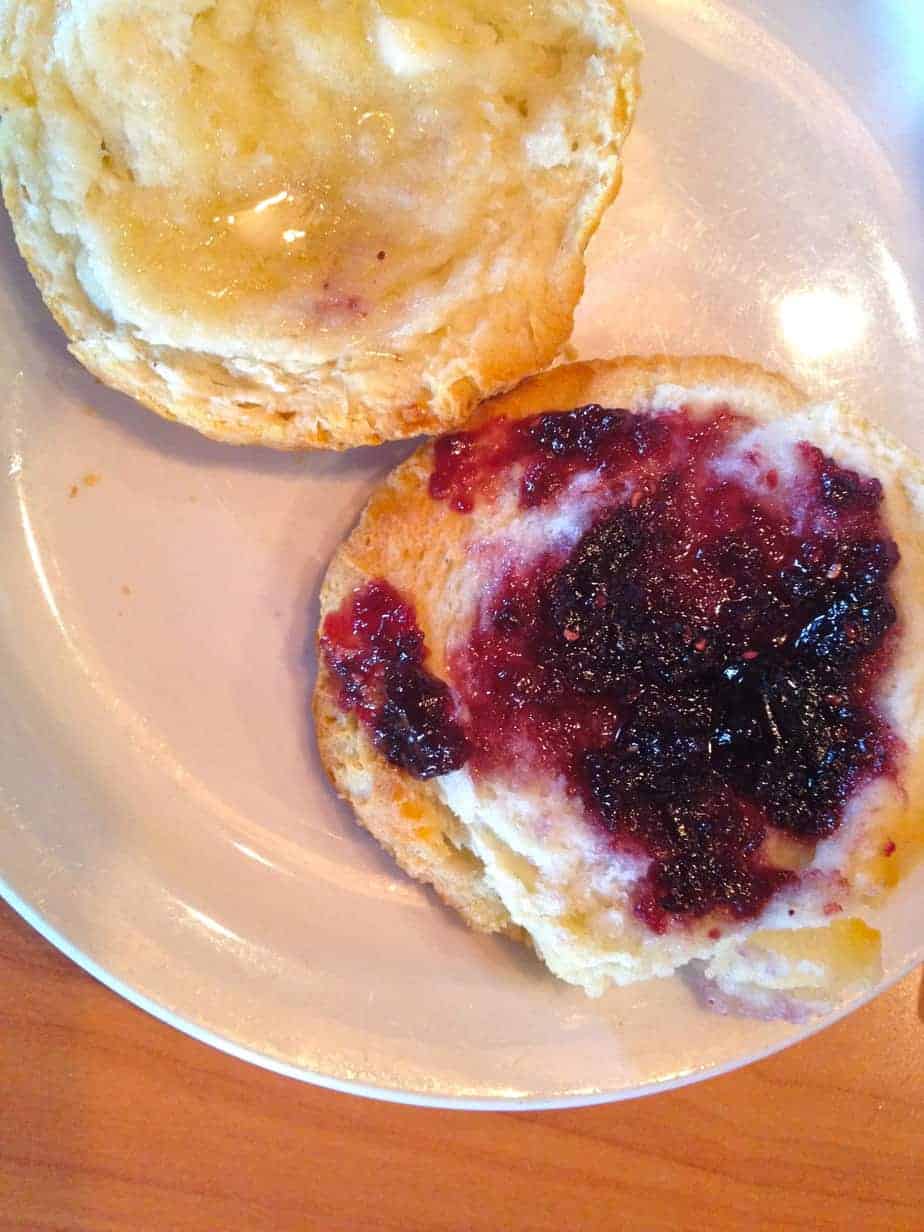 I'm so happy I ordered the biscuit because it came out right away and I was starving–and then the kitchen got backed up and we waited, and waited, and waited (which happens when you go to a popular spot for breakfast on a busy Saturday, but our waitress was so kind and comped us a meal for the wait). The breakfast burrito was tasty; the beans were creamy, the chicken well seasoned, and I love me some melted pepper jack cheese.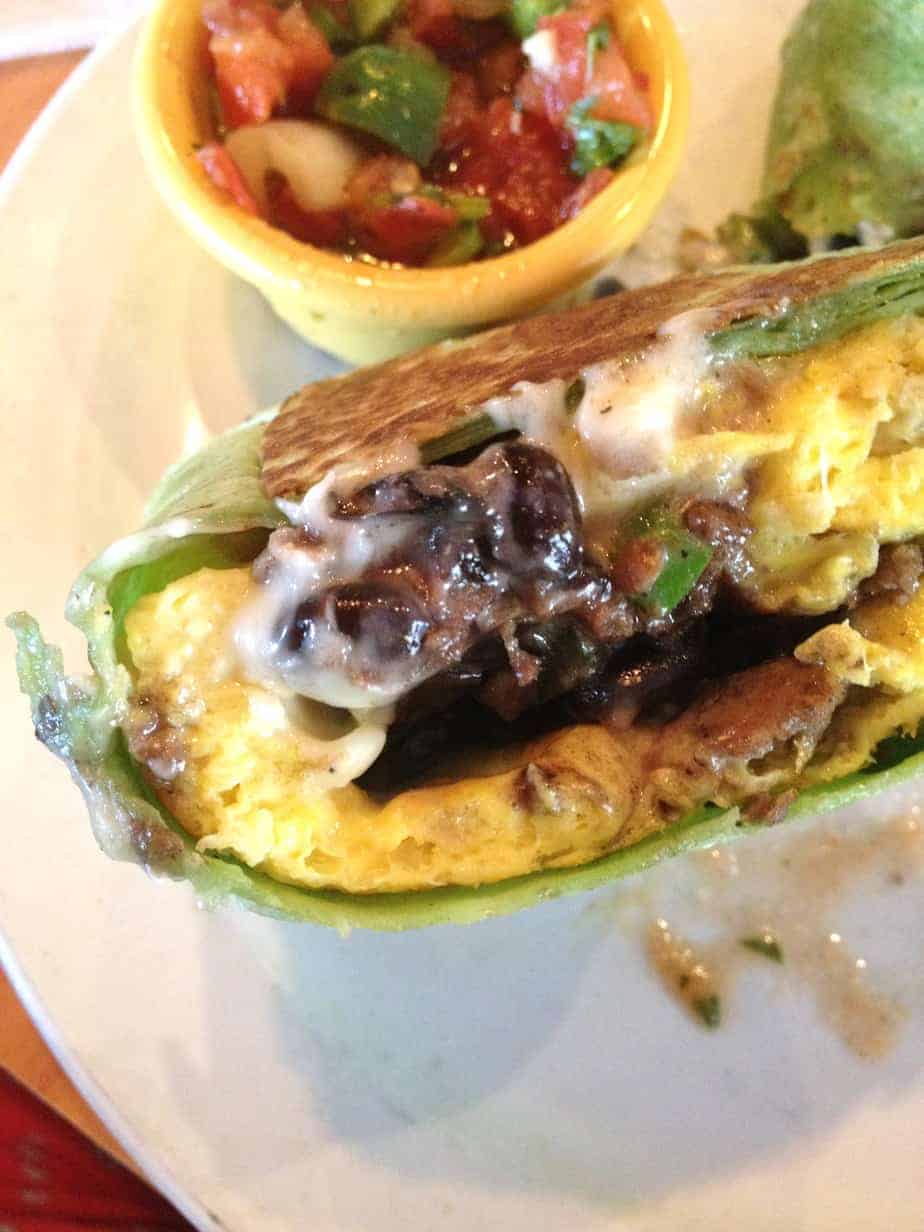 If you prefer sweet to savory, I have to recommend the pancakes; classic, straightforward buttermilk pancakes served with honey butter (they make gluten free too!). The amaretto French toast has piqued my interest, but I just can't get enough Bunny Rancheros. Don't forget a biscuit…they are light, fluffy and perfect with some apple butter or mixed berry jam.
If you've got some time on your hands and you looking for solid breakfast options with a side of people watching and a lot of character, look no further than Zada Jane's (let's be real, the wait can be long and the service can be a bit slow, so you need time on your hands).  But patience is a virtue, and the food is worth the wait. Order the Bunny Rancheros. Just do it.