A few weeks ago, I ate pizza every day. I brought a slice for lunch Monday and Tuesday because I was in the fridge clearing out phase before vacation and didn't want to go grocery shopping. Tuesday, I not only ate pizza for lunch, but had pizza again for dinner when we took our summer intern to Wolfgang Puck Pizza Bar as for an end of internship dinner. By Tuesday night, I made it my mission to eat pizza every day because I like to set reasonable goals. Wednesday, I brought my leftovers from dinner the previous evening, then Thursday helped me achieve my goal because we had pre-ordered pizza for a fellow coworkers going away party. That only left Friday between me and success, so I figured I may as well go for the gold and get 5 straight days of pizza in. Eating mostly pizza is an excellent diet if you ask me.
This was my second visit to Wolfgang Puck Pizza Bar in South Park (my last visit was actually a going away dinner for my summer intern last year). I wish I hadn't let a year lapse before I ate at Wolfgang Puck's; the food I had last summer was incredible (that night I didn't order pizza because I wasn't in a pizza mood, but I had a salad and an asparagus appetizer, and both were delicious).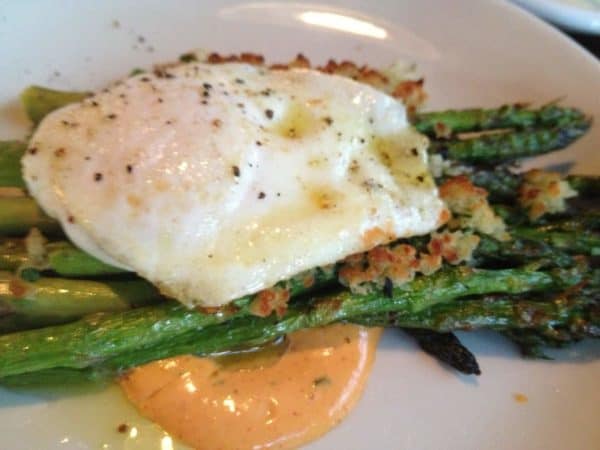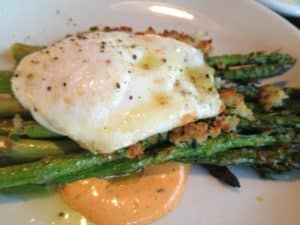 (asparagus with a fried egg on top and breadcrumbs? yes, please. Wolfgang, if you're out there, I want this back on the menu ASAP!!!)
This time around, I wanted it to be all about the pizza. I've gotten a lot of great recommendations about Wolfgang Puck Pizza Bar and everyone continually says the pizza is divine. So clearly, I ordered pizza on my most recent visit.
Wolfgang Puck Pizza bar is rustic, warm and inviting; the perfect place to enjoy Wolfgang Puck's signature thin pizzas or other classic Italian dishes. The menu changes seasonally; influenced by local seasonal ingredients and flavors. The restaurant's summer menu offers a lot of creative options using popular and vibrant summer produce–peaches, summer squash, baby kale and heirloom tomatoes. I had a super hard narrowing down what I wanted to order; the creative pizza options are practically endless! Finally, after much debate and some recommendations from our waiter, I ordered a Wolfgang Puck classic-the roasted mushroom pizza with robiola cheese, spinach, mozzarella, and truffle oil (I really can't say no to truffle anything…but I want to go back soon and order my other choices, the grilled peach pizza with watercress, smoked prosciutto, and burrata and the prosciutto di parma pizza with arugula, roasted peppers, and parmesan). Sam ordered the Carolina goat cheese pizza (which also sounded incredible) and Danielle scored a gluten free pizza (Wolfgang Puck Pizza Bar has an entirely separate gluten free menu for our gluten intolerant friends).
Danielle and I also split a starter salad–the Tender Baby Kale Salad sparked our interest. It sounded really fresh and delicious–pine nuts,fennel, parmesan, pickled red onions, and lemon vinaigrette. I really love the combination of kale and lemon; the lemon curbs kale's somewhat bitter and harsh taste. Unfortunately, the kale was a hot commodity, so they were out, but they made our salad with arguala instead (and I love the peppery flavor of arugala). The salad was well dressed, bright and delicious and was a great way to start the meal.
The mushroom pizza really hit the spot. It had a lot of robust flavor, from earthy mushrooms and rich truffle oil. The strong flavors did harmonize with the cheese and the delicate, soft, crust, and I had to keep myself from eating the whole thing (I was so happy I didn't because I got to enjoy my leftovers for lunch the next day).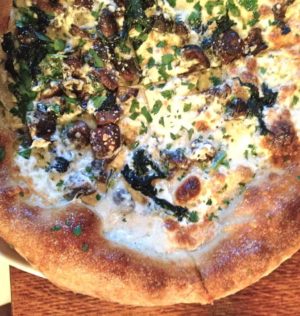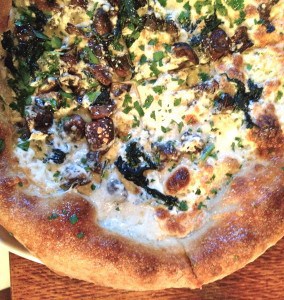 Eating pizza is like getting a warm hug, and Wolfgang Puck Pizza Bar's pizza truly gives me all the warm hugs. I'm going back soon to check out what creative pizzas they've brought to the table for fall!
wolfgangpuck.com  / 6706 Phillips Pl Ct., south park
open mon.- sat. 11:30 am-10 pm, fri. & sat. until 11pm, sun. 12 pm-8pm