This was a site for sore eyes Monday morning at 8:15 am.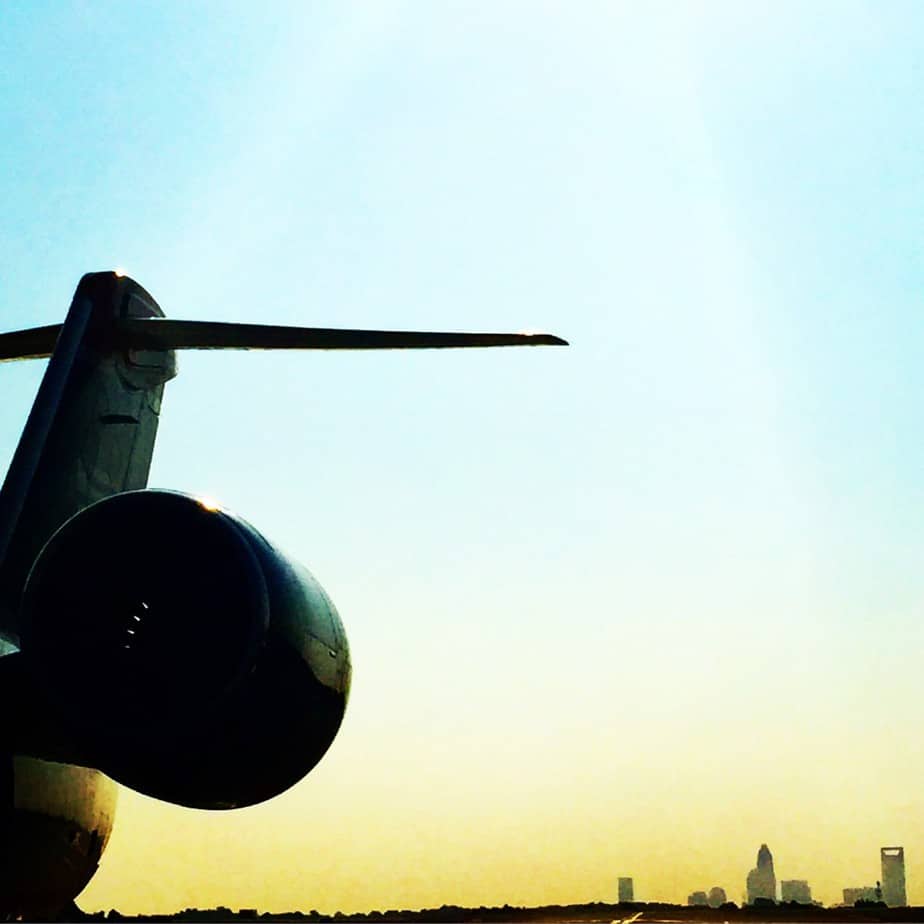 I shot it from the blazing hot tarmac at Charlotte Douglas International Airport after we deplaned (gotta use those technical airport terms, I also controlled my luggage the entire time) our 5:30 am flight from Milwaukee. Twenty minutes later after a quick outfit change, I was headed Uptown for work with an extra large iced coffee in hand. Necessary (justice doesn't stop for anyone). I went to bed at 8:15 pm Monday night.
I have to tell you this story now because I told you I was going to blog almost every day in May. Well this weekend threw a little wrench in my plans. But I did say *almost* every day so I have still kept my promise.
How did we get here?
We got here because two of my dear friends got married last weekend. I've known Emily for 8ish (9ish?) years and David since I started law school. They fell in love and threw a great party. '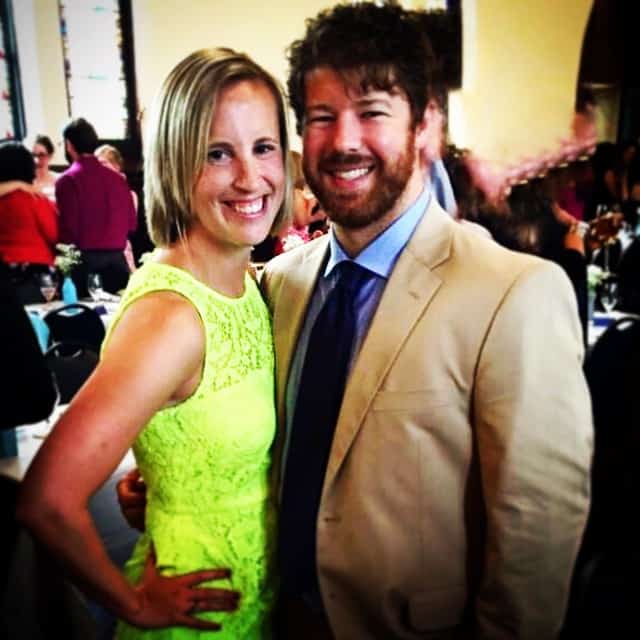 Our weekend started with this (don't worry, I will share details on this beauty soon).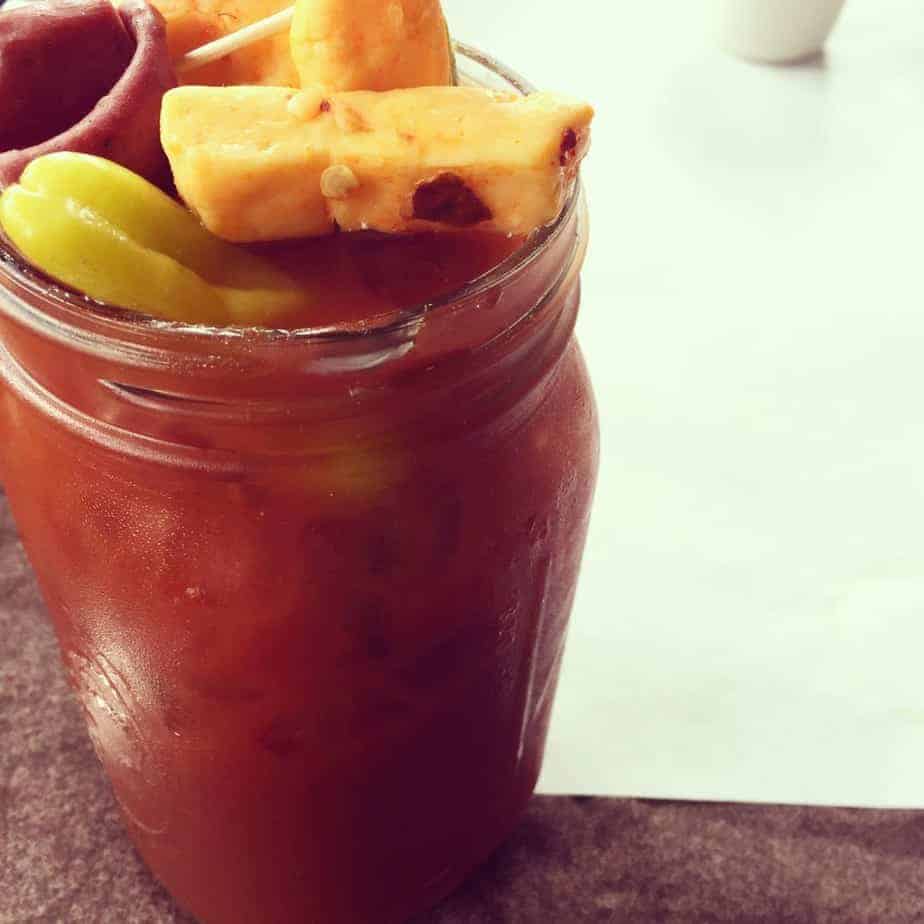 On Sunday, we planned to bop around Milwaukee before Tina dropped us off at the airport. We were then supposed to take a flight to Atlanta, not eat any Chick-Fil-A (closed on Sunday) and be home in bed with the cats by 10pm Sunday night, ready to tackle the week.
We started our day with brunch (clearly) at Trocadero, a well known brunch and Bloody Mary spot on the East Side. Trying to go to brunch on Mother's Day without a reservation is probably the absolute worse idea, but our timing was perfect because three seats at the bar were open and calling our names (Trocadero has a pretty impressive patio, which cannot be enjoyed when it's 35 degrees and raining). There was some soccer on the TV which enthralled AJ, so Tina and I got to chat. We were starving so ordered some bloodies and potato croquettes (which we explained to AJ are like fancy tater tots).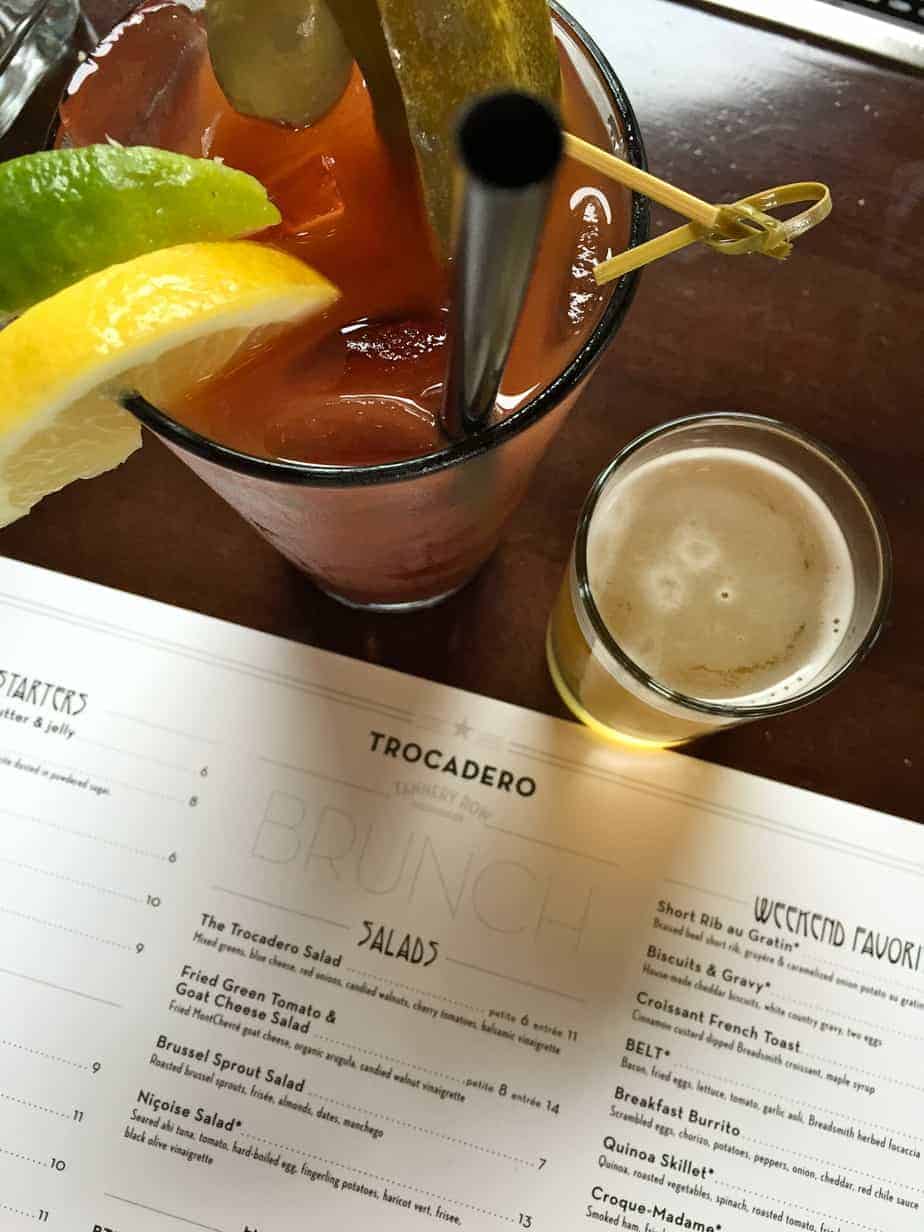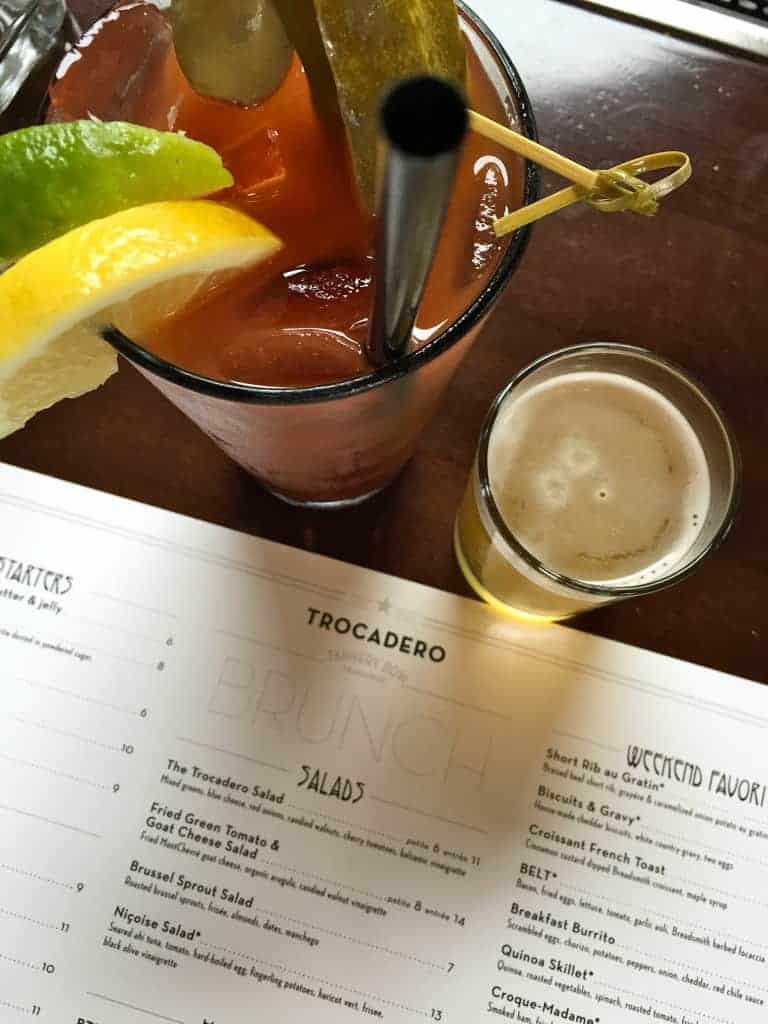 Great bloodies. And they came with beer backs which is such an excellent tradition in Wisconsin. Also great fancy tater tots (I knew the croquettes would probably be great because  the tater tots at Cafe Benelux, which is owned by the same restaurant group, are incredible. Glad to know I was right). The mustard aioli was so good we kept it to use for future dipping needs.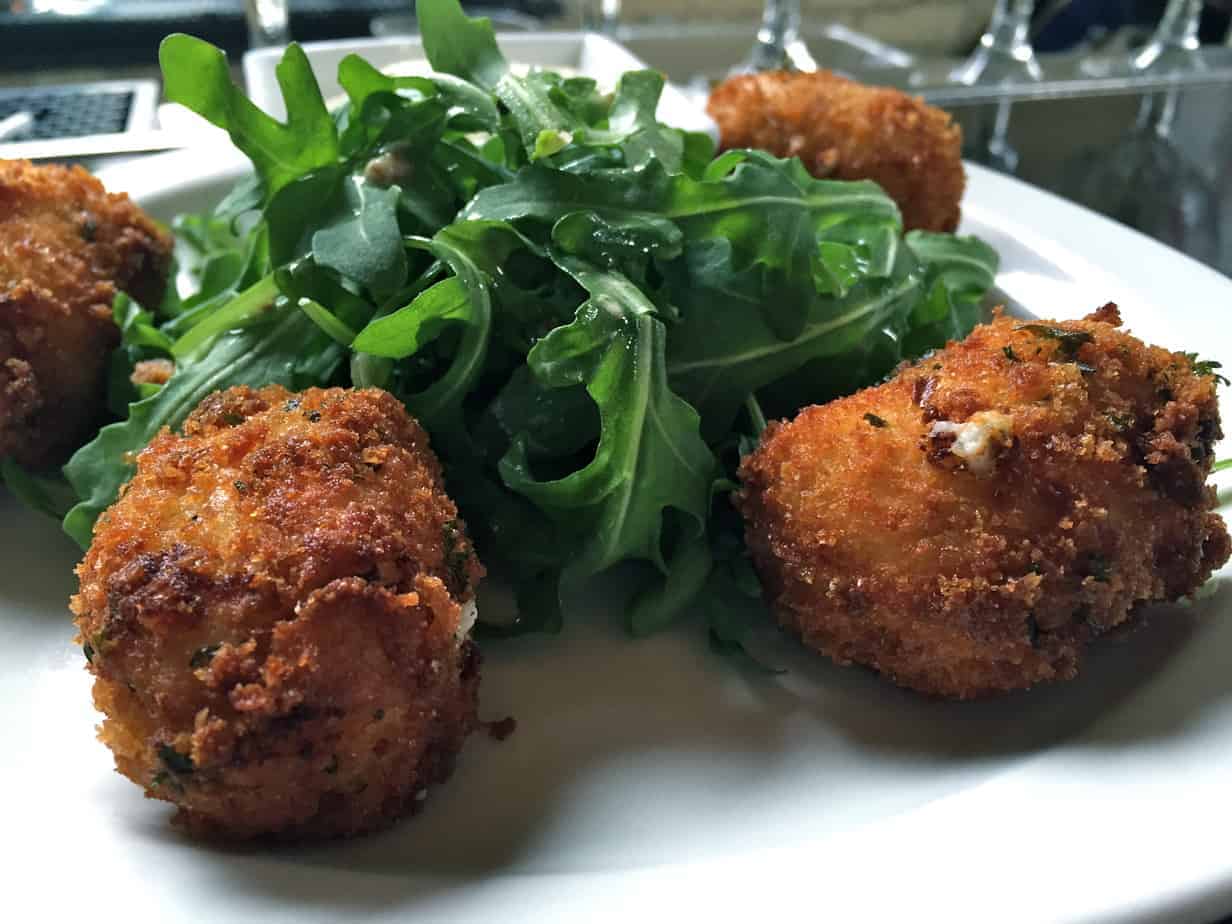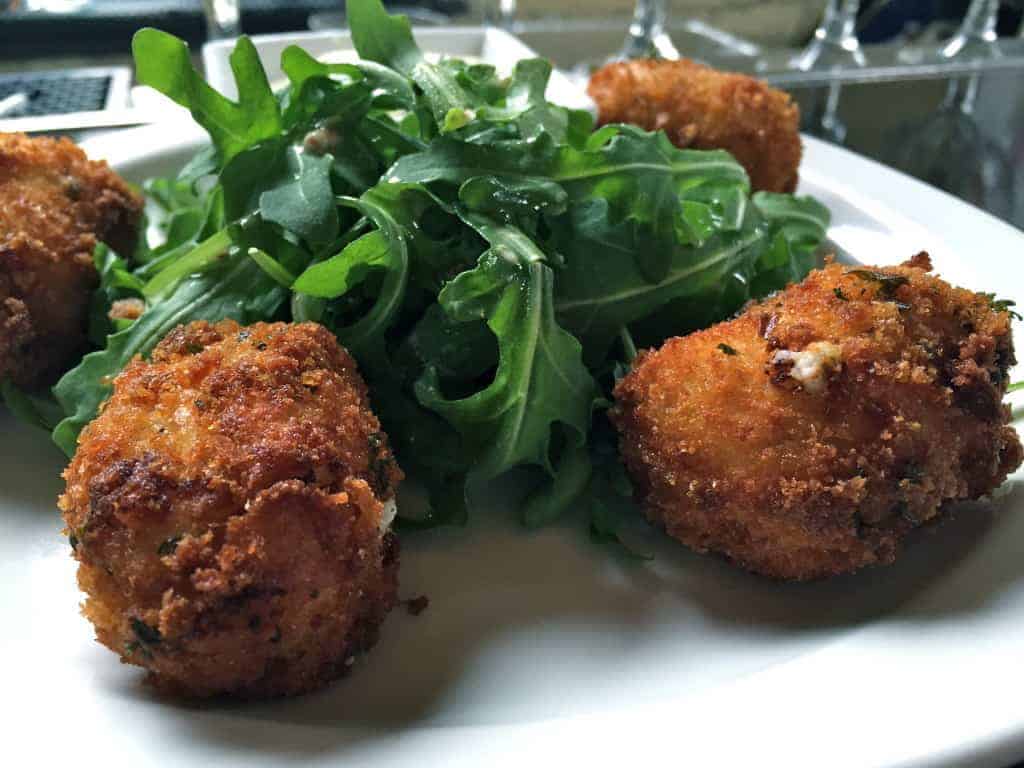 I was really jealous of Tina's main. She got chicken and waffles and I was all like I don't need to get chicken and waffles in Milwaukee because I live in the South. Rookie mistake. Tina wins the main course ordering competition. Her chicken was fried perfectly and the waffle was soft and crispy at the same time. Mind blown. She let me have a few bites.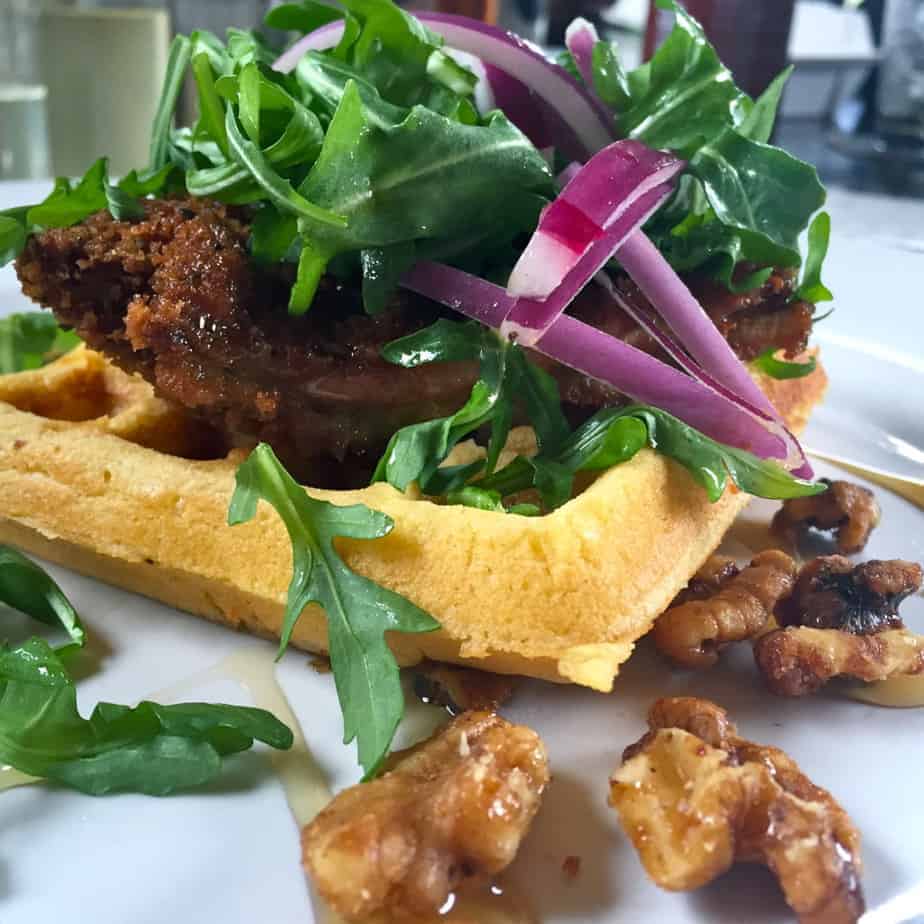 That doesn't mean my main was bad, just not as good as hers. I decided on the ham and gruyere crepe, which I think was a great choice because a crepe sounded great. The only thing I would tweak is less onions (so many onions), and more cheese. We are in Wisconsin after all.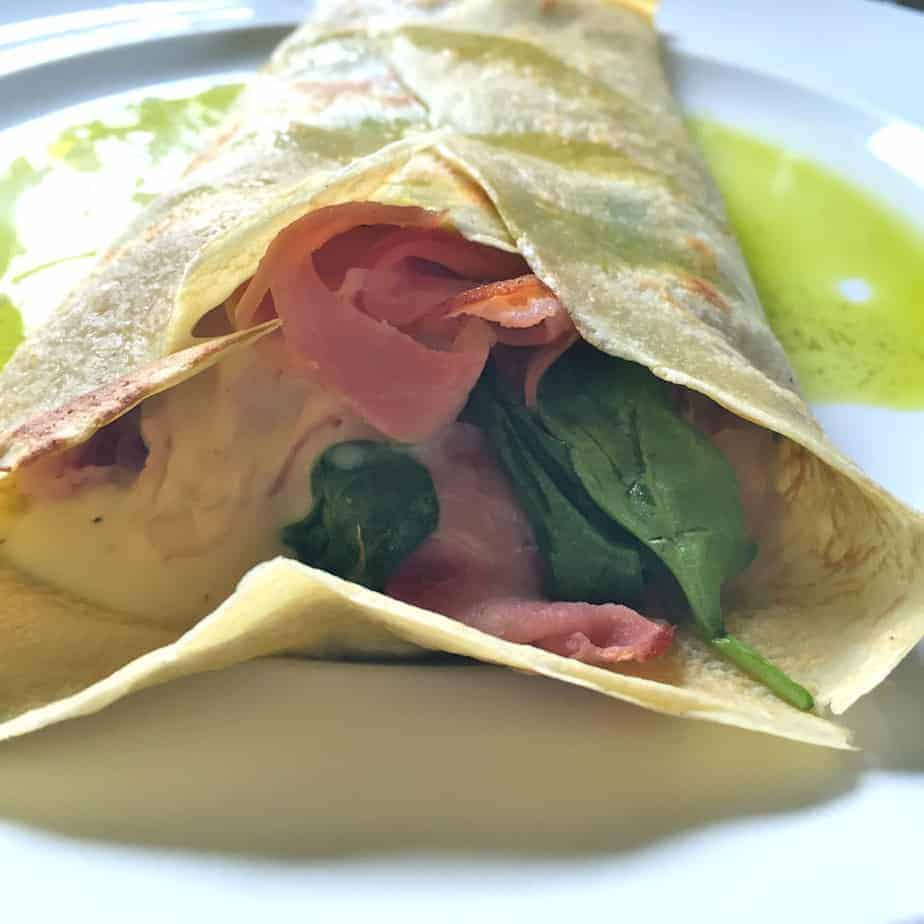 AJ got an omelet and after an intensive debate between the Humboldt St. Omelet and the Chicken Confit and Veggie Omelet, he selected the latter. The rosemary potatoes on the side were delicious.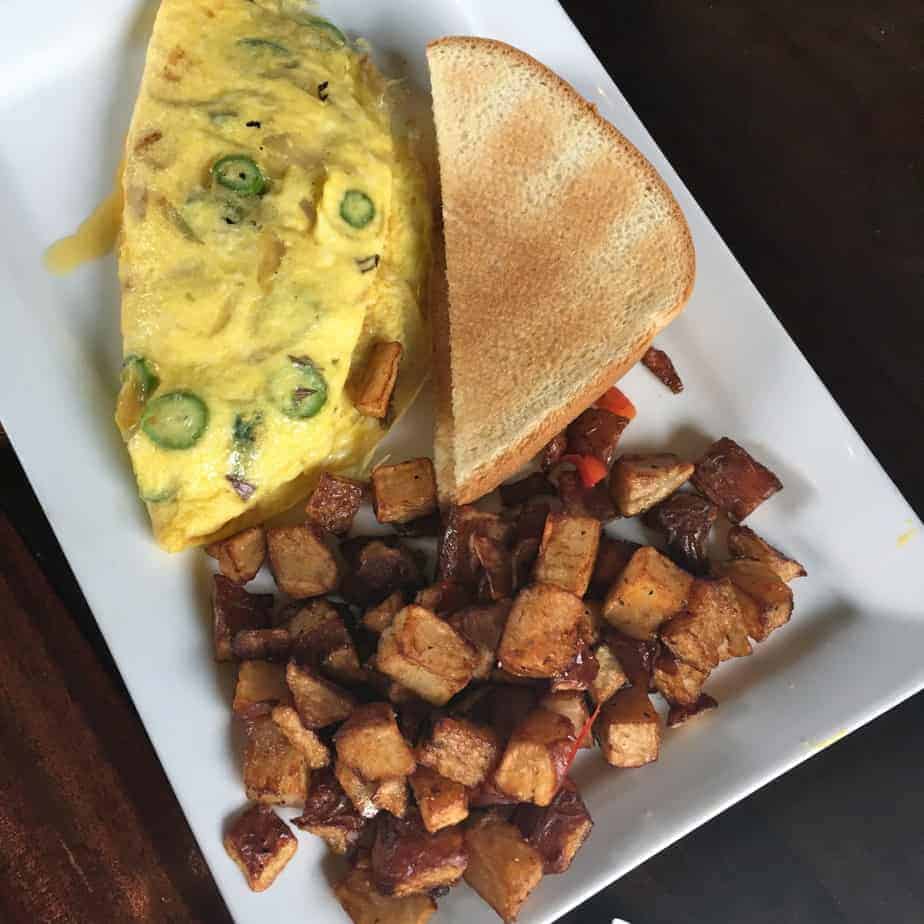 trocaderomke.com / 1758 n. water street, milwaukee
We left a little room and went across the river just in time to make the 1pm tour at Lakefront Brewery. There once was a time where there was always a huge wait for a Lakefront tour and you couldn't reserve in advance but this was not the case so we signed up for the tour (the original idea was just to drink some beers and show AJ the brewery, but a tour trumped that plan). Lakefront's tour is great; 4 samples and a pint glass at then end for $8. Josh was our tour guide and it was a blast; he was entertaining, hilarious, and we sang the Laverne and Shirley theme song as a group at the end (Josh's tour was on par with Brad's at Unknown Brewing. Both fabulous experiences). After Josh taught us about Lakefront, the brewing process, and teased us a bunch, we tasted a few more Lakefront brews (including one infused with grapefruit, yessss) and got some cheese curds and french fries with beer cheese. Because Wisconsin.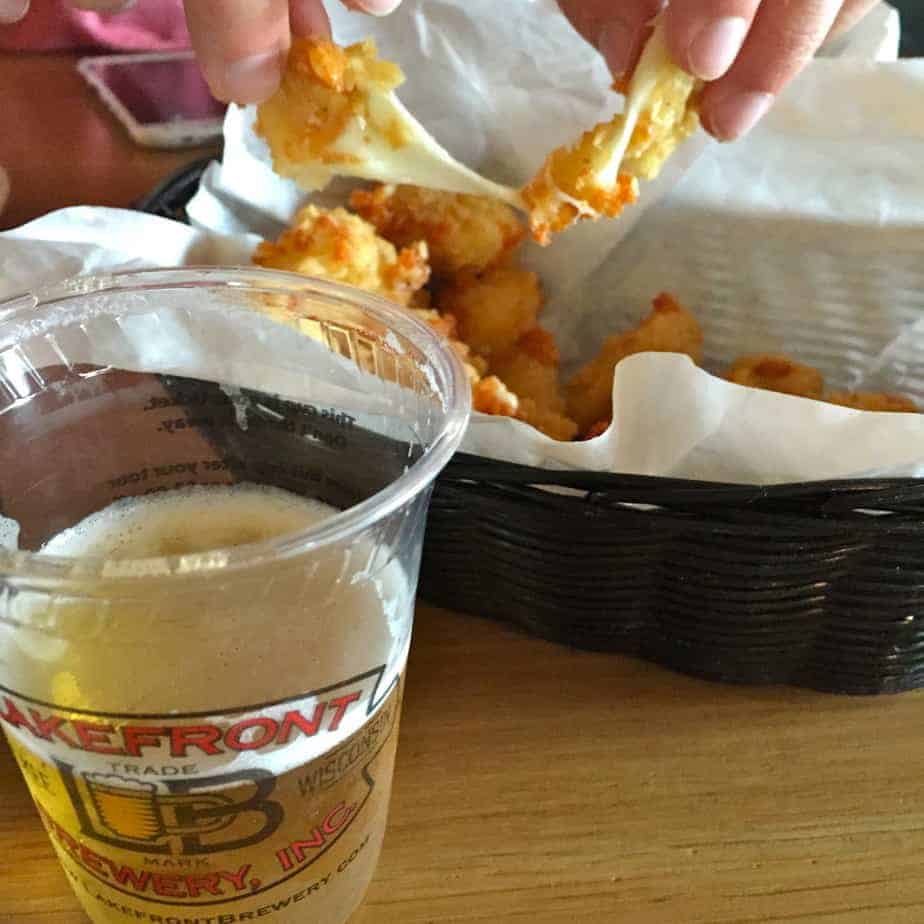 Lakefront has some rocking cheese curds, but my favorites are still at the Old Fashioned in Madison.
lakefrontbrewery.com / 1872 n. commerce street, milwaukee
Next up was airport drop off, goodbyes to Tina, and some gate sitting. We timed our journey perfectly that AJ could take a little nap while we waited to board, and then we got an announcement that the fuel truck had run into the airplane so the wing was dented (this is real life). They were going to check with some engineers to see if the plane could still fly (no thank you to riding on that plane). Delta gave us a choice; we could wait out the delay, fly to Atlanta, miss our connection to Charlotte and get stuck in Atlanta, or they could book us on a different flight through Chicago. Um duh. We had a few more hours to kill so we spent that at the Chili's Too over Summer Shandy, strawberry margaritas and chips and salsa.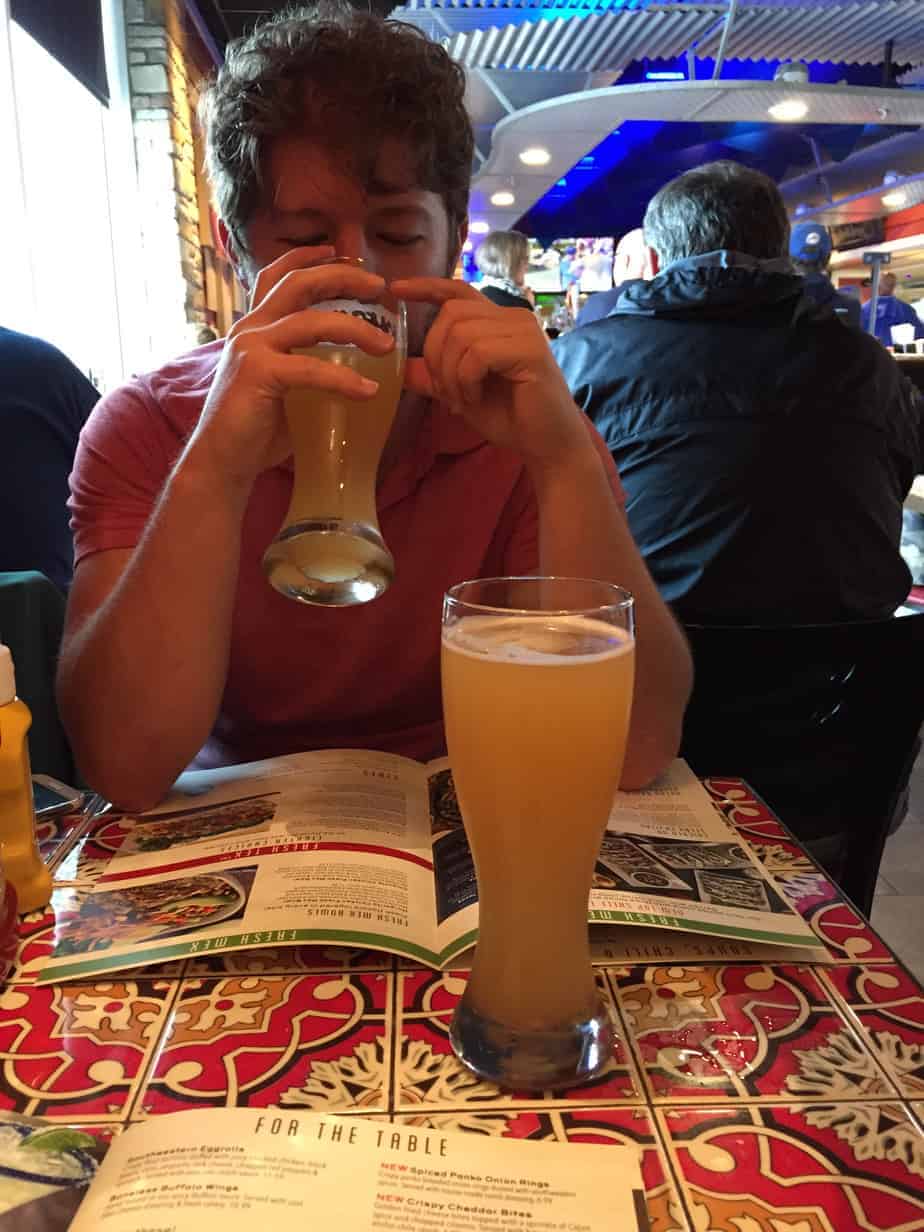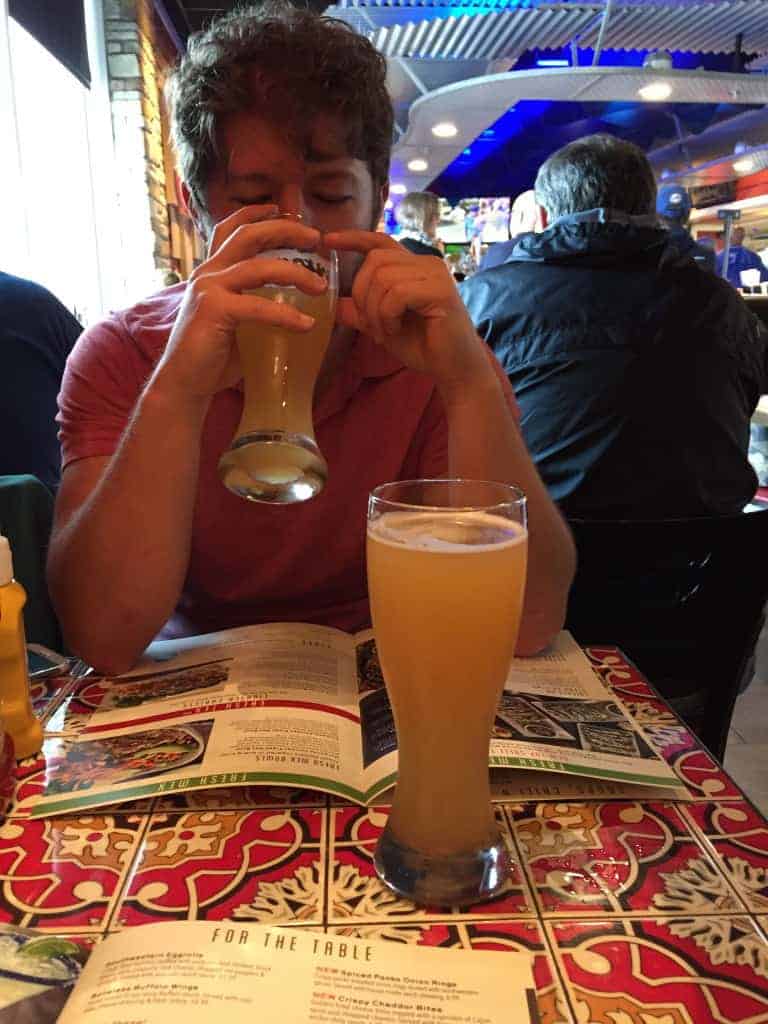 Our next flight was delayed because of Chicago (this is a reason), and AJ started documenting our time in the airport (hashtag #justairportthings, he was so pleased with himself). We then learned that the plane's tail light was out, so we would not be going to Chicago. They had us stand in several very long lines (efficiency) and eventually booked us on a direct flight to Charlotte the next morning.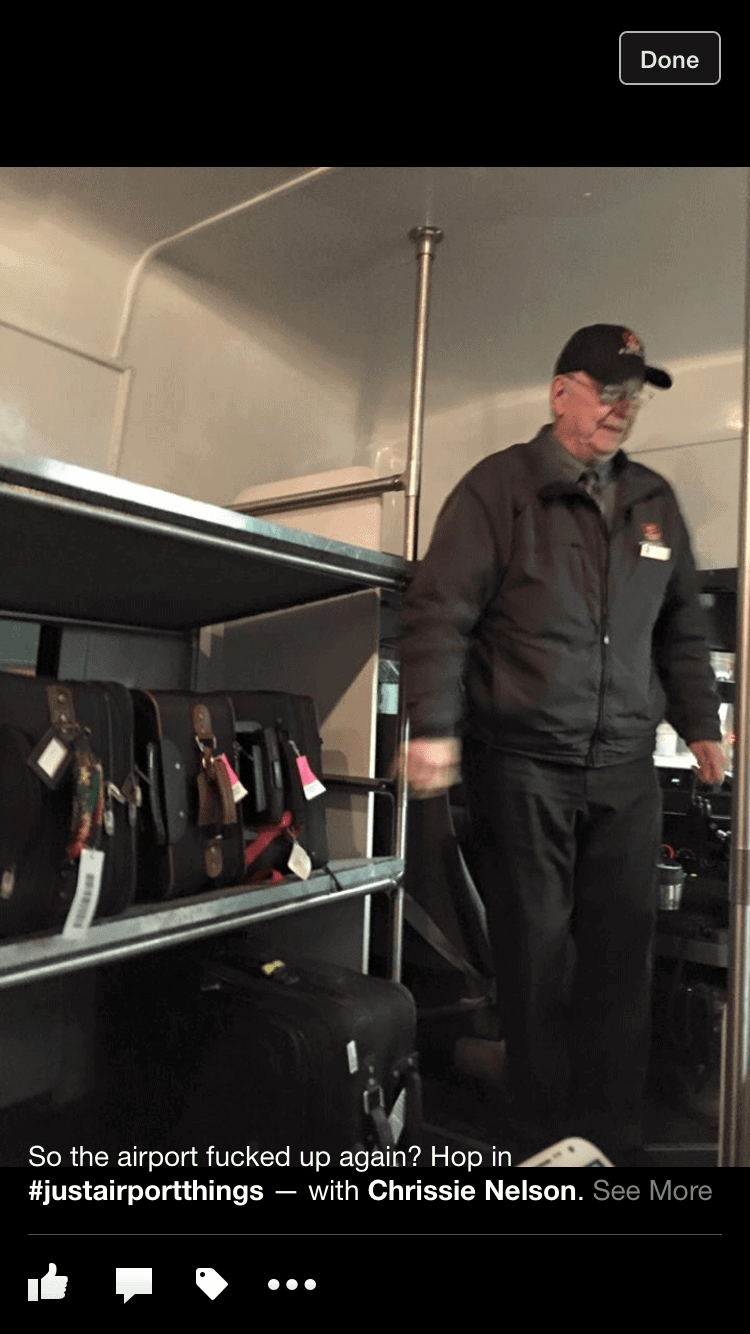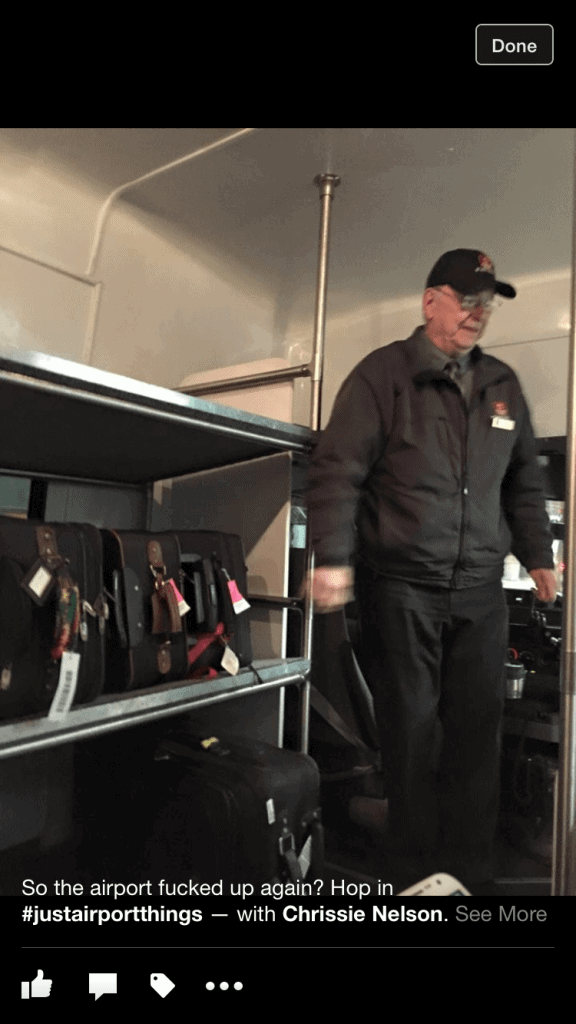 The best thing about being stranded in a city where many of my friends live so if I had known 5 hours earlier we could have kept the party going, is that the hotel shuttle guy at the Clarion Milwaukee Airport is the coolest. The hotel bar was closed (what? this is Wisconsin) so he drove us to the nearest bar (one that we would not have been able to walk to) and told us to call when we were done so he could pick us up (the hotel has 24 hour shuttle service that I think is supposed to be used just for airport drop offs but whatevs).
We ended up at The Landmark, a dark, divey spot in a really neat, old, brick, historical looking building. At 10pm on a Sunday, there were 5 other people in the bar when we walked in: two older gents slamming some PBRs in bottles and talking to the bartender at the bar, the bartender, and two folks who looked like airport employees (wearing those vests, you know what I mean). We got two Spotted Cows and ordered a medium pepperoni pizza. The pizza was quite delicious; piping hot and greasy with a crunchy thin crust, exactly how a bar should make it. AJ got one more beer (they didn't have any Schlitz unfortunately, but a whole lot of other taps) and we called our shuttle friend and got a few hours of sleep.
landmark 1850 inn, 5905 s. howell avenue, milwaukee
Despite our travel nightmare (which truly would have been a nightmare if I was traveling alone) we ended up with a funny story, went to a cool spot we would have never gone to, and had a pretty fun evening (despite standing in line and then being told to get out of line and move to another line so everything could be done faster).
If you ever get stuck in Milwaukee, stay at the Clarion and shuttle over to get some pizza at the Landmark.