While I spend every weekday in Uptown at work, I don't make it to many of Uptown's lunch spots too often. I chalk it up to bringing my own lunch (which is a money saver!!), laziness (I don't want to walk all. the. way. from. the. courthouse.), and the fact that sometimes I just don't have the time to enjoy a sit down lunch. But two weeks ago, I was deep in the heart of Uptown Friday and Saturday for a work training (which was boring and miserable and I never want to do again), so my friend Danielle and I decided to treat ourselves to Mexican food over our lunch break. Danielle, a girl after my own heart, can never say no to Mexican, we had been talking about enchiladas and margaritas for two days straight, so we had to go.
The weather was gorgeous, we were just down the street, so we decided to pop over to the Epicentre and eat outside at Vida. Vida is neat spot; it's super centrally located, just one block down from Uptown's center of Trade and Tryon, and is perfectly perched at the corner of the Epicentre with a patio overlooking both College and Trade streets. I've been to Vida twice for happy hour,  when we are craving a margarita after work (this story is turning into a tale of desires of margaritas but I promise I'm not an alcoholic). I've snacked on their chips and salsa, tried their two dollar tacos (on Tuesdays! it's a great deal!) and ran into John Cho while he was filming Sleepy Hollow in Charlotte (you know, John Cho, of Harold and Kumar fame. I hope our giggling/stalking didn't both him too much. Look at that high quality paparazzi shot, yes that's my eyeball).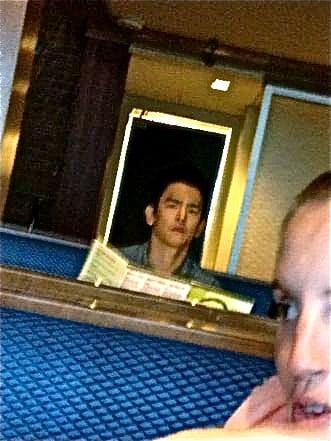 map & more
score: 6
spending: $$
neighborhood: uptown
cuisine: mexican
official website
[googlemaps https://maps.google.com/maps?f=q&source=s_q&hl=en&geocode=&q=Vida+Cantina,+East+Trade+Street,+Charlotte,+NC&aq=0&oq=vida+cantina&sll=35.203153,-80.839829&sspn=0.684501,1.082153&ie=UTF8&hq=&hnear=&t=m&ll=35.225271,-80.842144&spn=0.003506,0.00427&z=16&output=embed&w=200&h=200]
But I digress. Lunch in between sessions of CLE (continuing legal education) hell was the first time I ordered an entree at Vida. And it definitely hit the spot. Vida wasn't too busy on this sunny October Saturday, so we were seated quickly and immediately given endless chips and salsa. Vida's salsa is good–I like the consistency, a little chunky, a little smooth, but it could use a bit more kick (I would like it more if the flavor and the spice were amped up). Our waitress was attentive, and we had our drinks in no time. We sipped on margaritas as we perused the menu; a traditional on the rocks for Danielle, and a strawberry for me (Vida's approach to flavored margaritas is different than a traditional blended fruit drink–instead, Vida blends the tequila, fresh squeezed lime juice, triple sec and cane sugar and then serve the margarita blend in a glass with a fresh puree). These were exactly what we needed in between sessions of work life balance and maintaining a trust account.
I was starving, so I quickly looked over the menu and went to my go to–enchiladas. I love, love enchiladas. Growing up, I always ordered cheese enchiladas, and while my palate has grown I have branched out since I was ten, there's still something about cheese enchiladas, done right with a spicy sauce, that just hit the spot. Unfortunately, Vida didn't have any cheese enchilada options that spiked my fancy (but the spinach and mushroom was intriguing) so I settled on the choice that I thought was as close to classic as possible–the chicken and queso enchiladas.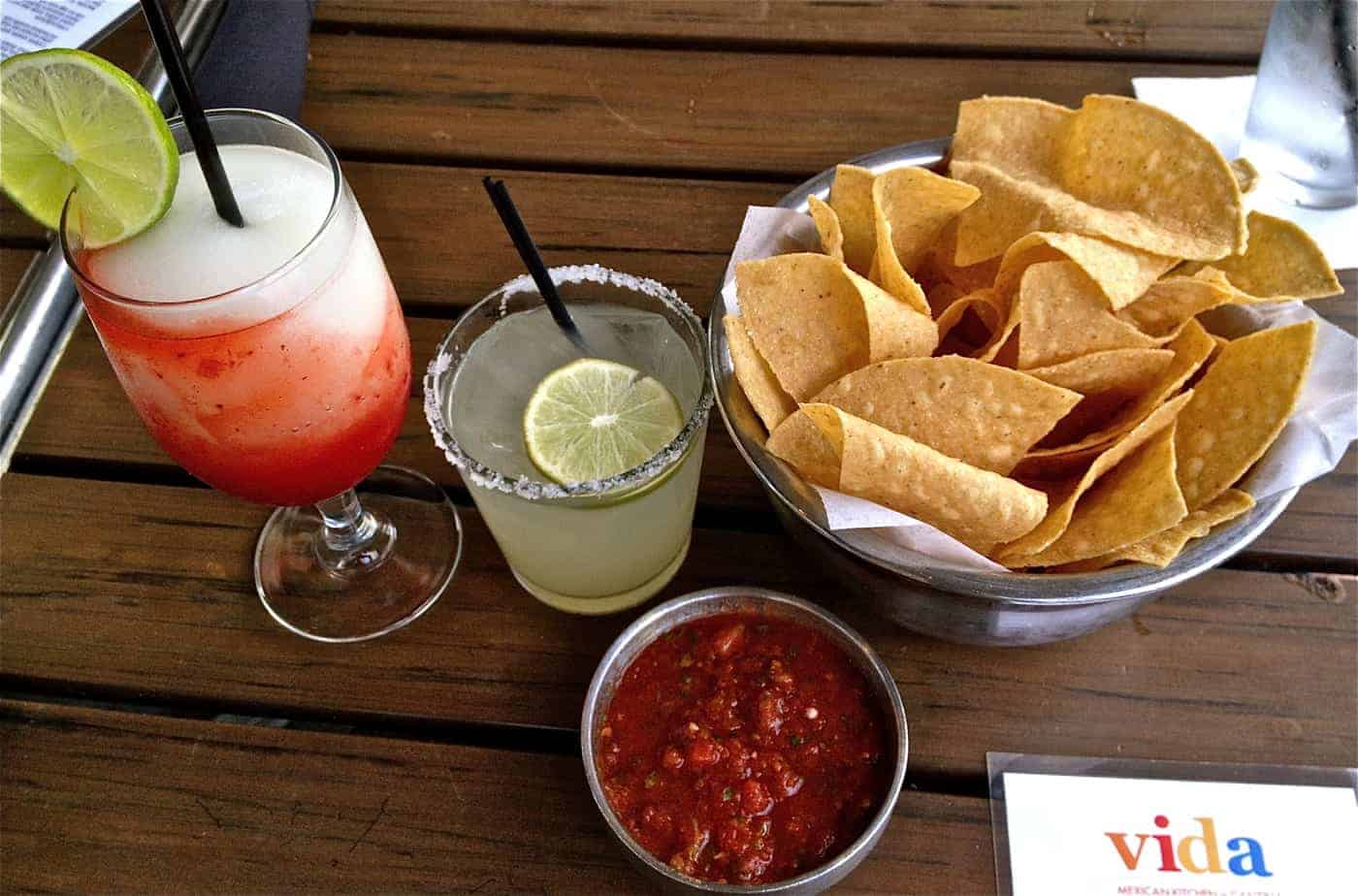 We sipped away and our food was out in no time. My enchiladas were delicious; they were stuffed to the brim with a chile seasoned chicken and cheese mixture, and then were bathing in a creamy, spicy queso sauce and decorated with guacamole and pico de gallo. The portion was huge (enchiladas plus red chile rice and black beans on the side) so I was able to take some home for lunch the next day, which I love.
I really enjoyed my meal, but still haven't found my go-to traditional Mexican place in Charlotte yet (while Charlotte has a lot of Mexican offerings, a lot of places put spins on traditional Mexican or Tex Mex dishes). I hear I need to venture down South Boulevard to find the true Mexican gems of the city. But, if you're looking for something more elevated with a traditional twist, you should check out Vida in the Epicentre. The two dollar Tuesday tacos are worth it; the drinks are cold; the enchiladas are solid; and who knows, maybe you'll have a celebrity sighting!