Upstream was at the very top of our list to try for this summer's Queen's Feast. AJ grew up near the water and I've spent a lot of time near the ocean (and I absolutely love it!) so a restaurant that is centered around the day's freshest catch is right up our alley. I made reservations as soon as the dates for Queen's Feast were announced, and we enjoyed a relaxing Sunday night date night a few weeks ago at Upstream.
map & more
score: 8
spending: $$$
neighborhood: south park
cuisine: seafood, sushi
official website
[googlemaps https://www.google.com/maps/embed?pb=!1m18!1m12!1m3!1d3262.434343031528!2d-80.82551799999995!3d35.145787000000006!2m3!1f0!2f0!3f0!3m2!1i1024!2i768!4f13.1!3m3!1m2!1s0x88569e1146c6fb05%3A0x72957d82f5ba82a1!2sUpstream+Restaurant!5e0!3m2!1sen!2sus!4v1408399790251&w=200&h=200]
I've been to Upstream once before right after I moved to Charlotte, and my meal was focused around their fresh sushi and raw oysters. My first time at Upstream was also a restaurant week experience with some girlfriends from work, and I really enjoyed the oysters and sushi (at this point, you know I love all the sushi). This time around, I wanted branch out and indulge in some of Upstream's innovative fresh catch dishes.
AJ and I started with a bottle of prosecco, which was perfect for a hot July day–it was cool, crisp, refreshing and not too hard on our wallets. We talked about what each of us were going to order (I like having a game plan when I go out to eat so I can maximize my opportunity to taste as many dishes on the menu as I can, so we each try to order something different and share with each other tasting of as many dishes). Also after writing that sentence, I realized I'm probably one of the most unpleasant dining partners because I'm so high maintenance, bossy and force my dining partners to order something so I can taste it (adding to that list, I sometimes [with my nearest and dearest family and friends] request that no one eats until I take a quick photo. I really am the worst). At least I bring conversation to the table. So AJ and I developed the game plan, which ended up with us ordering the same dessert, which is ok because no one really likes sharing dessert anyways.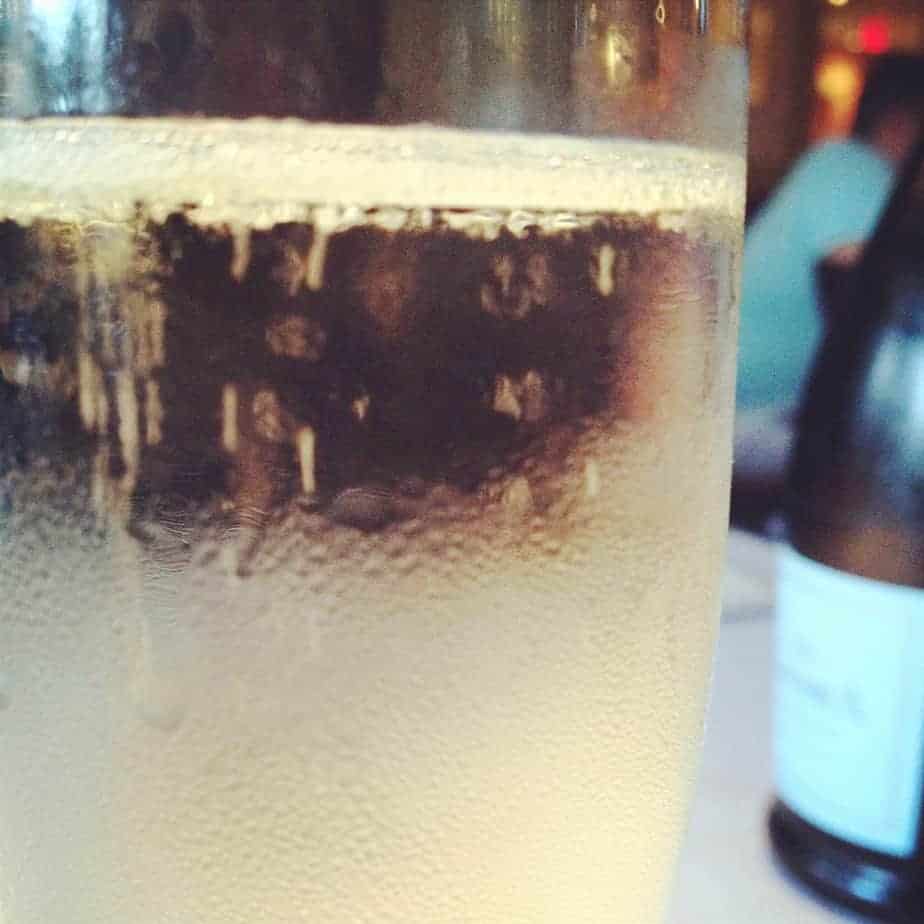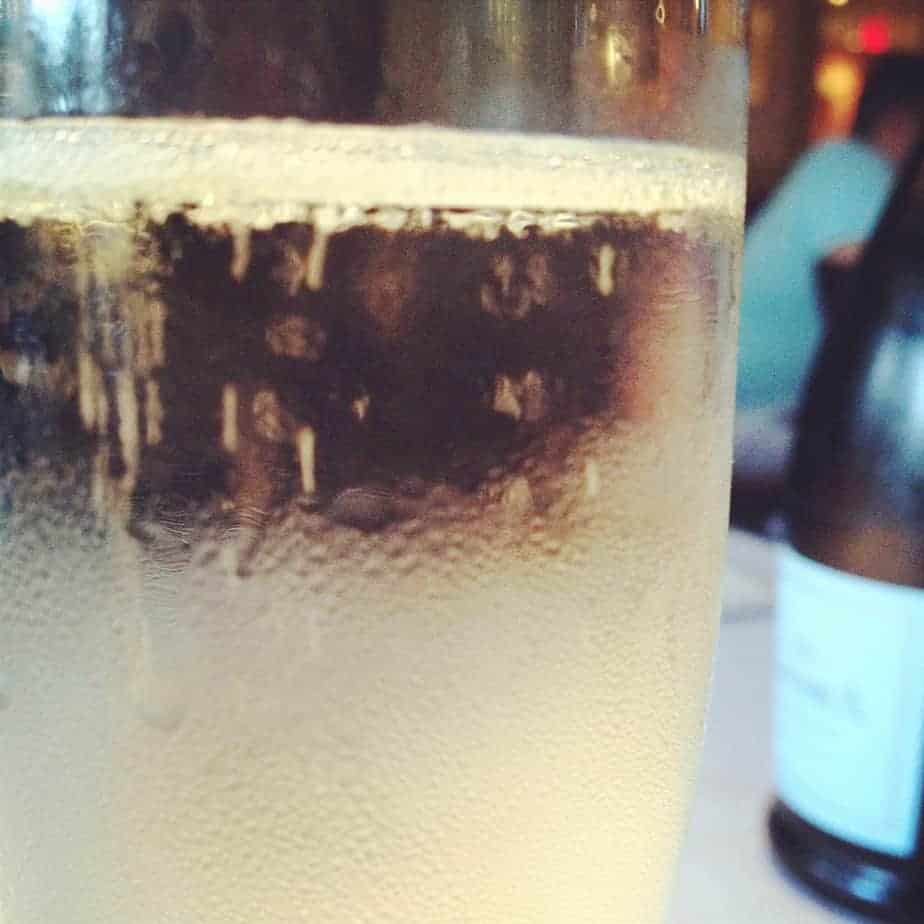 AJ's order definitely won the appetizer round–he ordered the mussels and I ordered the big eye tuna tacos. My tuna tacos were raw ahi tuna tacos with hearts of palm, wasabi aioli and pickled jalapeno (they reminded me a lot of the tuna tacos I ordered at Kil@wat in Milwaukee). These were tasty, but the portion was so small. I wasn't expecting a ton of food (plus wanted to save room for my main course and dessert) but there were only three teeny tiny tacos taking up the plate–there was wayyy too much wasabi aioli for the amount of tacos. I would not pay the normal menu price ($15!!!) for the amount of food I got as a starter (maybe for Queen's Feast they decreased the portion size?). Even though the portion was small, it's clear that Upstream does know what it's doing with fish because the flavors were on point–the spicy flavors complimented the fresh tuna–and the fish was fresh.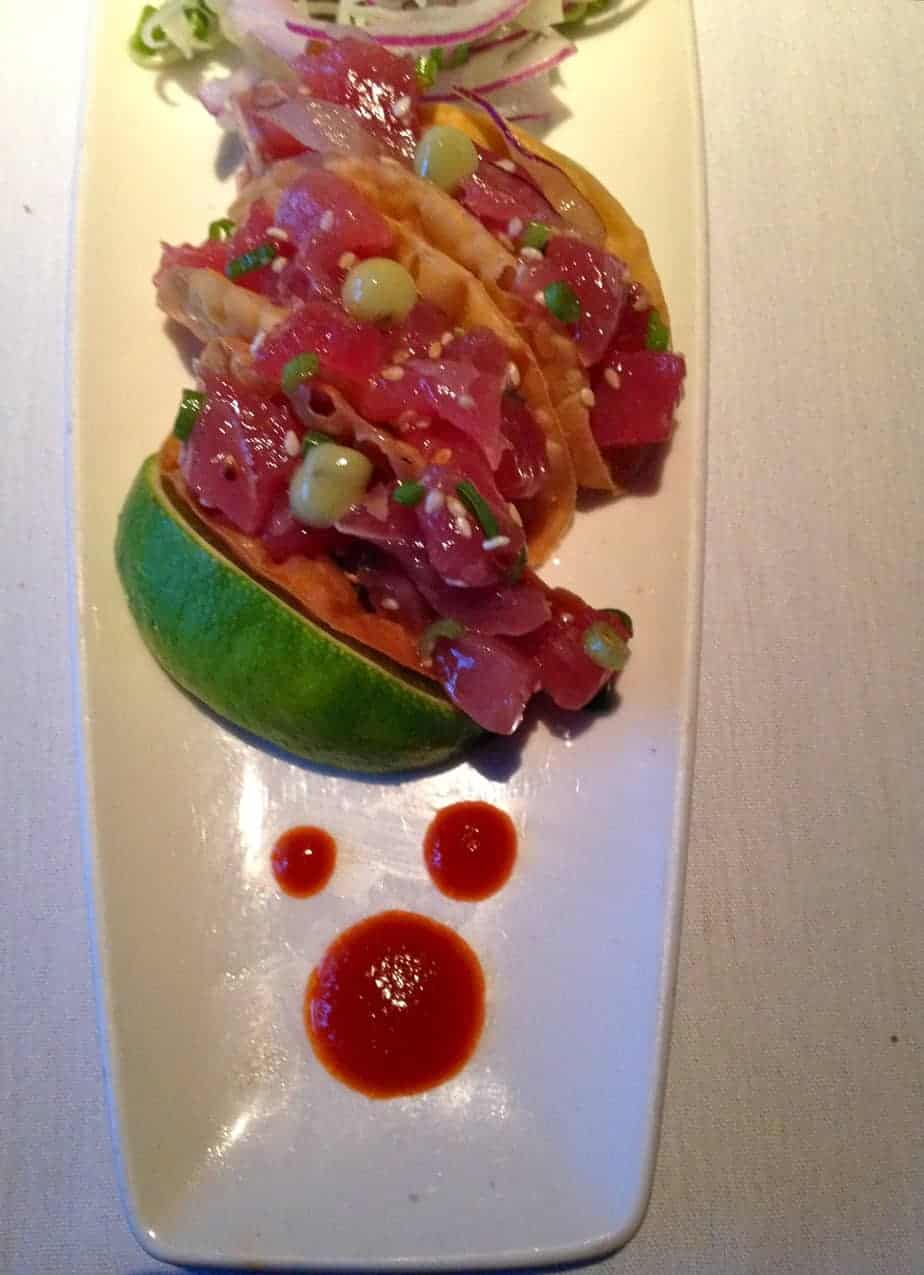 On the other hand, AJ wins because his portion of mussels was NOT SMALL (it was huge) and our waitress said he got the last order in the whole restaurant. The Black Iron Mussel Pot was really delicious (of course he let me have some). The mussels were cooked with smoked tomatoes, garlic, herbs, and white wine–which are all excellent flavors for mussel cooking. They were full of flavor and tender and warm and delicious. Definitely on par with some of the best mussels I've eaten in Charlotte. Moral of the story–always order the mussels.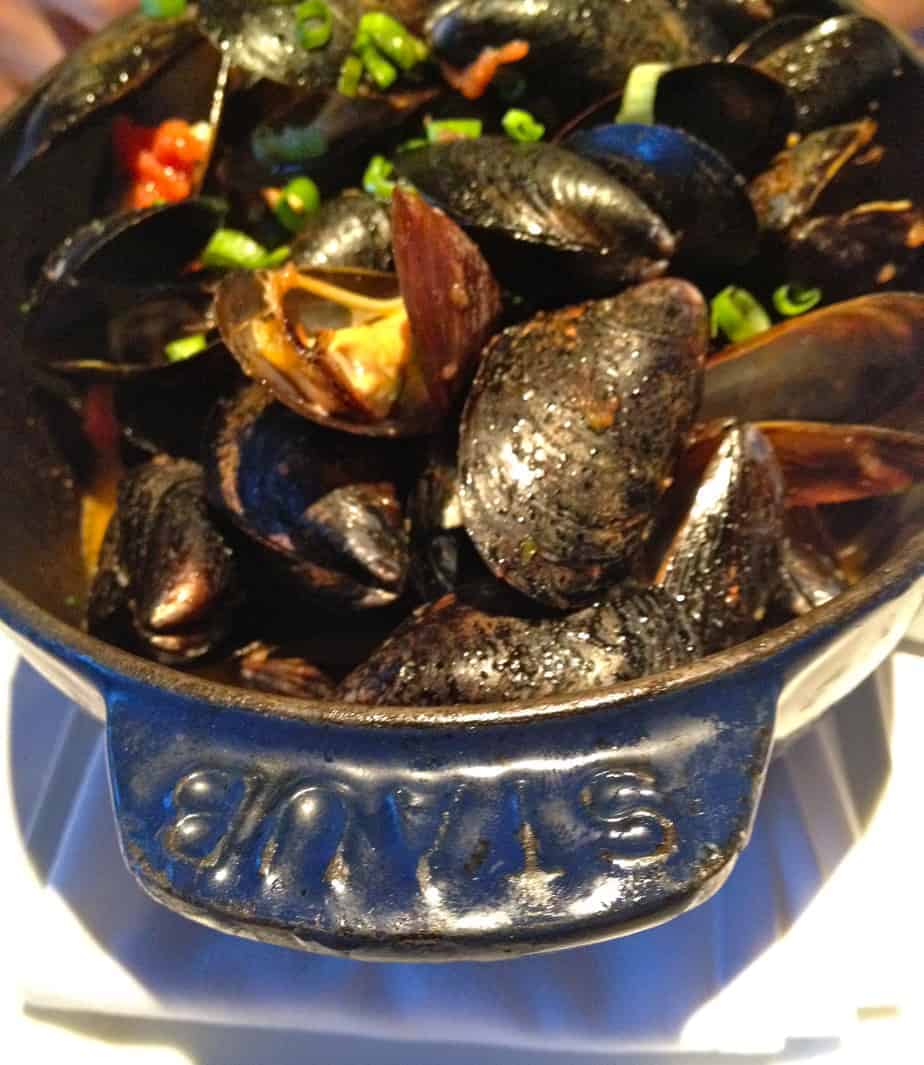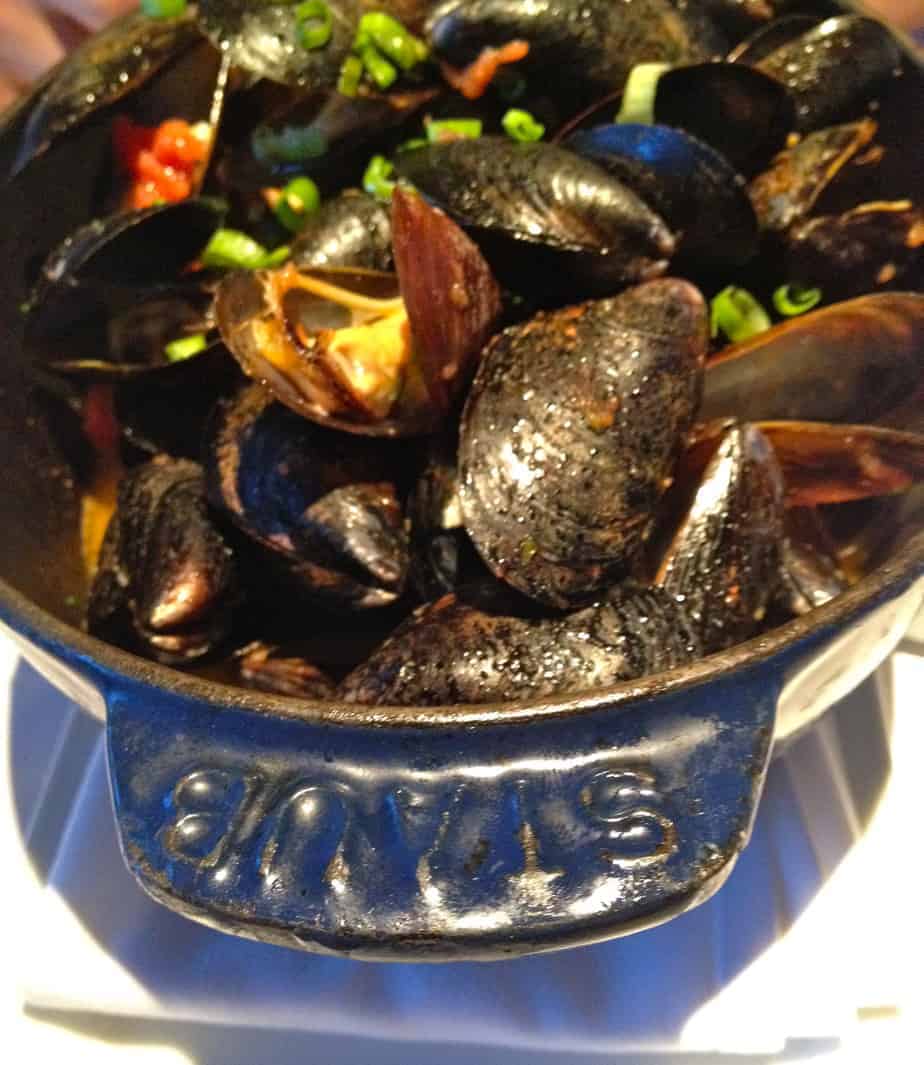 For my entree I ordered the Cashew Crusted Carolina Trout and I really, really enjoyed it. I've been on a huge cauliflower kick lately (so, so good) and the cauliflower puree was flavorful but not overpowering, making the trout the star. The trout was cooked well–no knife was necessary because my fork sliced through it like butter. The cashew crust wasn't caked on but just delicately decorated the trout and added a little crunch. The green beans were crisp, and the citrus brightened everything up. It was really good and I couldn't help but eat the whole thing (I thought for a minute about saving some for lunch the next day but just couldn't stop eating).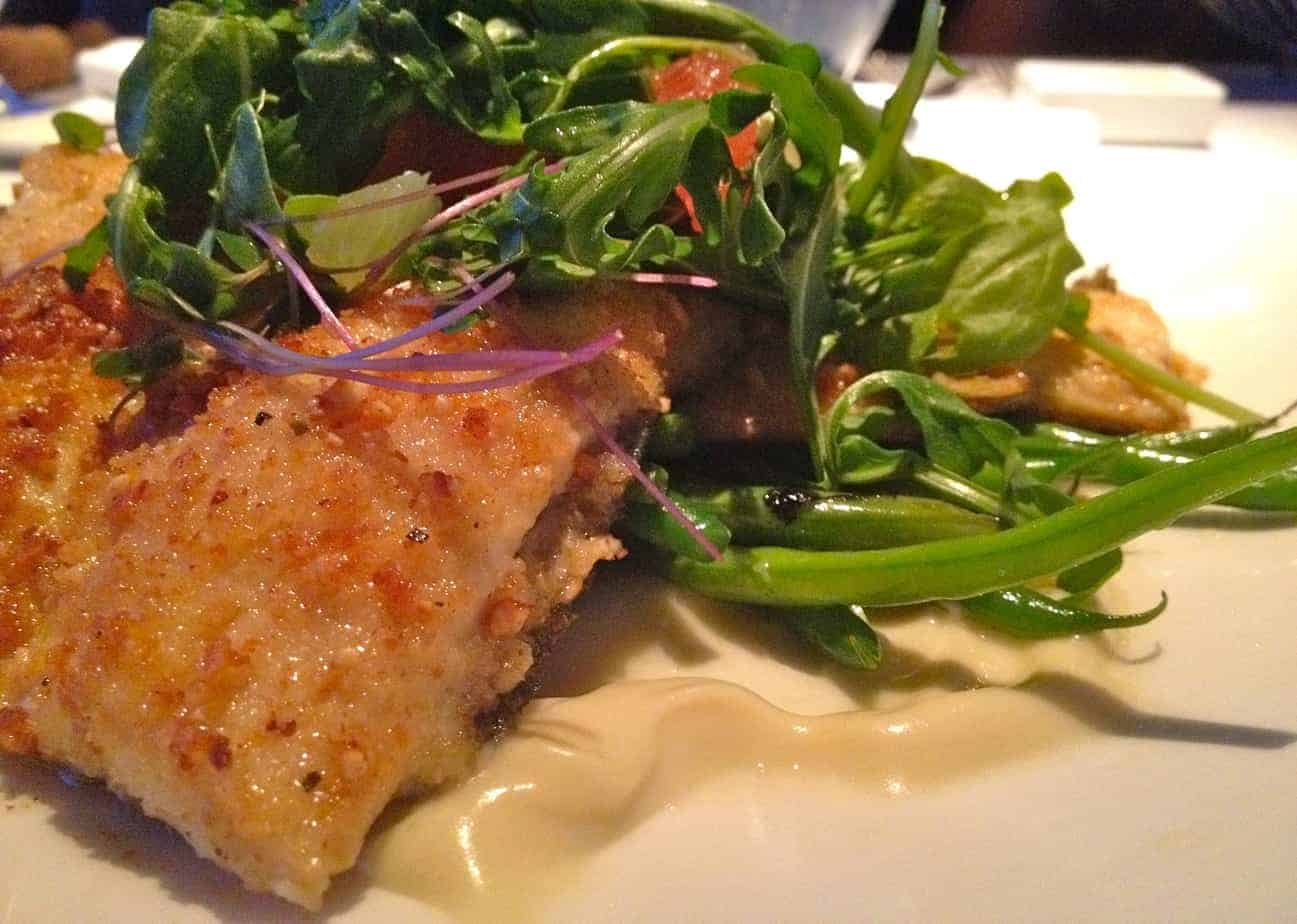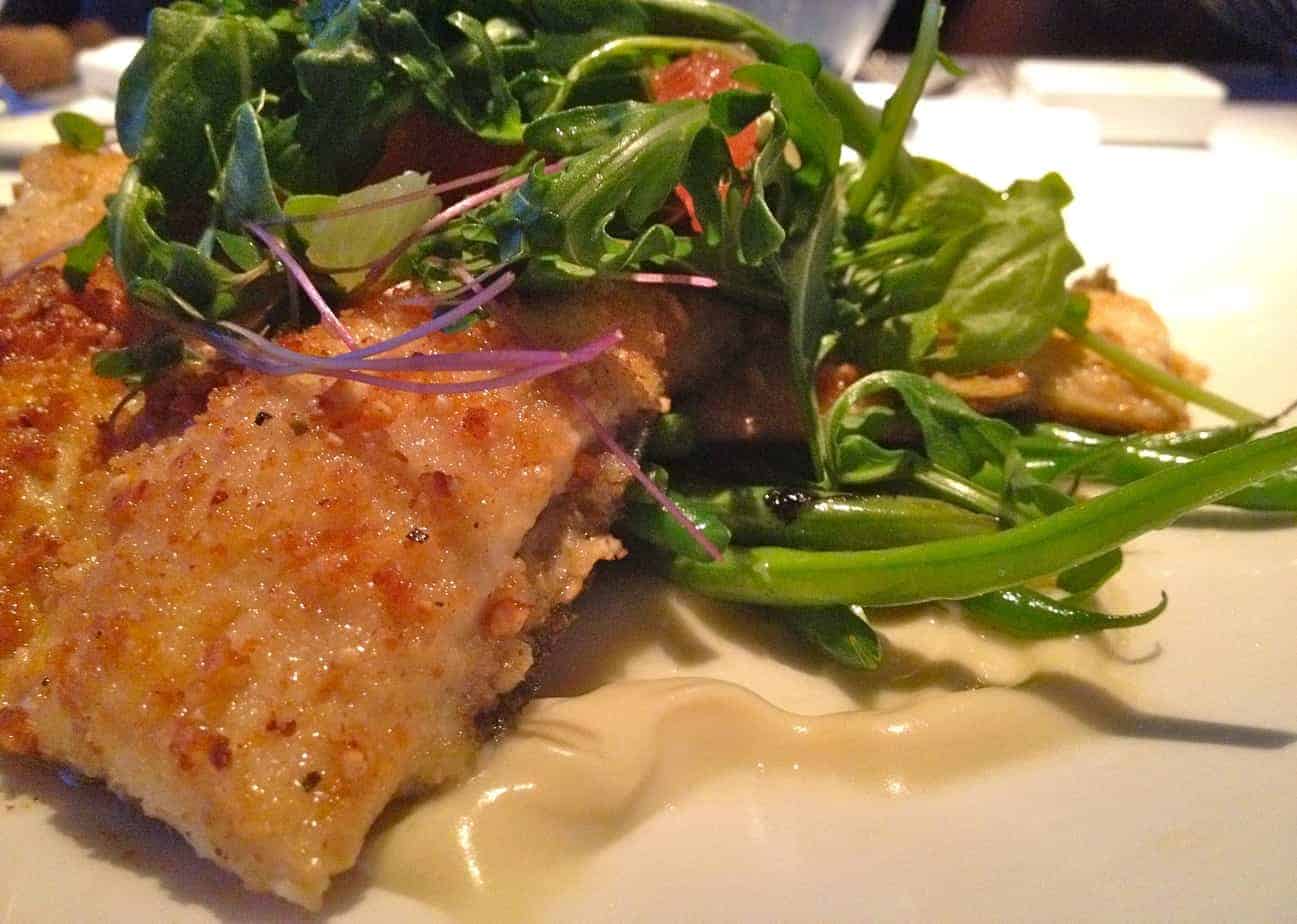 AJ got the roasted shrimp and grouper. The fish was also cooked really well and was tasty, but he didn't like the bed of wild rice it was served on (I think it was something like a wild rice, maybe I'm wrong, but regardless, it wasn't his favorite). The shrimp were pink and juicy. So while AJ's fish and shrimp were delicious, my trout won the entree round–good fish, good cauliflower, crunchy green beans. Yum.
We both love creme brûlée so we both ordered creme brûlée. The creme brûlée was luscious–it was sweet and incredibly creamy. The strawberry rhubarb crumble also piqued my interest, but creme brûlée with fresh berries for the win.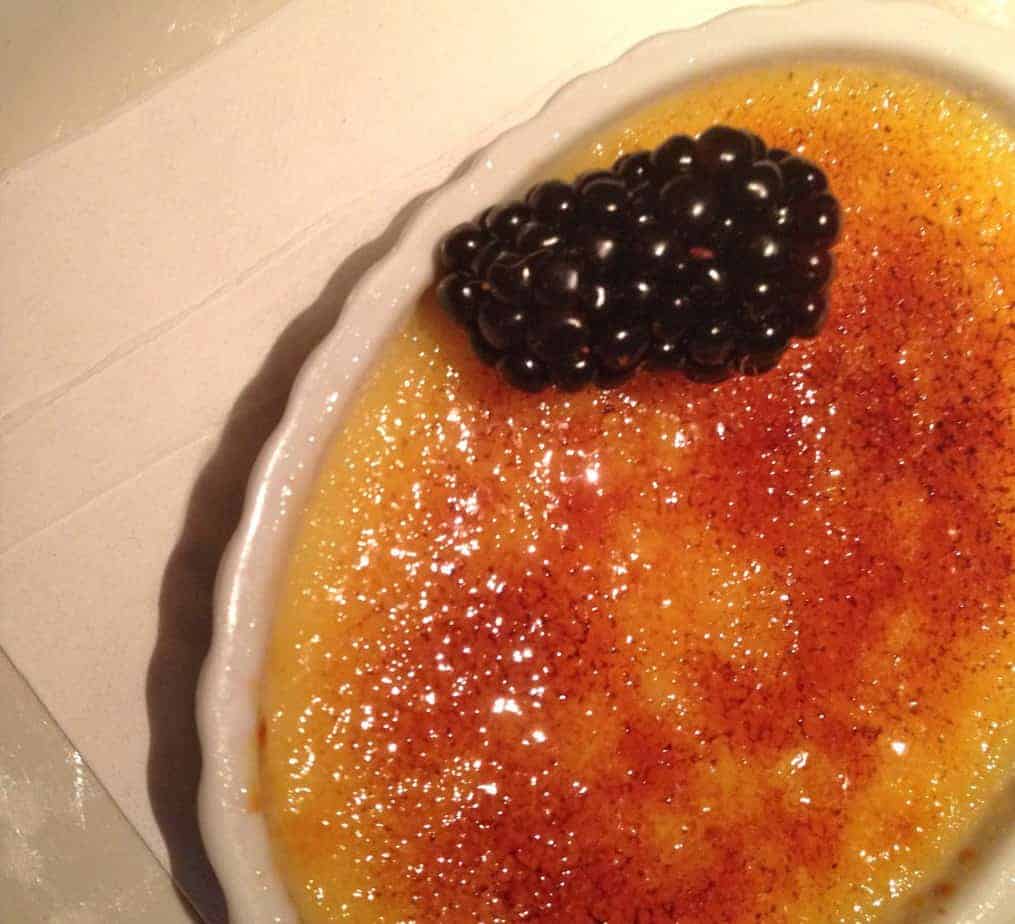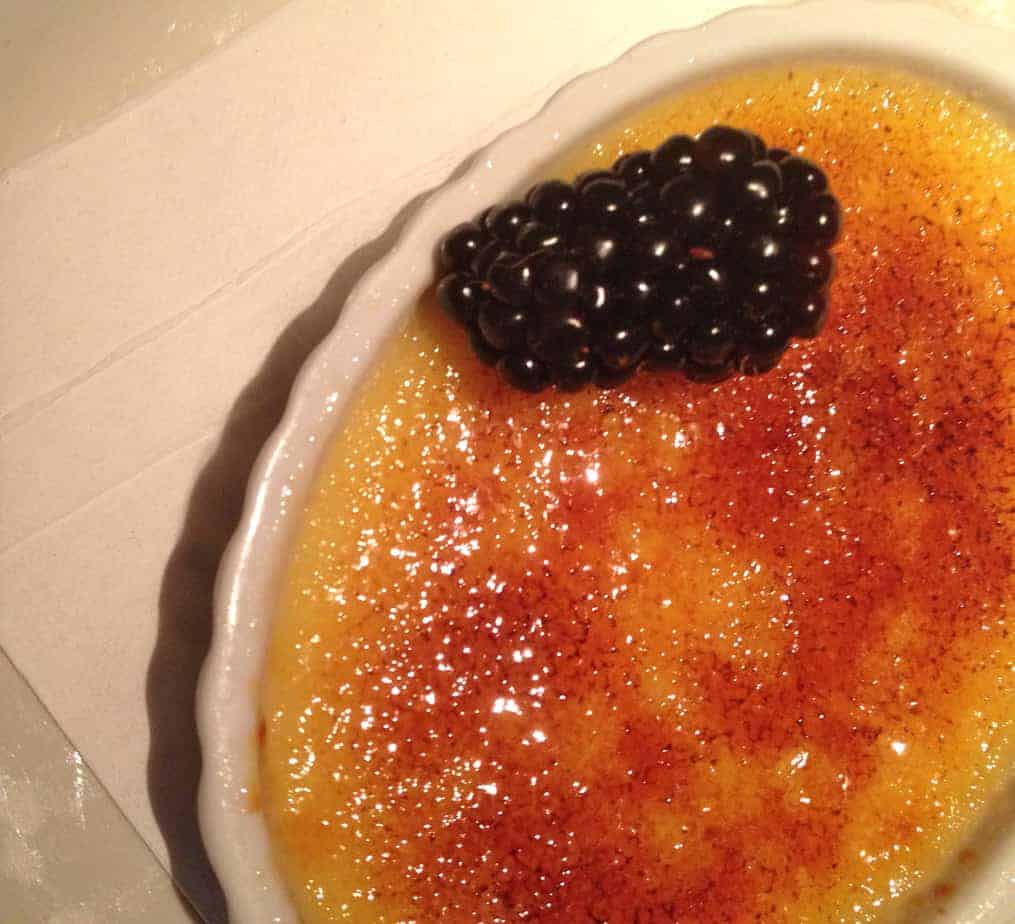 Upstream was was a great place for a Sunday night date with a relaxing atmosphere and delicious food.  Swim on over to Upstream when you're in the mood for some fresh fish or sushi; they certainly deliver on their oceanic concept.