Temperatures in Charlotte are (finally) steadily climbing to the balmy, tropical level I so desire.  I am so over winter (says the girl who survived for seven winters in Wisconsin) and I'm jonesing for 80 degree days poolside. An insane amount of snow days was the only good thing about winter this year (yay government employees!). February, while cold, did bring us a five day weekend. Yes, you read that correctly, five day weekend–as in I weekended more than I worked. I didn't know six inches of snow could freeze a city (haha I'm so punny get it? Snow? Freeze?), but it really can–the interstate looked like a parking lot;  kids were out of school;Southerners were sledding on cardboard boxes, the Governor told us all to stop wearing our stupid hats; and almost every single restaurant, bar, and liquor store in this city was closed (the good news–while I was out for 3 days, the courthouse opened briefly to hold first appearances, so yay for the snow not infringing on Constitutional rights!).
map & more
score: 8
spending: $$
neighborhood: cotswold & plaza midwood
cuisine: pizza, beer
official website
[googlemaps https://maps.google.com/maps?f=q&source=s_q&hl=en&geocode=&q=the+pizza+peel+central+avenue+charlotte,+nc&aq=&sll=35.203153,-80.839829&sspn=0.659814,1.157684&ie=UTF8&hq=the+pizza+peel&hnear=Central+Ave,+Charlotte,+North+Carolina&t=m&ll=35.176718,-80.79781&spn=0.086641,0.024522&output=embed&w=200&h=200]
I digress on a justice front. Anyways, back to everything being closed. A snow day where you can't go anywhere is only glamorous for about the first 24 hours. You make yourself fondue for dinner (which by the way was amazing and I no longer have a need to go to The Melting Pot ever again), you gorge on baguette (not an entire one, but maybe almost?), cheese, green apples, you consume (or guzzle? I'm not sure) more red wine than you really need to, and you find a new show to binge watch. But eventually, your red wine supply starts to deplete, your body thinks you should maybe eat a vegetable instead of a ton of cheese, and how many hours of HBO's Girls can one watch continuously? By Thursday, I was aching to get out of the house. Pizza Peel to the rescue!
Pizza Peel is a Queen City pizza joint (could you tell by the name?). It's locally owned, and it's goal (business idea, plan motto) is to be your neighborhood watering hole. I love that business plan (and while Kickstand is my neighborhood watering hole, I could always use another. Don't worry, Kickstand, you're still my number one, but Pizza Peel is like my new mistress). While the Peel's original location is in Cotswold, they recently opened their second location in Plaza Midwood, in an old gas station/car repair shop. I love that they kept the exterior just the way it was–it looks like a gas station; and it's amazing how they revamped the inside (wood everywhere, warm, welcoming–just like a neighborhood joint should be).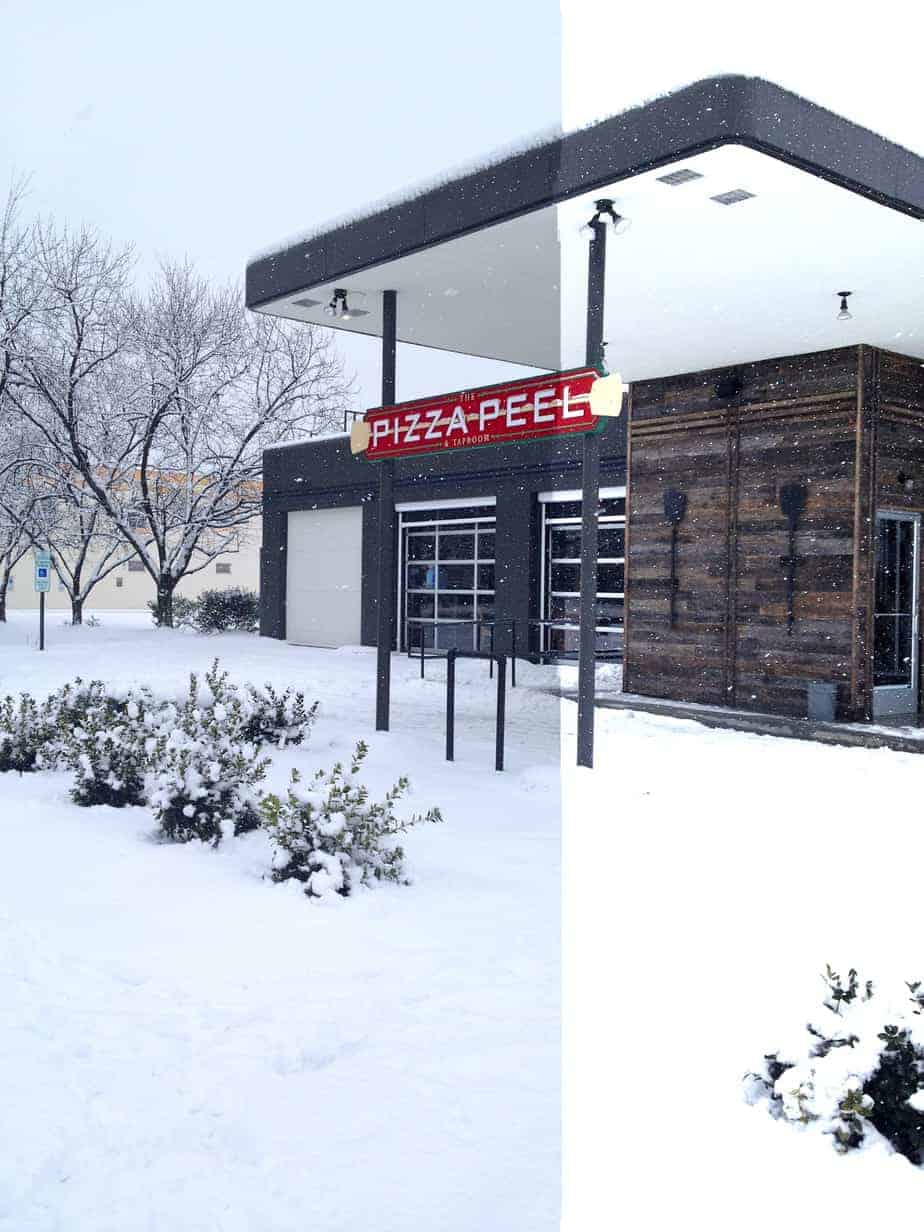 So we trekked up snowy Central Ave. to get some grub and a few cold ones. I've been to Pizza Peel once before (in fact, the eve of my other snow day!) and also since (for a sunny Saturday lunch and a Monday girls night dinner) and every time  it has been delicious.  The joint was hopping–Pizza Peel was one of five Plaza Midwood restaurants and bars that was open on this snowy Thursday–Common Market was serving up six packs, wine bottles, deli items and a chilly party on their patio; The Diamond had a limited menu (with hot dogs involved, thank god!); Elizabeth Billiards was open with $2 Shiner seasonals (I love EB's but no food there) and Soul also had a limited menu, but is only open for dinner service. Snow days make me think of pizza, so Pizza Peel was perfect.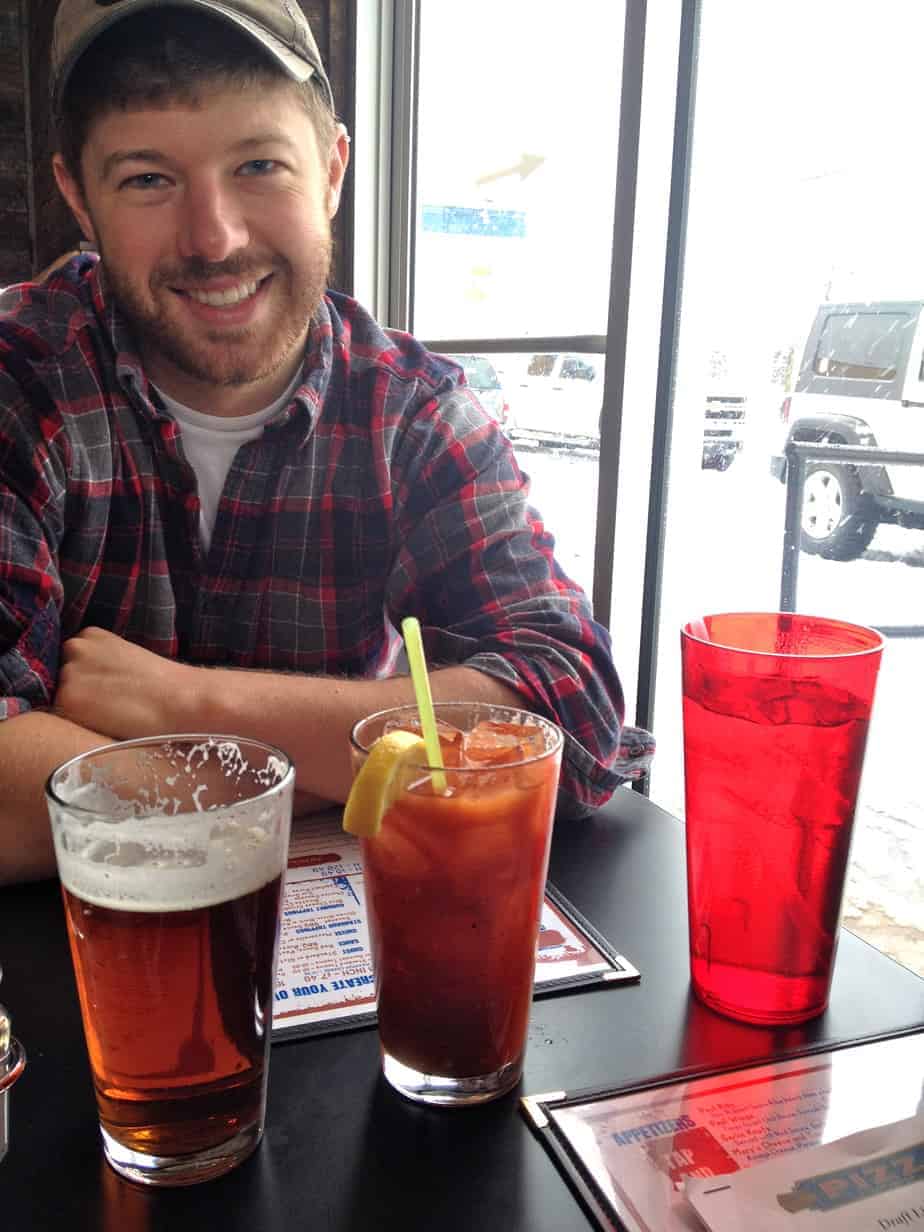 We barely beat the rush and got a table in the back corner, where our waiter happily let us camp out for a few hours (the table next to us rotated three couples, but what can I say, I'm about dining being the experience and I had several beers). Right after we were seated the place was inundated with people; like they had heard on Twitter or something that Pizza Peel was one of the only restaurants open in Charlotte. We were super lucky to have scored a seat and even luckier that no one rushed us (I would have loved to sit at their tiny bar but that was already packed–next time!). We were both starving and knew this would be a multi course meal so we each started with a drink (a Bloody Mary for me and a beer for AJ) and got an order of nachos while we perused the menu more (the nachos were nothing special, and in fact, they had run out of salsa. I think I might just stick to nachos at a Mexican joint).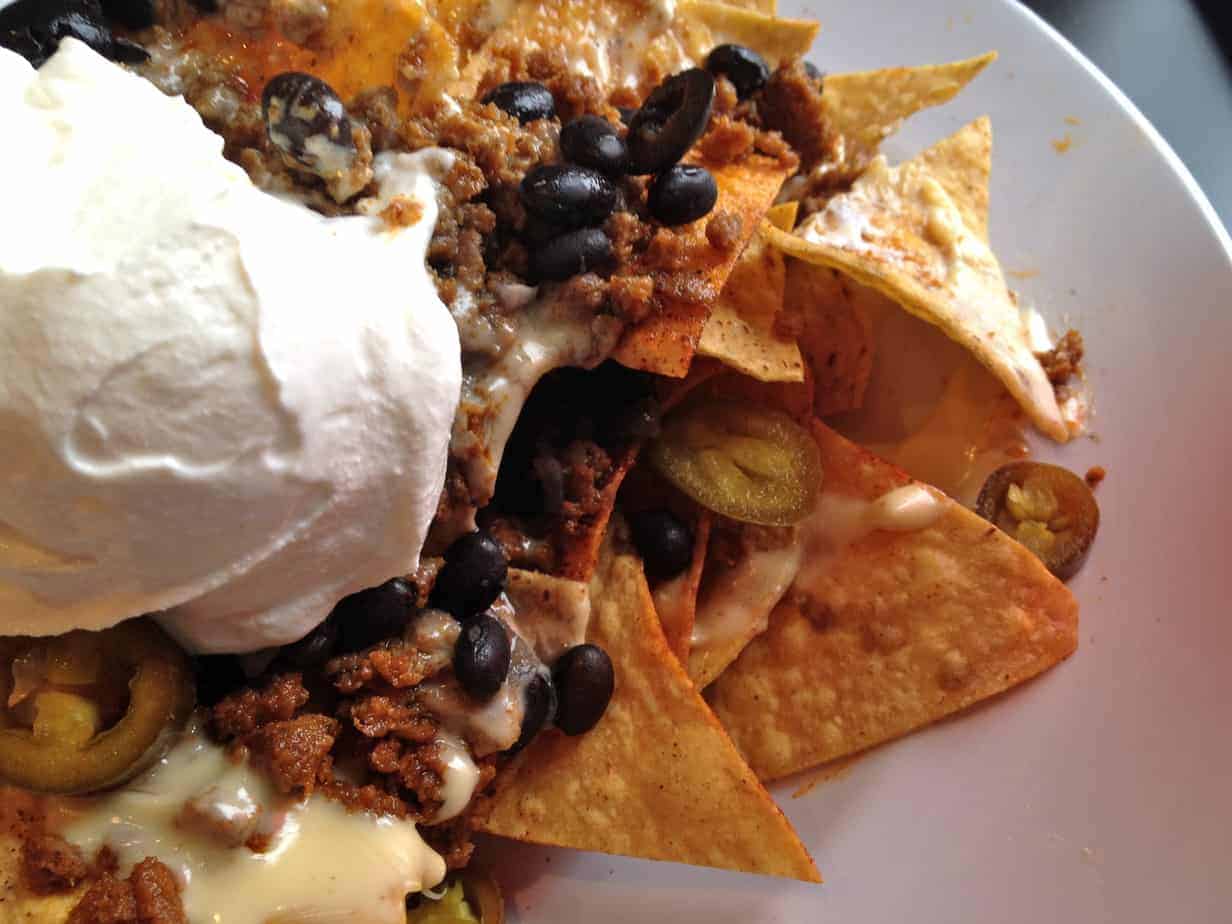 Let's talk Bloody Mary's first–I like to think of myself as a connosieur of sorts (maybe, maybe not) but I do know what I like and Pizza Peel makes a good bloody. Perfect balance of spice and hints of alcohol, but unfortunately the salad is quite lacking. Salad being the affectionate term in the Bloody Mary world as the garnish. My Bloody Mary salad preference is a pickle, some olives on a toothpick and a few pickled veggie for good measure. Charlotte isn't on par with Wisconsin's Bloody Mary salads (and also the lacking beer back is tragic!), so there is definite room for improvement.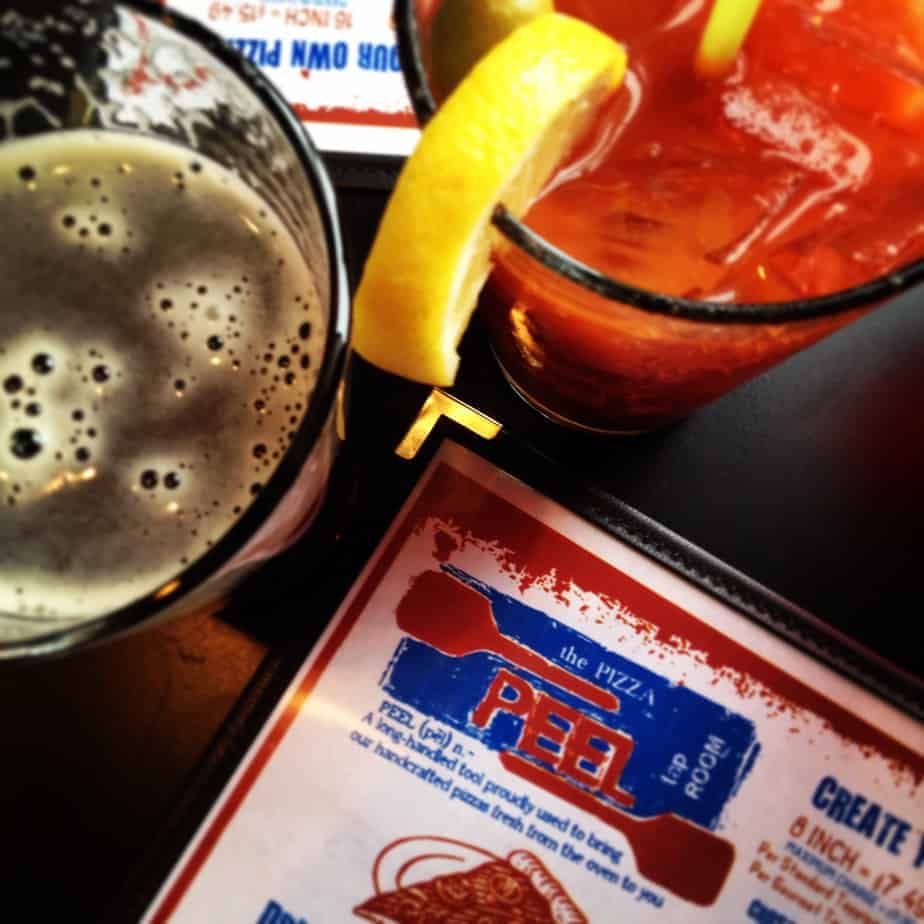 On to the beer–Pizza Peel has taproom in its name so we know that the beer has to be good. They have a rotating list of drafts; delicious craft beer from all over the place with several North Carolina highlights (and NC beer is only three dollars on Mondays!). They also have a beer club, which I totally need to join. I always like trying something a bit new at Pizza Peel, and this snow day was no exception–we enjoyed several drafts, something different every time.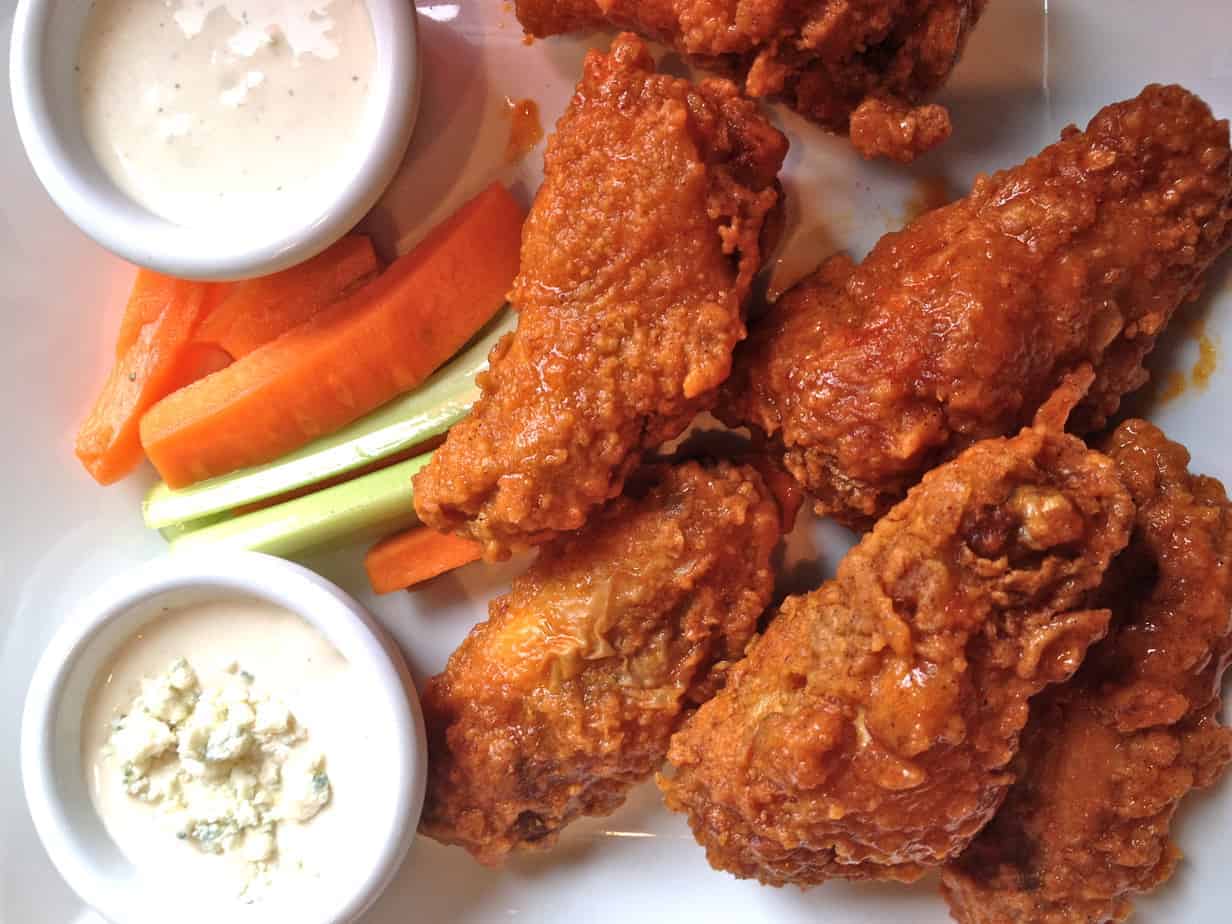 On epic snow day, AJ and I followed up the nachos with wings and a pizza. Buffalo wings are the perfect snow day food; they're fun to eat and the spice will warm you right up. Pizza Peel's wings are awesome; they are huge, are super crispy, but the chicken on the inside is still moist and flavorful. We got an order with traditional buffalo sauce, which was right on point; it packed enough heat but not too much to overpower and dull my tastebuds so I could still taste the flavors. Yum.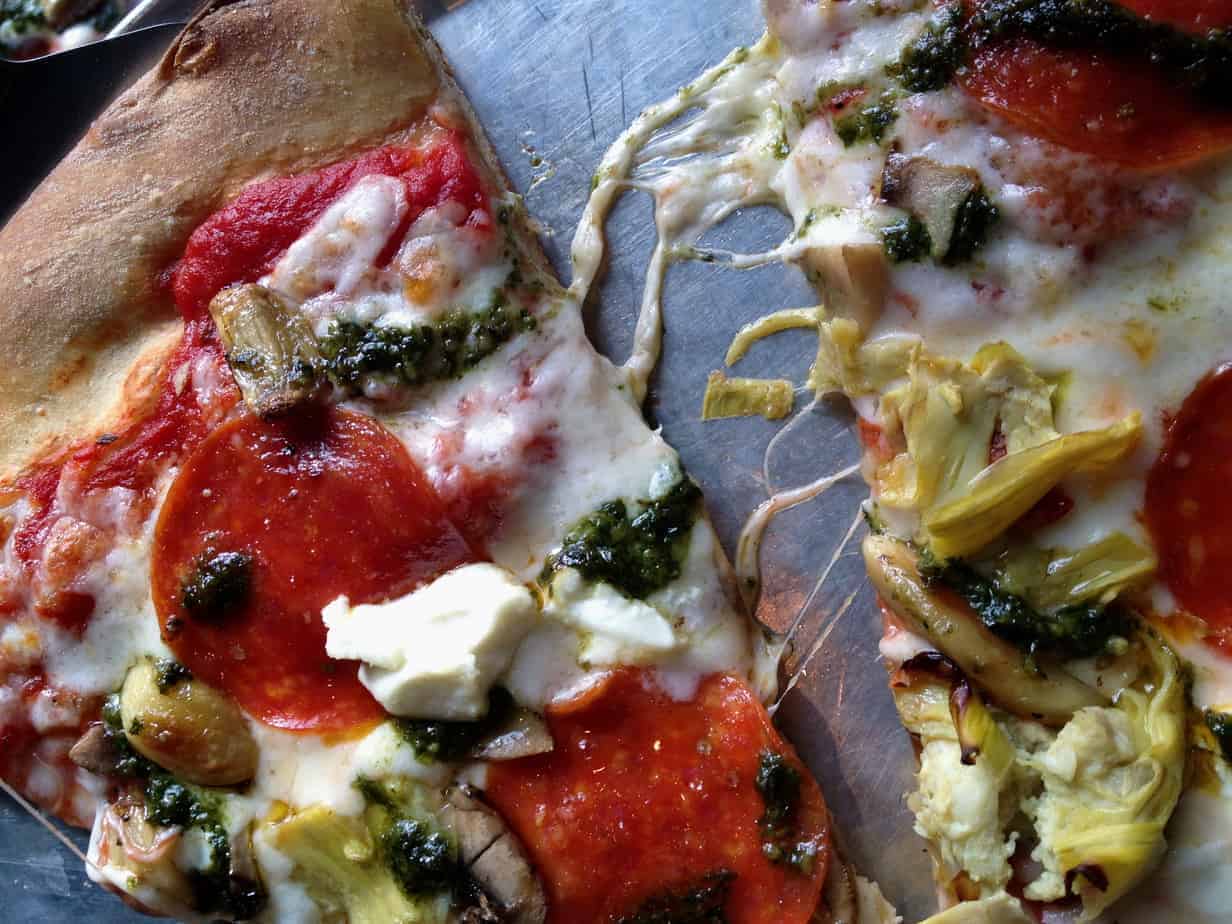 I've had several of Pizza Peel's specialty pizzas (as well as a create your own personal pizza once or twice), and I love that the Peel's ingredient combinations and flavor profiles are creative and delicious. My most recent favorite is the One Veggie–with red sauce, roasted garlic, mushrooms, artichokes and pesto (hold the goat cheese for me–I try and try again to like goat cheese and I just can't. I guess I'm not trendy). I'm a fan of adding red onions into the mix, and pepperoni if you want a little meat (the pie is really good as it's designed, vegetarian, but sometimes a girl needs a little meat). The Tong's Thai pizza is also incredible–the thai chili sauce is really what makes it. AJ and I have also indugled in the Sorry for Partying pie–the Peel's take on a supreme–with pepperoni, sausage, ground beef, green and red peppers, banana peppers, onions and mushrooms. While it sounds overpowering and extreme, there are just the right amount ingredients involved to make the flavors harmonious; it's really what you think of when you think of classic pizza pie. I can't wait to try the BBQ chicken pizza next.
Pizza Peel also offers a variety of other appetizers (the bruschetta is addicting!), as well as pastas, sandwiches, and of course, more pizza. Welcome to the neighborhood, Pizza Peel! I'm glad you're here.