A few months ago, a flyer on a bulletin board in the break room at work caught my eye. It was promoting a restaurant in Uptown, The King's Kitchen, but upon further glance, it wasn't any ordinary restaurant. The flyer talked about a non-profit restaurant that donates 100% of its proceeds to feed the poor in Charlotte and the greater region. Beyond that, it talked about employment opportunities for those in search of a new beginning. I knew this was a restaurant that was doing good things and I had to check out.
The King's Kitchen is managed by Jim Noble Restaurants (of Rooster's fame) and serves up hearty, soulful, delicious Southern food (it features Chef Jim Noble's "New Local Southern Cuisine"). Beyond that, the restaurant's goal is to feed a higher purpose. The King's Kitchen's mission and vision are inspiring; and I really love the concept of their Restoration Program–a five part training program to train the homeless, the poor, troubled youth, rehab graduates and other members of the community who are in need of employment (as a lawyer in Charlotte who works with a lot of the poor and downtrodden in our community, we need more places willing to give people a fresh start and get them on the right track). How cool is that?!?
So I knew The King's Kitchen was the perfect place for dinner with my Mom when she came into town a few weekends ago. Mom has always been supportive of my decision to work with the poor and loves some good Southern cooking (she's from Texas) so The King's Kitchen was the perfect venue for a Friday evening meal.
We moseyed (as we do in Texas) from the Westin down to Trade Street and arrived just as I transitioned from hungry to famished. We quickly looked over the menu, ordered a glass of wine, and both knew (pretty much immediately) what we were going to order.
We settled on sharing a starter and went with the fried oysters with bacon aioli and tomato vinaigrette. I love, love, love oysters; but totally prefer them raw to cooked (I'm not sure if anyone else feels the same way, but give me some horseradish and hot sauce and I'm a happy camper). That's not to say I don't enjoy cooked oysters, but I do know my preferences. The oysters came out quickly, and they looked delicious. Unfortunately, they weren't as yummy as they looked–they weren't fried to a perfect crisp, which made them a little soggy and made the breading heavy. However, the two dipping sauces were flavorful and fresh, and after removing some excess soft breading, we happily dipped our oysters away.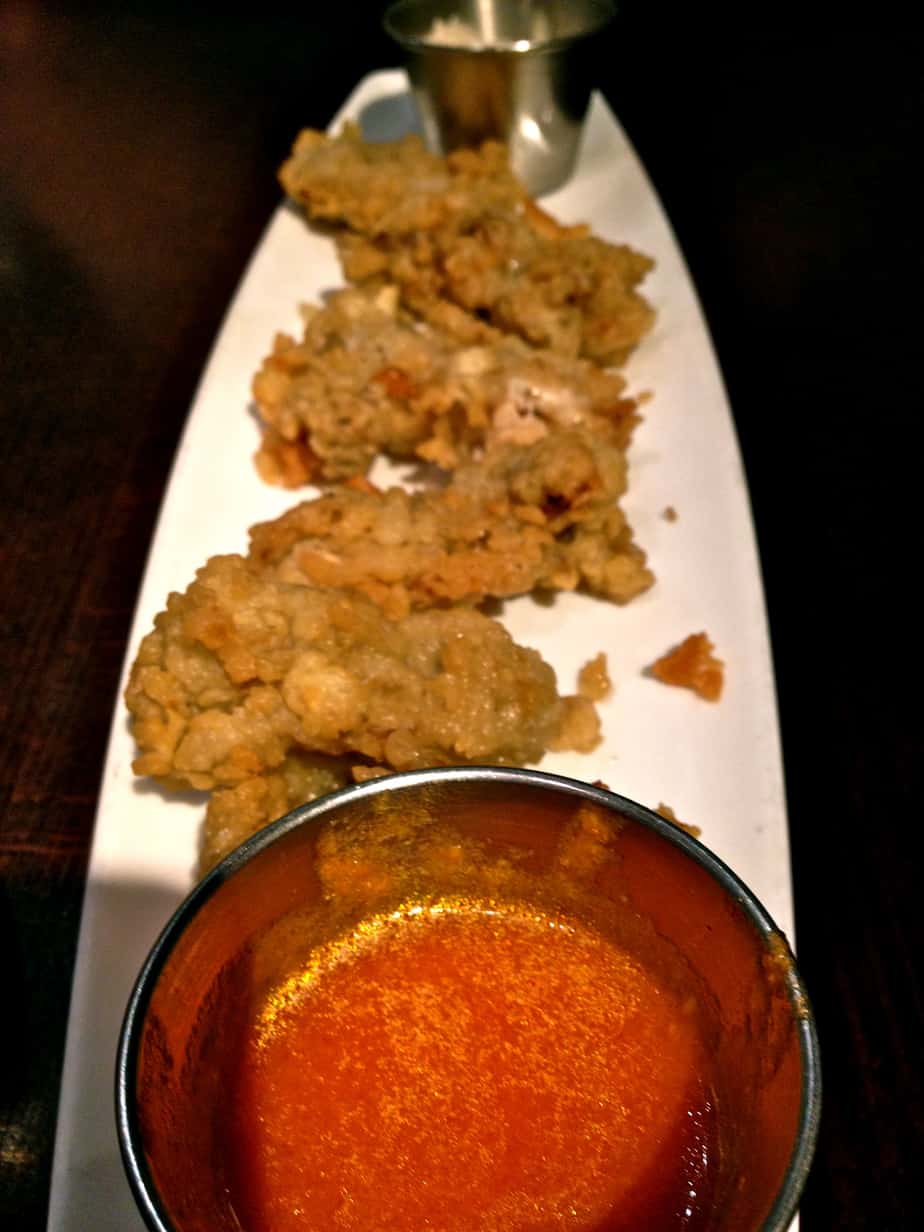 For my main course, I had so much trouble deciding what to get; so I decided on a combination of something both light and heavy. I ordered the peach and blackberry salad with a walnut vinaigrette and Bosky Acres goat cheese (another great thing about The King's Kitchen is they use local ingredients and support local farmers, and I am a big fan of that!). I also got a side of mac and cheese (Southern mac and cheese is the best). My meal was amazing! The salad was super fresh and I loved the slight sourness of the greens balanced by the sweetness of the ripe peaches and blackberries. Creamy goat cheese was an added bonus. That salad is near the top of the list of best salads I've ever ordered in a restaurant (I admit, I don't order salads too often when I am out to eat, so this salad really spoke to me). Even though it was light, it was extremely filling and satisfying.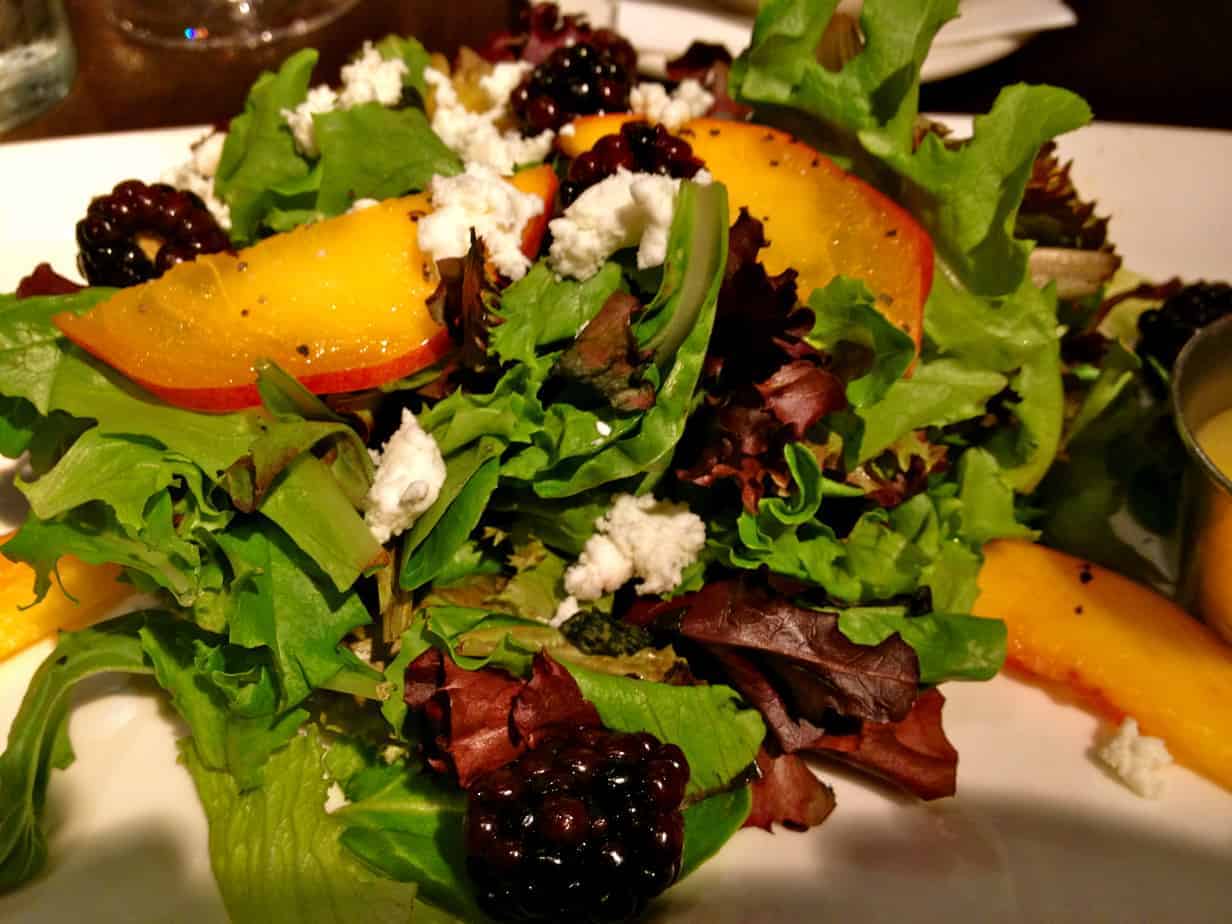 The mac and cheese was also delicious, it came out piping hot and they did not skimp on the cheese. I would highly recommend it!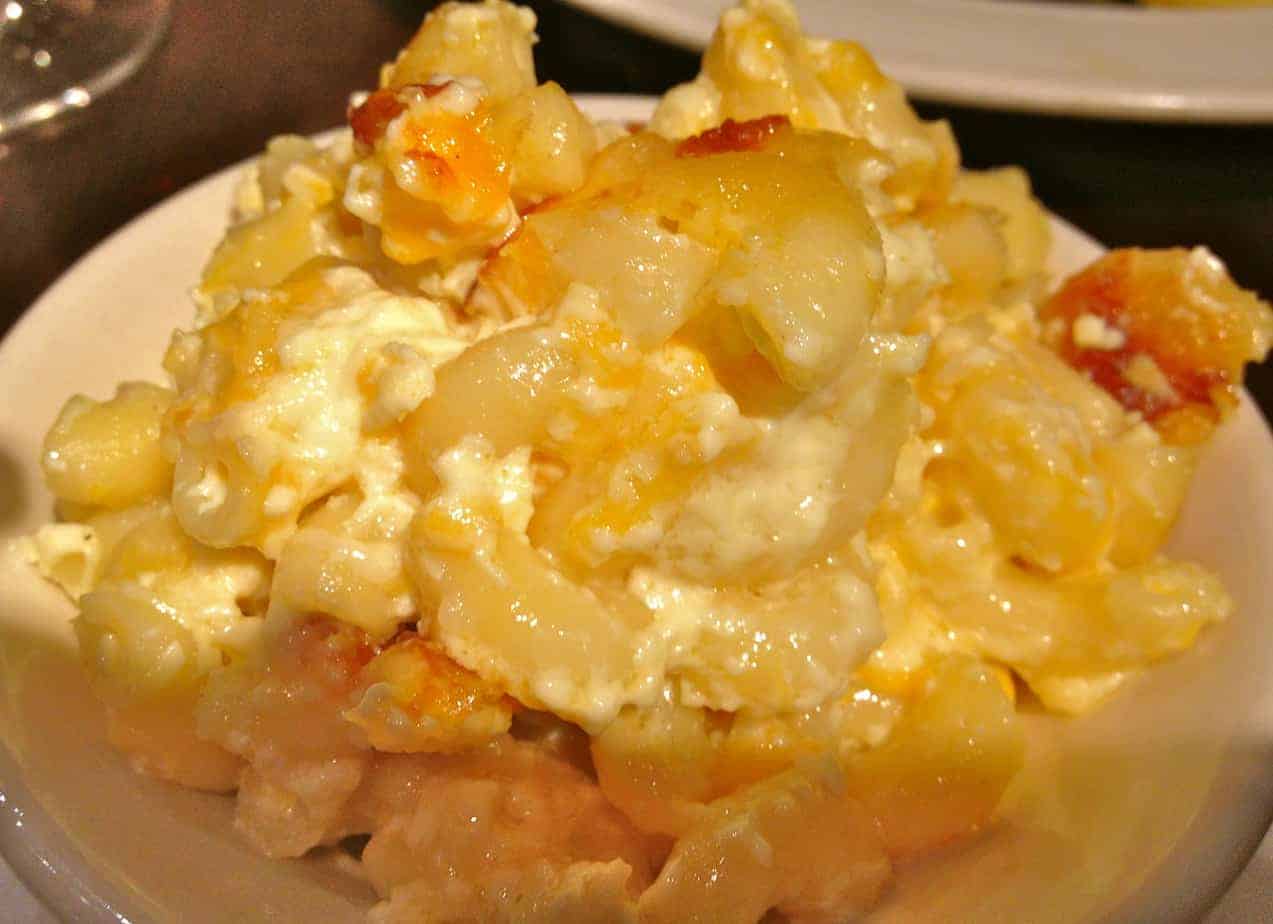 Mom went all out and ordered Aunt Beaut's skillet fried chicken with collard greens, cabbage and creamed potatoes and gravy. I snagged a few bites of her meal and it was also delightful. The chicken was well seasoned and crisp (and Mom was happy our waitress gave her a choice of white meat or dark meat) and out of her sides, I enjoyed the collards the most (I never knew how much I liked collard greens until I moved to Charlotte!). Mom was really happy with her whole meal and snarfed it up.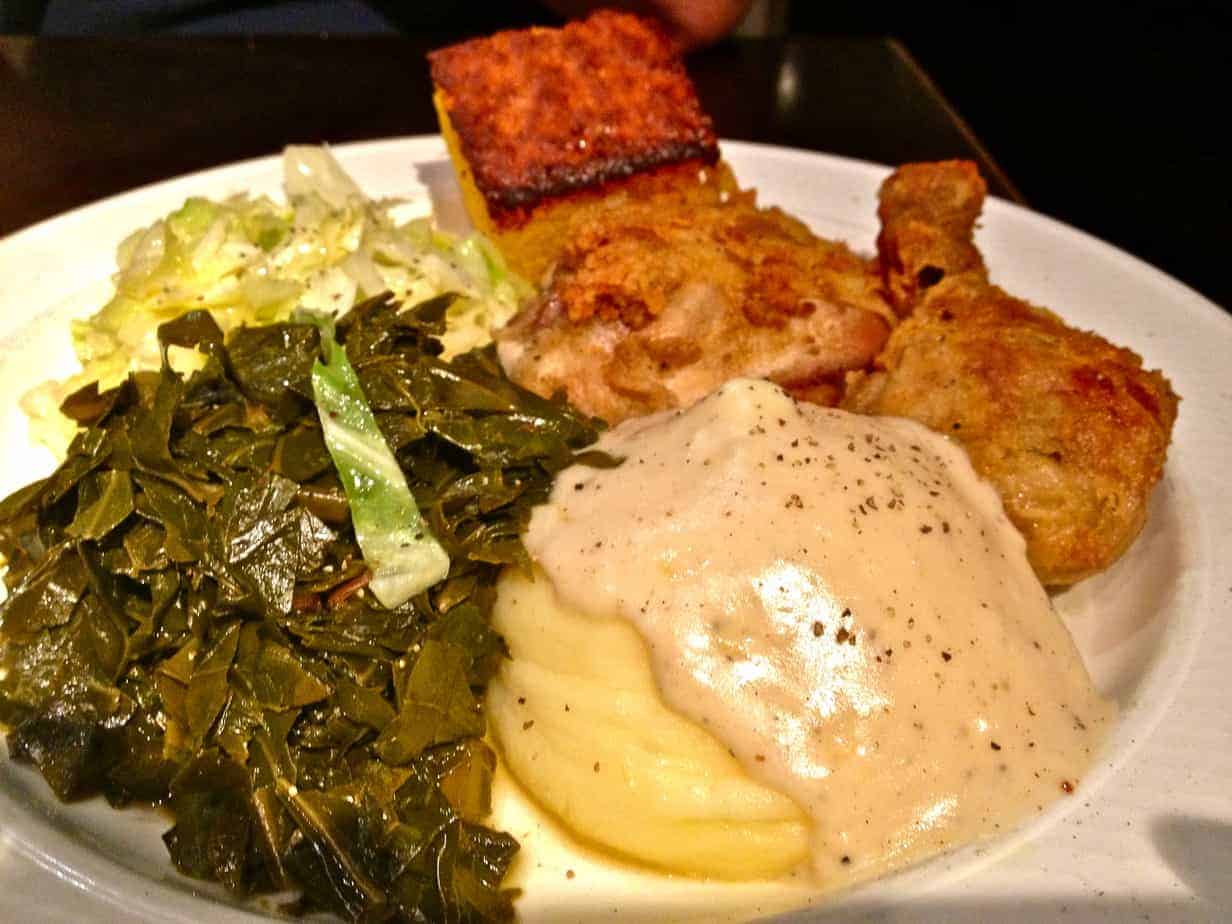 We also decided to get dessert (why not go all out?). Lemon cheesecake (with a blueberry compote) for me, and banana pudding for Mom. My cheesecake was delicious; the lemon was bright, the cake was creamy, and the blueberries popped sweetly in my mouth as I ate.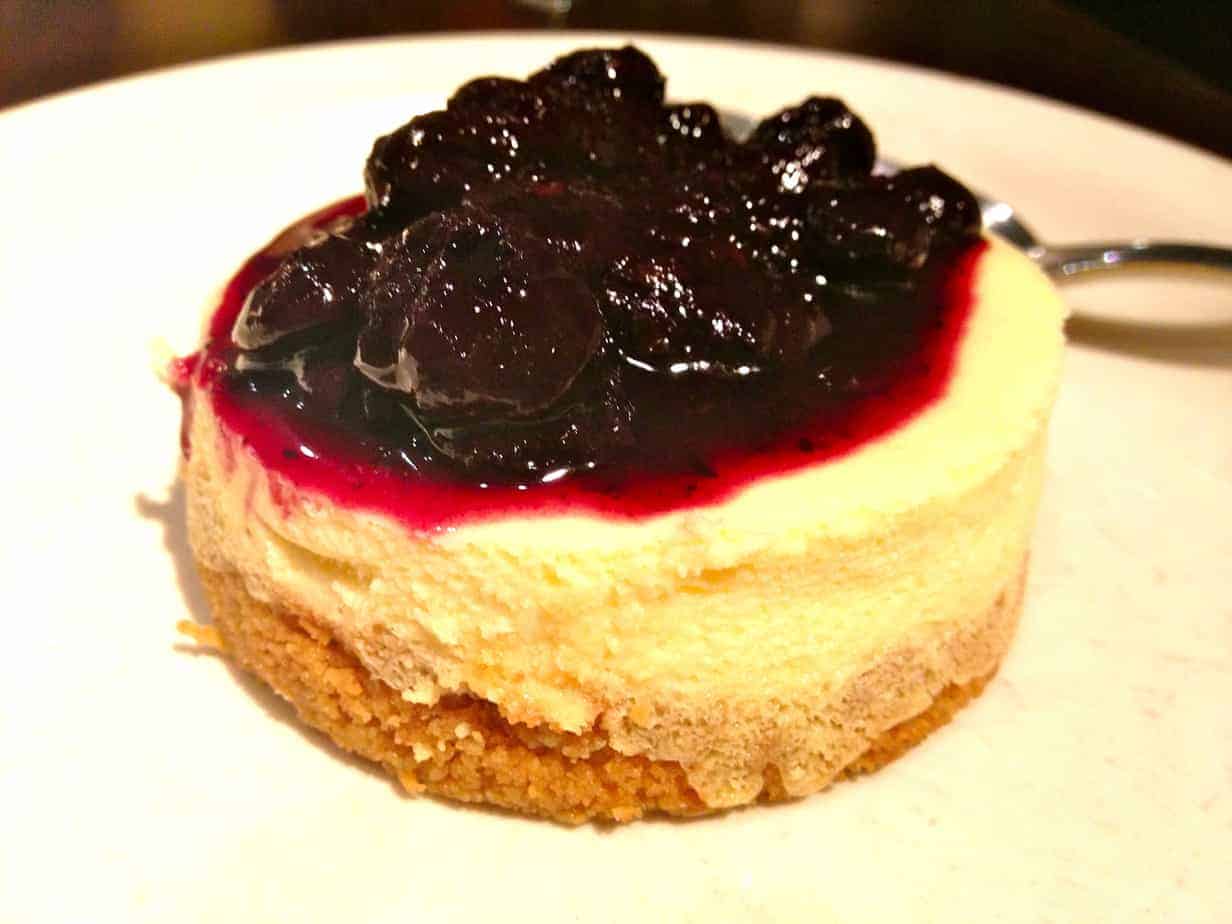 Mom was happy with her banana pudding (it reminds her of her childhood) and it was delightfully sweet with punches of banana (but I prefer the banana pudding at Midwood Smokehouse because it gave me more crunchy texture).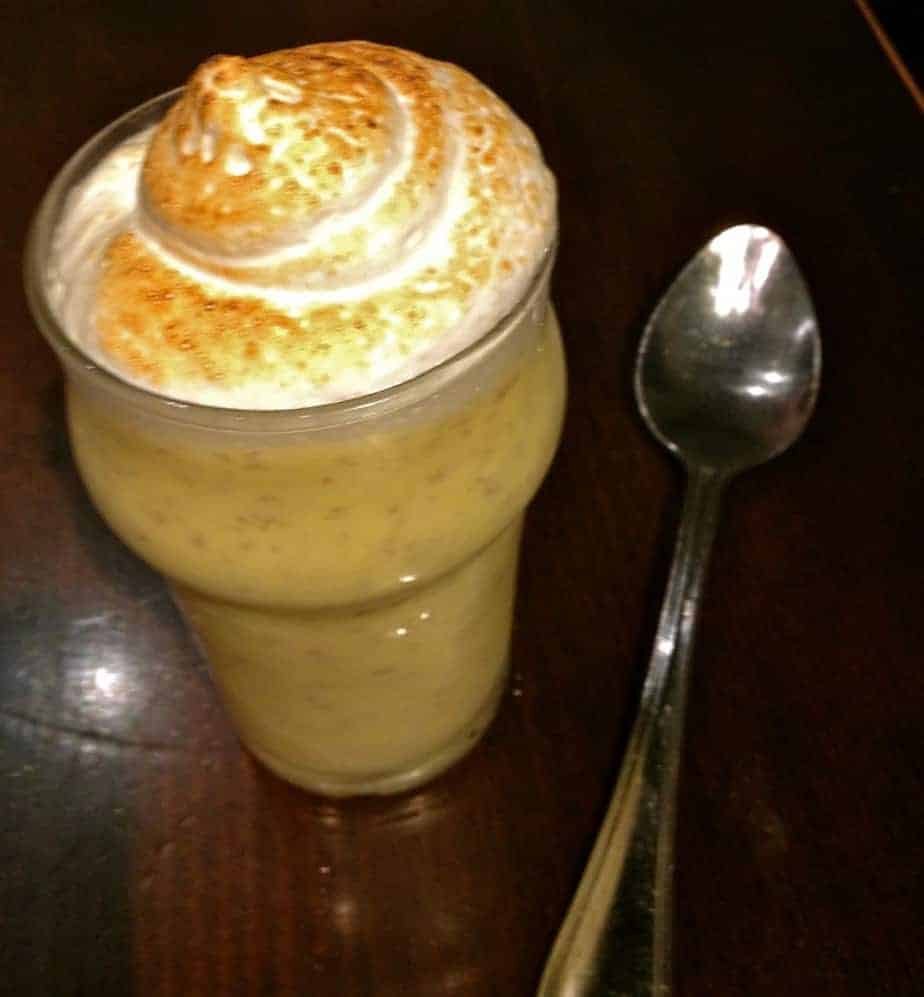 We had an incredibly satisfying meal and were happy that we could give to the poor while enjoying a wonderful meal. If you haven't yet, you need to check out The King's Kitchen in Uptown–the location is convenient (and gorgeous with big windows and a wrap around patio), the food is good, and the concept is fantastic.
map & more
score: 7.5
spending: $$
neighborhood: uptown
cuisine: southern
official website
[googlemaps https://maps.google.com/maps?f=q&source=s_q&hl=en&geocode=&q=The+King's+Kitchen,+West+Trade+Street,+Charlotte,+NC&aq=0&oq=the+king&sll=35.203153,-80.839829&sspn=0.637372,1.100006&ie=UTF8&hq=The+King's+Kitchen,&hnear=W+Trade+St,+Charlotte,+North+Carolina&t=m&ll=35.227953,-80.844183&spn=0.017528,0.021372&z=14&iwloc=A&output=embed&w=250&h=250]