I want to live at The Cypress of Charlotte.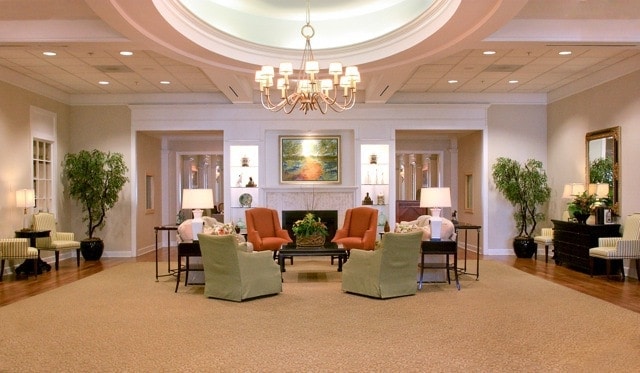 (photo courtesy of The Cypress of Charlotte)
Really, it looks like so much fun. We're talking live music, continuing education, art, speakers, parties, dances, games, fitness classes, golf and field trips (everyone loves field trips).
The Cypress of Charlotte is a continuing care retirement community in SouthPark. It's upscale living with a 65 acre campus, walking paths, a lake, a concierge, an activities director, a clubhouse, a pool, and two restaurants. I guess it's a little like college (your friends are all in the same place just down the hall or around the corner, and everything you need is just right there) but way nicer. And the food is way better (I wish my college dining hall had half the caliber and flavor of the dishes decorating the menu at The Copper Grille) .
All of the the food at The Cypress of Charlotte is covered by Executive Chef Brady Lutz and his team. He's feeding hundreds of mouths a day, three meals a day, 365 days a year. According to Chef Brady, working at the The Cypress is different than working in a restaurant or catering. The members dine in the clubhouse daily, often for every meal of the day, so he tries to tailor his menus to them. He has to "keep it [the food] new and exciting;" his cooking style covers a wide range of cuisines and he changes the menus frequently to keep everything fresh. Chef Brady also keeps it fresh by using a variety of North Carolina produce and ingredients, including Carolina Bison, Prestige Farms Chicken, Heritage Farms pork and Sunny Creek Produce.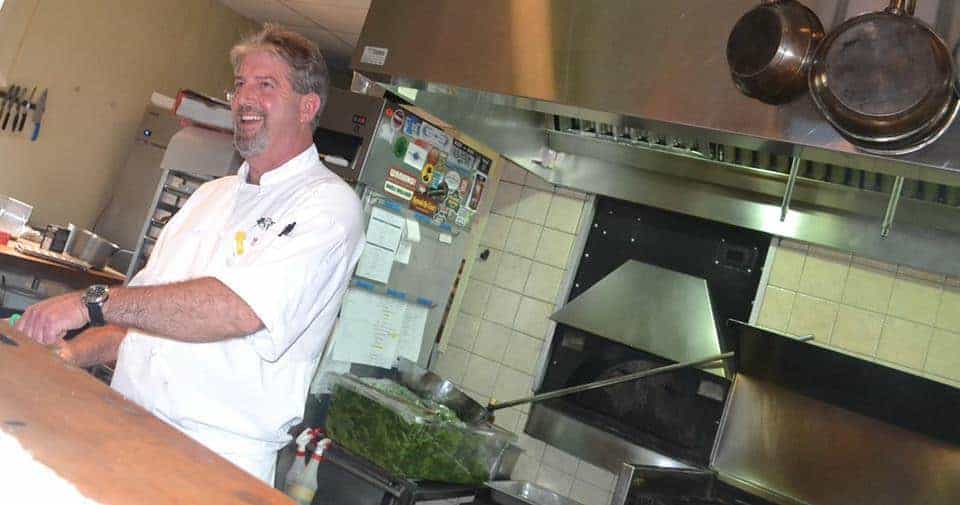 (photo courtesy of The Cypress of Charlotte)
On top of all the cooking and menu planning Chef Brady is in charge of, he also brews beer for The Cypress members to enjoy. He's got a full home brewing operation set up in his back office in the kitchen, and members can enjoy a bottle Chef Brady's brews in the dining room (way cool).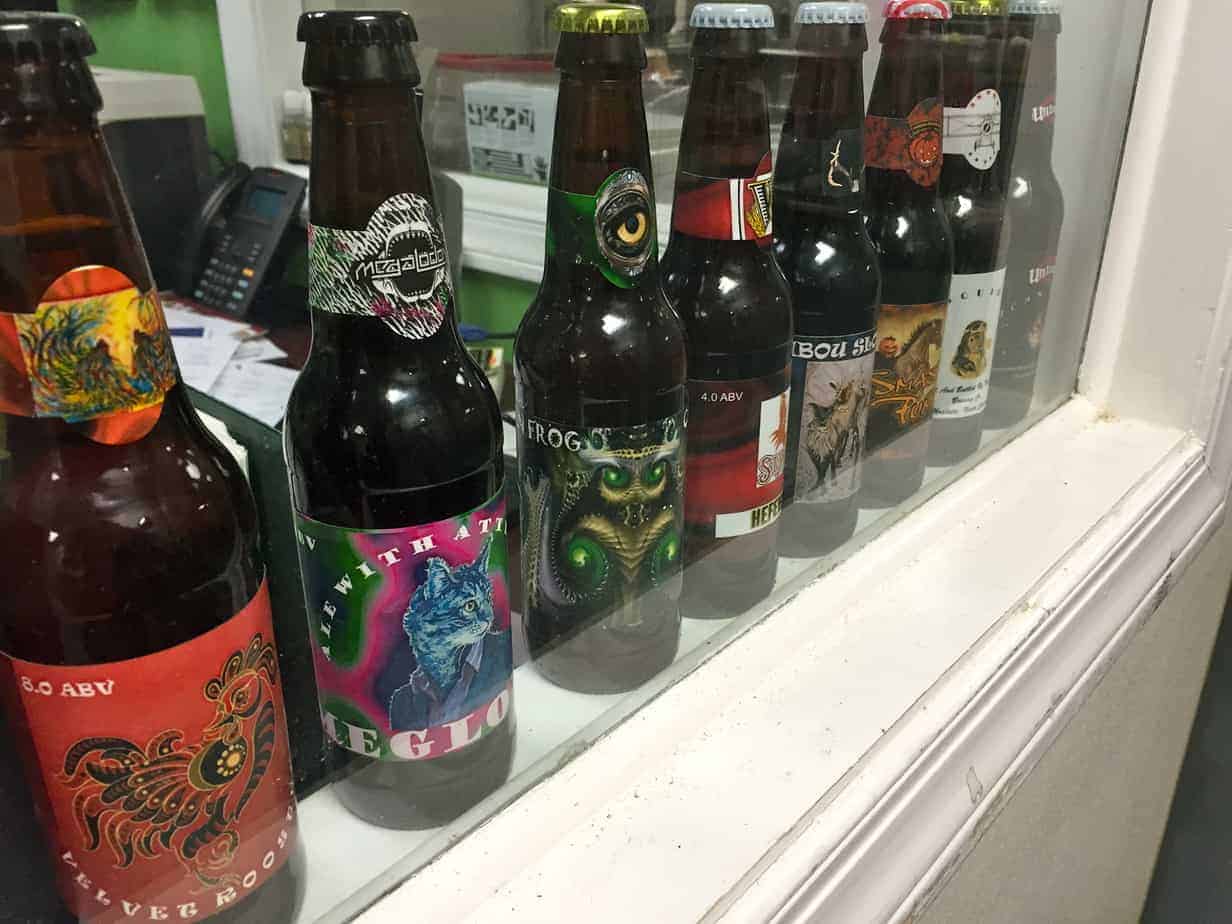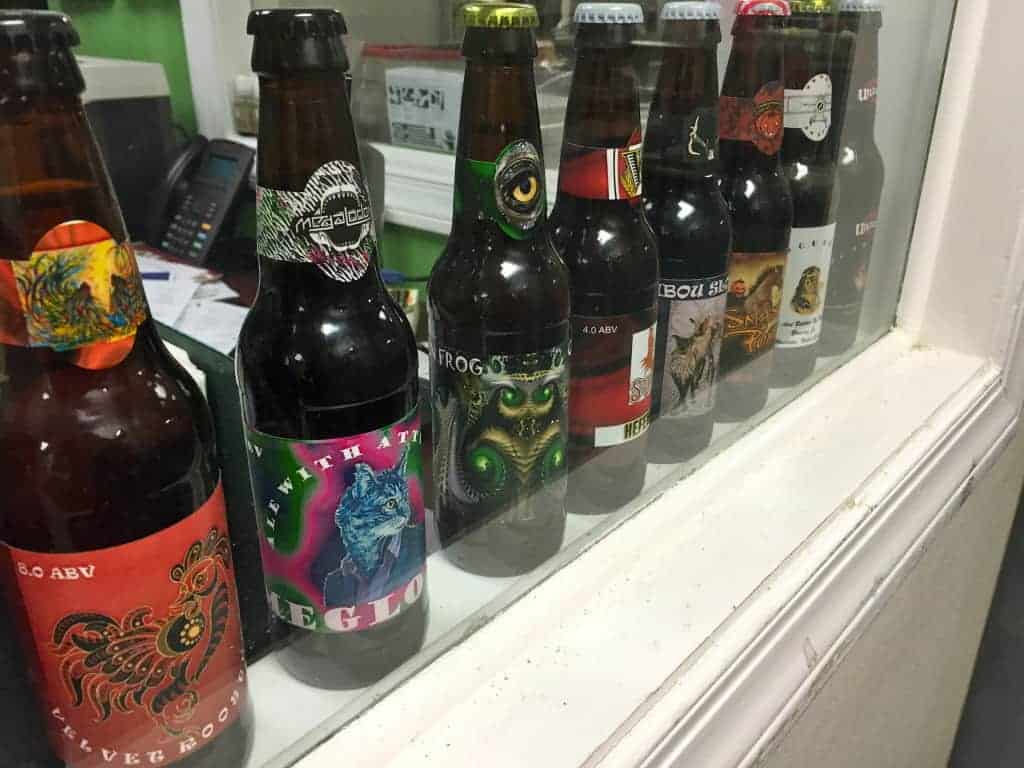 What Chef Brady is doing is definitely working; he's the big man on campus. Members greet him as he strolls through the dining room and stops to say hello. They can't stop raving about the food. They love him so much, The Cypress packed their charter bus full to support Chef Brady at Competition Dining in April.
Before attending Chef Brady's Competition Dining battle, I had no idea what The Cypress of Charlotte was (Google probably could have helped me with that). I knew that we were in for a culinary treat (based on the wonderful food we ate last year) but I wasn't sure who this Chef Brady was. It only took sitting down at our table five minutes with Chef Brady's biggest fans to learn that he's a talented, creative chef and that his diners think the world of him and his food (and we hadn't even eaten anything yet).
His food at the competition lived up to their rave reviews. Chef Brady cooked my two favorite dishes of the night: the spinach ravioli with acorn squash bisque (still dreaming about that squash bisque), and the chocolate glazed profiteroles with ricotta-vanilla bean ice cream (the night's highest scoring dish). Throughout the evening, it was clear that the The Cypress members adored him. Bonterra was a sea of red; members who attended the event color coordinated their outfits to show support for Chef Brady which is both incredible and adorable. It was easy to spot who was a Chef Brady fan, and it was almost everyone in the room. Anytime his name was mentioned, the restaurant roared with hoots, hollers and applause. When he was introduced at the end of the meal, he entered to a standing ovation. Even though he didn't come out victorious in the culinary battle, he was showered with praise and adoration from The Cypress members, and according to Michelle Doggett, the special events coordinator at The Cypress, he left the event covered in kiss marks.
To say that The Cypress members love Chef Brady and his food is probably an understatement. To say that I am insanely jealous that they get to eat his food every day is also an understatement.
After Chef Brady wowed me at Competition Dining, I was lucky enough to be invited to join him and some other folks for lunch at The Copper Grille in The Cypress' clubhouse. The Cypress boasts two dining rooms–The Cypress Club, a traditional formal dining room you would expect somewhere like a country club, and The Copper Grille and Bar, a more casual setting for members to enjoy a meal and a drink (The Copper Grille was actually Chef Brady's idea and creation, and has been in operation for the past two years). The Cypress also hosts special foodie events, including their popular new Fireside Dinners, a monthly dinner highlighting seasonal menu items with wines paired for each course, plus a Q&A with Chef Brady and his staff. The intimate event is currently one of the most popular at The Cypress and is sold out every month.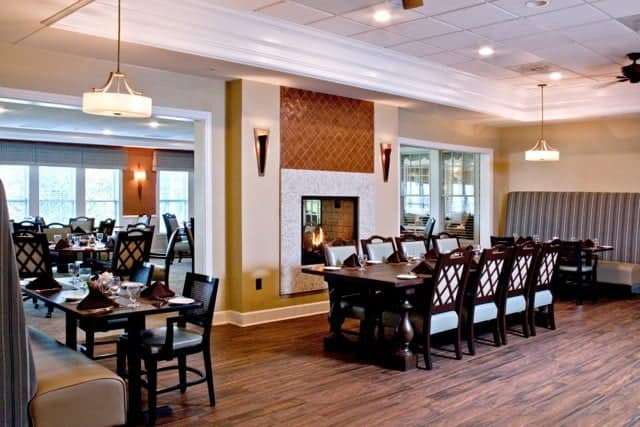 (photo courtesy of The Cypress of Charlotte)
Our group enjoyed lunch in The Copper Grille where we swapped stories about food, Charlotte, Chef Brady's Competition Dining experience, and the lifestyle at The Cypress, over some excellent tomato pie,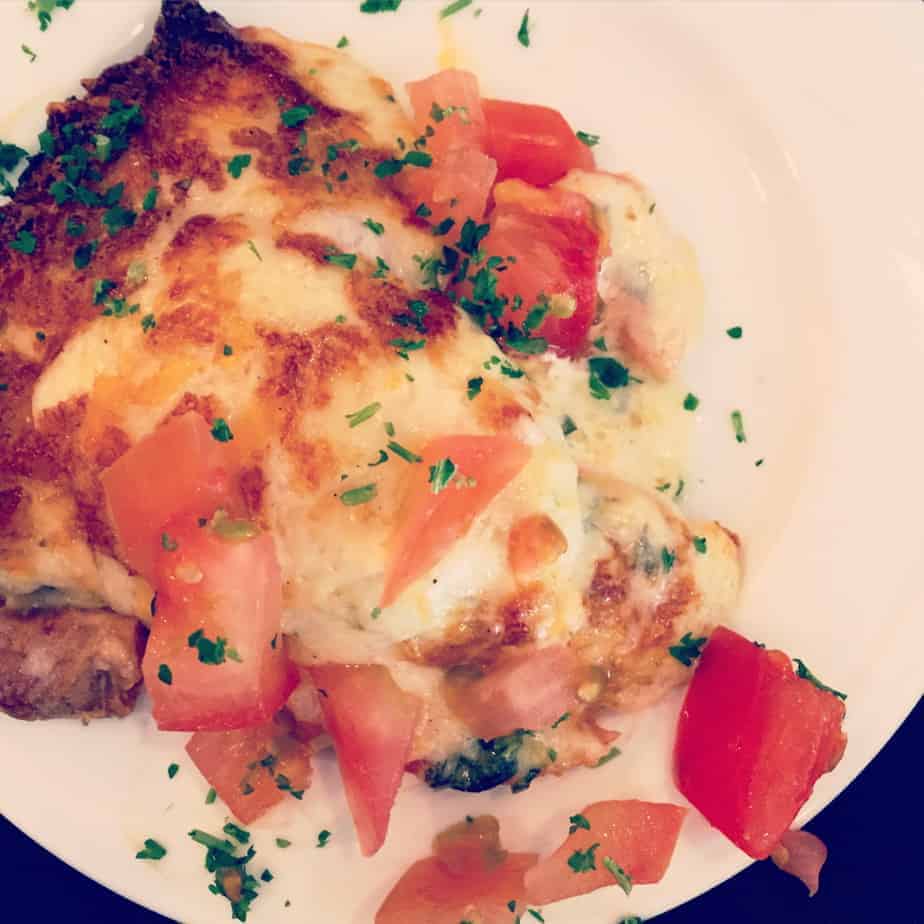 spinach wantons with extra thai chili dipping sauce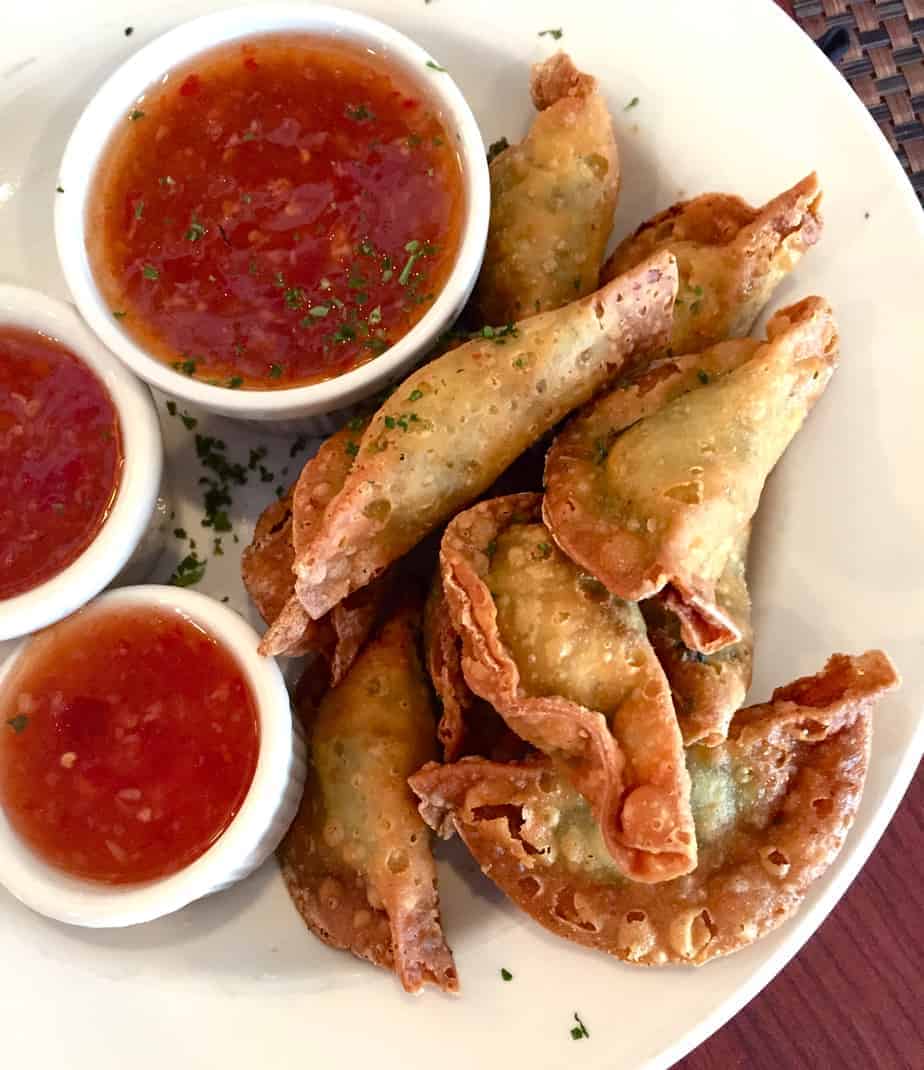 (per the recommendation of a Mr. Godwin, a Cypress member who also attended the competition, we HAD to get the spinach wantons. He was more than right), burgers, and sandwiches. I had incredible difficulty choosing what I wanted to eat (the menu is so diverse, and truly shows that they are catering to the members' different and eclectic tastes) but finally settled on the North Carolina Bison Burger (I love a good bison burger and cannot resist bacon and gouda cheese).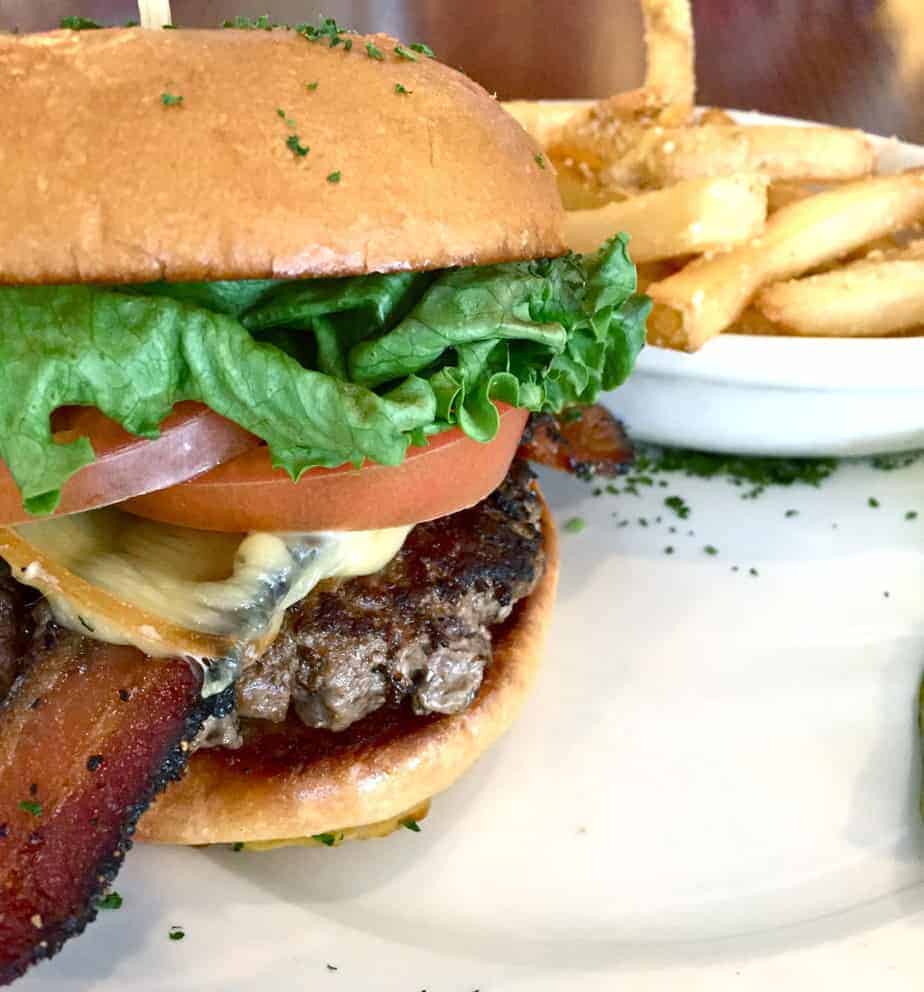 The burger was juicy, and the white truffle fries on the side hit the spot. Chef Brady and Mr. Godwin both got the Reuben sandwiches, which looked mouth wateringly (not a word, I know) delicious. Think about the best Reuben you have ever seen and then times that by at least 5.
Chef Brady wants people to know that "the food in a retirement community can be very special," and that is exactly what he's doing over at The Cypress of Charlotte. Just listening to the way The Cypress members talk about him, even before you eat his food, he's definitely thrown out all of the preconceived notions people have when they hear the words "retirement community" and "food" in the same sentence. And he makes a mean tomato pie (I didn't get to try any of his beer because I had to go back to work, but I have on good authority that it too, is also delicious).
thecypressofcharlotte.com / 3442 cypress club drive, southpark
private dining, members only**
**Jealous, right?
**Thank you to The Cypress of Charlotte and Chef Brady for hosting me for lunch. I had a wonderful time. All opinions are my own.