I had never seen Jurassic Park.
I have to use past tense because this "great travesty" was remedied in mid-June, when AJ suggested we go see Jurassic World in theaters. I said "sure" and asked if it was necessary to see the original film before seeing the series' fourth installment. Flabbergasted, he immediately ordered the DVD on Netflix (yes, we are still subsribers to DVDs on Netflix which is so retro of us) and promptly scheduled us a home date night for the following week.
I guess now is the right time to mention that during June we were in the process of ripping all of the carpeting out of our house and replacing it with new flooring. On our own, like true DIYers. So at this point, we had done the ripping up, but had not laid down the new flooring, so our kitchen was plywood (to be clear, our kitchen was not carpeted but is attached to another carpeted room in our house, so we ripped up the fake wood in the kitchen. Details). So while cooking is a great option for an at home date night where you are watching a 1993 film full of animatronic dinosaurs, it's not that great if your kitchen is full of plywood and sawdust.
Our problem was easily rectified by TakeHome Delivery. TakeHome Delivery is a local Charlotte company delivering everyone's favorite thing, food, to the doorsteps of the citizens of Charlotte. Before even ordering I was a fan because of course: I love supporting local, and anyone who is willing to deliver food to me so I don't even have to leave my couch is my new best friend.
Samuel, former UNCC track star, Charlottean for 12 years and TakeHome Delivery's owner. TakeHome Delivery started with one man and one car, and has expanded to partnering with over twenty Charlotte restaurants, delivering their food in South Charlotte for over four years. Recently, TakeHome Delivery expanded their delivery area (people of Plaza Midwood, Dilworth and Myers Park rejoice!), and is adding new partner restaurants every day.
What I loved the most about TakeHome Delivery is it was SO EASY. They let you schedule your delivery; so there's no waiting around at home for 45 minutes with your tummy rumbling while you're waiting for your food (when I get to the point that I need a snack while I wait for my dinner to be delivered I figure it would be less time consuming and more satisfying to go out and pick up the food myself). So yes, you can schedule your delivery, which is totally great. While we were getting ready for work Wednesday morning,  AJ and I talked about what we wanted to eat while we watched velociraptors and I placed our order on TakeHome Delivery's website before heading out the door and driving for work. When I got to the office, I had an email in my inbox confirming my order (including everything we ordered and the price) and letting me know they'd see me at 8pm that night.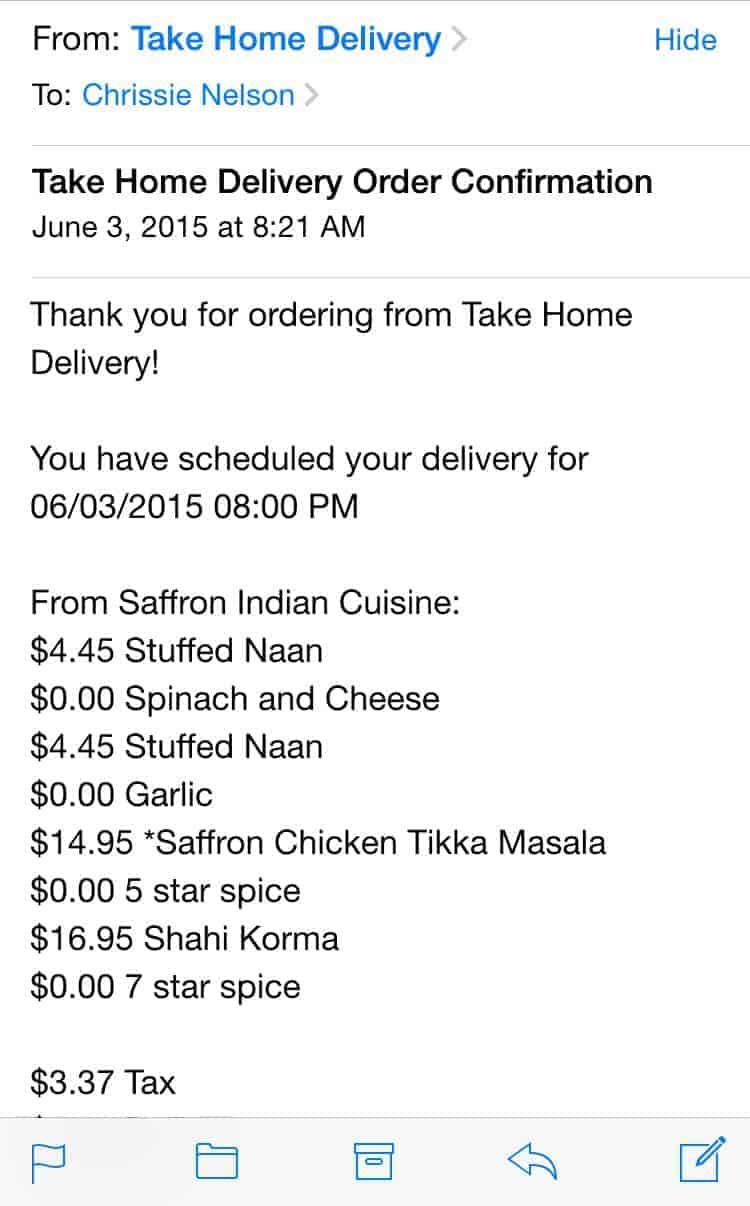 So I didn't have to worry about dinner all day. I got home after a long day of work, poured myself a glass of wine, and shortly after I settled into the couch, got another email from TakeHome telling me my driver was at the restaurant picking up my food.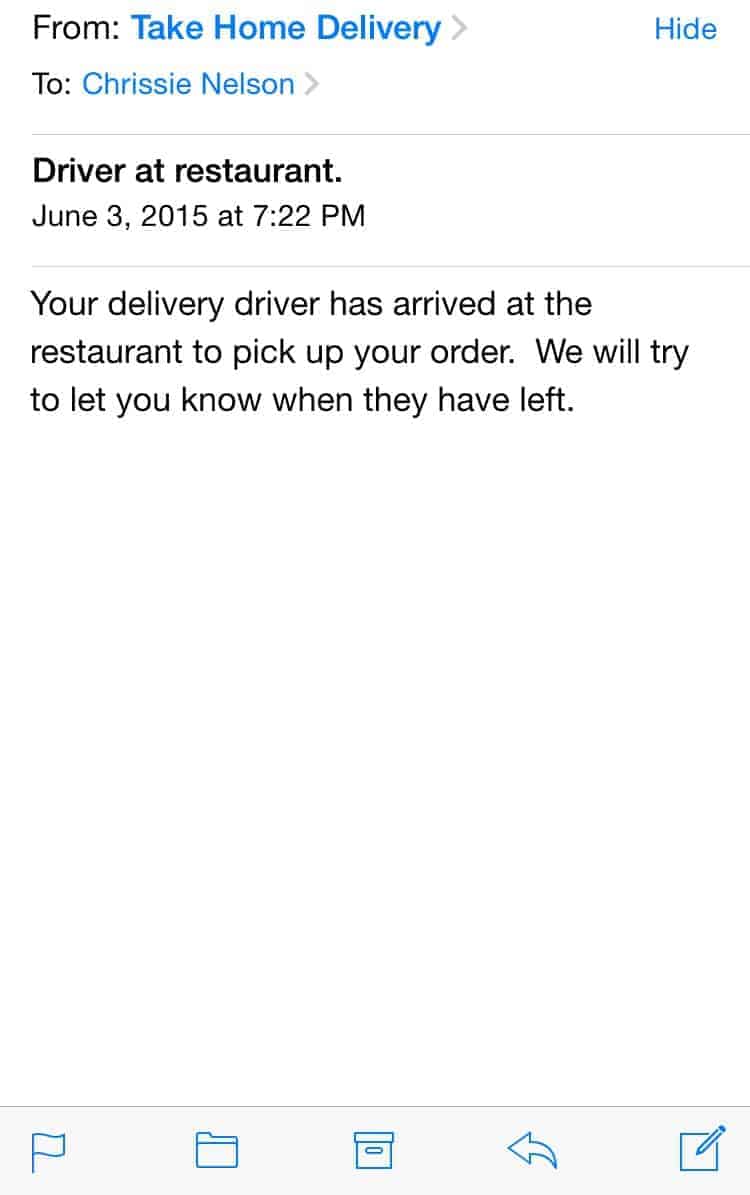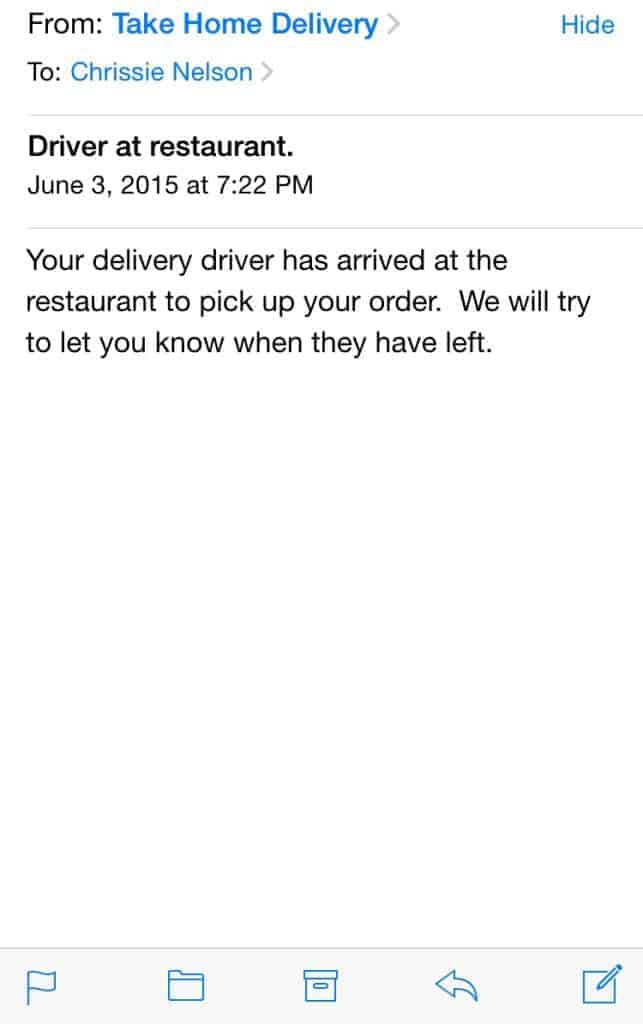 Perfect. I also got a quick phone call from our driver asking if there was anything we wanted to add, like condiments, silverware, anything else, which was so kind and thoughtful (our driver was one of the nicest humans I've ever met). About 10 minutes later, my phone pinged again letting me know the driver left the restaurant and our food was en route to our house.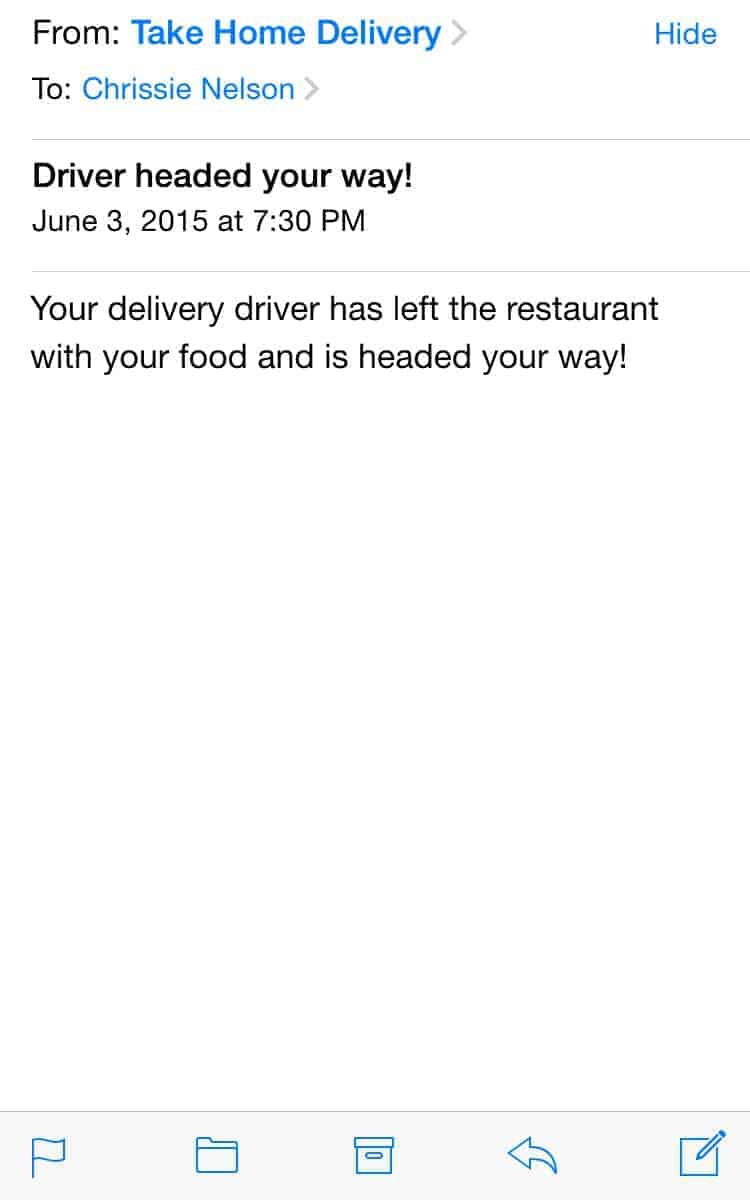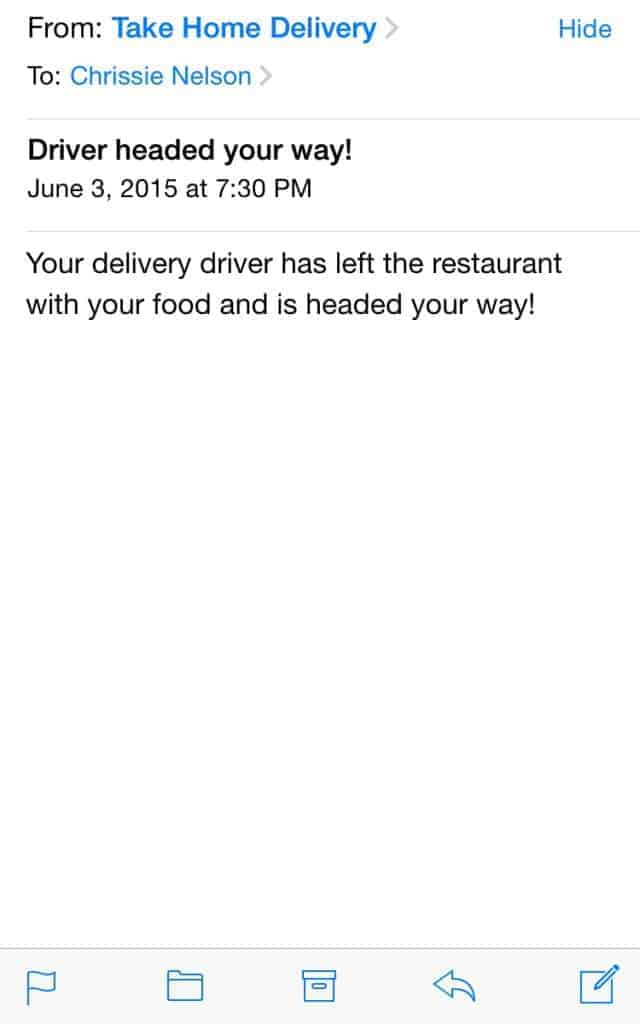 After a doorbell ring and friendly smile, we were unpacking warm, spicy, delicious Indian food (we ordered from Saffron Indian Cuisine in Ayrsley which has cheese naan that is out of this world and spicy levels that are really spicy. Dip the naan into the Chicken Tikka Masala sauce. Trust me. If you like spice, order a level 5 or 6. Eight will burn your tongue off).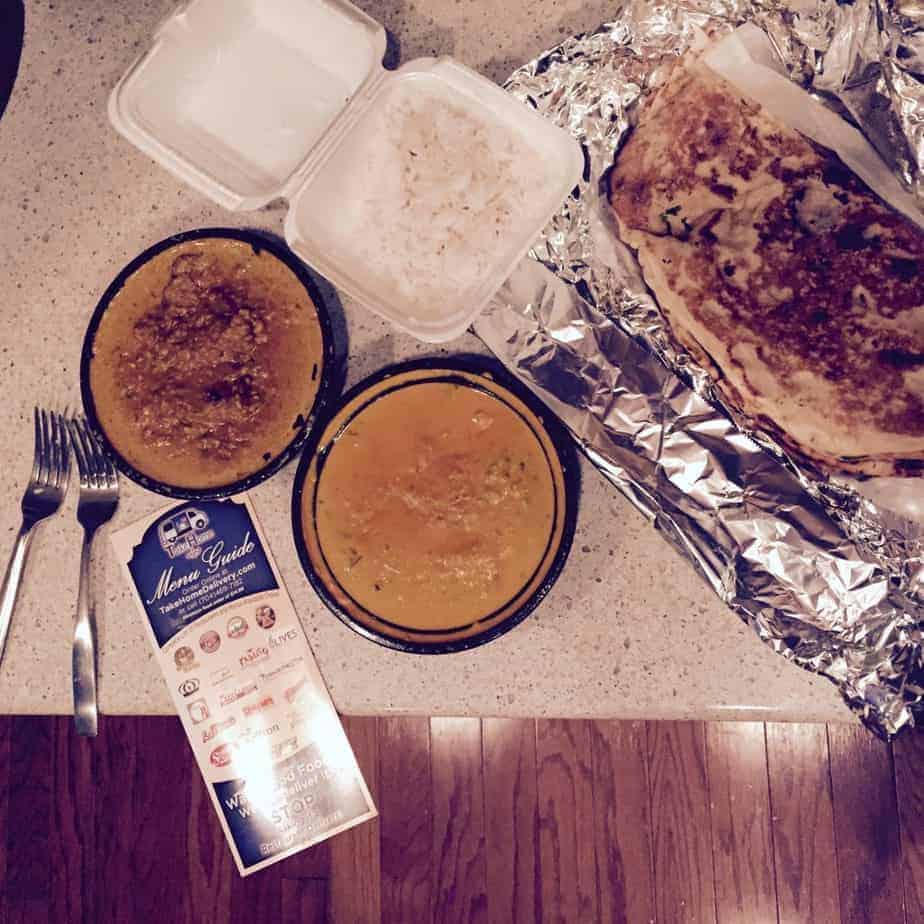 Our experience with TakeHome Delivery was seamless, convenient, easy and downright pleasant. Within 30 minutes of walking in the door, dinner was ready, and I already had a glass of wine in my hand.
We set up our Indian feast and as I dug into my cheesy, sauce drenched naan, AJ reminded me, "You have to remember this was 20 years ago so at the time the technology was cutting edge." 
**Thank you to TakeHome Delivery for treating us to a delicious Indian feast from Saffron and covering our delivery fee. I will totally order with you again. All opinions are my own.