When someone asks me what my favorite food is, I have a really hard time just saying one thing. Maybe it's because I love food. Definitely because what I crave depends on my mood. So usually, I answer my favorite food questions with a laundry list of meals–my mom's homemade spaghetti, pizza, a good burger, rare steak, oysters, mussels, blue crab (there's a clear seafood trend), potato skins, nachos, cheese fries, ice cream, onion rings, brunch and sushi (and if we can go beverages for a moment, pina coladas and Bloody Mary's). Clearly, I am one healthy eater (I do enjoy salads, sometimes even crave them, and my body thanks me for that).  Safe to say, I have a wide range of eclectic tastes (mostly for grease and fat), but sushi is definitely at the top of the list. In fact, it may have recently surpassed pizza; it's the kind of food that no matter my mood, no matter the weather, no matter that I may have eaten it a few days ago, when someone says "Let's grab sushi," I'm totes in.
map & more
score: 8
spending: $-$$
neighborhood: parktowne village

official website
[googlemaps https://maps.google.com/maps?f=q&source=s_q&hl=en&geocode=&q=Sushi+101,+East+Woodlawn+Road,+Charlotte,+NC&aq=0&oq=sushi+101&sll=38.003386,-79.420925&sspn=5.089531,9.261475&ie=UTF8&hq=Sushi&hnear=101+E+Woodlawn+Rd,+Charlotte,+North+Carolina+28217&t=m&cid=10547127171246075203&ll=35.171704,-80.847015&spn=0.028064,0.034161&z=13&iwloc=A&output=embed&w=200&h=200]
I've gotten take out from Sushi 101 a few times (thanks to the great recommendation from my fellow sushi aficionado and friend Danielle, who said it was some of the freshest and reasonably price around), but had never eaten in before. Lucky for me, I had zero groceries (I had just gotten in Monday morning from a long weekend in Minnesota and was turning around to leave for Thanksgiving on Tuesday), was starving, and Danielle was totally on board when I suggested Sushi 101 for dinner. Nailed it.
Sushi 101 is a deceivingly large place; while it's squeezed between two store front at Parktowne Village  on Woodlawn; the restaurant is long and skinny, so it has tables upon tables lined up to the very back, as well as a ton of seating at their expansive bar. Several small plates and a set of chopsticks are expertly placed at each place setting. The decor is funky, and the walls are adorned with pieces by local artists. There's a healthy mix of artwork, including a giant painting of Gwen Stefani in the center of the restaurant. I totally love that they support local talent, and Gwen gives the place a little intrigue and soul.
I agree with Danielle's assessment of the food; the sushi is complete with clean knife cuts and a super fresh taste, which makes the fish the star (as it should be). I think Sushi 101 is the cheapest option with the freshest fish in Charlotte (Yama has super fresh and tasty fish as well, but is a bit more pricey). Sushi 101 has an extensive menu, to the point that it makes me second guess my order about 30 times because there's so many choices of classic and specialty rolls. Their choices are also great for non sushi dining compadres, including teryaki, noodle bowls, and a bunch of appetizers. I knew I was getting a roll or two and was flirting with the idea of getting something new and creative. But in the end, I stuck with the old standby, the spicy tuna roll, because I knew it would be delicious and hit the spot. Danielle ordered a rainbow roll and we split an order of the spicy edamame.
The edmamae came out first and it was delicious; I prefer edamame with a little kick rather than straight up salt, and Sushi 101's had just the right amount of spice. There are sometimes issues with spicy edamame being a little bit greasy because of the oil/spice concotion that gets drizzled overtop the soybeans. There were no issues with that at Sushi 101; just fresh, crunchy edamame with a little zing in every bite.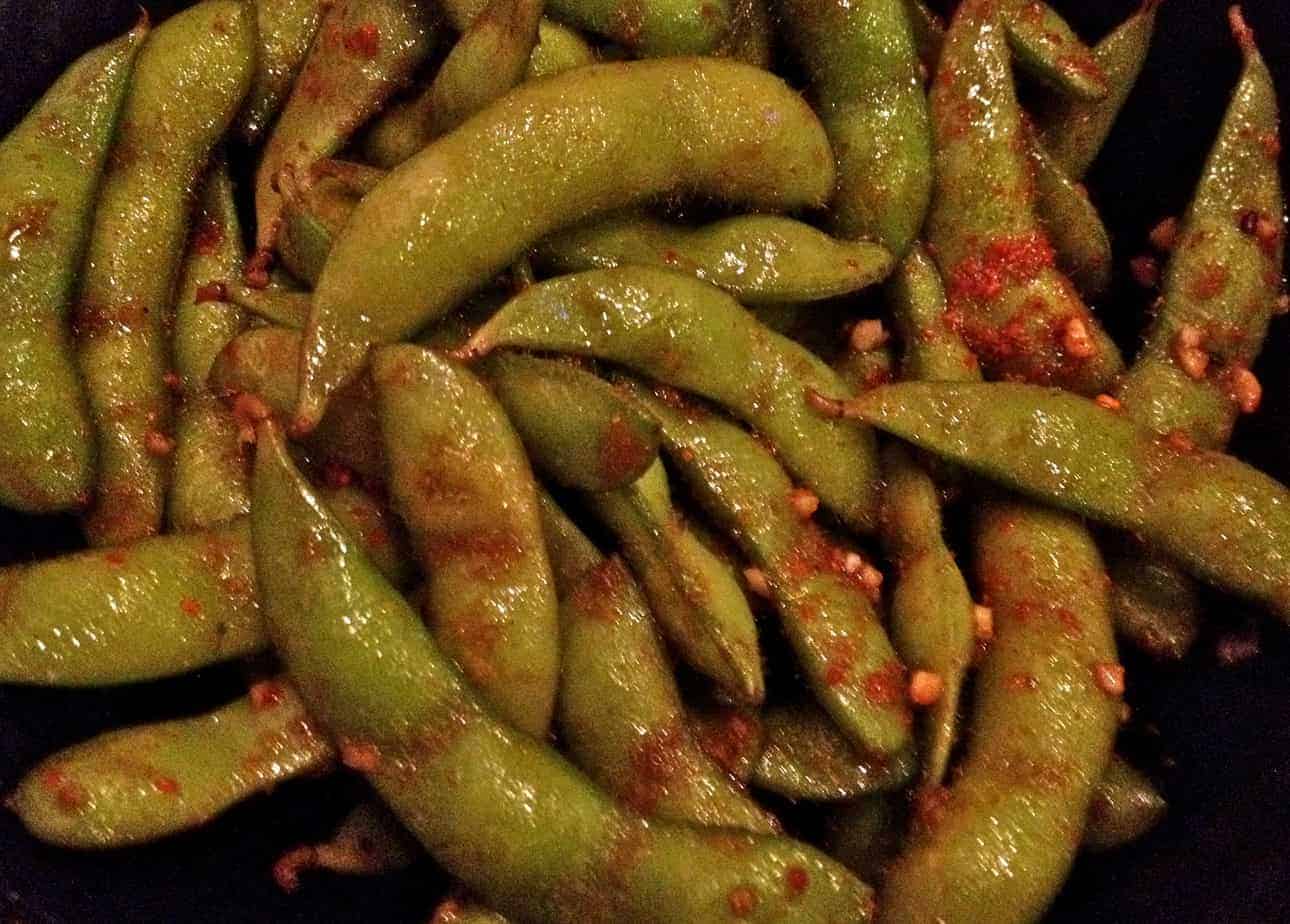 Our rolls came out right after we finished munching (for me, it was probably more like gorging) on the edamame. Danielle's rainbow roll looked super fresh and gorgeous, and I'm definitely going to order it next time I stop in to Sushi 101 (all it takes is a little look at what I'm missing out on to get me to be a little more adventurous). My spicy tuna roll was delicious, as always. The tuna was perfectly pink and tender, and the spicy mayo adds the perfect kick at the end and does not overwhelm the fresh fish (in fact the two work together in a lovely harmony that delights my tastebuds).
The one draw back I have ever had with the spicy tuna roll at Sushi 101 is if sushi chef is a little heavy handed with the spicy may (one a few occasions I've had thick globs of spicy mayo on top of my rolls). But the issue isn't anything that a swift swipe of a chopstick can't fix.
Sushi 101 has become one of my go-to places for a quick take out dinner after work, a fun meal catching up with girlfriends, or a casual date. I love their variety, service and fresh, quality products (not to mention, who doesn't like a restaurant with a prominent picture of Gwen Stefani on the wall!).