Tell me about a congregation of Charlotte food trucks and I'm there like a moth to a flame (maybe an overused simile? Whatevs).
I love that groups of food trucks are popping up all over the city at appropriate meal times so the people of Charlotte can get some delicious food to satisfy their hunger. A favorite Friday activity is to grab some chairs or a blanket, a six pack from Common Market, and camp out at Food Truck Friday in South End to get some grub. Food truck rallies are a cool thing and all of Charlotte is getting on board (you can find food truck events all over Mecklenburg County from Huntersville, to NoDa, to South Park and Matthews).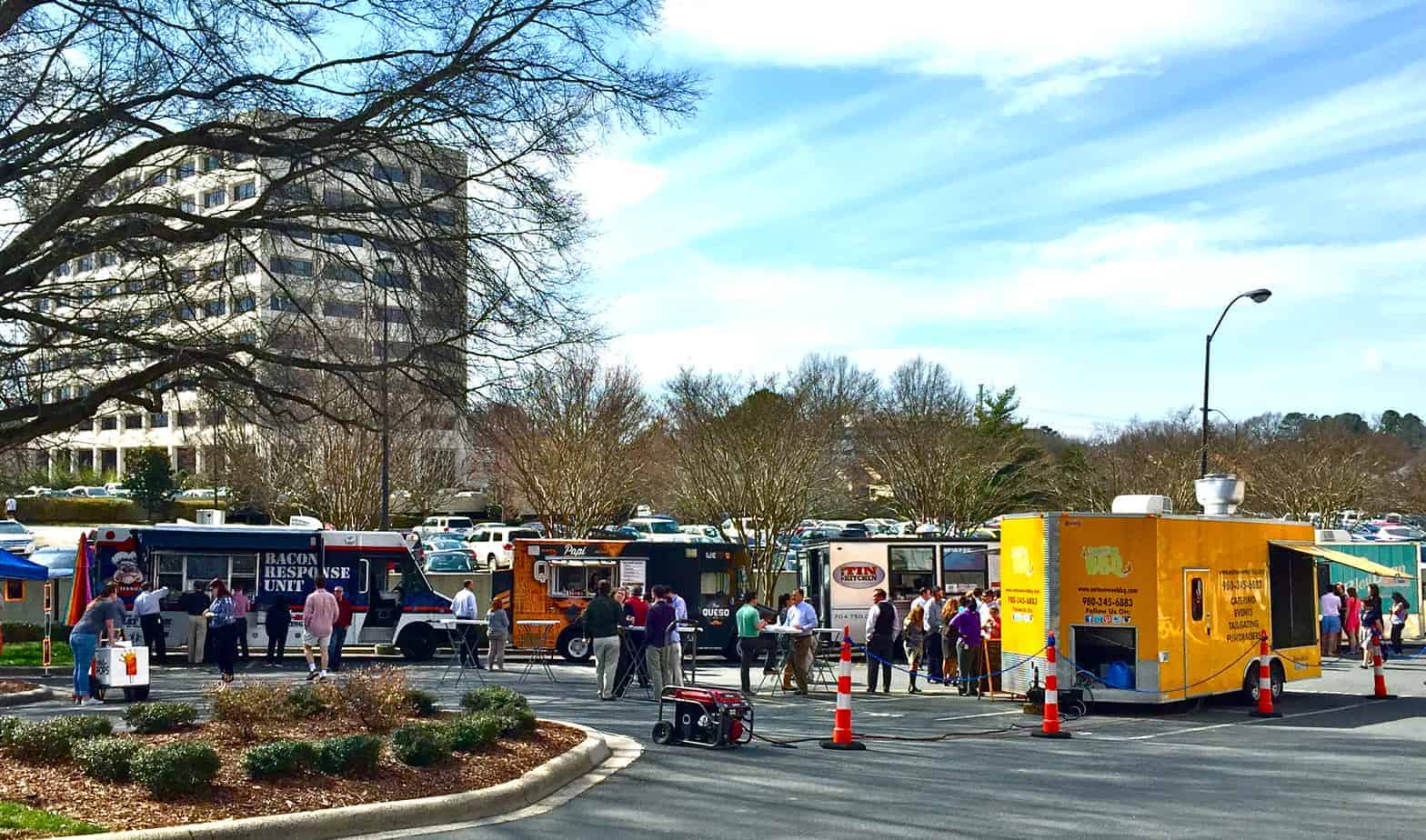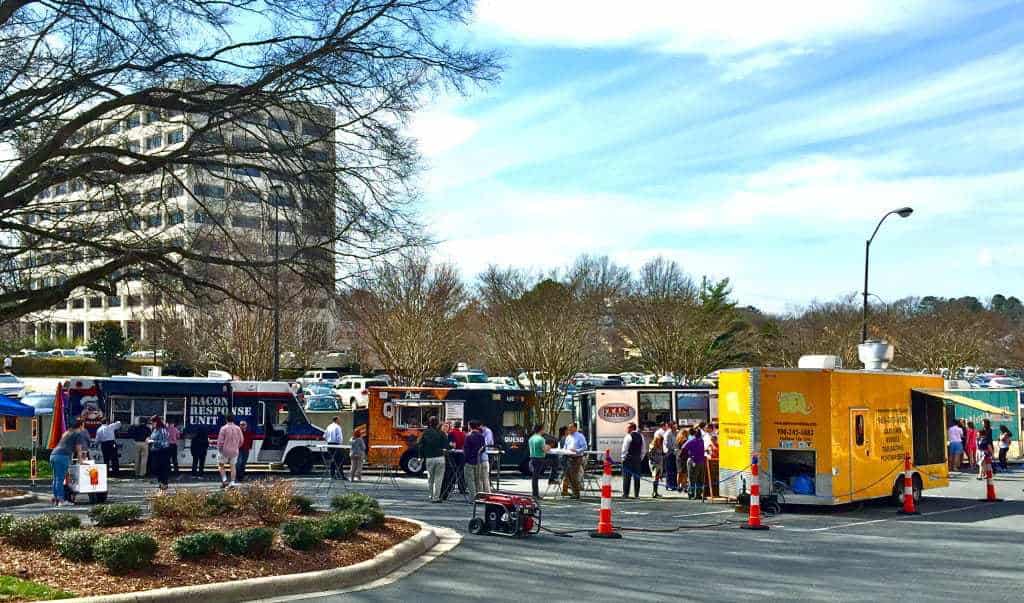 When I got an email about a newer food truck event in South Park hosted at lunch time on Wednesdays, I knew it would be something right up my alley. SouthPark Eats Alternative is a hosts several of Charlotte's most popular food trucks weekly from 11am-2pm on Fairview Road, right in the heart of an office park in South Park. As I drove up I was totally envious of the people pouring out of the office building heading toward the trucks (seriously just feet between their desks and a delicious lunch), as it is not practical for me to drive to South Park from Uptown weekly to lunch at a food truck (though The Tin Kitchen parks at the NASCAR Hall of Fame on Tuesdays which is right around the corner!). SouthPark Eats Alternative is a totally great thing though giving the working folks of South Park some great midweek lunch options.
There were so many trucks to choose from, I had a hard time deciding. Two of my favorites are featured weekely: Papi Queso and The Tin Kitchen, and before I jumped in one of their lines again, I vowed I would try something new. After eyeing the parking lot up and down and making a hard decision (Master Bacon was parked at the end of the line and I love anything and everything bacon, and it's really hard to say no to OooWeeBBQ) I got in line in front of Bleu Barn Bistro's window. The line was about 5 deep so I had a moment to look over their chalkboard menu propped against the front of their truck.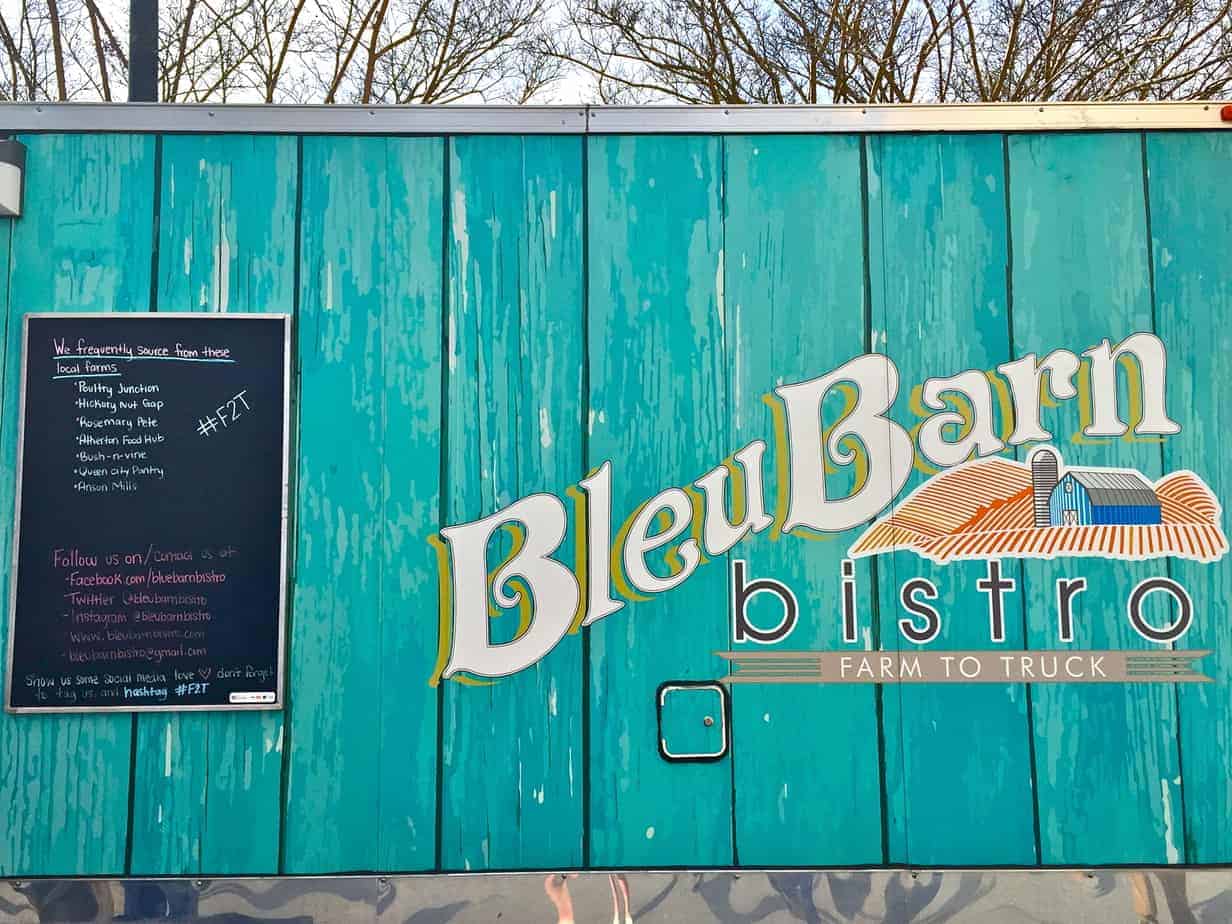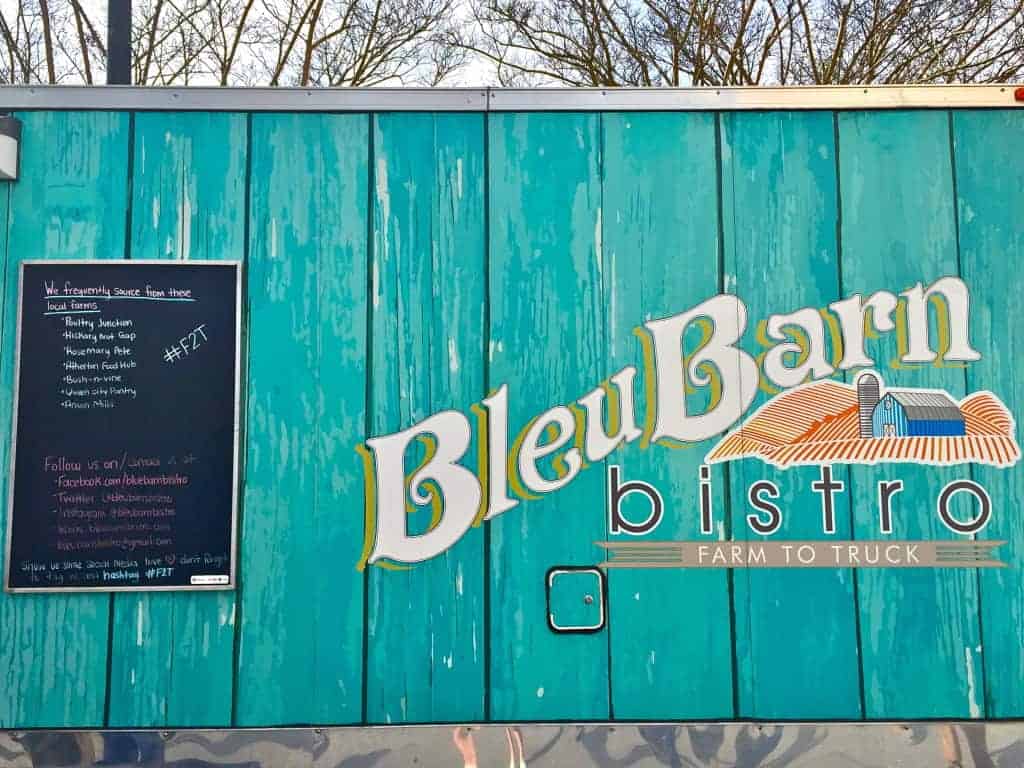 Bleu Barn Bistro specializes in "serving locally-sourced meat and produce from farms in our area that are committed to producing pesticide and hormone free produce as well as grass fed and free range beef and chicken." (They say it better than I ever could).  Their focus on farm to truck results in constantly changing, creative menu that highlights flavorful, seasonal ingredients. The menu is hard to choose from because there's a wide variety of choices (grilled cheese! burgers! tacos! salads!) so I just had to go with my gut. Pork belly tacos spoke to me, and I made an excellent choice.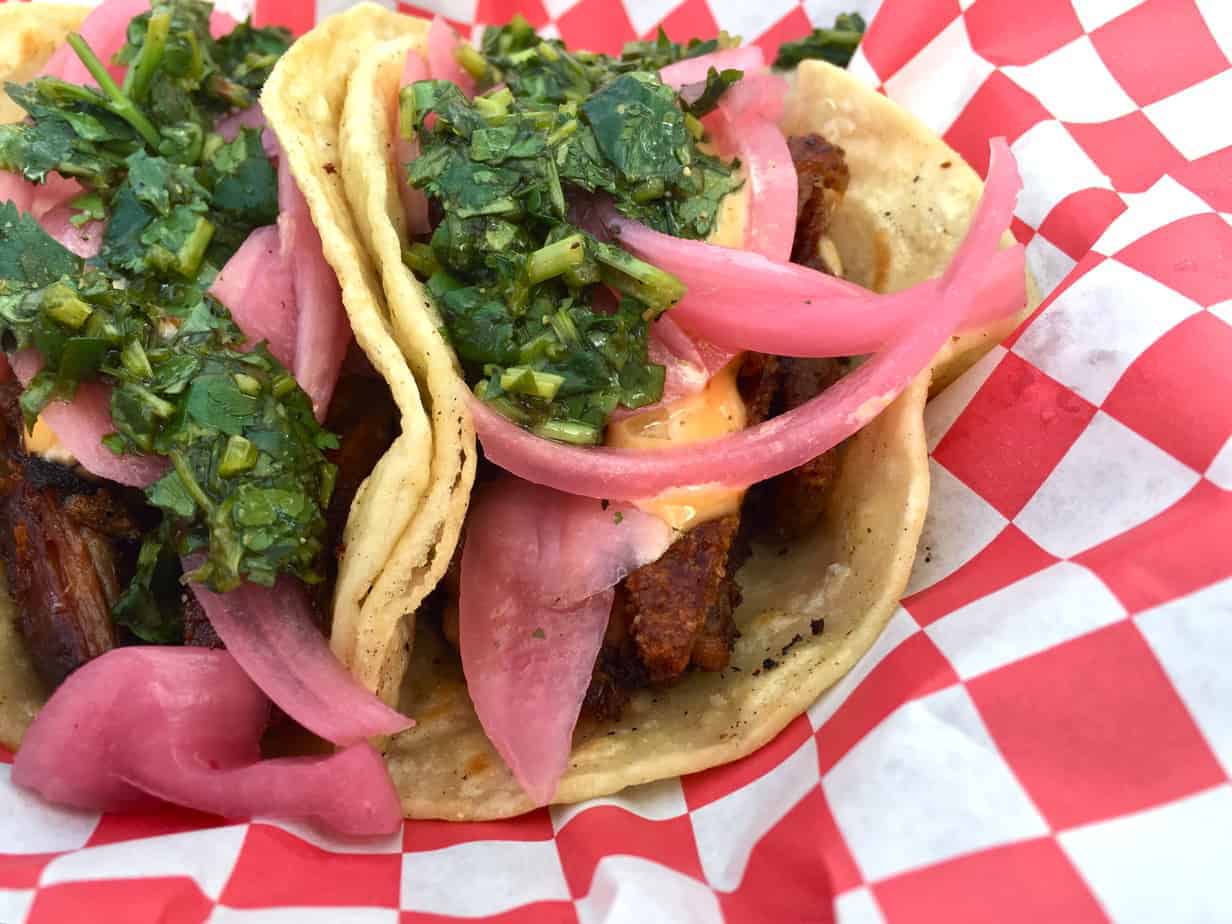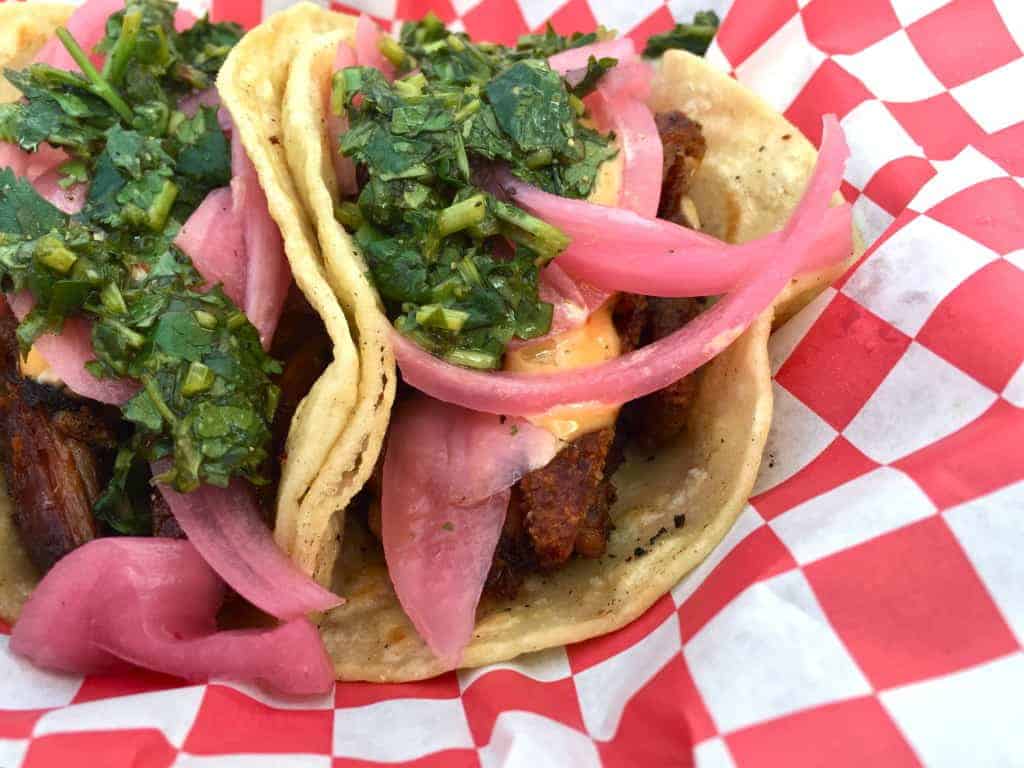 These tacos are no longer on the current menu, because you know, changes. But I highly suggest you look at some tasty things on their current menu, I'm sure you'll find something to strike your fancy (um let's talk about the Asian Pork Belly Noodle Bowl, the Sunny House Farm Burger, the Spicy Goat Cheese Grilled Cheese, or maybe the gluten free Chicken and Waffles. See what I mean? Making decisions is hard).
There are a few high top tables scattered around SEA's space, where I enjoyed my tacos ever so gracefully (false, I ended up with sauce all over my face. It's really hard to eat tacos like a lady) while I chatted with the brains behind the operation. SouthPark Eats Alternative has been around for about a year now has grown to host six food trucks per week (four trucks are regulars that come every week and the other two rotate depending on the week), plus a few dessert trucks as well (because everyone loves dessert, especially on Wednesdays). King of Pops was there and so was Cupcake Delirium. You can get the weekly line up details and updates on SEA's website so you can spend your morning planning on what you're going to eat for lunch.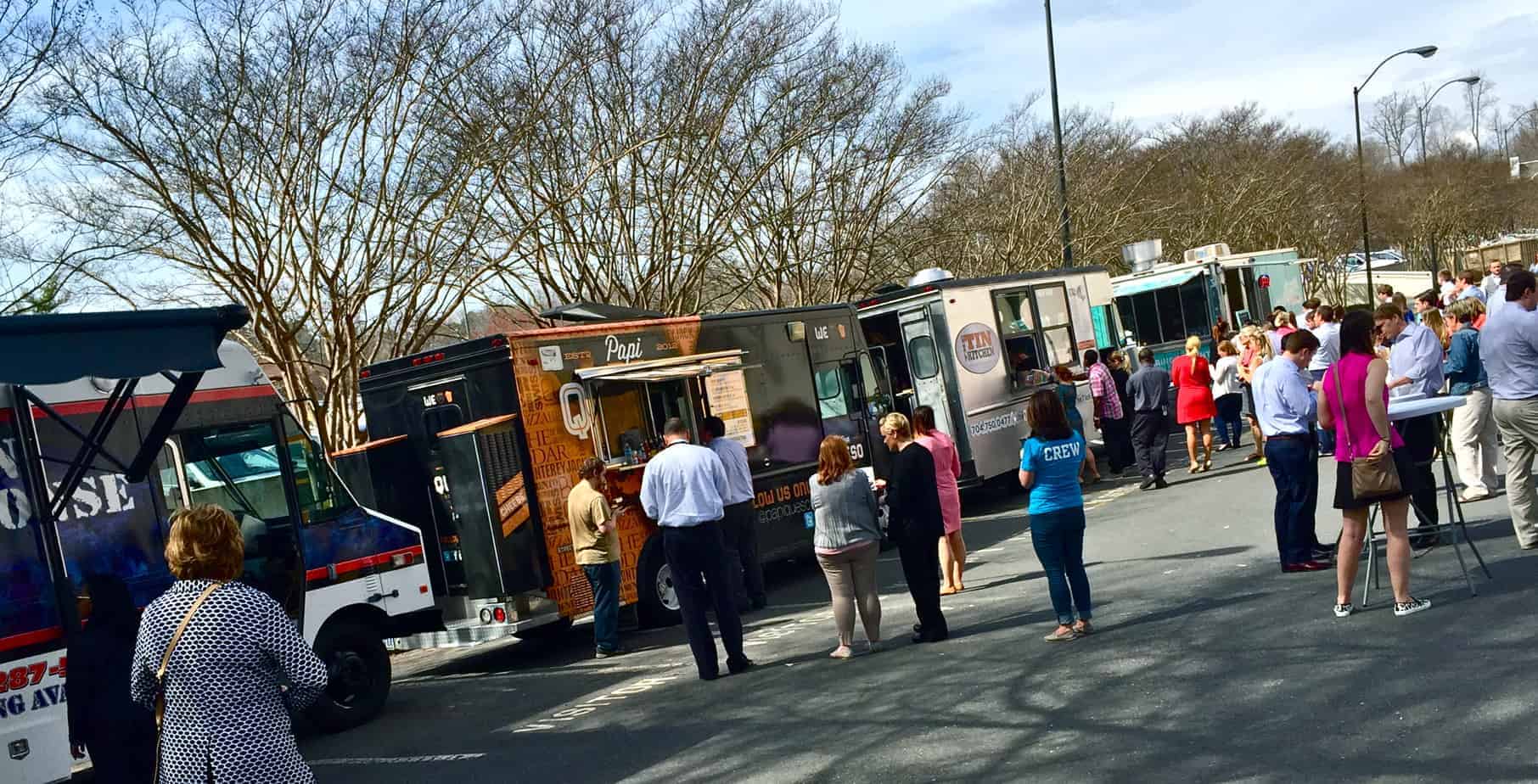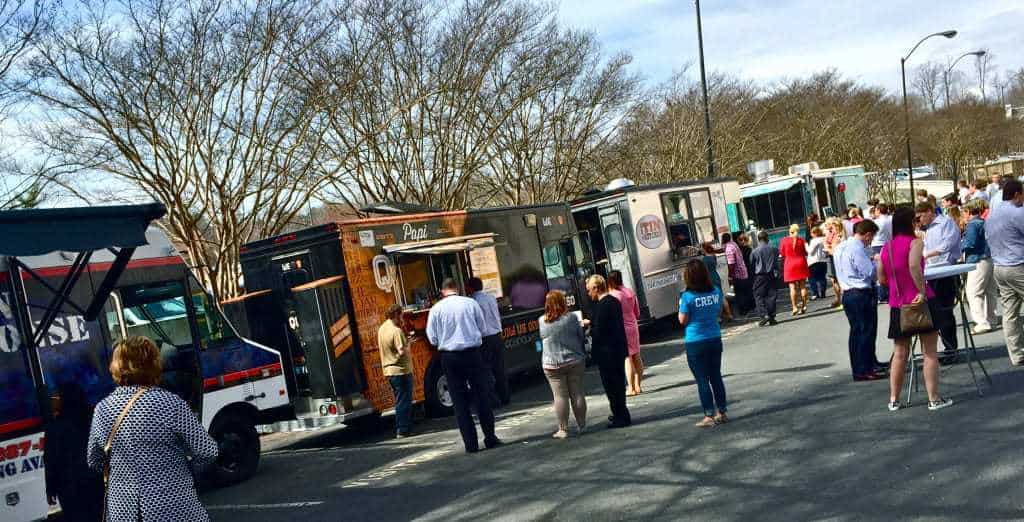 SouthPark Eats Alternative is a great event that supports both local food trucks and business professionals' appetites. If you work in South Park and are not eating your weekly Wednesday lunches at Fairview Plaza, what are you doing with your life?
(If you don't work in South Park, you should still occasionally go to lunch at SouthPark Eats Alternative because they do have free parking).
sea-nc.com / 5950 fairview road, south park
wednesdays 11am-2pm
**Thank you to SouthPark Eats Alternative for buying my lunch and telling me about this great event. All opinions are my own.