I really have no idea why I stopped doing snapshots. It looks like my last one was in May of last year and I can't tell you why I stopped doing them. Especially because I liked them so much!
I like the format of a weekly or monthly or bi-monthly (or whenever I want!) roundup post because the truth is, life is busy, I'm busy, and sometimes all I want to do is come home from work sit on the couch with a glass of red wine and watch the Olympics (speaking of the Olympics, has anyone else lacked a social life recently because they're sitting at home watching swimming and gymnastics? Or is it just me?).
Anyways, I felt the time was right to bring my little snapshots round up posts back and the best way to do so was to catch you up on what's been happening since last May. (just kidding). But the next few weeks will take you through some highlights of 2016 (end of winter, spring, summer) and the I'm hoping to strike some consistency and keep up with snapshots weekly or every other week. Fingers crossed!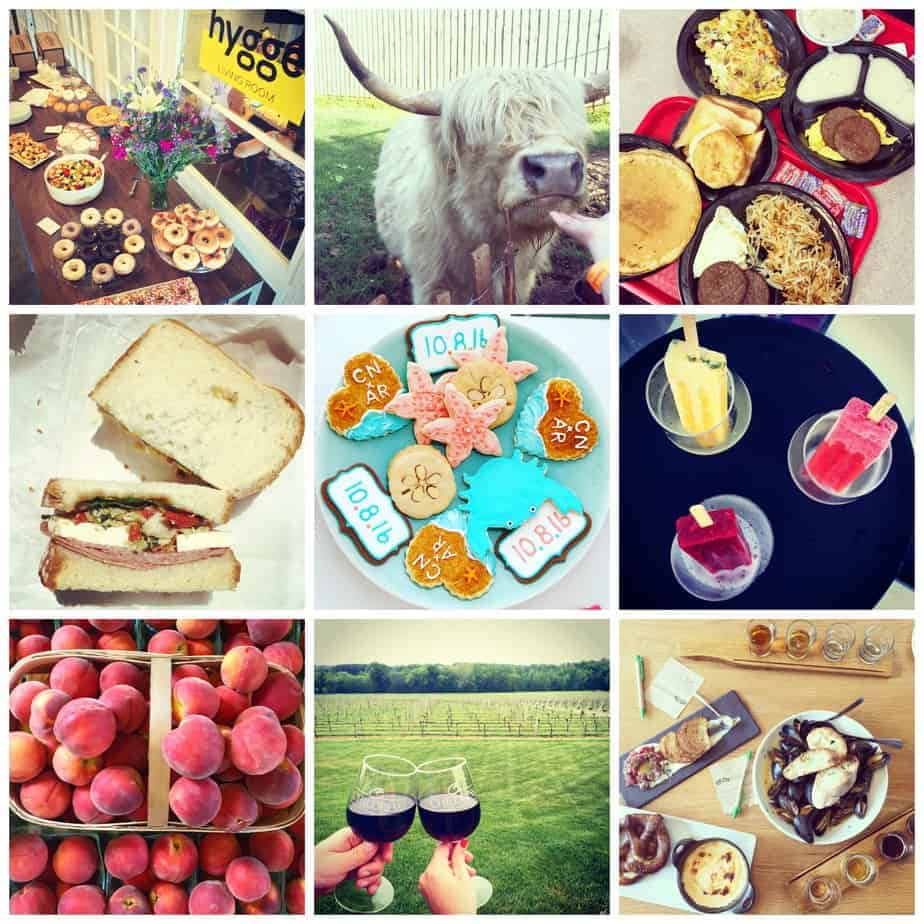 1. Guys, the Charlotte Food Bloggers are on fire! We revamped our local blogging group in January and now we have a fancy website, monthly (or more!) meetups and I have had so much fun meeting and hanging out with our really cool, active members! Basically, I'm obsessed, and you should check us out! (this photo is from June's  Brunch n Learn where we spent a few hours at Hygge hanging out, learning about SEO and monetizing our blogs, and snacked on delicious goodies from local bakeries, restaurants, and coffee shops).
2. We had a ton of fun at our favorite local beer festival, the North Carolina Music and Brewers' Festival at Rural Hill in May. Highlights include a 3 hour tasting session from some of my favorite North Carolina breweries, bluegrass music, and making friends with Rural Hill's Highland Scottish cattle (or as AJ likes to call them, moo moo cows).
3. Mom came to visit during her Spring Break in March and we spent some time exploring hidden gems in Steele Creek. Steele Creek Cafe wins major points for their cheap, hearty, delicious breakfast and double grits.
4. Laurel Market has become a regular in my Charlotte lunch rotation. My favorite right now is the #10, with salami, mozzarella, sun dried tomato, pesto, and artichoke.
5.  My sister threw me a wonderful bridal shower in April, complete with my favorite things: family, friends, mimosas, middle school photos of myself and AJ, Sunflour cheddar biscuits and Grandma Vera's sugar cookies (my talented and wonderful aunt made these cookies, they were almost too pretty to eat!).
6. City Lights Rooftop opened in June, and probably the coolest thing about it (besides the panoramic Uptown view) is the Sparkle and Pop, a prosecco cocktail made with a King of Pops popsicle (during the preview night I could not stop drinking them and definitely paid for it in hangovers the next day). With temperatures in Charlotte well over 90 degrees for what feels like the past 2 months, a popsicle cocktail is exactly the thing I need to cool off!
7. I've been spending every Saturday morning I can at the Charlotte Regional Farmers Market and essentially sustaining on a diet of South Carolina peaches (among other fresh grown goodies).
8. This Spring, we attended a co-ed baby shower for some friends in Mocksville, so set out from Charlotte at little early for some North Carolina exploring. Stopping at Childress Vineyards in Lexington was totally worth it; they have a very affordable tasting menu in their tasting room and a beautiful patio overlooking the vineyards. I want to go back soon!
9. We went to the mountains to celebrate AJ's 30th birthday in May (complete with overnight canoe camping in Brevard which was super fun and I highly recommend). We totally can't go to the mountains without a pit stop at Sierra Nevada Brewing in Mills River (spitting distance from Asheville). Their patio is what hopes and dreams are made of, and hanging out at their facility is the perfect way to relax and have fun before trekking back to Charlotte.
We're headed to the Outer Banks today to soak up some sun, float in the ocean, hang out with my cool fam (my sister's fiance is back from deployment so we've got some welcoming home to do!) and wrap up some wedding planning before October (read: tasting delicious food, which may be my  favorite part of wedding planning!).
And as always, if you want to keep up with me, what I'm eating, which cats I'm snuggling with, or which Olympic sports I'm watching from my couch, you can keep up on Instagram, Twitter, or Facebook.