I seriously need a vacation from my vacation. I was in Charleston last weekend for the Cooper River Bridge Run and I had the best time. It was only my second time in Charleston, my first being almost exactly a year ago in early April to hit the beach and see the city. Here are some of the highlights!
(also I'll take this opportunity to tell you that I blew up Instagram with Charleston photos. Want minute by minute social media updates? Follow me on Instagram @chrissie_beth).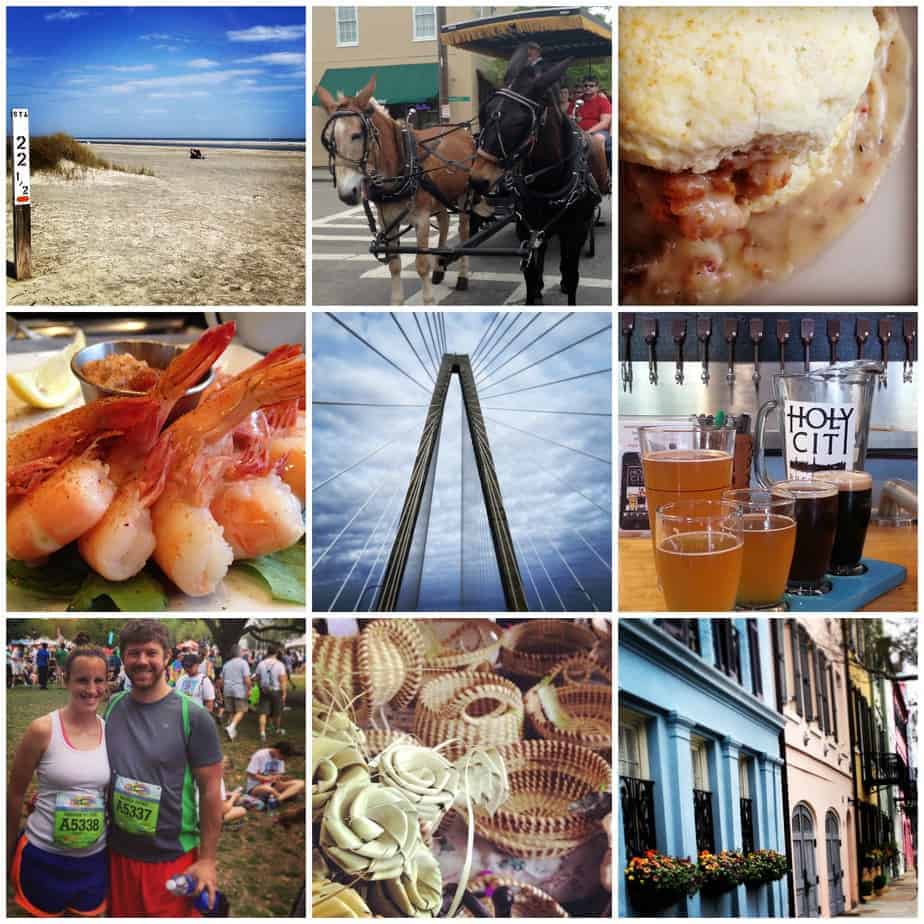 1. After the race on Saturday we boarded the bus back to Mt. Pleasant and headed immediately to the beach. We rewarded ourselves with post race beers, margaritas and tacos at Taco Mamacita on Sullivan's Island. Then we took a stroll down to the ocean–which was heavenly.
2. Monday was the day we played pseudo-tourists in downtown Charleston (read: eating and walking and more eating and walking). We took a walk through the historic Charleston City Market and bumped into a few carriage tours along the way (I took a carriage tour last year and highly recommend it for visitors–you get to see and hear and learn so much from folks who are really passionate about their interesting city).
3. The Charleston Nasty Biscuit is so good, Hominy Grill feels comfortable having the word "nasty" in it's name. A homemade biscuit, sausage gravy, fried chicken and cheddar cheese. I ate it all, and ordered a side of cheese grits, of course.
4. Before we skedaddled Monday afternoon, we made a stop at Pearlz Oyster Bar on East Bay St. They have an amazing oyster happy house, complete with other raw bar offerings like these vibrant, delicious peel n eat shrimp.
5. The star of the show–the Arthur Ravenel Jr. Bridge. It's way steeper to run than it looks from far away. I paused mid run to score this shot.
6. In crowd avoidance mode, we stayed out of downtown on Sunday too and made a stop at Holy City Brewing. My favorite was the Pie Face, a wheat brewed with lemon peel and graham crackers to give you the idea of lemon meringue pie. Yes, please.
7. I've never considered myself a runner, but have recently signed up for a few races to motivate me to get out and exercise (plus who doesn't love purple neon running shorts?). I had so much fun running the Cooper River Bridge Run, the 10k that takes you across the bridge from Mt. Pleasant to downtown Charleston. I loved hearing the cheers of the crowd, and rocking out to the bands playing along the race route. While it's a super crowded race with over 30,000 participants, it was a super cool experience and I can't wait to do it again!
8. Another shot from our downtown walking and eating adventure on Monday. These are handwoven sweetgrass basket and roses that are signature items at the Charleston City Market. Gorgeous.
9. And what's a trip to Charleston without stopping by Rainbow Row?
I had a wonderful time in Charleston and can't wait to share more details of my trip with you in the coming weeks!