This week, I wished almost every day that we had mandatory nap time at work. I'm tired, which is my own damn fault because I'm too busy filling my life up with friends, fun, food,House of Cards (I'm behind the times with everyone in the universe but now can't get enough), and even a workout now and then. Still playing a bit of catch up this week from my bloggy hiatus in these photos. Let's review.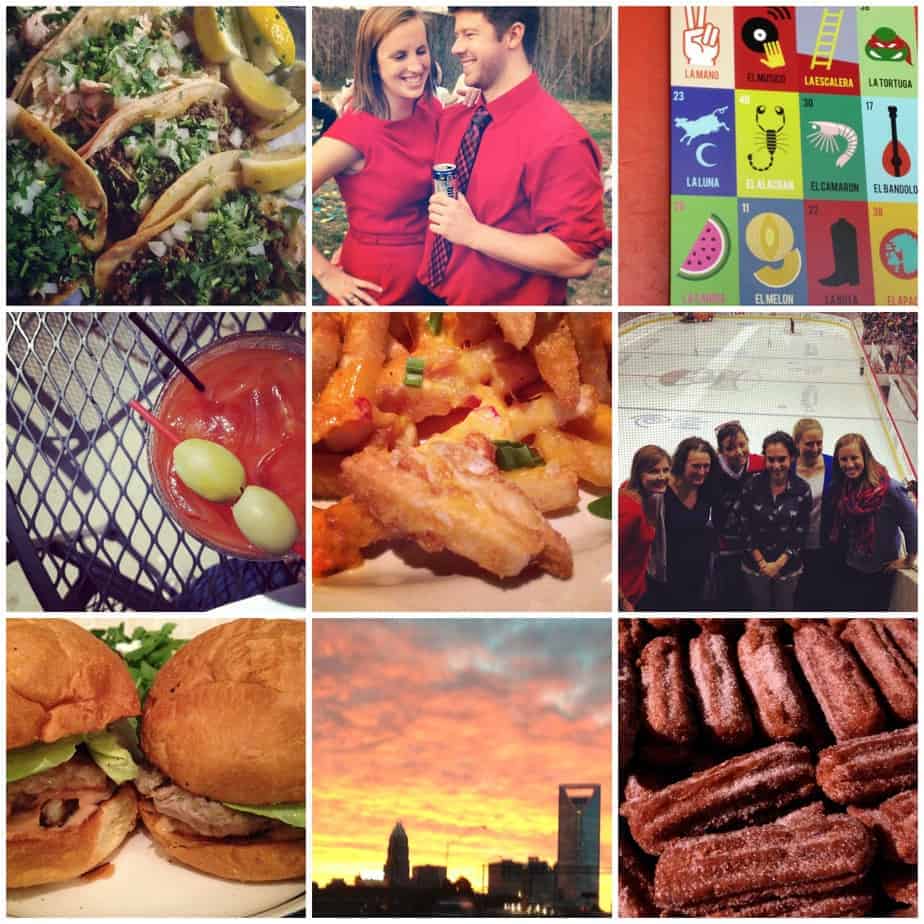 1. #tacotuesday!! I only recently discovered Sabor Latin Street Grill (wish I had tried it sooner!), but it's officially discovered and delicious. I grabbed some quick to go food a few weeks back and have not stopped dreaming about the empanadas. The best news is that they offer $1 tacos autenticos (corn tortilla, beef or chicken, cilantro, onion, lemon) on Tuesdays and we grabbed some for dinner this week. So good, I'll probably go back every Tuesday.
2. Southern weddings are my new favorite activity. AJ and I went to a wedding two weekends ago–it was a beautiful, spring day; we had a wonderful time; and the food was amazing. A true southern spread of barbecue, beans, coleslaw, potato salad, deviled eggs, mac and cheese and of course cake. AJ decided we needed to color coordinate; his idea totally, but the color palette was my choice (it was the day my Wisconsin Badgers beat Oregon in the Sweet 16. The Badgers are still dancing their way to the Final Four this weekend!). Go Bucky!
3. Some friends and I grabbed off campus lunch last week. Rather than walk Uptown, we had a little extra lunch time on our hands and hopped in a car in search of Mexican. We had a lovely sit down, long lunch at 1900 Mexican Grill in Elizabeth. Tasty food and cute decor; I especially liked the chandeliers and the Spanish vocab on the wall.
4. Pint Central recently opened in Plaza Midwood (review coming soon!) and they serve up $2 Bloody Mary's and mimosas for Sunday brunch. A sunny Sunday on the patio was a must!
5. Pimento cheese fries are my new love. I've never been a huge fan of pimento cheese, but big thanks to Kickstand for immediately changing my mind. I ate these beauties at a Friday night happy hour.
6. HOCKEY!!! I got into hockey when I lived in Wisconsin, and love supporting our local "farm team" (I know it's a baseball term but have decided it's versatile), the Charlotte Checkers. Plus, their mascot's name is Chubby (get it?), which I think is fabulous.
7. This blog focuses entirely on my eating out adventures, but I fancy myself as a home cook too. Recently, I have been uninspired in the kitchen, so I was looking for something to spice it up and spark my creative juices. I decided to give Blue Apron a test run, and I really liked the results. Blue Apron is a take on a meal delivery service where they send you all the ingredients and recipes for three different, healthy, meals, and then you do the legwork. With Blue Apron, I added three new, unique dishes to my repertoire, including these delightful turkey burgers! I enjoyed my experience, I'm giving it another whirl next week.
8. I thought this cotton candy sunrise over Charlotte on Monday morning was so pretty, I had to snap a shot. #nofilter
9. Two weeks ago we attended Iron Fork 2014, Charlotte's spin off of Iron Chef. We watched five local chefs compete in a cooking competition and indulged in tastes from restaurants all around Charlotte (we also were faced with long, long, lines, but another story for another day). My favorite treats were the caramel churros from Las Delicias Bakery.
Speaking of workouts, I'm headed to Charleston this weekend for the Cooper River Bridge Run. I'll be running 6.2, and then spending the rest of my three day weekend exploring and hanging out. It's only my second time in Charleston…any recommendations?