I was the lucky beneficiary of ANOTHER snow day this week. I truly do love my job, but I think we can all agree that a day at home in our PJs is never a bad thing. Charlotte was supposed to get SLAMMED with snow (up to 10 inches I think) and they measured it at the airport and we got 1.8 inches. Snow disappointing.
All the hype reminded me of this SNL skit from last year, "I will never forget when I saw those first white flakes of devil's dandruff."
I spent yesterday catching up on emails and blogging (and Internet surfing), catching up on DVR (if anyone would like to discuss who will win The Bachelor, I'm up for a discussion), poking around my kitchen (yesterday's efforts produced a brisket bolognese that I will share soon. Snow days are perfect for recipes that need hours of simmering, like mom's chili, which I made last week) and I went to my first AIR Aerial Fitness Class (which Laura highly recommended).
Here's what else has been going on.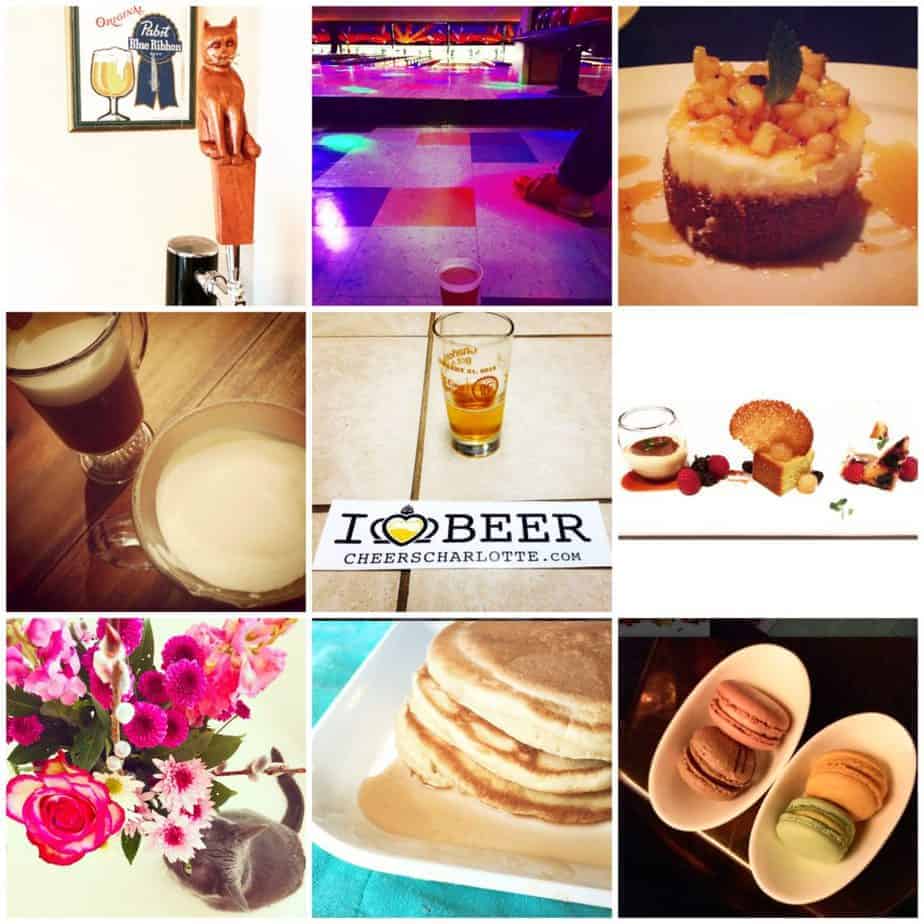 1. AJ dabbles in home brewing and purchased himself a kegerator last summer so we could drink his home brews on tap (I've also learned it speeds up the homebrewing process). For Christmas, I decided we needed a more personalized tap (the Sierra Nevada one wasn't doing it for me) so I got him a cat tap (I promise we aren't crazy cat people, we just like animals, even though we do have four, yes four, cats. How we got four cats is another story for another day). After some research, I commissioned Brian of Hip Shot Wood Carving to hand carve the cat tap. AJ's cat tap arrived in the mail a few weeks ago. Doesn't it look great?
2. We went to Beef 'n Bottle for Valentine's Day dinner, which was delicious. As our Uber was pulling up, we decided on the spot that we would follow up dinner with some bowling. Nothing says romance more than cosmic bowling and cheap pitchers of PBR.
3. I spent my birthday eve dining on a delicious meal at Vivace. Highlights included parmesan gnocchi and two desserts: zeppoli and marscapone cheesecake (pictured)..
4. It was really cold in Charlotte last week (not like 30 degrees cold but like 8 degrees cold) so we warmed up with some spinach artichoke dip and Irish coffees at Tyber Creek. Tyberpalooza is actually this coming weekend, in case you didn't know!
5. We had a blast at the Queen City Brewers Festival at the end of January. My friend Andrea came down from Raleigh and we thoroughly enjoyed the three hour event showcasing Charlotte brews.
6. AJ and I ate dinner at Evoke this week, and finished our meal with a sample of three of their delectable desserts (in AJ's words, dessert was "amazing." I've never heard him us an adjective more positive than "good" so I have to tell you, this is big and the food was really delicious). Evoke is the new restaurant at Le Meredien Charlotte.
7. Pheebs wished everyone a Happy Valentine's Day on Instagram with a little poem. AJ bought us these flowers at the farmers' market and they are still going strong (aside from a few dead ones we had to pick out and the cats knocking the vase over no less than 3 times).
8. Snow days are also perfect for pancakes (so yes, I've eaten pancakes for breakfast 3 times in the past week). I love butter and syrup on my pancakes, but strawberries and whipped cream on my waffles.
9. Last Friday I was invited to an event to check out the Ritz Carlton's newest concept, The Punch Room. Located on the 15th floor of the Uptown Hotel (in the former space occupied by Urban Sip), The Punch Room is a modern, elegant take on a speakeasy. They have Bob Peters behind the bar, and some delicious food on the menu, including macarons for dessert. I'll be posting more deets in a full post soon!
Is four cats too many cats? (we think not). How did you spend your snow day?