In pursuit of my goal to find the best sushi in Charlotte (see here and here), I lunched at Ru San's a few weeks ago. I heard good things about their all you can eat sushi lunch, so a group of coworkers and I thought a Thursday when we didn't have afternoon court would be the perfect time to stuff our faces full of sushi and then fight off the inevitable food comas at our desks all afternoon.
When we arrived, the place was hopping, but we easily scored a table for eight in the back. Our waiter came by for drink orders and then let us have at it. The best way I could describe our dining experience would be chaotic; top 40 pop and hip hop tunes thumped over our conversation and the endless free for all buffets were nuts.  Ru San's had two buffets set up—one with hot and cold non-fish dishes, and another stocked with all you can eat sushi. The first buffet had items labeled so I was able to navigate through and select some spring rolls and miso soup, while my non-sushi eating friend, S, was able to get some chicken and vegetable dishes, and rice. However, we didn't fair so well at the sushi station; while the sushi was continually stocked, there were not labels as to ingredients (there was a lot of I think that looks like tuna conversations going on). On top of that, there weren't designated serving utensils for each different roll; an issue that irked me because of contamination or folks with food allergies (and irked my friend who is allergic to gluten even more).
Once we piled our plates high, we headed back to the table to dig in. The sushi wasn't bad, in fact, I was surprised at the size and quality for an all you can eat situation (I expected the quality to be of a much lower caliber). However, the sushi wasn't great either; I was disappointed that I didn't quite know what I was eating (because it wasn't properly labeled); there were far too many tempura flakes; and several rolls had this sticky, sweet (in my opinion, not tasty) barbecue type sauce on top.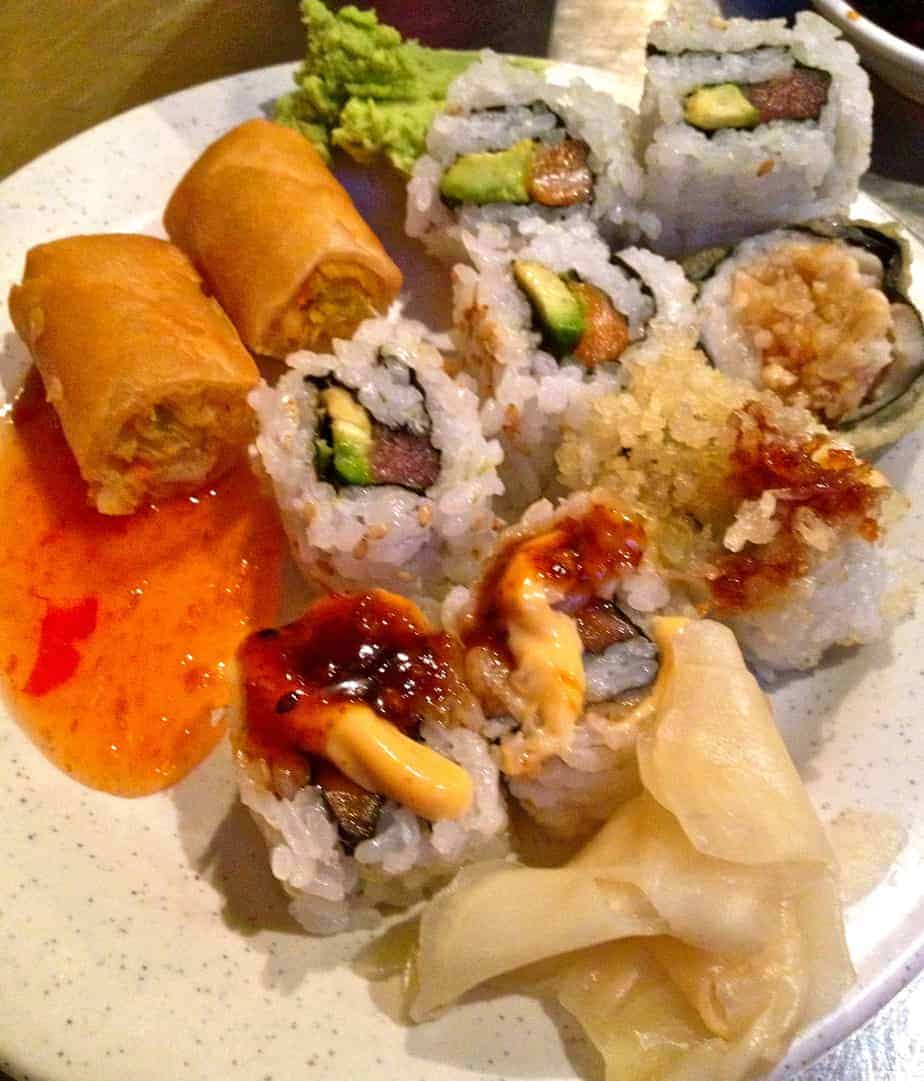 I left Ru San's full (an expected all-you-can-eat and sushi combination) but I'm not sure if I would go back when there are so many other sushi places in Charlotte with, in my opinion, better sushi. I might go back to Ru San's for two reasons: , just because the price, $10, is a steal, or to skip the buffet and try their rolls made to order.
map & more
score: 4.5
spending: $$
neighborhood: dilworth
cuisine: sushi
official website
[googlemaps https://maps.google.com/maps?f=q&source=s_q&hl=en&geocode=&q=Ru+San's,+Park+Road,+Charlotte,+NC&aq=0&oq=ru+sans&sll=35.203153,-80.839829&sspn=0.637372,1.100006&ie=UTF8&hq=&hnear=&t=m&ll=35.197589,-80.852852&spn=0.004384,0.005343&z=16&output=embed&w=250&h=250]