When I moved to Charlotte, I heard a lot of good things about Rooster's. But it sounded like one of those places that was too fancy for me (maybe not fancy in ambiance, but fancy in price range). I work Uptown, but close to the courthouse, which provides limited dining out lunch options within a one block radius (Cluck n Cup, which is good for sandwiches, Showmars, which I stay away from, and the Federal Reserve cafeteria, which has been a go to place for many of my coworkers, but can be the same old thing after a while). Occasionally, I am in the food for a nice, leisurely lunch; to get out of the office and stroll Uptown among the corporate types and have a nice sit down meal.
A few weeks ago, I decided to look up the lunch menu at Rooster's (I keep hearing good things! And more so out of curiousity) and realized, to my delight, that it is totally, completely affordable for a work day lunch (not something I could treat myself to every day, but something I could eat and not feel guilty about the price tag). So I convinced some friends to go Uptown on a slow Tuesday so we would have plenty of time to enjoy our lunch.
This incredible smell of a wood stove (I'm pretty sure that was the smell) overcame me when I walked in. I think I basically started drooling as we made our way to a table. I love the lay out of the restaurant: the wood stove and kitchen are in the middle enclosed by glass, and the seating revolves around that center. It's great and really shows the focus of the restaurant. We arrived at the beginning of the lunch rush and were seated right away, and soon enough, all of the tables around us filled up. Our waiter brought menus and filled our water glasses, as well as a wine list, which was tempting but no wine over lunch (I think that would be total ineffective assistance of counsel). He read us the specials (which included a softshell crab bahn mi) and then gave us a bit of time to peruse.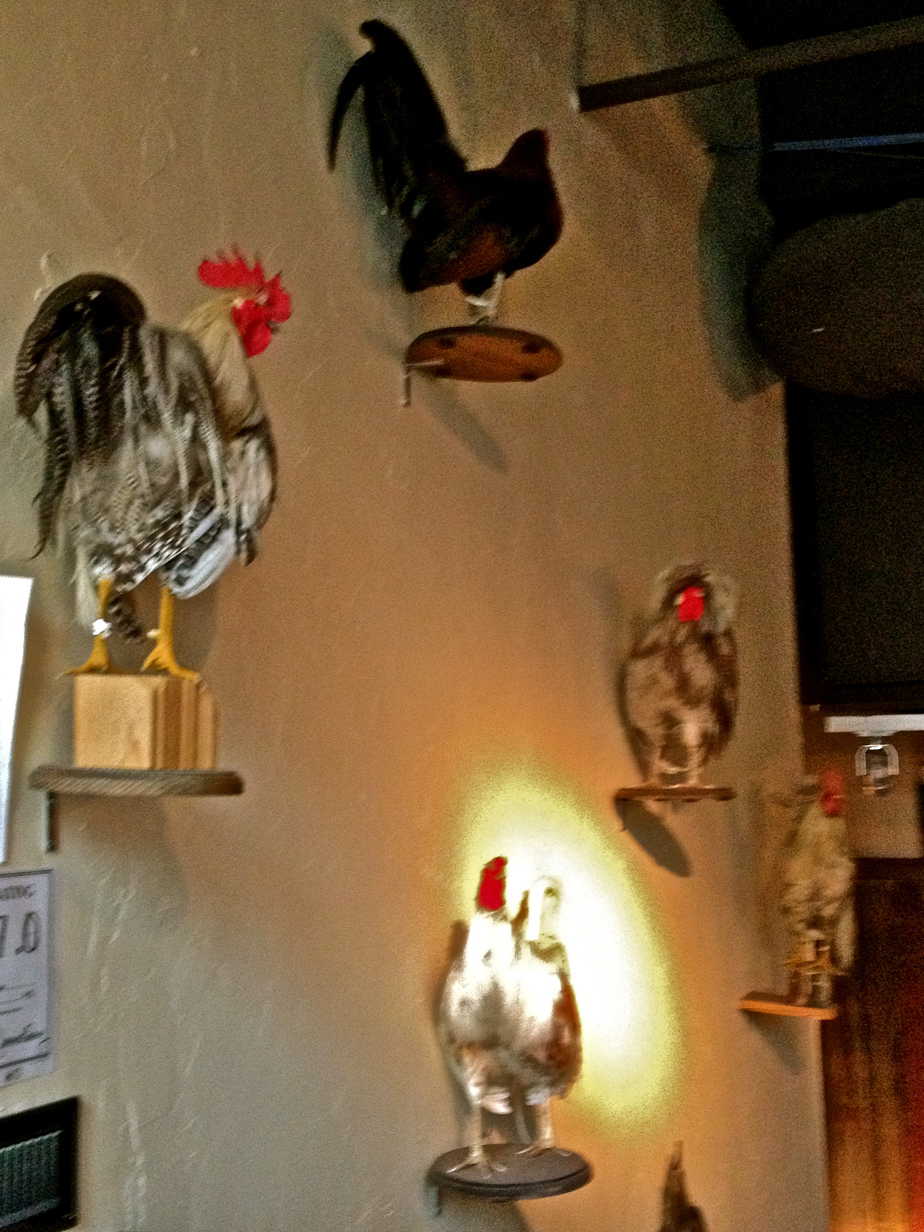 Everything on the menu looked really good and I had trouble deciding, yet again. So I decided to ask for a recommendation. Our waiter told me that the bahn mi (with pork) is one of their most popular lunch options, so I went with that, and a side of mixed greens. Two of my friends got the scallop salad (which looked divine when it came out, but I had just made scallops for dinner the night before) and my other friend got the roasted chicken wrap.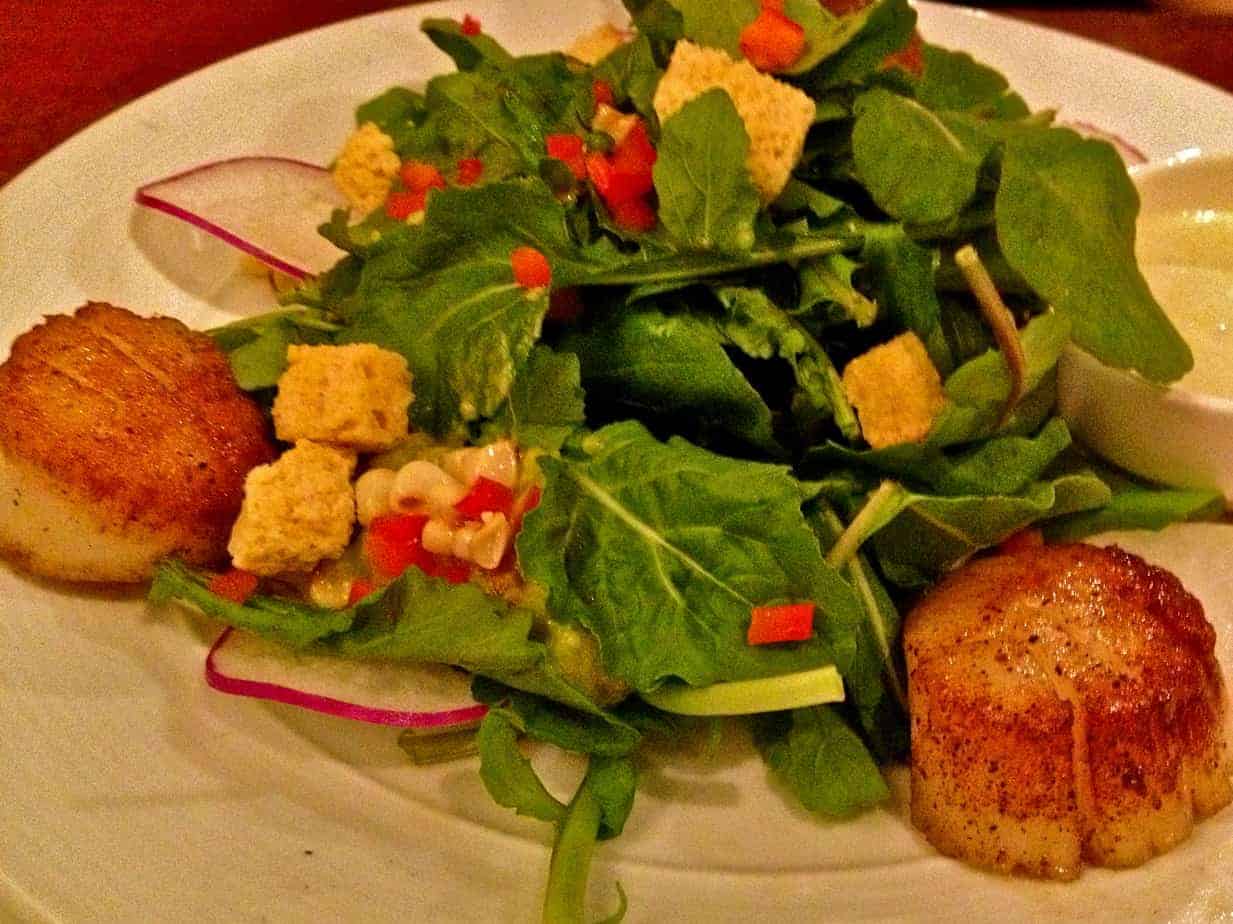 The smoky, wonderful, wood fire smell wafted in and out throughout our meal, and at points I caught myself salivating. Our food came out quickly, it looked hearty and I immediately dug in (waiting about 30 seconds though to snap a few photos).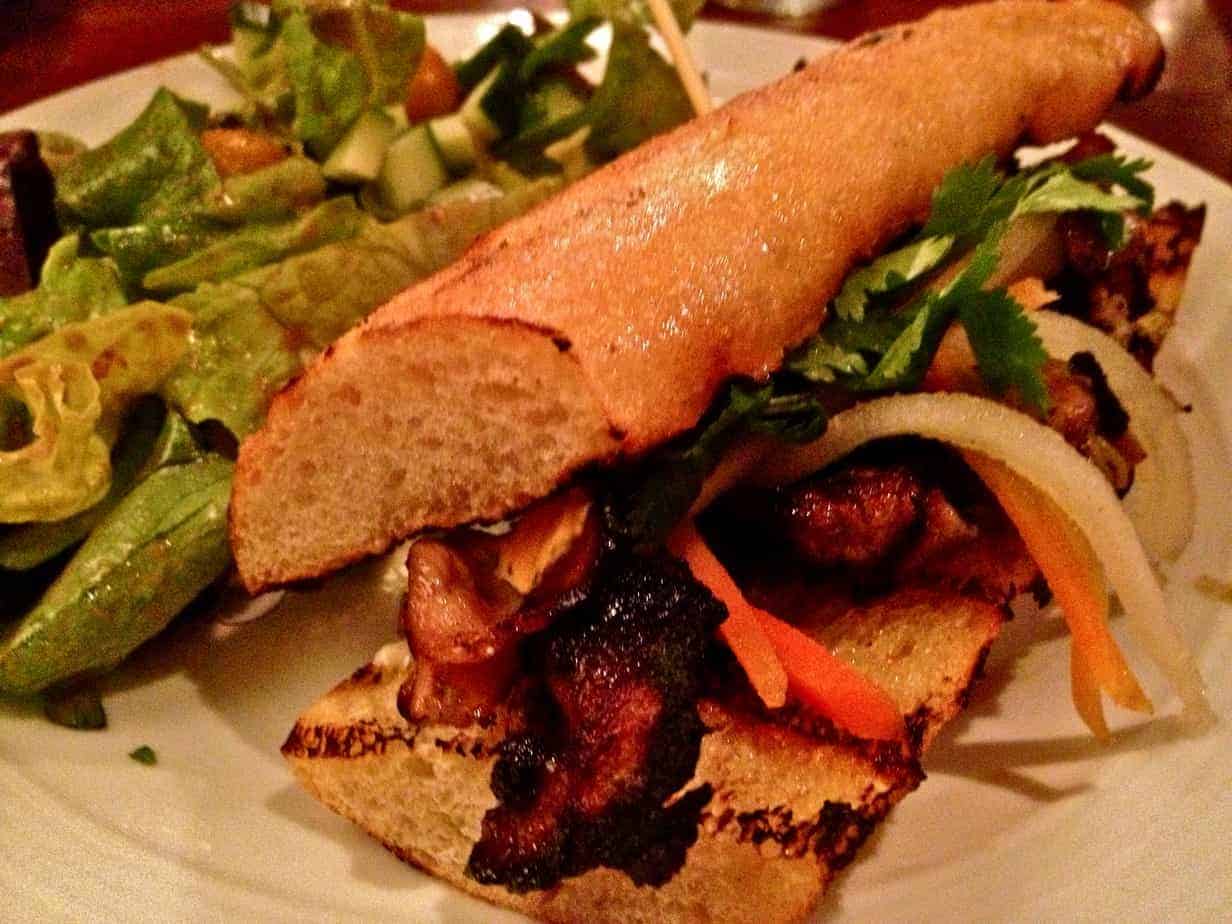 My sandwich was really good. The pork was essentially melt in your mouth good, and the veggies were nice and crunchy. The bread was toasted and it definitely had a wood smoked aura about it, and there was a creamy, tangy, mayo type sauce, which tied it all together.  I inhaled it. My greens were dressed well and were fresh, and had some tomatoes and cucumbers mixed in, which provided for a nice, refreshing little side salad. My friends seemed to enjoy their choices as well, and definitely needed that long walk back to the office to work off the food coma that about overcame us (but not without a stop for fro yo first, which was the perfect cap to a great meal on a 85 degree Charlotte day).
If your looking for a quality lunch in Uptown, Rooster's should be near the top of your list.  I would like to try Rooster's for dinner, so I should start saving my shekels.  I've purused their dinner menu a bit and it doesn't seem too steep, and after my lunch preview, I've added it to my "to eat at" list.
map & more
score: 7.5
spending: $$$ ($$ for lunch)
neighborhood: uptown (south park and charleston, sc too!)
cuisine: southern
official website
[googlemaps https://maps.google.com/maps?client=safari&oe=UTF-8&ie=UTF8&q=roosters+uptown&fb=1&gl=us&hq=roosters+uptown&hnear=0x88541fc4fc381a81:0x884650e6bf43d164,Charlotte,+NC&cid=0,0,8249854043771560207&t=m&ll=35.226568,-80.841093&spn=0.004382,0.005343&z=16&iwloc=A&output=embed&w=250&h=250]