Red Ginger is a new (they've been open for about two months now, according to the owner) sushi bar, Japanese steakhouse and hibachi restaurant in Uptown. Physically located on the corner of MLK and South College, Red Ginger snuck into a street level space in Three Wells Fargo and has been flying under the radar since opening (I actually have walked past it several times on my way to grab lunch at KO Sushi or elsewhere, and never thought to give it a glance). Lucky for me, the folks at Red Ginger reached out to a group of Charlotte food bloggers to give us a taste on what we've been missing out on.
Exactly like the last time I shared dinner and laughs with fellow food bloggers, I had a blast. We got to taste a variety of appetizers, sushi rolls, hibachi entrees and dessert from Red Ginger's extensive menu, which gave me a good picture of their offerings and the quality and taste of the food. Red Ginger's owner came over to our table a couple of times and chatted with us, and our server, Don, was extremely informative, charming and fun (you can tell that he cares deeply for the restaurant and wants to help with it's promotion). We even got some time to jam out to Red Ginger's looping soundtrack (a little Destiny's Child anyone?), which I consider a major bonus (any restaurant that plays 90s pop gets a plus in my book).
We started our evening with a bottle of malbec (Red Ginger has drink and food specials every night of the week, and lucky for us, Tuesday is half price wine night!); and then the food started a coming. I tried to take photos of (mostly) everything I ate so I could give a good picture of my tasting experience. I'm going to let the photos do most of the talking (I promise I'm not being lazy, but you should be looking forward to a photo essay of sorts) because you know the old saying, a picture is worth a thousand words.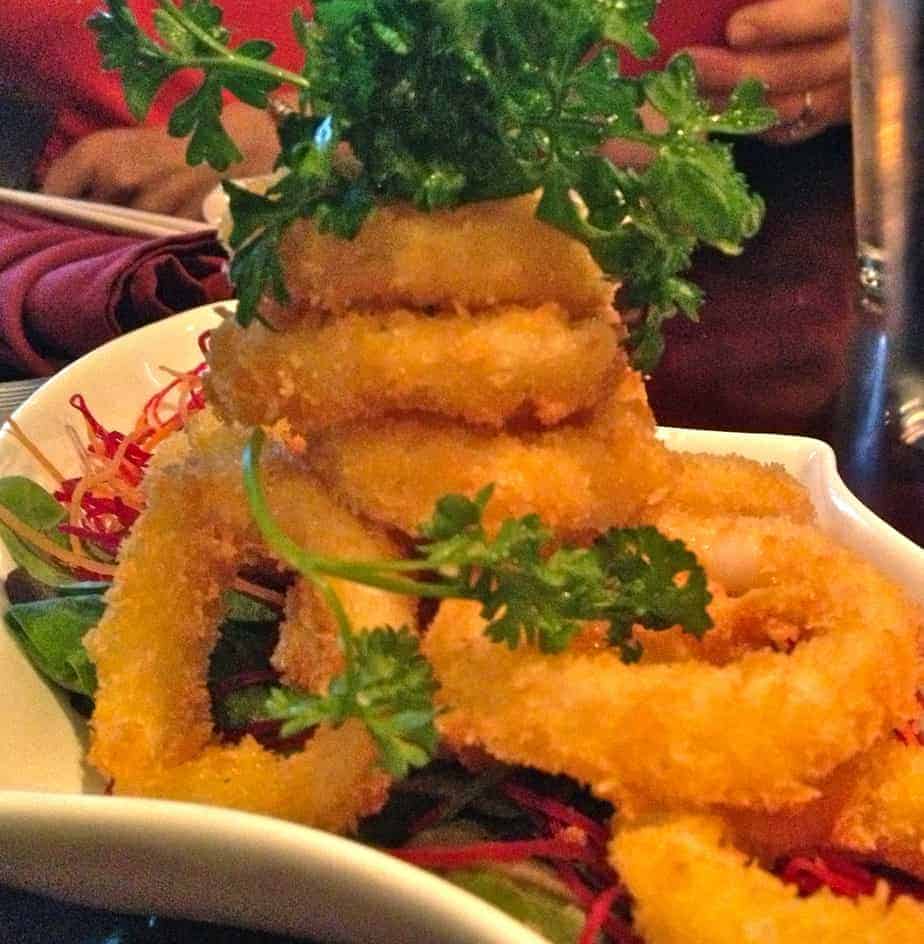 We started with the fried calamari appetizer. This wasn't anything to write home about; I would say it was just your average calamari. the good news was that is was crisp and crunchy, never turned soggy, and the portion size was generous.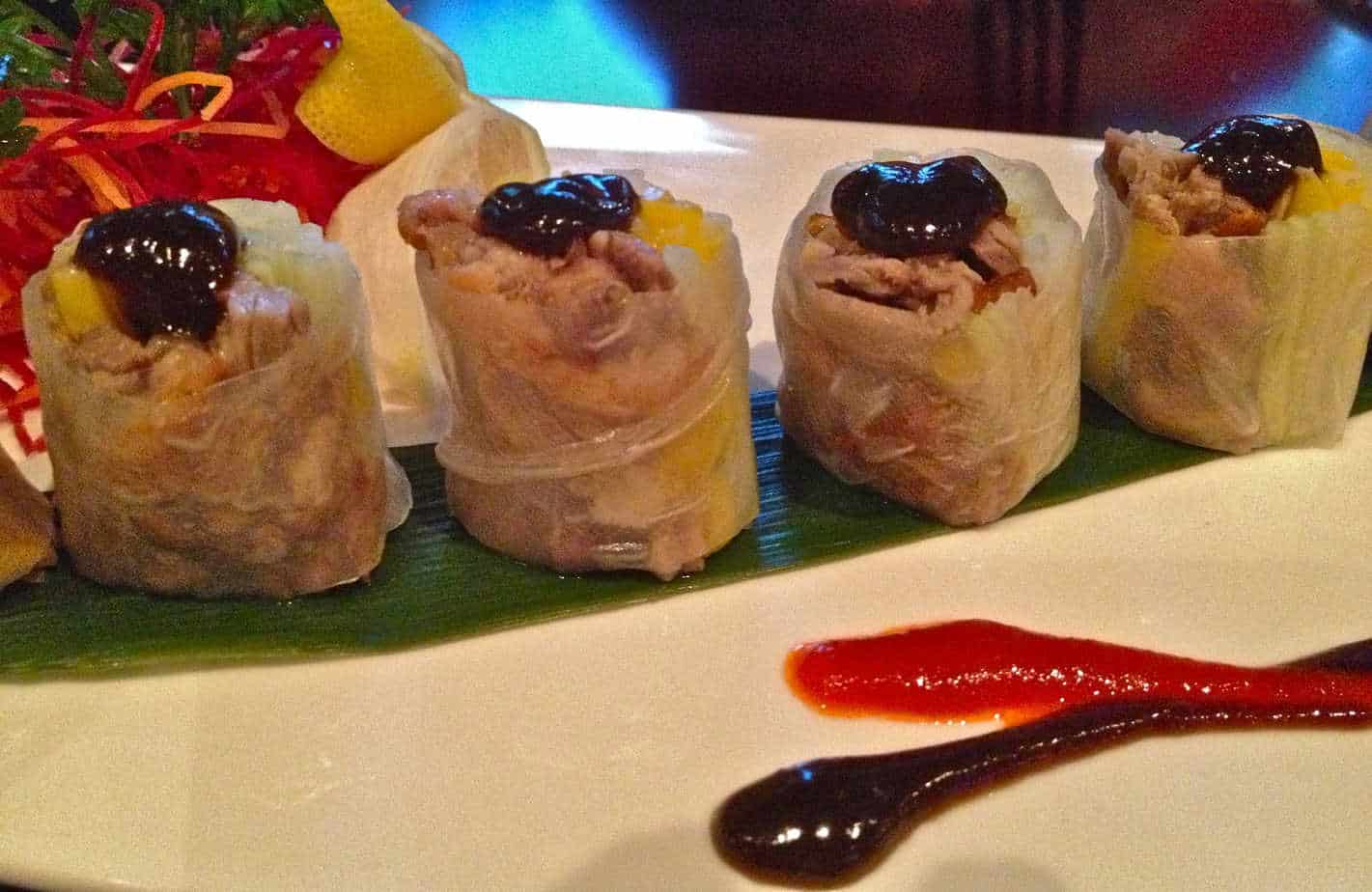 Next up was the crispy duck roll. I wish that we got a description of what was in the roll (aside from the obvious, duck). I think this was my favorite out of all the appetizers; the flavors melded together and the sauce was extremely complimentary. However, since it was advertised as a duck roll, I wish there had been more duck in the roll (you shouldn't have to search for the duck in a dish with duck in the title).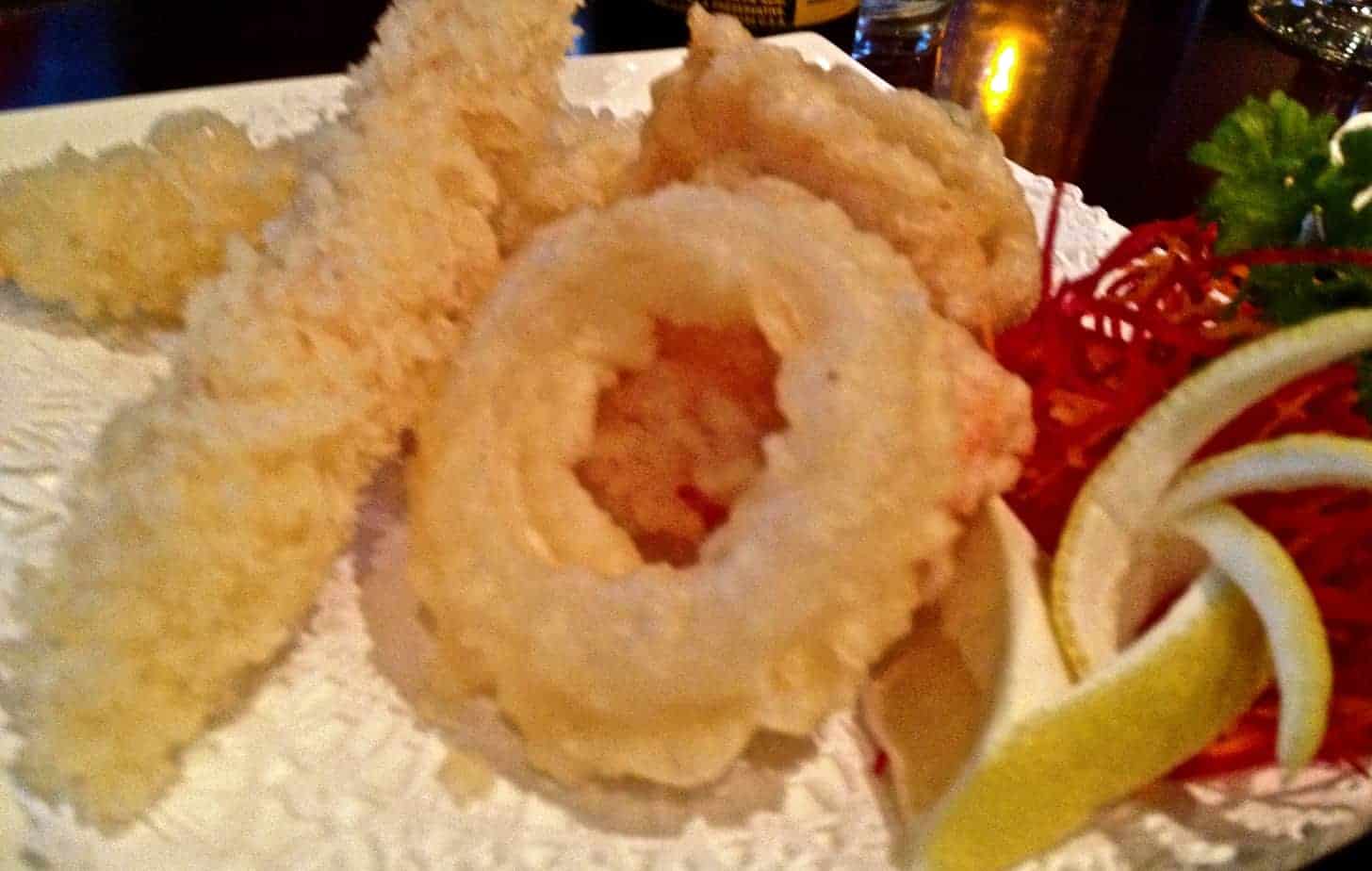 Next up was shrimp and vegetable tempura. Again, a standard Asian starter and nothing to write home about (similar to the calamari, the tempura was super crispy as it should be!).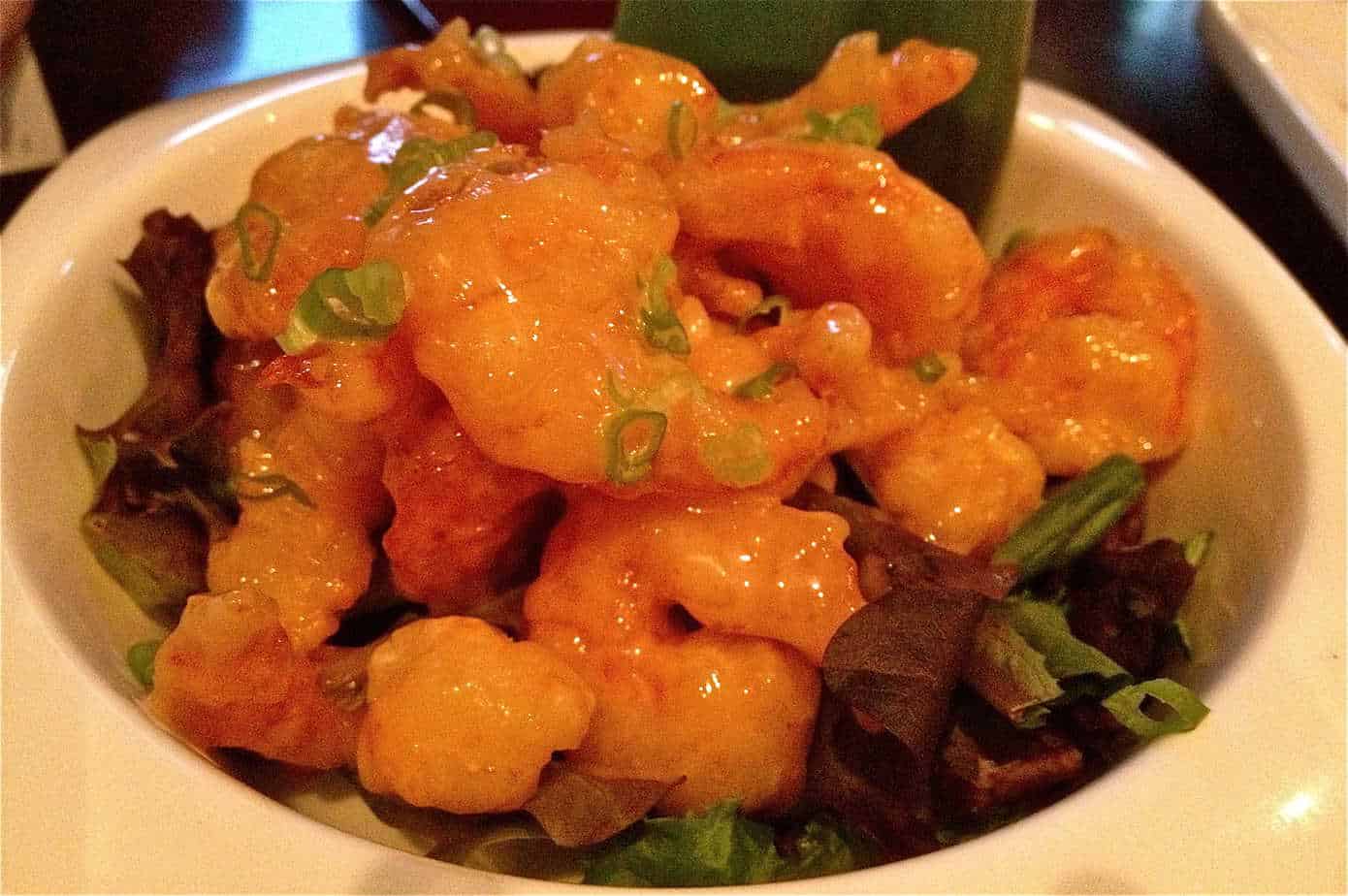 I liked the Rock Shrimp appetizer, the sauce was tangy and a bit spicy. This would be something I would not normally pick off a menu if I was doing the ordering for myself, so I was happy that they brought this to our table to share.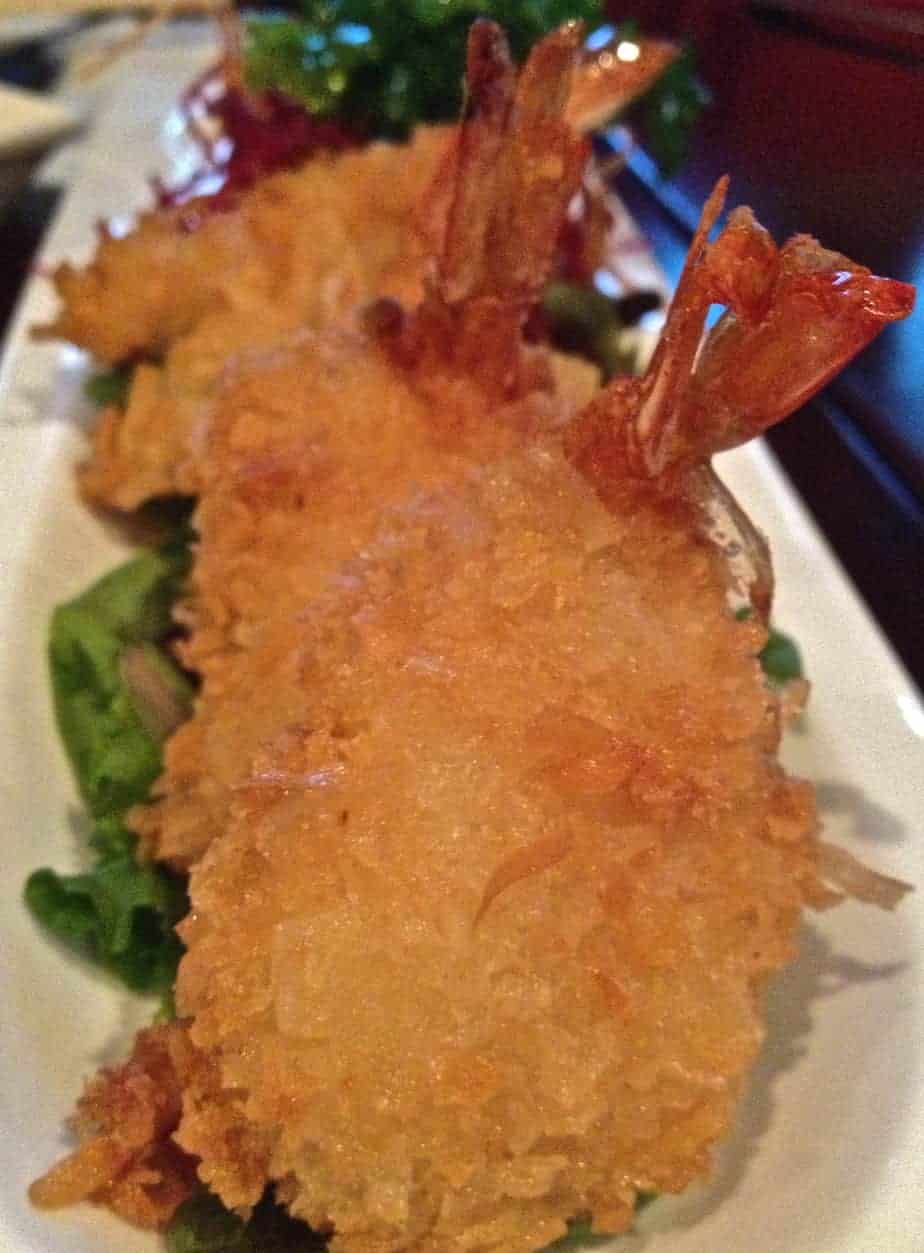 I also really liked the coconut shrimp (but at this point I had been eating a lot of deep fried dishes and a lot of shrimp). Like the rock shrimp, this is something I would not typically order myself (I like shrimp, but it's not the first thing I go to on a menu). These shrimp were lightly fried and crisp, and I liked it a lot more than the shrimp tempura. The coconut dipping sauce was a sweet surprise (I could almost imagine drinking it like a pina colada, but decided to hold back) and I liked the sweet balance with the crunchy shrimp. The coconut shrimp was probably my favorite of the appetizers.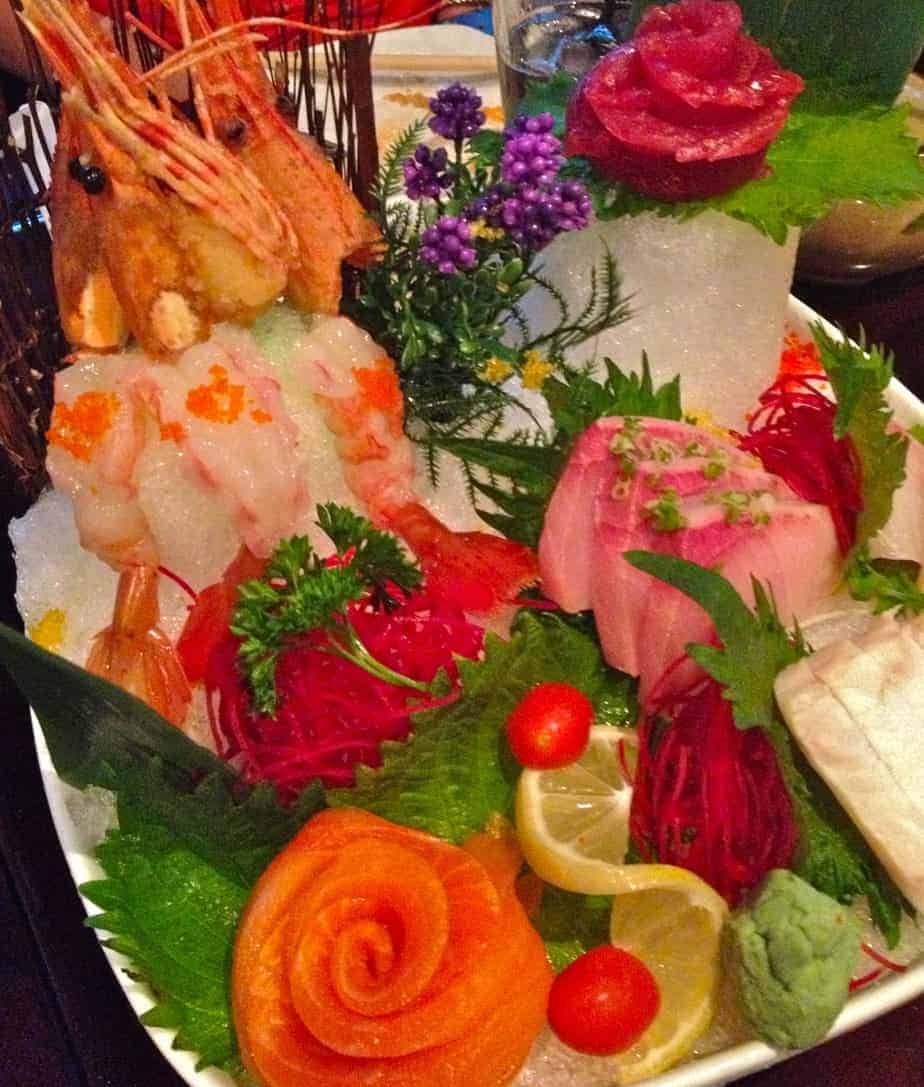 After a round of appetizers, Don brought us out the sushi. We first shared the House Sashimi platter, which is 15 assorted pieces (chef's choice) of sashimi (it runs for $25 and is plenty of sashimi for a group to share). And on top of that, it's gorgeous! Our platter came with an assortment of tuna, salmon, shrimp, crab, and yellow tail. And I can't get over the shrimp heads, how fantastic!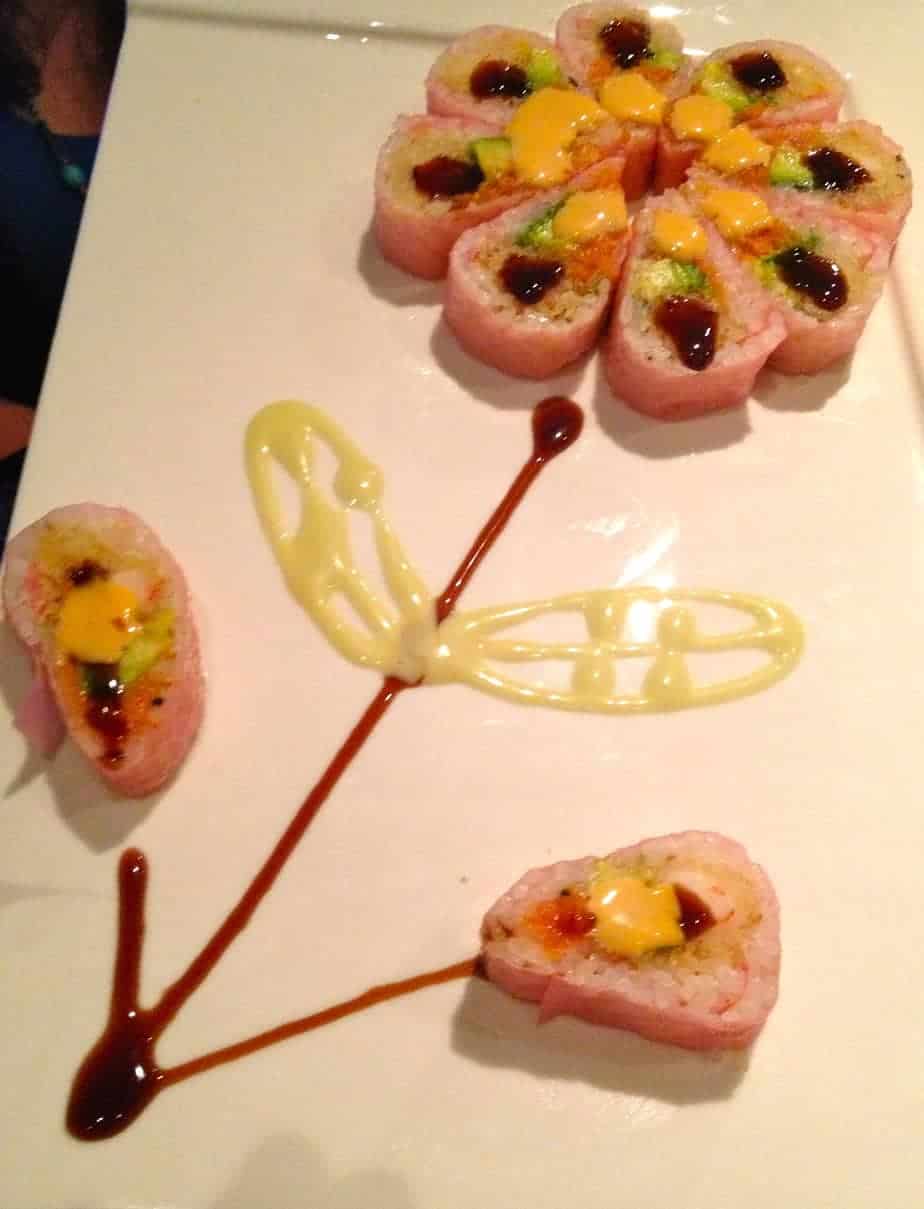 We then got an assortment of sushi rolls, and I only managed to take a photo of one of the three (the fabulous thing about a dinner with food bloggers is the patience everyone had while we each did a mini photo shoot of our food). Our second roll, the Cherry Blossom roll, was my favorite.  The Cherry Blossom roll is spicy tuna (my favorite), avocado and shrimp tempura, and all of the fillings are wrapped snuggly in soy paper (which is why it's pink!). I loved the flavor combination (the spicy tuna was spot on!) and the presentation was gorgeous. I would definitely order this again, and again, and again.
We also tasted the Leap roll (spicy salmon, white tuna, yellow tail, crunchy masago and a special sauce) and the Pink Floyd roll (spicy crab and shrimp tempura wrapped in soy paper topped with avocado crunchy masago and tobiko). Both of these were equally tasty, but did not reach the quality of the Cherry Blossom (I preferred the straightforward flavor profile and minimal style of the Cherry Blossom roll). Maybe it's because I don't have a sophisticated palate, but I had trouble differentiating the different flavors and fish in these rolls because of all of the ingredients. If you are a specialty roll kind of person (for me, I'm a simple sushi kind of gal), I would recommend giving these rolls a try because they were tasty and beautiful.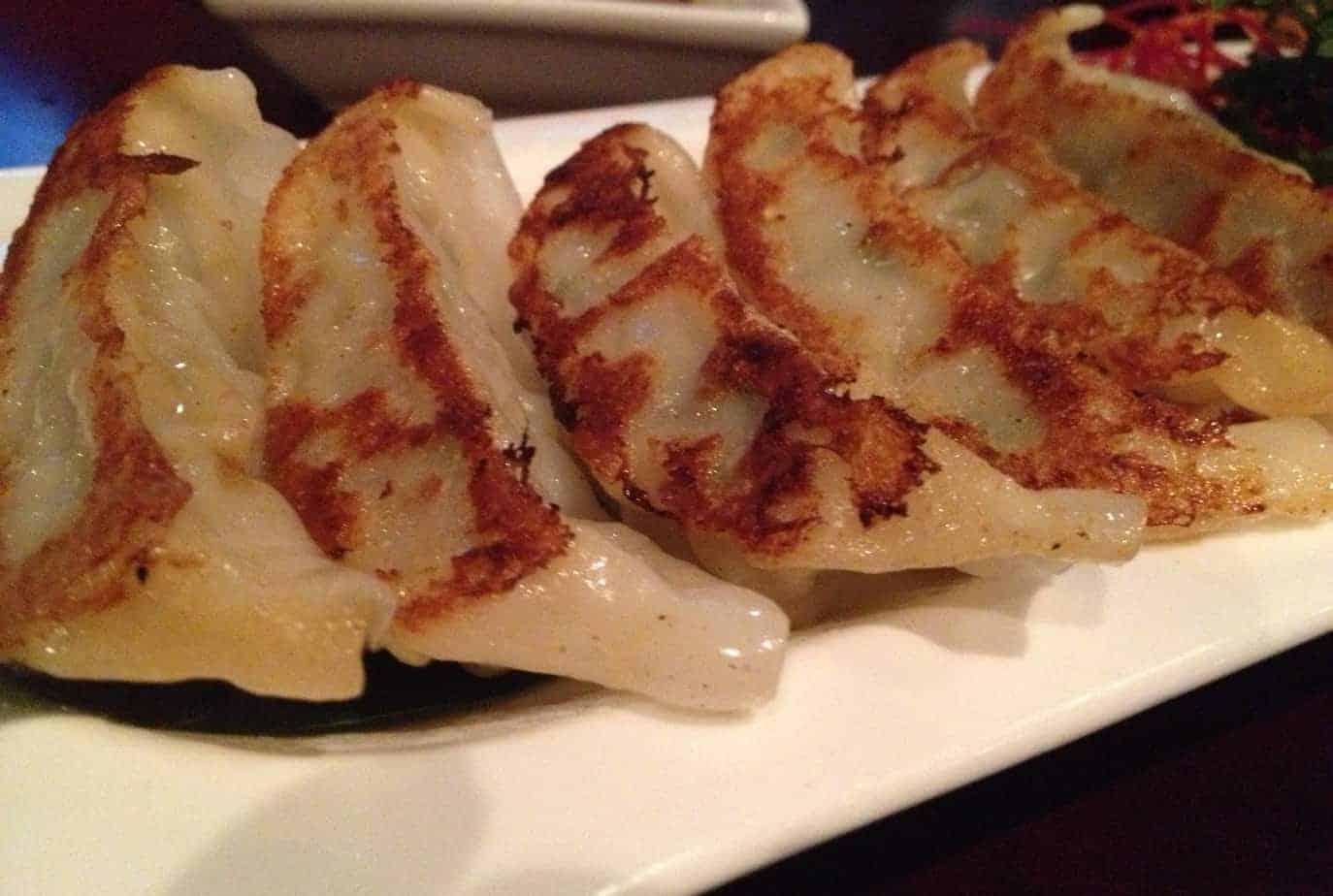 After our three rolls, we got one lingering appetizer, the steamed shumai. These are basically steamed pork dumplings, and can be found at any Chinese or Japanese restaurant. They were fine, but did not wow me.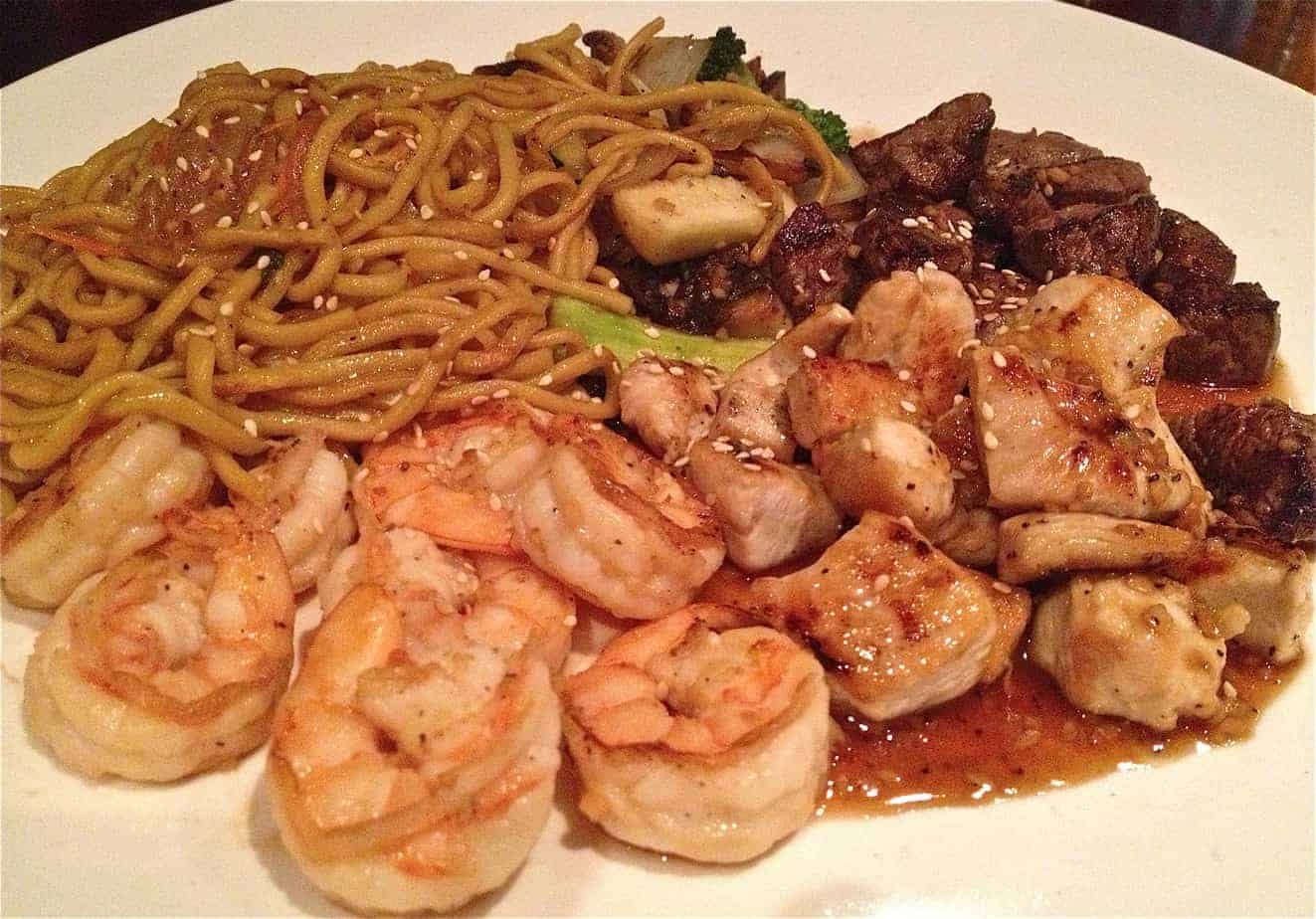 We also had the chance to try Red Ginger's hibachi (and take in a hibachi show that was going on at the table next to us). Sometimes I find hibachi to be gimmicky, but Red Ginger's presentation did not seem too overwhelming, and the food was good. I really enjoyed the steak; it was seasoned well and exceptionally tender. The shrimp was also good, but the chicken was a little dry. All of the hibachi entrees come with soup and salad (the miso was good, as was the salad, and Don said the ginger dressing is made in house), a side of Udon noodles, and choice of white or brown rice. All hibachi entrees run from about $20 to $35, and the quality (and portion) of the food is worth the price. Don said that they also offer a hibachi lunch; a quick in and out concept with smaller portions and lower prices.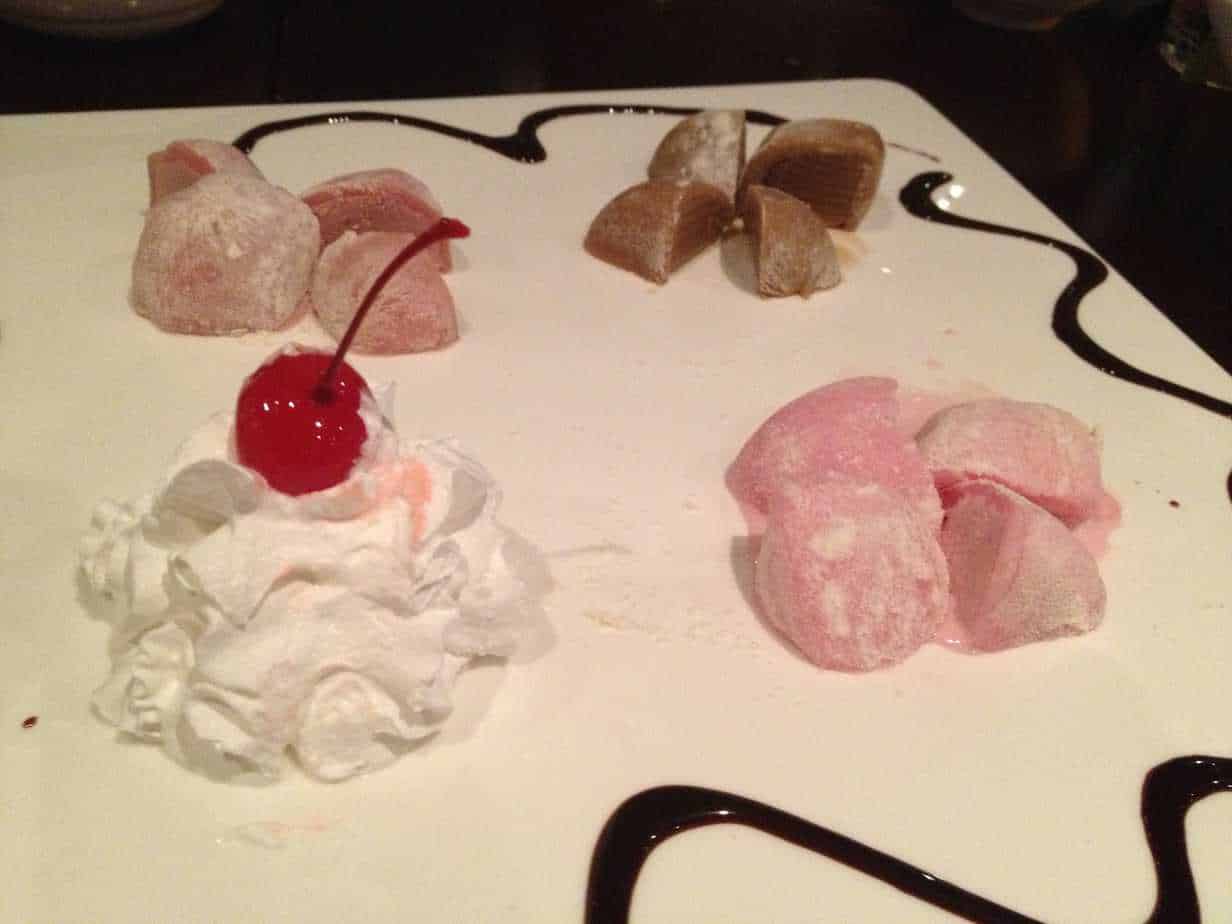 We ended our meal with dessert–red bean, strawberry and coffee mochi, which was deliciously cool and refreshing (and definitely worth their $3.50 price).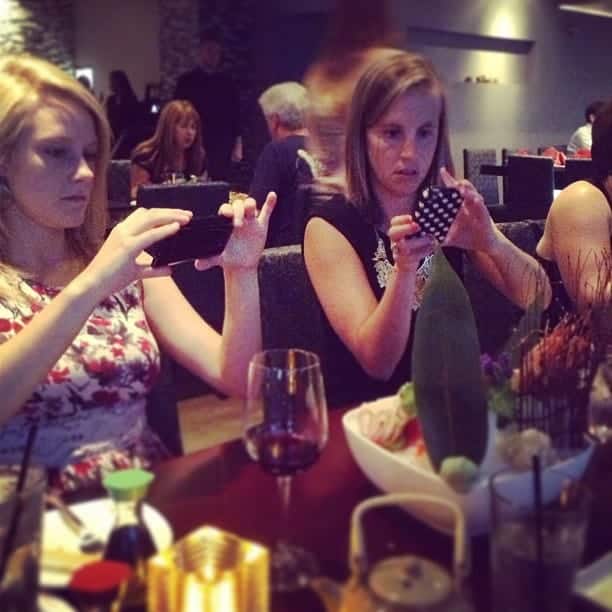 (I threw this one in for good measure: "How to Eat Like a Food Blogger 101" taken by Shellina. Yours truly is on the right, we look like a party don't we?!?) 🙂
I had a fun evening exploring Red Ginger's menu. Red Ginger contributes a new unique perspective to the growing Uptown dining scene. Charlotte has an ever growing and changing sushi scene, and the taste and quality of Red Ginger's sushi is on par and I would order it again (though I will still stand by old favorites like KO, Yama and Sushi 101). The hibachi was good, and I'd love to come back to try their lunch options. Next time I visit, I will probably skip on the appetizers, as there wasn't anything unique or exciting. I recommend Red Ginger for a fun night out with friends before heading out for a night on the town (Red Ginger has the ambiance to start a fun evening out on the right foot). Regardless, I will definitely be back on a Wednesday, when sushi is half price!
Thank you so much to Don for hosting us, and to Mary for organizing a fun evening!
map & more
score: 6
spending: $$*
neighborhood: uptown
cuisine: japanese, sushi
official website
*The meal described in this review was complimentary
[googlemaps https://maps.google.com/maps?client=safari&q=red+ginger+charlotte&oe=UTF-8&ie=UTF8&hl=en&hq=red+ginger&hnear=Charlotte,+Mecklenburg,+North+Carolina&t=m&ll=35.224657,-80.84635&spn=0.004382,0.005343&z=16&iwloc=A&output=embed&w=250&h=250]