This week, we are taking a Friday Faves hiatus and focusing on a delicious dinner I had a few Fridays ago.
I've been looking for a good, quality Italian restaurant in Charlotte. Italian always seems to be my fall back: when I can't decide what I'm in the mood for, a warm bread basket and pasta with homemade sauce really hits the spot. I was concerned with moving South that I would miss out on authentic Italian joints: no fuss no muss, just straightforward, good cooking (a fear that was definitely unfounded).
I went to Portofino's with some friends for a Friday night dinner to wind down after a long work week. It was another beautiful evening for enjoying a meal outside (although I'm said that those evenings have almost ended and we are left mostly with sticky, humid, 84 degree nights). We scored some prime real estate on Portofino's patio (which I was surprised about, but I think it was because we took our time getting to dinner and didn't arrive until 9:45, so we missed the Friday night dinner rush). We were ushered quickly through the restaurant and out to the patio with no wait at all.
Portofino's on Park Road is one of several businesses in a shopping center (similar to Leroy Fox but less strip mally), and you could think a patio with views of the parking lot would not make for an enjoyable dinner. However, I commend Portofino's for creating an enjoyable patio experience: shrubbery encloses the patio from the shopping center's lot, and really allows customers to focus on their dining experience rather than the hustle and bustle of cars coming in and out and winding around looking for parking spots. Again, maybe because there wasn't much shopping center traffic during our 10pm dinner, but for moments, I forgot I was even at a shopping center. The one downside to our experience was that the lighting is rather dim (read it's really really difficult to see, so I apologize in advance for the quality of my photos). I'm sure that is part of the ambiance, but I did feel a bit like I was dining in the dark.
Our waiter was prompt and knowledgeable. Shout out to Portofino's for having a variety of reasonably priced wines by the glass ($5!) so I started my meal with a glass of pinot. After mulling over the menu for a while (slash squinting to see if I could read what was appetizing) I decided on pasta, but wasn't sure what kind. Portofino's offers a wide variety of classic Italian sauces, and offers detailed (read: making me drool) descriptions of each. The customer basically gets a choice of pasta and sauce and then Portofino's whips it up. I loved browsing the menu because it was classic: nothing too complicated; instead, they rely on traditional recipes with basic, flavorful ingredients. Since I still couldn't make up my mind between three choices by the time our waiter returned, I asked him for a recommendation. He recommended the boscailoa, which is a red sauce (with a hint of cream, like a vodka, described on the menu as a creamy pink sauce) with peas and prosciutto. It sounded amazing, so I went with it.
I also appreciated the willingness of the kitchen to accommodate our table. One of the friends I was dining with is allergic to gluten, so pasta was not an option for her. When hearing the evening's specials, the risotto struck her fancy, but veal didn't appease (which was the protein being offered with the risotto). Our waiter and the kitchen were accommodating enough to make her a special risotto out of the Chicken Sorrento, that normally is served with pasta. While she did incur an extra charge (which we were told about up front) it was refreshing that the restaurant was so accommodating, and her risotto looked really good when it came out.
On to our meal! My pasta dish came with a starter salad (I selected a basic balsamic vinegarette) and a warm bread basket. The salad was good, it was the perfect size and the vegetables tasted fresh.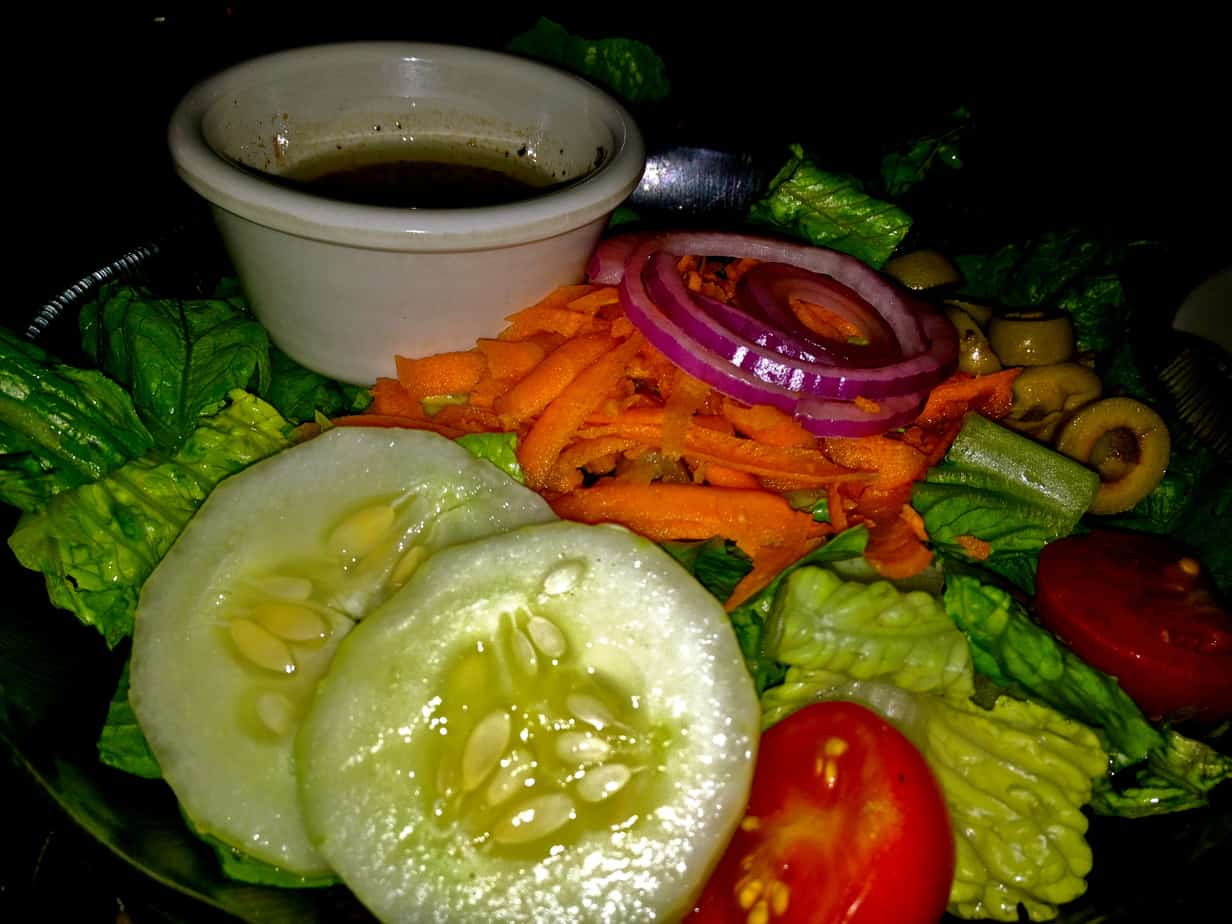 The bread was also good; I cannot turn down warm bread. I wish it had been a little more crusty on the outside, but it was good nonetheless (especially once my pasta came out, the bread was perfect for mopping up extra sauce).  My pasta was really yummy; I ordered the penne and was pleased that it was a bit al dente, just the way I like it.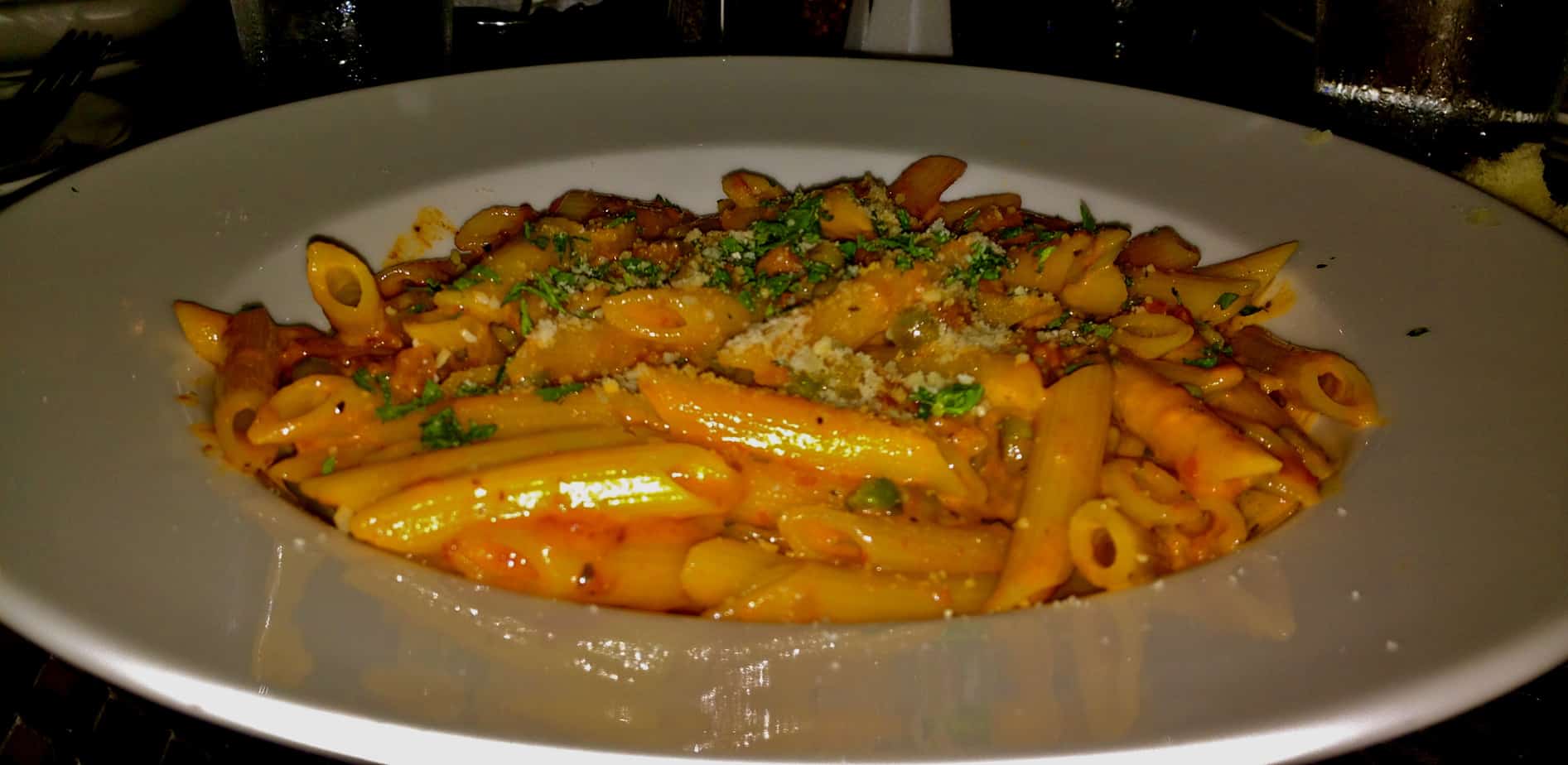 The sauce was basic (which is not a bad thing!) and really flavorful, it was exactly what I wanted (but I think it was pancetta, not prosciutto. Not that I am an Italian meat expert, but it seemed more bacon–hence my thoughts it was pancetta–like that prosciutto like). Portofino's did not skimp on any of the extras (peas or prosciutto/pancetta) and there were plenty of bits and pieces throughout, which gave the dish good texture. I had zero complaints and it was a very nice, relaxing, meal.
The portions are quite large, so I was lucky enough to have some leftovers for lunch the next day. My pasta was just as good reheated as it was the night before when it was freshly prepared, but some of the sauce had separated so it was a bit more oily (not a problem because I had a baguette handy at home and used it to mop up the remnants).
I definitely recommend Portofino's if you are looking for an enjoyable, straightforward, Italian meal. I will definitely add it to my regular restaurant rotation (I hear their pizza is also amazing and can't wait to go back to try it).
map & more
score: 8.5
spending: $$
neighborhood: south park (3 other locations throughout Charlotte)
cuisine: italian
official website
[googlemaps https://maps.google.com/maps?f=q&source=s_q&hl=en&geocode=&q=Portofino+Italian+Restaurant,+5126+Park+Road,+Charlotte,+NC&aq=0&oq=Portofino+Italian+Restaurant,+5126+Park+Road,+Charlotte,+NC&sll=35.17437,-80.912247&sspn=0.318799,0.552063&ie=UTF8&hq=Portofino+Italian+Restaurant,&hnear=5126+Park+Rd,+Charlotte,+Mecklenburg,+North+Carolina+28209&t=m&ll=35.160547,-80.850105&spn=0.004386,0.005343&z=16&iwloc=A&output=embed&w=250&h=250]