I have been a little hesitant to stuff my face full of all you can eat sushi since my mas o menos experience at Ru San's. But not one to turn down sushi, like ever (if you need examples, please see here, here, here and here) and with a little help from my friends, I've given all you can eat sushi a second shot, and Pisces totally nailed it.
map & more
score: 7
spending: $$
neighborhood: midtown
cuisine: sushi, asian
official website
[googlemaps https://maps.google.com/maps?f=q&source=s_q&hl=en&geocode=&q=Pisces+Sushi+Bar+%26+Lounge,+Metropolitan+Avenue,+Charlotte,+NC&aq=0&oq=pisce&sll=35.203154,-80.839829&sspn=0.659814,1.157684&ie=UTF8&hq=&hnear=&t=m&ll=35.212807,-80.835664&spn=0.003506,0.00427&z=16&output=embed&w=200&h=200]
Pisces probably has one of the best lunch deals in all of the land, especially for raw fish lovers like me. Saying all of the land makes me feel like I'm going to tell you a fairy tale. Well, you're in luck; this isn't a fairy tale, this all you can eat sushi is real life and is available Monday through Friday for $14 ($2 extra for salad and miso soup). While I love salad with ginger dressing and miso soup is one of the things I most look forward to when I go for sushi, I don't think they are worth $2 extra. Plus, if your intention is to get your $14 worth of all you can stuff your face with sushi, I would recommend skipping the soup and salad. Please go prepared with loose pants or a high waisted dress, as well as at least an hour to stuff your face (for $14 it's not worth a quick sushi lunch…if you're looking for a quick, affordable sushi lunch, look no further than KO Sushi or Sushi 101).
We went to Pisces in early January when court was closed down (so we have a bit more time for lunch, we need maximum time to take advantage of an all you can eat situation) a little bit before noon to beat the lunch rush. While Pisces is busy at lunch, I'm not too concerned about getting a table–they usually have a few open even if you come during the peak time. What I am more concerned about is the heinous parking lot at the Metropolitan (whoever decided to put Best Buy and Trader Joe's on the same floor to share the same tiny lot was a fool…I feel like I am Christmas shopping every time I park there, slowly driving behind people as I stalk them to their cars. It's awful). So we went a bit early to fight off any lunch time rush parking mess (which we successfully avoided and snagged a spot on the second floor of the garage near the escalator).
Pisces' all you can eat sushi is made to order–you pick what you'd like off of the menu and they make it for you as you wait. I think it's a way better game plan than Ru San's all you can eat lunch buffet (while Ru San's continaully replenished the food so it wasnt sitting out too long, I just like made to order better!). The rolls for lunch are smaller than a normal roll of sushi (cut into 4 pieces instead of 8) which is totally great for several reasons. One, you don't have to stick to just one type of fish. Two, Pisces has so many choices on their menu, you can try them all (if that's your thing) or as many as you want! Three, the smaller rolls and variety of choices motivates sushi lovers who generally stick to the same order (like me, spicy tuna roll anyone?) to order out of the box and try something new. Danielle and I have worked roll ordering to a science (sort of) in the two times we've visited–we each order three rolls at a time and dig in, and then as the pieces are getting low we re up (our system makes me feel better about my status as a fatty and also saves table space for all the sushi).
Our ordering system also provides that we don't order the same roll twice (unless we really, really like it, well because we do what we want). This allows me to get out of my sushi comfort zone and try new flavors and combinations. On our past visit, I started out very traditional and worked my way down to new things. My first order was spicy tuna (duh), sake roll (salmon) and crunchy roll (I have never asked what is in the crunchy roll, but I find it delicious and I love the little crunch of the tempura flakes).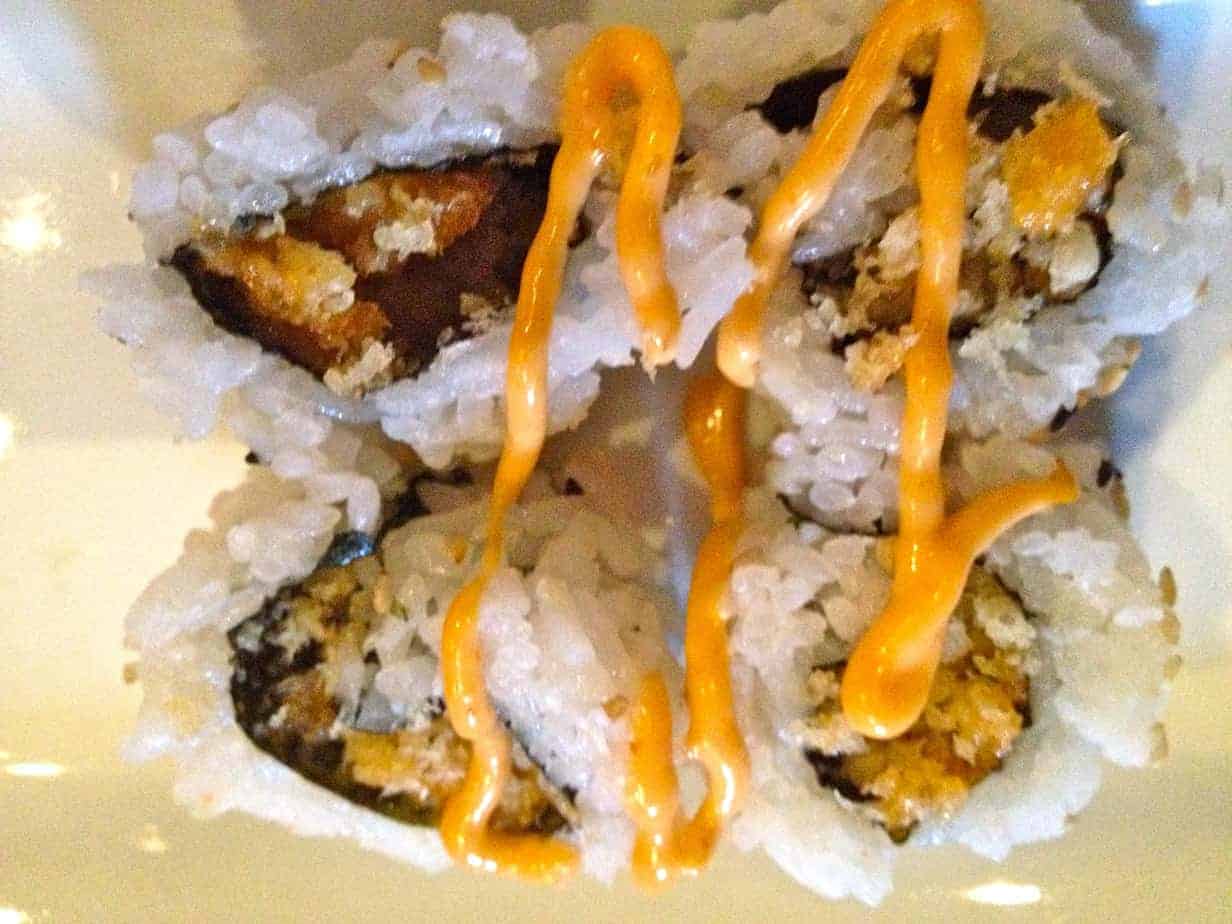 All three were tasty, but I think out of that group I enjoyed the sake roll the most, because it was fresh, simple and straightforward. The spicy tuna roll was average; it was a bit more lackluster than the spicy tuna rolls I've had elsewhere (Sushi 101 and KO are still my favorites) but it still had a good kick and I gobbled it up. Danielle and Katie Claire each got an assortment of rolls as well (some tuna avocado, spicy salmon, and pieces of nigiri which are also included on the all you can eat menu). Our waitress brought us plenty of wasabi and ginger, and was quick to bring us more as we went to town on the sushi.
Katie Claire and I also got an order of spring rolls; they were well cooked with tender veggies in the middle and a crispy shell exterior, served up with a sweet dipping sauce that had strong flavors. Yummy. Pisces all you can eat menu does include a few fully cooked dishes (like the spring rolls, as well as garlic noodles, fried rice and white rice) but I still maintain you shouldn't fill up on those items if your goal is all you can eat sushi. Pisces will not leave your non sushi loving friends out in the cold for lunch; they are totally welcome too–with an affordable lunch menu of hibachi and other asian dishes.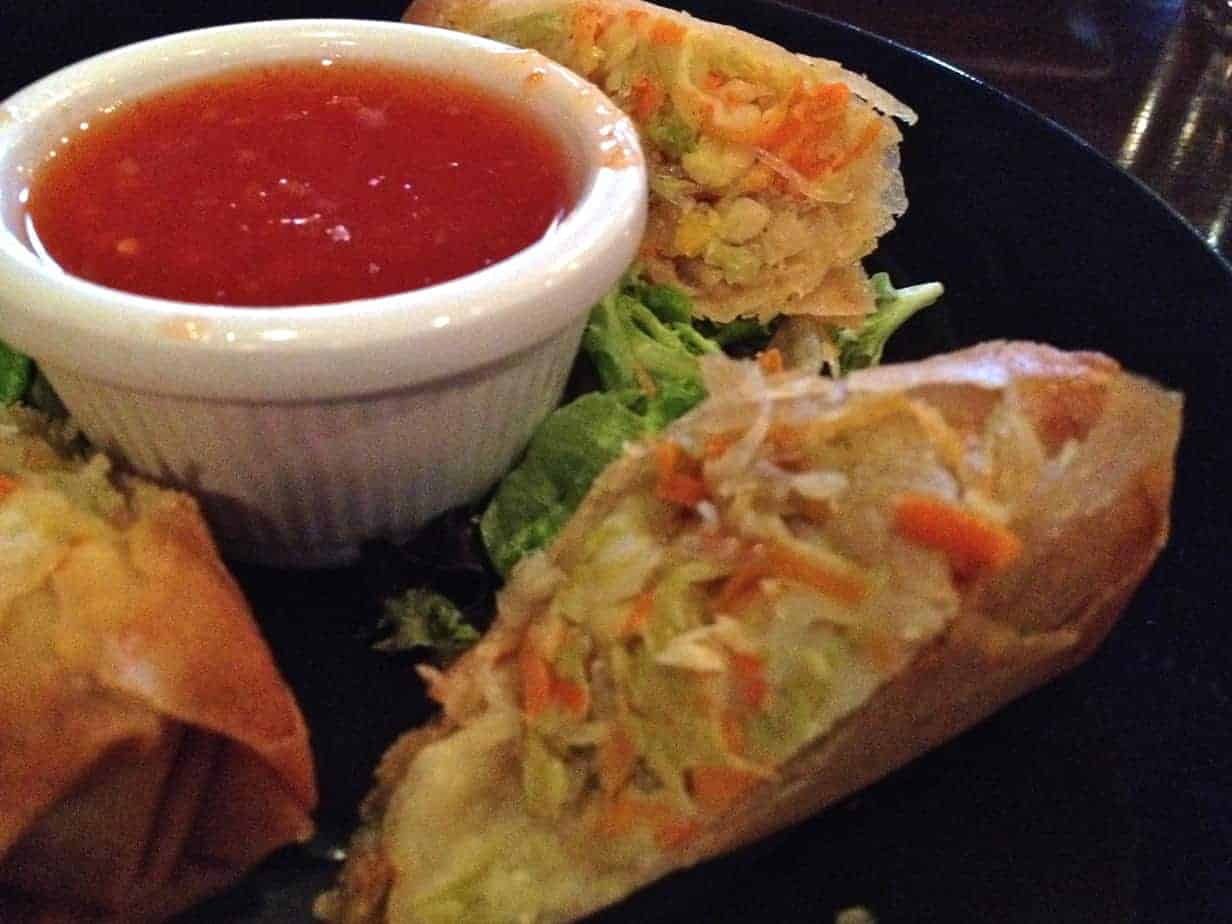 Next up for me was a tuna avocado roll, hamachi (yellowtail) roll and an unagi (eel) roll. The tuna was fresh and the avocado was creamy and didn't over power the fish. The hamachi was good; it was only my second time eating yellow tail but I liked it and would probably order it again. I didn't particularly enjoy the eel–there was a sweet, sticky sauce on top of the eel rolls which I thought was too sweet and blasted my palate when I ate the roll, so I didn't taste much eel at all. Danielle got spicy tuna, a traditional California roll and tried the mango roll (which she enjoyed!) and Katie Claire got hamachi and eel avocado. Unfortunately, when she bit down on one of her hamachi rolls, she ate something hard (she thought it may have been a bone) but gave Pisces the benefit of the down and ate the rest of the pieces with no issues.
We left Pisces stuffed and happy and sauntered back to our car (I think sauntered has to be the appropriate verb here for our slow gait). Our lunch was delicious and filling and totally got me prepared for a food coma an afternoon of work at my desk. I have not been to Pisces for dinner, but rumor has it they whip up some good cocktails and have some tasty specialty rolls!