Pio Pio means "cheep cheep" (or "chirp chirp," like the sound a chicken makes) in Spanish. How adorable is that? I've been to Pio Pio, a Peruvian restaurant in Dilworth, twice now (once for lunch and once for dinner), and can sum it up for you: You HAVE to get the chicken.
Pio Pio is a Peruvian/Latin American restaurant in Dilworth that serves the best rotisserie chicken I have ever tasted. It is nestled in a strip mall with the likes of Outback and a pet supplies store, but don't let that deter you. These people know what they are doing.
My first time at Pio Pio was with a group of girlfriends for dinner.  The restaurant is low-key; it's dark and casual. We arrived, and one of the waiters gestured to us to pick our own table. That night, there was some traffic, but not a whole lot of other customers, and we ended up shutting the place down (we got carried away with conversation over sangria, a concoction that is amazing). I had been instructed, per the fabulous Ms. S, to order the #1, which is one-quarter chicken, rice, beans, and a side (ripe plantains, tostones, and some other choices). This is exactly what everyone should order their first time at Pio Pio. The rotisserie chicken is delightful; it is deliciously roasted and has been caressed with the perfect amount of herbs and spices so the skin is succulent. The meat is juicy, and the skin has just the right amount of crisp and crunch (I am promptly drooling thinking about it). I am a dark meat kinda girl, and the dark meat fell right off the bone with little effort. I even enjoyed my white meat, which is a stretch for me (I often find white meat to be dry).
And the chicken isn't the only thing to write home about. The rice and beans are spectacular. A lot of restaurants mail in these traditional sides, but not Pio Pio. The rice came out piping hot, and was well seasoned with saffron. The soupy red beans are yummy– they have a thick, creamy, juicy consistency, with delicious chunks and spicy note throughout. Our meal also came with these delectable side sauces: one white (garlicky goodness) and one green (spicy!), and they are a great addition to the chicken and beans. The green has this lovely slow burn, and the garlic is a bit more mild, but still packs the flavor. As a tip, not only are the sauces great on top of your chicken and blended into your beans, but they are great for dipping your plantains and tostones.
And let's talk about the plantains and tostones. I love that Pio Pio has very traditional sides, and that they do them very well. The ripe plantains are sweet and juicy, with crispy, caramel colored edges, and almost melt in your mouth. The tostones (or fried plantain slices) are hot and crunchy; and both will leave you satisfied.
My second trip to Pio Pio was over the lunch hour, so unfortunately, no wine or sangria was involved. I decided to go with the salad with chicken (of course) for a lighter option, based on some reviews I read on Yelp and Urban Spoon (I also got a side of to stones: I could not resist!). Wow! The salad is just as amazing as the chicken!
Pio Pio must be all about quality, because what I ordered large salad, chock full of fresh chicken and what must have been a whole, fresh avocado. It was splendid, and really hit the spot. The salad ingredients were fresh; the lettuce was good quality, and the avocado was ripe (in the perfect way where your knife slides right through). The salad dressing is a creamy, garlicky, tangy mixture, and paired perfectly with my chicken and avocado. And my tostones were again fresh and crispy.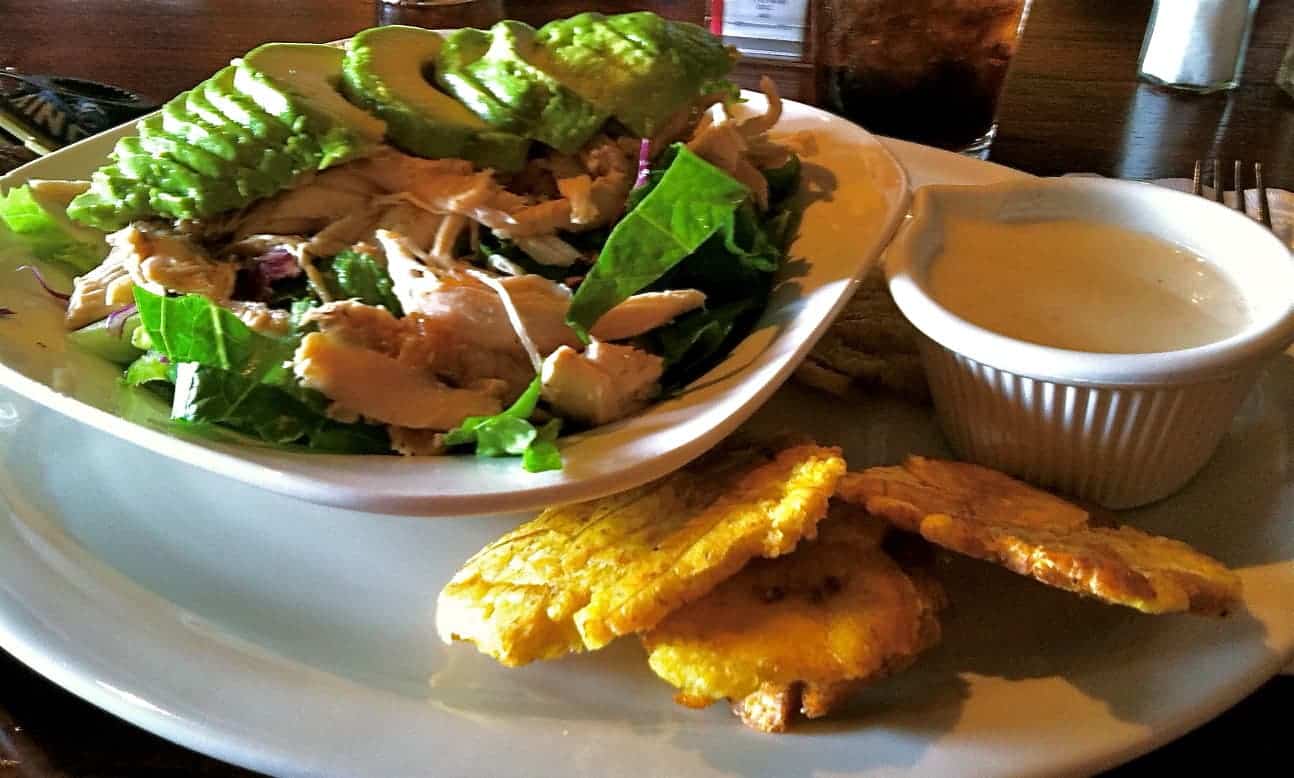 I like Pio Pio because it is authentic, friendly and  casual. The food definitely reflects their Latin American roots, and it is a great spot to really take your time and enjoy your meal over a glass of sangria. From someone who doesn't order chicken much when eating out: Get the chicken!
map & more
score: 8
spending: $$cuisine: peruvian, latin american

neighborhood: dilworth (and a ballantyne location too!)

[googlemaps https://maps.google.com/maps?client=safari&oe=UTF-8&ie=UTF8&q=pio+pio&fb=1&gl=us&hq=pio+pio&hnear=0x88541fc4fc381a81:0x884650e6bf43d164,Charlotte,+NC&cid=0,0,12842505858530748836&t=m&ll=35.199886,-80.844719&spn=0.004384,0.005343&z=16&iwloc=A&output=embed&w=250&h=250]