I made it two weeks ago to Pho Hoa, which has the best bún (vietnamese noodles) according to my friend and coworker (and she was totally right, not that I would ever question her).
Some background on my lunch outing. I started working as an attorney in Charlotte in October. Each attorney gets his/her own office (which is a blessing, it give me a place to personalize and make my own, as well as a place to do my work, duh, and privately meet with clients, among other things). My office is on a hall with 4 other attorneys (and a shared printer), and since "moving in" everyone has been welcoming and friendly, as well as super helpful when I have questions. We decided to go to lunch together as a hallway (which was a fabulous idea) and settled on Vietnamese. We had about an hour for lunch, which was plenty of time to drive to Pho Hoa from Uptown and have a leisurely lunch.
Pho Hoa is tucked into a shopping center off Central Ave with several other Asian restaurants and markets. The restaurant is quite minimalist, with limited decor, and no fancy schmancy ambiance. Just basic and straightforward. I did like the fish tank near the entrance (ever since I was little, I have had an affinity for aquariums in restaurants). The fish welcomed us, and we sat down right away.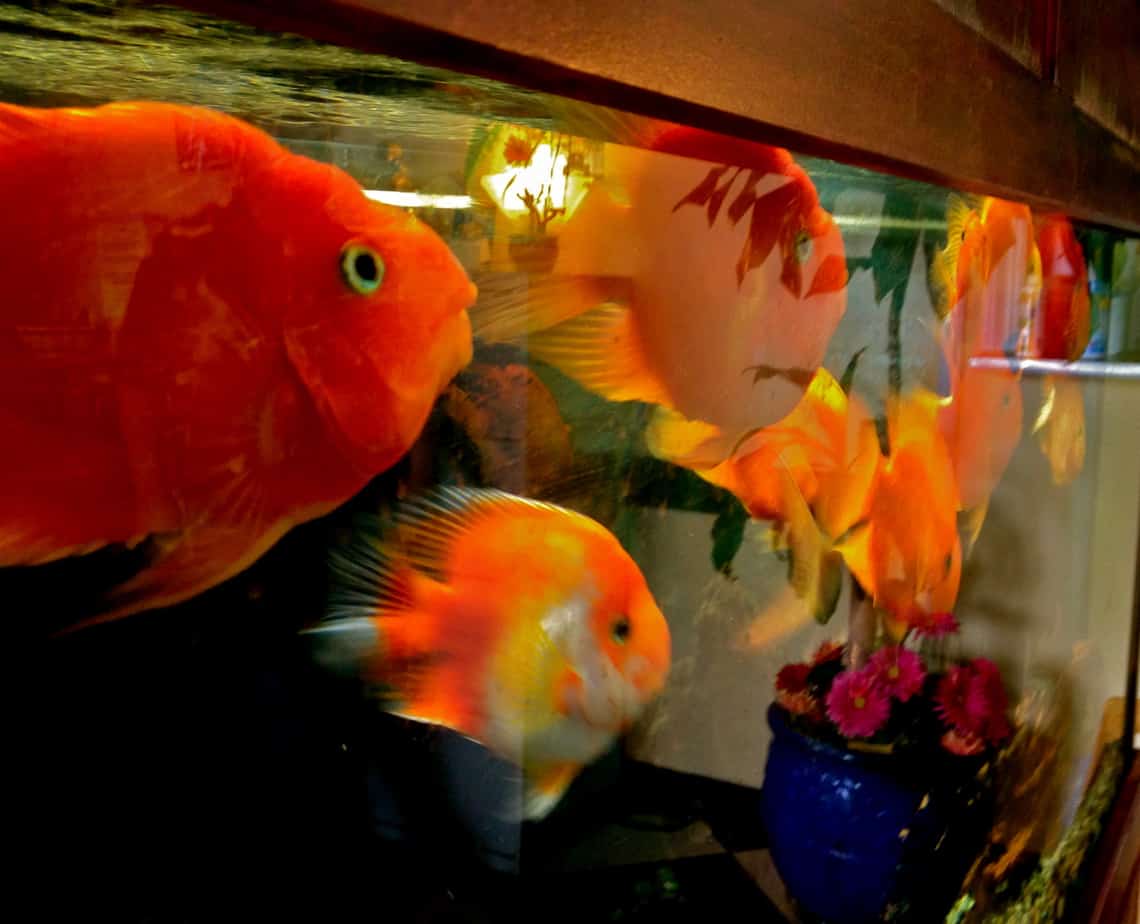 We got there a bit before lunch rush, so the place was fairly empty.  Service was quick and attentive (and not just because I was with a VIP–my friend knows the owners). The restaurant filled up throughout the lunch hour, and when we left, almost every table was full. A busy restaurant is always a good sign!
I knew I had to get the vermicelli bowl (no brainer since my conversation during lunch a few weeks ago at Zen Fusion), so I settled on Bún Thịt Nướng Chả Giò (grilled pork and fried pork roll). This was my first venture into bún, and I can promise it will not be my last. Our food came out quickly, and my friends helped me navigate my first bún experience. It came out a room temperature and then I had to dump the fish sauce over the top and add chilies to make the spiciness to my liking. There were a variety of chilies on our table so we could make it as spicy as we wanted. I used the red chili paste, and it added the perfect amount of kick. Pho Hoa also offers a habanero chili paste, which is what my friend used, and boy was it pungent. It nearly seared my nose hairs off when I smelled it. The pork was cooked really well, and the pork roll was nice and crispy. My bún also included some fresh veggies: bean sprouts, cucumbers and cabbage, which gave it some good crunch and texture. We got some fresh lime to squeeze over top as well. MY MEAL WAS SO GOOD.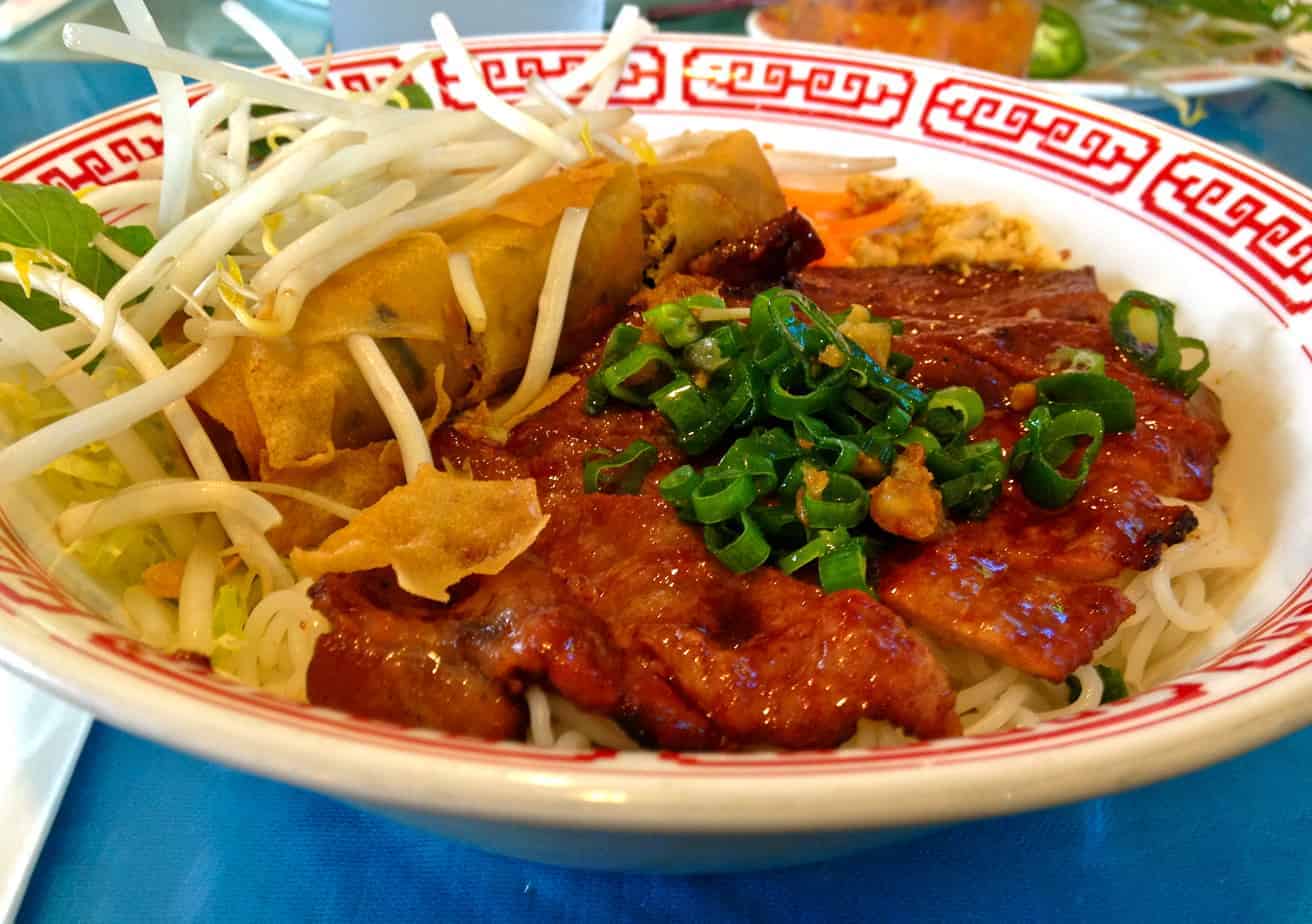 One of my coworkers got the pho (which is what Pho Hoa is known for) and it looked amazing. I can't wait to go back to try it!
We ended our meal with bubble tea. I have never been a huge fan of bubble tea, but I am now officially on convert. Pho Hoa offers a variety of flavors, most made fresh, in house. I had the avocado bubble tea, and let me tell you, it was life changing. It is made with fresh avocado (sweetened up) and it was delicious. So refreshing, smooth, and just the perfect amount of sweetness. A coworker got the coconut flavor and she let me take a sip, and that was equally delicious (I love coconut). The owners told us that the coconut flavor is made with powder (but it definitely didn't taste like it). I also loved the cups our bubble tea came in (PARTY!!). 🙂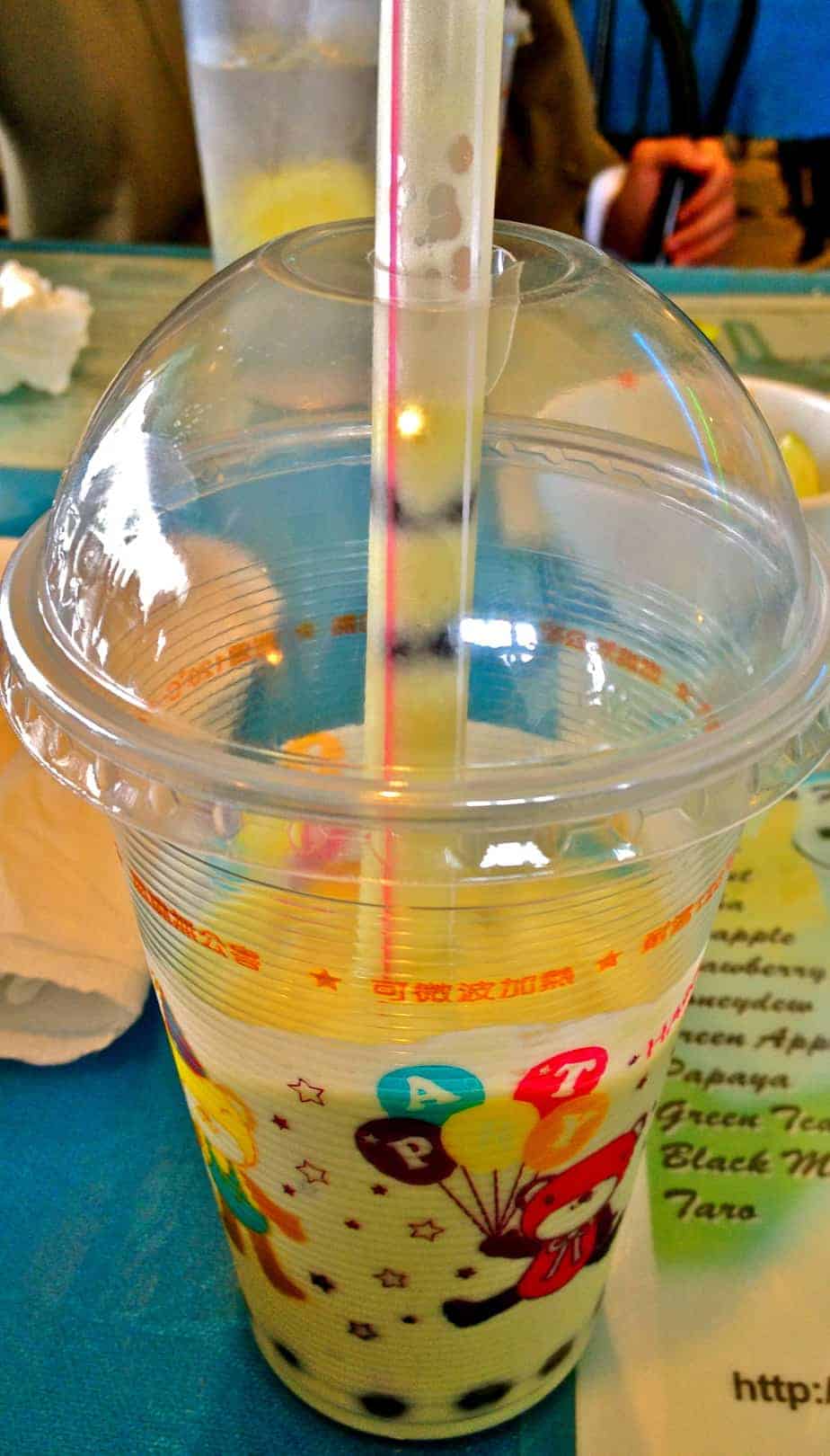 We finished up, paid, and I said bye to the fish before we headed back to the office. Pho Hoa will definitely become a "go to" spot for me. I can't wait to try the pho, get more bún, and bubble tea!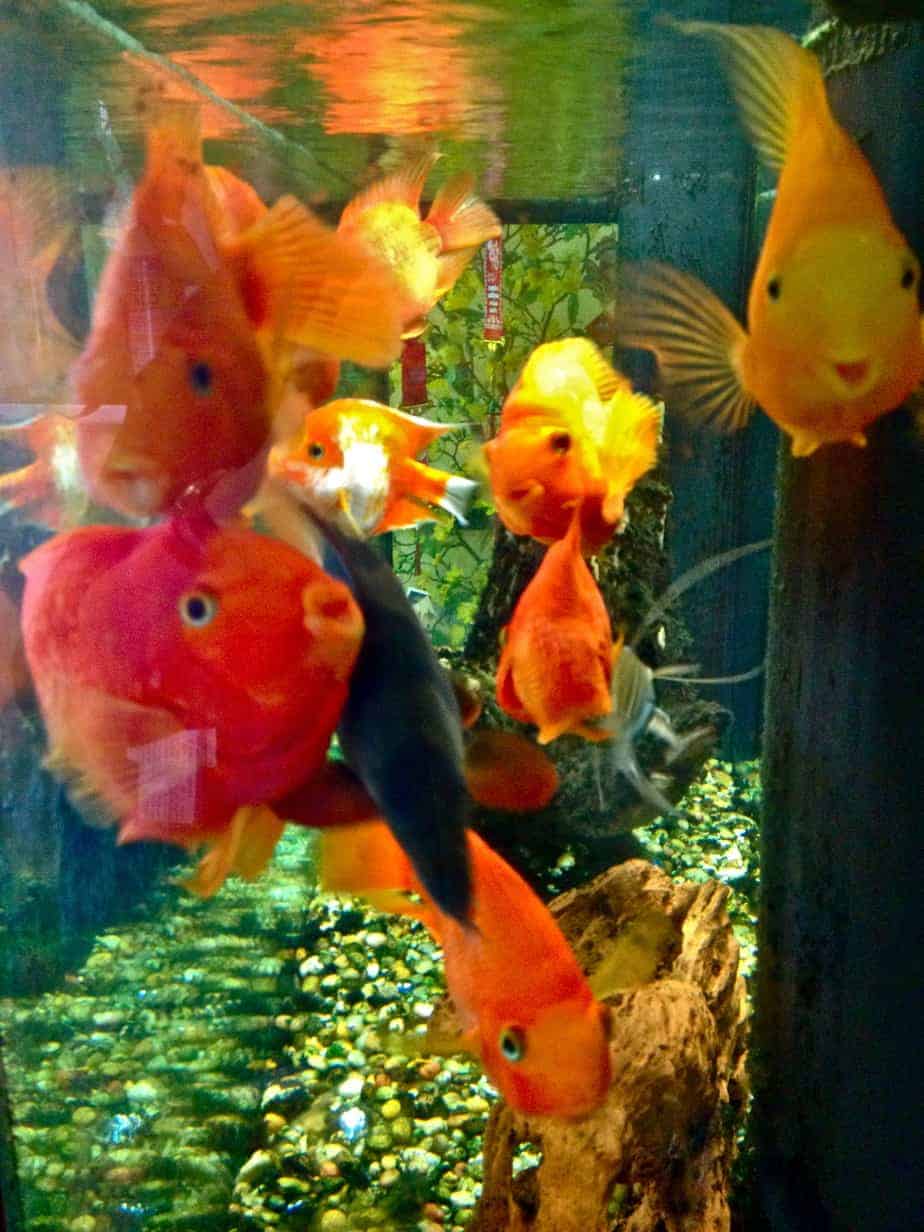 (One more fish photo for good measure. The one on the right is smiling at you, isn't it great?!)
I later learned in preparing this post, that Pho Hoa is a franchise in a chain, based out of California. I would have never guessed. More researched revealed that while branding among the locations is similar, owners of the franchises retain creative control over menu items, among other things. Other locations include: California, Florida, Georgia, Massachusetts, Minnesota, Missouri, Pennsylvania, Utah, Virginia, Washington, and several spots in Canada!
map & more      
score: 8
spending: $$
neighborhood: plaza midwood
cuisine: vietnamese
official website
[googlemaps https://maps.google.com/maps?f=q&source=s_q&hl=en&geocode=&q=pho+hoa+4832+central+avenue+charlotte&aq=&sll=35.213298,-80.761657&sspn=0.009958,0.017252&gl=us&ie=UTF8&hq=pho+hoa&hnear=4832+Central+Ave,+Charlotte,+Mecklenburg,+North+Carolina+28205&t=m&ll=35.213298,-80.761657&spn=0.004383,0.005343&z=16&iwloc=A&output=embed&w=250&h=250]