You've probably seen this black and orange truck cruising around town. I've had the pleasure to catch Papi Queso melting several times since I moved to Charlotte: most often at Food Truck Fridays in South End, but recently at Central Coffee's 4th anniversary party in Plaza Midwood.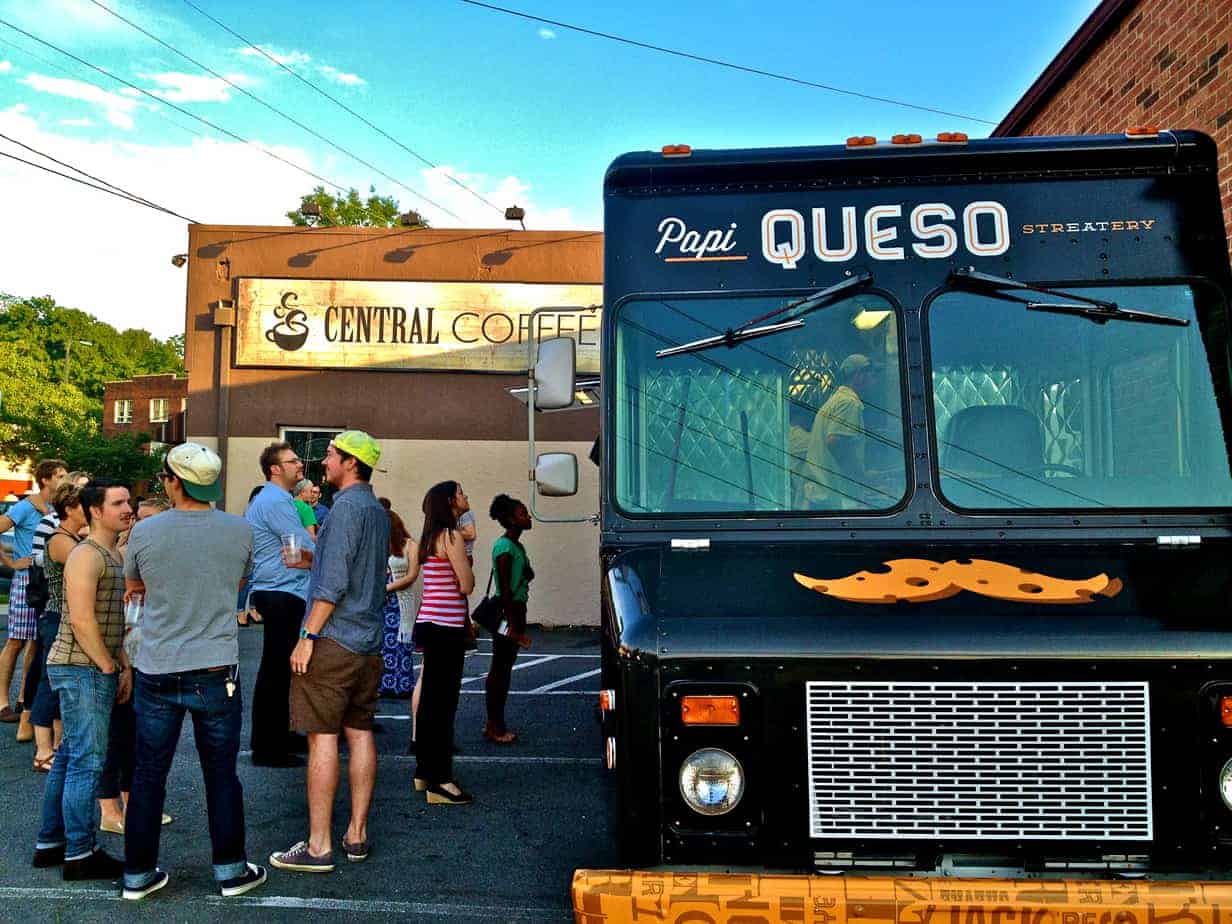 The evening of Central Coffee's 4th anniversary party was one of those "perfect" summer (even though it's only May) evenings that I remember from childhood: the air was warm (enough to go sleeveless), but not too hot the sun was setting, casting a warm glow down Central Ave, and there was a buzz of excitement in the air. It was the perfect evening for al fresco dining (which totally includes eating a grilled cheese while sitting on the curb on Louise Ave.) so I walked down to grab some dinner and check out the fiesta (which included Thursday Night Throwdown, the Charlotte Coffee Community's Latte Art competition, more on that later).
The Papi Queso truck was parked in Central Coffee's lot and was going to town melting their cheesers. K and I decided to get two sandwiches and go halfsies on each, so we could try more than one. We settled on the pear truffle and chorizo and petit basque, but as we got to the window, the pear and truffle was sold out. Major bummer, but there's always next time! In a quick game time decision, K switched her order to the mushroom and leek, which was a great decision. It took about 10 minutes for our sammies to come out, but it was worth it. We found prime curb real estate, traded halfsies, and dug in.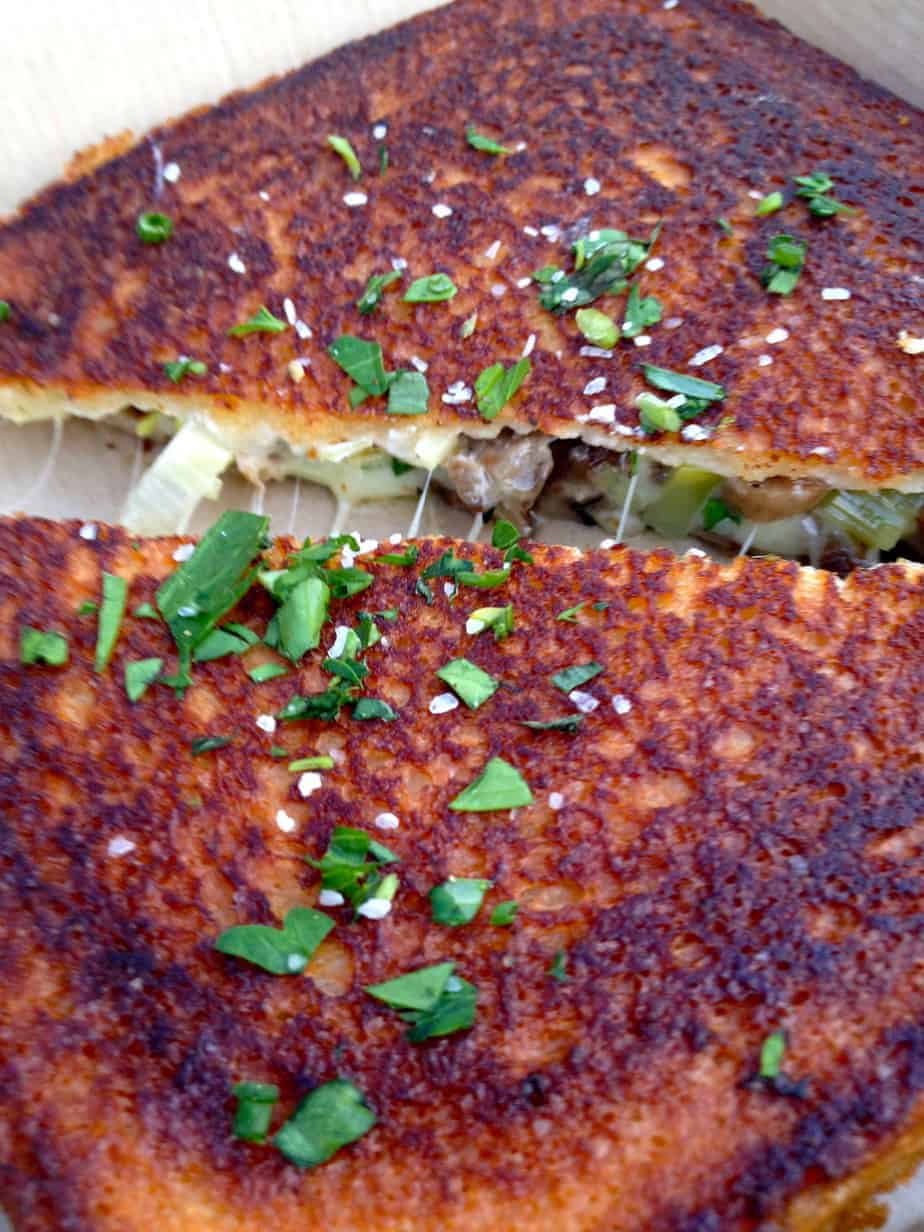 The flavors of both sandwiches were amazing: Papi Queso has a lot of great, creative flavor combinations. While some people may be thinking, oh it's just grilled cheese, I can make that at home, like salads, I feel like grilled cheese is more delicious when it is cooked for you (salad is not really cooked, but you get my drift). The bread was golden and crunchy (but a bit salty for my taste buds, I think I'm supersensitive to salt). The cheese was gooey and perfectly melted; and it didn't not overpower the goodies tucked inside. The other fillings were not skimped on: there were plenty of leeks, mushrooms, chorizo, and piquillo pepper tapenade.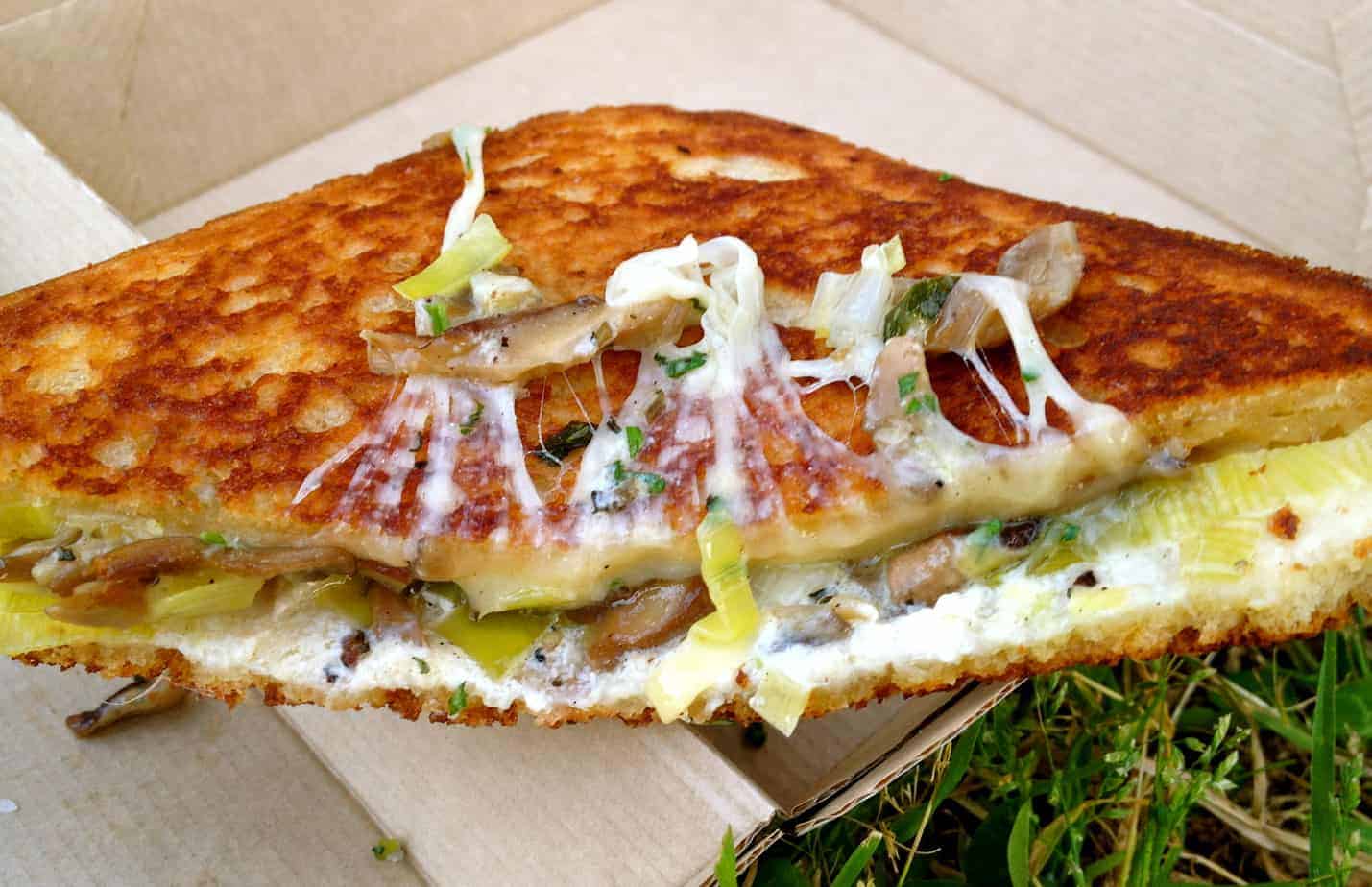 The sandwiches had a really good cheese to other filling ratio. I gobbled my sandwich down. And it was delicious.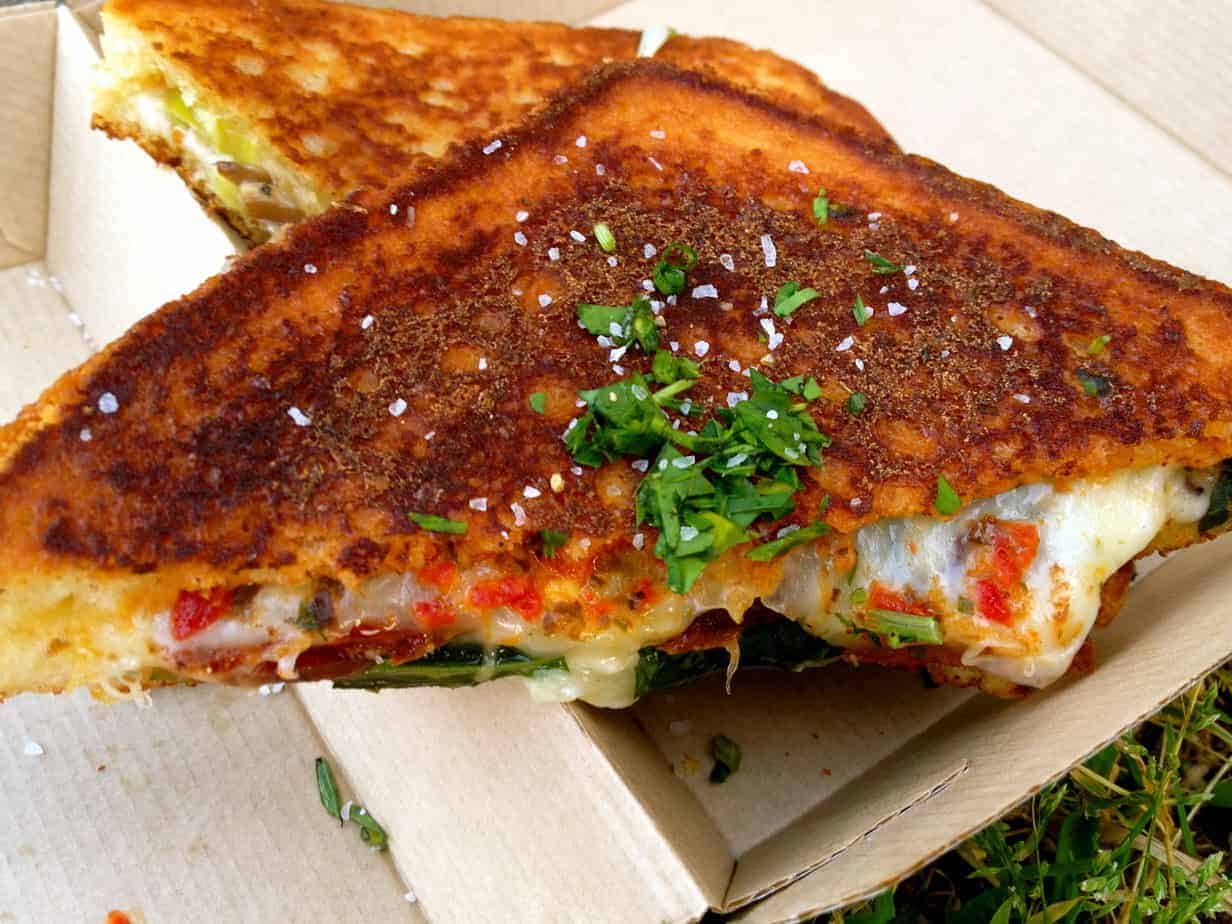 Papi Queso Truck can often be found at Food Truck Fridays in South End, and is always a popular choice for dinner. One of my favorite things to do is happy hour at Common Market and then pop over for a grilled cheese.  I've had the chance to try the Big Cheesy (which was yummy), and the truffle kettle chips. I also love any place that allows you to add bacon to any sandwich for only $2 (how is that a bad thing? it's definitely not). But get there early, Food Truck Friday has become super popular and the trucks often run out of their goodies.
If you see the truck toodling around town, take the opportunity to grab a bite to eat. While it seems so simple, grilled cheese is an incredibly smart food truck concept and Papi Queso melts it well (according to Twitter, you can often find them at one of Charlotte's breweries, so I can't wait for a grilled cheese and beer in my near future!).
map & more
score: 9
spending: $
neighborhood: all over town!
cuisine: food trucks
official website