I lived in Wisconsin for seven years, off and on (all of my college summers were spent at home in Virginia with the fam). Four of those years were spent in Appleton, a city of about 75,000 people in Northeastern Wisconsin, along the Fox River (for those of you slightly familiar with Wisco geography, Appleton is about an hour and a half north of Milwaukee and forty five minutes south of Green Bay, home of the Packers!). Appleton is home to Harry Houdini (yes the magician, and there is a museum exhibit dedicated to him), the paper industry (Kimberly Clark was founded nearby), and Lawrence University, a small liberal arts college of about 1,500 students where I went to college. I loved my time at Lawrence–I was on the swim team, joined a sorority, studied (sometimes) and met some of my best friends.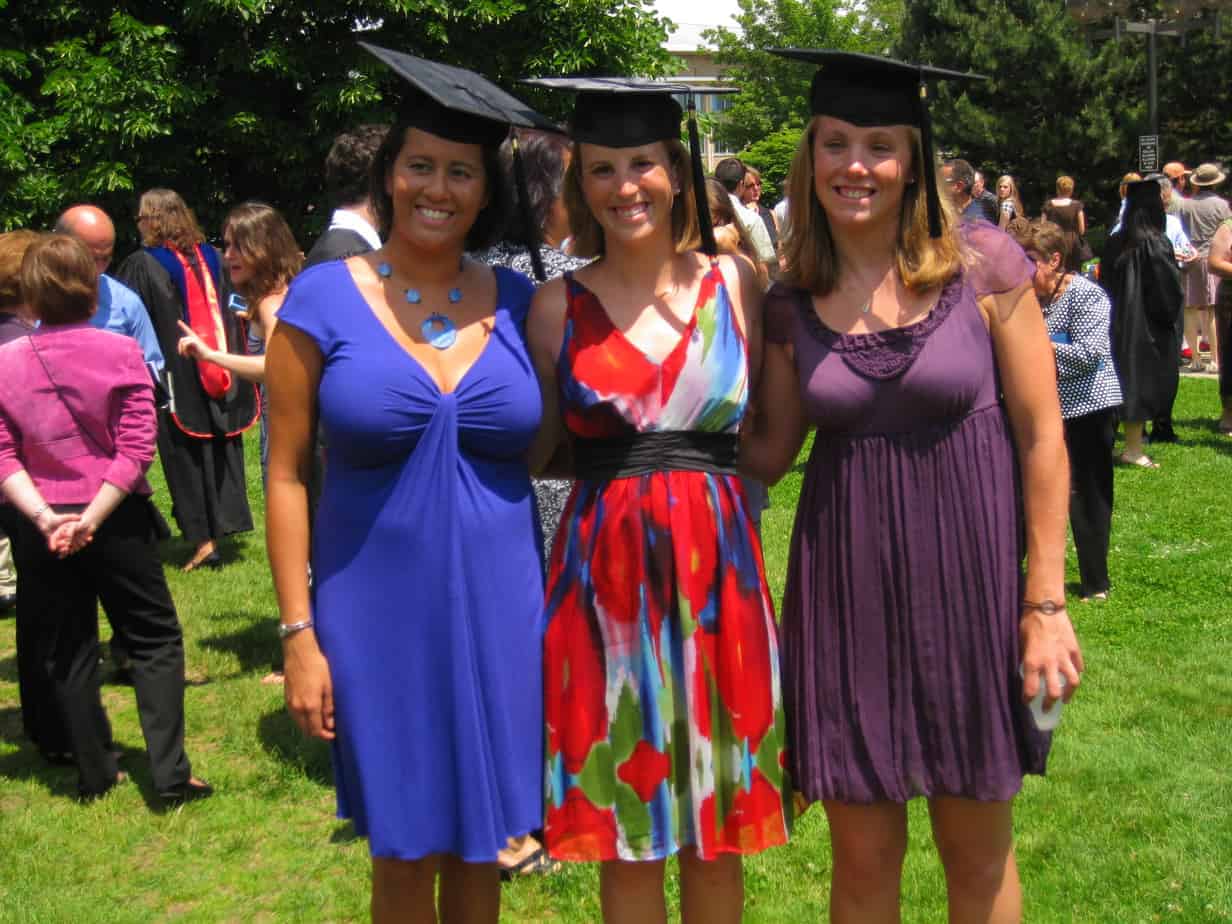 (T, me and H at college graduation).
Lawrence's campus is sandwiched along College Avenue between the Fox River and downtown Appleton. The campus' location makes it easy for students to get off campus, and my friends and I loved going downtown for lunch, dinner, to study at nearby coffee shops or to just get away. College Ave. became even more exciting once we all turned 21; it's not only home to some restaurants and coffee shops, but over 15 bars cover a 5 to 10 block stretch of "the ave."
I was in Northeastern Wisconsin in early June for my cousin's wedding, and jumped at the chance to have a night out in Appleton with one of my best friends from college, T. She currently lives in Sheboygan, and drove the hour or so to meet my mom and me for dinner and drinks. It was super fun to see her and catch up, as well as hit up some of our favorite college spots.
Our first stop was The Wooden Nickel for dinner. The Nickel is a sports bar and grill catering to college students and locals alike. They have amazing daily drink specials and grill up some delicious burgers and brats. T went immediately to the bar and got a pitcher of Totally Naked (from New Glarus Brewing) for the table. New Glarus makes amazing beer (they're best known for Spotted Cow) but because they are a local brewery they don't ship nationwide (major bummer for me when I moved out of Wisconsin). We (obviously) started with an order of cheese curds. At The Nickel, they take the curds (if you've never been to the Midwest, you probably have no idea what a cheese curd is) and fry them up (they're dipped in a batter similar to an onion ring or anything else deep fried), and serve them with a side of ranch. The Nickel has the best fried cheese curds in Appleton (and have only been topped in the entire state by The Old Fashioned's curds in Madison). The cheese curds came out piping hot, perfectly fried giving them a little crust, and cheesy and delicious.
I also ordered a Touchdown Burger, a 1/3 pound charbroiled patty, with lettuce, tomato, onion, pickles, pepper jack cheese and bacon (they let you build your own and add additional toppings for a small price). I've always loved The Nickel's burgers, and this evening was no different (and I don't think it's just nostalgia, The Nickel does have really good burgers). My burger was cooked really well and I scarfed the whole thing down. My burger came with a side of chippers, the house potato chips, and those were hot and crunchy (I highly recommend the cajun chippers, it gives them an extra kick).
After dinner, Mom headed back to the hotel and T and I went down to Cleo's for a few more drinks. Cleo's is an Appleton institution; T's dad used to go there when he was a student at Lawrence. I love Cleo's because it's so crazy and eclectic–they have decorated for every holiday (more like Christmas threw up all over the place), and none of it is ever coming down.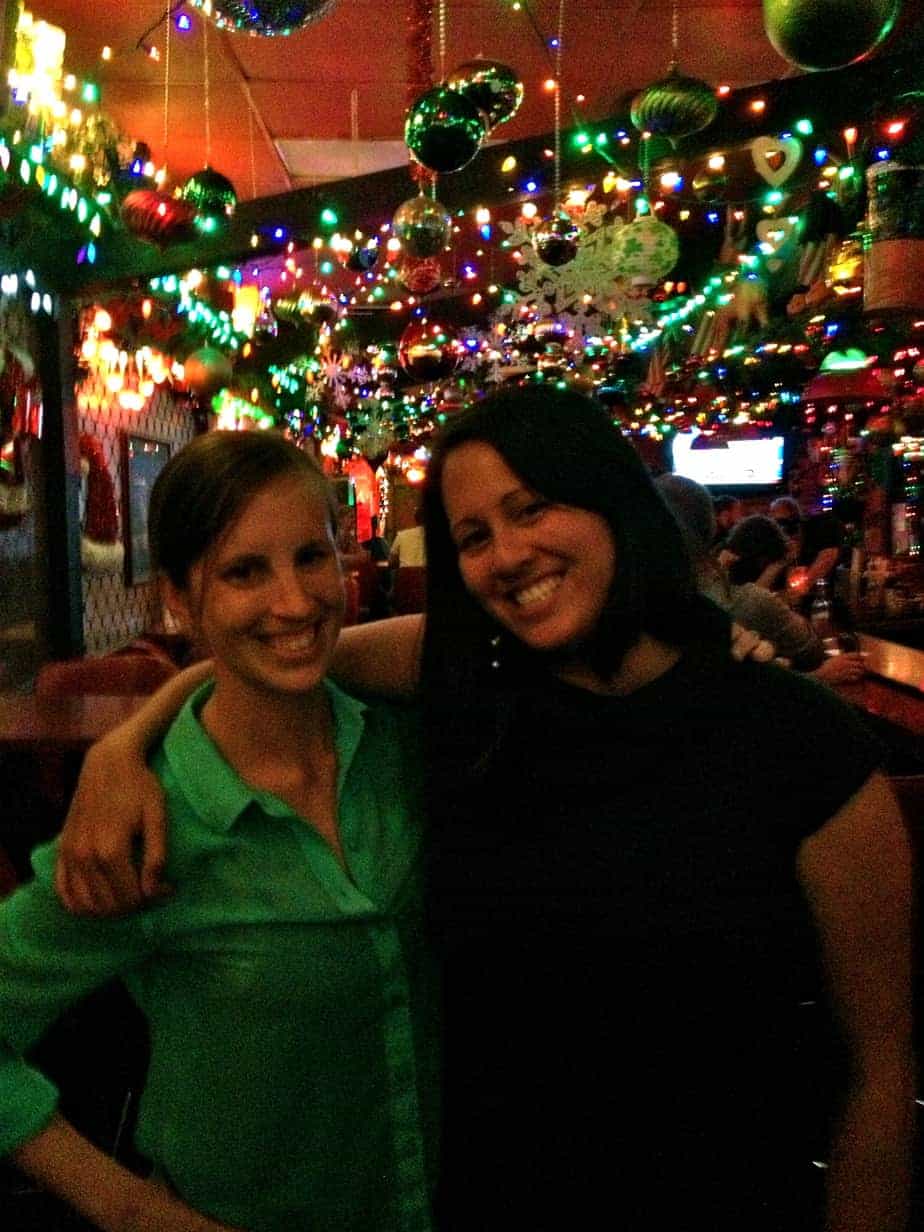 We snagged a bar stool and went right to it–we each got a mystery shot (a must do) for $1.50 a piece, and a Dirty Snowball, Cleo's signature drink. Dirty Snowball's are similar to white russians (vodka, Kahlua and cream) but then blended with ice to create this creamy, delicious, milkshake with a bunch of booze. We also (for old times sake) ended our time at Cleo's with a Suffering Bastard (trust me, it does not taste as bad as the name makes it sound). It's actually surprisingly refreshing, or as refreshing as gin, vodka and lime juice in a tall glass could be. After a few hours of catching up and people watching, it was time to call a cab to prepare for the marathon wedding weekend.
If y'all are ever in Appleton (it's a hot spot for NFL teams to stay when they are playing at Lambeau) you need to check out The Wooden Nickel and Cleo's And get an order of cheese curds, a pint of New Glarus beer and a Dirty Snowball. Trust me, it's worth it.
map & more
the wooden nickel
score: 9
spending: $
neighborhood: appleton, wi
cuisine: burgers, beer
official website
[googlemaps https://maps.google.com/maps?f=q&source=s_q&hl=en&geocode=&q=the+wooden+nickel+appleton,+wi&aq=&sll=35.203153,-80.839829&sspn=0.637372,1.100006&ie=UTF8&hq=the+wooden+nickel&hnear=Appleton,+Outagamie,+Wisconsin&t=m&ll=44.261736,-88.403549&spn=0.007684,0.010686&z=15&iwloc=A&output=embed&w=250&h=250]
cleo's
score: 9
spending: $
neighborhood: appleton, wi
(no official website)
[googlemaps https://maps.google.com/maps?f=q&source=s_q&hl=en&geocode=&q=cleo's+appleton,+wi&aq=&sll=44.261722,-88.403554&sspn=0.017457,0.034375&ie=UTF8&hq=cleo's&hnear=Appleton,+Outagamie,+Wisconsin&t=m&ll=44.261736,-88.403549&spn=0.003842,0.005343&z=16&iwloc=A&output=embed&w=250&h=250]