Spring time brought a lot of trips for me. A jaunt down to Charleston for a long Easter weekend, a few weekends up in NYC, a girls weekend at home with my mom and aunt, and several days in Winston-Salem for a work conference (and racking up my continuing legal education hours!). And with the start of wedding season fast approaching (three weddings in June to start the summer off!) I will be in and out of the Queen City over the next few weeks. While the focus of my blog is on eating and drinking in Charlotte, I will be doing a lot of eating and drinking elsewhere over the coming weeks, and I am loving blogging so much, I don't want to take a hiatus. Which has inspired Travel Tuesdays! Travel Tuesdays will highlight eats and drinks in a variety of different places. The only requirement: it must be outside of Mecklenburg County.
This brings us to my first out of town post!
When I go to NYC, I have to get a bagel. It's mandatory. New York bagels are just so much better than regular bagels. I think there is something in the water (well, there probably is) that makes New York bagels the best bagels. Because of my love affair with New York bagels, there is usually a trip to the bagel shop when I'm in NYC. I've tried several places in the West Village (because like Starbucks, there are bagel shops on almost every corner). My favorite bagel has come from Bagels on the Square, but Murray's Bagels is always a reliable choice.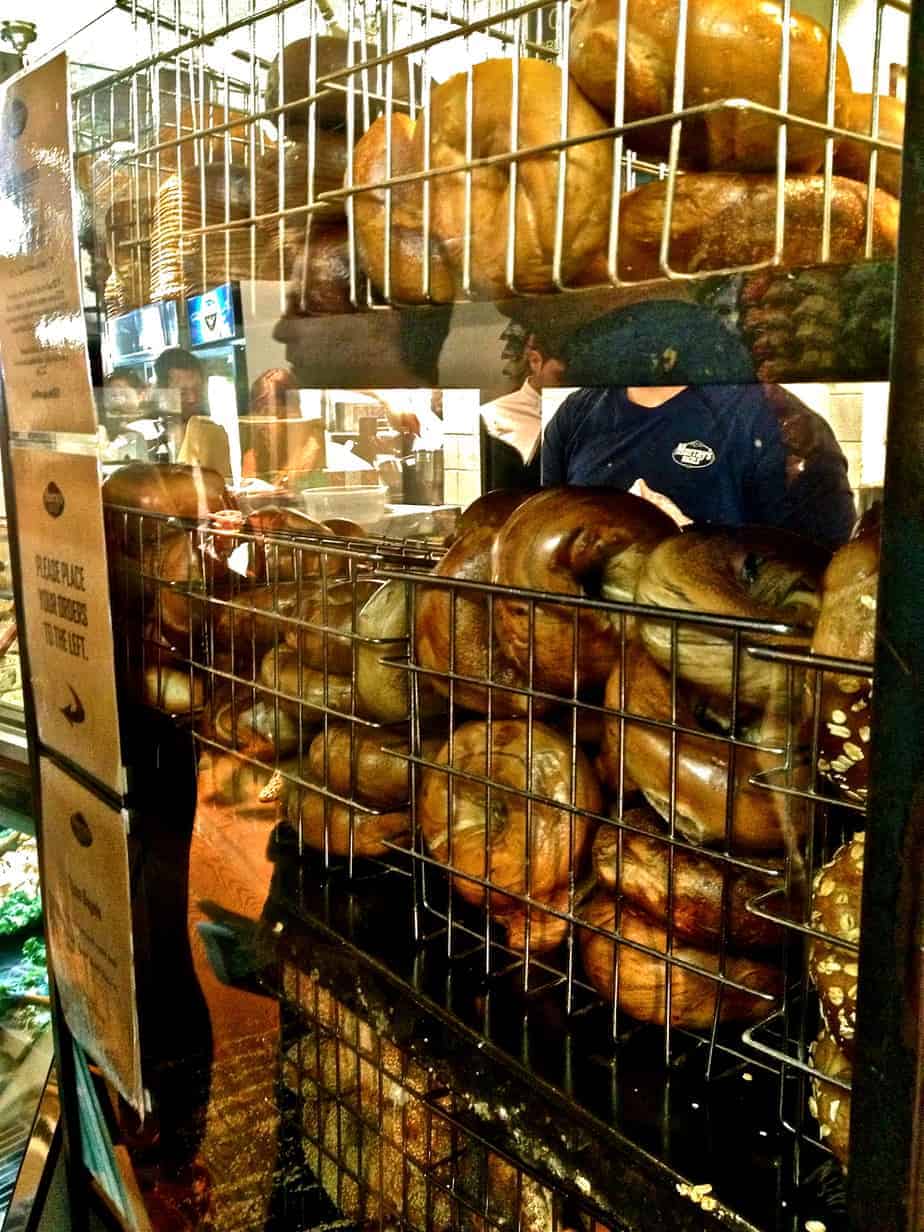 Murray's Bagels is what you would expect from a traditional New York bagel place: the air is mixed with the smells of freshly baked bagels, cream cheese, and strong coffee; and the hubbub of new york accents, the yelling of orders, shuffling lines, and conversations over coffee. There is always a line a Murray's, which goes back to its reliability (it's quite popular). The line moves at a decent place amidst the chaos. They have quite a few people behind the counter taking and preparing orders, and two or three people usually working the registers. Sometimes the line is slow, especially when tourists (I've decided I am not a tourist) don't decide what they want while they are waiting in line, and then take ages to decide when it's actually time to place an order. However, once you get to the front of the line and your order is placed, the Murray's guys move with speed, and your bagel is ready in seconds.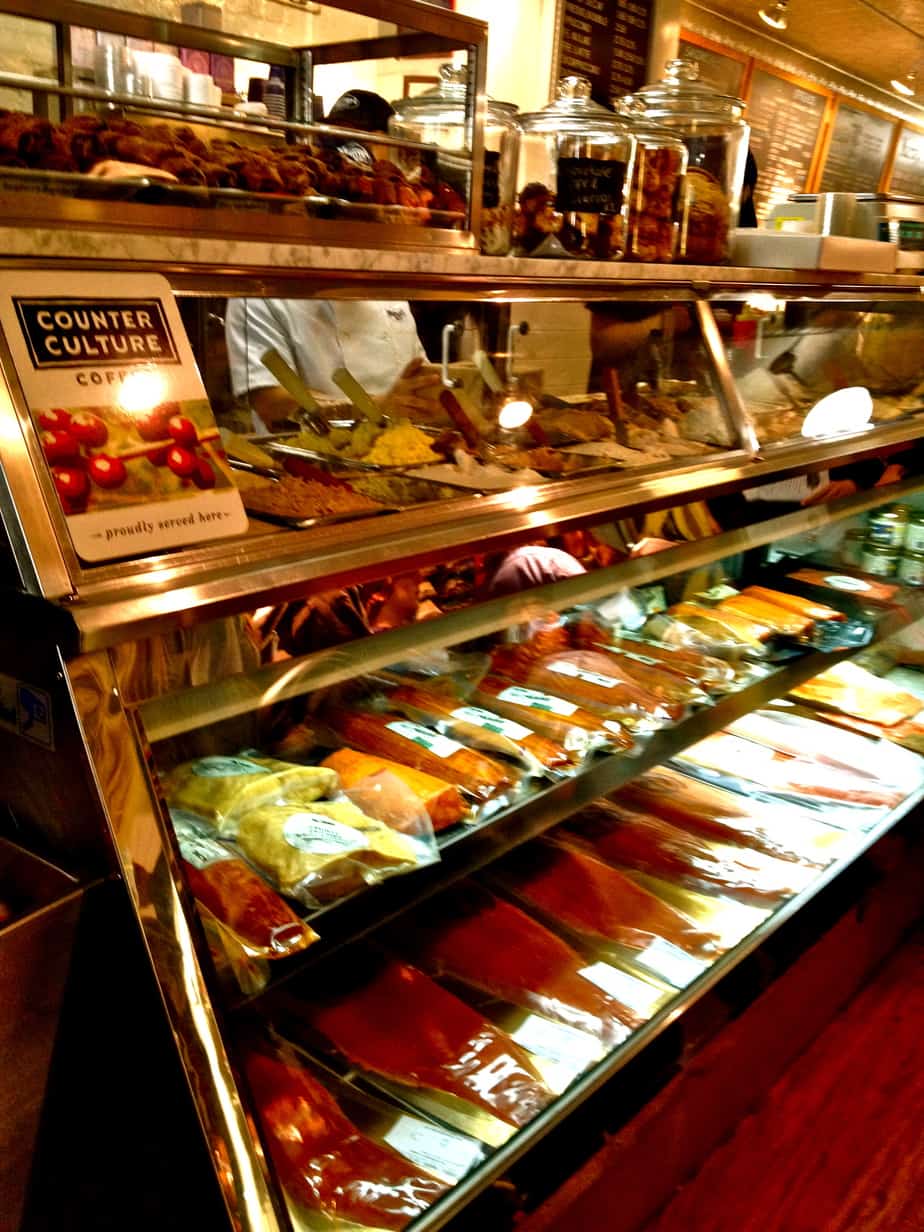 (look at all that cream cheese and salmon!!!)
The other downside I have with Murray's is that they don't toast. They cook a lot of other things (egg sandwiches, omelets, bacon) but there's no room for a toaster? I'll admit, maybe a true New Yorker doesn't need her bagel toasted. But sometimes, toasted is good. It's warm and makes your cream cheese a little meltier (or in T's case, butter, and who likes cold butter?). Occasionally, you just need a toasted bagel.
On to the good stuff. Fortunately on this visit, I did not need a toasted bagel. I went for lox and cream cheese, and boy was it good. I had my choice of like 6 different salmons (I wasn't aware there was a difference in salmons, guess I'm not that much of a foodie) but I went with the Irish salmon, which was a delicious choice. My bagel was piled high with salmon, cream cheese, capers, red onion and tomato. Murray's tomatos were a ripe, juicy red, and super fresh, it must be approaching tomato season y'all! The salmon was so good it was melt in your mouth good, and the capers and red onions were the perfect match. My friend got the Murray's special (Turkey Club) chock full of turkey, bacon, lettuce and tomato. It was so huge he couldn't finish it all!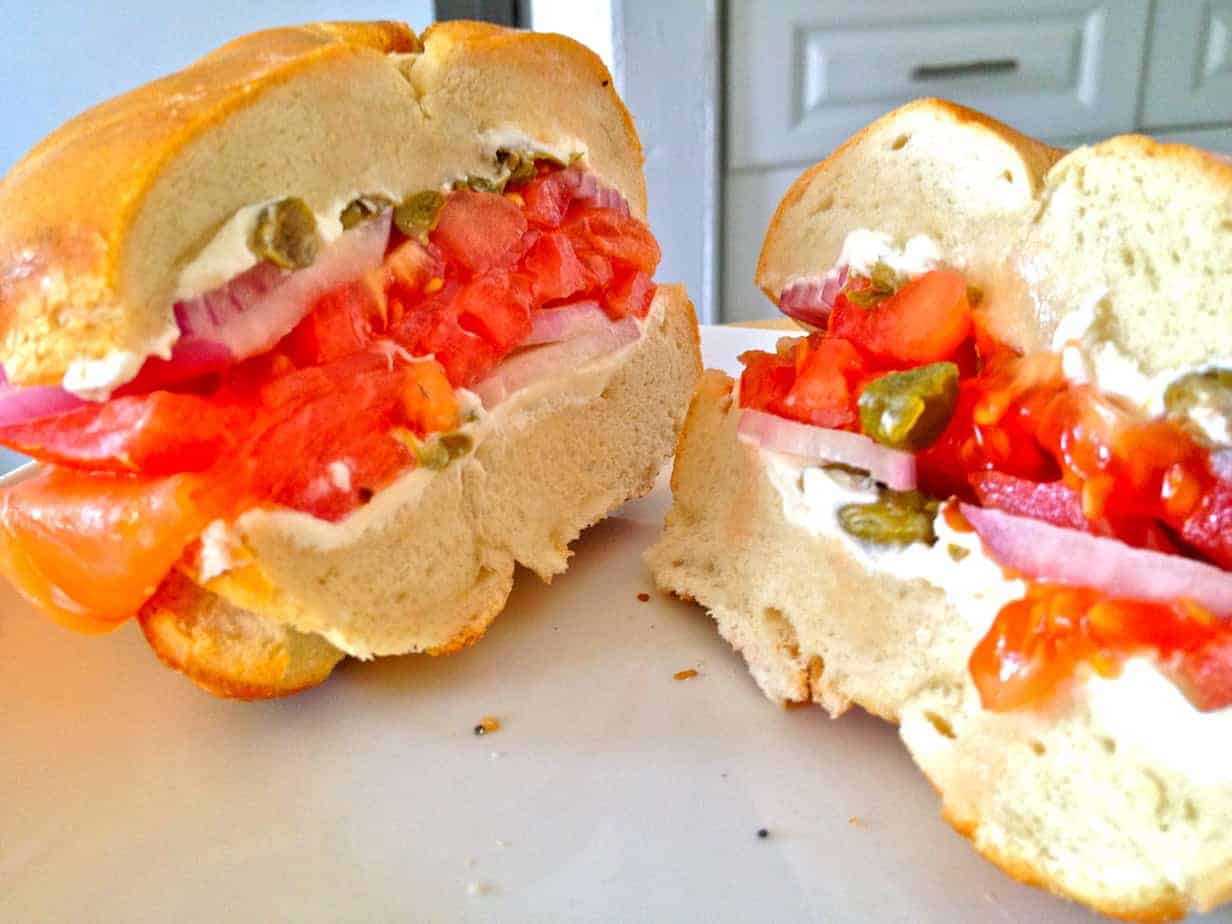 Aside from our delicious breakfast on this particular Saturday, I like Murray's because they have a ton of options– as many flavors of cream cheese you could think of, breakfast sandwiches, lunch sandwiches, cookies and other treats. I guess the variety of choices has also been the bane of my existence on some occasions, because how is someone supposed to choose between 20 different varieities of cream cheese? (I usually go with scallion cream cheese, it's a good, reliable standby). Murray's is quick, convenient and affordable. Aside from the organized chaos going on inside, you usually can get in and out within 10 mintues. But if you want your bagel toasted, make sure you go somewhere else!
map & more
score: 7.5
spending: $
neighborhood: west village, new york
cuisine: breakfast, bagels
official website
[googlemaps https://maps.google.com/maps?f=q&source=s_q&hl=en&geocode=&q=Murray's+Bagels,+500+Avenue+of+the+Americas,+New+York,+NY&aq=&sll=40.736328,-73.997162&sspn=0.01847,0.034504&ie=UTF8&hq=Murray's+Bagels,+500+Avenue+of+the+Americas,+New+York,+NY&t=m&ll=40.736332,-73.997169&spn=0.005691,0.007467&z=15&iwloc=A&output=embed&w=250&h=250]