After our meal at Jeffrey Adams on 4th, we strolled down the street to grab a few drinks. Tate's had been hopping the night before when we were at Buena Pinta, so we ducked our heads inside to check it out.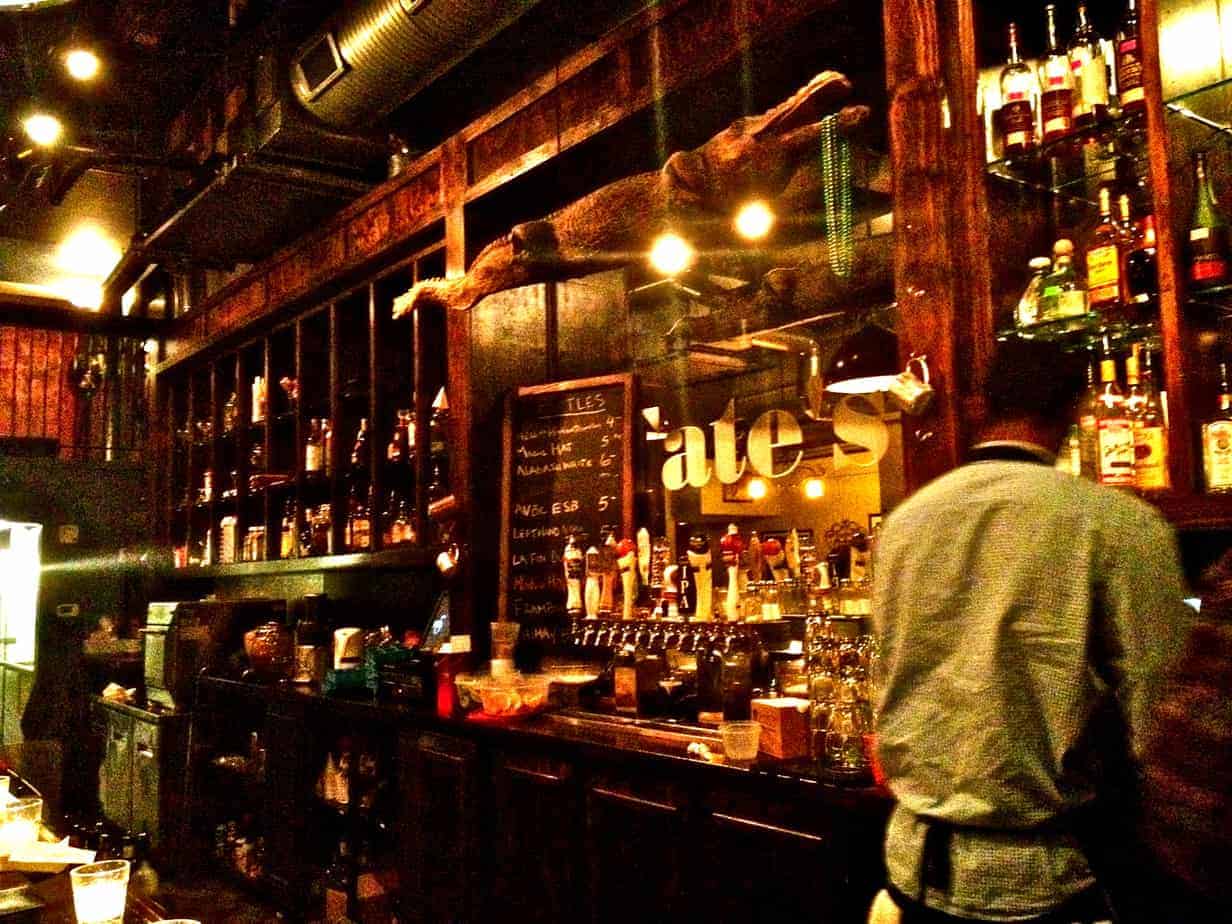 Tate's is a truly unique, cool place tucked along 4th Street in downtown Winston-Salem (how cool is that alligator above the bar?!). It was hopping on a Thursday night, the music was loud, the bartenders were busy, and people were mingling, laughing and having a good time.  I loved the wide mix of groups and people who were at Tate's–those who were dressed to the nines and were having a fun night out on the town, and others who were kicked back in jeans and t-shirts and were catching up with old friends. We snagged a spot at the bar and looked over the drink menu. Tate's is a craft cocktail place; so there was a variety of traditional, not so traditional, and traditional with a twist drinks on their menu. After such a heavy dinner, I wanted something light and fruity, and settled on the Strawberry Delight: muddled strawberries, Chateau Monet, vodka, house made balsamic syrup, 10 cane rum, Cointreau, lime juice and prosecco.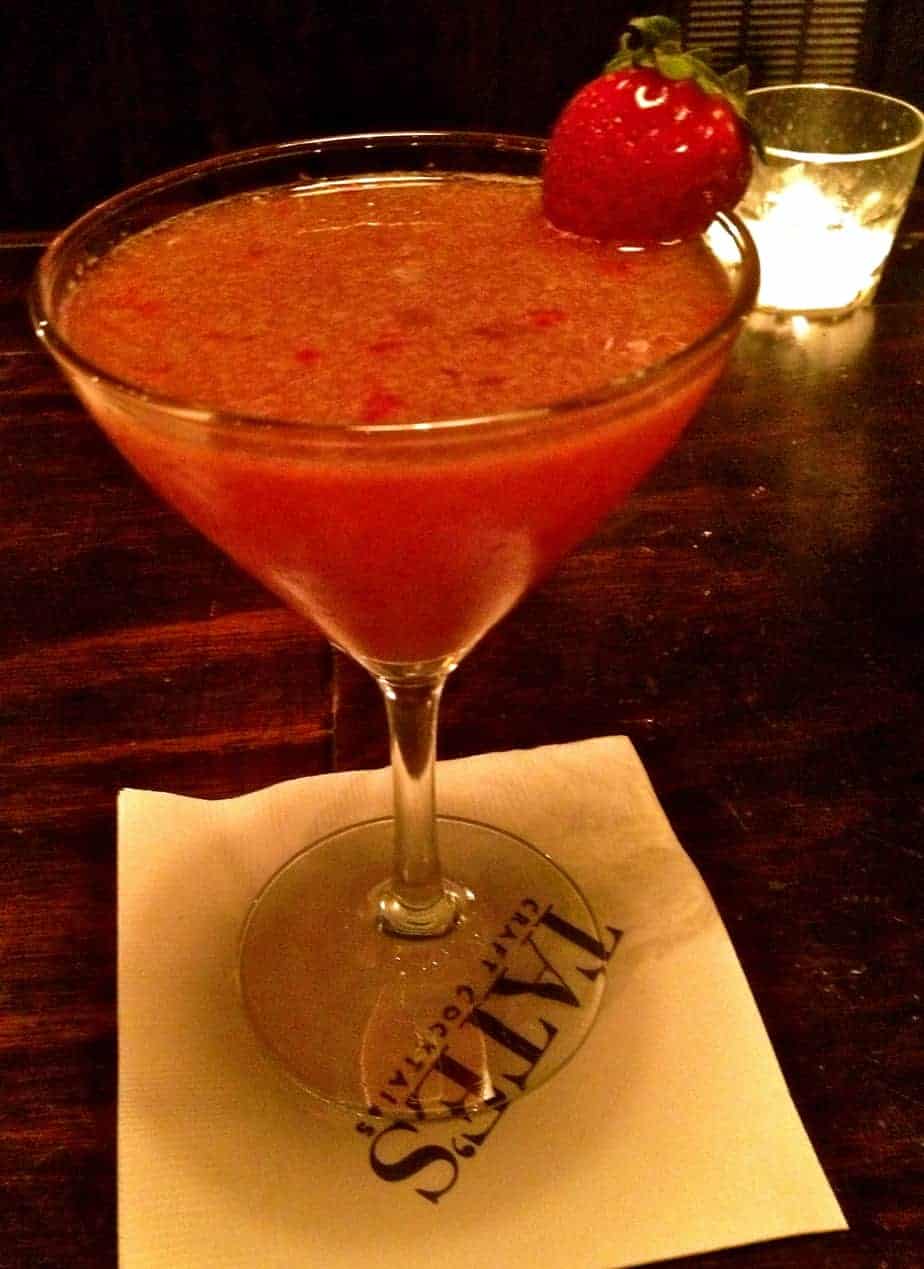 I really enjoyed watching the bartender make it using all these fresh ingredients. It came out garnished with a fresh strawberry and was really divine; not too sweet, not too boozey (I felt like Goldilocks, it was just right). My friends also ordered some drinks, and the most enticing was S's Pegasus Limone. It came with rock candy on top, which she happily swizzled in her drink as she enjoyed it.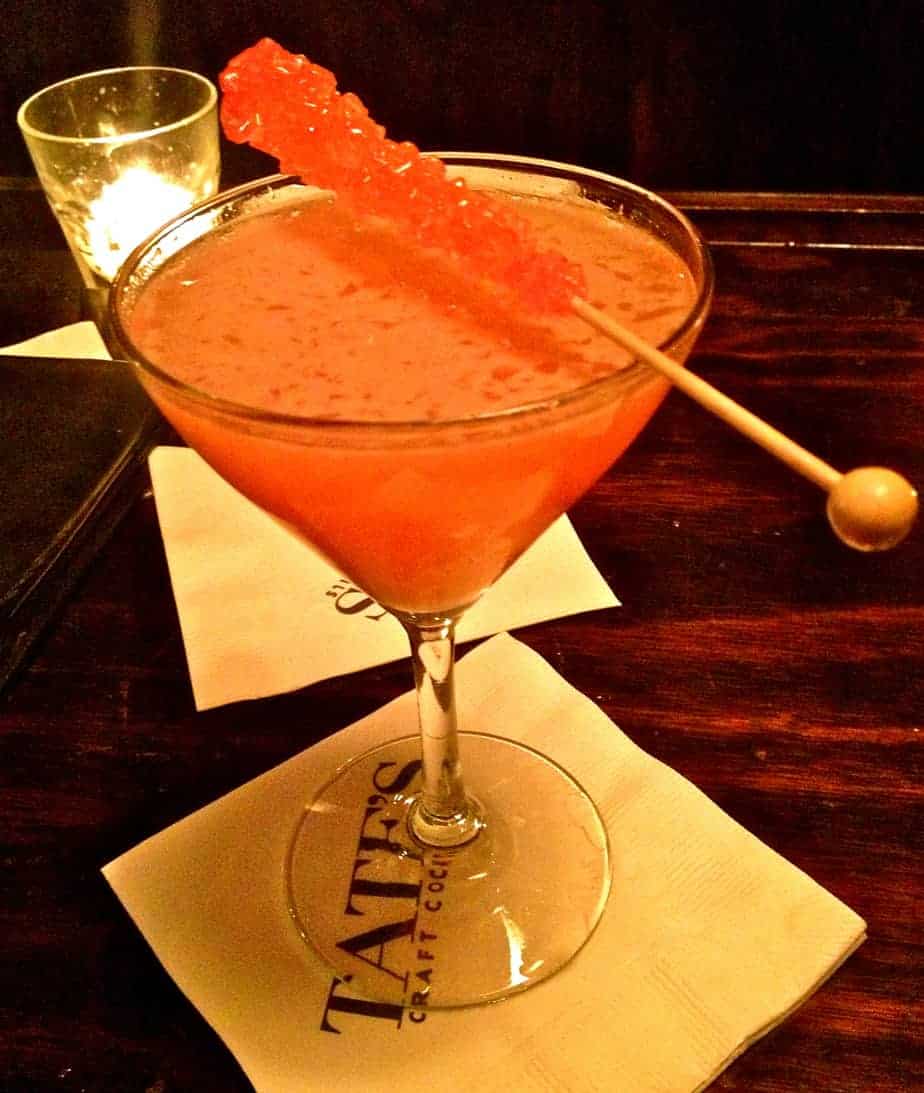 The music selection was really good, but really loud, so we moved outside to the patio so we could have a conversation without yelling at each other (this is a sign I'm getting old). I really liked the patio; it was a mix of old couches, benches, tables and trunks is a hodge podge, and really gave the place a relaxed and casual feel. We talked, we drank, S even ran into a friend from law school, it was such a good time, we ordered another round. I decided for my second drink to switch it up a bit but still go fruity and refreshing, and got The Kitchen Sink, complete with a garnish of green pepper, cucumber and another fresh strawberry. This one had gin, and was equally refreshing. After a few hours and a few drinks we were pretty worn out, so headed back to the hotel to get some sleep before one more day of our work conference.
Sadly, this review is based only on the drinks I enjoyed at Tate's that night. They do offer a food menu, an eclectic mix of bar bites, and I wish I got to try the food, but was so stuffed from dinner.  I would highly recommend Tate's if you are in WS, good cocktails, great atmosphere and a really fun place.
map & more
score: 9
spending: $-$$
neighborhood: winston-salem, nc
cuisine: cocktails, bar bites
official website
[googlemaps https://maps.google.com/maps?f=q&source=s_q&hl=en&geocode=&q=279+West+4th+Street,+Winston-Salem,+NC&aq=0&oq=279&sll=36.097834,-80.250299&sspn=0.009848,0.017252&ie=UTF8&hq=&hnear=279+W+4th+St,+Winston-Salem,+Forsyth,+North+Carolina+27101&t=m&ll=36.097799,-80.25032&spn=0.017338,0.021372&z=14&iwloc=A&output=embed&w=250&h=250]