I brunched at Merchant's River House a month or two ago on a lazy, sunny Sunday. It's tucked in along the Hudson River down in Battery Park City (Yelp reviews say that it can be hard to find, but if you walk along the Hudson, you will definitely bump right into it). We got there a bit before noon (noon is prime brunching time in New York), so we were lucky to grab a table without a wait or reservation. We were seated in the back corner of the patio (another one of my favorite things, patios!) and we waited. Someone came by with water, and we waited some more. After about 15 minutes, the hostess came over (still no waiter) and asked if she could move us to a different table to accommodate a larger party, and since we had not placed an order, it was not a problem. We ended up moving to the front of the patio to a table in the sunshine with a view of Lady Liberty, and then waited some more. Eventually, a waiter came over and we placed our drink and food order at the same time (it had been about 25 minutes at this point). Now I really like to give servers the benefit of the doubt, I understand Sunday brunch is a busy time, and I try my best to not be impatient and enjoy the experience (especially with an amazing view of the Hudson, the Statute of Liberty, Ellis Island and the pretty parts of New Jersey), but no one paid attention to us for what felt like ages. Once we placed our orders, it took even longer for our coffee and bloodys to come out (can't have brunch without Bloody Marys). The food actually came rather quickly (I think it is because we placed the food order at the same time as the drinks) but then more wait time when we were wrapping up and waiting for the bill. Aside from the delays, we had about three different waiters help us, and most of the time they were mia. However, the runner/busboy was extremely attentive and great, I hope he gets some of the tips!
My Bloody Mary was good, but was a tad too horseradishy. It was pretty in its mason jar, but was way too tiny! The size definitely highlighted that we were paying for the location and view, and not really quality of food.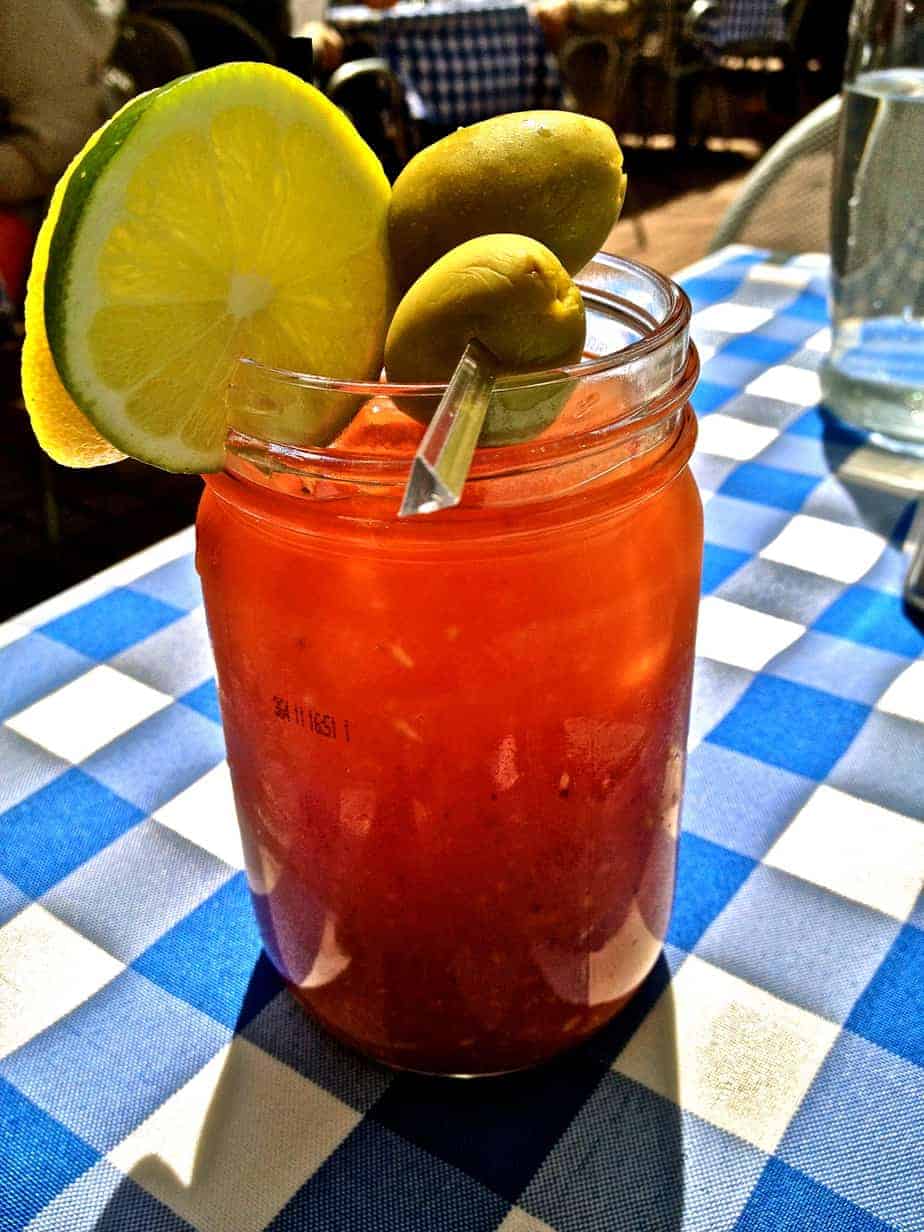 Merchants River House's "brunch" menu is not that extensive (it essentially looks like they slapped some eggs, a waffle and french toast on their lunch menu to make it brunchie) and it is not innovative. We shared the Merchants Signature Burger (with cheddar, crispy onions, bacon and spicy bbq sauce) and the waffle. Yes, this is a weird combination, but we both had a hankering for a burger, and the waffle was appealing.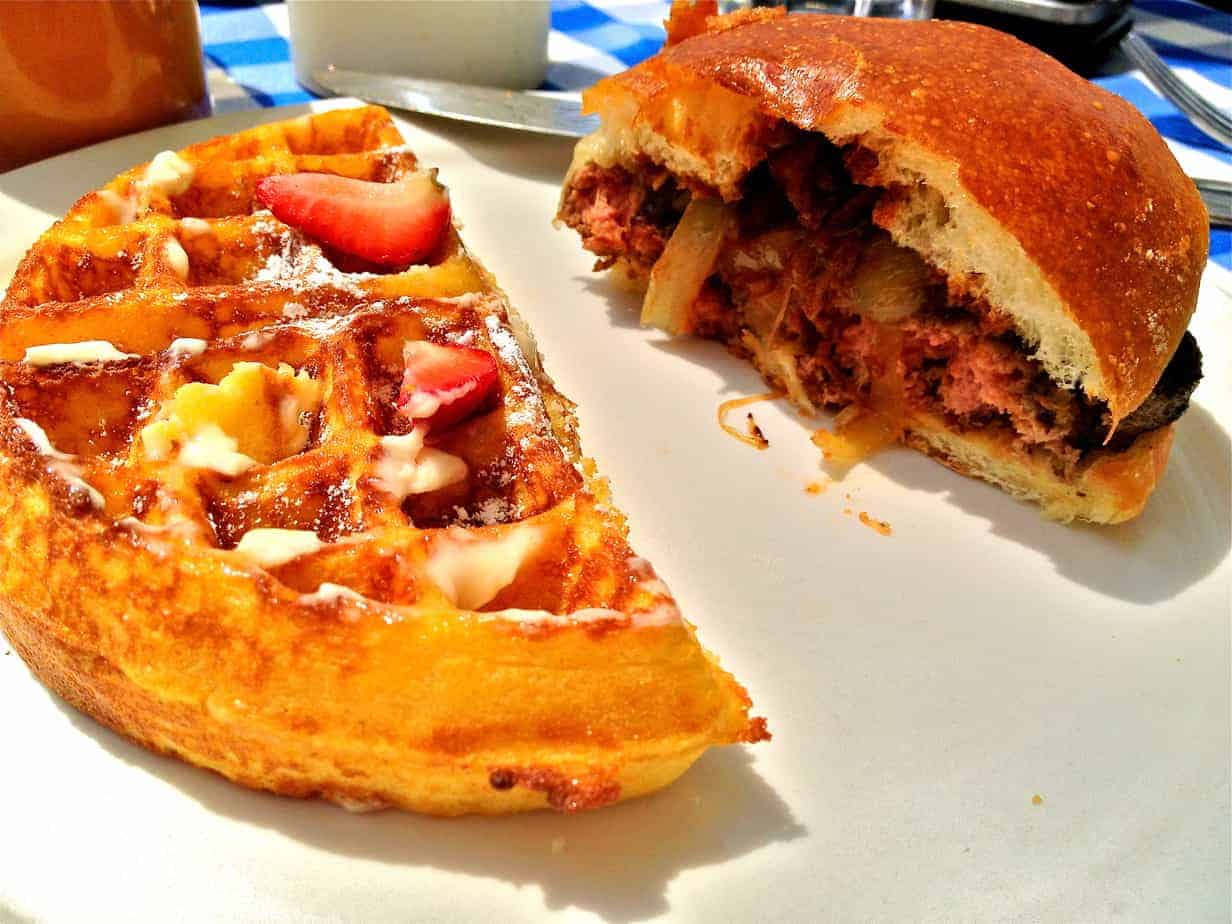 The burger was cooked well, and I love onions, bacon and bbq sauce, so it hit the spot. The waffle was ok, it looked pretty when it came out, but was a tad crispy and left a weird aftertaste in my mouth. We also got a side of fries, which came out hot but were nothing to write home about. The food was fine, but I don't think I will add Merchants River House to my list of must go places in NYC.
I would recommend Merchants River House if you are in the area and want an (overpriced) drink with a spectacular view (because that is what you are paying for). Skip the food, there are millions of restaurants in New York with much better food! Can you see Lady Liberty in the background?? No matter how many times I go to New York (which has been quite often, growing up only 4 short hours away in DC) I will never get over how amazing and picturesque the city can be.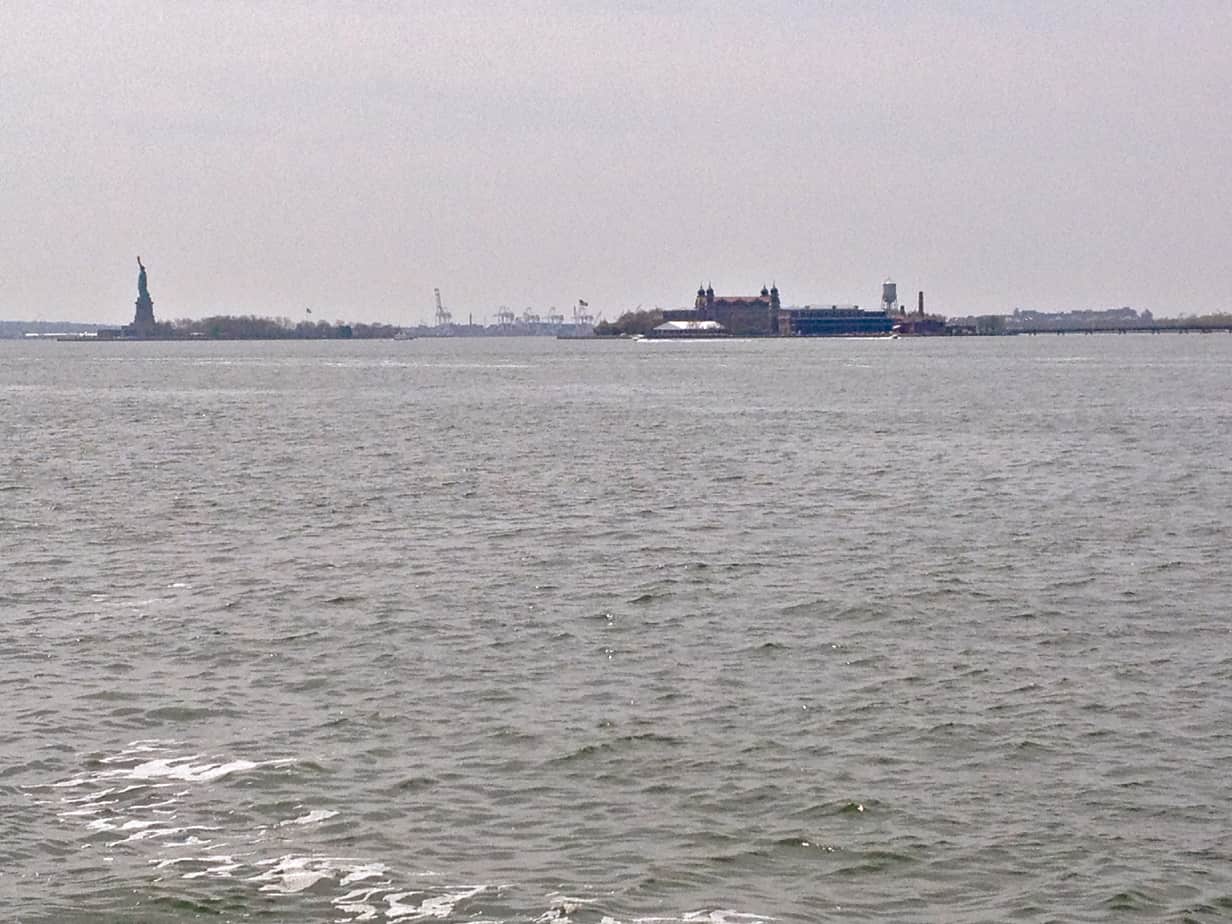 map & more
score: 4
spending: $$
neighborhood: battery park city, new york
cuisine: american, brunch
official website
[googlemaps https://maps.google.com/maps?f=q&source=s_q&hl=en&geocode=&q=Merchants+River+House,+South+End+Avenue,+New+York,+NY&aq=0&oq=merchants+riv&sll=40.745924,-74.002275&sspn=0.009234,0.017252&ie=UTF8&hq=Merchants+River+House,&hnear=South+End+Ave,+New+York&t=m&ll=40.711419,-74.017854&spn=0.002846,0.003734&z=16&iwloc=A&output=embed&w=250&h=250]